Seven Layer Mediterranean Dip
Light, healthy and perfect for entertaining during the warm weather, this Seven Layer Mediterranean Dip is filled with all the greek flavors we all love: hummus, Greek yogurt, veggies, feta and olives. I like to serve it in individual cups so it stays fresh and nobody needs to worry about double dippers! ?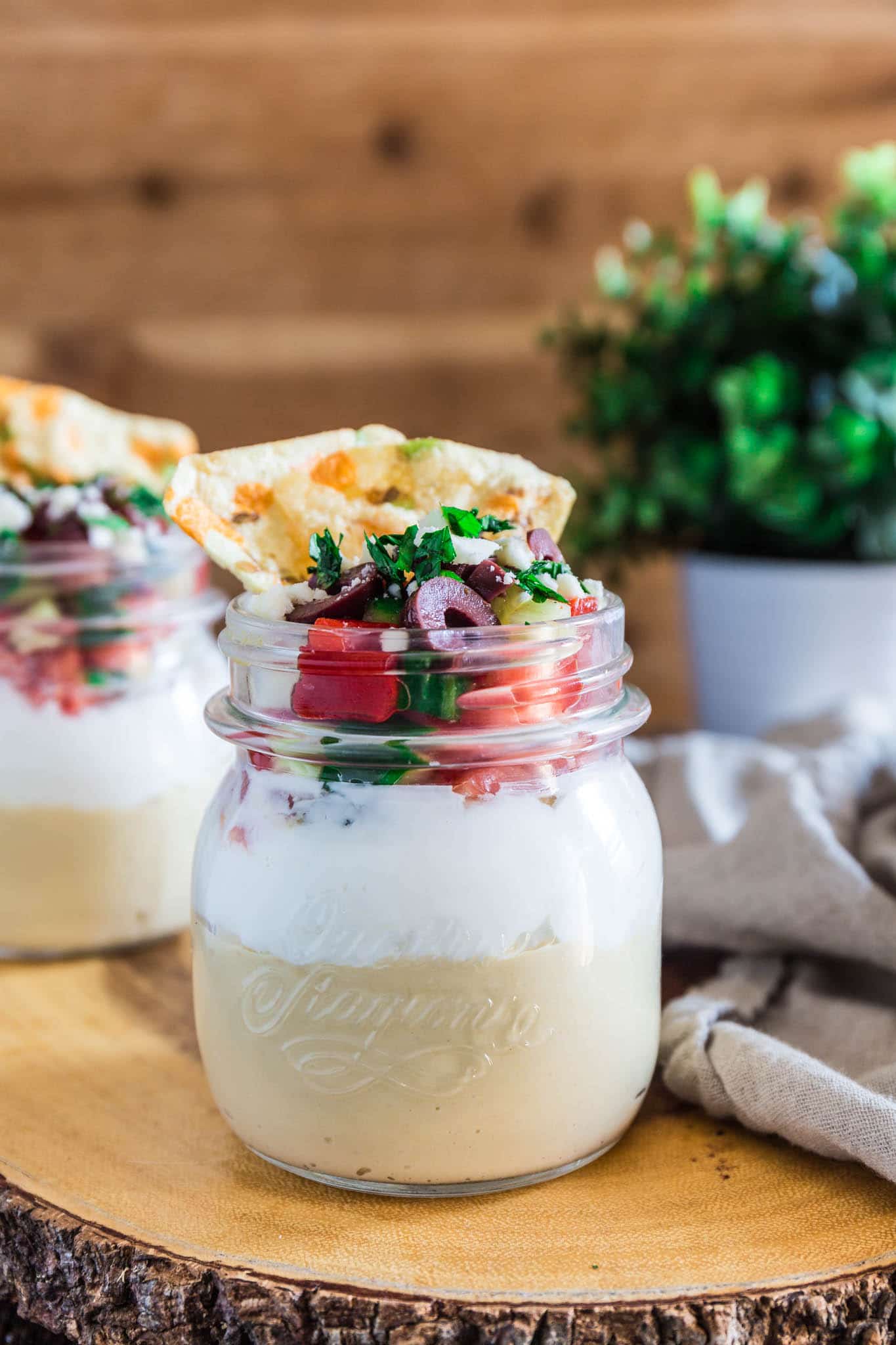 I participated in Mom Blog Tour Winter Fancy Food Show (#MomBlogTourFF) on behalf of Wendy's Bloggers. I received Saffron Road products to facilitate my review, but my opinions and the recipe are my own.
Who's ready to partaaaay? ☀️☀️☀️
The weather is finally amazing here in the East Coast and all I can think about is being outside. I know I will regret saying that when it's 100 degrees outside and I'm huge and about to pop, but for now I will enjoy and the barbecuing and picnicking that I can!
And although some bloggers hate the summer because of the infamous "summer slump", I am VERY excited to share lots of summer recipes y'all! Because who doesn't love grilled meats, fresh salads, delicious cocktails (ahem, mocktails for me!) and… of course… ICE CREAM?
To kick off the season, I'm sharing my version of a seven layer dip, but with a mediterranean twist! Simple but fresh and so delicious!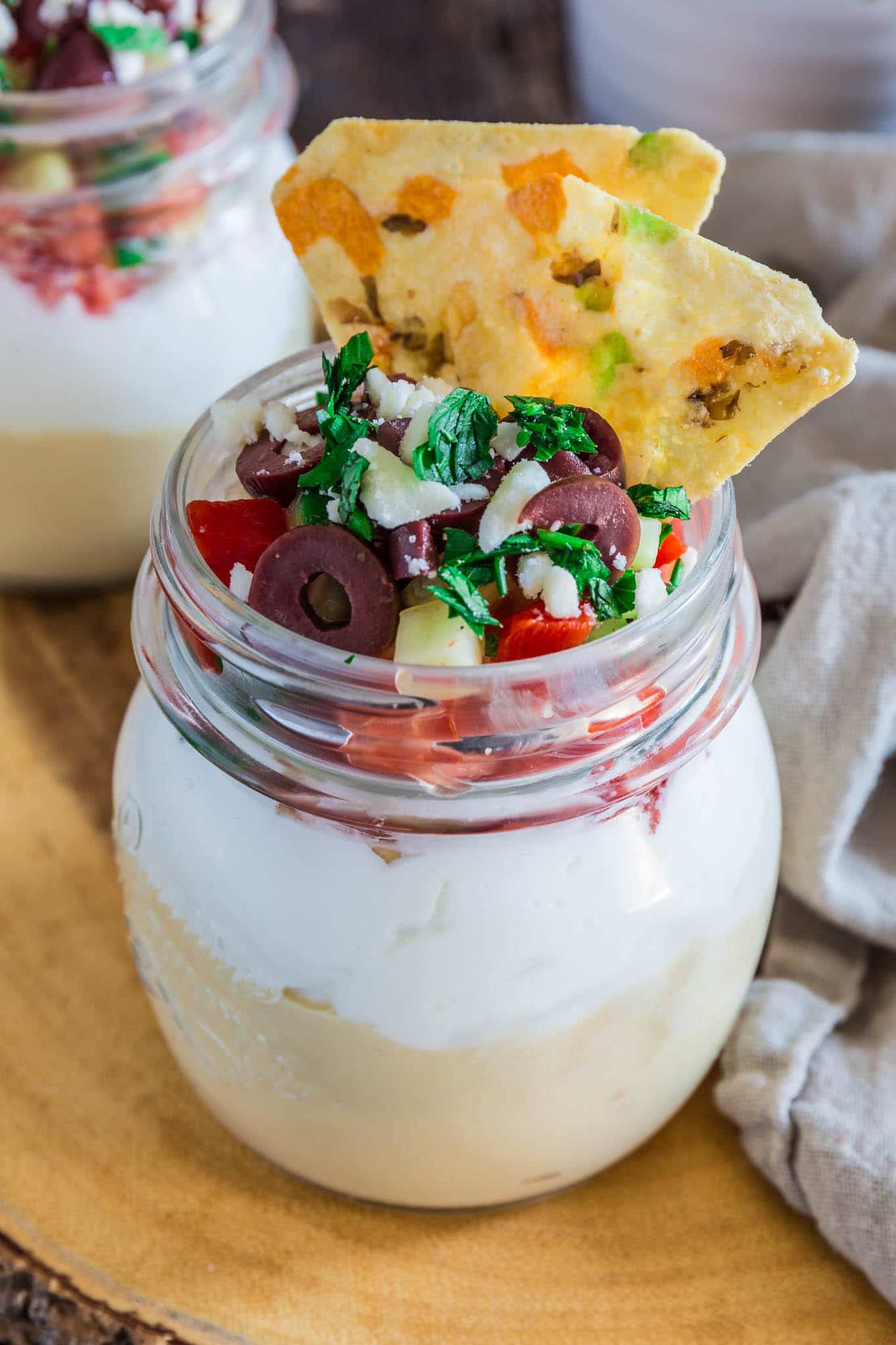 There's no doubt that hummus is everyone's favorite party dip.
It's delicious, creamy and all you have to do is open a store bought container and go to town! Unless you make your own, you fancy you. ?
And although there are several flavors on the market nowadays, I still like to spruce things up and make it better. Better as in not only more delicious but also beautiful and colorful! Because as my grandma says, people eat with their eyes first. ❤️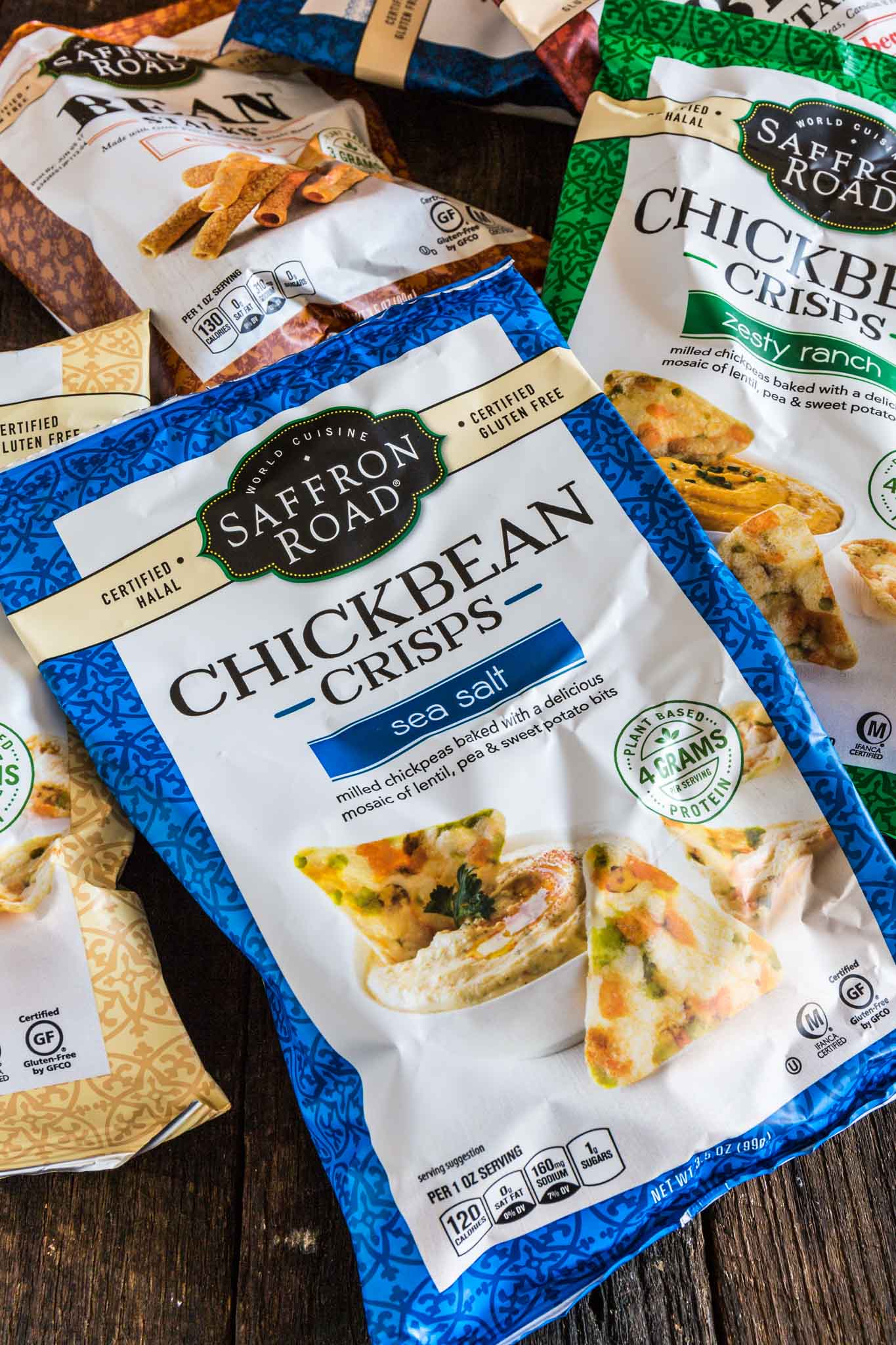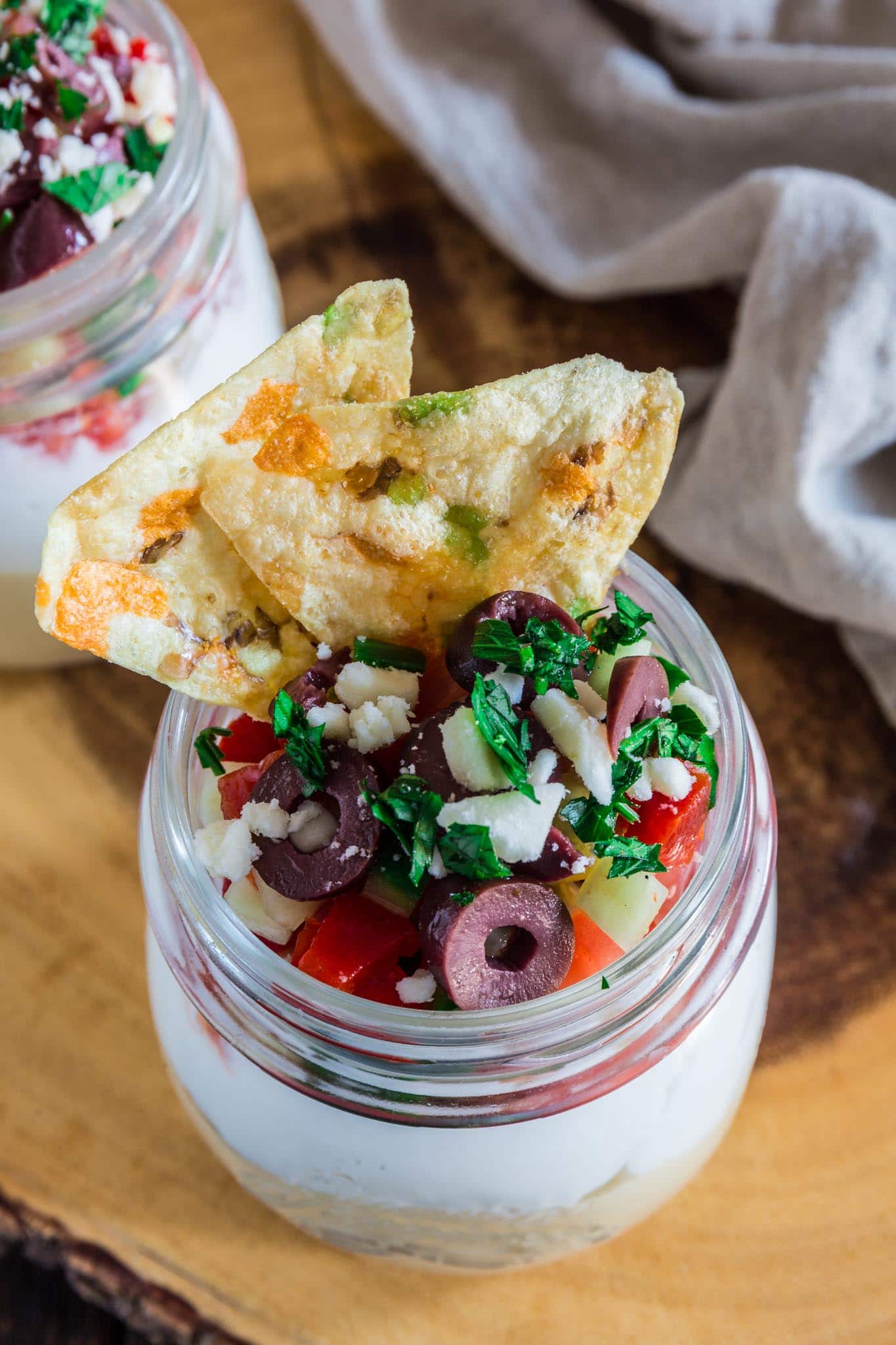 This seven layer mediterranean dip is pretty simple and requires no cooking and minimum prep. You will have to chop some veggies but that's pretty much it!
Once you choose between serving it in a big serving bowl or individual glasses, you layer the hummus, Greek yogurt, salad (tomatoes and cucumbers tossed with some olive oil, lemon juice and salt), roasted red peppers, black olives, feta cheese and parsley. The quantity is up to you! Feel free to cut down or double/triple whatever is suggested in my recipe to adapt it to your needs.
As for the dippers, sure you can go with some good old pita chips. But I've been head over toes with Saffron Road Chickbean Crisps. They are gluten free and made from lentils, yellow peas, chickpeas and sweet potato flour.
With 4 grams of fiber and 2 grams of protein per serving, they definitely fit my new healthy lifestyle and I get to eat a lot without feeling guilty!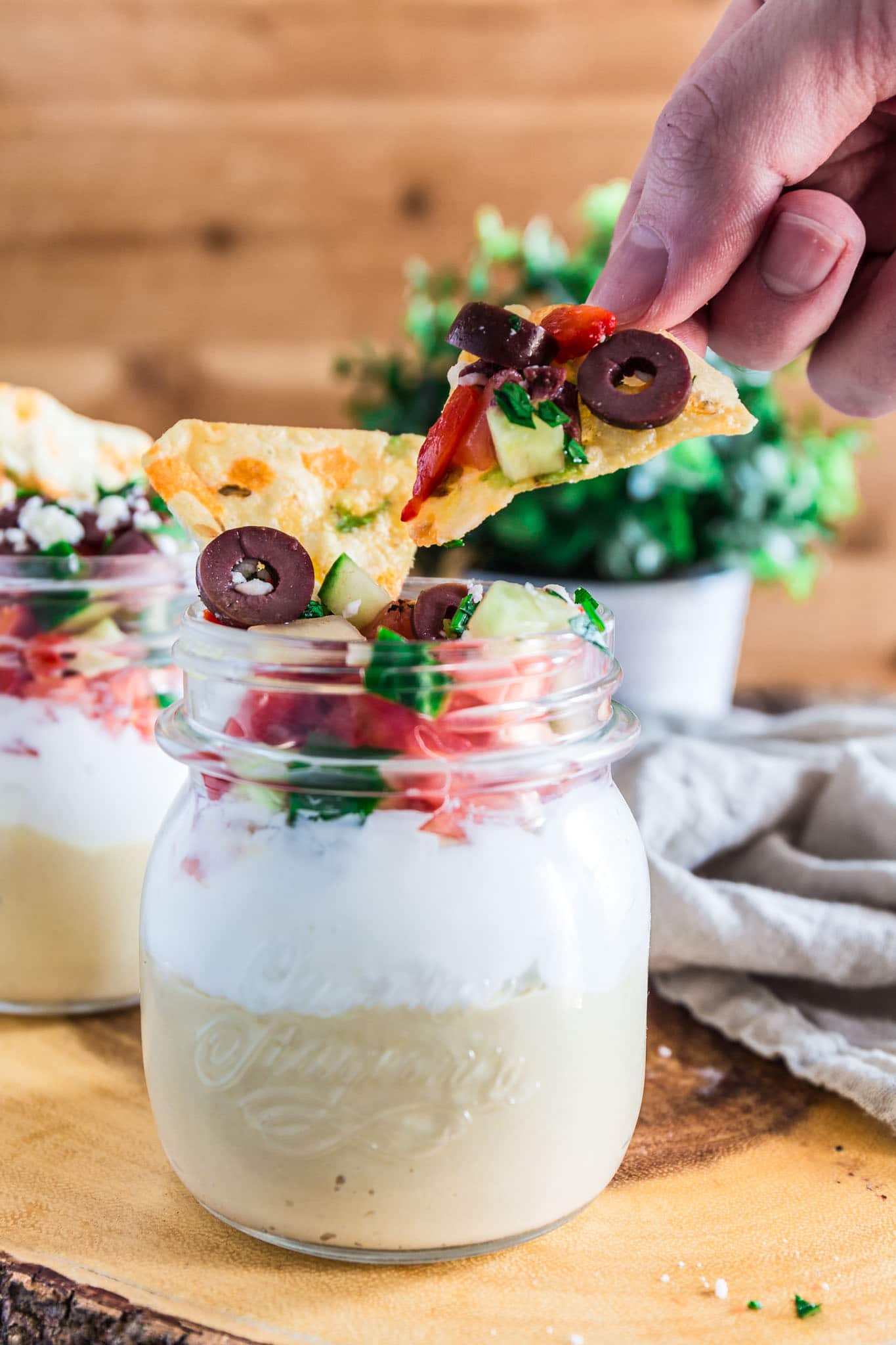 If you like mediterranean flavors, you should definitely give this dip a try! It tastes just like a warm but breezy afternoon in Mykonos.
I hope you guys are enjoying the weather. I will come back later today with another Saffron Road post, so stay tuned!
P.S. In the photos above, you will see the mediterranean dip served in mason jars. I did that for displaying purposes, so it would look good on this blog post, but it is a bit big to be individual. I recommend you serve in smaller glasses (plastic tumblers work too!). Enjoy!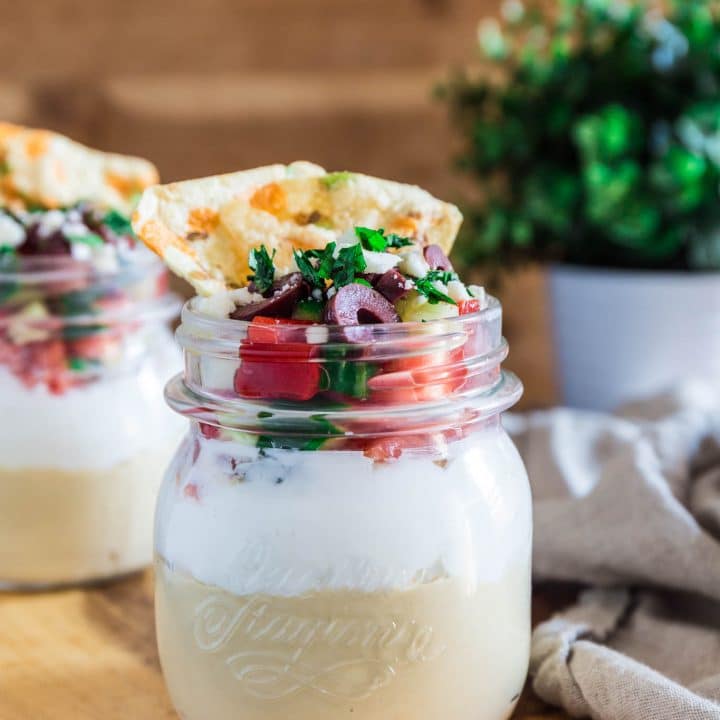 Seven Layer Mediterranean Dip
Yield: 8
Prep Time: 5 minutes
Total Time: 5 minutes
Ingredients
2 large tomatoes, seeded and diced
2 cucumbers, diced
2 tablespoons extra virgin olive oil
Juice of one lemon
1 tablespoon dried oregano
Salt to taste
10 ounces hummus
5 ounces Greek yogurt
5 ounces jarred roasted red peppers, diced
1 cup pitted black olives, sliced
3 ounces crumbled feta cheese
1/4 cup chopped parsley
Instructions
Combine tomatoes, cucumbers, olive oil, lemon juice, oregano and salt in a mixing bowl. Transfer to a strainer or colander to get rid of excess dressing/moisture while you work on the other layers.
Spread the hummus on the bottom of a large serving bowl or divide into 8 individual glasses/plastic tumblers. Carefully spread the Greek yogurt on top of the hummus. Then, top with the salad layer, followed by diced roasted peppers, black olives, feta cheese and parsley.
Serve immediately or refrigerate until ready to serve. This dip is better when prepared the day you plan on serving it.
GIVEAWAY
Feeling lucky? Today, I'm partnering up with Saffron Road and one lucky winner will win a variety of their new snack products.
One winner per household, email address, or home address. If you have won this prize on another blog you are ineligible to win again. Winner must have a U.S.-based address to receive the prize.
a Rafflecopter giveaway