Gnocchi with Creamy Asiago Sauce
Can you tell I'm going through an Italian food phase?
(Scroll down to learn about an amazing giveaway for a NYC trip and $500 gift card)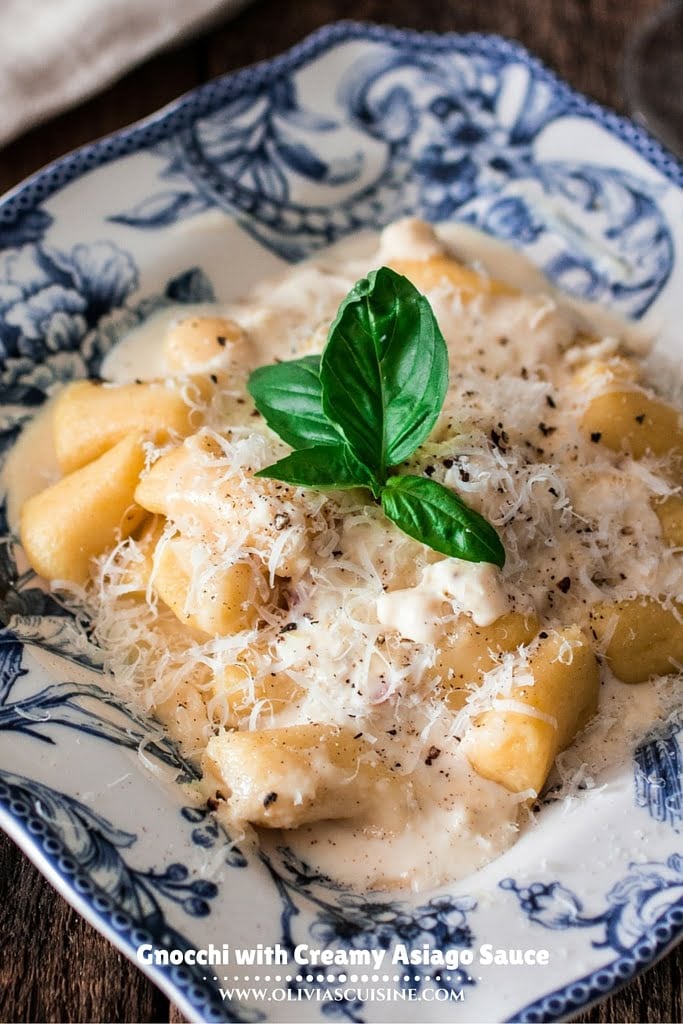 Nothing wrong with that, right? Italian food is the best food. Period.
Especially when it's presented in the form of a delicious ultra pillowy gnocchi served with a creamy Asiago sauce and sprinkled with buttery Parmesan. Now tell me, can you resist it? Me neither! Give me a fork NOW!
Yesterday, I posted a little guide on how to make gnocchi, so I won't be talking much about that part today! I really hope I inspired you to make your own homemade gnocchi and that they came out fabulous if you already tried to make them.
A few years ago, I had this therapist that once asked me: "Do you bake bread?". I was very puzzled at the question, since baking bread, or even cooking, had nothing to do with my issues at the time. She quickly added: kneading bread dough is great to release tension and anxiety. I eventually took her advice and it really works!
Although you are not really supposed to knead gnocchi dough, I find the whole process of making any kind of pasta really good for my anxiety management, even without the kneading. I mean, don't go make pasta if you need to serve dinner in 30 minutes, or your anxiety levels will sky rocket, but if you have some free time, get your hands dirty!
It is also a great thing to do with kids or even with your significant other.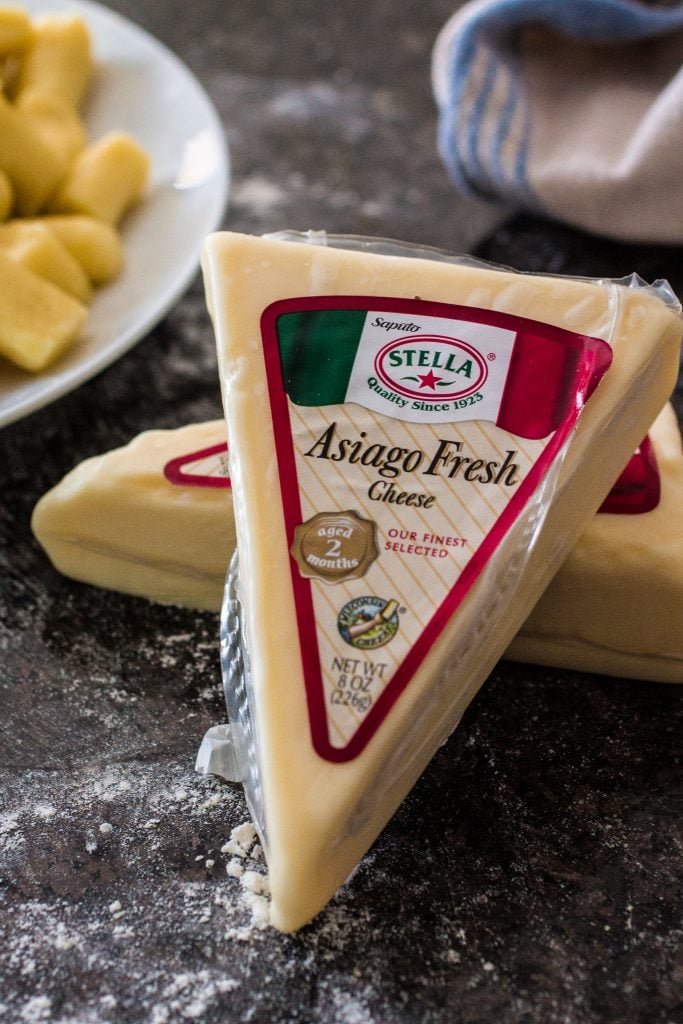 But let's talk about the silky and creamy Asiago sauce (that is not so easy to photograph, so the pictures really don't do it justice!).
I seriously could eat that stuff with a spoon, right out of the pan! But I behaved so we could eat it over the gnocchi. Oooh, it pairs so well with the gnocchi!
Last Tuesday, I made the sauce and the gnocchi ahead and waited for Tim to come home from work. Then I tossed the gnocchi with the sauce, sprinkled a huge mountain of Stella's Parmesan cheese and took our bowls to our living room so we could eat watching Empire.
We just started watching this show, so, shhh, no spoilers, please! We mostly started because we are show orphans at the moment, since all the other shows we watch recently ended or only come back at the end of the month and there are only so many I Love Lucy episodes I can watch in a day! So far, so good. I'll let you guys know how we like it after we watch a few more episodes.
But I digress…
What matters is: this sauce is insanely good, especially over melt-in-your-mouth homemade gnocchi, and it will take your family night to another level.
Who needs boring popcorn when you have a luxurious Italian dinner to go with your movie/show?
It's pretty easy/quick to make too. And it is all about the quality of the cheese, so make sure you use some good Fresh Asiago cheese, preferably Stella's, as I can testify to the yumminess of their artisan cheese.
Stella® cheeses are truly amazing and you can probably tell I'm a huge fan. I mean, you gotta give it to them. It is really hard to please a pretty serious cheeseaholic like me!
They've been making cheese since 1923. The brand includes a broad selection of fine artisan cheeses crafted with a rich heritage of Italian cheesemaking and they are all so good, you won't be able to pick a favorite!
If you're interested in more cheesy recipes and inspirations, make sure to connect with Stella on Facebook, Instagram or Pinterest.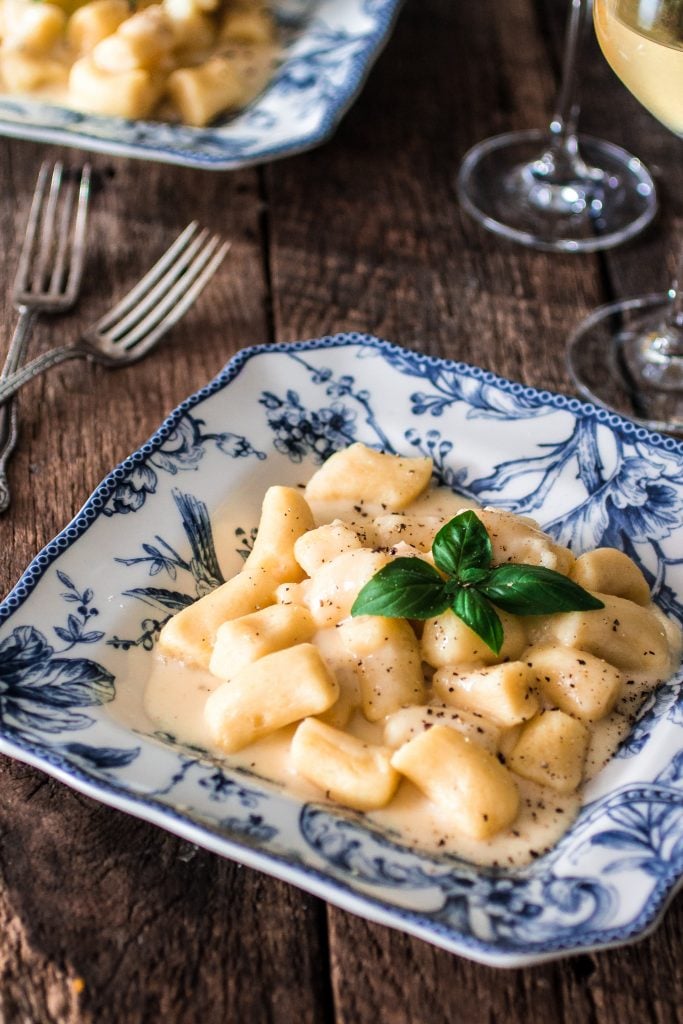 You guys, you have to make this for your next movie/show night! It is the closest thing to a dinner and a movie, except you're at home, spending almost no money and eating a 5-star restaurant style dish, and possibly drinking a glass of wine, in front of the TV!
Oh yeah! I wanna see you try to do that at the movie theater. ;-)
If you are intimidated by the whole gnocchi making business and/or are short on time, you can take a short cut and use the store stuff. Or even use any type of pasta that you already have at home! It's okay! Nobody's judging, I promise.
Now go! Make delicious gnocchi with cheesy sauce and rejoice!!!
But, WAIT!
Before you go, don't forget to enter Stella's giveaway. You could win a three day, two night trip giveaway to New York City with a $500 gift card, dinner for two, and two tickets to a Broadway show.
Enter HERE! :) (Entry limits include only one entry per e-mail address per day!)
Good luck!
Gnocchi with Creamy Asiago Sauce
Yield: 4
Cook Time: 10 minutes
Total Time: 10 minutes
Ingredients
1lbs homemade or store-bought gnocchi, cooked according to instructions
1 shallot, finely chopped
2 cloves garlic, finely minced
4 tablespoons butter
4 tablespoons all purpose flour
2 cups heavy cream plus more if needed
8oz Stella® Fresh Asiago Cheese, grated
Salt and pepper to taste
Stella® Parmesan cheese, freshly grated, for serving (to taste)
Instructions
On a large sauté pan, melt the butter, over medium heat, and sauté the shallot and garlic until translucent.
Add the flour and stir to incorporate. Cook for a minute to get rid of the raw flour taste.
Add the heavy cream and whisk until the sauce thickens, about 2 to 3 minutes. Season with salt and pepper.
Remove pan from heat and add the grated Asiago cheese, stirring until the cheese melts and incorporates into the sauce. Add more heavy cream if the sauce thickens too much.
Toss the cooked gnocchi with the sauce and transfer to a serving plate or plate into individual portions.
Sprinkle the grated Parmesan and serve with extra black pepper on the side!