Guilt-Free Christmas Morning Muffins
What if I told you you could eat these muffins without worrying about calories?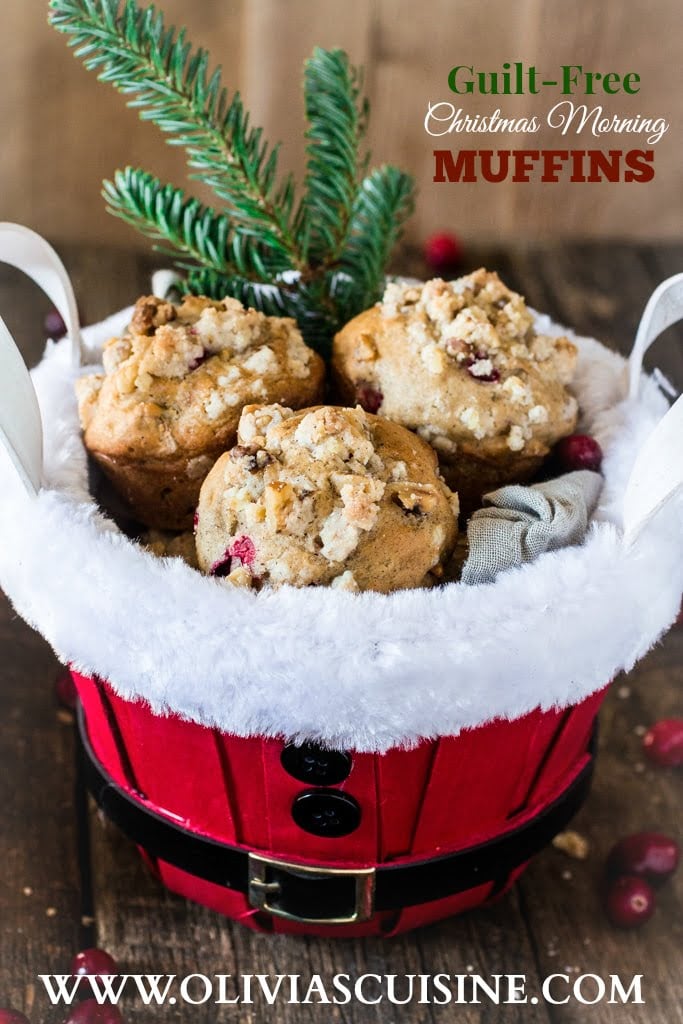 Today is your lucky day! Santa decided to answer your prayers and sent these Guilt-Free Christmas Morning Muffins to make your holidays a little bit healthier without compromising any flavor.
Too good to believe? I guess you can call it a Christmas miracle, because it is definitely true!
The muffins are everything you would like to indulge in on a Christmas morning: moist, fragrant, tasty and loaded with walnuts and fresh cranberries. Plus, while they bake, your whole home will smell like Christmas! ?✨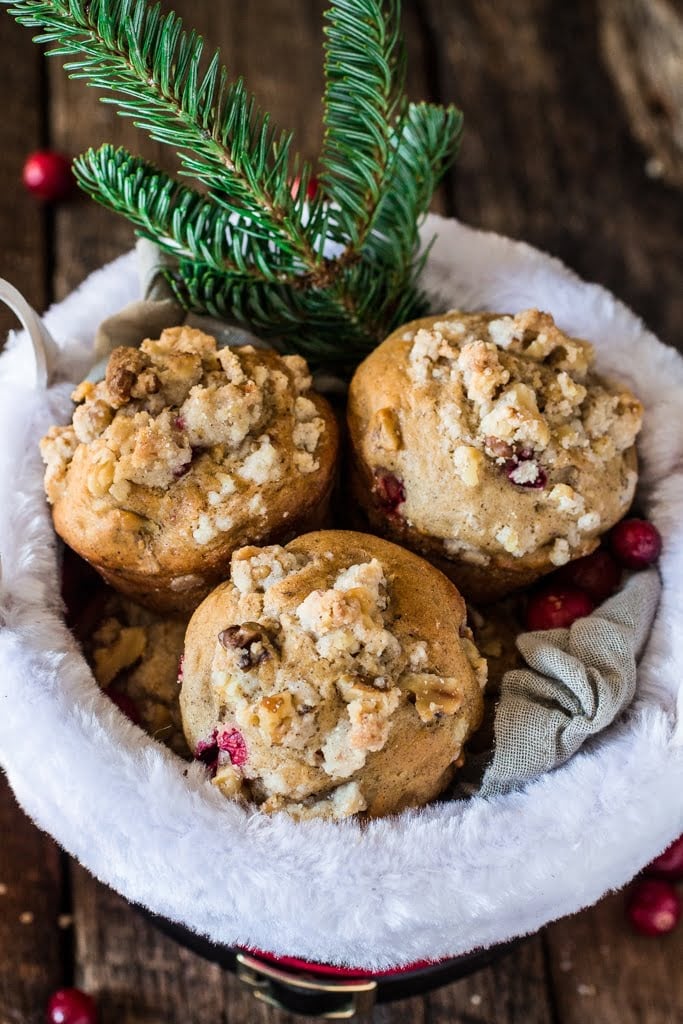 Don't you love Christmas mornings? I wait all year for this one special moment.
The feeling is obviously reminiscent from my childhood years, when I would wake up and run to the living room to find that Santa had left me gifts under the tree!
Thanks, Mom and Dad, for making this happen year after year until someone (probably at school) decided to ruin the magic and told me Santa wasn't real. Womp womp.
Luckily, finding out that Santa wasn't "real" didn't ruin Christmas for me. It just made me realize that Santa exists in a different way, by being alive inside each one of us! He was real and alive inside my poor parents, having to tip toe to the living room in the middle of the night, just to make their kids happy.
Sorry if I just got too hippie on you. I just can't help it, really, because just thinking about Christmas magic gives me chills. I am not a religious person, but I simply ADORE Christmas!
There's something about the whole world sharing this feeling together that makes me super fluffy inside. I know that this year was rough and even the Pope said that we shouldn't be celebrating anything, since the world is literally falling apart. However, I have to disagree. (Sorry, Pope!) BECAUSE the world is falling apart, we have to spread more love! And Christmas magic = love! ?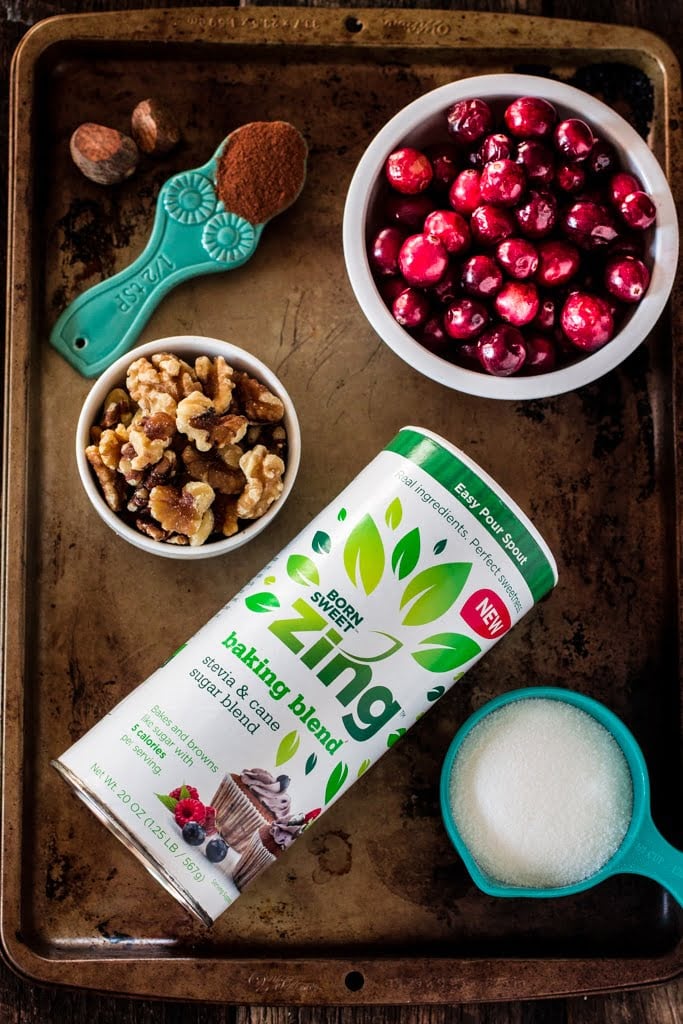 Now, I know you are probably impatiently tapping your fingers on your desk, feeling really anxious to find out what is the magic behind these guilt-free muffins. So I'm going to stop my "New-Age" blab about Christmas and cut to the point to tell you what you've been dying to know. The secret is… roll the drums (or Christmas horns?)… Born Sweet® Zing™ Baking Blend!
If you've been following my blog for a while now, you already know that I'm a fan of this brand. Zing™ sweeteners are so great that they work in pretty much any recipe where I would be using sugar. And the best part? Nobody can even tell!
Zing™ Stevia Sweetener products are made with only real ingredients – nothing artificial. The baking blend, with only 5 calories per serving (*angels sing here*), is made with stevia leaf extract and pure cane sugar. It bakes and browns like sugar while sliming down your recipes by sweetening with fewer calories.
I highly recommend you visit their website, so you can find out if your local store carries Zing™.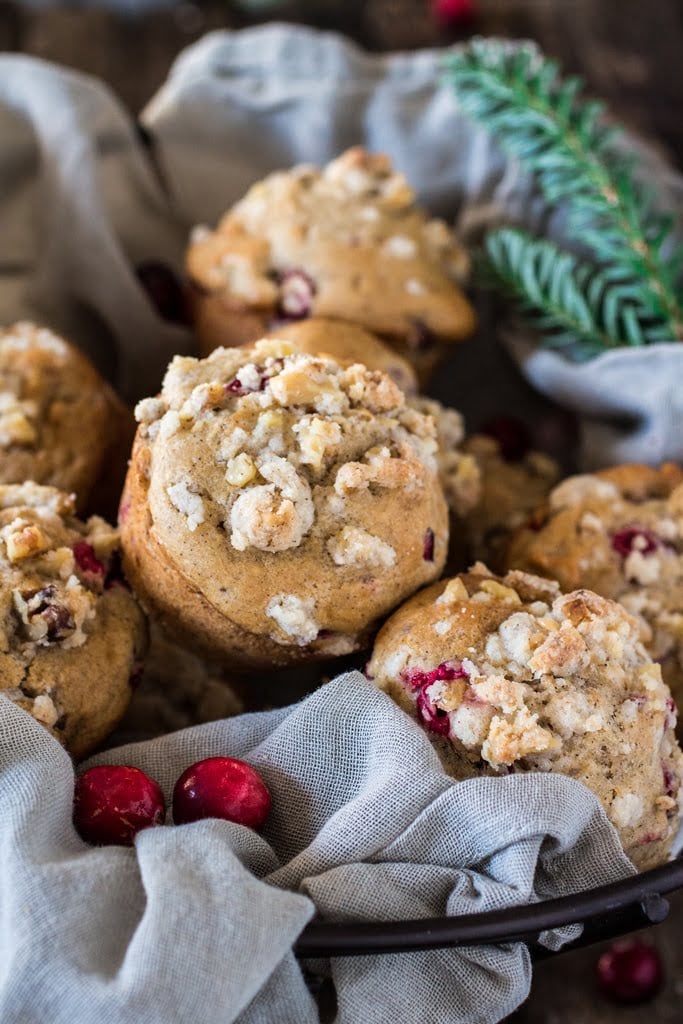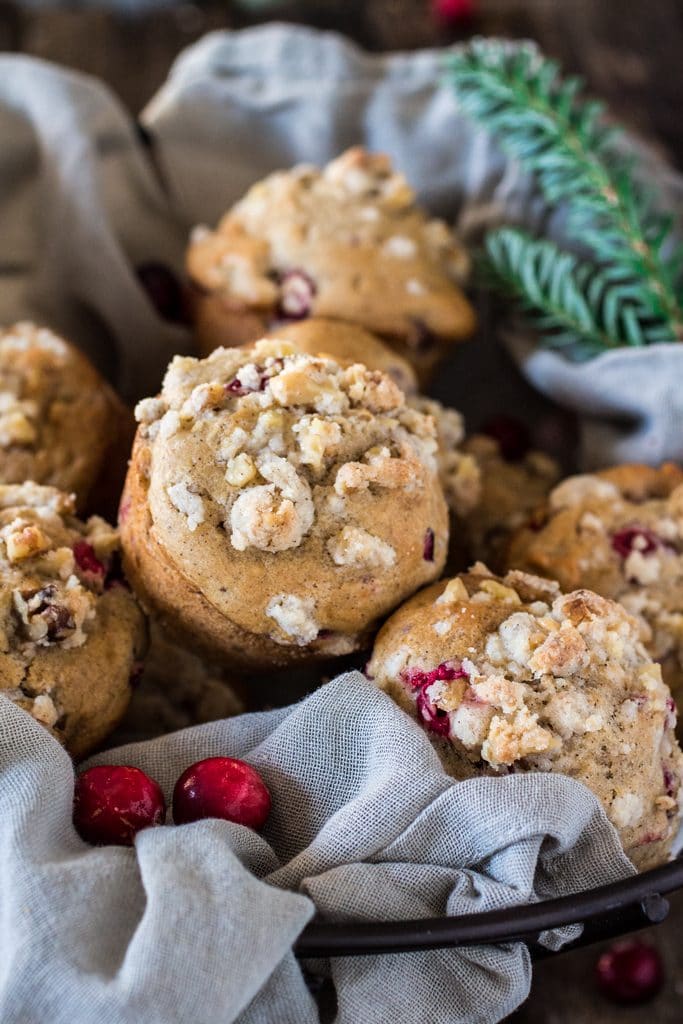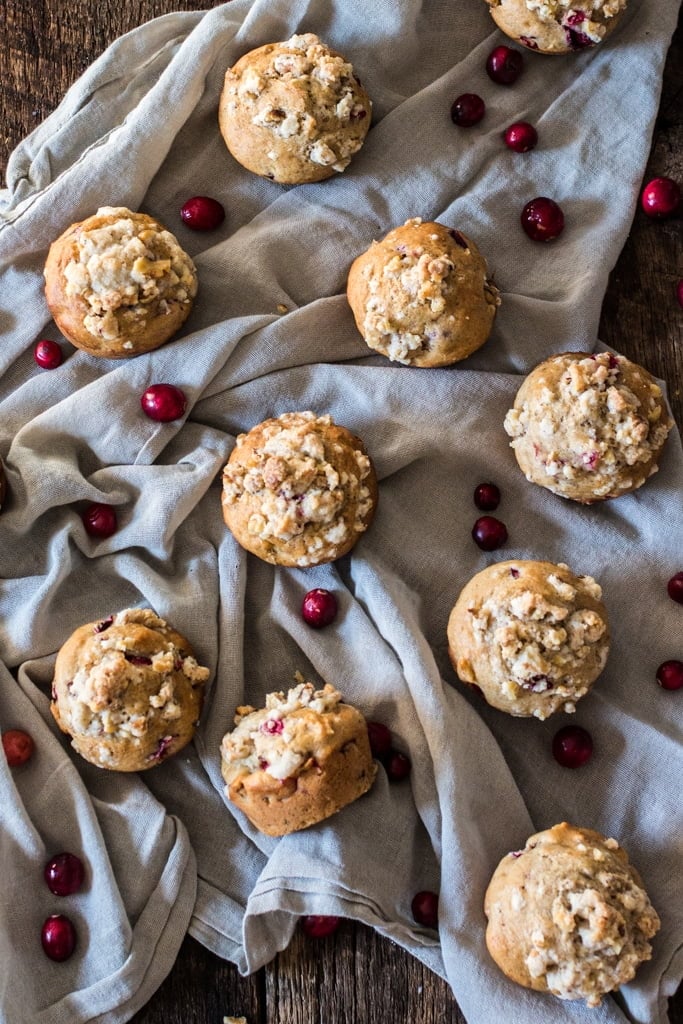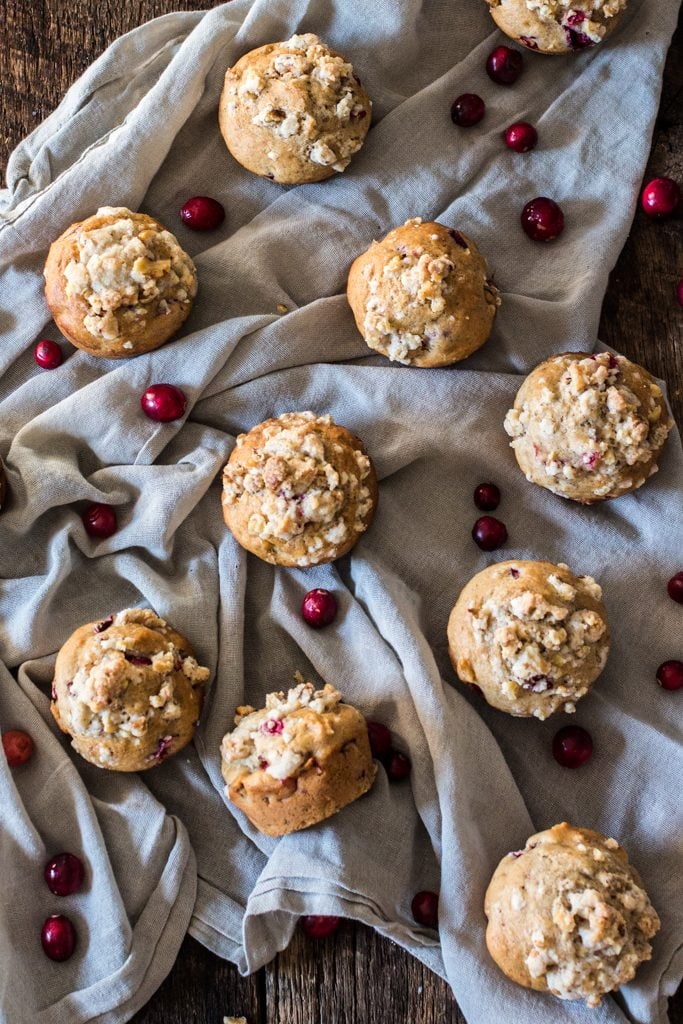 It doesn't matter if you're as Christmas-holic as me, or if you could take it or leave it. These Guilt-Free Christmas Morning Muffins will get you singing Christmas carols all day long.
Also, the next best thing about them – apart from being reduced calorie and tasting divine – is that they are pretty easy to make. You won't even need to dust off your stand mixer! Yep, you heard it right. I, the laziest baker in history, gave my poor stand mixer the day off and mixed everything by hand! It's not that I can even count it as a workout, since whisking everything together was a breeze.
But then again, who needs a workout on Christmas morning? Especially when these muffins fewer calories than the traditional muffin recipes.
Save the treadmill for another day, my friend! Enjoy your muffin(s) with a cup of coffee – or a bunch of mimosas. Whatever suits you, really!
And don't forget: Christmas morning only happens once a year. So eat, drink and be merry!!! ❤️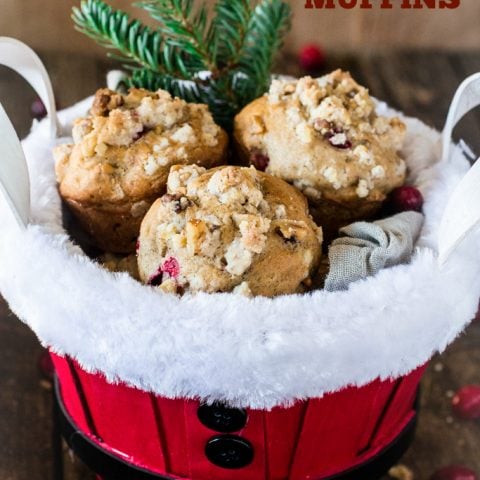 Guilt-Free Christmas Morning Muffins
Ingredients
1 1/2 cups all-purpose flour
1 teaspoon baking powder
1/2 teaspoon baking soda
1/4 teaspoon salt
1 teaspoon ground cinnamon
1/2 teaspoon grated nutmeg
2 large eggs
1/2 cup low fat greek yogurt
1/4 cup whole milk
4 tablespoons melted unsalted butter
1/2 cup Zing™ Baking Blend
2 cups fresh cranberries, chopped
2/3 cups chopped walnuts
Streusel topping:
1/3 cup finely chopped walnuts
2 tablespoons Zing™ Baking Blend
2 tablespoons all-purpose flour
1/2 teaspoon ground cinnamon
2 tablespoons melted butter
Instructions
Preheat your oven to 375F degrees. Spray a muffin tin with cooking spray and reserve.
In a large bowl, whisk the flour, baking powder, baking soda, salt, cinnamon and nutmeg until combined.
In a second bowl, whisk the eggs and add the yogurt, milk and melted butter. Add the baking blend and continue whisking until smooth.
Add the wet ingredients to the dry ingredients and whisk just until incorporated. Fold in the fresh cranberries and walnuts.
Pour the batter into the muffin tin, dividing it equally into 12 muffins, filling each about 2/3 full. Reserve while you prepare the streusel topping.
To make the streusel topping, mix all the ingredients in a bowl until combined and crumbly.
Sprinkle the topping on top of each muffin.
Bake the muffins for about 25 minutes or until a tooth pick inserted into a muffin comes out clean.
Remove from oven and let it cool for 10 minutes. Then, remove from tin and let it finish cooling on a wire rack!
P.S. Wanna keep in touch? Follow me on
Facebook
,
Twitter
,
Instagram
or
Pinterest
to stay up to date with my posts! If you end up making one of my recipes, I would love to see it! Just take a photo and post it on your preferred Social Media and tag me or use the hashtag #oliviascuisine!
I was selected for this opportunity as a member of Clever Girls and the content and opinions expressed here are all my own.