Holiday Chicken Salad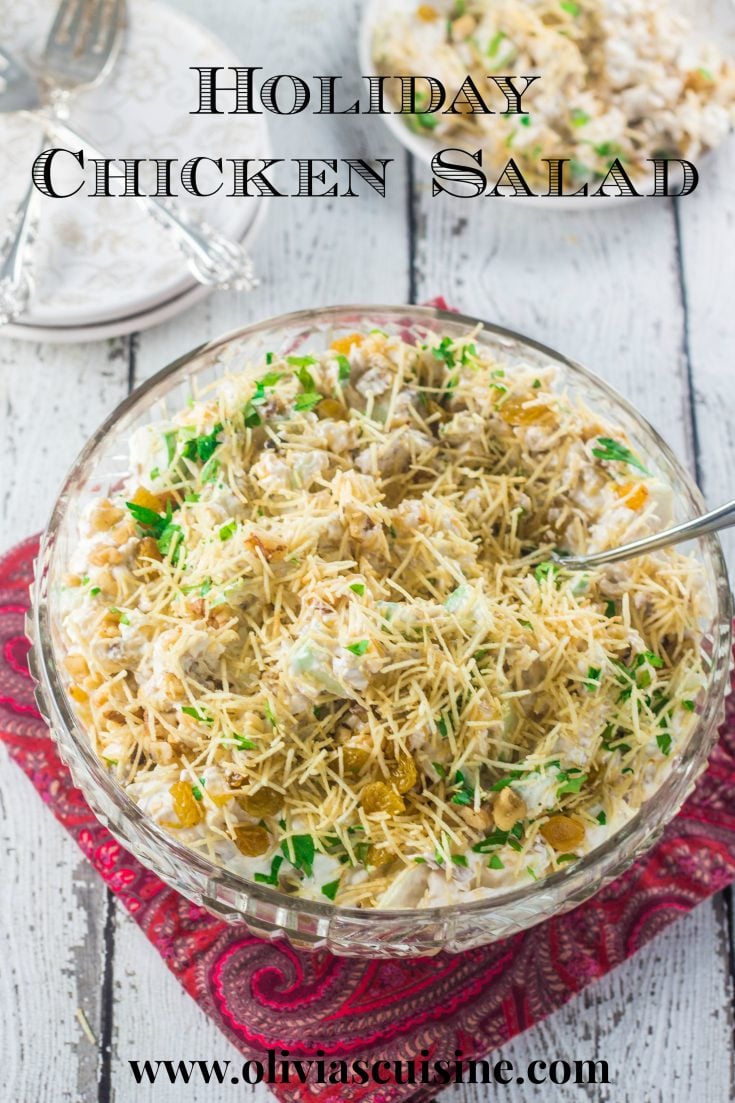 14 days until the big day: Christmas Eve! Yes, down in Brazil we celebrate Christmas Eve with a big fancy Christmas supper. It's our turkey day, ham day and everything delicious day.
We usually go to my aunt's house and we eat and drink until we can't remember our names. And then we come back the next day for the leftovers. So yeah… that's how Brazilians celebrate Christmas. I seriously cannot wait to bring my husband to Brazil to have him experience our extravagant Holidays. :)
Every year, my whole family expects to see my mom's Holiday Chicken Salad among all the insane deliciousness at the table. And usually there's none left the next day because everybody devours it as if there's no tomorrow.
Since this year I couldn't fly home for the holidays, and will be only participating in a Secret Santa through Skype, I decided to make this salad so I can close my eyes and pretend I'm home with my family. I had to improvise and change the recipe around a bit, because I couldn't find all the ingredients in my mom's recipe here in the U.S. But it turned out just like hers! And, to keep the tradition, it is already almost gone… I could barely take these pictures before my husband attacked it! (But who am I kidding? Nothing makes me more happy than to see people "attack" the food I make for them!)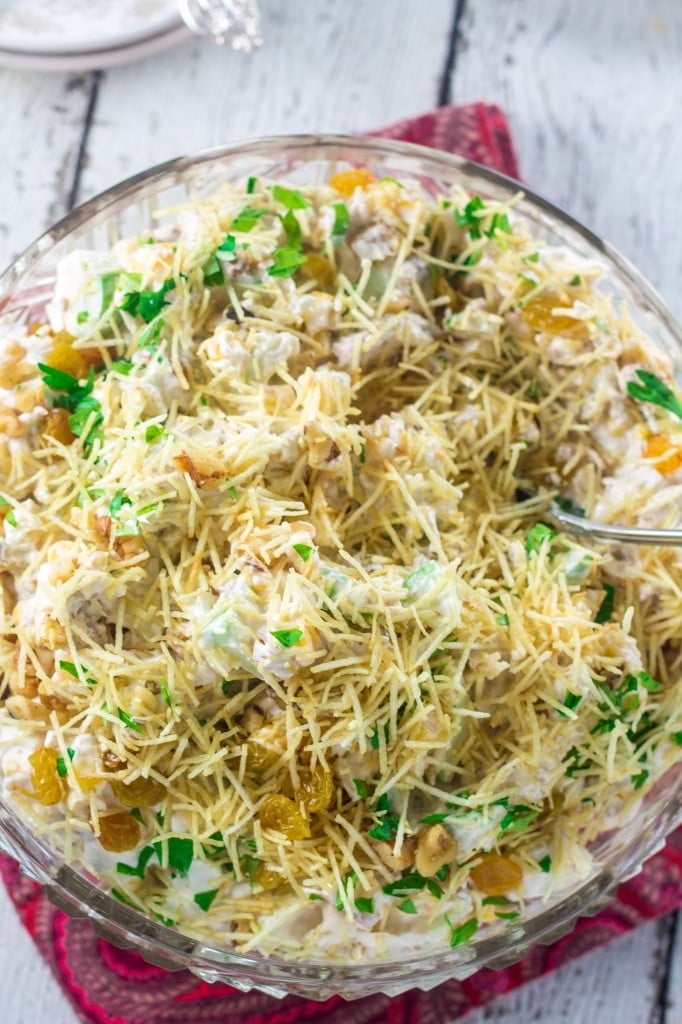 The combination of all the flavors in this salad is what make this a hit! Shredded chicken (preferably smoked, but I couldn't find it!), pineapples, green apples, corn, golden raisins, walnuts, table cream, mayo and potato sticks. Feel free to also add some cubed ham if you want! Yum Yum! Who would have thought that these ingredients could come together to make the most delicious chicken salad in the world?
I am usually not a chicken salad gal. But this one is so special that it gets me drooling just at the sight of it and then licking the plate once I'm done eating it. Just kidding… I would never lick a plate! (Please, don't tell anyone!!)
I love when a dish provokes all kinds of (good) sensations in your body… This is one of those dishes! Every bite is a burst of flavor and texture in your mouth. The softness of the chicken, pineapples, corn and raisins, combined with the crunchiness of the apples, walnuts and potato sticks makes this a very fun salad to munch on. Also the sweet and savory flavors are so Christmasy to me!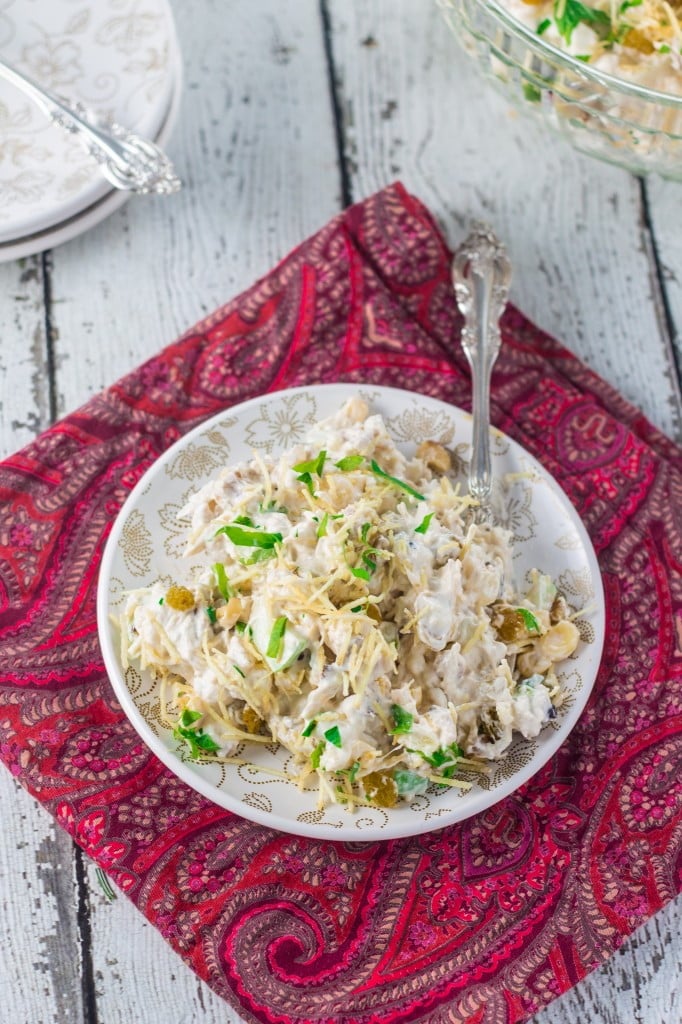 I dare you tell me this salad isn't stunning! Just imagine this beauty on your Christmas (Eve or day) table. It would also be great if you had some leftovers for the weekend after Christmas, but – I'm sorry to break this to you – that won't happen! There are never leftovers of this chicken salad. C'mon, don't cry, please… It will be okay! You can make it again for your New Year's Eve party. :-)
If you are anything like me and are already planning your Christmas menu, add this salad to your list! You won't regret it! And your guests will love you forever. Also, remember to make it the night before so it can sit in the fridge. It will gain consistency and the flavors will awaken more and more. But leave the potato sticks to be added just before serving, or they will get soggy!
You can serve this as an appetizer salad or as a side dish to your main courses. Also, if it fancies you, serve it over some greens. Sprinkle some chopped parsley over it just for looks (it's not in the recipe but I like to do it!) and some extra walnuts and raisins, because I love those flavors! My grandmother always says that you eat with your eyes before you eat with your mouth, so make a beautiful presentation and you are all set!
Holiday Chicken Salad
Ingredients
1 lbs chicken, cooked and shredded (Use smoked chicken if you can find it!)
1 1/2 cup cubed ham (optional)
2 1/2 cups mayo
1 7.6 fl oz can table cream
1 15oz can corn
1 20oz can crushed pineapple, drained
1 1/2 cups chopped walnuts
1 1/2 cups golden raisins, hydrated
1 granny smith apple, cubed
1 cup potato sticks
Salt, if necessary (usually not!)
Instructions
In a large bowl, combine the chicken, the ham (if using), the corn, the pineapple, the apple, the raisins, the walnuts, the table cream and the mayo and mix well. Taste to check seasoning and add salt if necessary.
Bring the bowl to the fridge and let it sit overnight.
The next day, transfer to a serving dish and sprinkle the potato sticks on top. Add some chopped parsley and some more walnuts and raisins to decorate, if you want.
Serve cold or at room temperature.