Honey Garlic Glazed Chicken Nuggets
This is a sponsored conversation written by me on behalf of Tyson Foods, Inc. The opinions and text are all mine.
A fun twist on a classic back-to-school dinner, these Honey Garlic Glazed Chicken Nuggets will get everybody rushing to the table! And the best part? They are ready in 15 minutes!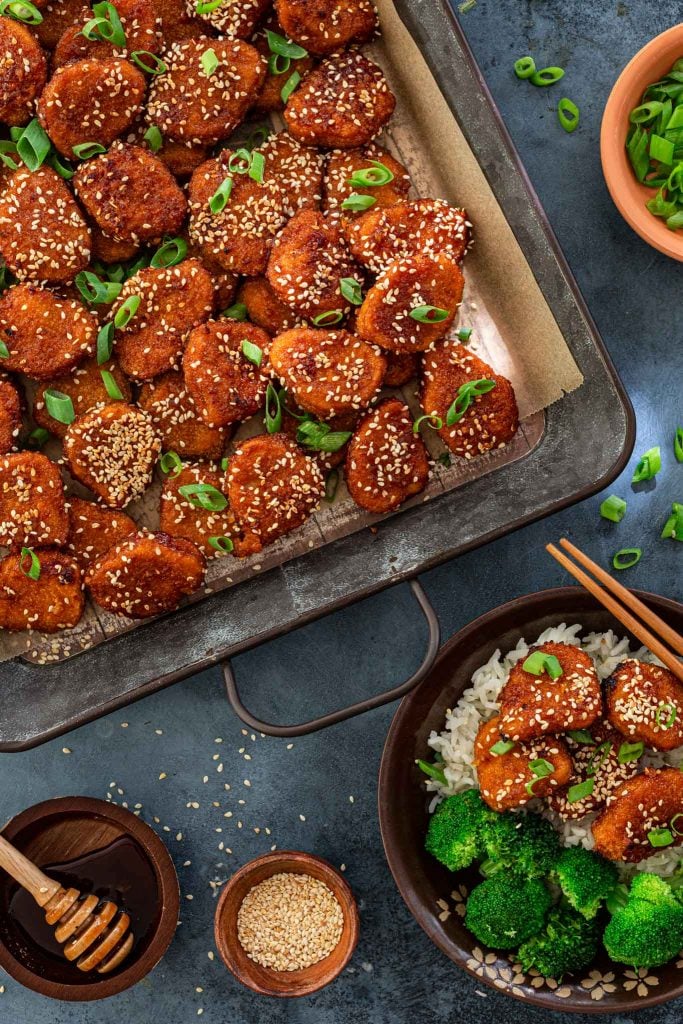 Feeling sad because summer is coming to an end and back to school is here to make you feel like the most overwhelmed parent on the block? I feel ya!
Truth is my kids are not in school yet, but you wouldn't believe how hectic things can be in our home. More often than I care to admit, I greet my husband from work with a desperate face and a plead for a trip to the nearest fast food chain!
But no more! Now that I'm about to have 2 kids eating food in the house, I've decided that I need to get more organized. And that means meal planning and stocking my pantry/fridge/freezer with products that will help me feed my family while making mealtime easier.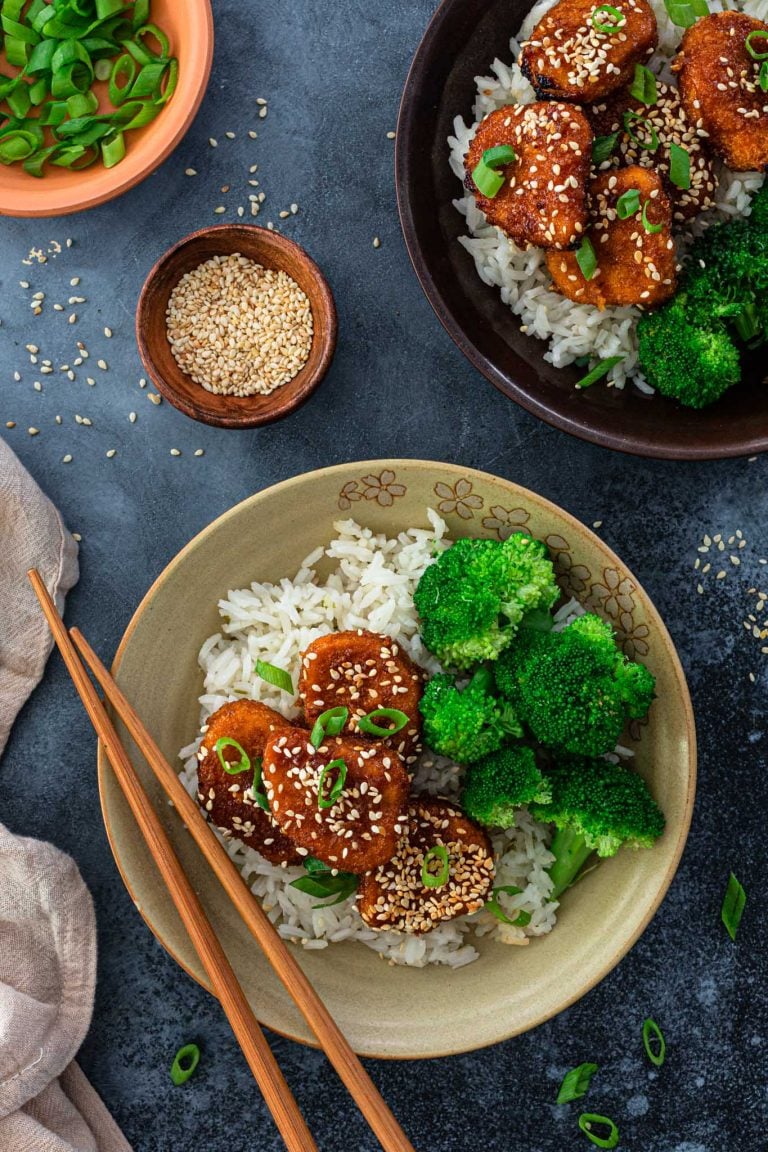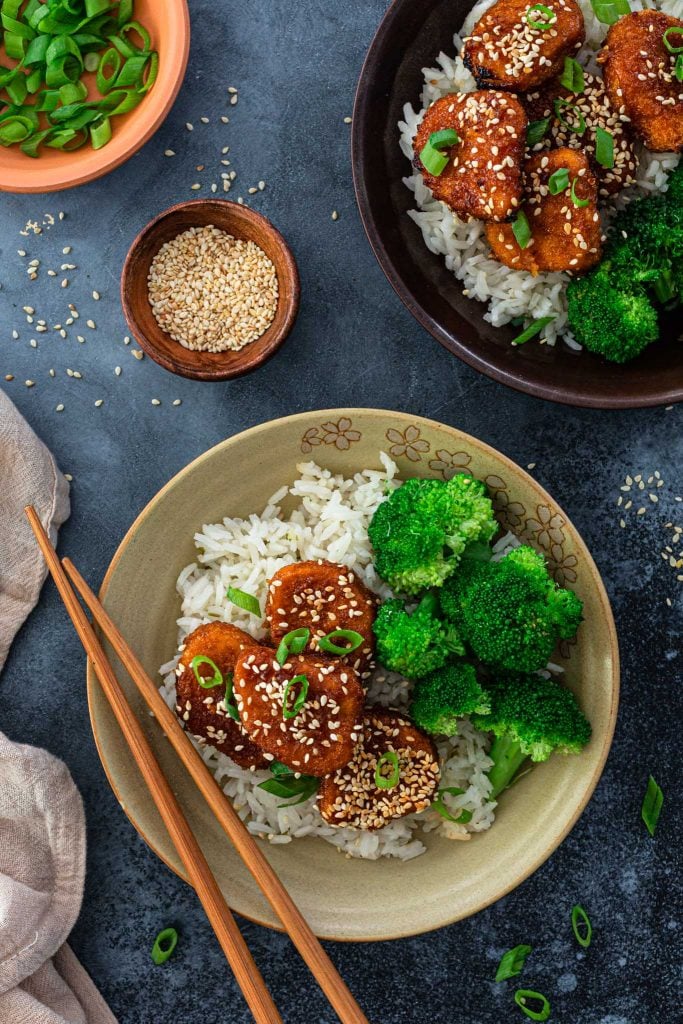 Turning frozen nuggets into an exciting meal
Didn't have time to prep dinner in advance? No problem! A bag of Tyson® Chicken Nuggets plus a handful of pantry staples equals these insanely addicting honey garlic glazed chicken nuggets. On the table in 15 minutes!
Fast, family-friendly meals don't have to be boring and flavorless. Tim and I are gustatory pleasure seekers, so the simplest of meals have to be exciting, or we will be left feeling unsatisfied!
Don't get me wrong, chicken nuggets are delicious! Crispy little savory bites dunked into a yummy sauce? Who could say no to that?
But we, parents, know it can get a little monotonous when your kid asks for it every single meal! So these honey garlic glazed chicken nuggets are a way of combining both worlds: a spoiled nugget loving toddler and parents who love to eat exciting things.
Tim actually called me a culinary genius when I served these. And I don't know if I should feel flattered or offended, given that I've fed him 4-hour braised dishes in the past without a peep about my cooking skills…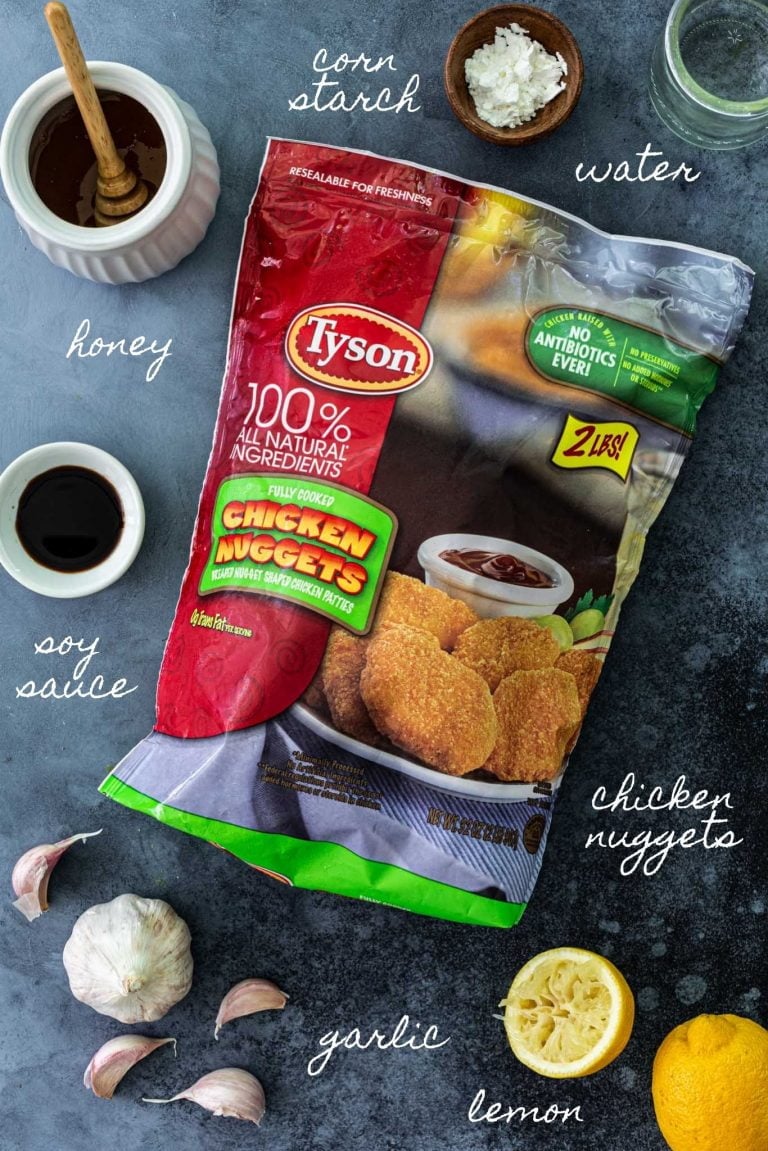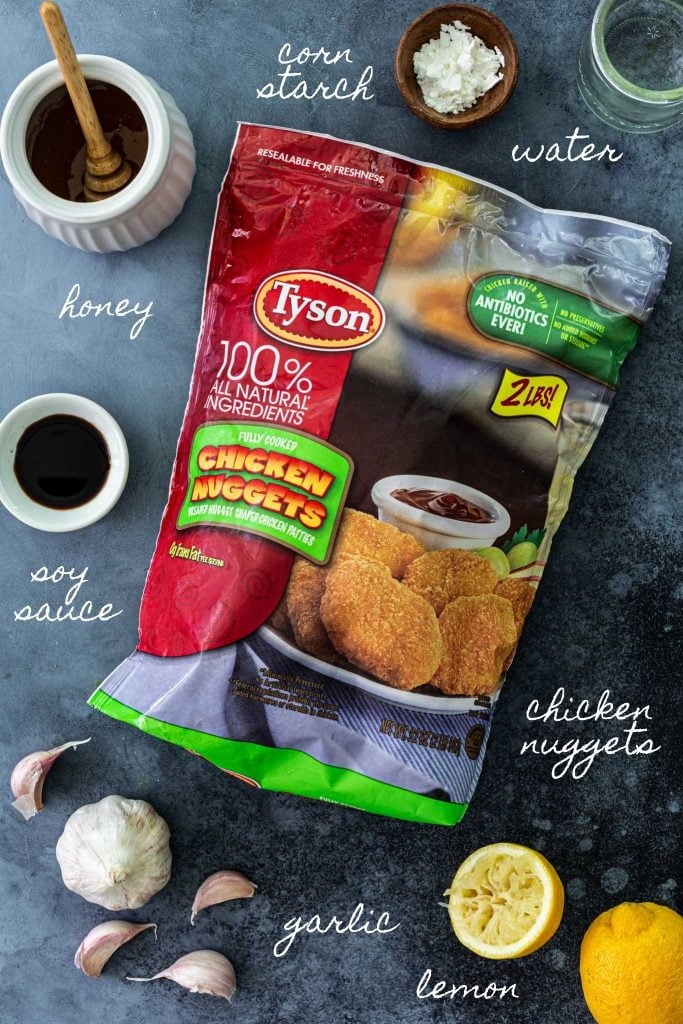 Ingredients for Honey Garlic Glazed Chicken Nuggets
The good news is that you won't need a lot to make these delicious glazed nuggets. And you probably already have these ingredients in your pantry!
Tyson Chicken Nuggets
Honey
Garlic
Lemon juice
Soy sauce
Cornstarch
Water
Salt
Red pepper flakes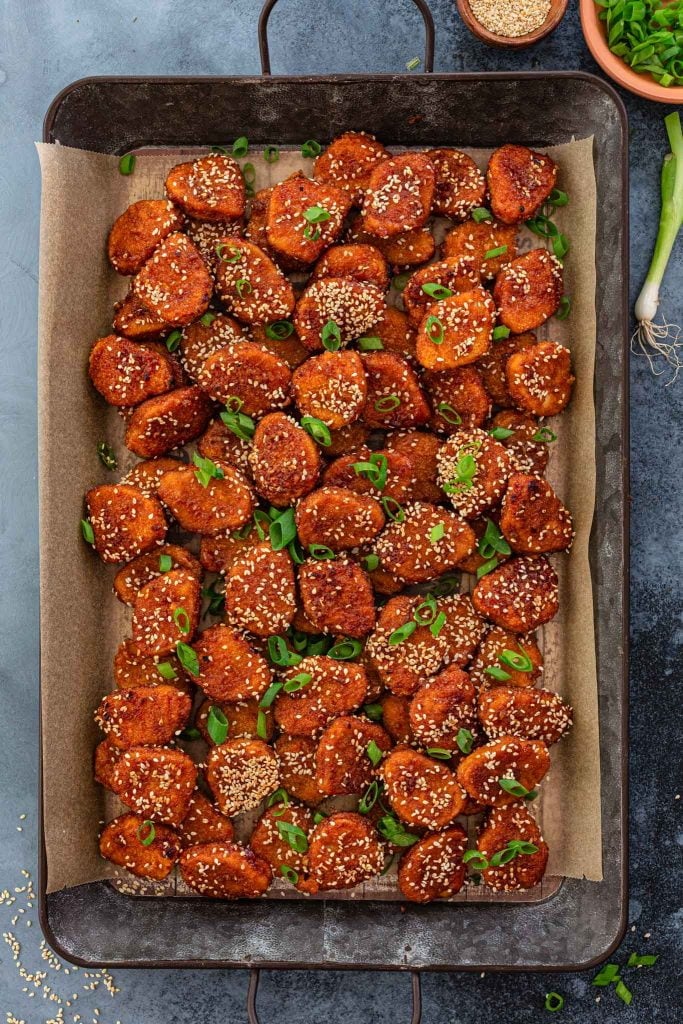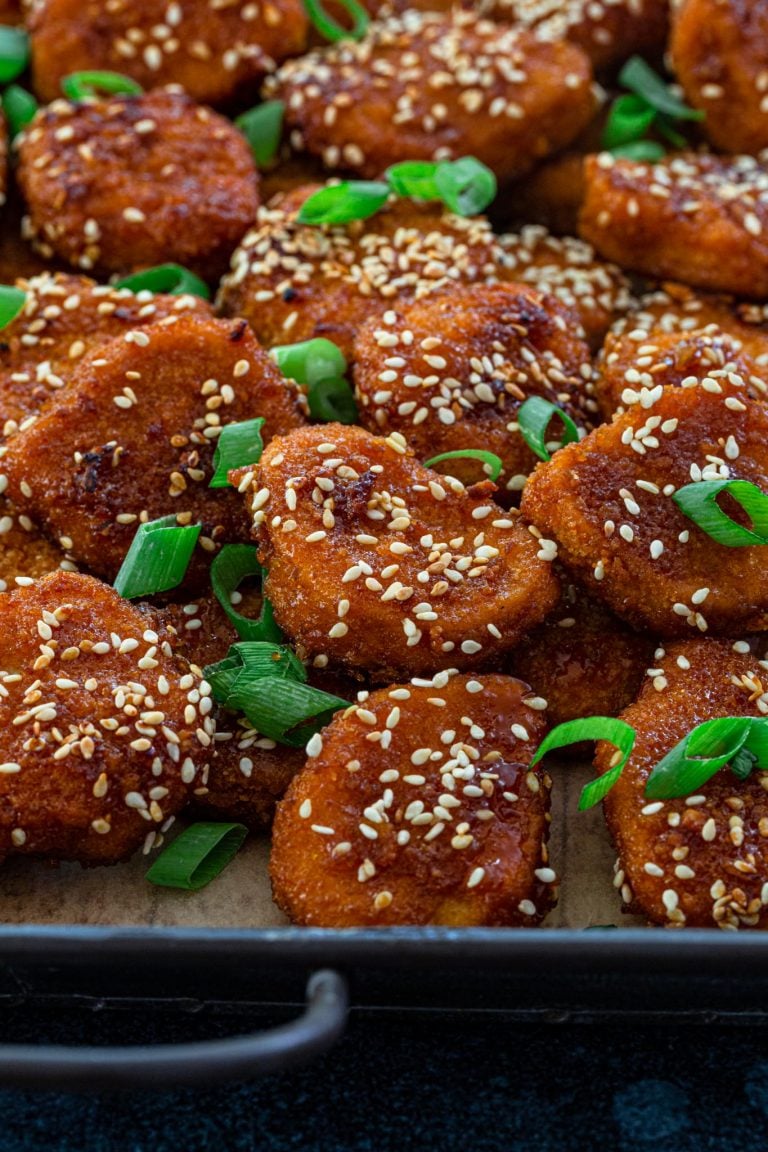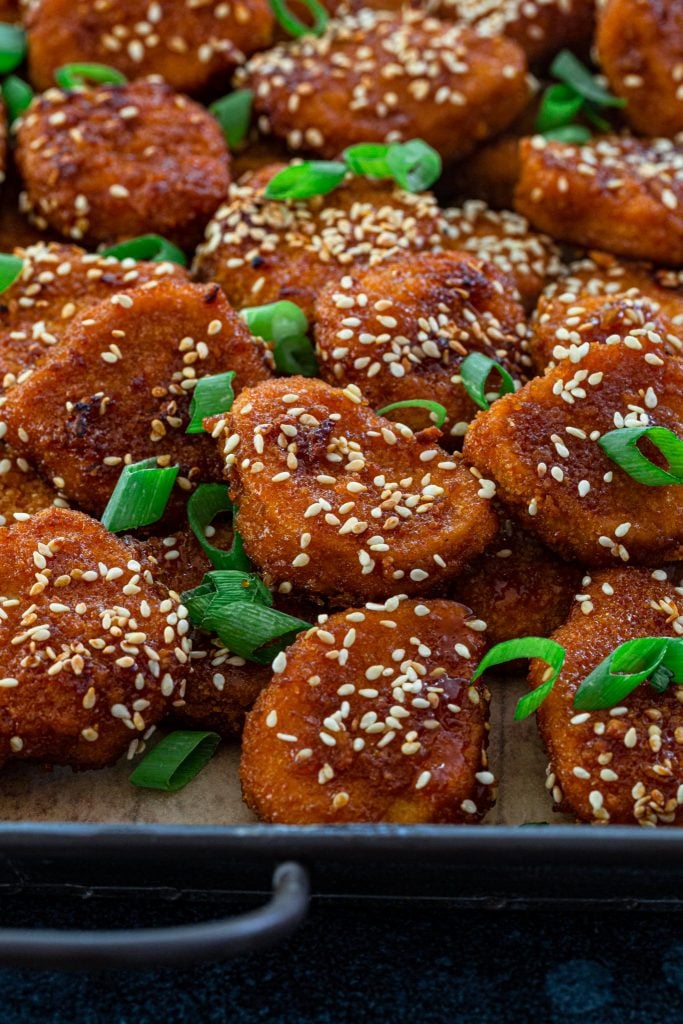 The best frozen chicken nuggets
I buy fully cooked Tyson Chicken Nuggets at my local Shop Rite, because my daughter loves them. However, this recipe also works with Tyson® Any'tizers® Chicken Fries and Tyson® Chicken Strips.
Not only does Tyson make convenient, protein-packed and affordable products that help parents all around with their mealtime needs, but their nuggets are crispy and delicious. Also, their chicken is raised with no antibiotics ever!
When looking for them, head straight to the frozen section. They are near the chicken products! You can check which store near you carries them here.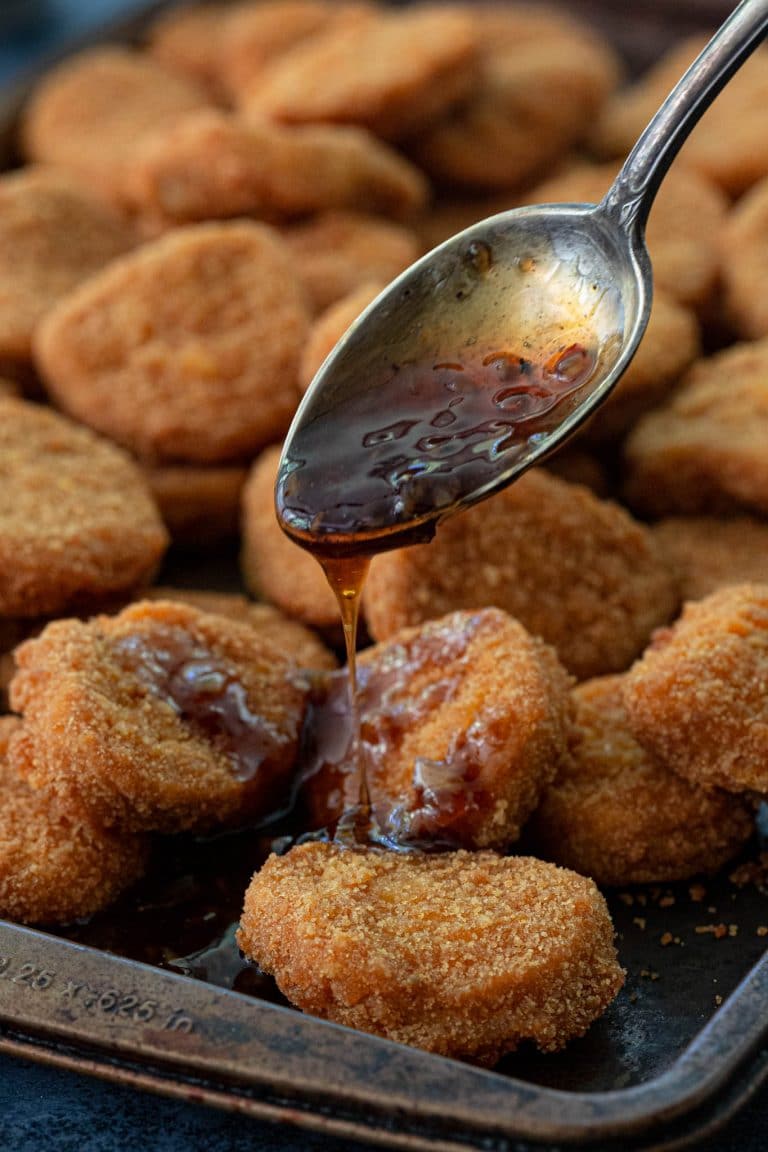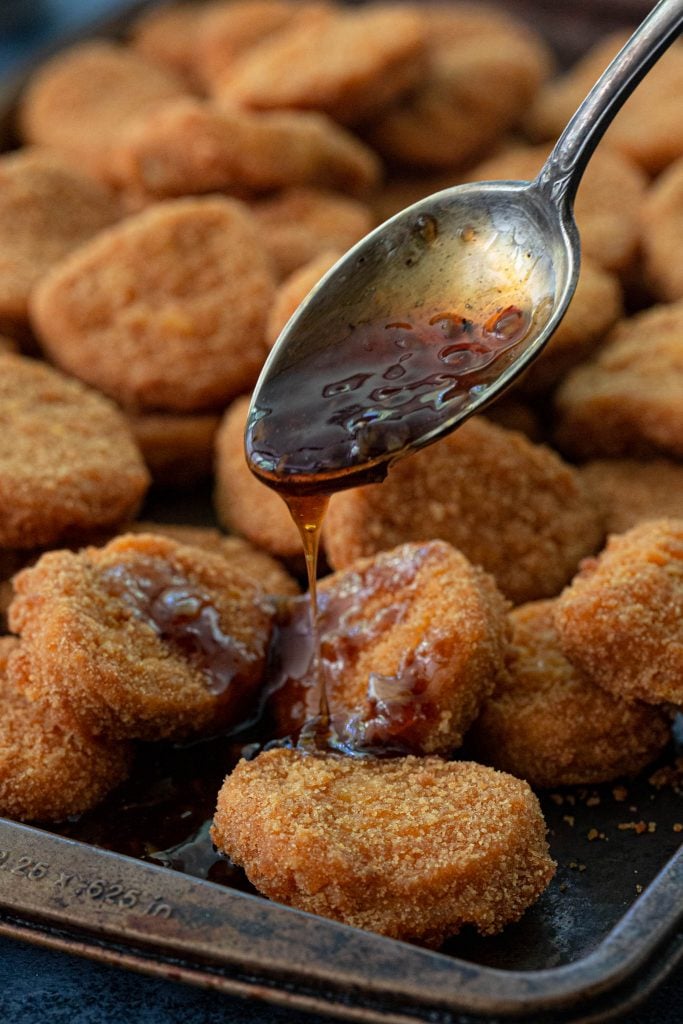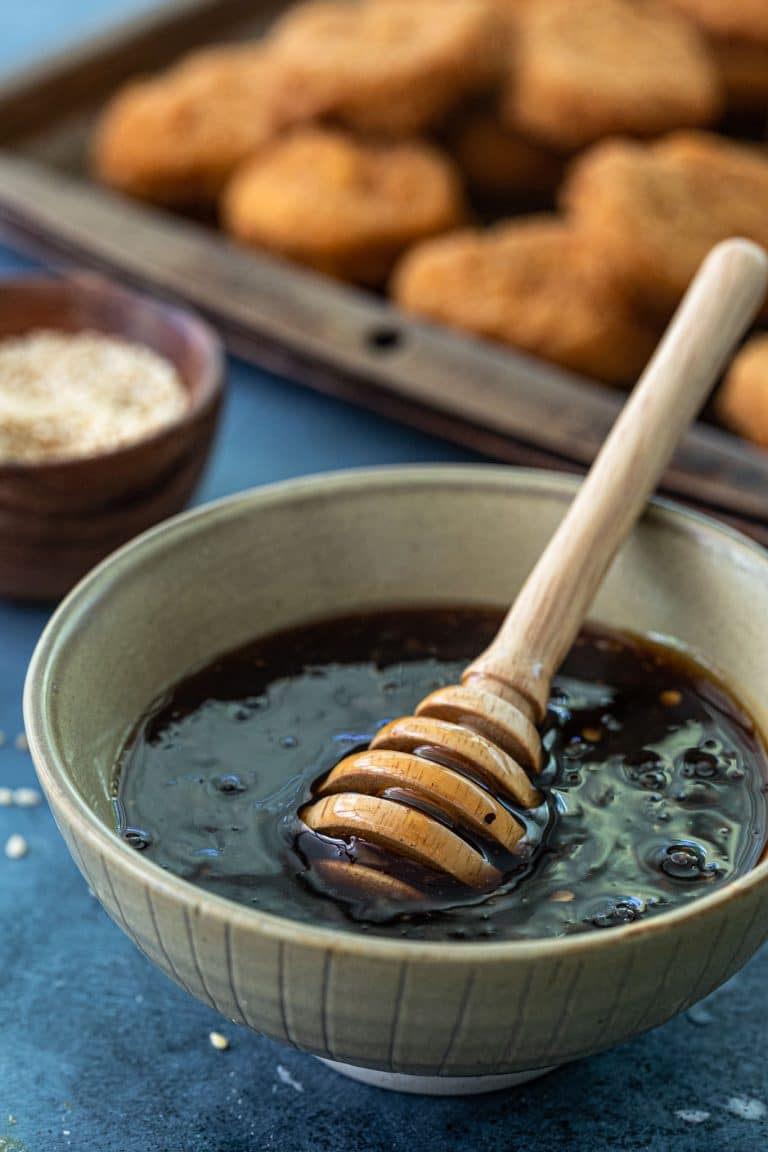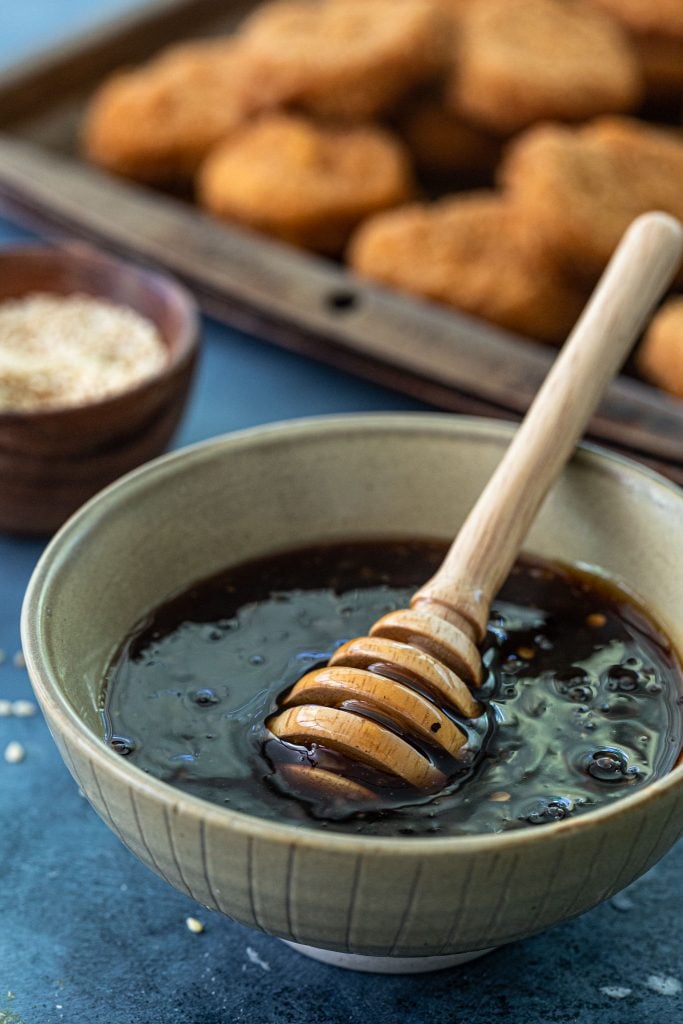 How to make Honey Garlic Glaze
This glaze is the stuff dreams are made of! Savory, sweet and garlicky, you will be licking your fingers clean.
To make it, all you gotta do is combine the ingredients in a sauce pan and cook until slightly thickened. Keep in mind that the glaze will thicken as it cools, so don't wait 'til it is super thick to remove from the stove!
Once the chicken nuggets are done, the glaze will have cooled down a bit and is ready to be used. Just pour over the nuggets and toss to combine! Be gentle or the nuggets coating might come off.
Alternatively, you can just drizzle the glaze on the nuggets, but then I can't promise every bite will be coated!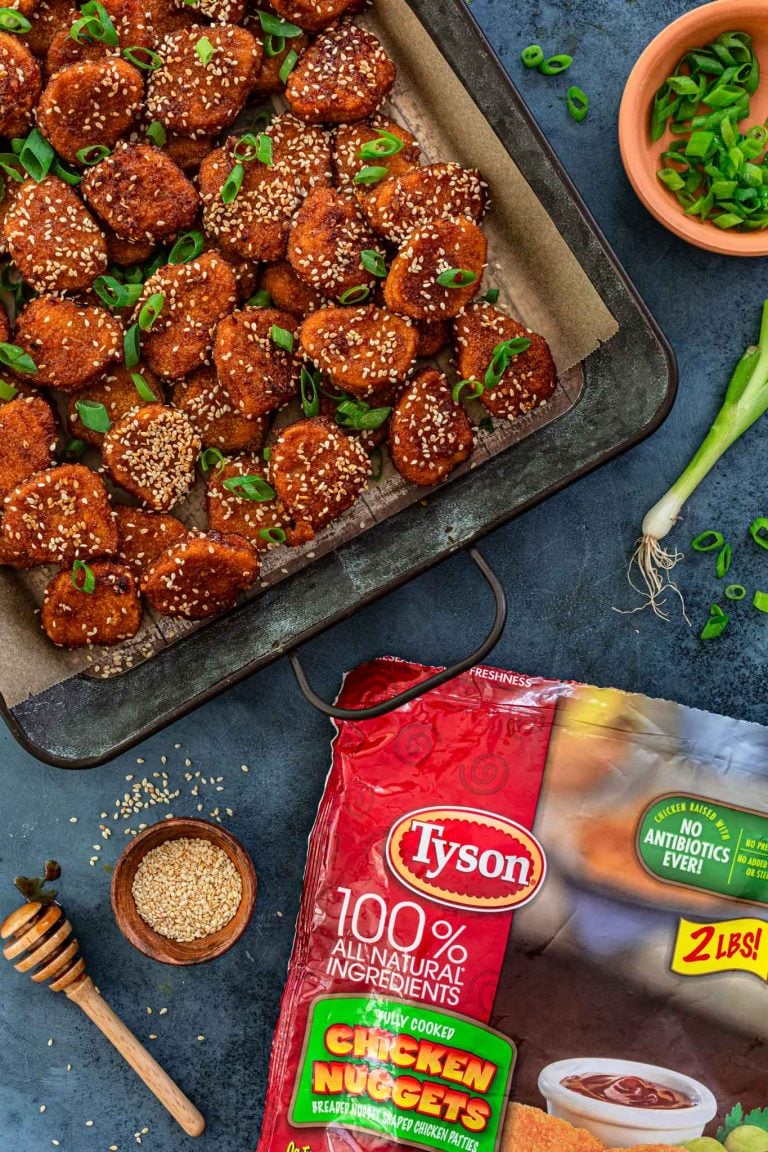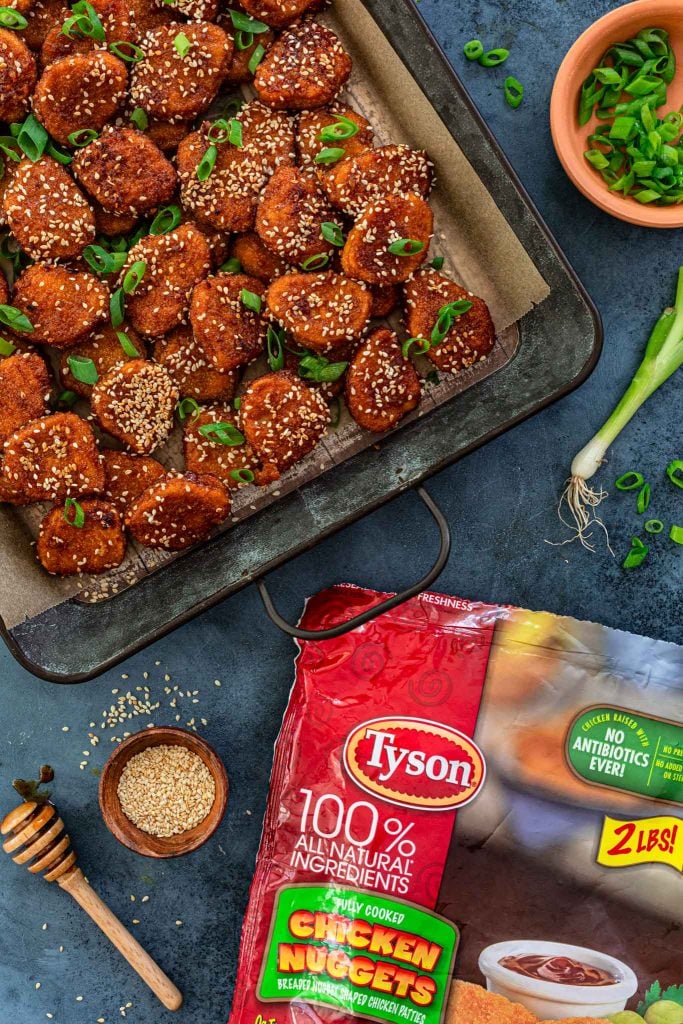 Tips and tricks for the best honey garlic glazed chicken nuggets
I know the package says to reheat the nuggets in the oven, but – for the ultimate crispiness – I like to use my air fryer!
No air fryer? No problem! Just make sure to use a dark metal sheet pan, as those will absorb more heat and, consequently, radiate it off into your nuggets, meaning that they will get browner and crispier.
Skip the parchment paper. I know, I know, who doesn't love the convenience of not having to clean up a mess? But the nuggets will be crispier if they are in contact with the metal.
Wait a couple of minutes to pour the glaze into the nuggets. They are not as crispy once they are out of the oven. But wait a couple minutes and voila: magic!
Also, don't pour hot glaze onto the nuggets as they will lose its crispiness. Wait for the glaze to cool to room temperature (or at least not as hot).
Serve with steamed rice and broccoli for an Asian take-out style meal!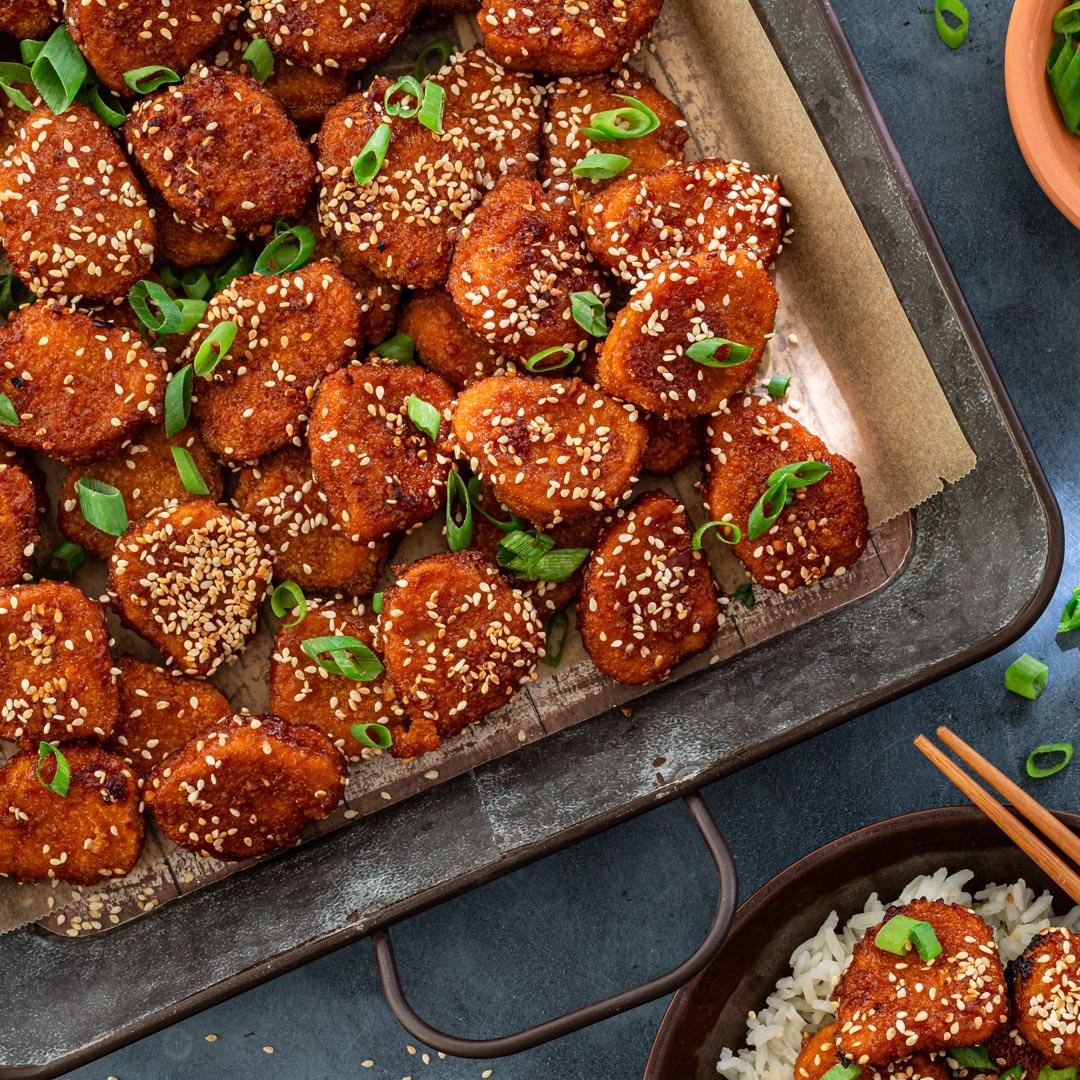 Honey Garlic Glazed Chicken Nuggets
Yield: 8 to 10
Cook Time: 15 minutes
Total Time: 15 minutes
A fun twist on a classic back-to-school dinner, these Honey Garlic Glazed Chicken Nuggets will get everybody rushing to the table! And the best part? They are ready in 15 minutes!
Ingredients
1 bag Tyson® Chicken Nuggets
5 cloves garlic, crushed
1/2 cup honey
1/3 cup water
Juice of one lemon
1 tablespoon soy sauce
1 tablespoon cornstarch
Salt, to taste
Pinch of red pepper flakes (optional)
Scallions and sesame seeds to garnish
Instructions
Prepare nuggets according to package instructions.
While nuggets are heating, make the glaze. Whisk all the ingredients in a medium saucepan, until well combined. Cook, over medium heat, until thickened, about 3-4 minutes.
Once chicken nuggets are done, pour the glaze over them and toss gently to coat all pieces.
Garnish with scallions and sesame seeds. Serve immediately.
Nutrition Information:
Serving Size: 5 nuggets
Amount Per Serving:
Calories: 335
Looking for more easy recipes? Check these out: