Italian Pot Roast (Stracotto alla Fiorentina)
Cold weather calls for comfort food, like this hearty and cozy Italian Pot Roast. It is made Tuscan style, simmering for hours in a delicious tomato sauce to ensure deep rich flavors while filling your home with the most amazing smells!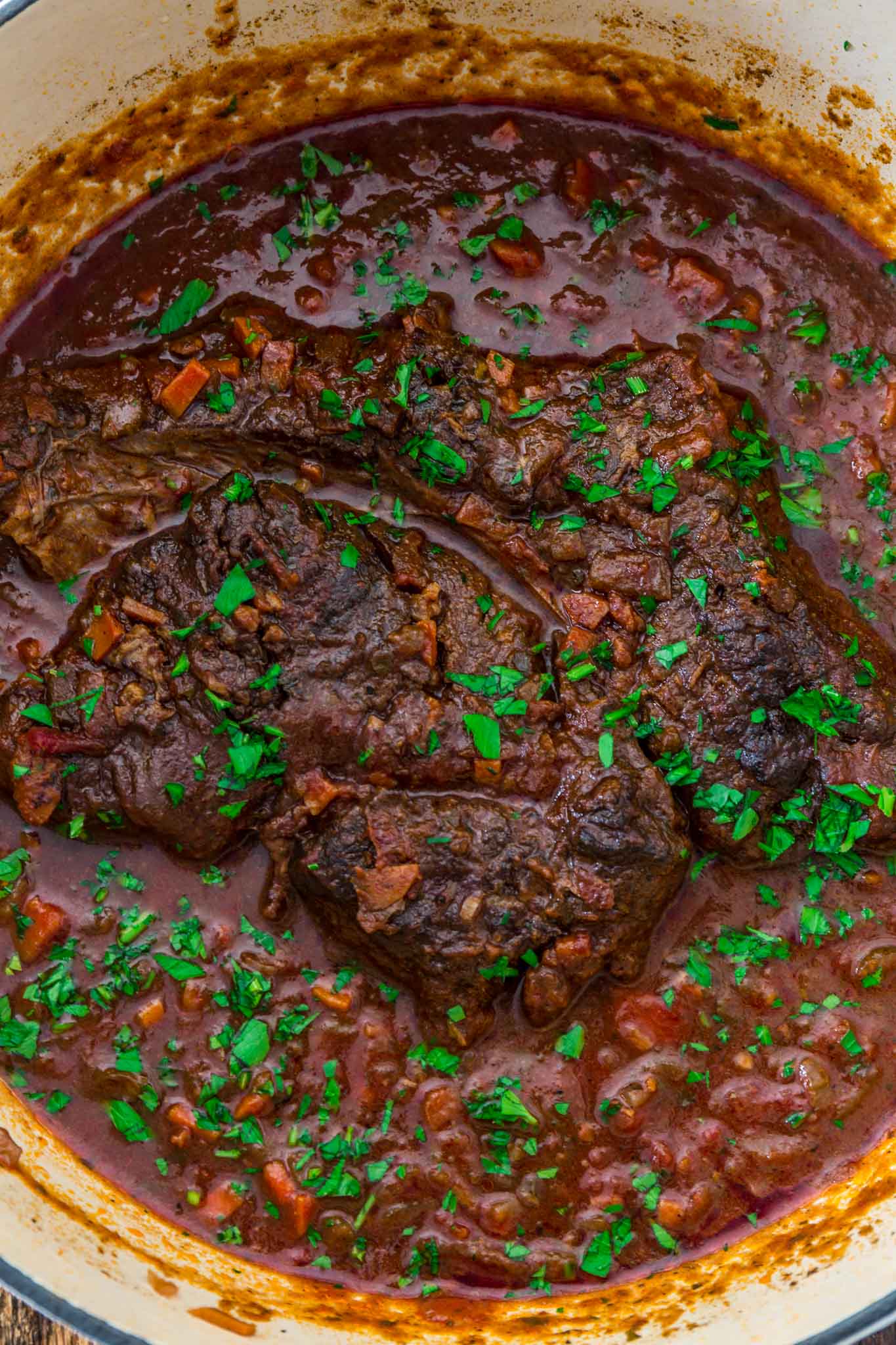 This post is sponsored by Bertolli®.
There's no denying it. Nobody does comfort food like the Italians!
As soon as the weather starts getting a little chilly, I'm suddenly craving all the pasta and delicious braised dishes, like a rich Italian Pot Roast or Chicken Cacciatore.
And while I'm all for the quick pasta dishes during summer, now I have no objection to spending all day in the kitchen, warming up by the stove with a pot of stew or roast simmering the day away.
We all lead busy lives so I understand the need for the fast and furious weeknight recipes. But there's nothing like taking a day – maybe Saturday or Sunday – to just enjoy cooking and all its wonderful smells! It is truly therapeutic!
Earlier this month, I got to spend a wonderful evening with Bertolli® in Manhattan, eating delicious dishes made with their new Rustic Cut™ Pasta Sauces.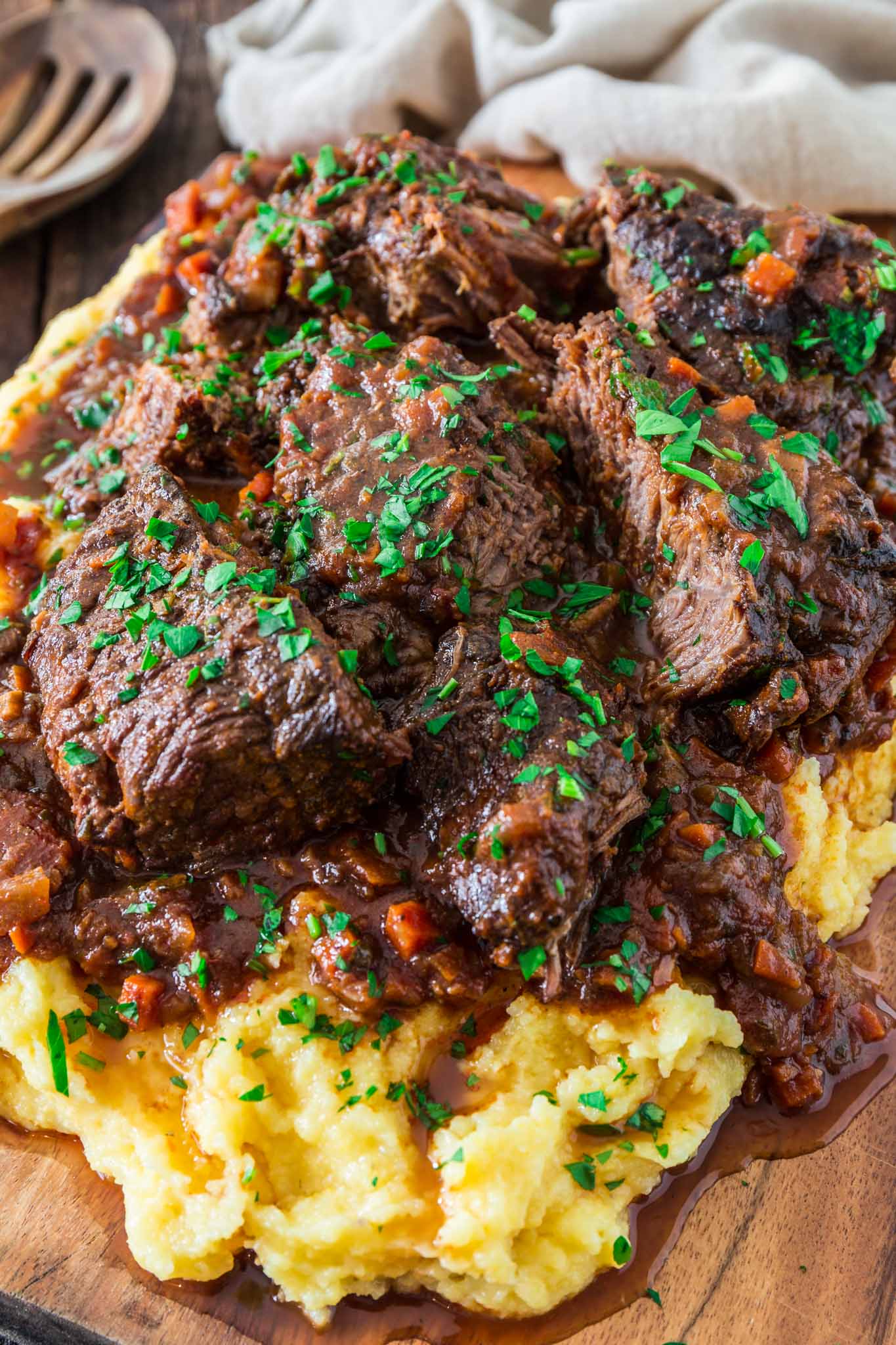 It was my first night going out without the baby, so it was both amazing and bittersweet. But I got to eat great Italian food, drink fun cocktails and talk about Francesco Bertolli's legacy and passion for simple ingredients and home cooked meals.
In true Tuscan tradition, the new Bertolli Rustic Cut Pasta Sauces are made with thick chunks of premium vegetables, like juicy tomatoes, onions, garlic, carrot and celery, cooked lightly with extra virgin olive oil to lock in layers of flavor.
No artificial flavors and colors, no added sugar and no high-fructose corn syrup! Just fresh and simple ingredients coming together to create a delicious fresh tasting sauce.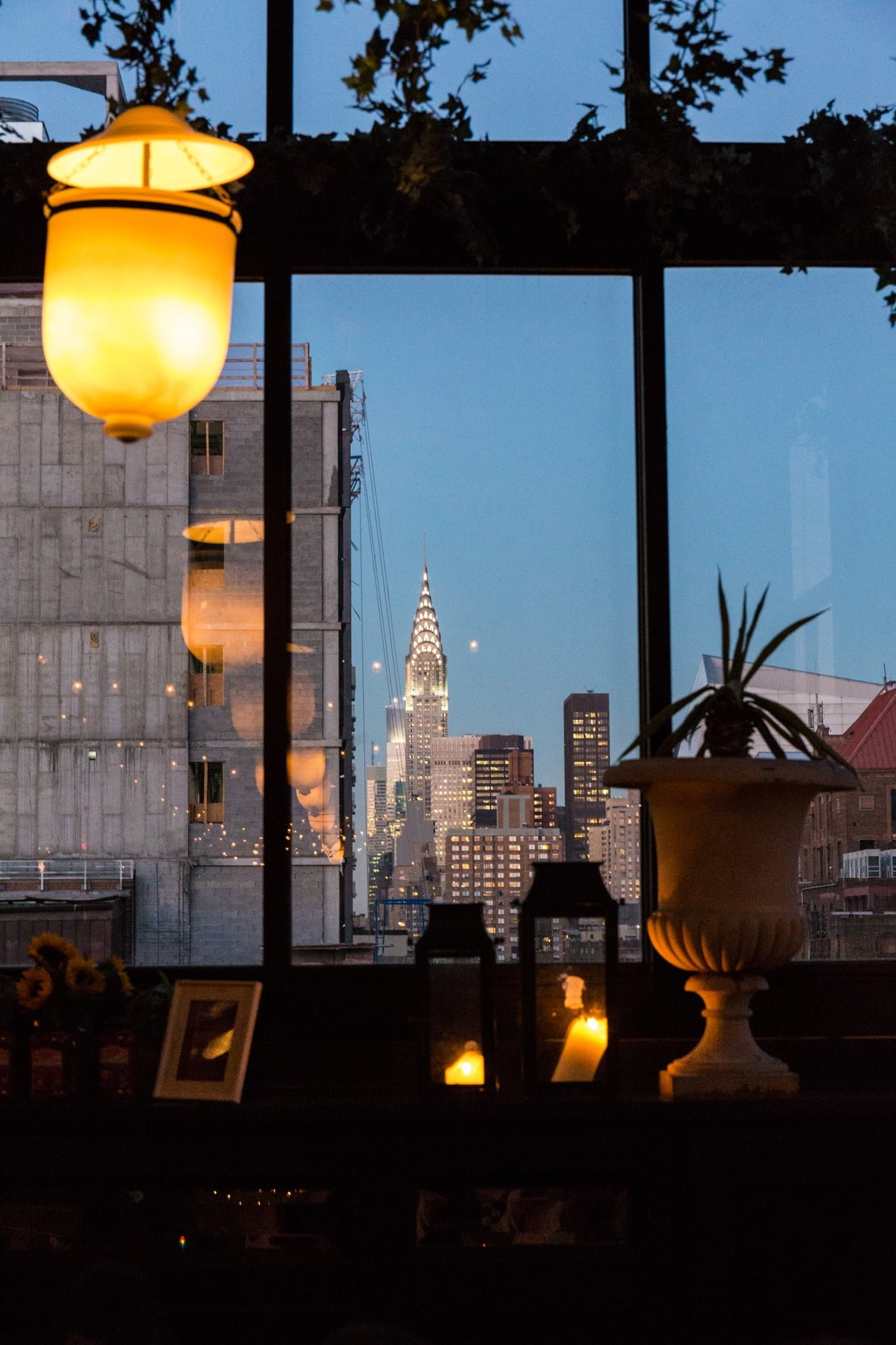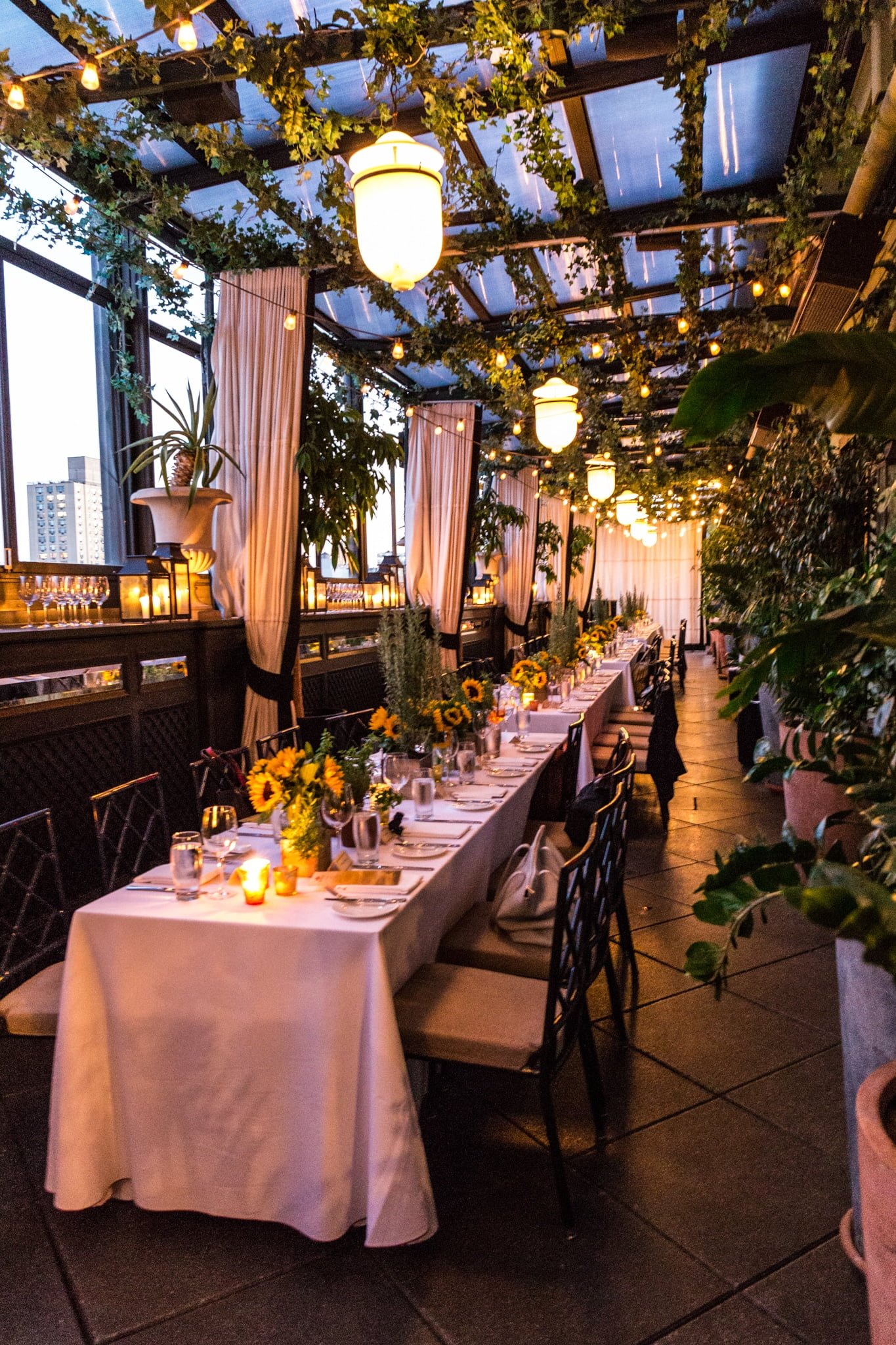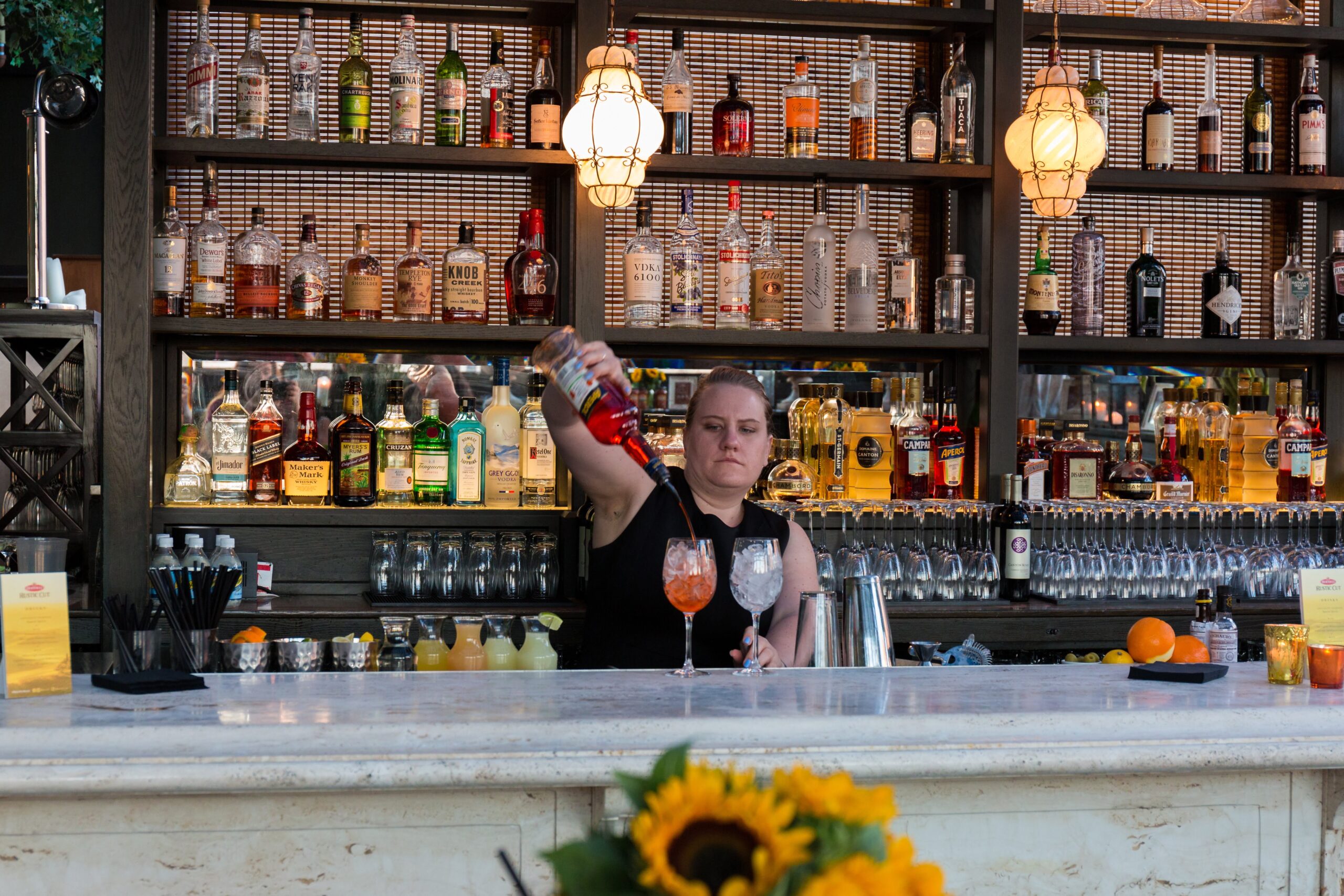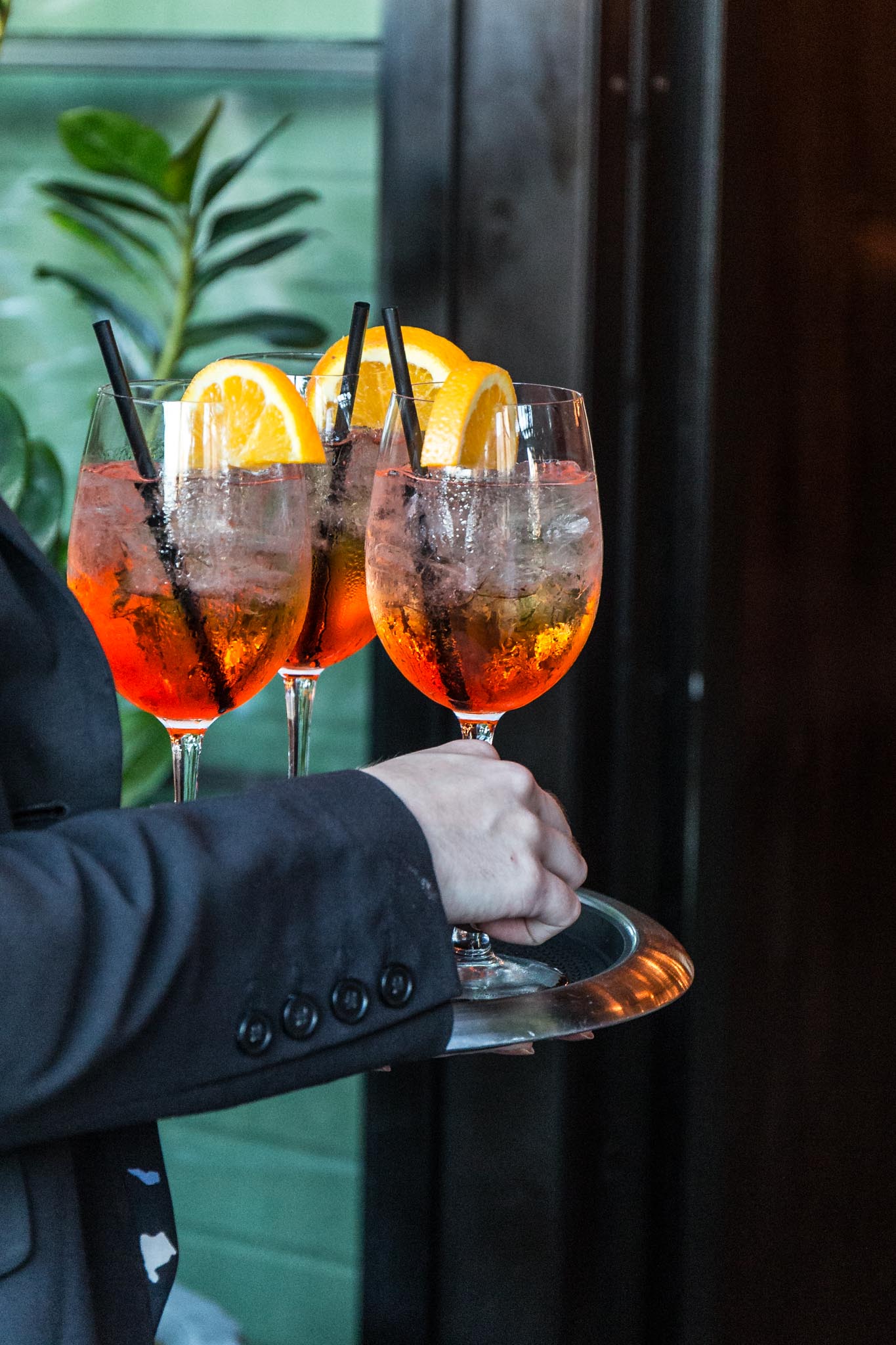 The weekend after the event, while grocery shopping, I spotted the new sauces and couldn't resist grabbing a few of each flavor.
Without any recipe in mind, I knew I would enjoy them, even if just over some al dente spaghetti for a quick lunch. But then the weather got chilly and my heart set on a braised pot roast, just like they do in Firenze.
This florentine dish is called 'stracotto', which means 'overcooked'. Not overcooked as in "send this plate of rubber back to the kitchen", but in a lazy, slow cooking fork-tenderlicious way.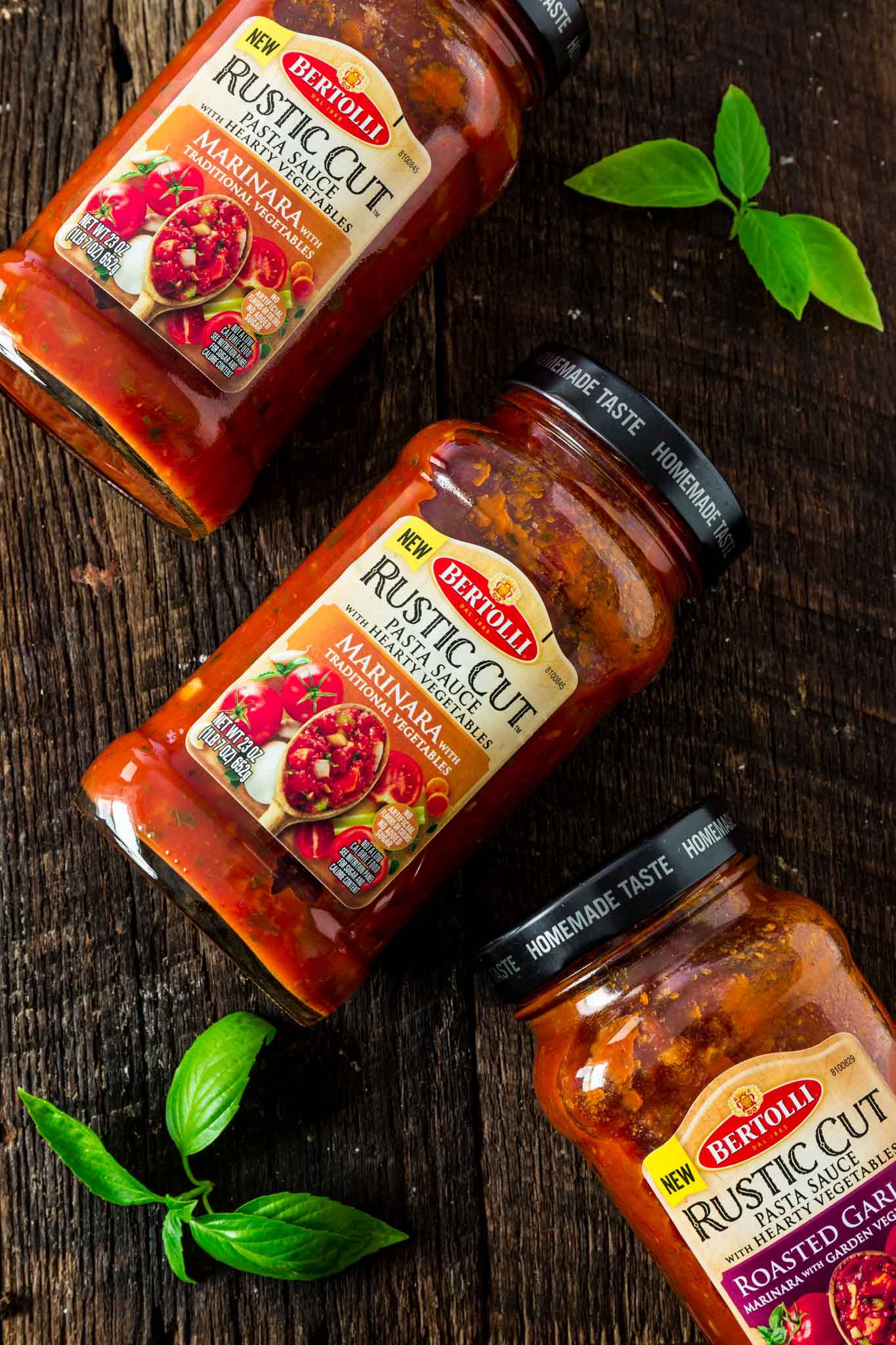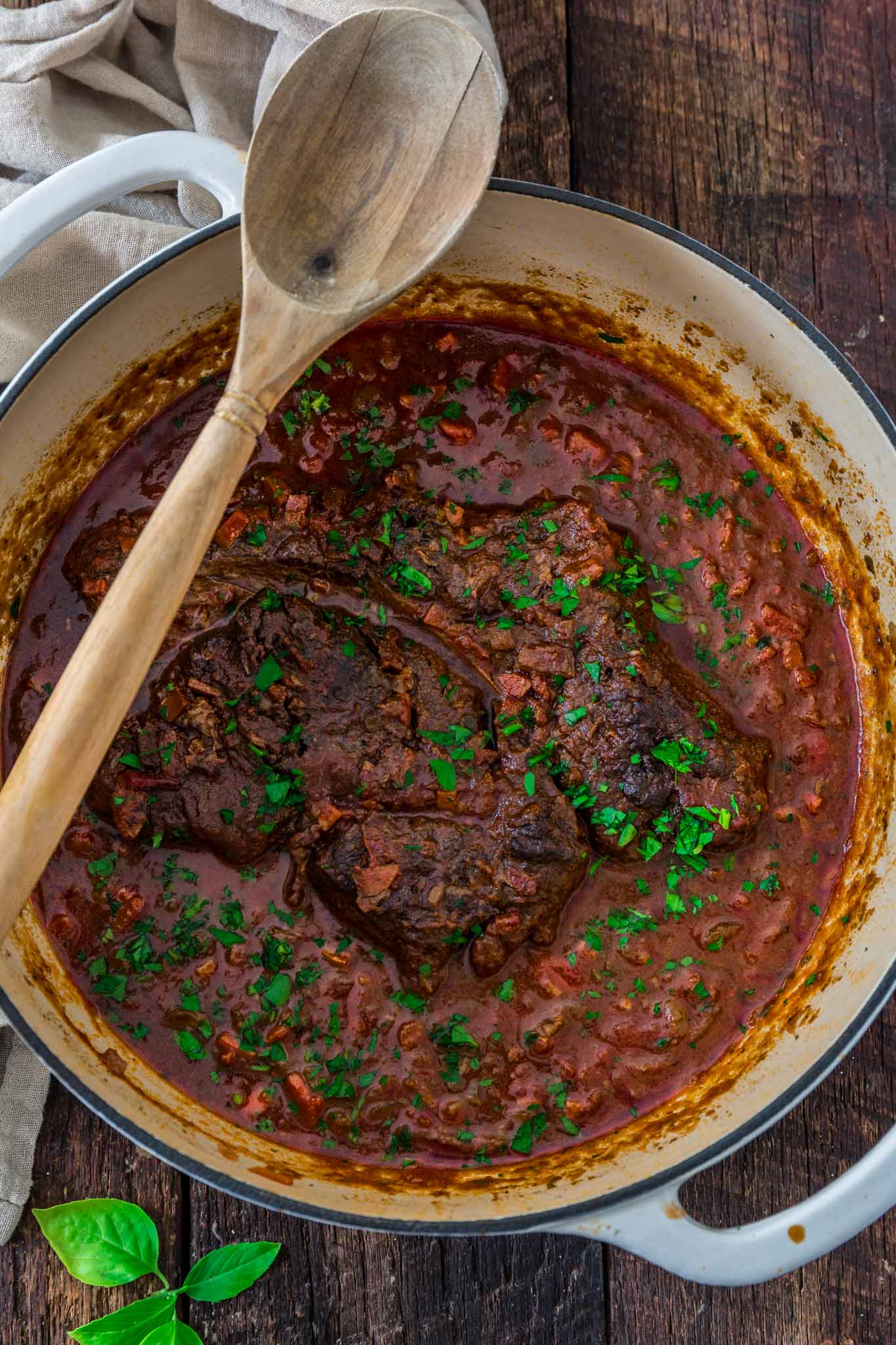 I was tempted to serve my stracotto over a long thick pasta, like pappardelle. But my mom convinced me to serve it over polenta, just like my uncle Alfredo – who was not from Firenze, but from Sutri – used to do.
She told me he served braised meat over polenta on a huge wood board that took over almost all the table. People gathered around and scooped out the polenta and meat, while sipping wine and munching on crusty Italian bread!
I was skeptical at first, as I do not own a wood board that big, but I went for it and I ended up loving the results! It is a fun, creative way to serve this dish.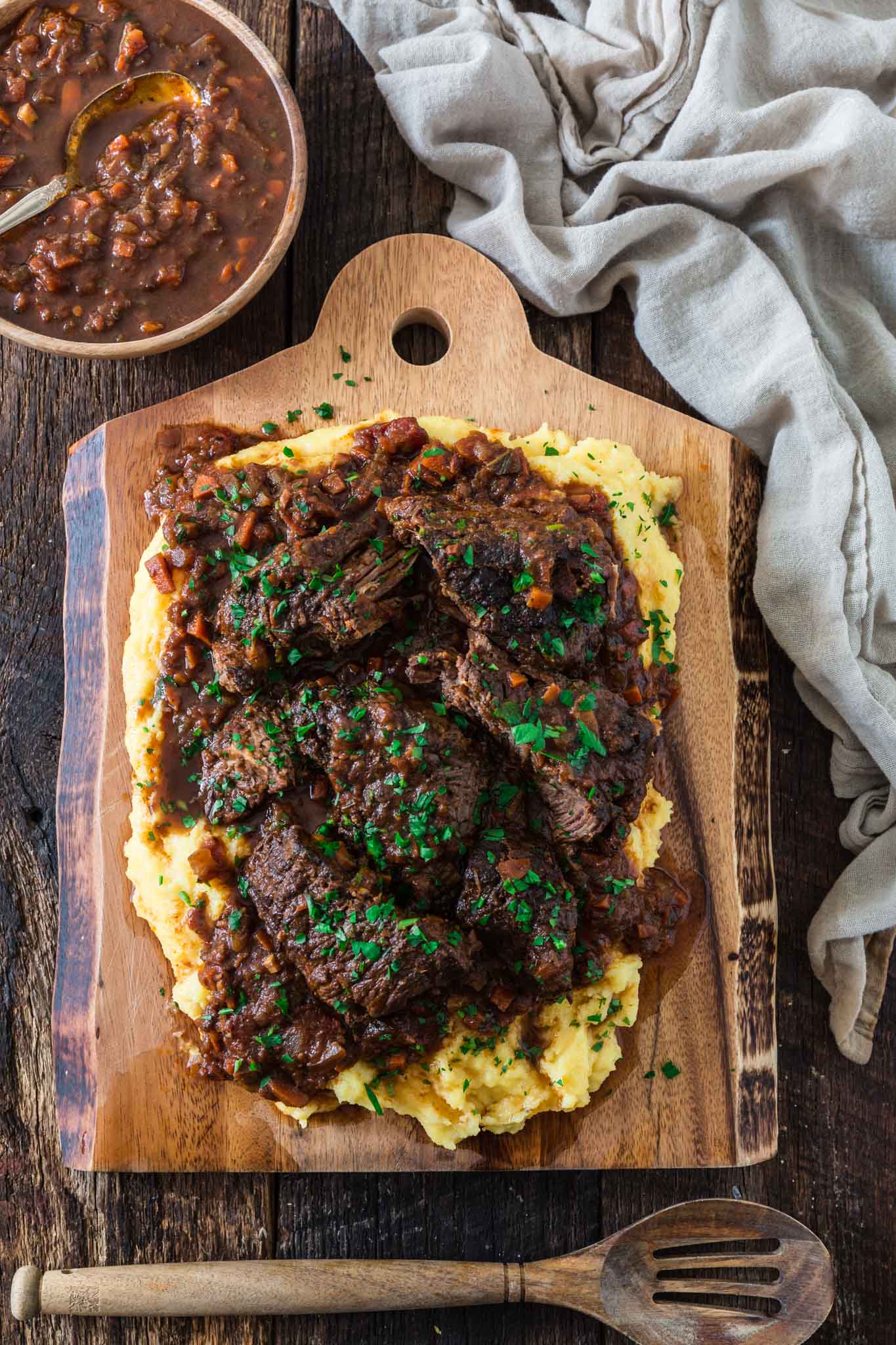 The original Tuscan recipe calls for straining the sauce after you finish braising the meat and discarding the vegetables. But I think that the chunks of veggies add a lot of depth and flavor to the dish, so in my version, they stay!
I used Bertolli Rustic Cut Marinara with Traditional Vegetables and added some more onions, carrot and celery, for even more flavor. If you're short on time or don't want to go through the trouble of chopping the extra veggies, just skip them and add only the sauce.
And if you are a really busy person and can't spare a few hours to be home while the pot roasts is braising on the stove, you can make this in the slow cooker. However, I highly recommend not skipping the browning step, as that is crucial for the uttermost hearty and rich flavor!
Italian Pot Roast (Stracotto alla Fiorentina)
Yield: 8
Prep Time: 5 minutes
Cook Time: 3 hours 25 minutes
Total Time: 3 hours 30 minutes
Ingredients
3 pounds chuck roast
2 cloves of garlic, peeled and sliced
Salt and freshly ground pepper, to taste
2 tablespoons olive oil
1 onion, sliced
1 carrot, peeled and finely chopped
2 celery sticks, chopped
1 cup red wine (suggestion: Chianti)
1 jar Bertolli Rustic Cut Marinara with Traditional Vegetables
6 basil leaves
Chopped parsley to garnish
Instructions
Trim some of the fat from the meat. Using a sharp knife, make cuts all over the meat and insert the garlic slices inside. Season generously with salt and pepper. If you like, you can tie the beef with kitchen strin, to help it keep it shape during cooking.
In a large dutch oven pot, heat the olive oil over medium high heat. Add the meat and brown on all sides until a nice brown crust develops, about 5 minutes per side. Remove to a plate and reserve.
Lower the heat to medium low. Add the veggies and cook until soft and translucent, about 10 minutes. Then, add the wine and cook until it reduces slightly, about 5 minutes.
Add the marinara sauce and stir to combine. Then, add back the chuck roast and the basil leaves. Cover, turn the heat down to low and let it simmer gently for 2 to 3 hours, turning the roast at least once, until fork tender. If you think the sauce is drying out, you can add some water of beef broth.
When done, remove the basil leaves and discard. Transfer the meat to a chopping board, remove the kitchen string (if used) and cut into smaller pieces. The sauce should be thick enough, but if it's not, you can continue boiling over medium-high heat, uncovered, until it reaches the desired thickness. Taste for seasoning and adjust accordingly.
Serve the roast over creamy polenta (or mashed potatoes), garnished with chopped parsley.
WAIT! BEFORE YOU GO:
This month, Bertolli is also launching the Bravo Rewards program, rewarding shoppers who buy two or more jars of any Bertolli Pasta Sauce in one trip to the store and post a photo of their receipt on bertolli.com/bravo you could receive a custom, ceramic spoon rest. It's easy to get rewarded for trying the new Bertolli Rustic Cut flavors as well as the other Bertolli varieties!
This is a sponsored post written by me on behalf of Bertolli® Rustic Cut™ Pasta Sauces.