Mushroom and Turkey Risotto
This Mushroom and Turkey Risotto is sponsored by Jennie-O.
Hosting an intimate, low key Thanksgiving/Friendsgiving? Ditch the whole bird for this elegant Mushroom and Turkey Risotto instead. Also great as a way to use day-after leftovers.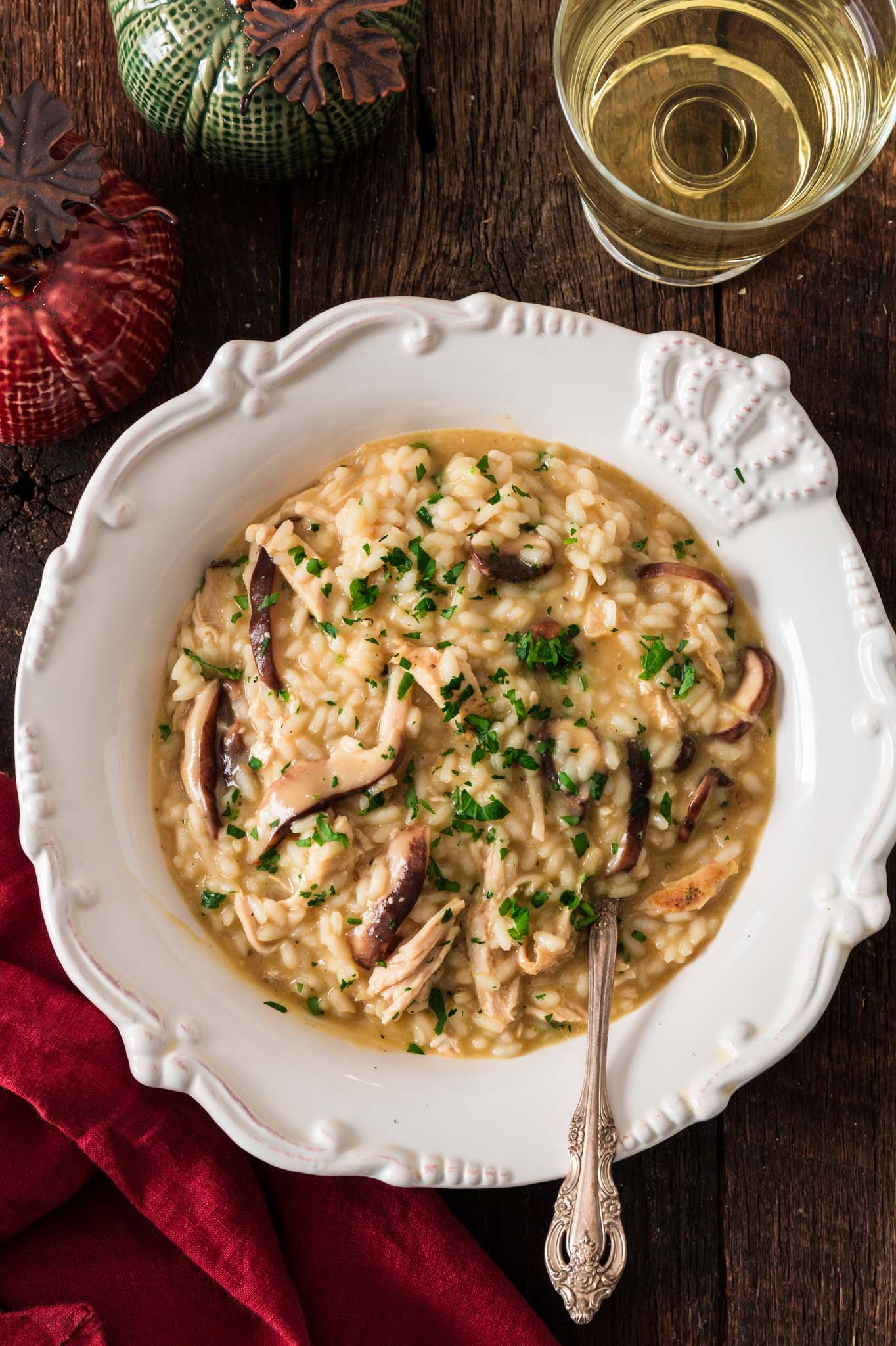 Thanksgiving is almost here. Can you believe it?
Are you stressed yet? I am. We spent the whole weekend battling the crowds, shopping for groceries, new linens, dishes, etc. Damn you, Pinterest, and your wonderful ideas that have me doing a whole different table setting every year! 😂
It is also Rebecca's first Thanksgiving. Granted, she won't remember any of it, but I need it to be special. So we are going all in! The big turkey, all the classic sides, appetizers, yadda, yadda, yadda.
And that's why this past Saturday – when we had a few friends over for Friendsgiving dinner (as they won't be in town for the T-day) – I just didn't have the energy to do the whole shenanigans. After all, we are all gonna eat the traditional feast on Thursday, so I didn't want to overdo it!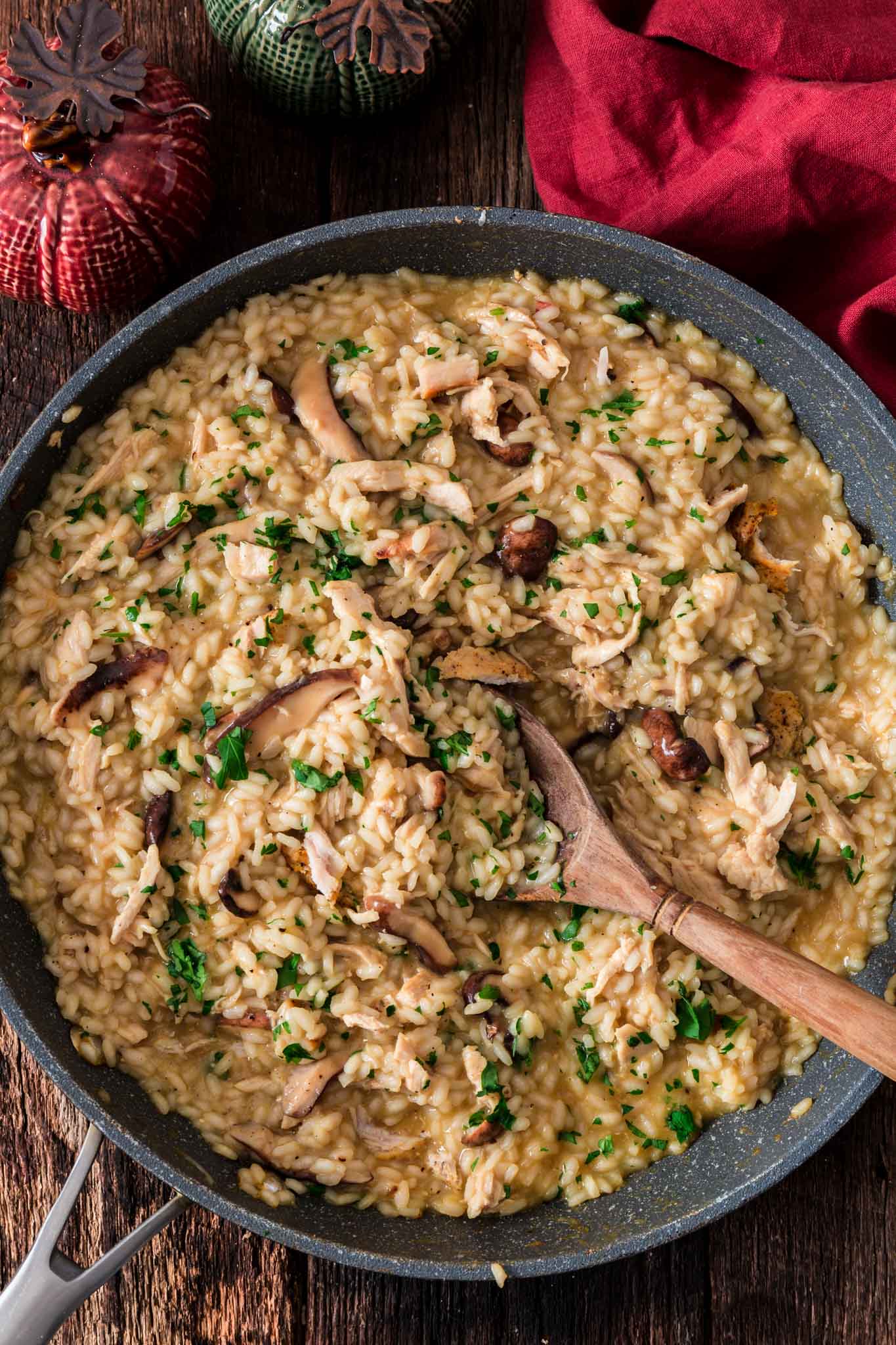 However, I felt that turkey needed to be involved, since Thanksgiving/Friendsgiving is not the same without it! So I made this luscious Mushroom and Turkey Risotto instead.
BEST IDEA EVER! ❤️❤️❤️ Turkey, checked. Elegant enough for a dinner party, checked. Impressive, as risottos always are, checked.
And on top of all that, super creamy and delicious? That's what I call a major win!
I was second guessing hosting Friendsgiving this year, since I'm already hosting Thanksgiving on Thursday and we all know how overwhelming that can be.
But I'm very surprised with how everything turned out! I had fun, I was able to eat and drink with my friends without busting my butt in the kitchen and the night ended on a "we should definitely do this again" note.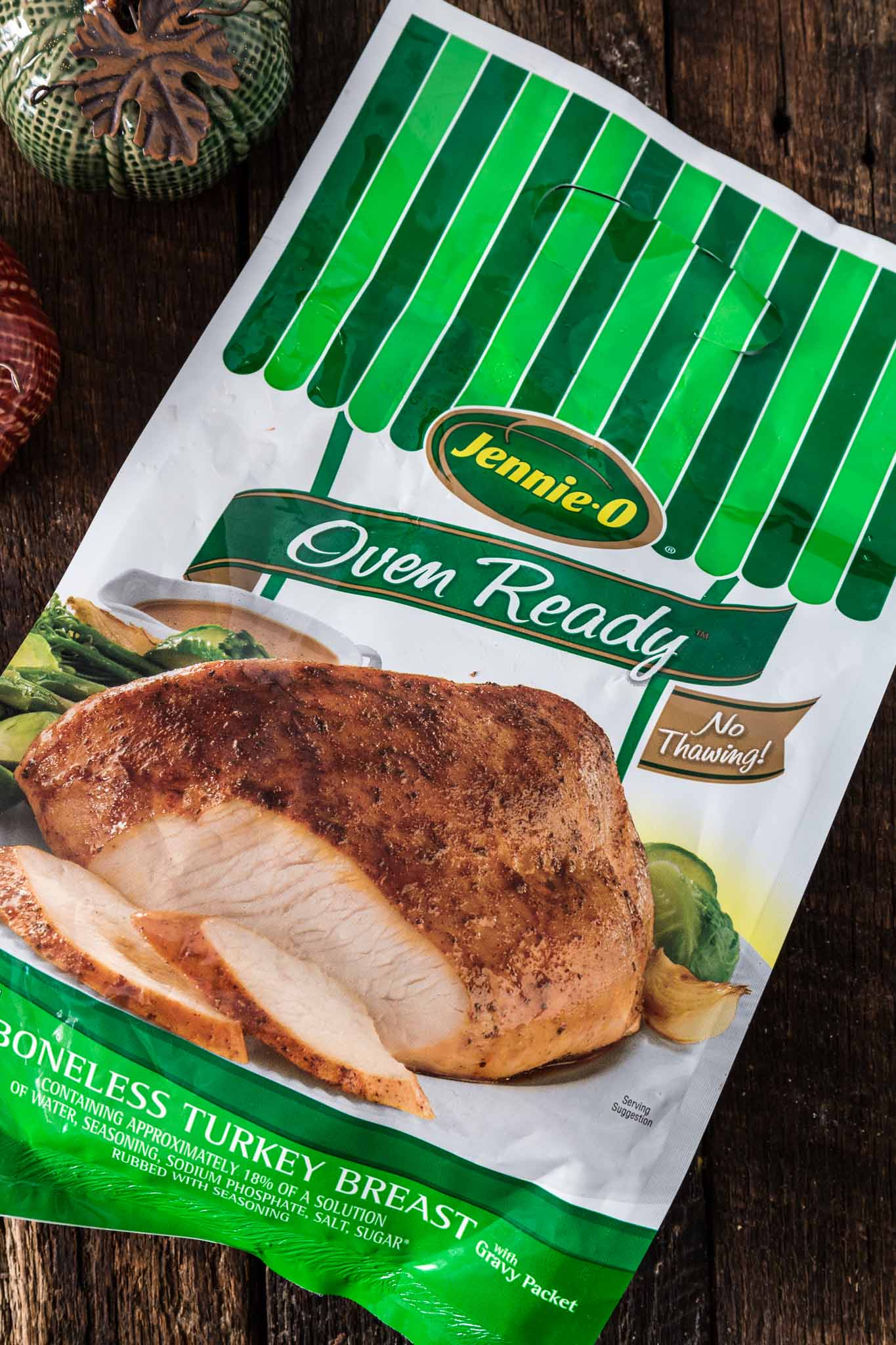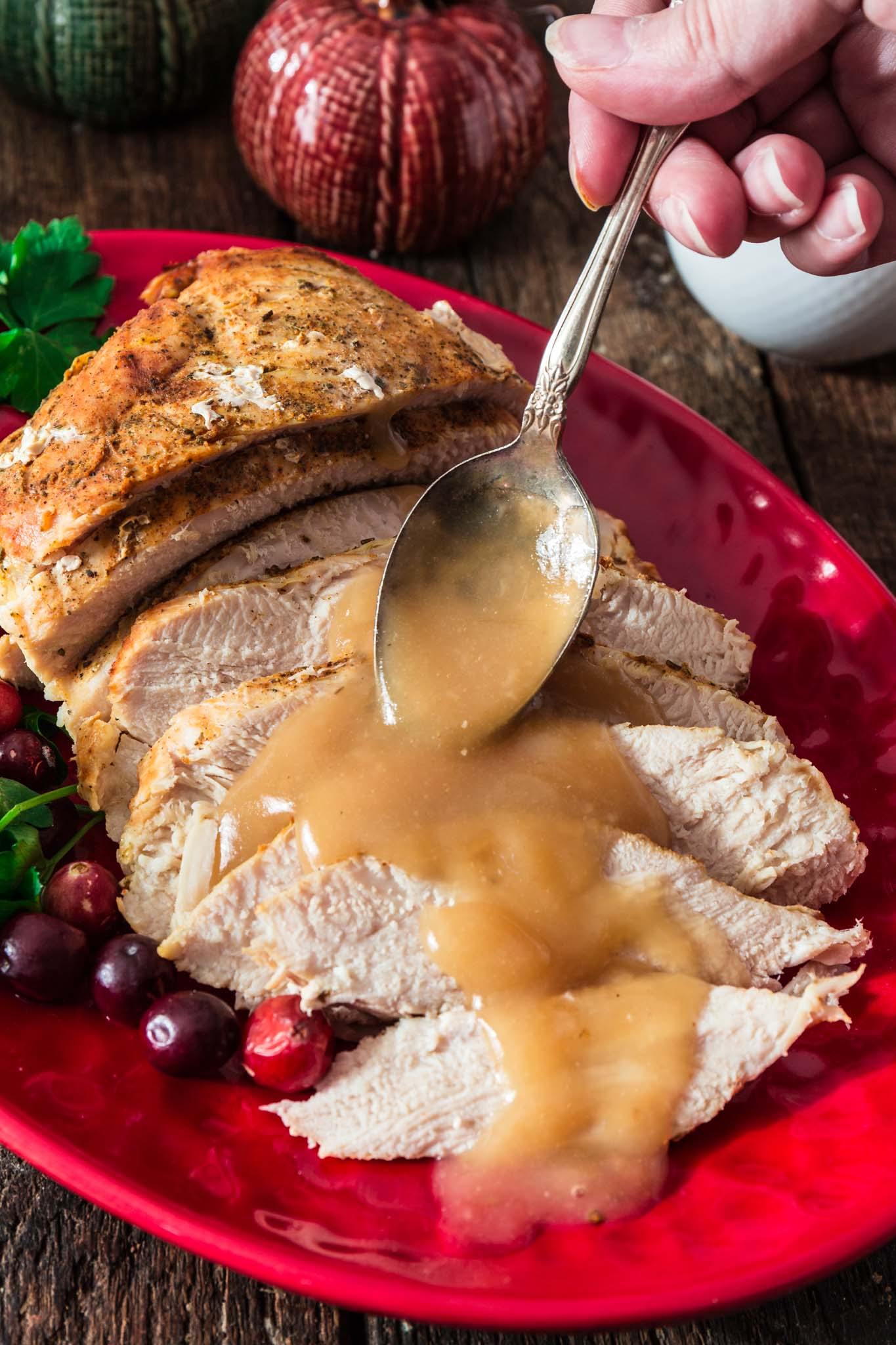 Not roasting a whole bird definitely helped! I am really serious about my Thanksgiving bird, so that takes a whole chunk of my time and overall energy for the day.
The solution? Jennie-O Oven Ready Boneless Turkey Breast! Oh so moist, oh so tender.
Not only it comes pre-seasoned and with a gravy packet, but it is completely oven ready, meaning no thawing necessary.
Y'all know I'm a Jennie-O ambassador, so I know I risk sounding biased. But I gotta tell you anyway: there's no turkey like this turkey!
And I made this turkey breast in the slow cooker. SAY WHAAAAT? Yep. Completely hands and stress free and incredible results! Makes me wonder why I am roasting a whole turkey for Thanksgiving every year…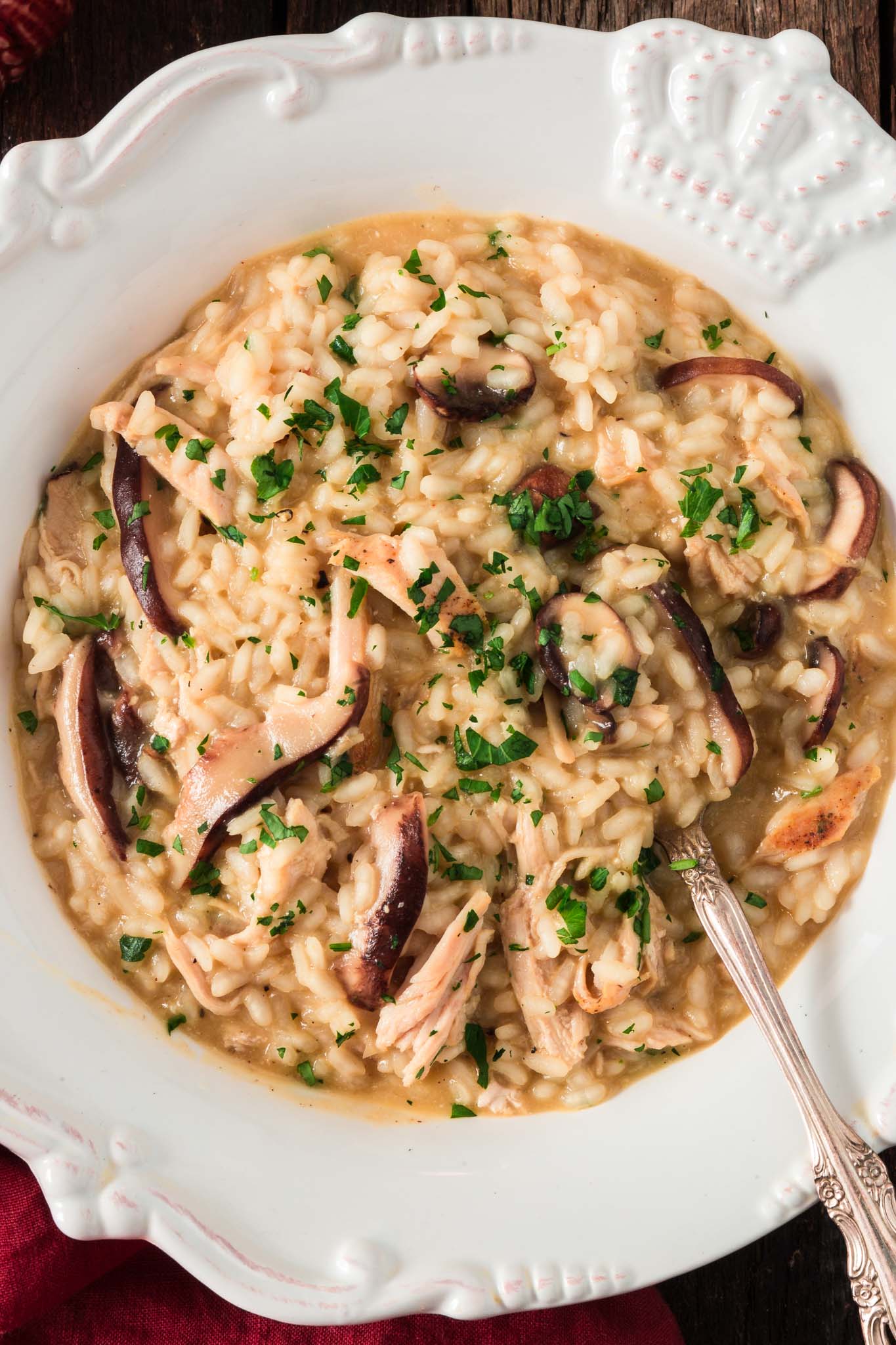 Moral of the story? This Mushroom and Turkey Risotto is turkeylicious enough to be the main dish of your intimate Thanksgiving dinner.
But if you absolutely must have traditional Thanksgiving food, it is the perfect dish for using leftover turkey (and gravy) the next day!
And if you end up with a lot of leftover turkey, make sure to also check my Turkey and Mashed Potatoes Casserole and my Fricassee Leftover Turkey Sandwiches. That will keep you fed til Christmas! 😜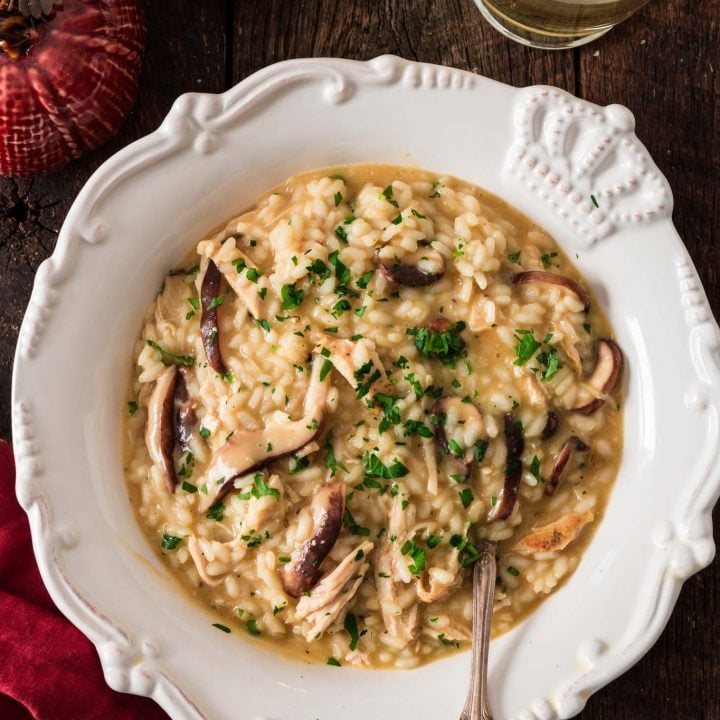 Mushroom and Turkey Risotto
Yield: 4 to 6
Cook Time: 45 minutes
Total Time: 45 minutes
Ingredients
6 cups turkey broth
1/4 cup turkey gravy
4 tablespoons unsalted butter, cold, divided
1 tablespoon olive oil
1 large shallot, finely chopped
1 1/2 cups assorted sliced mushrooms
1 1/2 cups risotto rice (arboreo or carnaroli)
1/2 cup white wine
1 1/2 cups shredded turkey
Salt and freshly ground pepper, to taste
1/2 cup parmesan cheese
2 tablespoons chopped fresh parsley
Instructions
In a saucepan, combine the turkey broth and turkey gravy. Bring to a simmer over medium heat, then lower the heat to low to keep warm while you prepare the risotto.
In a wide, nonstick skillet, heat the olive oil and one tablespoon of butter over medium heat. Add the shallot and cook until tender, about 2 minutes. Then, add the mushrooms and cook, stirring occasionally, until soft and have absorbed a bit of the fat, about 3-4 minutes.
Add the rice and stir to coat. Add the wine and cook while stirring, until the liquid is fully absorbed.
Add a ladle of the reserved warm stock and stir gently, until the liquid is just about absorbed. Add another ladle and repeat the process, making sure to stir constantly to prevent scorching. Continue doing this until the rice is al dente (tender but still firm to the bite) and creamy, about 20-30 minutes. You should have enough stock, but if you run out and the risotto still isn't done, you can finish the cooking using hot water.
When the rice is al dente, add the turkey and stir to warm it. Finish with a little bit of stock for creaminess. Let it absorb almost completely, and then remove the pan from the heat.
Add the parmesan and remaining butter. Stir vigorously but carefully so not to break the rice grains. Season to taste with salt and pepper.
Garnish with the parsley and serve immediately!