Portuguese Pizza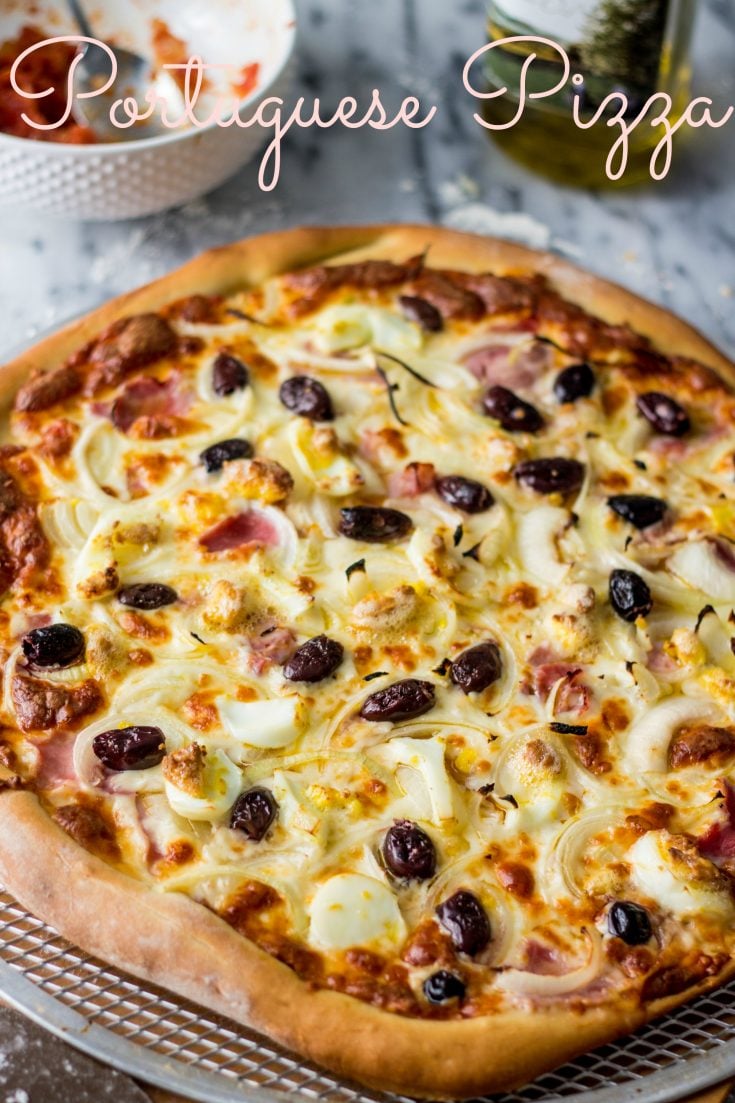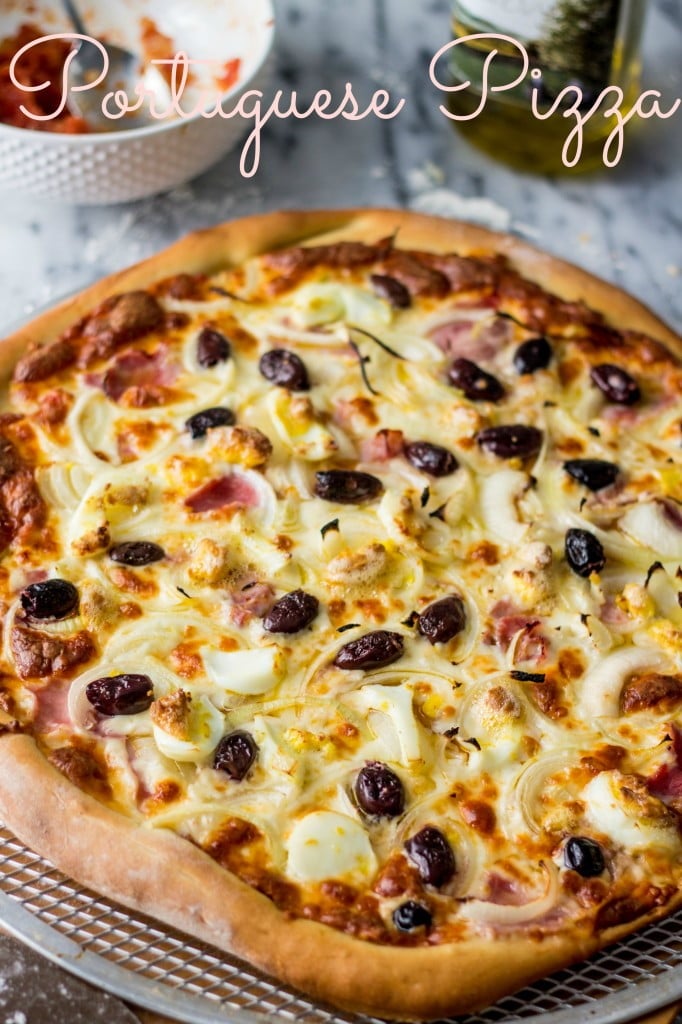 Yes, you are reading this right. The name of this pizza is "Portuguese Pizza"! "But you said you were going to share a recipe for a Brazilian pizza!", you're probably thinking (or yelling at the computer!) Don't fret, kiddos! This IS a Brazilian pizza!!! However, I have no idea why it is called "Portuguese Pizza". I even tried researching and all I could find – from not very reliable sources – is that it is called like that because it has the colors of the Portuguese flag. But that doesn't make any sense to me, because it is lacking the green…Maybe it used to have the colors of the Portuguese flag before, in the original recipe? Maybe they had peas or green peppers or something in it? I don't know! Another version says that the Italian immigrants in São Paulo used to bake their pizza in the Brazilian bakeries ovens, cause there were no pizzerias back then. And who used to own these bakeries? The Portuguese! And so one day the Portuguese decided to make the pizza richer and added ham, olives and eggs to it, creating the latter called "Portuguese Pizza". I have no idea if any of those stories are true… But honestly I don't care! All I care is getting that delicious pizza in my belly!!!!!!!!
I told you before that Brazilian pizza is one of the best pizzas in the world, right? Mostly in São Paulo, because of the huge immigration of Italians in the 19th century. The Italians taught us how to make pizza and we made it better! Lol You will not have a shortage of "Paulistanos" saying that their pizza is better than the one in Naples. They claim that it's the quality of the ingredients and the inventiveness of the toppings. I'm not sure about the quality of the ingredients, since unfortunately I've never been to Italy, but we do have thousands and thousands of different pizza varieties. You would be impressed! Some of the common toppings are hearts of palm, catupiry cheese (which is a very creamy kind of cheese, similar to cream cheese but creamier and not as tangy!!), fresh corn, sausages (the most common is the "calabresa" which is an Italian spicy sausage), shredded chicken, ham, onions, eggs, olives, and of course, tomatoes. We also have a huge variety of dessert pizzas! Some of the popular ones include chocolate, strawberries, bananas, dulce de leche, Nutella, guava paste and even ice cream!
In São Paulo we have the habit of putting a LOT of toppings in our pizzas. My Uncle Alfredo – who was born and raised in Italy – used to say that Brazilian pizza had too much stuff in it for his taste! But not for mine. There's no limit as to how much cheese you can put in my pizza! :)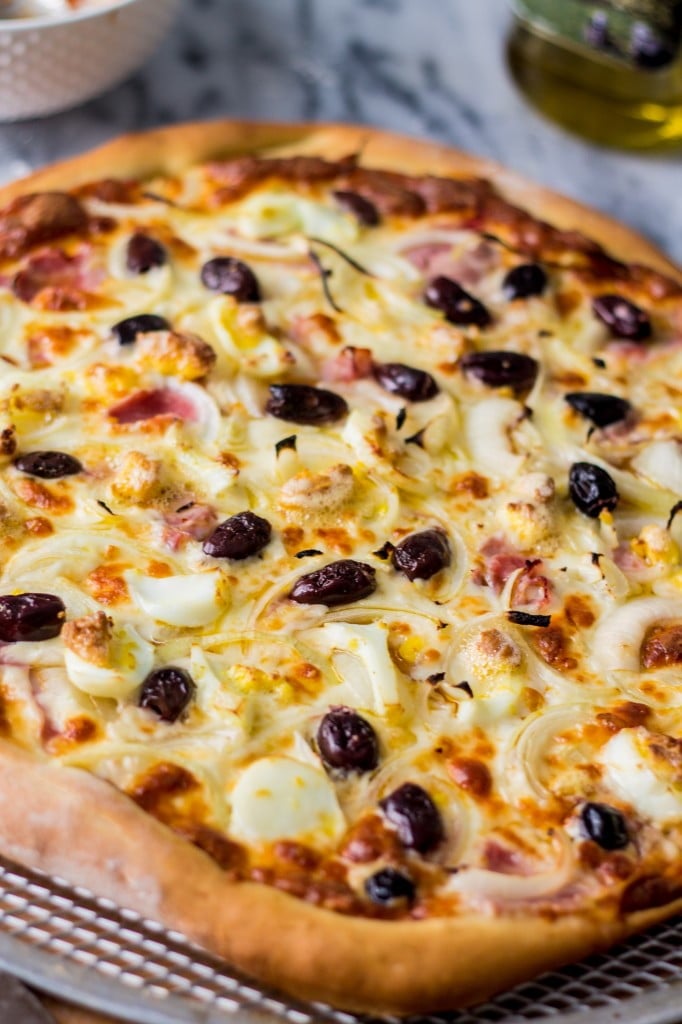 In São Paulo we are so serious about our pizza that we have our own Pizza Day, that happens on July 10th! We also have the tradition of having pizza with our families every Sunday night, either delivered to the comfort of our homes or in pizzerias. One thing we do not do, though, is have pizza for lunch (unless it's leftovers), because most pizzerias don't open until 6pm.
There are over 6000 pizzerias in São Paulo, varying from the neighboirhood kind that only does deliveries to the very fancy and expensive ones. According to the local association of pizzerias, more than a million pies are sold every day in São Paulo. Oh yeah, we also don't have the "slice" culture. It's the whole pie only. Go big or go home, right? The only occasion pizza is served in slices is in the "rodízio-style" pizzerias, which is an "all-you-can-eat" pizzeria with different kinds of pizza being served to you at your table until you burst! (Seriously, I've never left a rodízio pizzeria feeling just satisfied! I always leave saying that I will never eat that much again!)
Anyway, I don't wanna annoy you bragging about Brazilian pizza because you might get depressed. Or, if you're a New Yorker, we might get into a discussion that would last hours and wouldn't get anywhere unless I could take you on a plane to São Paulo to taste our pizza. Since that won't likely happen, you can make this Portuguese Pizza at your home and let me know what you think. How does that sound?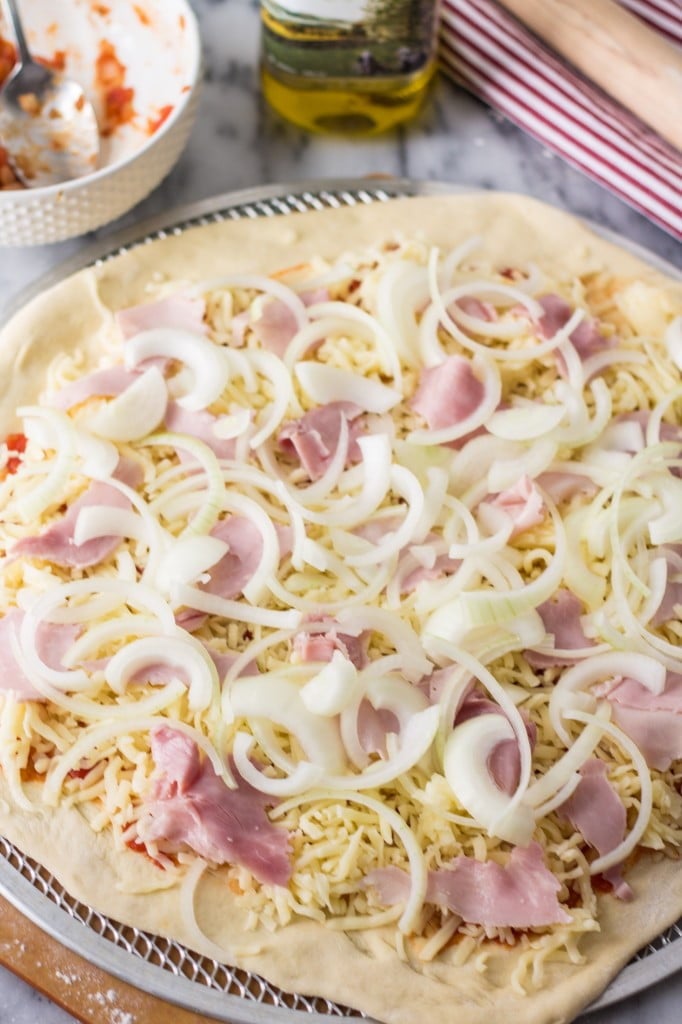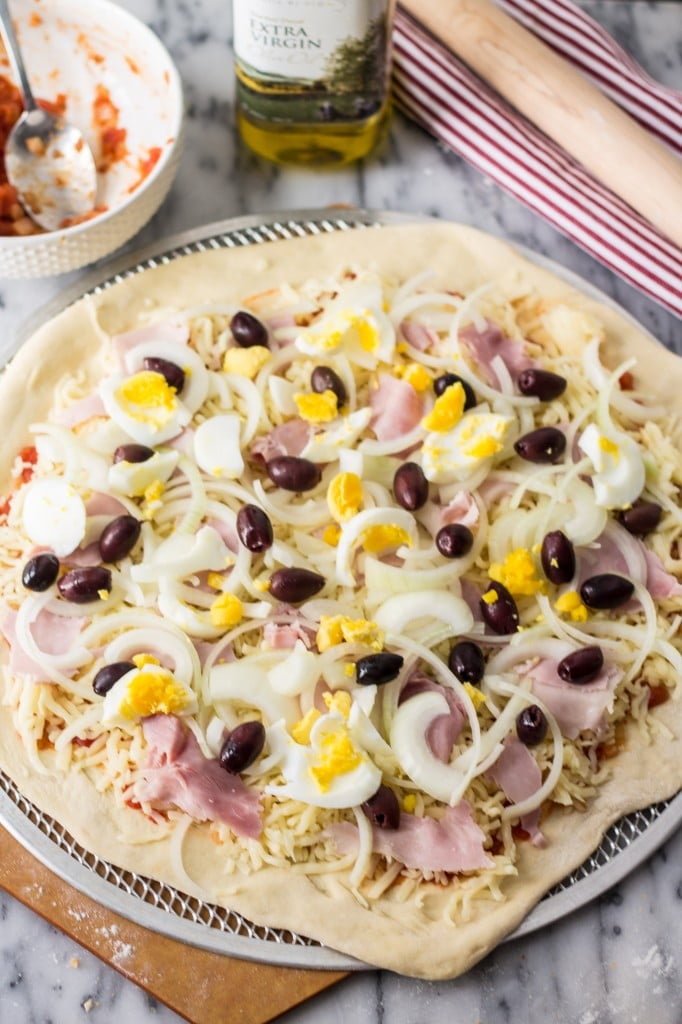 You might think it's too much work to make pizza from scratch, but it really isn't. However, you can totally make this with store-brought dough and sauce. Or you can make your dough and sauce at home. I posted a recipe for sauce on Tuesday and I promise I'll post a recipe for homemade pizza dough in the near future. :)
For the toppings all you need is shredded mozzarella, ham, onions, black olives (I used Kalamata olives) and 2 hard boiled eggs! Top your pizza with these ingredients and them bring it to the oven at 500 degrees for about 10 minutes on a pizza stone. If you don't have a pizza stone, a pizza pan will do. But I do recommend you get a pizza stone. It was one of the best investments I've ever done as I use it a loooot, and you can find affordables ones nowadays. Using a pizza stone is the closest you could ever get from a brick oven pizza. If you're using a pizza stone, make sure you preheat it for at least 30 minutes (1 hour is better) to enhance the results! :)
Anyway, I hope you like this pizza as much as I do! If you're like me and you believe that there's nothing better than homemade pizza, this is the perfect recipe for you! Enjoy!!!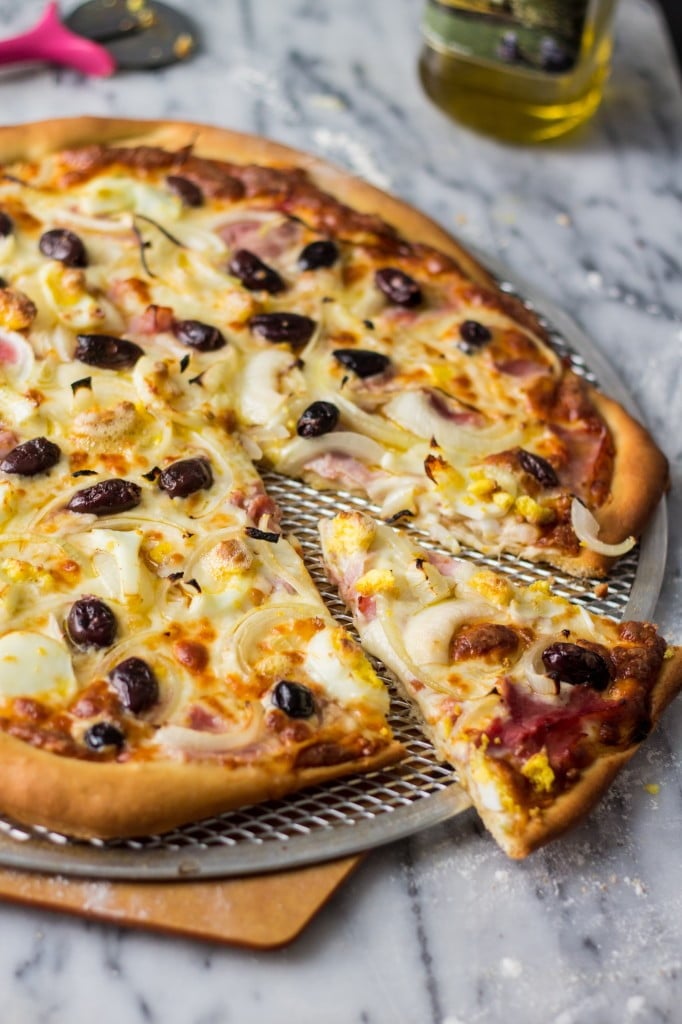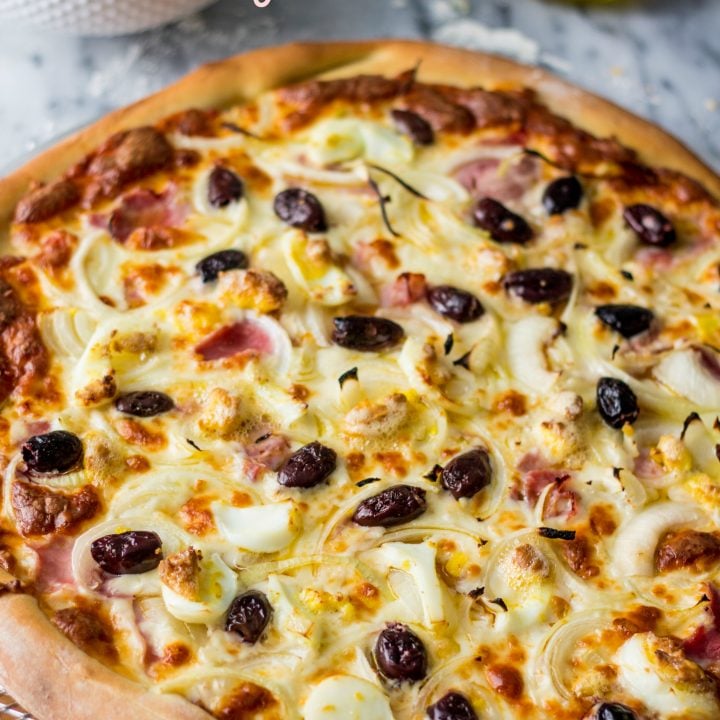 Portuguese Pizza
Yield: 4
Cook Time: 10 minutes
Total Time: 10 minutes
Ingredients
1lbs pizza dough
3 cups shredded mozzarella
3 slices uncured slow cooked ham
1 large onion, thinly sliced
2 hard boiled eggs, sliced
25 black olives (I used kalamata olives)
Oregano to taste
Olive oil to drizzle
Instructions
Preheat your oven to 500 degrees with the pizza stone inside.
Sprinkle flour on your counter (or pizza peel, preferably) and roll your dough into a 16" circle.
If you have a pizza screen, transfer your dough to the screen as it will make it easier to slide it on and off the oven.
Spread the pizza sauce on the dough, making sure you leave about 1 inch for a crust.
Add the shredded mozzarella and then top with the ham, the olives, the onion and the eggs.
Sprinkle some oregano and drizzle with olive oil.
Bake for 10-12 minutes or until cheese is melted and onions are cooked.
Serve immediately.