Pumpkin Spice Waffles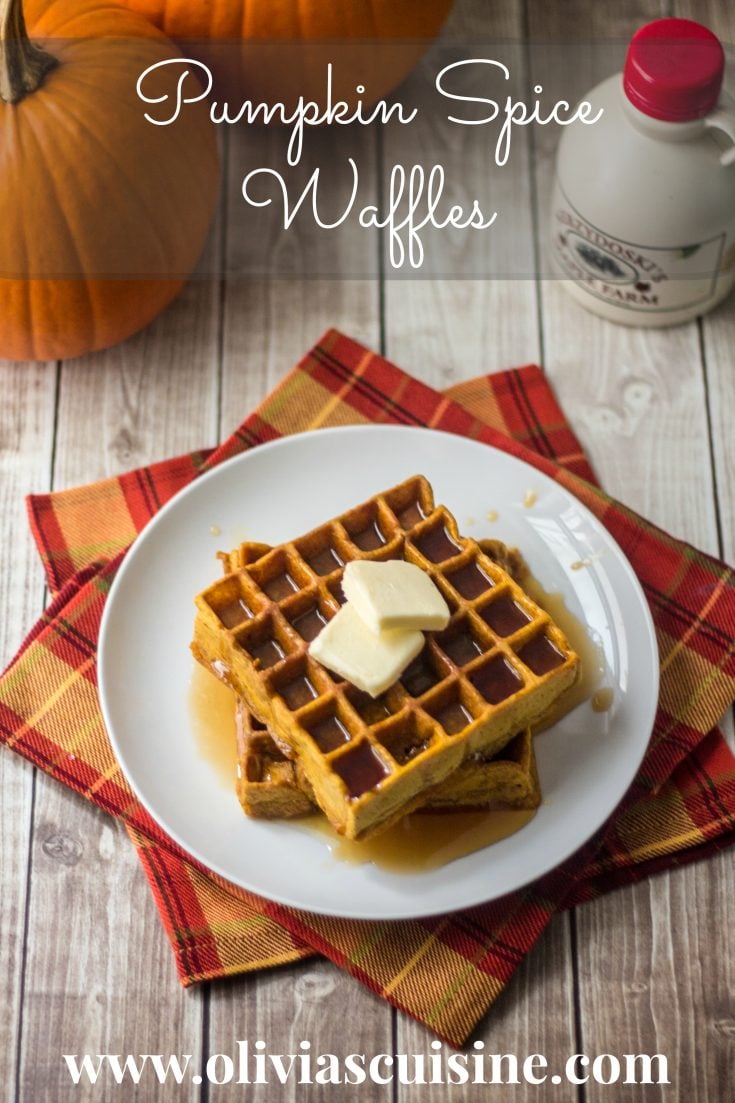 Good morning, cyber friends!
I think it's time for the first pumpkin recipe on this blog, don't you? Pumpkin Spice Waffles! Yes, you heard it right! Please tell me you're as excited as I am! :) :) :)
I know how you guys love breakfast food. I've noticed a lot of views on my Breakfast category and I also know that this category is really really sad right now, as I don't have many breakfast recipes yet. I'm not quite a breakfast person though… I like to wake up late and eat a big lunch. I blame this on not having the energy to wake up early and cook something really delicious for breakfast. But these waffles… Oh my God, these waffles! I would wake up 30 min earlier every day to make them for the rest of my life! Just kidding, I'm lying! I can never wake up earlier than when I need to. God knows it's already hard to wake up on time to shower before I need to be out of the door… So what I might do is cook them at night, freeze them and reheat them in those mornings where I don't have time to make anything! And they will still be fantastic!
There is seriously no better way to start your day! Especially now during the Fall. One bite of this and your morning crankiness (If you are not cranky in the morning, good for you! But I am VERY!) will go away! It is like having pumpkin pie in waffle form and who doesn't love pumpkin pie? If you're anything like me and you love pumpkin pie but feel too guilty to eat it in the morning, then this recipe is the answer for all your problems!
Also is it just me or does this scream Thanksgiving morning? And maybe morning after Thanksgiving? And all the weekend after that? Oh yeah, I'm definitely obsessed with these waffles! I can also totally see myself eating this as a dessert with some vanilla (or butter pecan) ice cream on top. Oh wait, I just drooled all over my keyboard! :P
I searched a lot for a good Pumpkin Spice Waffles recipe and I finally found one at this blog called Pumpkin Waffles Blog. And then, with some slight changes, I think this is the recipe I'll probably be using my whole life because it's absolutely amazing! And, with only 1/4 cup of brown sugar, it is healthy too. It's not everyday that you can find a recipe that is both insanely delicious AND healthy AND the personification of Fall itself! TRIPLE THREAT!
Believe me when I say that this is a ABSOLUTE-MUST-TRY recipe. It is love at first bite and you won't regret it (and hopefully will come here tell me all about it!)
Happy Fall, folks! And may these waffles make your Fall mornings more delicious!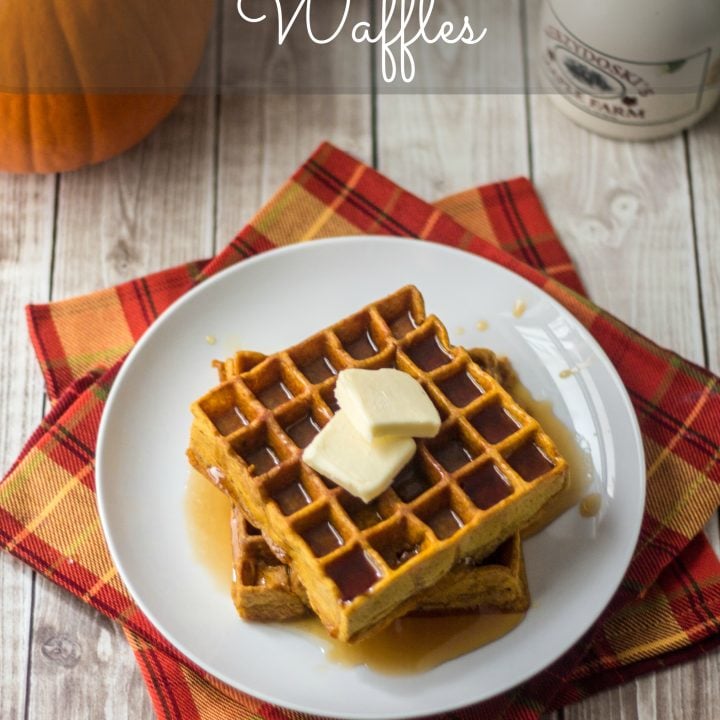 Pumpkin Spice Waffles
Yield: 4
Prep Time: 15 minutes
Cook Time: 2 minutes
Total Time: 17 minutes
Ingredients
1/4 cup light brown sugar
3 Tbsp corn starch
1 1/4 cup all purpose flour
1 1/2 tsp baking powder
1 tsp pumpkin pie spice
1 tsp cinnamon
1/2 tsp salt
2 large eggs (yolks and whites separated)
1 cup whole milk
1 cup pumpkin puree
4 Tbsp unsalted butter, melted
Instructions
Preheat your waffle iron and coat it with non-stick cooking spray.
In a large bowl, combine the brown sugar with the corn starch.
Add the flour, the baking powder, the pumpkin pie spice, the cinnamon and the salt and mix until everything is combined.
In a separate bowl, combine the pumpkin puree with the egg yolks and the milk, whisking everything together.
Keep whisking while slowly adding the melted butter. Make sure the butter is still warm.
In a separate bowl, beat the egg whites with a hand mixer (on high) until stiff peaks forms. Reserve.
Add the pumpkin mixture to the dry ingredients and mix gently only until combined.
Fold the egg whites in until you can't see them anymore and you have a smooth batter.
Once your waffle iron is ready, pour the batter and cook the waffles. (In my waffle iron it takes 2 to 3 minutes on medium heat!)
Serve it with maple syrup and butter or fresh fruits, chopped pecans, ice cream, whipped cream, honey...Pretty much anything goes with those amazing waffles! :)