S'mores in a Jar
This shop has been compensated by Collective Bias, Inc. and its advertiser. All opinions are mine alone. #LetsMakeSmores #CollectiveBias #sponsored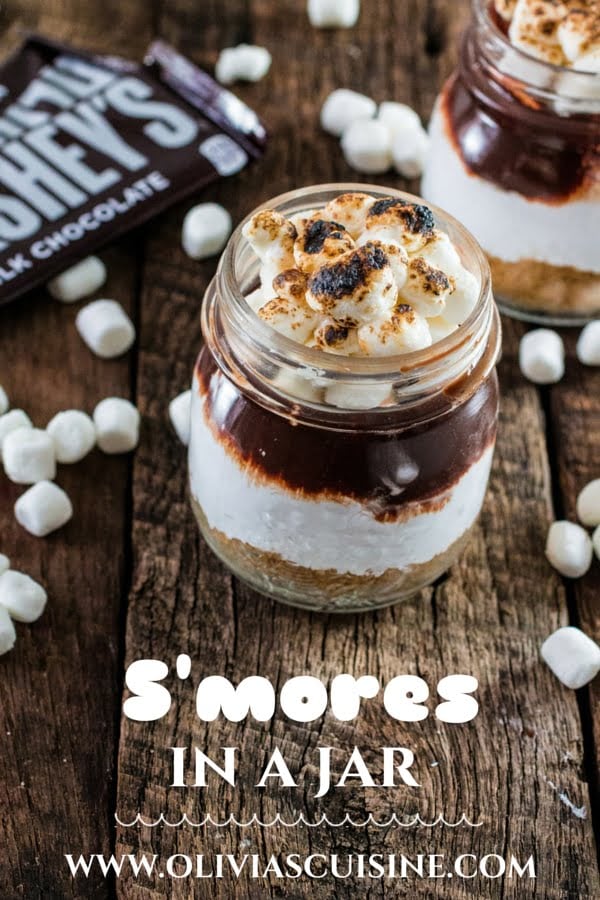 S'mores! They are everywhere right now. All over the Internet, tempting us mere mortals that don't have a camp fire/fire pit/any kind of fire, really.
I still have my gas stove, for like 15 more days, but who wants that mess on their stove? Not me!
So, I've decided to attend to my s'mores craving by making these S'mores in a Jar that are made indoors, but can be enjoyed indoors or outdoors, no fire required and done in less than 10 minutes! :)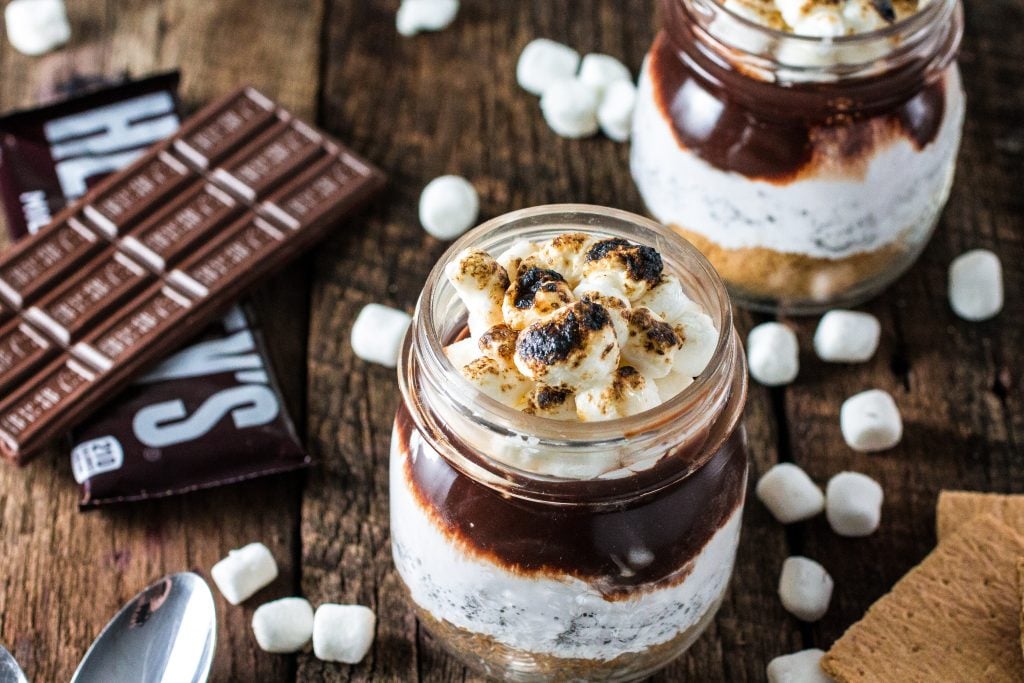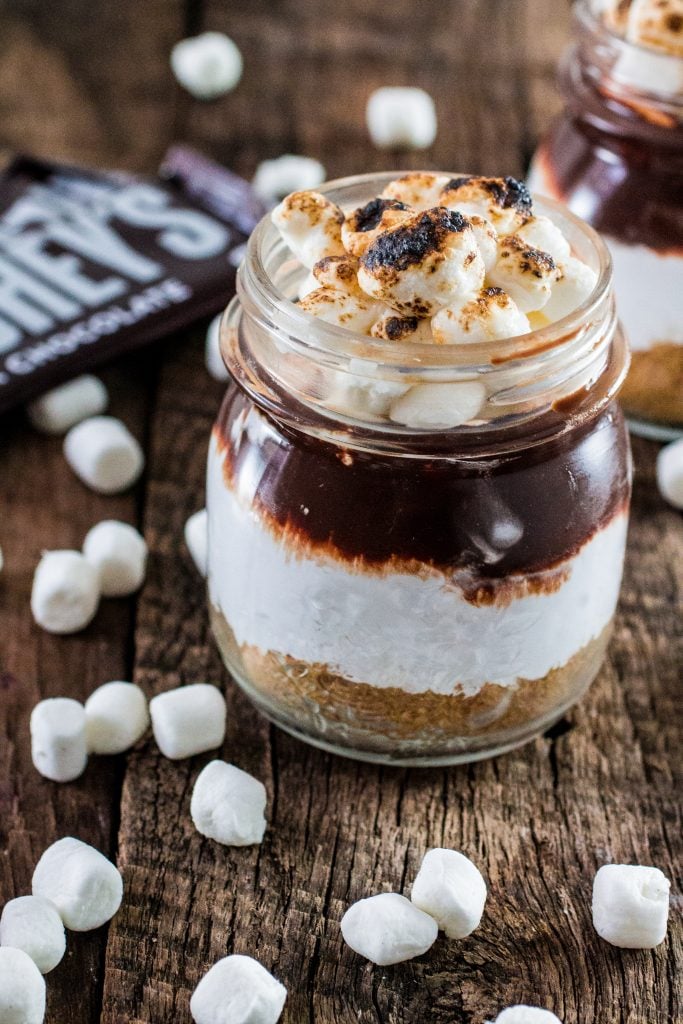 The word s'more is believed to be a contraction of the phrase "some more". Very fitting, I think, since I'm always wanting some more of it! :P
Nobody knows the exact origin of this campfire treat, but the first recorded version of the recipe appeared in 1927 in the publication Tramping and Trailing with the Girl Scouts.
A sandwich of two graham crackers, toasted marshmallow and a square of milk chocolate. What could be better than that?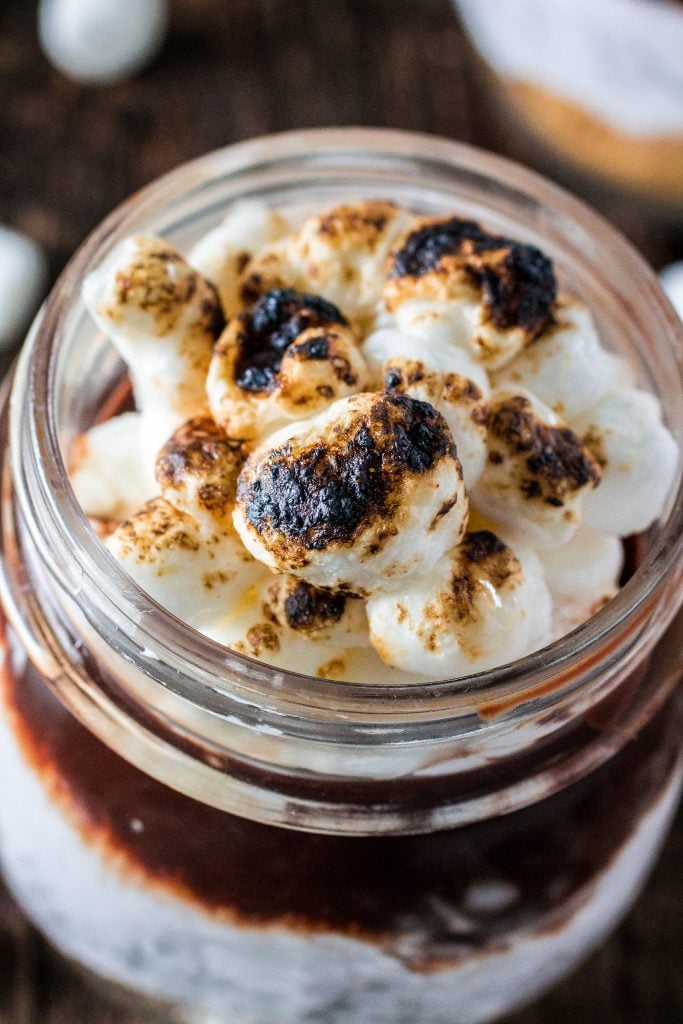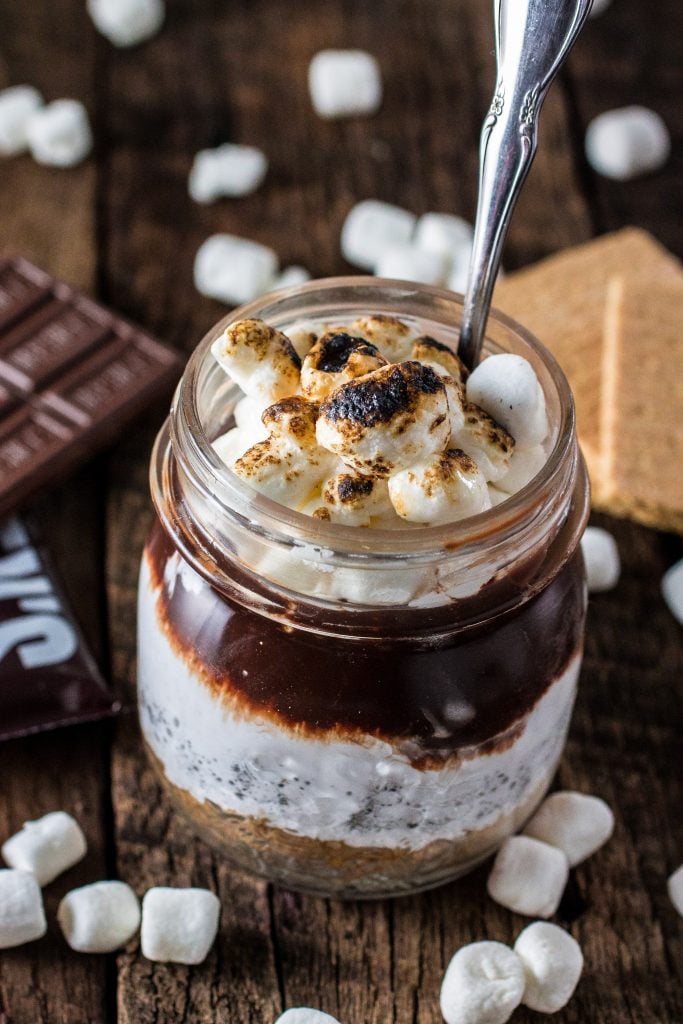 My version of the S'mores in a Jar is a twist of the classic s'mores. Graham cracker buttery crust, chocolate ganache, marshmallow fluff and topped with some mini marshmallows that are then toasted with a Chef's Torch!
"But you said no fire!!!"
True, I did. But no worries if you don't have a torch. Just line the mini marshmallows in a baking sheet line with aluminum and toast them under the broiler!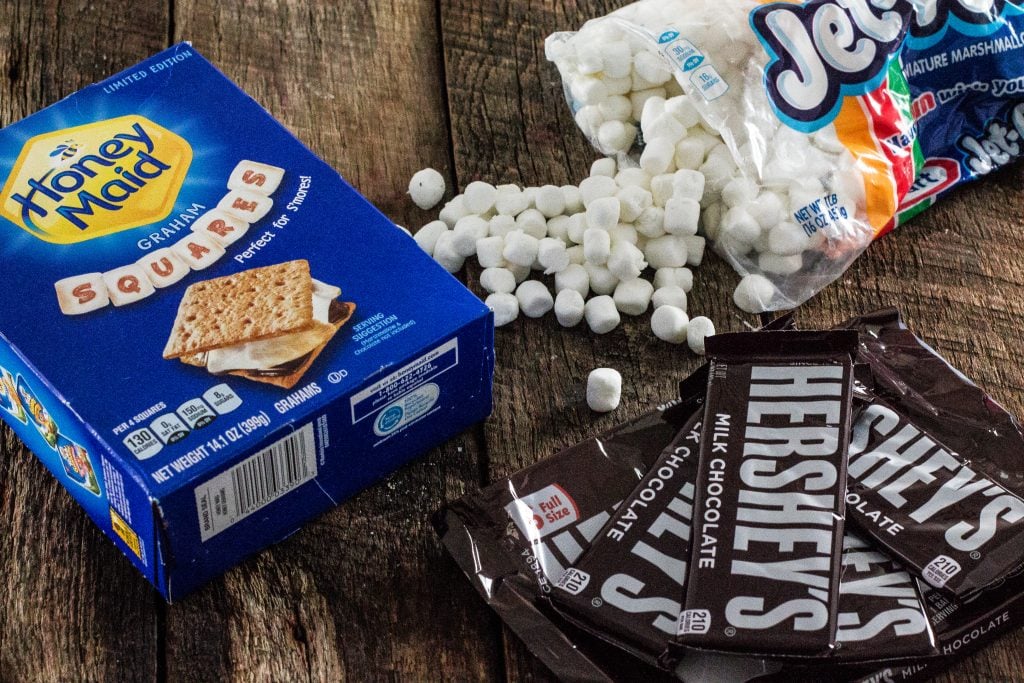 The secret for a good s'mores is good ingredients.
You really can't go wrong with Hershey's Milk Chocolate, Honey Maid Graham Cracker Squares and Kraft's Jet Puffed Marshmallows. My favorite s'mores team!
You can find all these guys at your local Walmart. In fact, during the summer, most stores will have a special display for S'mores, with all these ingredients conveniently placed so you don't have to look too hard! :)
And while you're at Walmart, make sure you pick some little Mason jars if you don't own any, as you will need them. The 5oz ones are perfect for this recipe!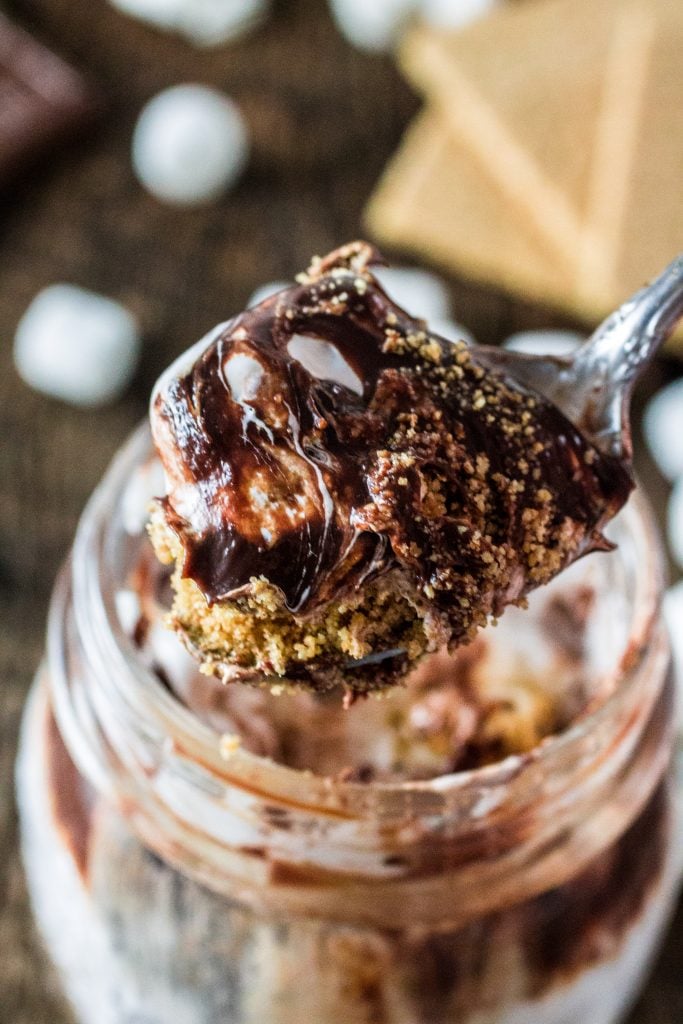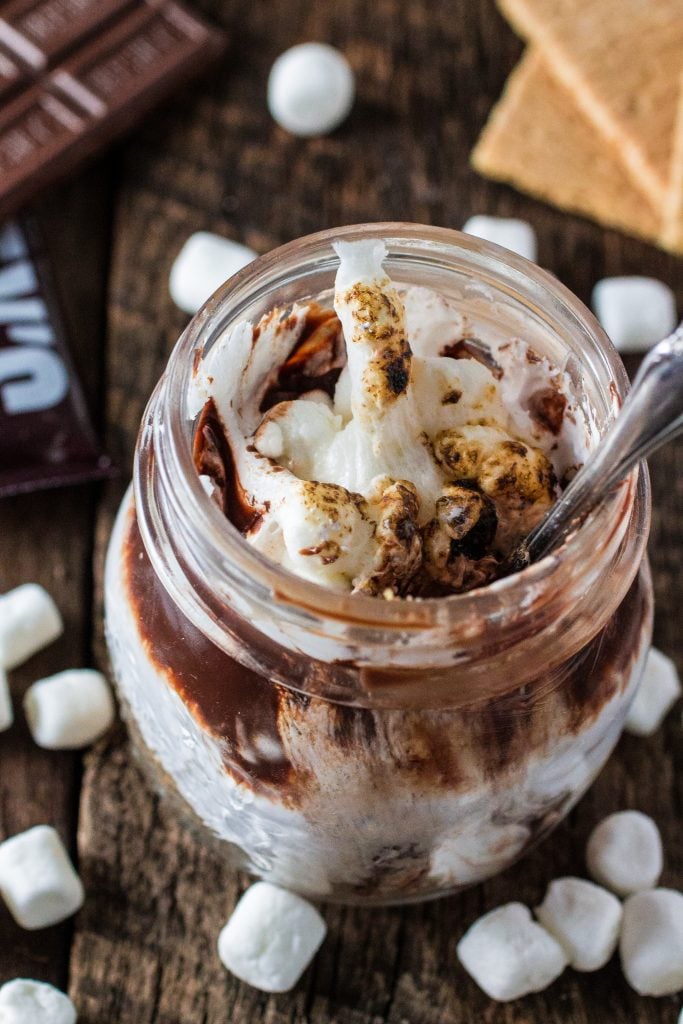 My favorite thing about making S'mores in a Jar is that they are portable!
My naughty self kind wants to sneak them into the movie theater. I know, I know… I'm a bad bad girl! Most of the time I behave and enjoy them at home, while catching up with my favorite TV shows.
In fact, that's what I did last night while the rain was pouring outside!
Oh yeah! Take that, campfire people! I bet your s'mores didn't taste as good when they were soaking wet!!! *wink*
But now you tell me… What is YOUR favorite way of eating s'mores?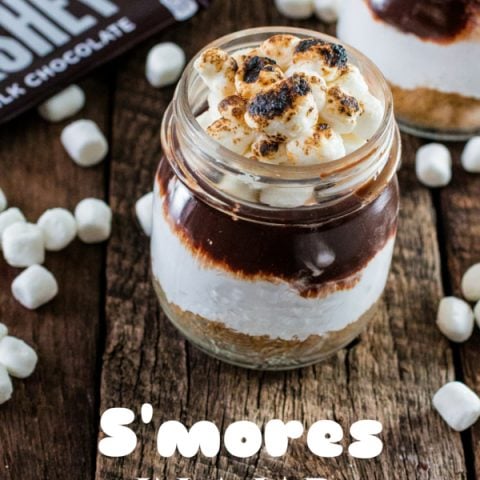 S'mores in a Jar
Yield: 4 individual s'mores jars
Prep Time: 10 minutes
Total Time: 10 minutes
Ingredients
4 Hershey's bars, roughly chopped
1/2 cup heavy cream
1 cup marshmallow fluff
16 Honey Maid Graham cracker squares
3 tablespoons butter, melted
Jet Puffed Mini Marshmallows for topping
Instructions
In a saucepan, heat the heavy cream until bubbles start to form on the side, about 2 minutes.
Add the chopped chocolate to a medium sized bowl and pour the hot heavy cream on top. Let it sit for a minute and then whisk until smooth. Reserve.
Process the graham crackers until finely crumbed. Add the melted butter and pulse a few times until the mixture resembles wet sand. Reserve.
To assemble the s'mores in a jar, start by adding 1/4 of the Graham cracker mixture to the bottom of the mason jars. Then add 1/4 of the marshmallow fluff, 1/4 of the chocolate ganache and finish off my topping with mini marshmallows.
Using a cooking torch, toast the marshmallows until browned and serve!
Notes
If you don't own a torch, just line the marshmallows in a baking sheet and put them under the broiler until toasted.