Apfelstrudel (Apple Strudel)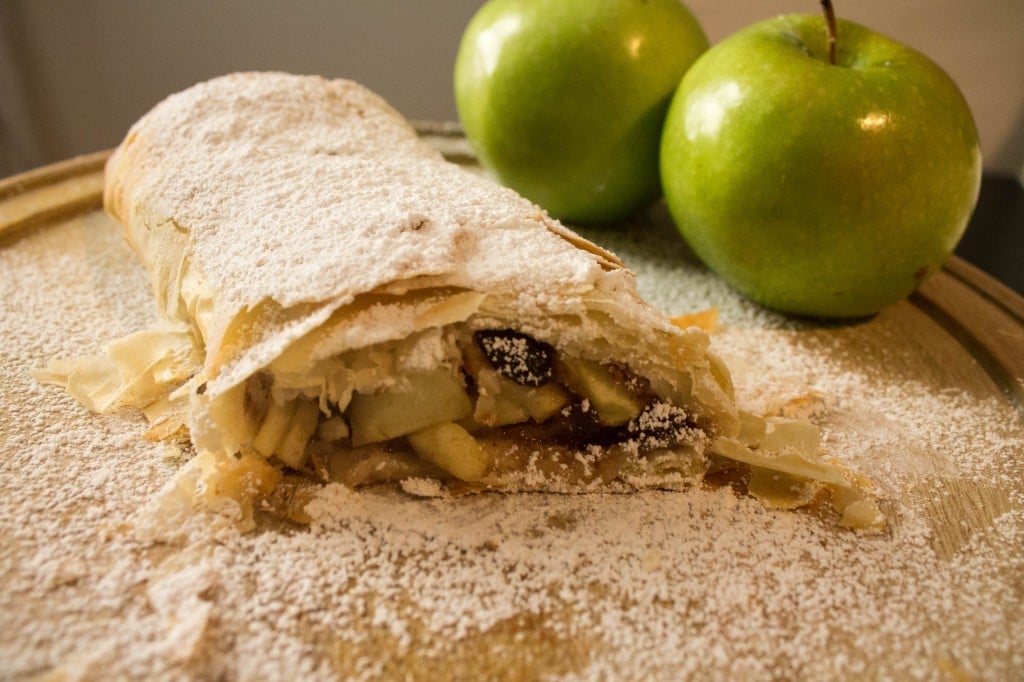 Hallo! (That's hello in German, in case you didn't know!)
Today I'm taking you on a tour through Germany, or Deutschland as my husband likes to say. He looooooves Germany and the German language. If he hears someone speaking German on the subway, you can see his ears prick like a puppy's and suddenly he's this happy boy.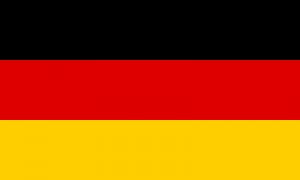 I am 1/4 German through my dad's side. I've never learned the language or even visited the country, but I would love to. I'm sure my height (I'm 5'11"!) comes from my German ancestors as Germans are usually tall like me. I also have one really good friend (that I consider like a brother) that moved to Germany a long time ago to play Simba in The Lion King. He decided to stay there because he loves it so much. According to my friend, Vina, life is great in Germany! What is not great about Germany is their soccer team beating Brazil by 7-1! :( (I promise I will eventually get over this… maybe by next World Cup when we hopefully beat them back!)
So here are some fun facts about Germany and German cuisine:
1) The capital and largest city is Berlin.
2) The official language is German! It is the language with the most native speakers in Europe.
3) Their currency is the euro.
4) Germany is the major economic and political power in Europe and a historic leader in many cultural, theoretical and technical fields.
5) Given Germany's rich cultural and political history, the country has been the home of many influential philosophers, composers, scientists and inventors. Some of them, for example, are: Beethoven, Bach, Mozart, Wagner, Strauss, Schubert, Handel, Goethe, the Brothers Grimm, Schopenhauer, Nietzche and so many more.
6) Germans are the second largest beer consumers in the world, after the Irish!
7) Soccer is the main sport in Germany, but that we already knew… Sigh…
8) There are over 600 kinds of bread in Germany. Bread is a serious deal over there! Germans use almost all available types of grain for their breads: wheat, rye, barley, spelt, oats, millet, corn and rice.
9) Pork, beef and poultry are the main varieties of meat consumed in Germany, with pork being the most popular.
10) Germans consume 134lbs of meat a year, each! :-O
11) Some of the popular dishes in Germany are: apfelstrudel (that we are making today! Yay!), kartoffelpuffer (those delicious pan-fried pancakes, made from grated or ground potatoes mixed with flour, egg, onions and seasoning), brezel (soft, white pretzels made with flour, water and yeast and sprinkled with salt), wurst (sausage), schnitzel (a thin, boneless cut of meat coated in breadcrumbs and served with a slice of lemon) and the sauerbraten (pot roast), that is considered one of the national dishes. It's originally made with horse meat! (I could never never never eat horse meat!) :(
The German cuisine is really extensive so it would be impossible to give you guys a broad picture. I really recommend that you go to a German restaurant, as it is such a rich and delicious cuisine and you'll be glad you tried it.
In the meantime, why don't we make some apfelstrudel?
Apfelstrudels have been popular since the 18th century. The word "strudel" derives from the Middle High German word for "whirlpool" or "eddy". It actually originated in Austria, but since it's so popular in Germany, it is the recipe I chose to showcase this country.
This recipe is so good, it makes 2 strudels because you most certainly will want to give one as a gift (or eat both of them…)! But if you want to make only one, just cut the recipe in half.
Usually, the delicate flakey pastry is made from an elastic dough that is kneaded and stretched until it's as thin as phyllo pastry. But guess what? I prefer to just go to the frozen section in the market and buy phyllo pastry and cut my work by half! lol So we are taking a major short cut here. (If you really wanna learn how to do the proper dough, I'm sure there are many posts and videos that you can find on the internet!)
Let's start making Apple Strudel by pre heating the oven to 375 degrees.
In a saucepan, we melt 2 sticks of butter and set it aside to let it cool. This melted butter will help us glue the phyllo dough sheets together later.
In a skillet, we add the butter and the sugar and let them melt together. Add the breadcrumbs, mix it all together and let it toast until golden brown. I think it's better to transfer the breadcrumbs mixture to a bowl to let it cool. I left it in the skillet once and half of it got stuck to the bottom and the other half formed these big hard lumps… So, even though it's one extra dish to wash, it is worth it!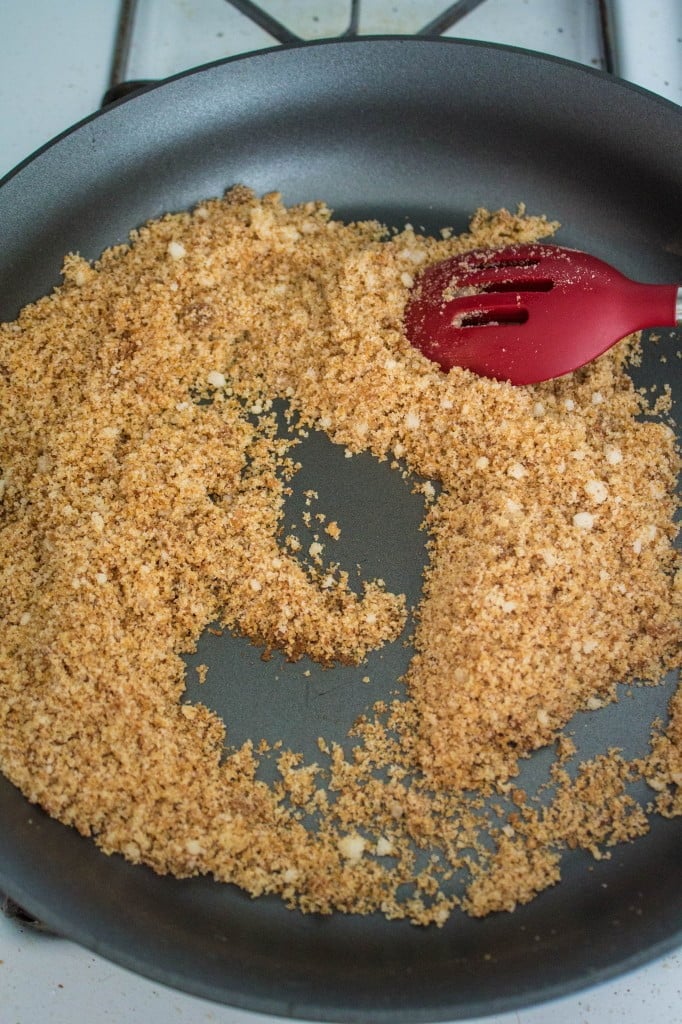 We then peel and cut the apples into little cubes. Some people just thinly slice the apples, but I think the cubes make it easier to cut my strudel later. Transfer the apples from the cutting board to a bowl and immediately add the lemon juice, giving it a good stir. The lemon juice not only helps to prevent the apples from browning, but it also awakens all the flavors. (This recipe is very citrusy and I love it!!!)
In a small bowl, let's combine 1/2 cup of sugar and 1/2 Tbsp of cinnamon. This is now called our cinnamon sugar! :)
Add the raisins, the chopped walnuts, 3/4 of the cinnamon sugar and the Grand Marnier to the apples. You can substitute the Grand Marnier for rum if you want your recipe to be less citrusy. Or you can even substitute it for Orange Juice if you wanna omit the alcohol all together. Give everything a good mix and set it aside because now it's phyllo dough time!!!!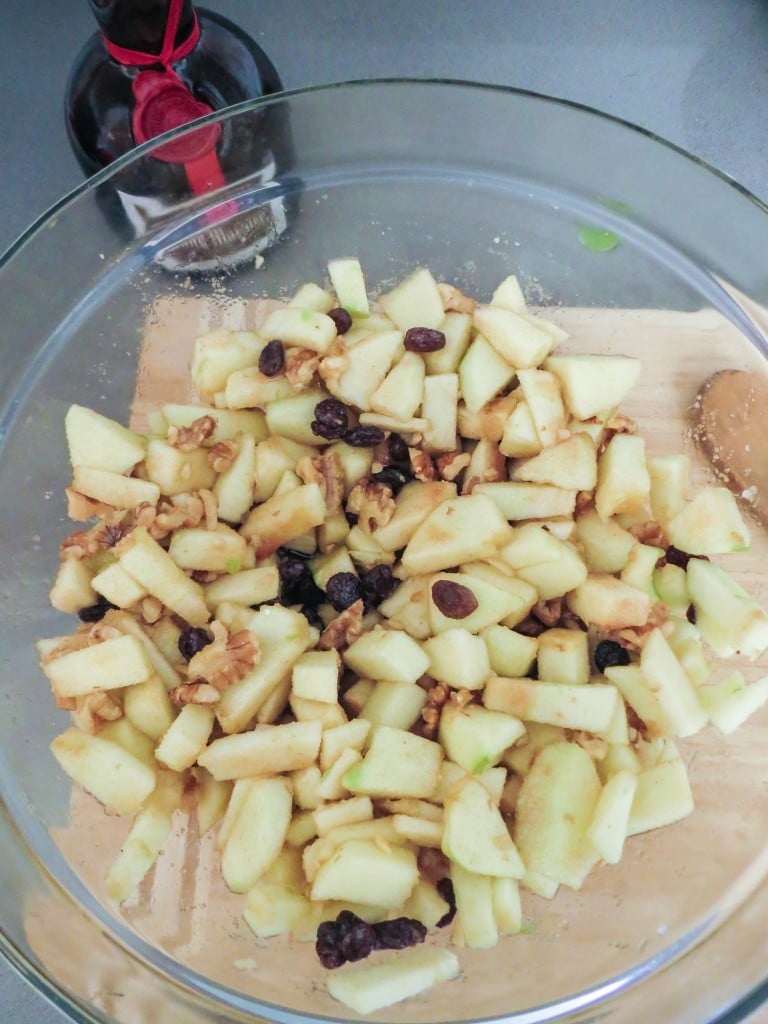 The best way to do this is to lay a kitchen towel under the dough so you can use the towel to help you roll your strudel. So let's lay a kitchen towel on the counter and sprinkle it with flour.
Next, we lay the first phyllo dough sheet on the towel and brush it with the melted butter. We then proceed to stack the other 7 sheets, brushing each layer with butter before adding the next layer. You should end with 8 sheets, stacked together, and a top layer brushed with melted butter. Don't panic if any of your phyllo dough sheets tear. I went through the phase of being extremely pissed off and tossing the whole thing in the garbage. But, thankfully, I got over it and now I know that at the end it doesn't make a difference as no one will notice since the strudel is flakey anyway…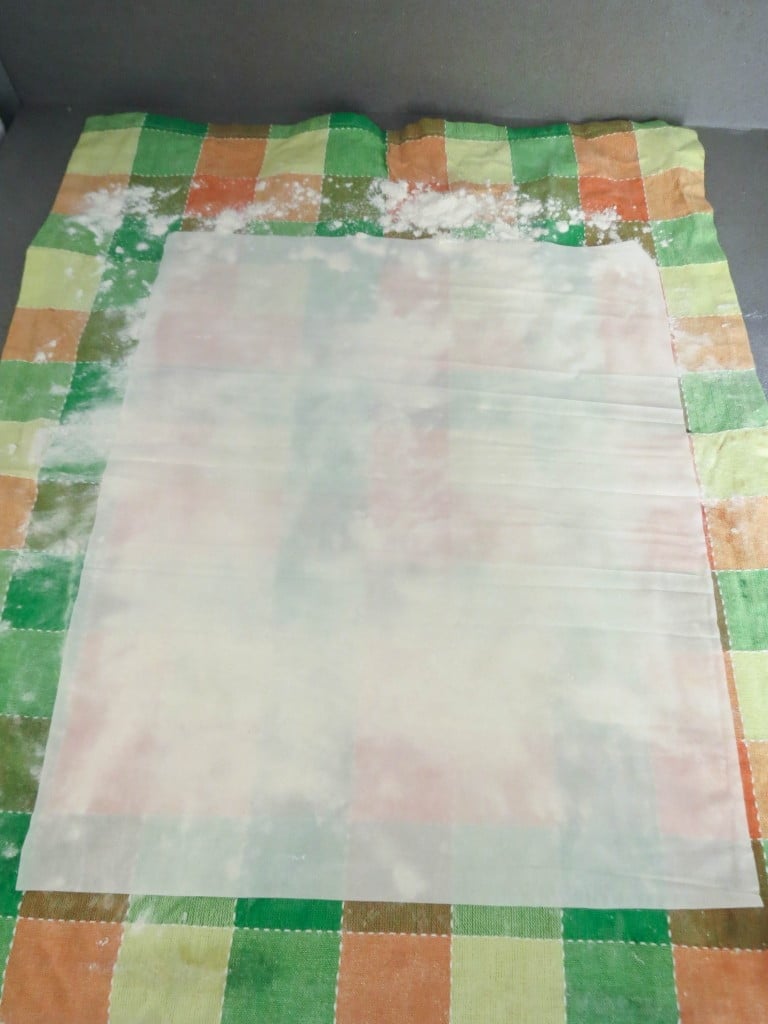 Spread the breadcrumbs mixture into the left (or right, it doesnt matter) longside of the phyllo sheet. The breadcrumbs are important because they are going to soak up the juices from the apples as they cook. :) Spoon the apple mixture on top of the breadcrumbs layer. Make sure you drain the mixture from whatever liquids weren't absorbed, because you don't want this liquid in your strudel or it will get soggy.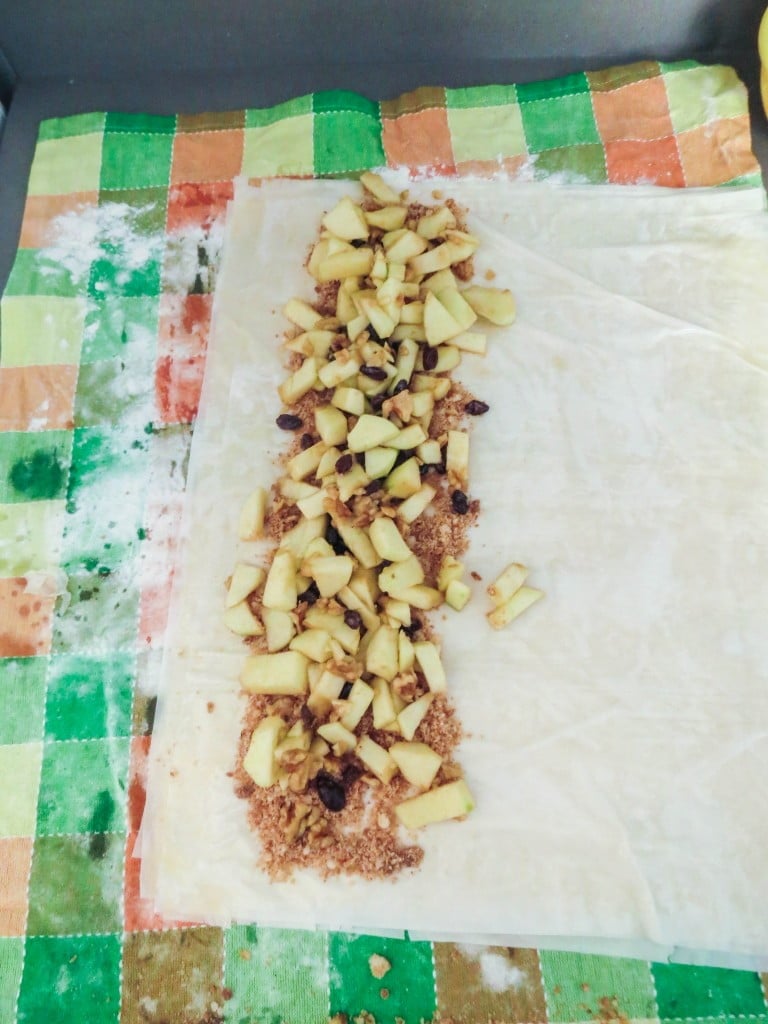 We now use the kitchen towel to roll the dough 180 degrees to the right. Fix the fillings that might've escaped and tuck the edges down. Proceed to finish rolling until you have a "log".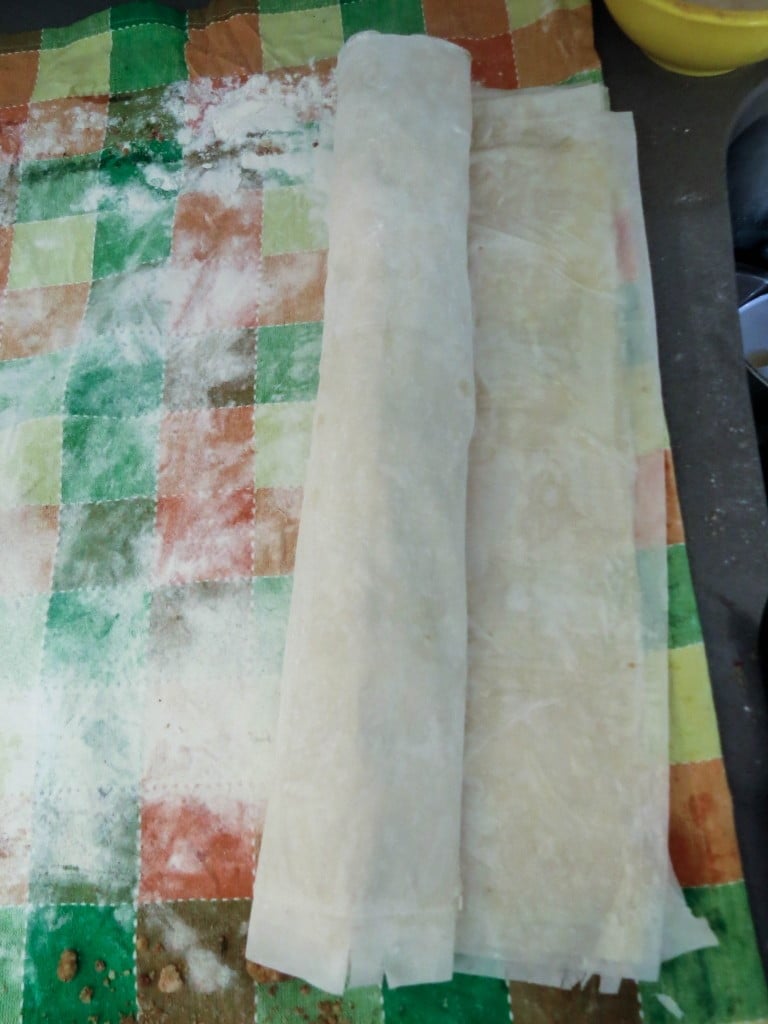 Transfer the log to a baking sheet covered in parchment paper or sprayed with non stick spray. Brush the log with melted butter, sprinkle some cinnamon sugar on it and make 3 or 4 small cuts on it so the steam can escape. Take it to the oven for 25 to 30 minutes, or until the pastry is golden. Your house is going to smell ah-ma-zing!!!!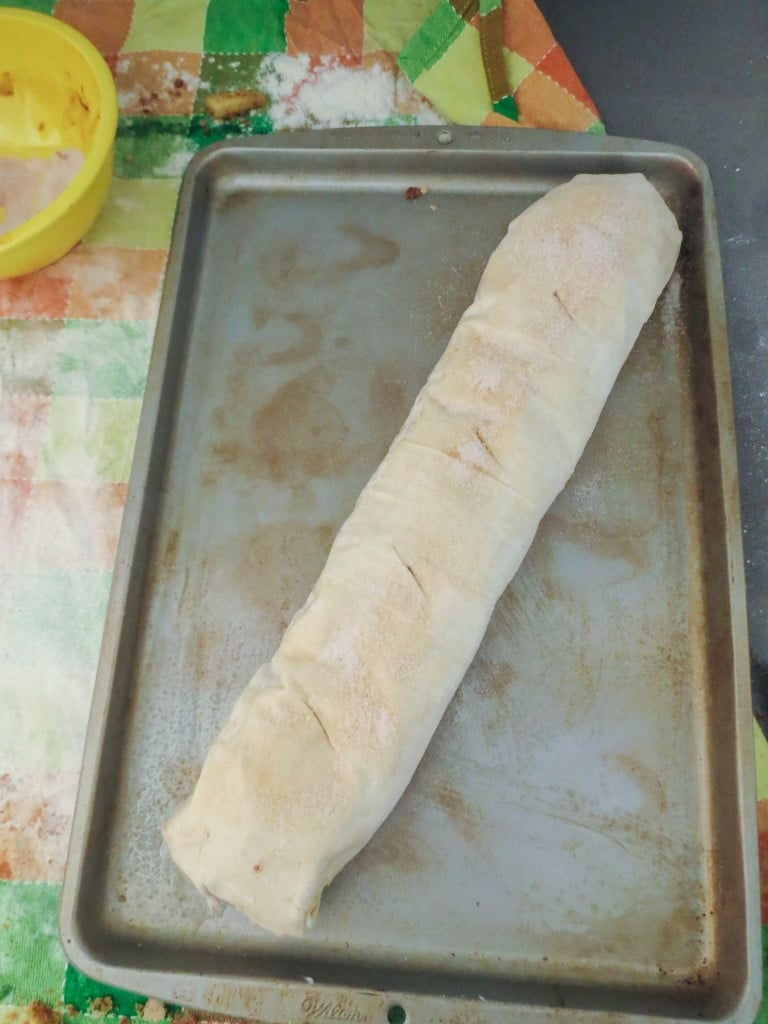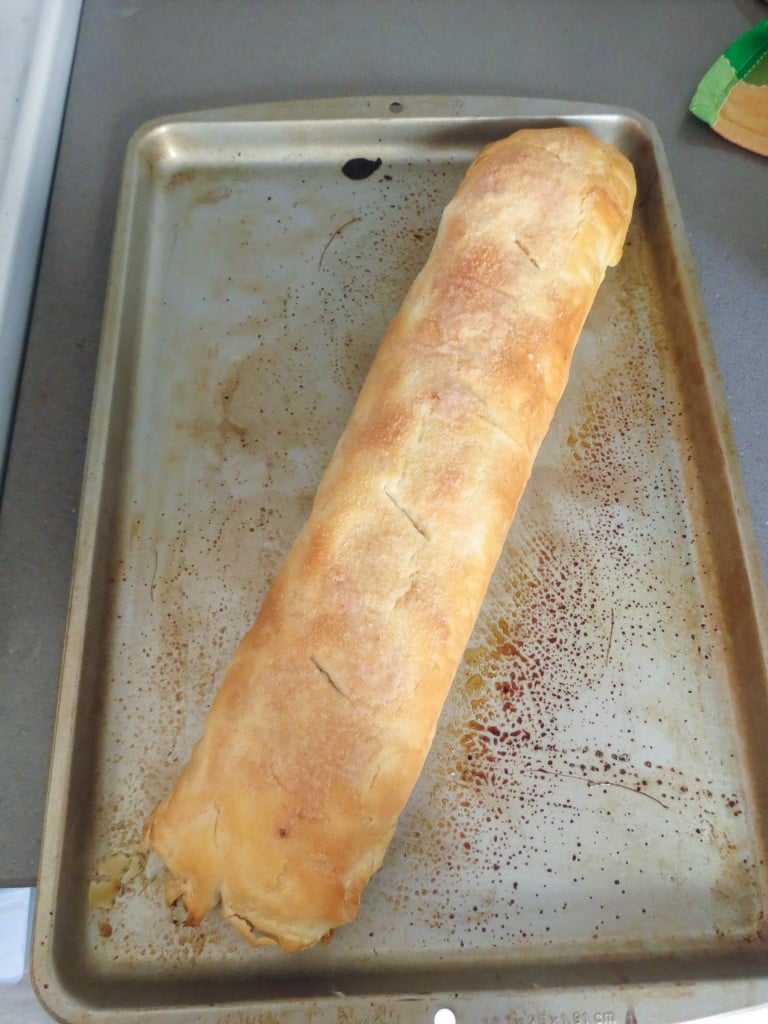 Repeat the process with the other 8 phyllo dough sheets to make your second strudel!
Serve it warm, in slices, with some powdered sugar sprinkled on top. You can also serve with vanilla ice cream, whipped cream, custard or vanilla sauce.
Guten Appetit!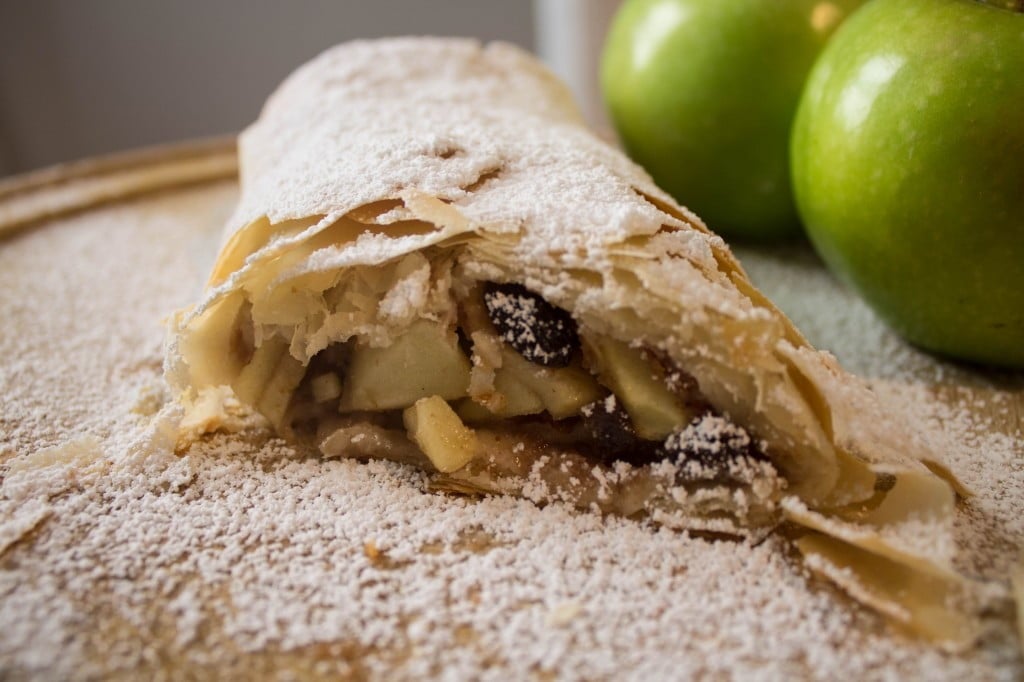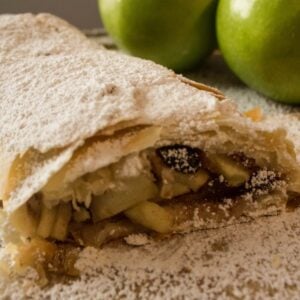 Apfelstrudel (Apple Strudel)
Delicious Apple Strudel made with phyllo dough. You can make this fancy dessert in less than an hour!
Ingredients
3 Grannysmith apples, peeled and cubed into little pieces
1 cup of sugar, divided in two
1/2 cup breadcrumbs
2 sticks + 3 Tbsp butter
1/4 cup raisins
1/2 cup walnuts, chopped
1/4 Grand Manier or Rum, You can substitute with orange juice
1/2 Tbsp cinnamon
16 sheets phyllo dough, one box
Juice of one lemon
Instructions
Pre heat your oven to 375 degrees.

Melt two sticks of butter and set it aside.

In a skillet, melt the 3 Tbsp of butter with 1/2 cup of sugar and add the breadcrumbs. Cook, stirring constantly so it doesn't burn, until the mixture is golden brown. Transfer to a bowl and let it cool.

In a small bowl, combine the remaining 1/2 cup of sugar with the cinnamon and mix it together.

In a large bowl, combine the apples, the lemon juice, the raisins, the walnuts, the Grand Manier and 3/4 of the sugar/cinnamon mixture. Mix everything together with a spoon.

Lay a kitchen towel on the counter and sprinkle some flour.

Lay the first sheet of phyllo dough and brush the top with the melted butter, using a kitchen brush.

Stack the other 7 layers, always brushing the top layer with butter before adding the next one. You should finish with 8 layers and the top should be coated with butter.

Spread half the breadcrumb mixture on the left longside of the phyllo sheet.

Spoon half of the apple mixture on top of the breadcrumb mixture.

Using the kitchen towel, roll the dough 180 degrees. Adjust the fillings and the edges and roll again until you have a log.

Transfer to a baking sheet covered in parchment paper or coated with Non-Stick spray.

Brush the strudel with butter.

Sprinkle top with the remaining cinnamon sugar.

Make three or four cuts in your strudel so the steam can escape.

Bake for 25 to 30 minutes or until the pastry is golden!

Repeat steps 6 to 16 to make your second strudel.

Sprinkle some powdered sugar on top of your strudel and enjoy it with some vanilla ice cream!