Avocado Fries
Crunchy avocado fries are my new favorite thing to make with avocados!
(A big thanks to Avocados From Mexico from sponsoring this post and inspiring me to get creative with delicious avocados!)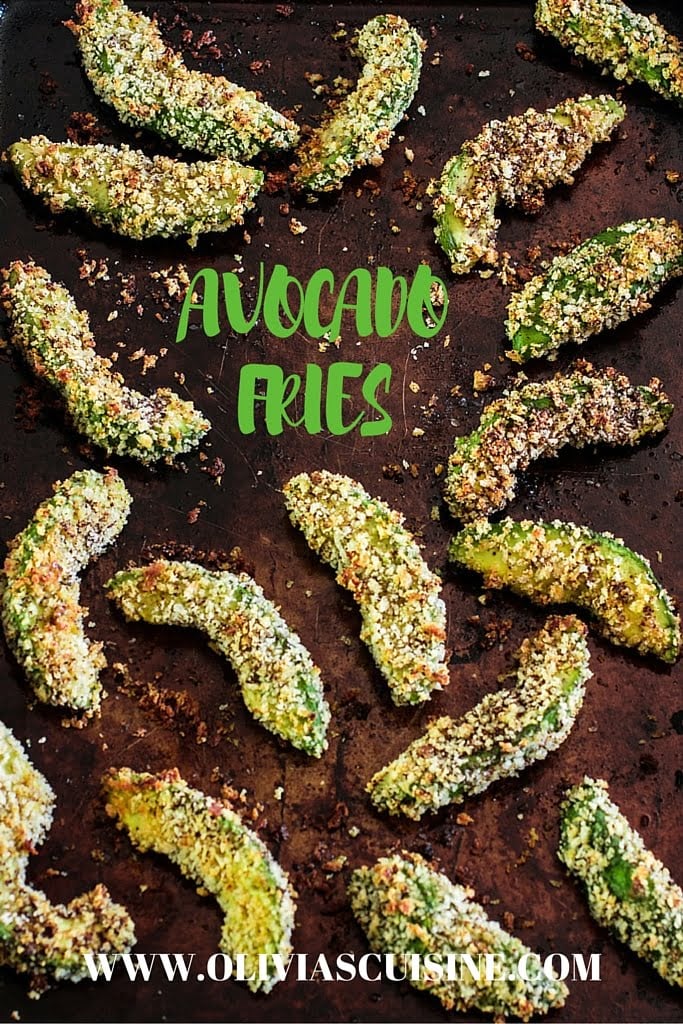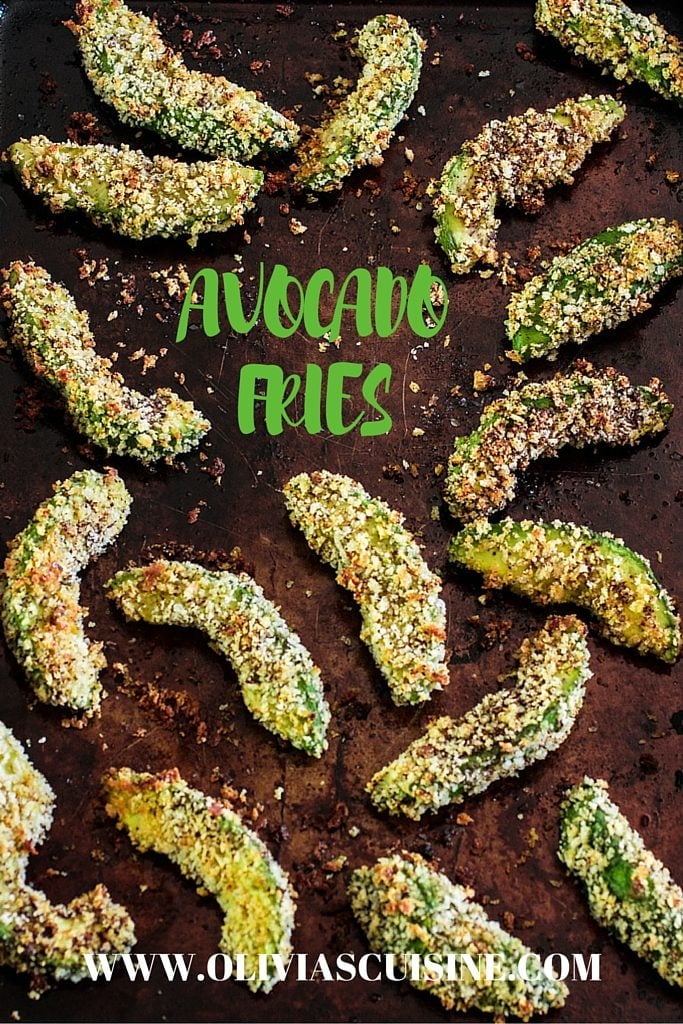 Don't get me wrong, guacamole still has a huge part of my heart, but I am always looking for ways to explore the yumminess of avocados. Especially considering that it was only recently that I unleashed their true potential.
As I told you once before, I grew up believing avocados had to be sweetened to be appreciated. We eat avocados as a fruit in Brazil and we use them to make mousse, ice cream, popsicles and smoothies.
No dessert to serve after lunch/dinner? My grandma's idea of "dessert in a hurry" is to mash an avocado with sugar and lime juice. I know, you are probably cringing at the idea. Just wait 'til I tell you that we also eat mashed bananas drizzled with sweet condensed milk and sprinkled with oats. ???
However, as much as I still enjoy eating all of the avocado desserts mentioned above, I am glad that I finally looked past what I was accustomed to and embraced avocado as a savory ingredient. It was a calculated move from the universe so I could one day meet the new love of my life: avocado fries!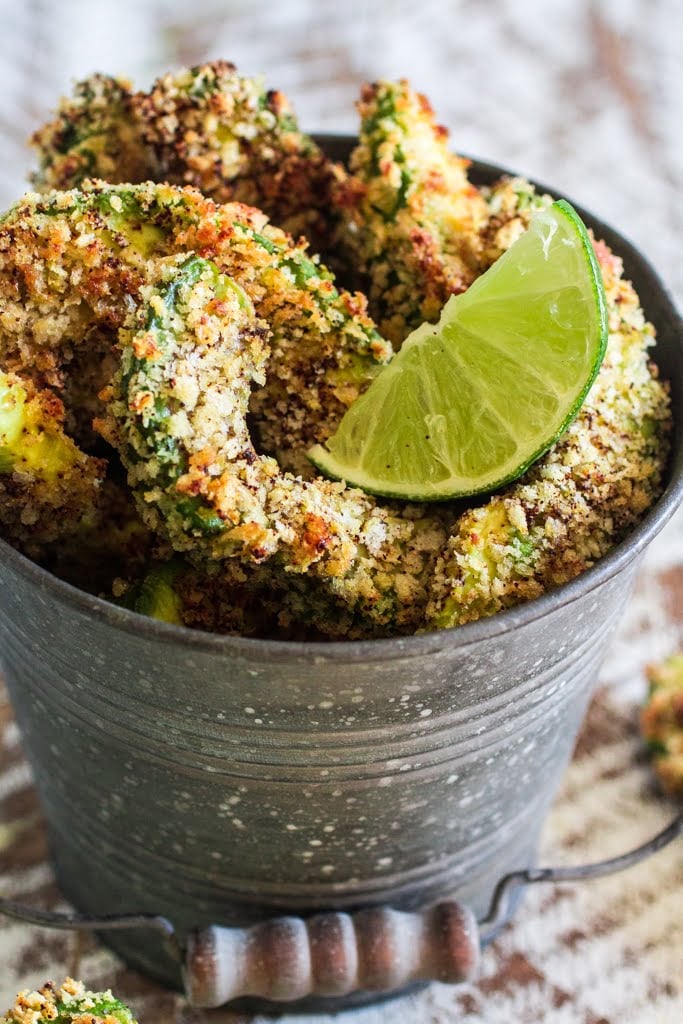 You'll be surprised that I decided to bake these instead of frying. I just didn't want to deal with all that oil, and it turns out I really didn't need to. (I know, you don't see me saying things like that very often!)
The baked fries are crunchy on the outside and creamy and buttery on the inside, after baking for about 20 minutes.
They are truly a gift from the Gods and make a great snack or appetizer for Cinco de Mayo, or for whenever you are craving fries, but want a better-for-you option!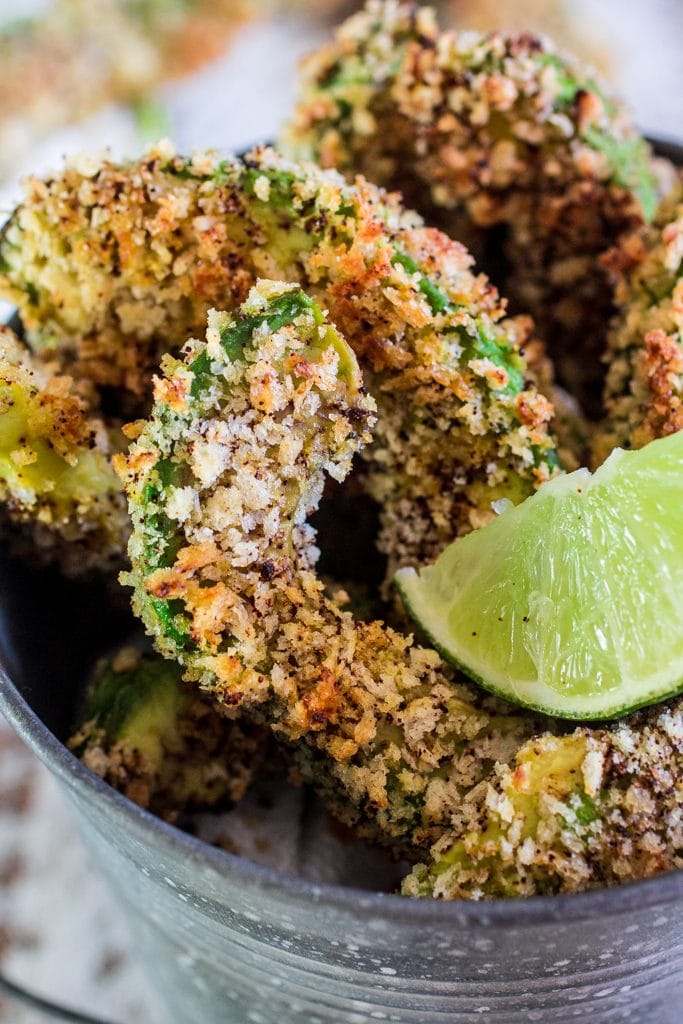 Avocados From Mexico are always my first choice when buying avocados. They are fresh, delicious, authentic and always in season.
You know that feeling when you are craving something, and you run to the store to get the ingredients just to find out that specific fruit or vegetable that you really, REALLY need, is not in season? Well, that won't happen with Avocados From Mexico. Meaning: avocado fries all year-round! ?
Avocados are really popular in the United States. Think of your last summer gathering, Big Game party, New Year's Eve bash, Fourth of July BBQ/picnic or Cinco de Mayo celebration. I have no doubts that avocados were there too, either in the form of guacamole, salads, tacos, sandwiches or many other delicious Mexican inspired creations.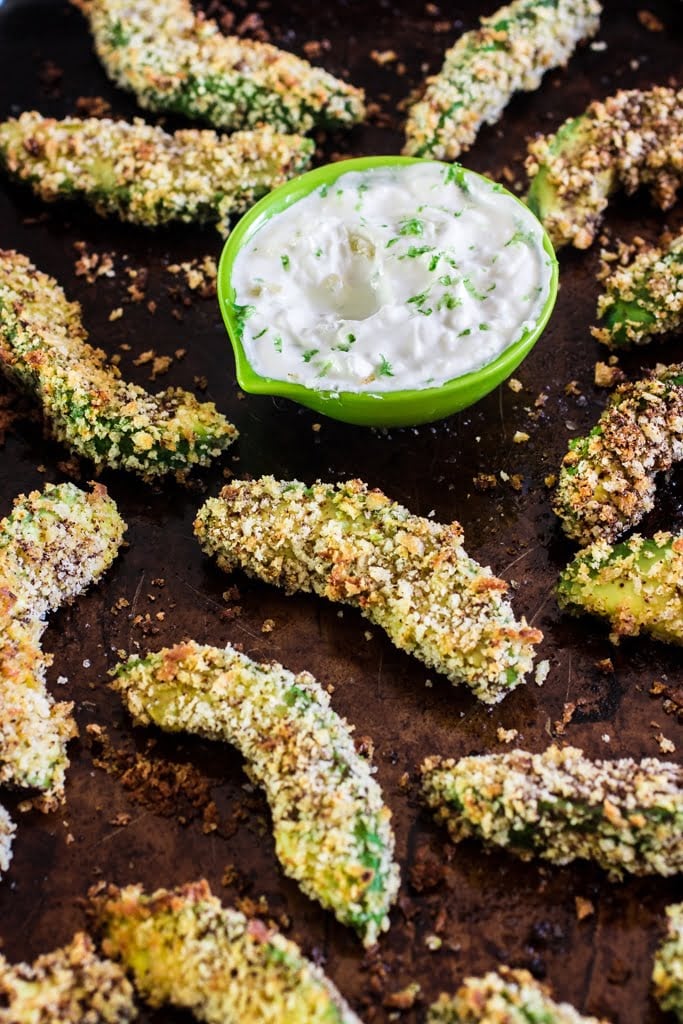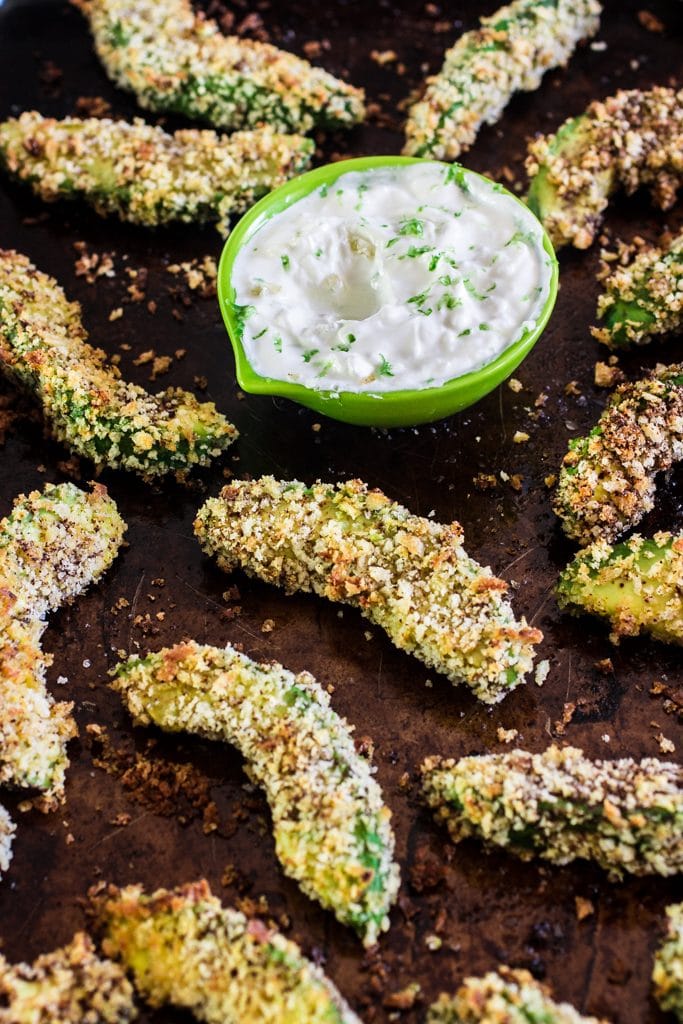 I have a feeling that avocado fries are not an authentic Mexican dish, as I once heard that in Mexico it is sacrilegious to cook avocados. But I'm pretty certain that whoever said that never tried avocado fries.
But even if they are not authentic, I think they totally fit the fun, fresh, festive Spirit of Mexico that is so characteristic of a Cinco de Mayo fiesta. So do yourself – and your guests – a favor, and include these on your menu! I promise you won't regret it!
Oh, and don't forget the dip! Since I like to add chili powder for a heat kick, I serve my avocado fries with a cooling dip (made with yogurt, lime and cilantro). If you're into even more spiciness, go for a Chipotle Mayo Dip. Or whatever your favorite dipping sauce is!
You really can't go wrong with smothering avocado fries into something equally delicious.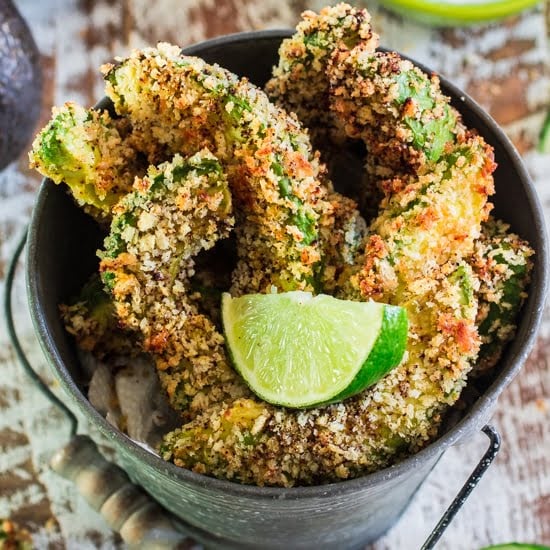 Avocado Fries
Ingredients
3 ripe Avocados From Mexico
Juice of 1/2 lime
1 1/2 cups panko breadcrumbs
1 tablespoon chili powder (optional)
1 cup all-purpose flour
2 large eggs, lightly beaten
Cooking spray
Salt to taste
Instructions
Pre heat oven to 400F degrees.
Slice avocados lengthwise and peel away the outer skin. Squeeze fresh lime juice on the avocado slices to preserve their color/freshness. Reserve.
Spray a large baking sheet with cooking spray. Reserve.
In a bowl, combine the panko breadcrumbs with the chili powder and some salt.
Dredge the avocado slices in flour, then dip in the eggs and coat with the panic breadcrumbs.
Place the breaded avocado slices in the prepared baking sheet. Spray with cooking spray (so they will be extra crispy) and sprinkle with salt.
Bake for about 20 minutes, flipping them once, or until outside is crispy and golden.
Serve with your favorite dip and some fresh lime wedges.
Notes
You can also fry the breaded avocados in hot vegetable oil, for 2-3 minutes per side or until golden brown. Transfer the fried wedges to a paper towel lined plate to soak any extra grease.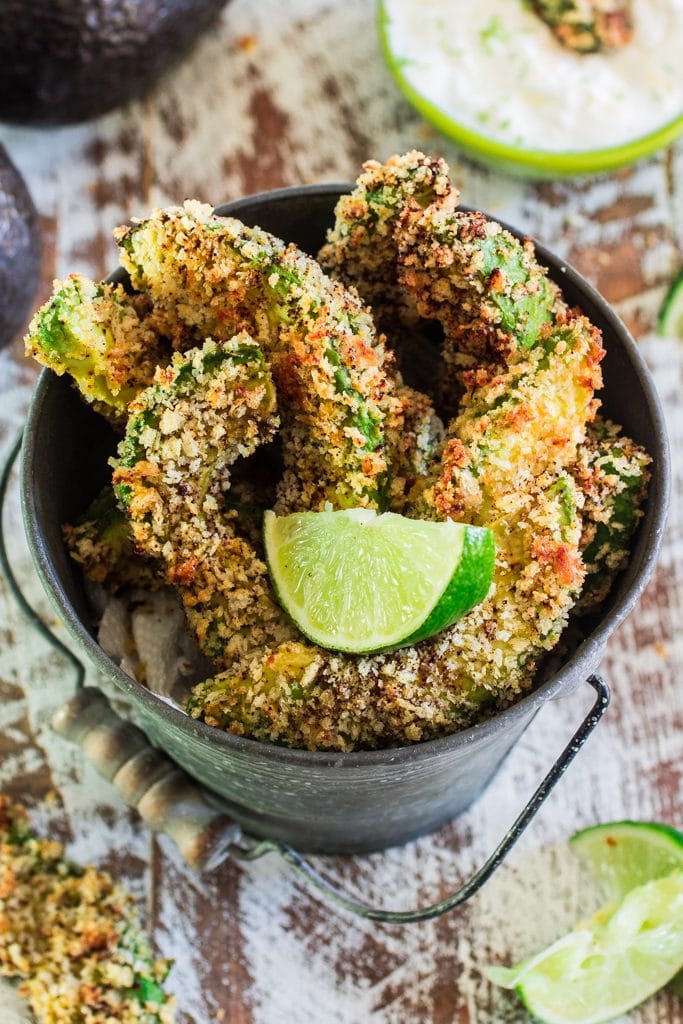 This is a sponsored post written by me on behalf of Avocados From Mexico.