Beyond the Kitchen (April Edition)
Last month I started this new series called Beyond the Kitchen, where I plan on sharing everything that happens behind the scenes here at Olivia's Cuisine and in my life. (Because what's the point of having a blog if I cannot celebrate/vent/bitch to my internet friends?) I got a lot of support from some awesome blogger friends and their love inspired me to keep writing this little corner of silly and not so silly things. So here I am with a recap of April 2015!
If you're here for recipes, please feel free to head over to my recipe archive and go over the many delicious things I've made for you during this month. But, if you wanna know a little bit more about me, about the world and about blogging, just tag along for this little journey! :)
As you know, this is still a work in progress. I would love if you could help me out by commenting and letting me know what you love and/or hate, as I most certainly don't wanna bore you!
The Reading Corner
Ugh, this is a little embarrassing. Remember I told you I'm trying to follow a goal of reading 4 books a month? Well, April was a huge F-A-I-L!
The two books below are the ones I attempted to read. I almost finished them, but still have a few pages to go… Oh well, what can I say? Life got in the way! :)
1) Will Write For Food, by Dianne Jacob – I started this book in March and just now I'm finishing it. It is a must have if you're a food blogger or an aspiring food writer, as she gives lots of frank advice and interviews several authors that are successful in this industry! The book is so rich and so full of valuable information that I might have to read 10 more times just to absorb some of it. It has exercises that I sadly didn't have the time to do, but I absolutely will go back to them!
2) Shopaholic to the Stars, by Sophie Kinsella – I admit, I needed the entertainment. The type of reading that is humorous and lighthearted and doesn't require a lot of thinking! :P I think they call it "chick lit" and I love it, always did and am not ashamed of that! This is the 7th book of the Shopaholic Series. I have been following the series since the start and while I loved it at first, I think it is losing that witty tone that I loved so much. Maybe it's time to say goodbye to Becky Bloom.
The Restaurant Corner
Going out also wasn't something we did a whole lot – or at all – in April! We mostly stayed home, eating good homemade food, so I'm not sorry for that. But now that Spring is here, I definitely want to go out more and explore what NYC has to offer!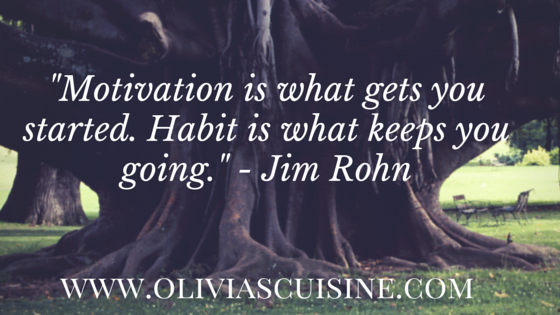 The Inspiration Corner
The Interesting and/or Funny Corner
The World Corner
The Blogging Corner
(This post contains a few affiliate links, meaning I get a small commission if you end up purchasing a product.)