Birthday Chocolate Cake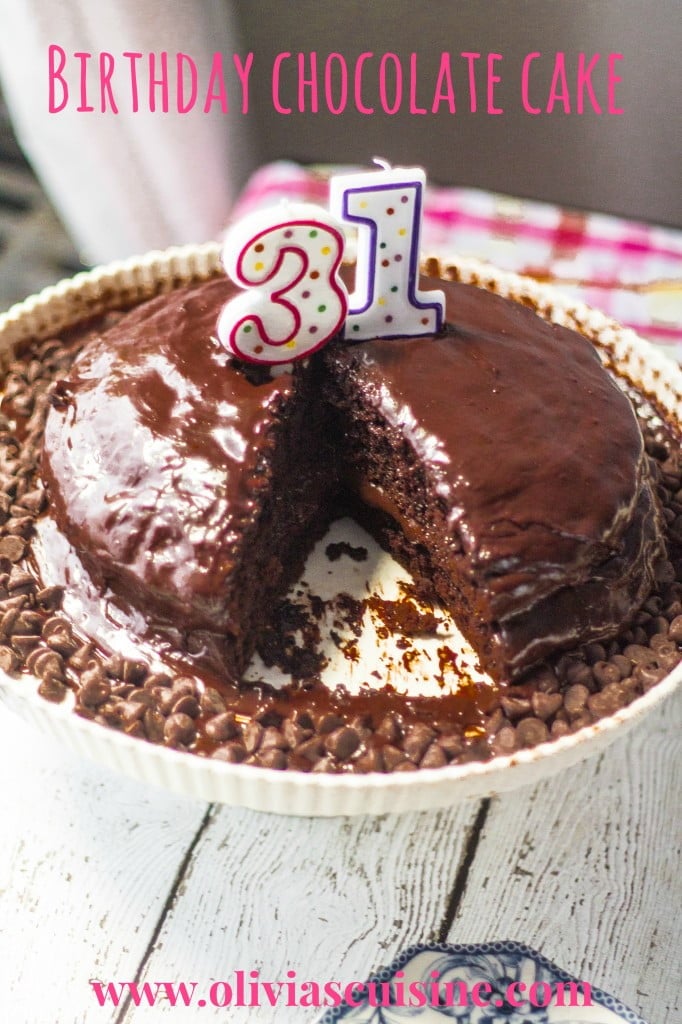 Today is my Birthday! And nothing says Birthday better than chocolate cake and the smell of burned candles.
Oh, and speaking of candles, you can see that I'm proudly displaying my age: 31. I grew up planning to start lying my age starting at my 25th birthday. Well, as you can see, that never happened… Maybe because I was too slow to do the math whenever someone asked me what year I was born, or maybe – and I like to believe this is the reason (so I don't feel too dumb) – I embraced the fact that getting older is not a bad thing.
Last year when I turned 30 I thought I was going to freak out big time. You know, you always hear that people freak out when they turn 30… But I didn't! What I felt was something more on the side of: "Hell yeah! I'm 30 now so I don't own satisfactions to anyone but me! My only concern in life is to be happy and take care of those who I love!". I also discovered lots of things about myself in the past 3 years, so yeah… Getting old is a blessing! Also, not to be too philosophical or anything, but lots of people don't get to live til their 30s, or 40s, or 50s… And I did! I'm here, alive, healthy (mostly, thanks to a painful herniated disc!), married to an wonderful man and happy to be doing something new and exciting: blogging about food!
And, speaking of married to an wonderful man, did you know my husband is 5 years younger than me? Yeah, that was also one thing I thought I would be lying about for the rest of my life. And now I think: "Who cares?!?". You can't really tell we have a "big" age difference (because I look like I'm in my early 20s and he looks like an old man! Just kidding, honey! =P), so that solves that.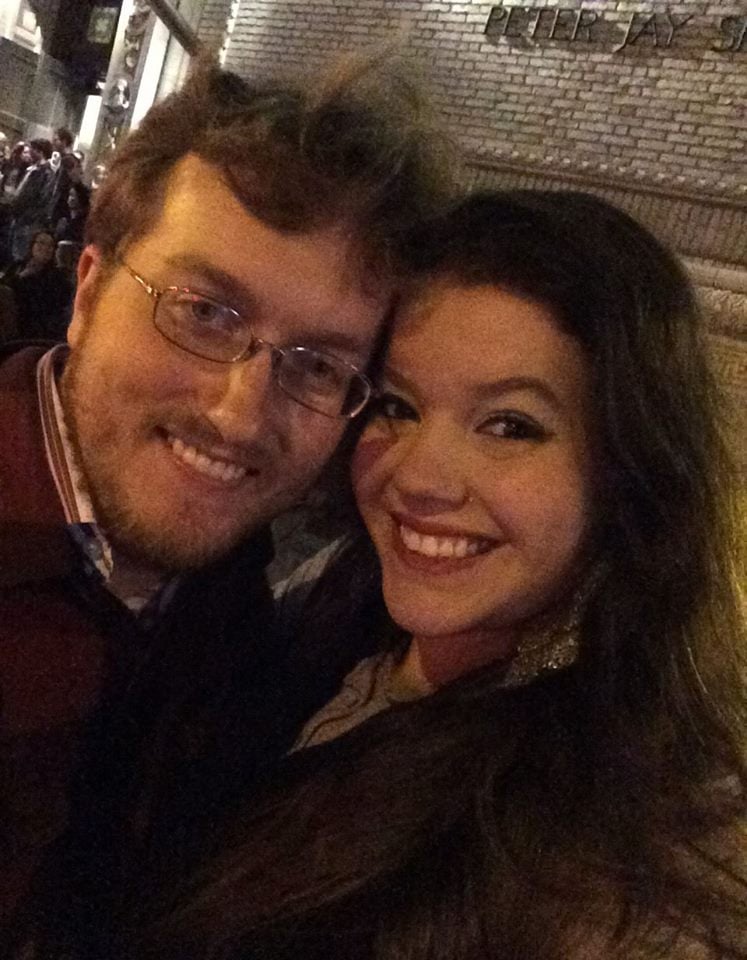 But let's talk about chocolate cake. I absolutely adore chocolate cake. Especially this one that is incredibly moist and chocolaty! And please don't be turned off by the coffee. The cake doesn't taste at all like coffee. The coffee just makes the chocolate taste even more chocolaty and more three dimensional! :) (If there's anything like a 3 dimensional taste…) But if you're really reeeeeaaaally against adding the coffee, just add boiling water instead and omit the coffee! :( :(
I decided to fill it with brigadeiro to make it even more amazing and decadent. You know what Brigadeiro is because of this post, right? The only difference is that here I cooked it only until it thickened and not until it comes off the bottom of the pan, because we are not rolling it into balls.
And for the frosting: ganache! Alwaaaaays ganache. Nothing against buttercream, but in this case nothing beats ganache. :)
As you can see my cake doesn't look perfect. I'm really not a baker… And I have a really hard time decorating cakes! But I can guarantee that this cake tastes like something that came straight from Heaven and that your house is going to smell like pure happiness. But I'll keep working on my decorating skills and I might re-do these pictures next time I bake this cake…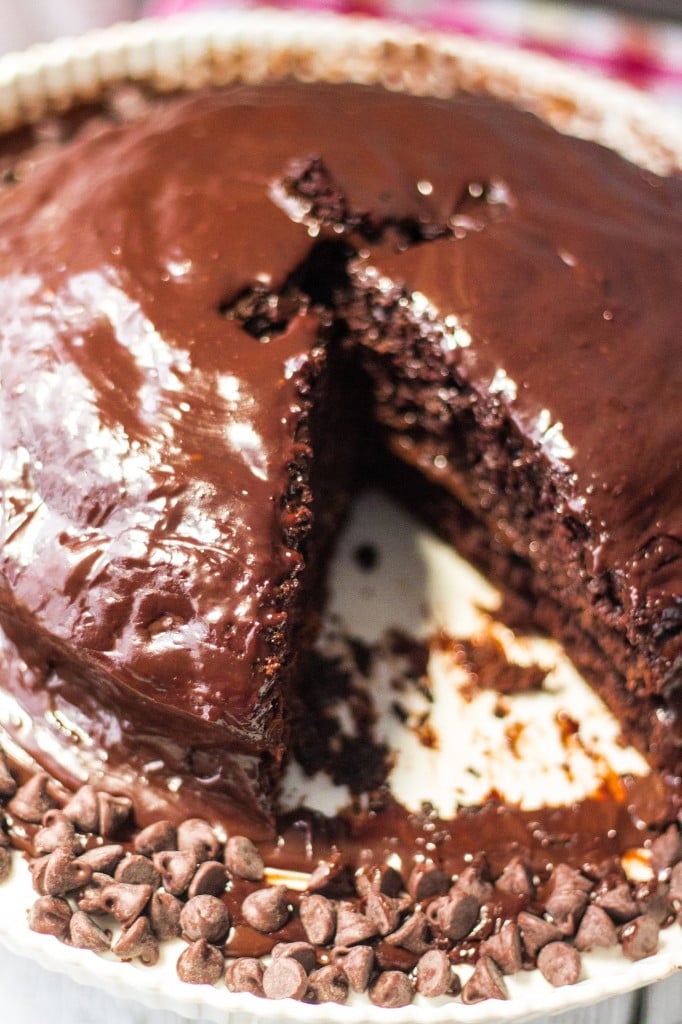 But for now, let me go eat my amazing cake and enjoy my birthday with my husband and our little furry baby! :)
Lots of chocolate stained kisses!
Olivia
Birthday Chocolate Cake
Yield: 10
Prep Time: 20 minutes
Cook Time: 40 minutes
Total Time: 1 hour
Ingredients
For the cake:
2 cups all purpose flour
2 cups sugar
3/4 cup cocoa powder (unsweetened)
2 tsp baking powder
1 1/2 tsp baking soda
2 eggs
2 tsp vanilla extract
1/2 cup vegetable oil
1 tsp salt
1 cup milk
1 cup piping hot black coffee
For the Brigadeiro filling:
1 can sweet condensed milk
4 Tbsp unsweetened cocoa powder
1 Tbsp butter
For the chocolate ganache:
8oz semisweet chocolate chips
1/2 cup heavy cream
Instructions
To make the cake:
Preheat oven to 350 degrees and butter/flour two 9" cake pans.
In a large bowl, mix the flour, the baking powder, the baking soda, the cocoa powder and the salt. Stir really well with a spatula or wooden spoon.
In your stand mixer bowl, beat the eggs and the sugar at medium speed until smooth and creamy.
Add the vanilla extract and beat some more.
Add the dry ingredients, the vegetable oil and the milk and beat until everything is incorporated.
Carefully add the coffee to the batter and once it's incorporated, increase the speed to high and beat for an extra minute to make your cake more fluffy.
Distribute the batter equally into the 2 cake pans and bake for 35 to 40 minutes or until a toothpick inserted in the middle of the cakes comes out clean.
Remove from the oven and let it cool.
Once it's cool enough, level the cakes, remove the crumbs and excess and top the first cake with the Brigadeiro chocolate. Add the second cake to the first and finish off by frosting with the ganache.
To make the Brigadeiro filling:
In a saucepan, combine the butter, the sweet condensed milk and the cocoa powder and mix really well until everything is combined.
Bring the saucepan to the stove, over medium-low heat, and cook until it has thickened slightly.
To make the Ganache:
Fill a sauce pan with water and bring it to a boil. Put a slightly bigger saucepan on top of that (double boiler) with the chocolate chips and the heavy cream and stir until the chocolate melts.