Brazilian Beef and Cheese Enchiladas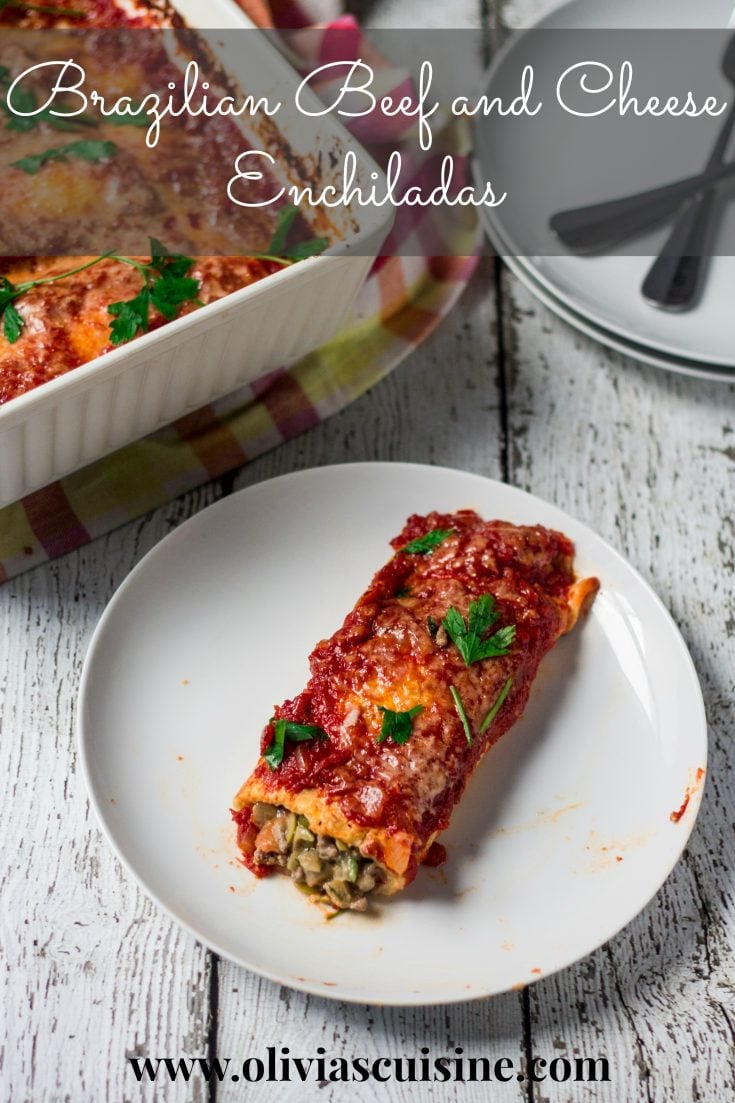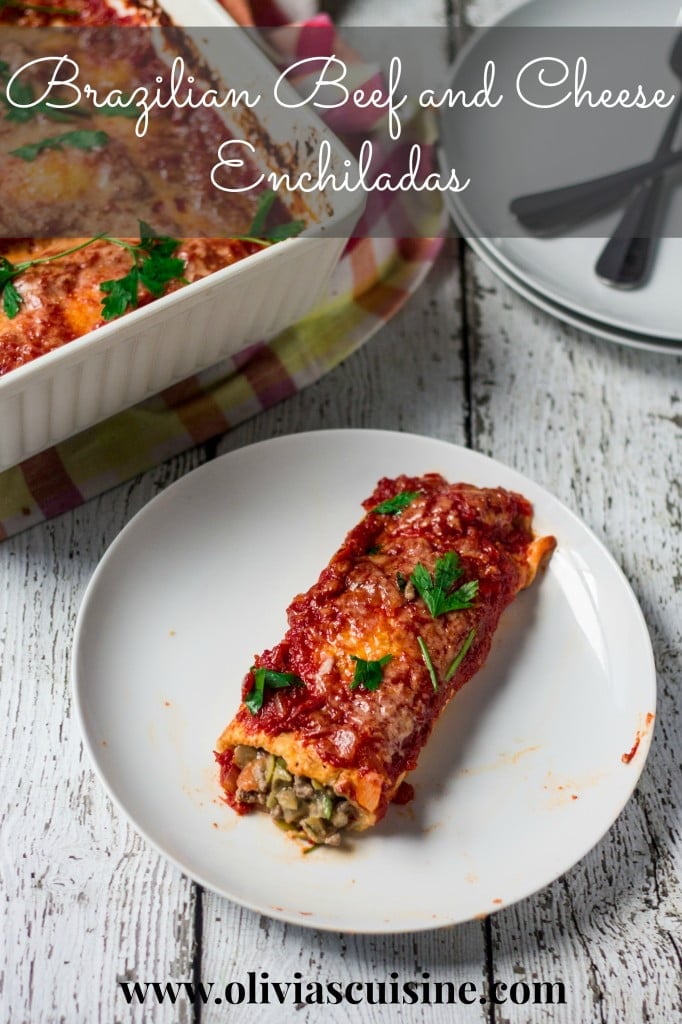 After having a great birthday, thanks to my wonderful husband and all the lovely messages and phone calls I got, I was inspired to cook something delicious and comforting.
"Comfort food", for me, is something that brings me back to my childhood and fills my heart with all that good nostalgia. In Brazil, we have a word that doesn't exist in any other language: Saudade. It has no direct translation in English, but it pretty much means that melancholic nostalgia and longing for a dear person/place/experience that is far away from you. Right now I'm dying of saudades of my family, who are far away from me in Brazil. And, to ease a bit of this feeling – that can be so powerful and intense – I usually make dishes that I grew up eating, so they can comfort my heart and bring some of those emotions back, even if only for a few bites.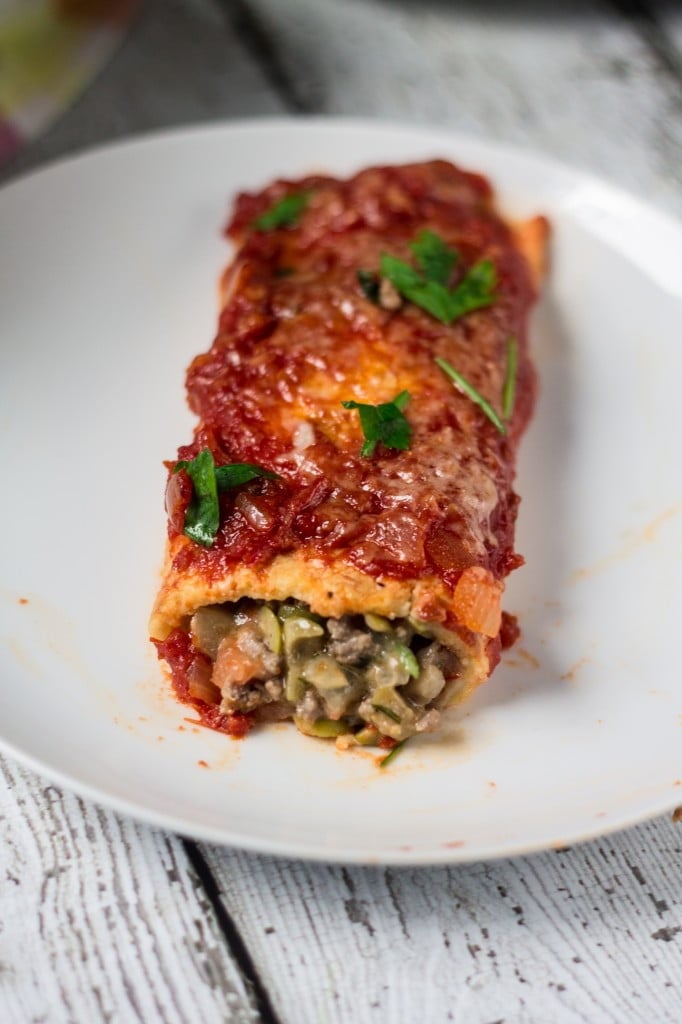 One of those comforting dishes for me is what I'm calling now the Brazilian Beef Enchiladas, to which I added cheese and now I call Brazilian Beef and Cheese Enchiladas. They are not quite enchiladas, because we don't use tortillas. We make paper thin crêpes with flour, milk and eggs and then we fill them with beef! So I guess they could be called crêpes… In Brazil we call them Panquecas de Carne, which if translated exactly, means Beef Pancakes. However, I've found that it is very difficult for Americans to understand a savory pancake! That being said, I still find them really similar to enchiladas…So, you know what?!?! Beef and cheese enchiladas it is! :)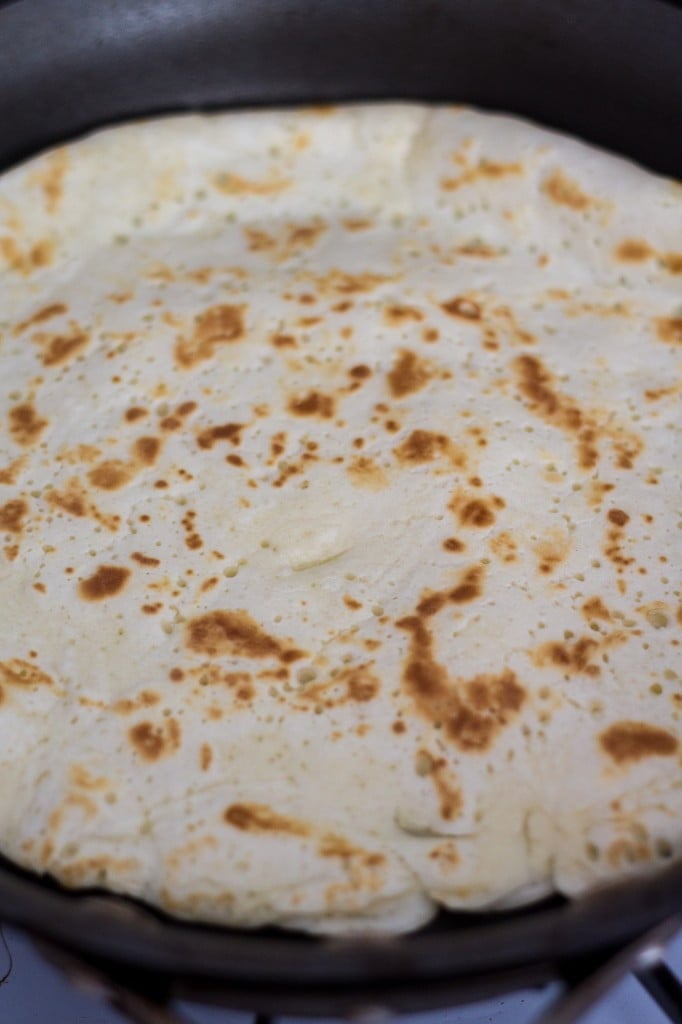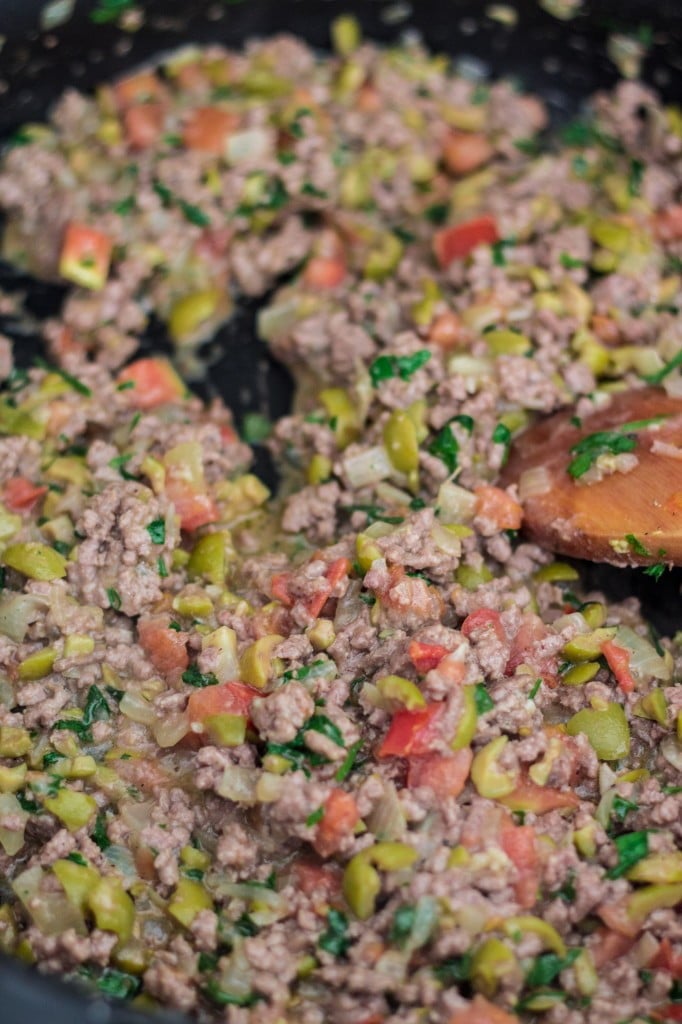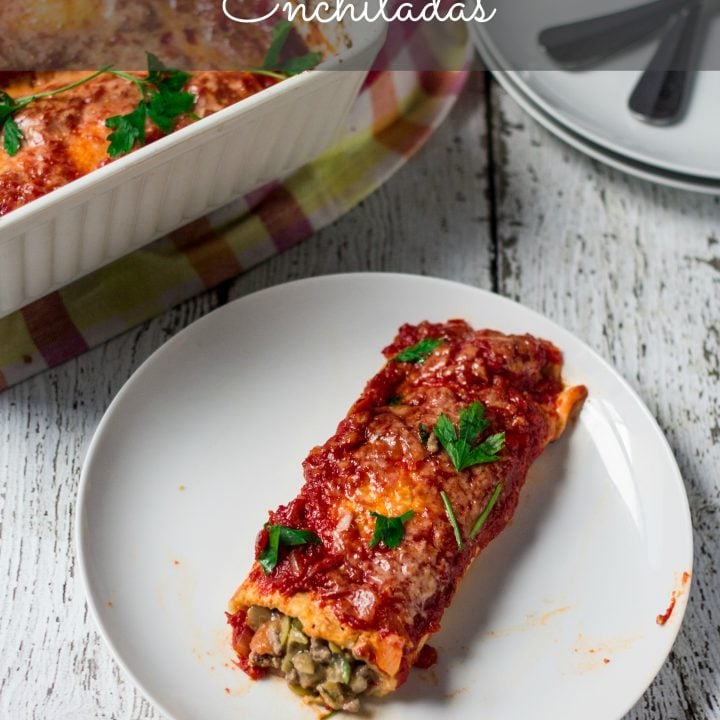 Brazilian Beef and Cheese Enchiladas
Yield: 5
Cook Time: 1 hour 30 minutes
Total Time: 1 hour 30 minutes
Ingredients
For the "tortillas":
2 large eggs
2 cups milk
2 cups flour
1 cube beef bouillon
For the filling:
1lbs ground beef
1 medium onion, chopped
3 cloves of garlic, minced
4 Tbsp olive oil
1 large tomato, cubed
1/4 cup milk
1 Tbsp flour
1 cup sliced green olives, chopped
Chopped parsley to taste
Salt and pepper to taste
For the sauce:
2 Tbsp olive oil
2 cloves of garlic, minced
1 small onion, chopped
3 cups crushed tomatoes
1 cube beef bouillon
Pinch of sugar if needed
Salt and pepper to taste
For the assembling:
2 cups shredded mozzarella
Parmigiano Reggiano to taste
Chopped parsley to decorate
Instructions
To make the filling:
In a large skillet, heat the olive oil over medium heat and sauté the garlic and onion until translucent.
Add the ground beef and cook until the meat has browned (about 10 minutes).
Add the tomato, the olives and season with salt and pepper. Cook for about 5 minutes.
In a cup, mix the flour and the milk and add it to the skillet along with the chopped parsley.
Let this mixture cook for 5 more minutes. Reserve.
To make the sauce:
In a saucepan, heat the olive oil and sauté the onion and garlic until translucent.
Add the crushed tomatoes and the beef bouillon and cook over medium/low heat for about 20 minutes. Season with salt and pepper and add a pinch of sugar if the tomatoes are too acidic. Reserve.
To make the "tortillas":
Put the milk, flour, beef bouillon and eggs in the blender and blend everything together until you have a very smooth (liquidy) dough, similar to pancake dough.
In a medium skillet (sprayed with non stick spray), preheated over medium high heat, add a ladle of the batter and tilt the skillet so the batter coats the whole surface. Cook for 1 or 2 minutes and turn to cook the other side. Reserve the cooked tortillas. You'll probably have 6 or 7 of them.
To assemble the enchiladas:
Preheat over to 375 degrees.
Cover each tortilla with cheese and then add the filling to 1/4 of the disc. Roll the tortilla, forming an enchilada, and place it, seam side down, in a baking dish (I used a lasagna pan). Continue until you've used all the tortillas or filling.
Pour the sauce over the enchiladas and grate the desired amount of Parmigiano Reggiano on top.
Bring it to the oven for about 20 minutes or until the cheese has melted.