Chocolate Dipped Cinnamon Pecan Biscotti
Lighter than Italian biscotti, these Chocolate Dipped Cinnamon Pecan Biscotti are crisp, tender and filled with some of my favorite holiday noms: cinnamon, pecan and chocolate! Perfect to give out as holiday gifts or just to dunk into your coffee.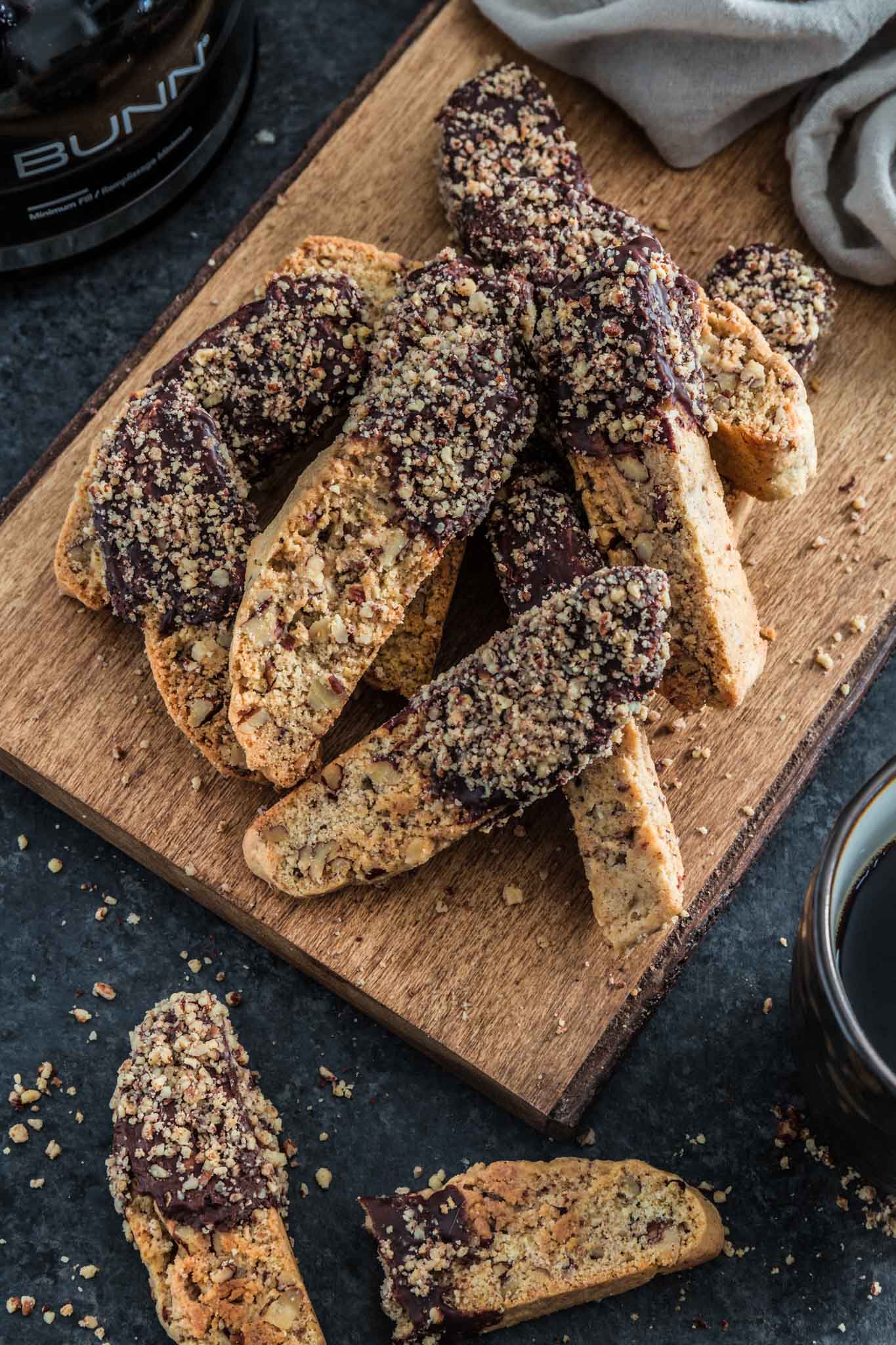 (A big thanks to BUNN for sponsoring today's post.)
Up until last week, I had never made biscotti in my life.
I don't consider myself a baker, mostly because I just don't bake it as often on my everyday life, so I was prepared to play with my original idea a few times before I would even consider it edible.
Just imagine my surprise when I took my first batch of biscotti out of the oven and they were the most delicious cookies I have ever tasted in my life! I mean… I did this? With my bare hands (okay, and a stand mixer!)??? This can't be true! I bet a Christmas elf got into my oven and swiped my cookies for these delectable pieces of heaven.
Don't get me wrong, I've baked some pretty awesome treats before. But because I usually lack the baking expertise, it sometimes takes me 2-3 (or even 6) attempts before I get it just perfect. And these chocolate dipped cinnamon pecan biscotti knocked the ball out of the park on the first attempt? Oh, that is what I call a Christmas miracle!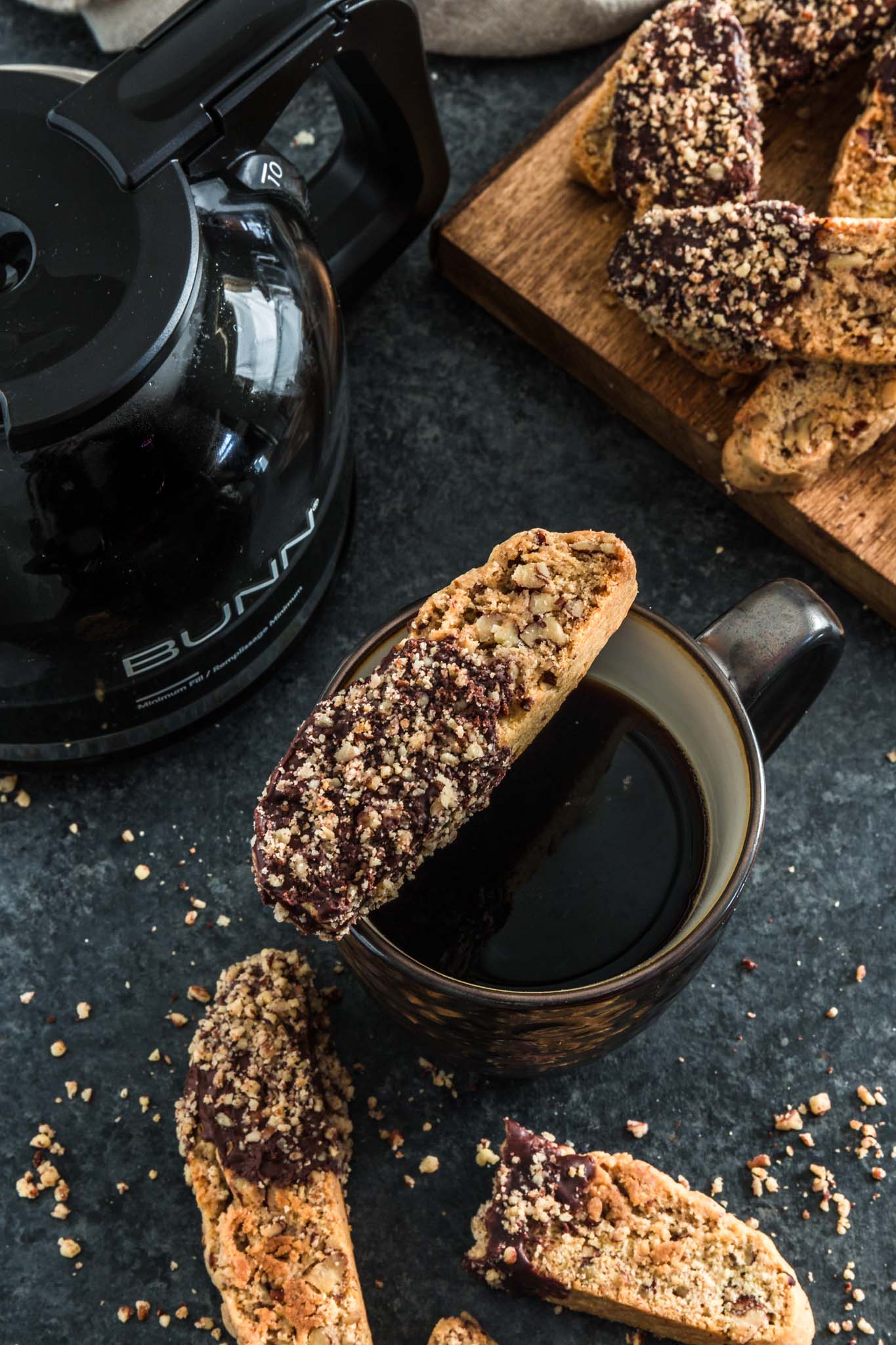 Having just spent a whole month in Italy, I've recently tried my fair share of Italian biscotti. And although they taste amazing, I'm not too keen on the feeling that my teeth are gonna break every time I bite into one.
What can I say… I am one of those poor souls who has really bad luck where teeth are concerned.
But since I was really craving some good pecan biscotti to go with the delicious coffee I was making with my brand new BUNN coffeemaker, I took it upon myself to come up with biscotti that were crisp but tender. The type of biscotti that you dunk into your coffee because you want to, not because you can't bite into it otherwise.
The resulting cinnamon pecan biscotti were out-of-this-world! However, because it is the holidays and everything can be stretched an extra mile into perfection, I decided to dunk them in melted chocolate and sprinkled them with some more chopped pecans.
I wish I could type lots of fancy words to describe in details how I feel about them, but I'm at the moment wiping my tears of joy of remembrance of how fabulous they were.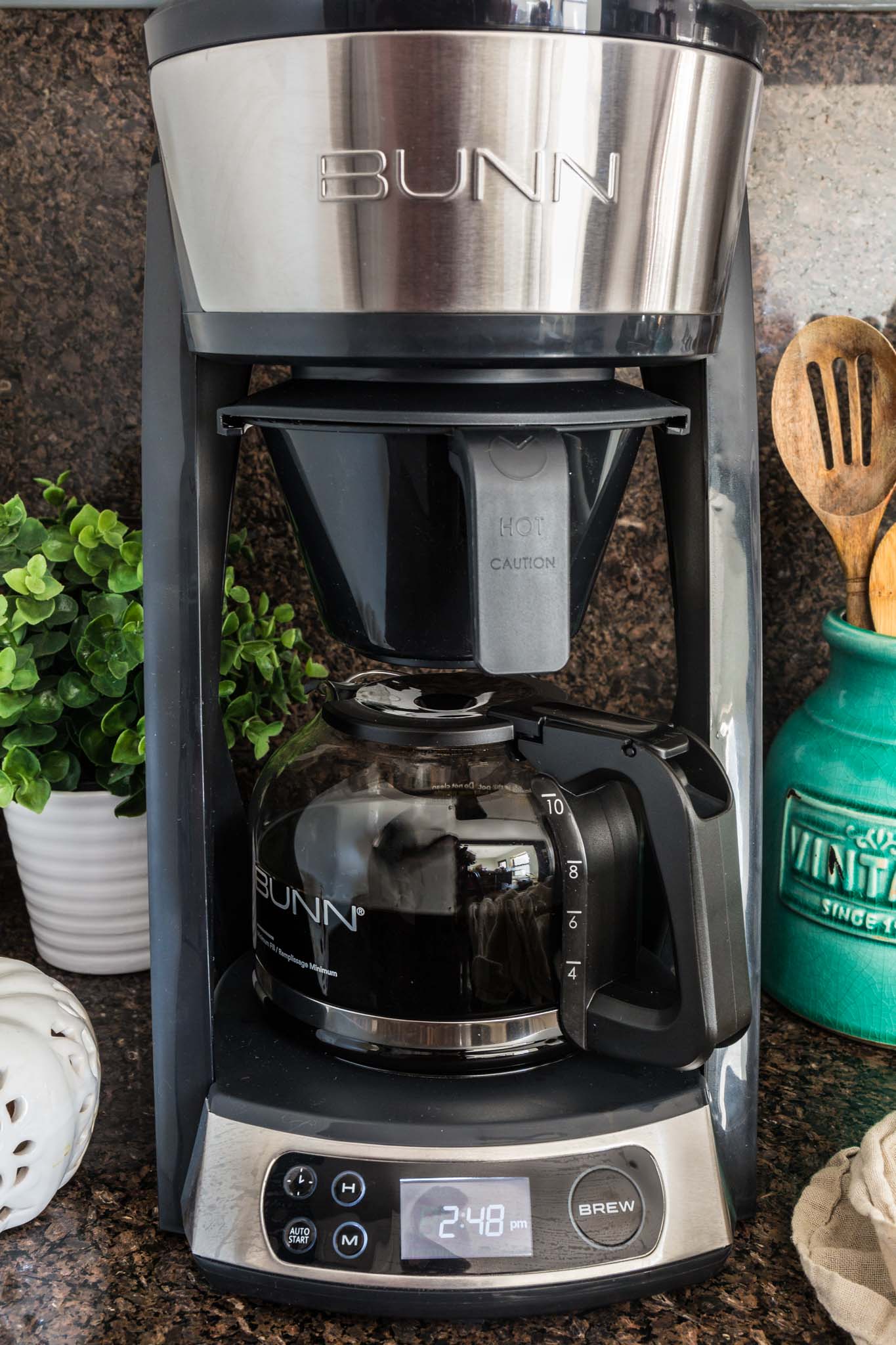 Call me dramatic, but I am the type of person who gets that excited about cookies.
I also get pretty damn excited about coffee, hence why I am so happy that I am now a proud owner of the new BUNN HB Coffeemaker.
Not only it looks pretty sleek – curved lines, stainless steels accents and an overall modern aesthetic – it also makes a mean cup of coffee! Mean as in so good that BUNN's unique brewing process has qualified it to meet the Specialty Coffee Association of America's (SCAA) professional standards.
What does that mean in human language? It means that you can effortlessly make professional quality brewed coffee – just like the one you would get at your favorite coffeeshop – right in your kitchen. No lines, no fighting over the color of a cup, nada! Just pure bliss in the form of a smooth cup of coffee!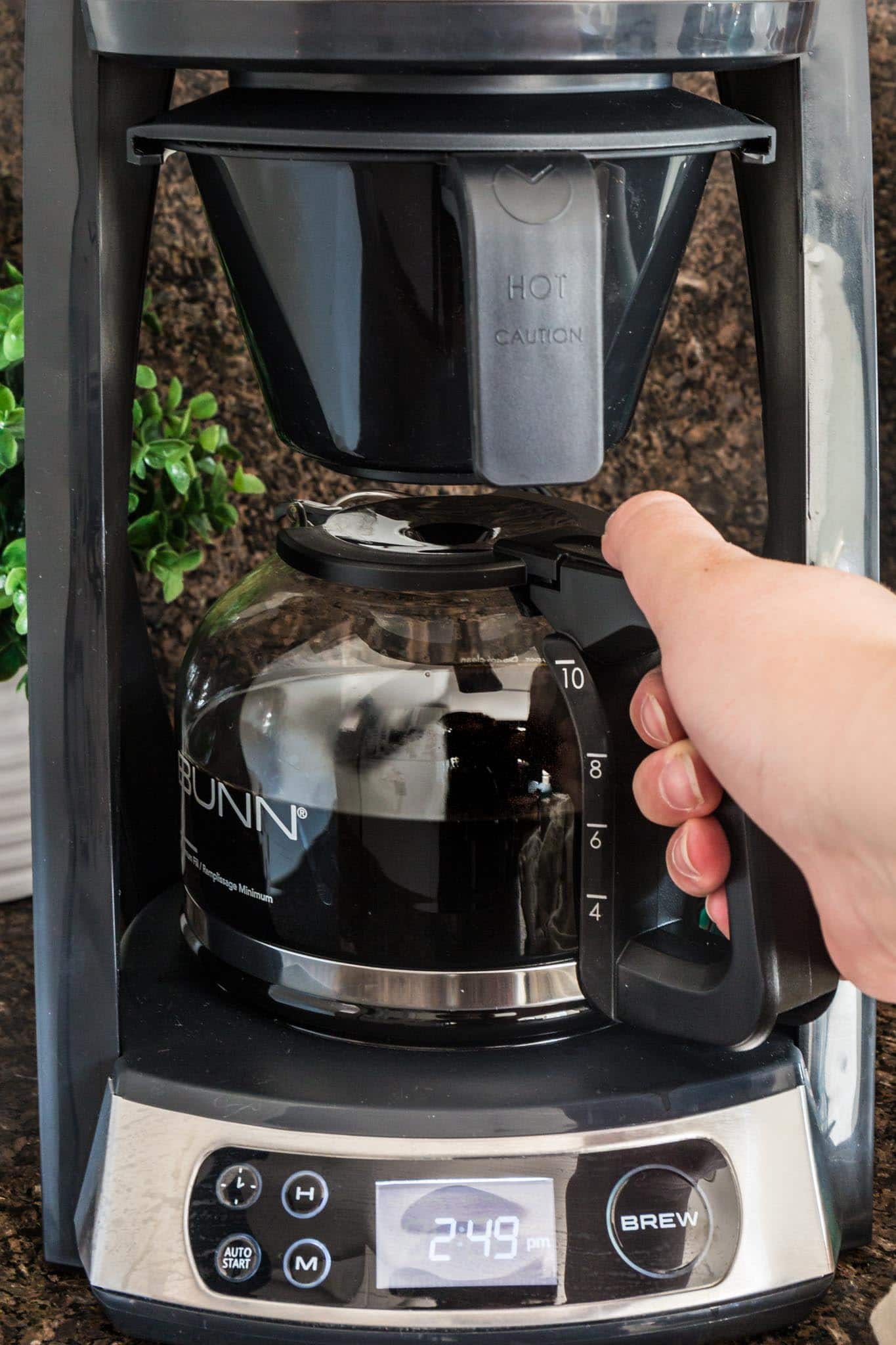 My favorite thing about this coffeemaker is that I get to program it at night and wake up to the smell of freshly brewed coffee. That right there is one of the simplest pleasures in life!
And even if you forget to program it, you can still have your nice cup of coffee in less than 10 minutes!
If you're interesting in checking it out, you can find BUNN's new coffeemaker exclusively at Williams-Sonoma: in-store, online and through their catalog.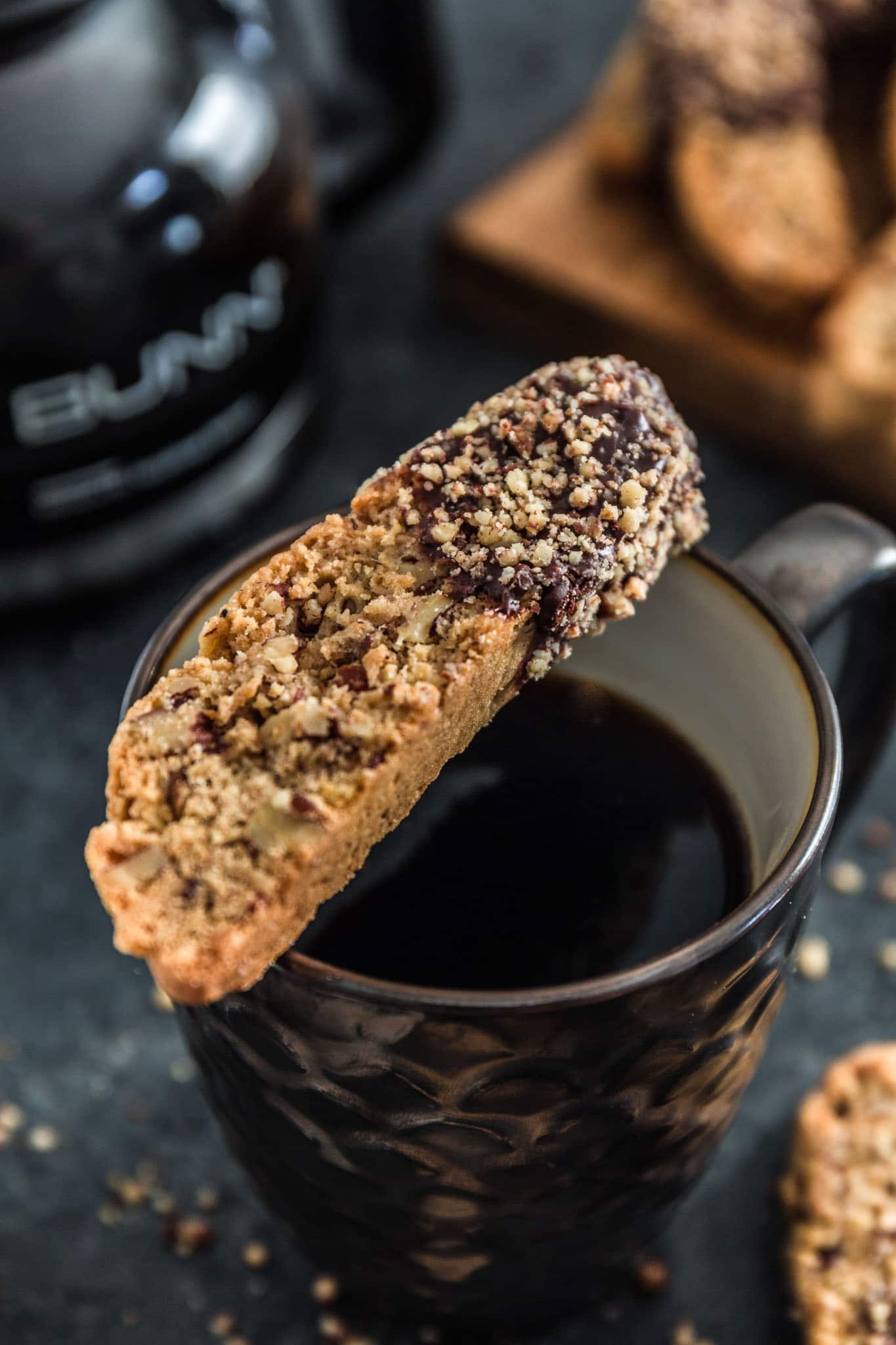 Once you have your new cool machine, all you need is some good ground coffee (I say go for Brazilian, but I'm sure you will say I'm biased! ?) and a batch of these delicious Chocolate Dipped Cinnamon Pecan Biscotti.
Call a few friends over to enjoy it together, or simply eat them all by yourself (no judgement!) while reading a good book!
No matter what you decide to do, these will be the best cookies you bake this holiday season. ❤️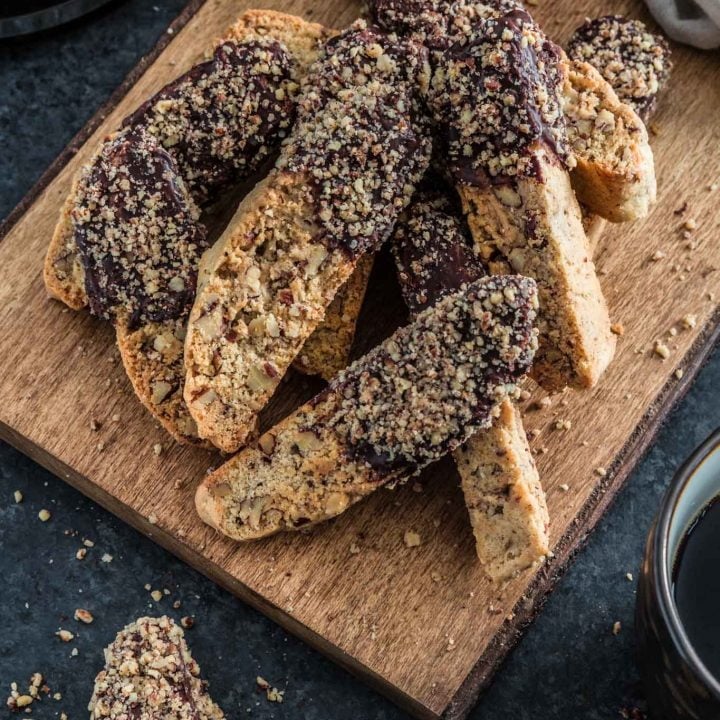 Chocolate Dipped Cinnamon Pecan Biscotti
Yield: 25 to 30 biscotti
Prep Time: 5 minutes
Cook Time: 55 minutes
Total Time: 1 hour
Ingredients
3 cups pecans
1 cup sugar
1 teaspoon cinnamon
1 stick (4 ounces) unsalted butter, room temperature
1/2 teaspoon salt
2 teaspoons vanilla extract
1 1/2 teaspoons baking powder
2 large eggs
2 cups all purpose flour
8 ounces semi-sweet chocolate, coarsely chopped
Instructions
Preheat your oven to 350F degrees. Line two large baking sheets with parchment paper and reserve.
Spread the pecans on one layer on a baking sheet and bake for 5 to 10 minutes or until they are fragrant and perfectly toasted. Remove from oven and let them cool. Keep oven on.
Once pecans are cool, finely chop them and reserve.
In the bowl of your stand mixer, beat the butter, sugar, cinnamon vanilla extract and baking powder until creamy.
With the mixer running on low, add the eggs - one at a time - and beat until incorporated. Then, slowly add the flour, beating until smooth. Add 2 cups of the chopped pecans and mix just until they are incorporated. The dough will be sticky and that's okay!
Transfer the dough onto the prepared baking sheet. Divide it in half and shape both into 9 by 2-inch logs. Smooth the logs with a rolling pin or a spatula and bring them to the oven.
Bake the biscotti dough for 25 minutes. Remove from the oven, reduce oven's temperature to 325F degrees and let the biscotti cool for about 10 minutes before cutting.
When they are cool enough to handle, cut - using a serrated knife - on diagonal into 1/2-inch thick slices.
Spread them evenly on the baking sheet and return to the oven, baking for another 25 to 30 minutes or until they start to dry out and become golden. They will still be a little moist in the center, but they will continue to dry out as they cool.
Remove the biscotti from the oven, and transfer them to a rack to cool.
While the biscotti are cooling, melt the chocolate in a medium bowl in the microwave or in a double boiler. You should do it in 15 second increments, stirring with a spatula after each increment, until the chocolate is melted and smooth.
Dip one side of each biscotti into the melted chocolate to about 1/4-inch depth. Gently shake off excess chocolate and immediately sprinkle with the remaining chopped pecans. Place the chocolate dipped biscotti back on the baking sheet you used to bake them on. Refrigerate until chocolate is firm, about 35 minutes or let them set at room temperature, 45 minutes to 1 hour.
Store in an airtight container. They will be good for up to 2 weeks.
FOR THESE CHOCOLATE DIPPED CINNAMON PECAN BISCOTTI, I RECOMMEND:
This post contains affiliate links.