Chocolate Ice Cream Cake
This make-ahead chocolate ice cream cake has everything a chocoholic desires: chocolate cake, chocolate mousse and chocolate ice cream. It is a delightful dessert to celebrate a birthday or end a fabulous dinner party!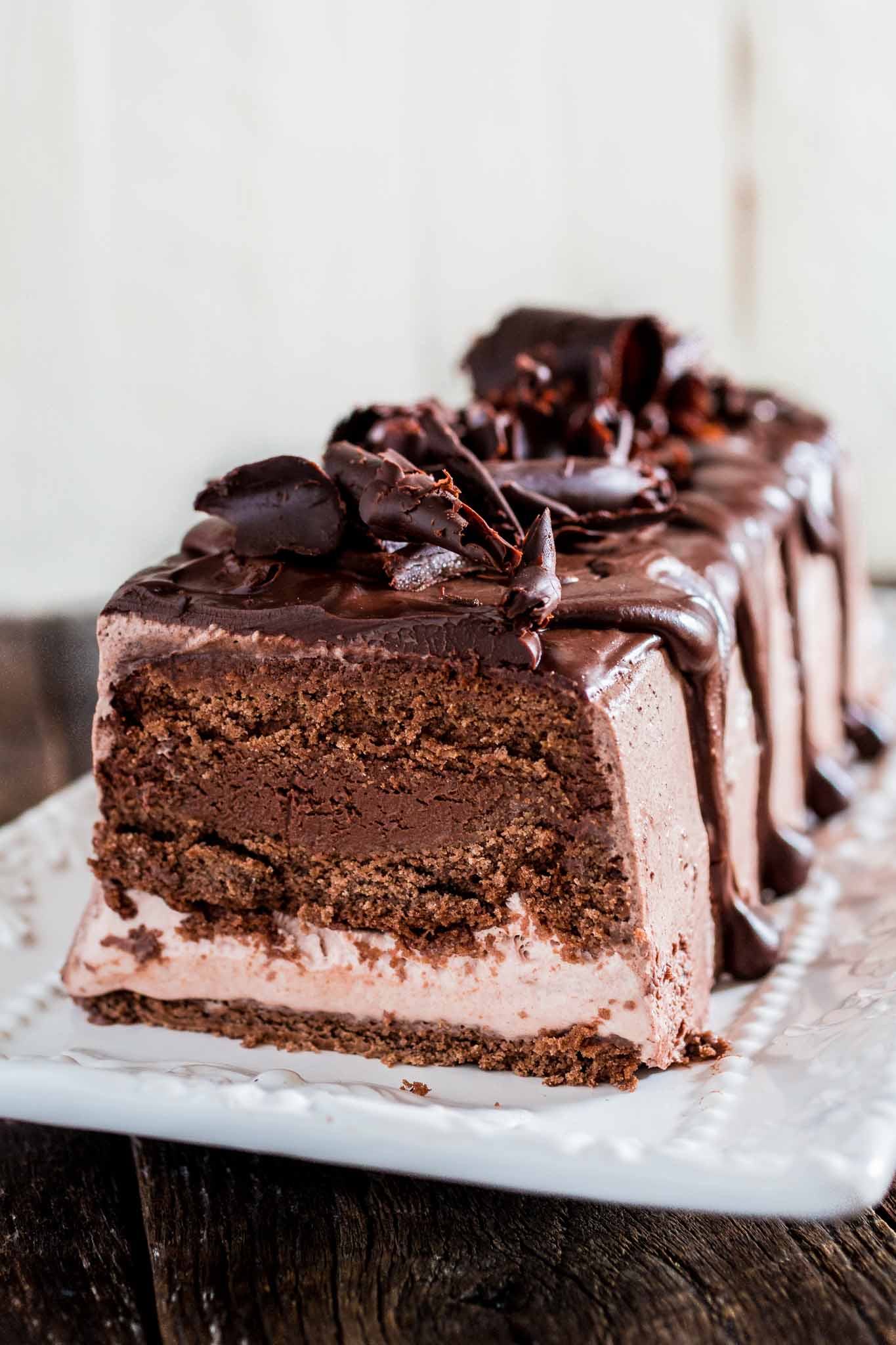 Who's ready for some chocolate love?
Now, let me be honest with you right from the beginning and tell you that this recipe is a little more elaborate than my usual recipes. But it is not difficult at all! There will be some dishes to be washed and a lot of waiting for layers to set in the freezer, so I recommend doing this on a weekend when you have time to focus on all things chocolate.
At the end, it will all be worth it because this cake is truly a showstopper and so much better than anything you would get from the grocery store.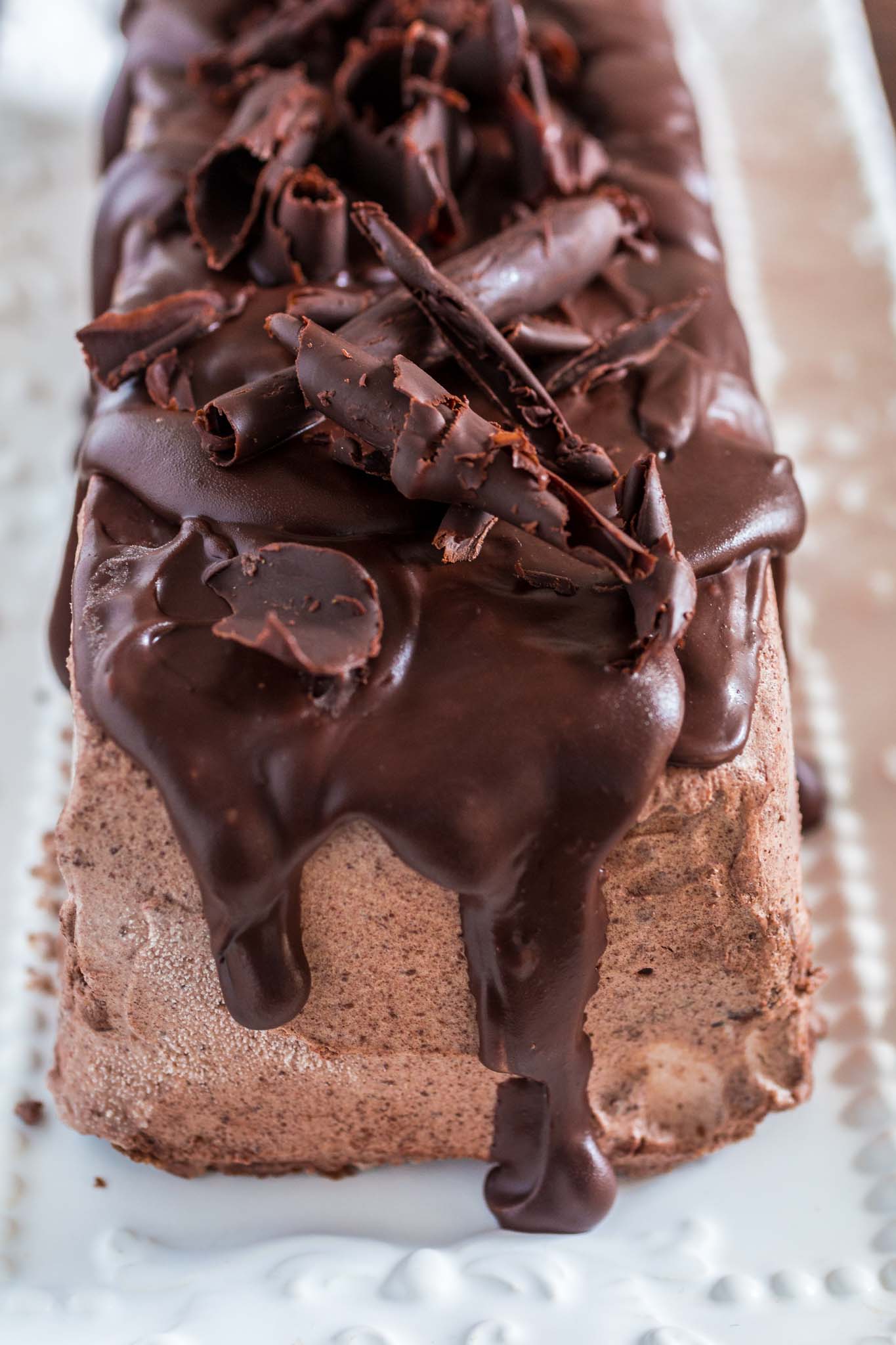 Truth be told, this was my first time making an ice cream cake ever!
I do not consider myself a skilled baker, so I was definitely prepared for some serious crash and burn, lots of tears and possibly 2-3 cakes until perfection.
Surprisingly enough, I got it perfect the first time! I even did a small run of victory around my apartment, feeling like the best baker in the world. (Yes, I am perfectly aware this feeling will last only until my next "had to make this 7 times until I got it right" project. But no need to rain on my parade right now!)
My point is: if I can make something this beautiful (and delicious), so can you!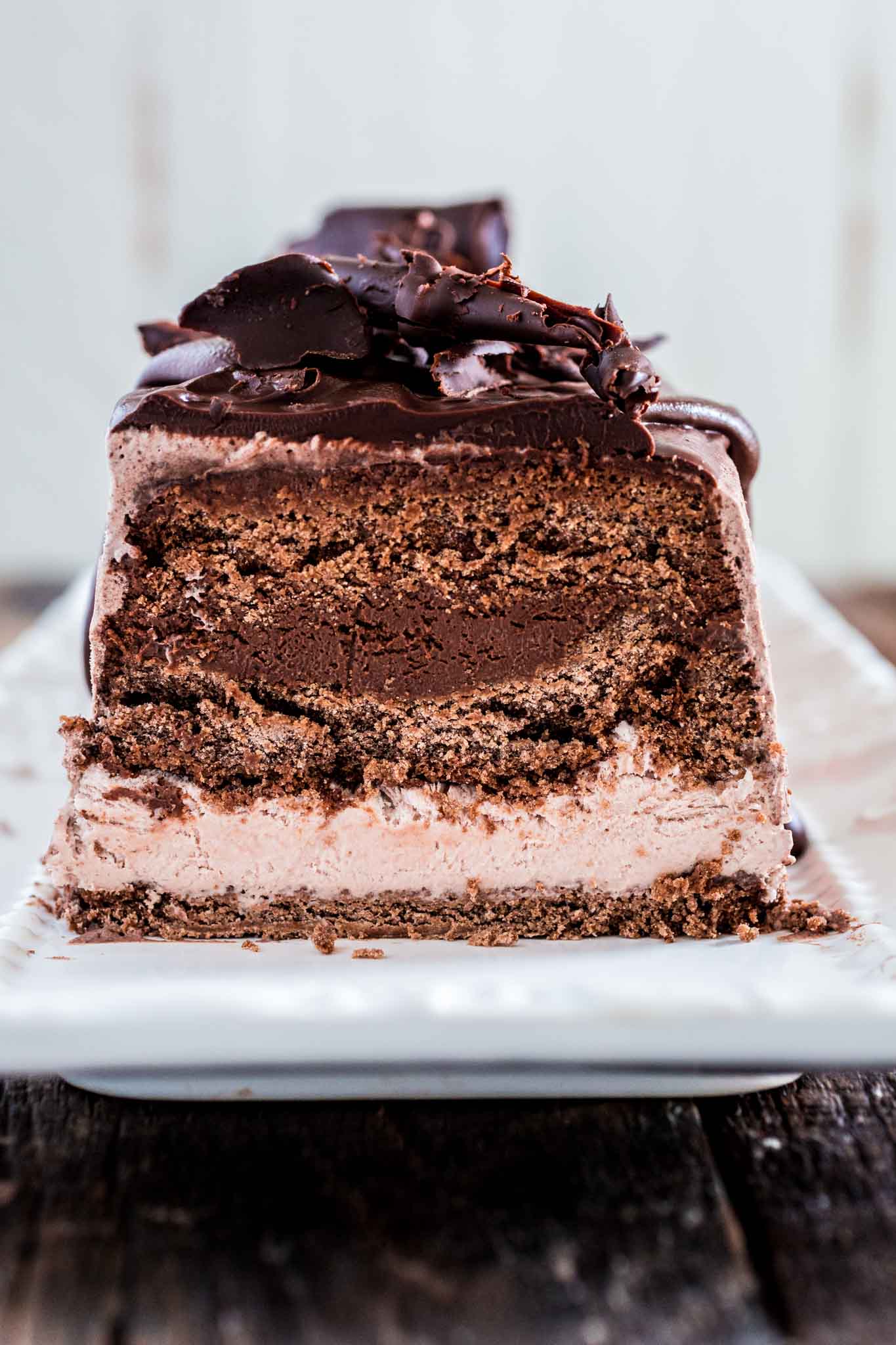 While you could make this chocolate ice cream cake with store bought ice cream, I chose to make my own.
"What?!? How dare you come here, share an elaborate 3 layer cake and still expect me to make my own ice cream? Are you out of your freakin' mind?"
Before you start running for the hills, let me introduce you to an ice cream mix. No ice cream maker needed and fully customizable! All you need is a bowl and a hand (or stand mixer).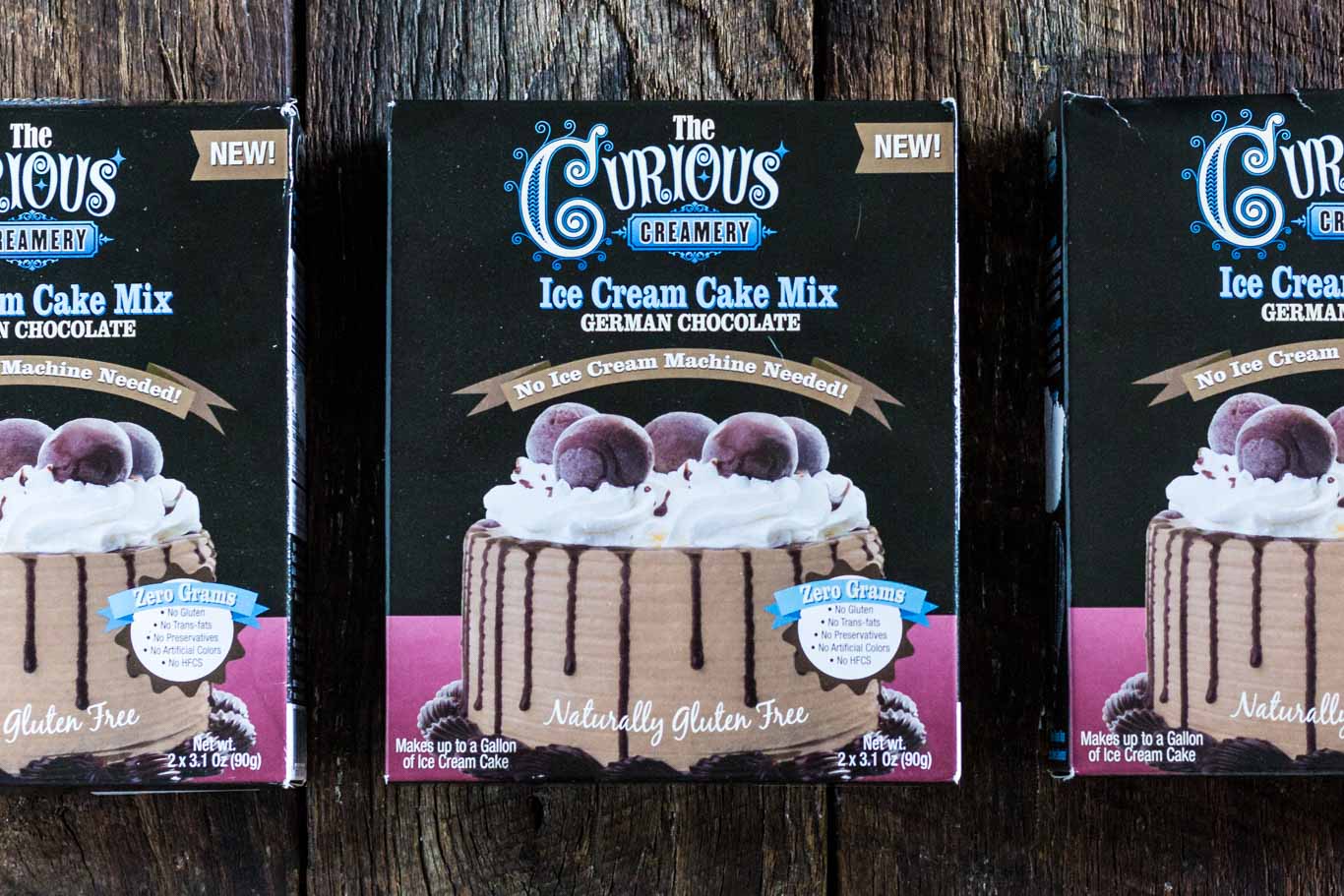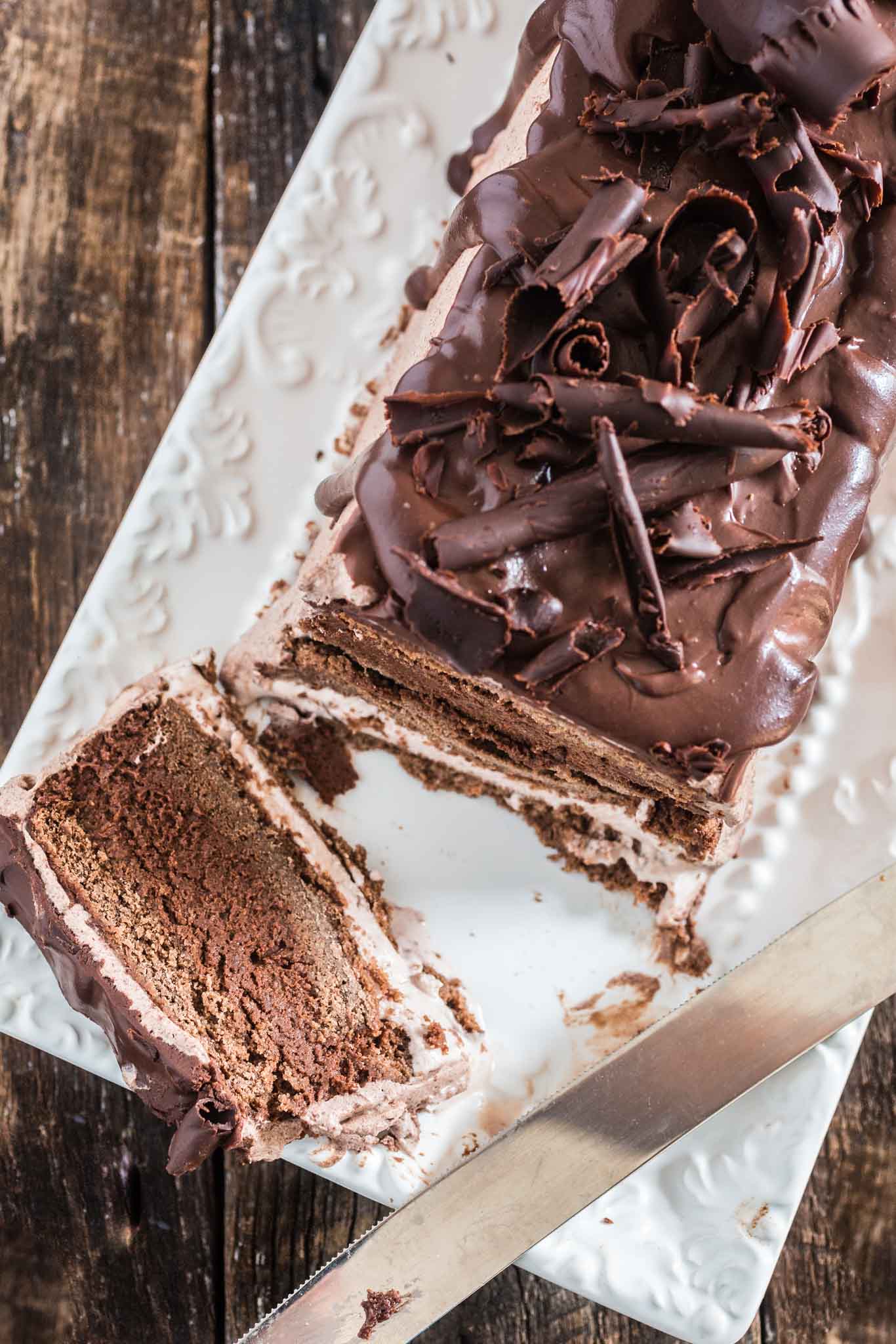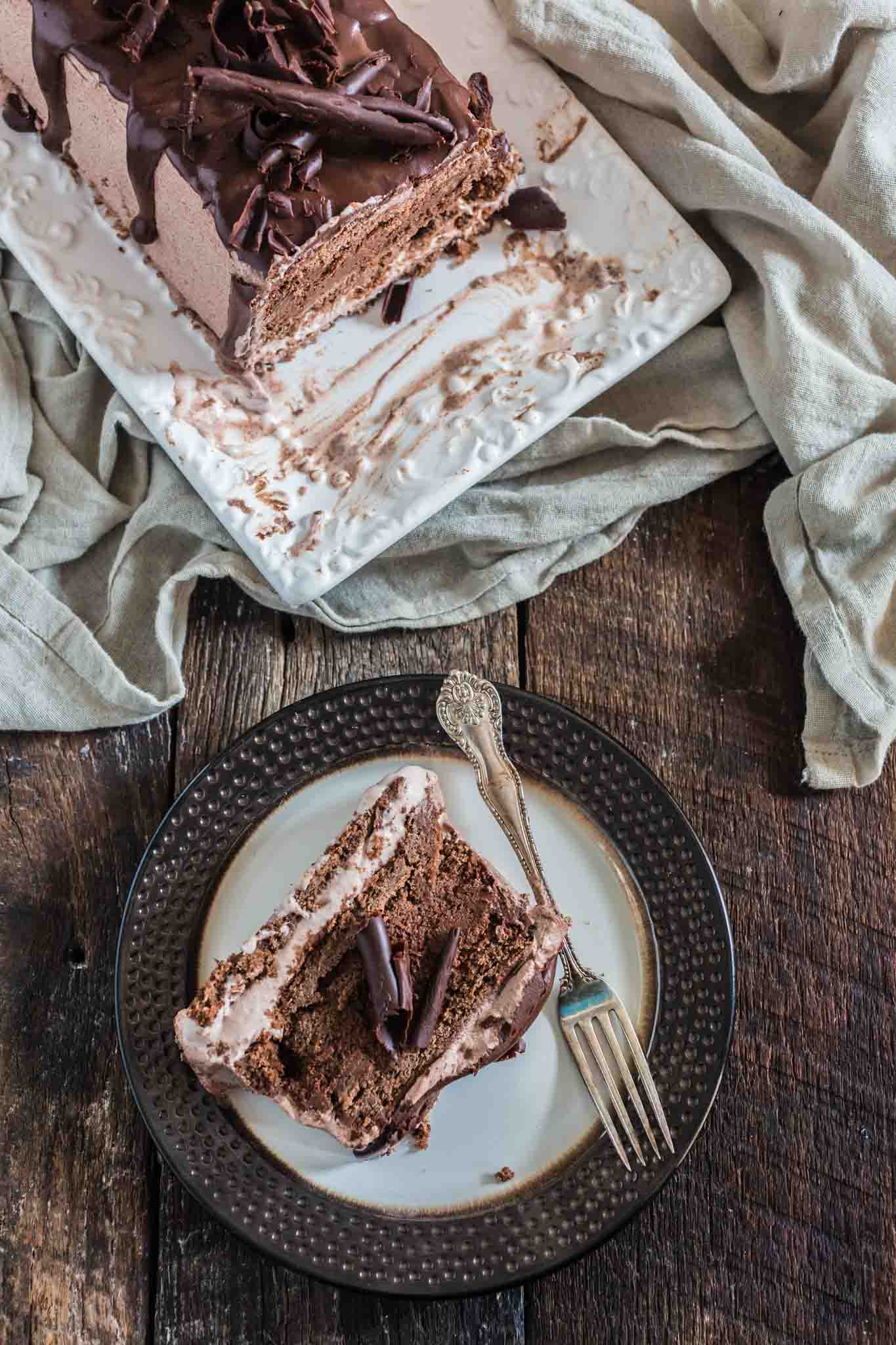 Once your Chocolate Ice Cream Cake is set, all that is left to do is cover with chocolate whipped cream and serve.
If you're feeling fancy, you can also go the extra mile and top it with chocolate ganache and chocolate curls/shavings for an extra WOW factor. The ganache will fall along the sides of the cake, in a delicious chocolate hug that will tempt even the strictest dieter. You can serve immediately or pop in the freezer for a little longer for it to solidify.
One thing I guarantee: once this chocolate ice cream cake enters the room, nothing else will matter. Your guests will be attracted to the dessert table, like magnets pulled by chocolate magic! ❤️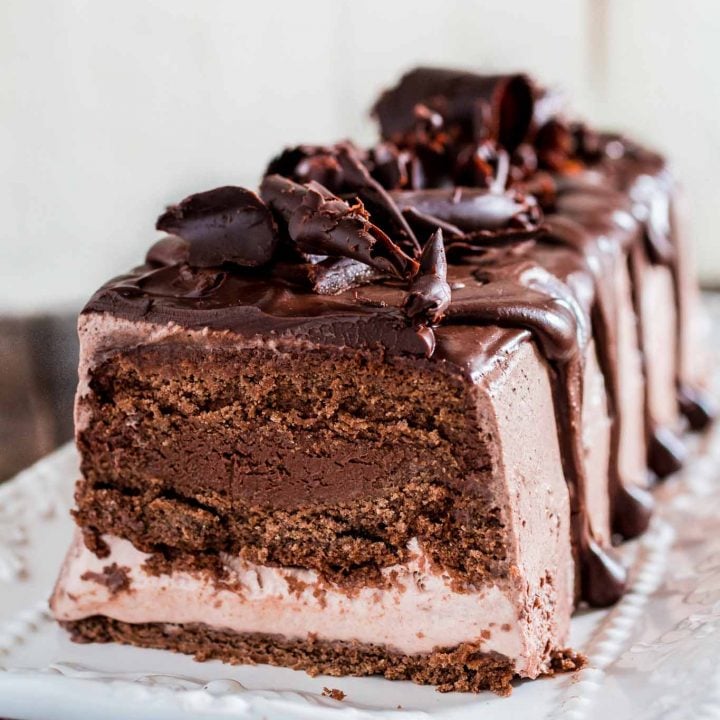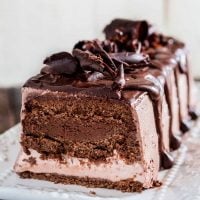 Chocolate Ice Cream Cake
Ingredients
Chocolate Cake:
2 sticks (8 ounces), unsalted butter, room temperature
1 cup sugar
4 large eggs
1 1/2 cups all purpose flour
1 tablespoon baking powder
Pinch of salt
1/2 cup cocoa powder
1 cup milk
1 tablespoon vanilla extract
Chocolate Mousse:
3 egg yolks
7 tablespoons sugar, divided
1/2 cup milk
8 ounces Bittersweet chocolate, roughly chopped
1 envelope, 0.25 ounces gelatin powder
1 cup heavy cream, cold
1 teaspoon vanilla extract
Chocolate Ice Cream:
About 3 cups chocolate ice cream
Chocolate Whipped Cream:
2 cups heavy cream
4 ounces finely chopped semisweet chocolate, roughly chopped
Chocolate Ganache: (optional)
1 cup heavy cream
1/2 cup bittersweet chocolate, chopped
Garnish:Chocolate curls/shavings, see notes
Instructions
Chocolate Cake:
Preheat oven to 350F degrees and butter and flour a 9X13 cake pan.

Sift together the flour, baking powder and salt into a bowl. Using a spoon, mix well to combine. Reserve.

Using a stand mixer, beat the butter and sugar until pale and fluffy. Then, add the eggs, one at a time, beating well in between additions.

Start adding the dry ingredients, alternating with the milk. Once everything is added and smooth, add the vanilla extract and beat just until incorporated.

Pour the batter into the prepared pan.

Bake in the preheat oven for 30 to 40 minutes or until a toothpick inserted in the center comes out clean. Cool 10 minutes; remove from pans to wire racks to cool completely.
Chocolate Mousse:
In a medium-sized bowl, whisk the egg yolks with 5 tablespoons of sugar until it becomes a pale cream.

In a saucepan, over medium heat, heat the milk and 2 tablespoons of sugar until the sugar is dissolved and the milk starts to boil. Pour the milk very slowly over the yolk cream, whisking constantly, to temper. Then transfer the yolk/milk mixture back to the saucepan and cook over low heat until 179F degrees or when the cream coats the back of a spoon.

While the yolk cream is cooking, place the bittersweet chocolate in a bowl and melt in the microwave (or double boiler) in 30 second increments, being careful not to burn it.

Once the cream is ready, pour over the chocolate and mix or whisk until smooth. Add the gelatin powder and whisk until incorporated. Reserve.

Using a hand (or stand mixer), beat the cold heavy cream and vanilla extract until soft peak forms.

Add 1/3 of the whipped cream to the chocolate mixture and mix vigorously. Then, delicately fold the remaining 2/3 of whipped cream, being careful not to deflate it. Reserve.
Assembling the cake:
Cut the cake in half and using a 12-inch bread pan as a guide, cut the cake into two long rectangles, making it 4 thin layers. You are going to use only 3, so feel free to snack on this delicious cake while you work! ;-)

Line the bread pan with parchment paper, making sure it's sticking out so it's easier to pull at the end. Then, add the first layer of cake, patching any open spaces with broken pieces of cake, if necessary. Add the mousse, smoothing it with a spatula, and bring to the freezer for at least 20 minutes for it to set.

Once the mousse layer has set, add the second layer of cake and, on top of that, the ice cream layer. (If using The Curious Creamery Ice Cream Mix, bring to the freezer until solid before adding the last layer of cake!) Finish off with the last layer of cake, wrap with plastic and freeze for at least 2 hours.
Chocolate Whipped Cream:
In a small saucepan, combine heavy cream and chocolate, and heat over medium heat until chocolate has melted. Remove from heat and refrigerate until well chilled.

Place heavy cream mixture in the bowl of a stand mixer fitted with the whisk attachment; beat until medium peaks form. Pour it over the chocolate ice cream cake and spread with a spatula. Serve immediately or put it back in the freezer if adding chocolate ganache and chocolate shavings.
Chocolate Ganache: (optional)
Heat the heavy cream in a saucepan until it begins to steam.

Pour over the chopped chocolate in a bowl. Let sit for 5 minutes and the mix with a spoon.

Once it has cooled down slightly, pour it over the cake, spreading with a spatula so it falls along the sides of the cake.

Decorate with the chocolate shavings and serve.
Notes
- Don't know how to make chocolate curls? Check out this tutorial.
For this recipe, I recommend: