Christmas Oats Porridge with Cranberry Sauce, Apples and Pecans
This shop has been compensated by Collective Bias, Inc. and its advertiser. All opinions are mine alone. #SameSilkySmoothTaste #CollectiveBias
Waking up to a special breakfast on Christmas morning is a must! This festive oats porridge is not only delicious and heartwarming but also dairy free. Sweet, tart, creamy and crunchy goodness. What else could we wish for? ✨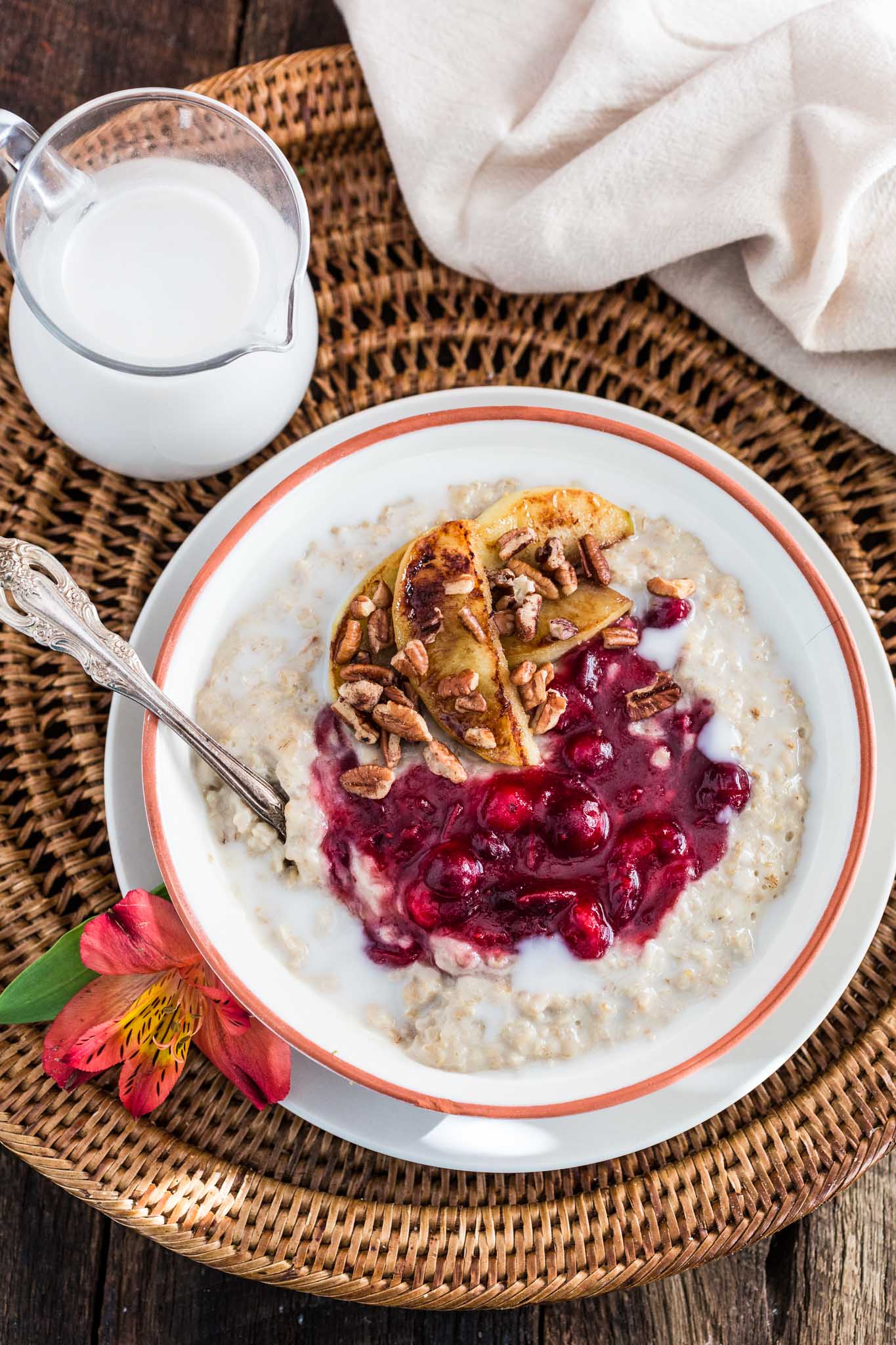 I have a feeling you are thinking I am completely insane. After all, who starts thinking of Christmas before the day after Thanksgiving?
But while I do have lots of Thanksgiving recipes yet to be shared, I just couldn't help but express my love for Christmas right now. Because life is too short and Christmas is magical! ???
There's also the fact that November 1st is the official date when it's acceptable to start decorating for Christmas in Brazil. That's mostly because we don't have Thanksgiving, so it's not like you are offending any other holidays by doing so. So technically, since I'm Brazilian, I am not breaking any rules! Right? ?
If you're a hardcore "no Christmas before Thanksgiving" dude or gal, go ahead and save this post for later, but do come back to it because it really is a special recipe.
However, if you are ready for some Christmas magic, you can go ahead and drool over this delicious Christmas Oats Porridge right now. After all, like Angela Lansbury would sing, "We need a little Christmas, right this very minute!".
One of the reasons I love this Christmas Oats Porridge so much is because it reminds me of my grandma, as she used to make us all types of porridge. Oats porridge, cornstarch porridge, chocolate porridge, you name it. It was always a special treat – as everything made by grandma always is – but it was inevitably full of sugar and consequently a little fattening.
And because Christmas is already a holiday full of guilty pleasures, I decided to come up with a recipe that is nutritious but not too over indulgent. So you get to start that special day feeling good about your choices!
Here's what we have going in this porridge:
A creamy dairy-free oats porridge made with Silk® Almondmilk for a mild nutty taste and a calorie count that won't break the Calorie Bank, a touch of cinnamon, vanilla and some brown sugar.
Some tart and sweet cranberry sauce for a delicious tanginess. You get to use the leftovers you will inevitably have from Thanksgiving, or you can make a fresh batch with the recipe I'm sharing with you.
Caramelized apples – Need I say more? ???
And a sprinkle of toasted pecans for some crunch.
So so so much yummy goodness, you guys! And it's vegan too. Seriously…Who wouldn't be excited to start their day like this?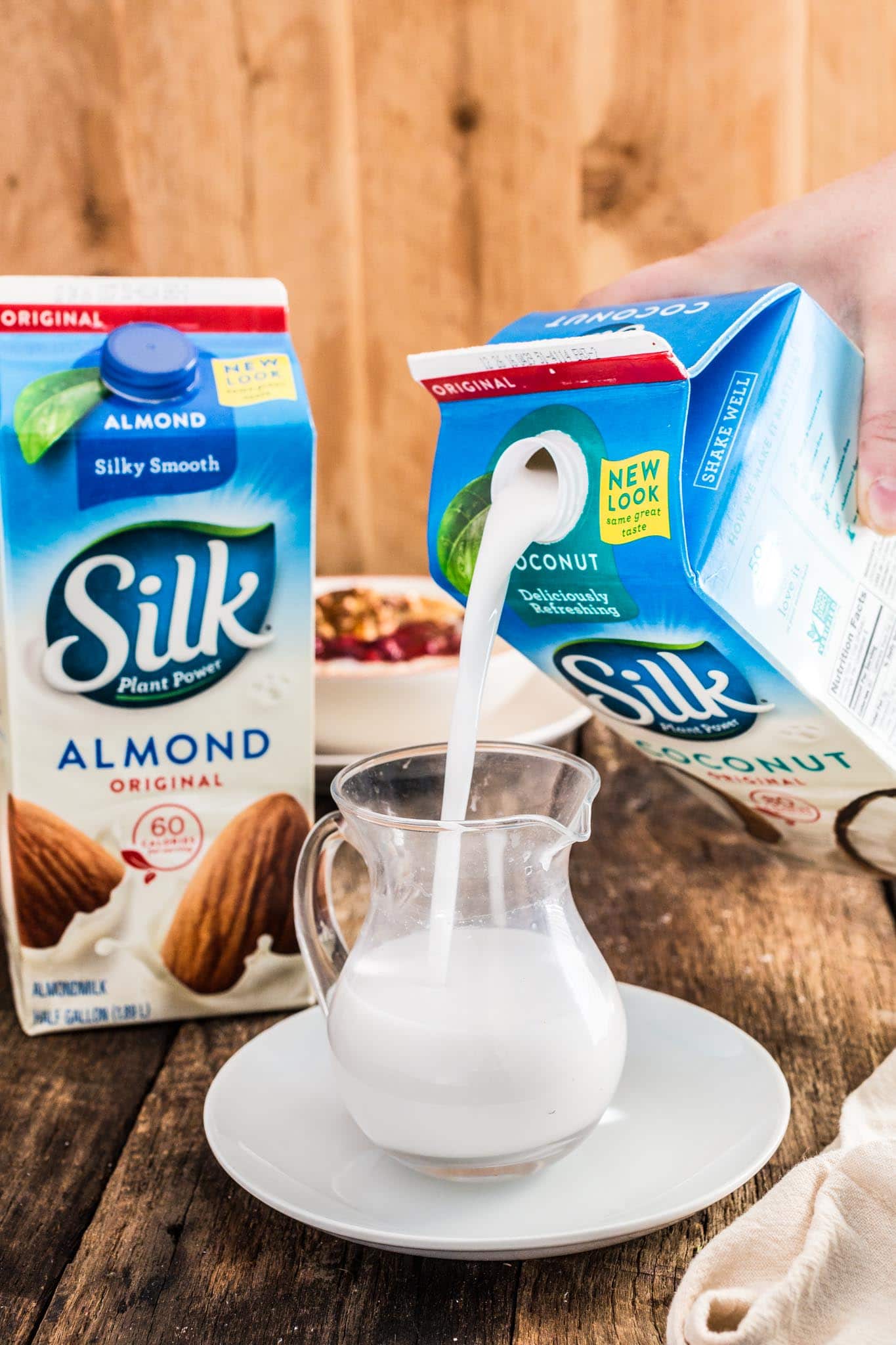 As you probably know (if you've been following this blog for a while), I don't follow a dairy-free diet and do enjoy my occasional cow milk. Meaning when I choose to go plant-based is not because of health reasons and purely because I do enjoy all kinds of milk and they all have their space in my heart!
I can think of a million holiday recipes that can benefit from swapping the regular milk to Silk® plant-based alternatives. My favorite is their Almondmilk, which I usually enjoy on my cereal. It not only tastes great and mildly nutty but it has absolutely no cholesterol and no saturated fat. I've also recently started digging their Coconutmilk because I love all things coconut-y and the flavorful twist that it adds to my recipes.
If you are a long time Silk® fan, you've probably noticed their cool new packaging. New look, same great silky smooth taste that we love! I would grab a few next time you're in the grocery store, because I guarantee you will be making this Christmas Oats Porridge over and over again!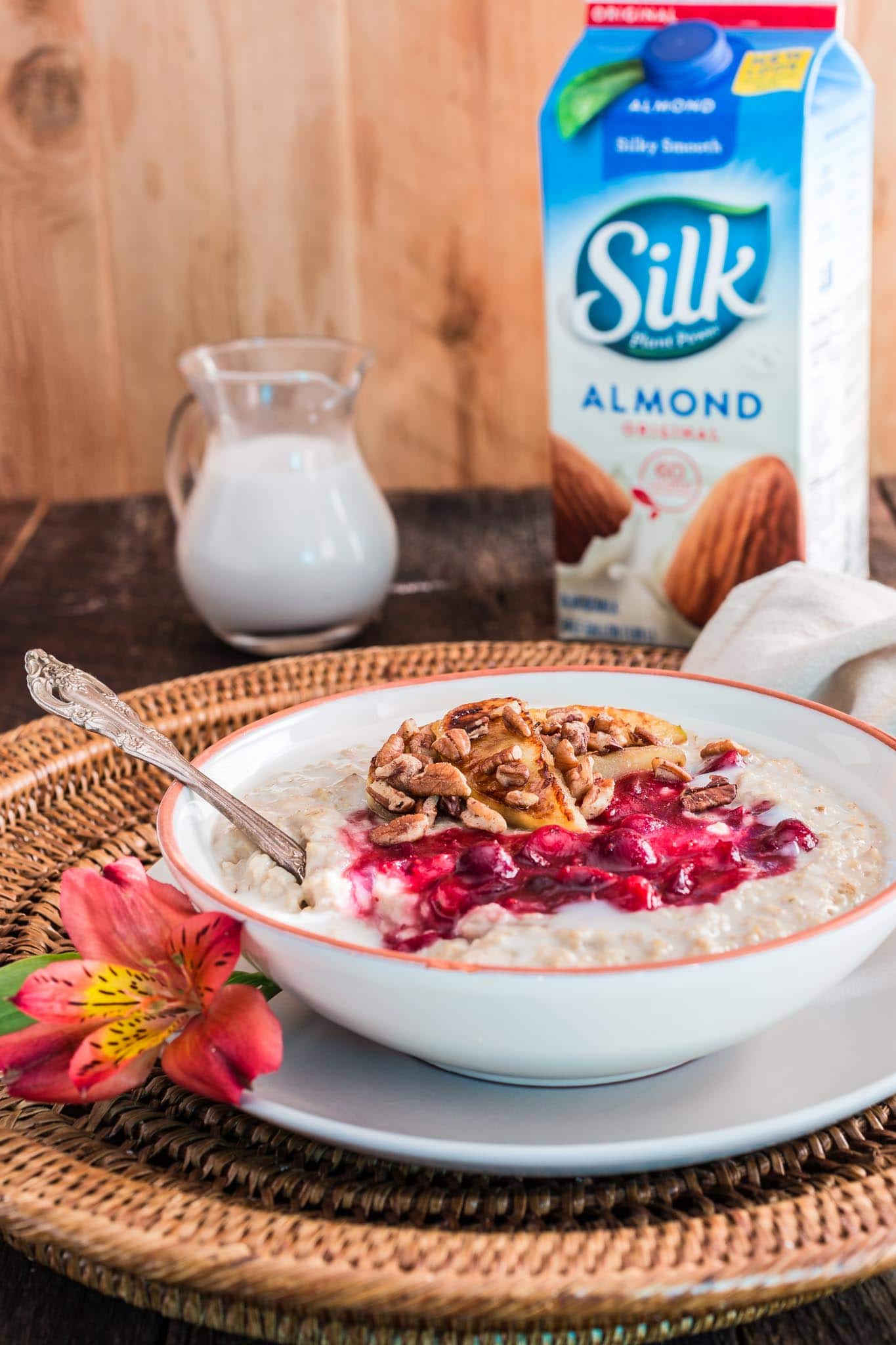 I hope my grandma doesn't read this (I mean, she doesn't even speak English!), but I think this oats porridge is a step up from the one she used to make when we were kids, because it is topped with all this amazing goodness.
It also looks so festive, doesn't it? I just love how the bright red color pops, making it so Christmas-y.
Even if you're a Mr. Grinch type of person, give this recipe a try. You will be singing all kinds of Christmas carols after eating this porridge! ???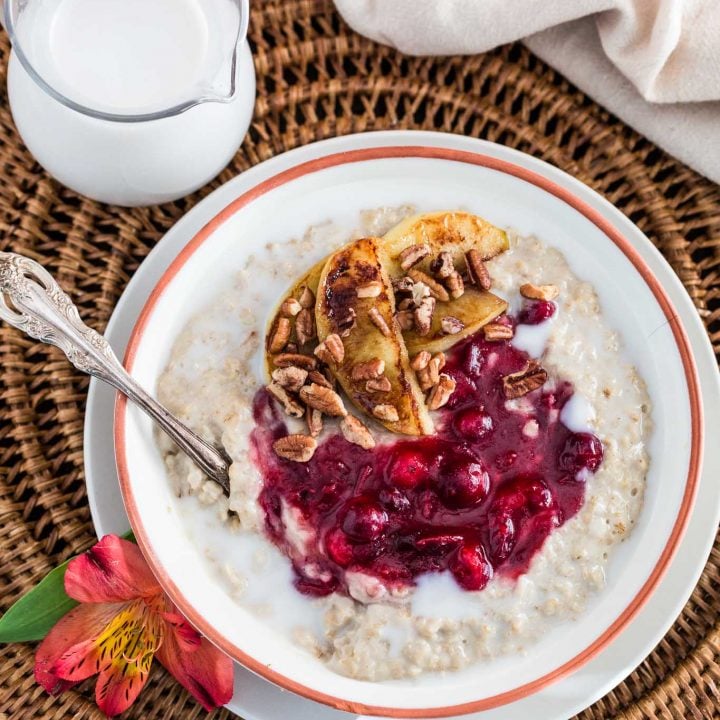 Christmas Oats Porridge with Cranberry Sauce, Apples and Pecans
Yield: 4
Prep Time: 5 minutes
Cook Time: 10 minutes
Total Time: 15 minutes
Ingredients
Creamy Oats Porridge:
3 cups almond milk
1 cinnamon stick
Pinch of salt
1 cup quick cooking oats
2 tablespoons brown sugar
1 teaspoon vanilla extract
1/3 cup toasted pecans, roughly crushed
Cranberry Sauce: (or use leftovers)
2 cups fresh or frozen cranberries
2 tablespoons maple syrup
2 teaspoons cornstarch
1/3 cup water
Pinch cinnamon
Caramelized Apples:
1 apple, peeled, cored and sliced
1 tablespoon coconut butter
1 tablespoon brown sugar
Instructions
Make the porridge:
Combine the almond milk, cinnamon stick and pinch of salt in a saucepan. Bring to a boil over medium heat and, when boiling, add the oats and the brown sugar. Lower the heat to low and simmer, stirring occasionally so it doesn't stick to the bottom of the pan, for 5 to 10 minutes or until the desired consistency. Remove the cinnamon sticks and stir in the vanilla extract.
Pour into bowls and top with cranberry sauce, caramelized apples and toasted pecans. Serve with maple syrup on the side.
Cranberry sauce:
Combine all the ingredients in a saucepan and bring to a boil over medium heat. Cook for about 5 minutes, stirring constantly, until the cranberries pop and the sauce thickens. You can add more water if necessary.
Caramelized apples:
Melt the coconut butter in a skillet over medium heat. Add apples and sprinkle the brown sugar. Cook for a few minutes per side, until apples are crisp tender and golden brown.
LOOK FOR SILK® AT YOUR LOCAL WALMART: