Brazilian Potato Salad (with Apples, Raisins and Walnuts)
A classic Brazilian potato and apple salad recipe, very popular during the holiday season. Tropical flavors come together making this a great side dish to serve all year long!
I love potato salads in all shapes and forms! Here on the site you will also find American Potato Salad and a Warm Potato Salad with Bacon.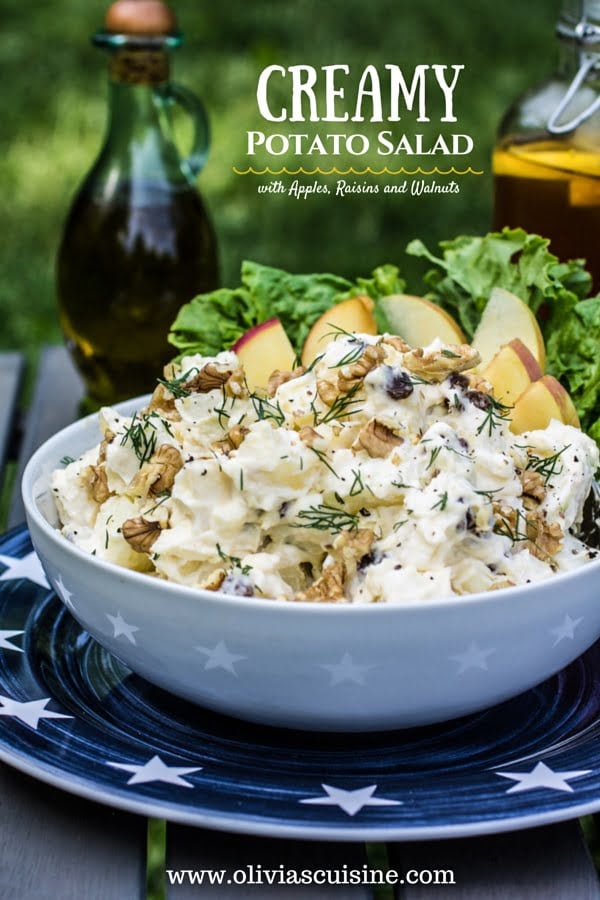 What is on your picnic must-have list?
For me it's a Creamy Potato Salad. There's nothing as yummy and easy as a good potato salad, and this one is extra special with green apples, raisins and walnuts for some crunch!
I hope you guys had a nice long weekend and Memorial Day!
I know Memorial Day is not about the arrival of summer, the grilling, the pool, the beach, the picnics and all the other fun things people associate with this holiday. It is about the brave men and women that gave their lives for this country and I hope we all took a minute of this day to think of them.
However, that being said, I believe there's nothing wrong with enjoying this day doing some (or all) the things mentioned above. We work hard all year and deserve the few days of fun that come our way! I know I do! :)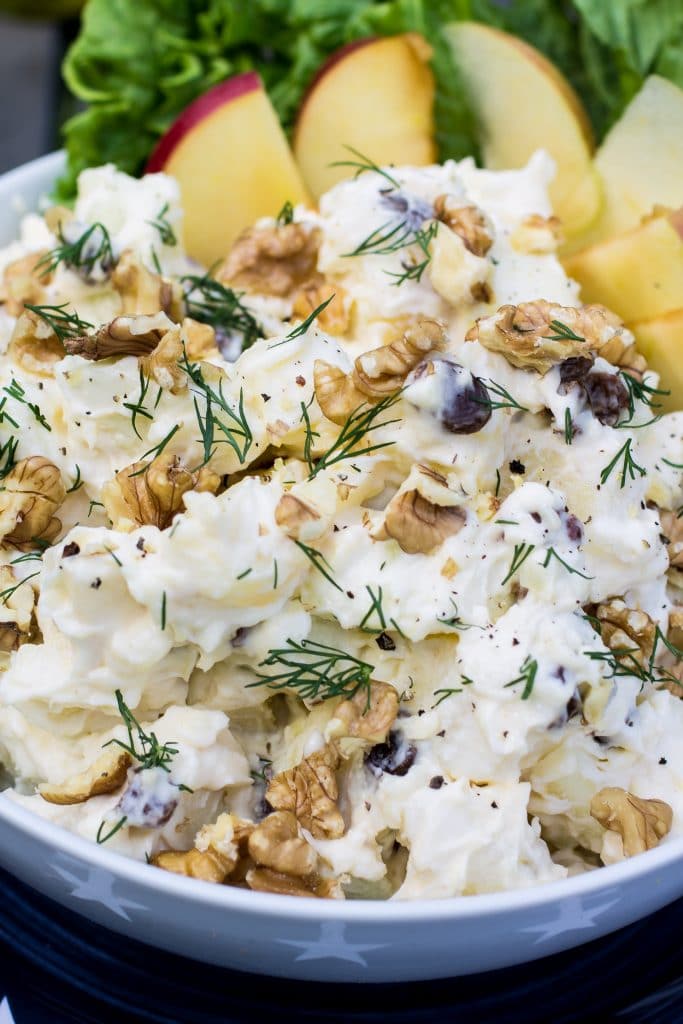 Tim, Lola and I went to Central Park to enjoy the sunny day and do a picnic! We packed our food in our nice picnic basket and took the subway to the park. Tim was a little nervous, since it was Lola's first time on the subway, but she did great and stayed quiet on my lap during the whole trip. (Technically you can only carry a dog on the subway if he/she is inside a carrier, but Lola is too big to fit in a carrier, so we took our chances! Thankfully, nobody said anything and mission "Take Lola on the Subway" was a success!)
First thing I did when we got to the park was kick off my flip flops and feel the grass on my toes. Oh, isn't that the best feeling ever? I think it had been a year since I walked barefoot on the grass.
After I got tired of walking around feeling the grass, we set up our to-go picnic table with the patriotic plates I bought this week (They are beautiful, aren't they? Please tell my husband they are beautiful!) and we ate our lunch, which was the delicious potato salad that I'm sharing with you guys today, plus some crackers and some homemade lemon iced tea.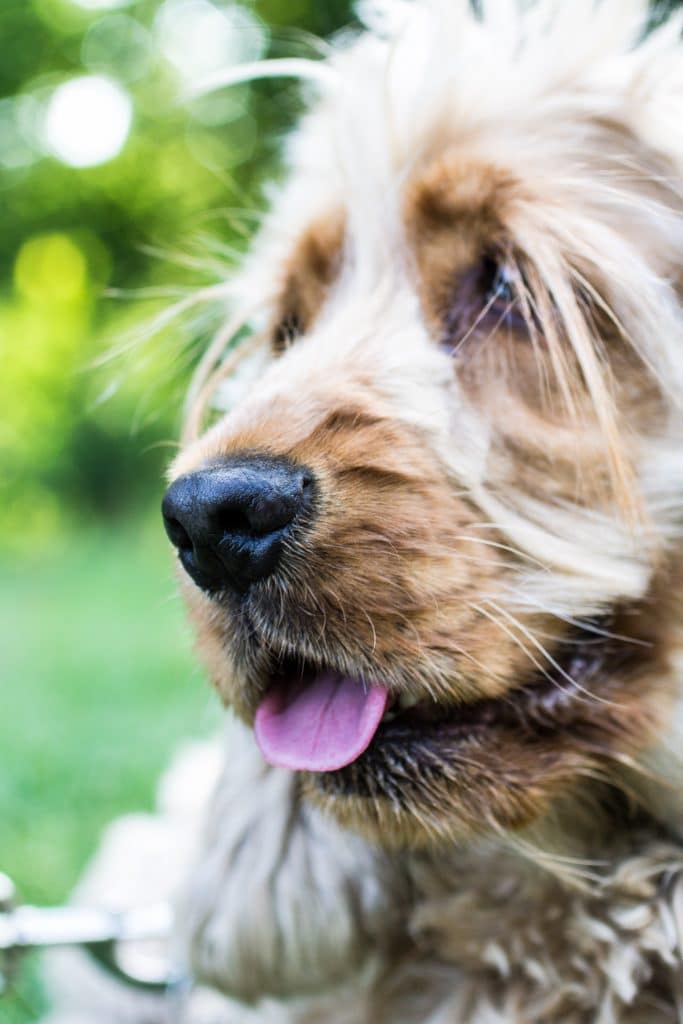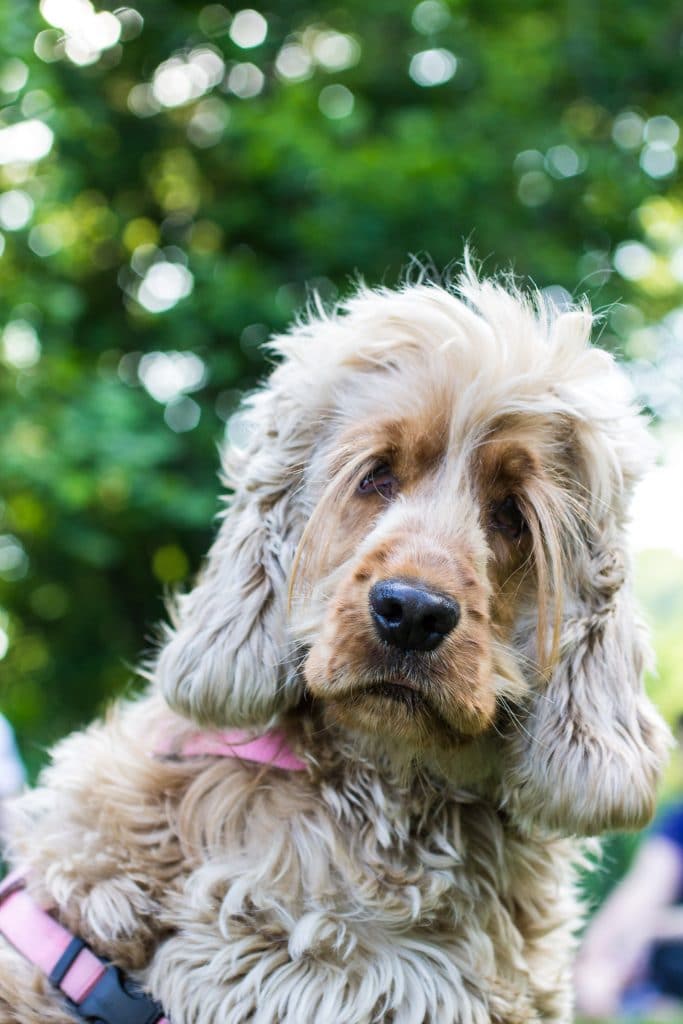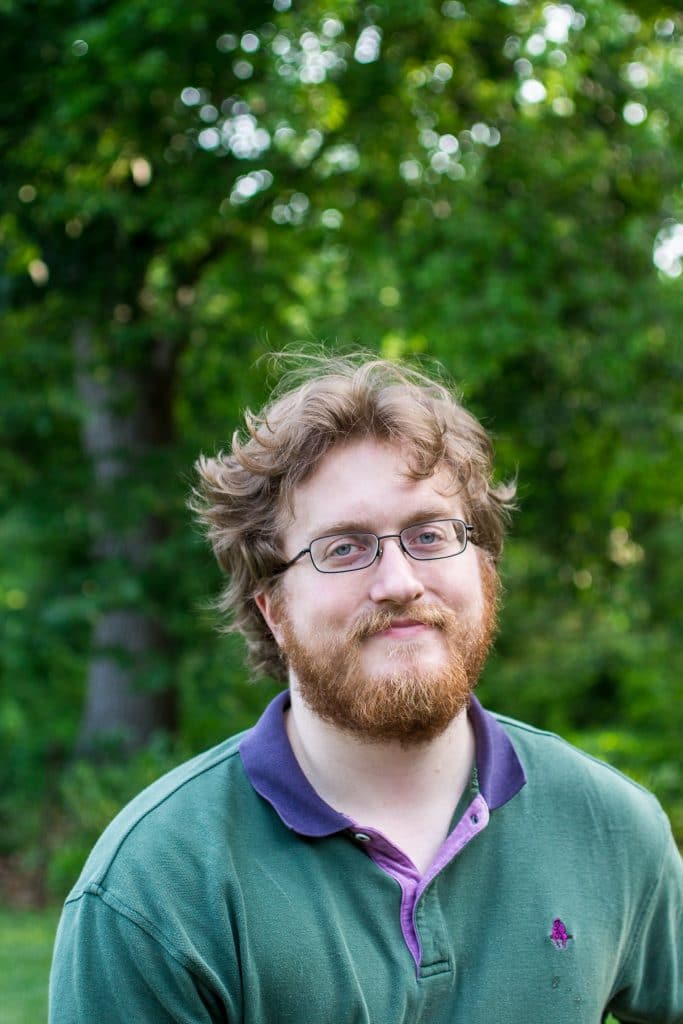 (Isn't my family lovely? They both need some grooming, but they are lovely nevertheless!)
You guys have no idea how much a day in the park appeals to me. If you would have told my teenage self a while ago that we were going to spend a holiday in the park eating homemade food, she would have snarked at you and said that she'd prefer to go to the mall instead.
But nowadays, while I still love shopping, I do cherish a day in close contact with nature and peace. Mostly because my lifestyle is so hectic that my body enjoys when I stop and take a breath of clean air.
You see, I'm one of these people that wants to swallow the world. I'm always looking to learn, to read, to master something. I keep saving articles to read later on my Safari's reading tab and have lots of anxiety for not having the time to go back to them, knowing they are piling up and afraid the system will somehow delete the old ones when it needs space for the new ones…
My husband says I work 24/7 and he is absolutely right. Even when I'm not working/blogging, I'm studying and my mind is going at full speed with ideas! Or I'm spending precious time and energy feeling guilty for not being studying/working/doing whatever I was supposed to be doing. It is exhausting!
Even now, when Tim suggested we would spend Memorial Day outside having fun, a part of me wanted to stay home to cook and shoot some pictures for future posts. Ughhhhh, where is the off button?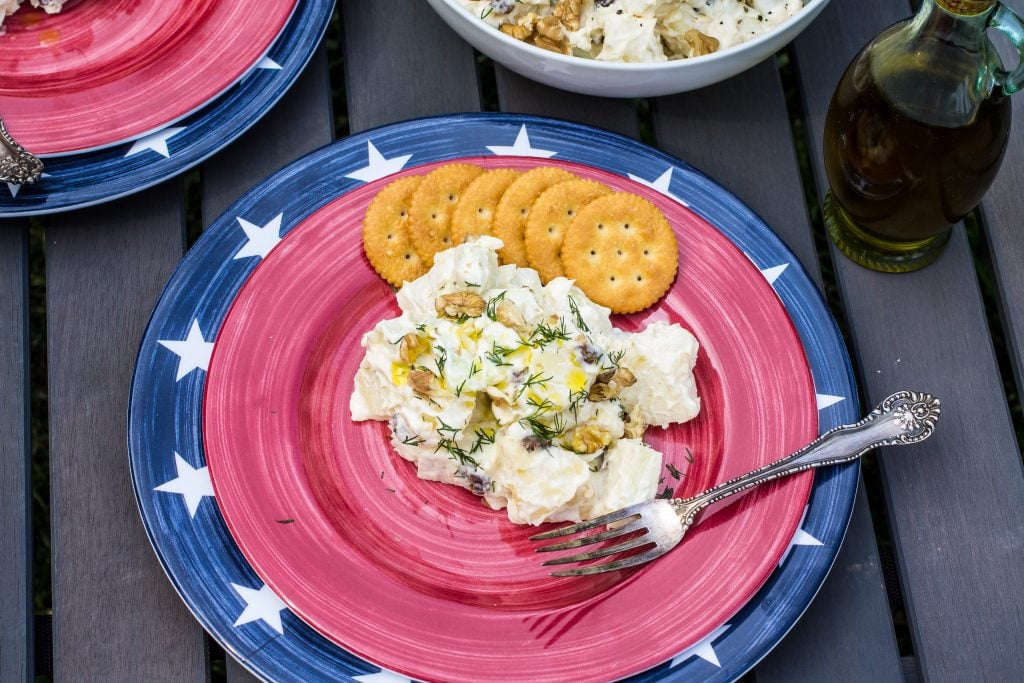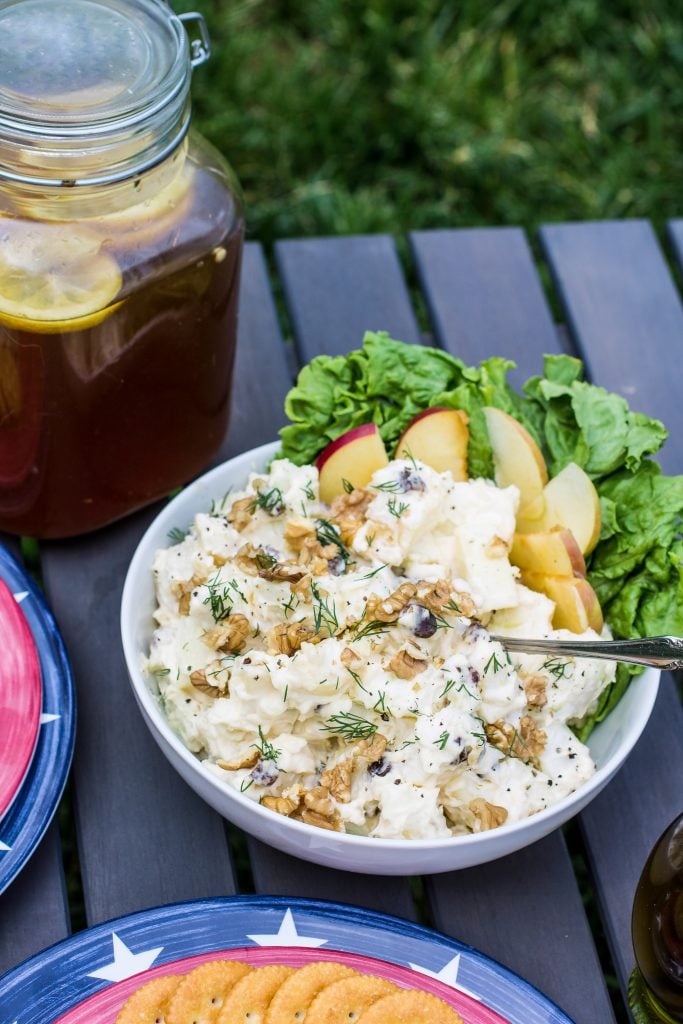 I seriously hope we get more opportunities to be outdoors and do picnics this year. It's hard when you work weekends, like I do, but we are determined to try!
It would also be great if we found an apartment with a deck or a backyard… Oh, all my grilling dreams would come true!
But back to the Creamy Potato Salad: please feel free to customize the vegetables (sometimes I add carrots!) and/or amount of mayo in the recipe to your likings. You can also substitute it for the Light version if you're watching calories!
P.S. Wanna keep in touch? Follow me on Facebook, Twitter, Instagram or Pinterest to stay up to date with my posts! If you end up making one of my recipes, I would love to see it! Just take a photo and post it on your preferred Social Media and tag me or use the hashtag #oliviascuisine!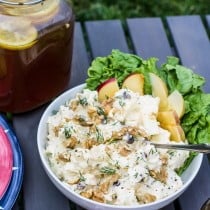 Brazilian Potato Salad with Apples, Walnuts and Raisins
A classic Brazilian potato and apple salad recipe, very popular during the holiday season. Tropical flavors come together making this a great side dish to serve all year long!
Ingredients
3 large potatoes, scrubbed clean
2 green apples, cored, peeled and cubed
1 Red Delicious apple, cored and sliced (to decorate)
Juice of half a lemon
1/2 cup raisins, hydrated
1 1/2 cups mayonnaise
1 cup walnuts, chopped
Salt and pepper to taste
Dill or chives, chopped to decorate
Mixed greens , for plating
Instructions
Transfer the potatoes to a saucepan and cover with water. Bring to a boil, season with salt and reduce to a simmer. Cook until the potatoes are tender, about 10 to 20 minutes. Transfer the potatoes to a bowl full with iced water and wait a few minutes until they are cool enough to handle. You should then be able to peel the potatoes with your hands! (Alternatively, you could leave the skin on if it doesn't bother you). 

Cube the potatoes and reserve until they cool further. In the meantime, toss the cubed green apples with the lemon juice.

Once potatoes are cool, combine with the green apples, raisins and mayo and stir until everything is combined. Season with salt and pepper to taste.

Refrigerate for at least one hour or overnight, as this salad is best served cold!

Before serving, add the dill or chives and the chopped walnuts. Taste and adjust salt and pepper if needed. Plate the potato salad on some mixed greens and decorate with the sliced apple!
Nutrition
Calories: 673kcal, Carbohydrates: 44g, Protein: 6g, Fat: 55g, Saturated Fat: 8g, Cholesterol: 24mg, Sodium: 367mg, Potassium: 743mg, Fiber: 7g, Sugar: 12g, Vitamin A: 86IU, Vitamin C: 26mg, Calcium: 45mg, Iron: 2mg