Four Cheese Lasagna
Who can resist the sight of an ooey gooey cheese lasagna coming right out of the oven? Made with four different kinds of cheese and a creamy béchamel sauce, this is the ultimate comfort food!
I gotta be honest with you, I am super proud of my lasagna game. My Lasagna Bolognese is a showstopper and is one of the dishes I make whenever I want to impress someone! It is also quite a labor of love, since my bolognese sauce takes 3-4 hours to make.
Due to the awesomeness of that recipe, I haven't shared any other lasagnas here on the blog ever since. Nothing would compare. Until now!
This Four Cheese Lasagna is a whole new beast! It is a cheese lover dreams come true! Layers of tender pasta, creamy sauce and not one, not two, but FOUR different cheeses. And it is much easier (and quicker) to make than my meat lasagna.
If this doesn't curb your cheese cravings, I doubt anything will!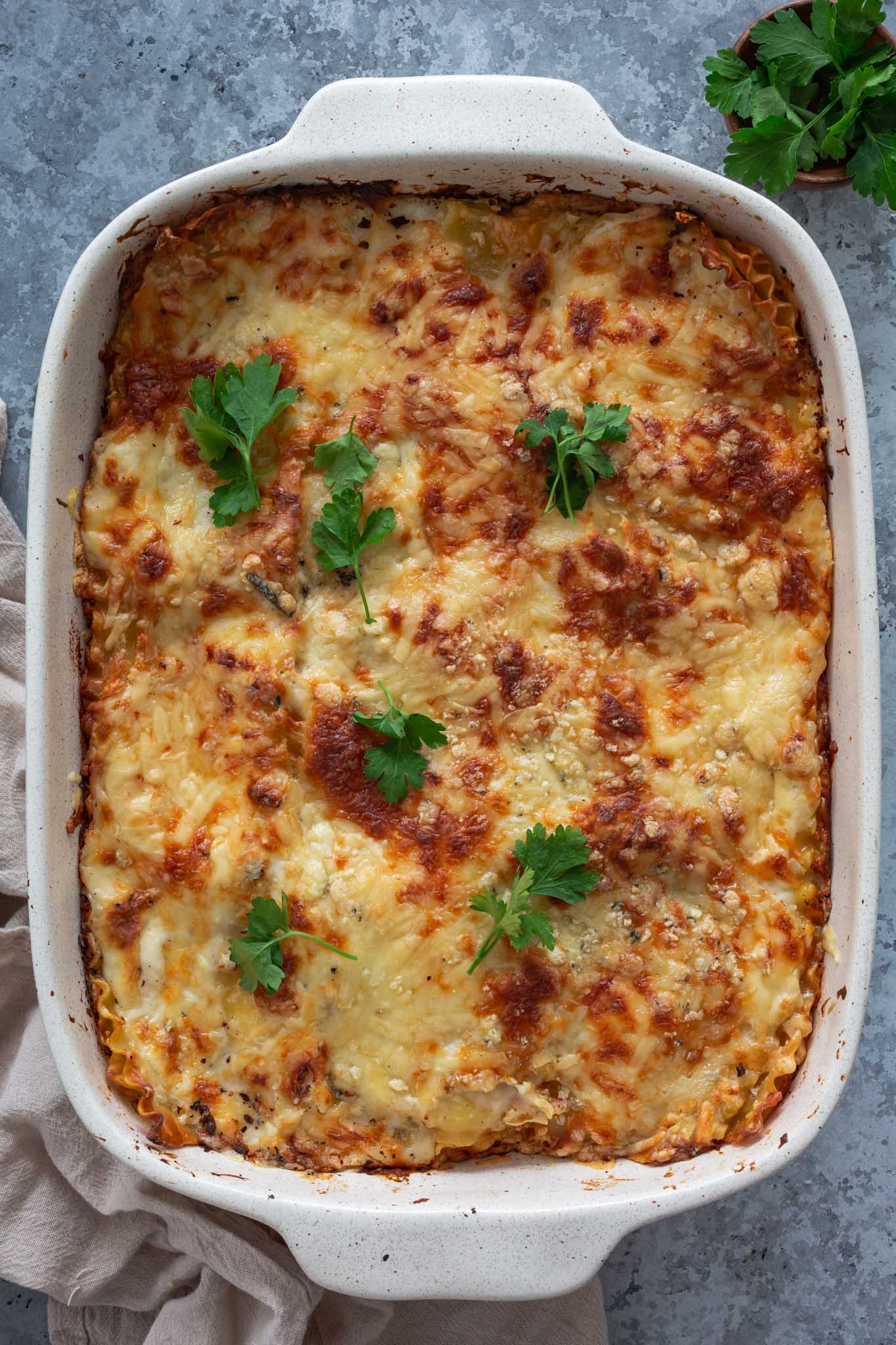 Tips and tricks for the perfect Four Cheese Lasagna
While this lasagna is pretty easy to make, there are a few things to consider if you want to take your lasagna from good to great.
Skip the no-boil noodles. I am not against them and they work just fine in super saucy recipes. Since we are using only béchamel here – which is creamy and not runny like tomato sauce – they wouldn't cook right and you might end up with crunchy lasagna. And not in a nice way! In a perfect world, we would all be making homemade lasagna noodles. Since that can be quite time consuming, go for fresh store-bought or traditionally-boiled noodles.
Don't overcook the pasta. If using regular boiled noodles, err on the side of caution and undercook them slightly. They will finish cooking in the oven.
Set cooked noodles on a oiled baking sheet while you prepare the sauce and cheese. If you let them hang in the colander you used to drain, they will stick together and it's going to be a pain to separate them, one by one. Ask me how I know! *facepalm*
When assembling, start with a layer of sauce so that first layer of pasta does not stick to the pan.
Make sure to cover the final layer of pasta with a lot of sauce to prevent the noodles from getting hard and brittle.
Aim for at least 3 layers! But more is always better. There's nothing like a thick, saucy lasagna!
For best results, cover with foil for the first 15-20 minutes of baking. Then, remove so the top can turn into a delicious golden brown! (You can also pop it under the broiler to speed up the browning.)
Be patient! Let your lasagna rest uncovered for at least 10 minutes before cutting into it to prevent it from falling apart.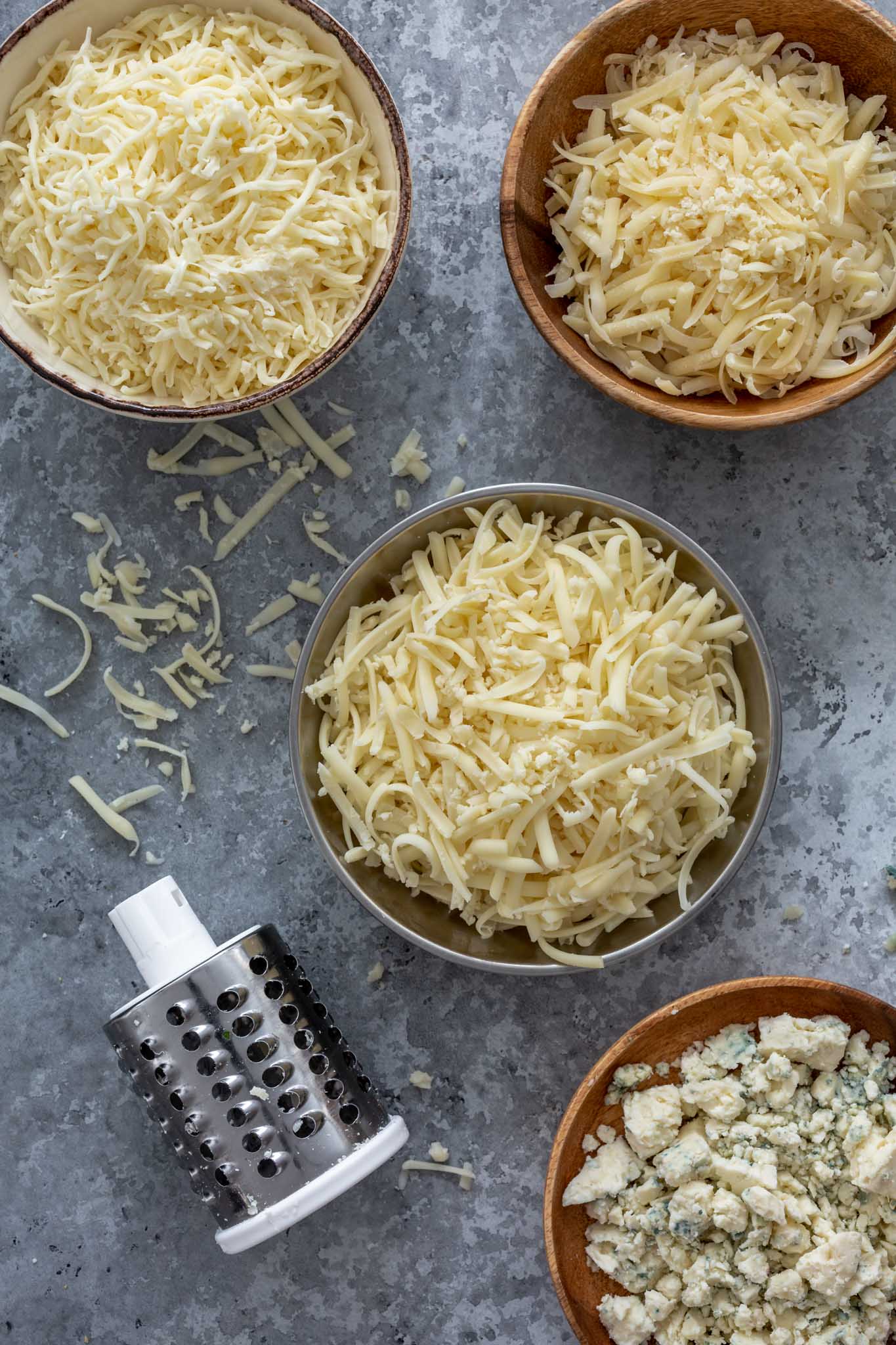 What types of cheese to use?
I don't know about you, but if I see a dish with "cheese" in its title, I expect some serious ooey gooeyness. A bit of punch is also always appreciated!
My go-to combination when making anything "Quattro Formaggio" is as follows:
Mozzarella – The queen of melt-ness!
Gruyére – Also a great melting cheese, but with way more flavor. It's slightly sweet, salty and nutty. Just perfect!
Parmesan – I mean, can you really cook anything Italian without Parmesan?
Gorgonzola – Adds a bit of a flavor punch that brings this dish to the next level! You can use other blue cheeses, but I find that gorgonzola is milder and blends better with the other cheeses.
No ricotta? No! I'm actually not a fan of ricotta cheese in lasagna. I much prefer to keep things saucy and to use béchamel instead. The results are a richer and creamier lasagna!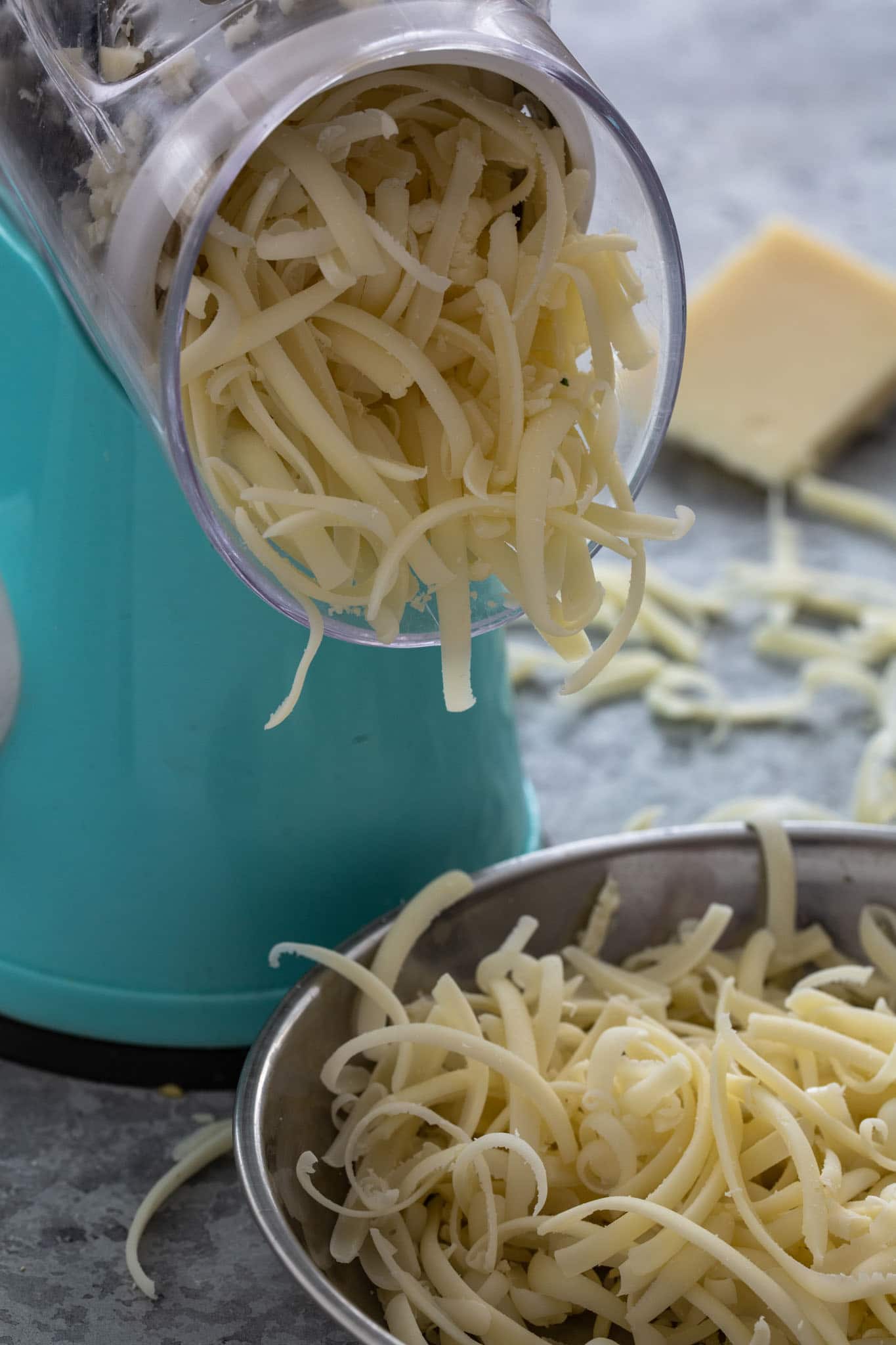 Why you should always shred your own cheese
I know what you're thinking: "Why would I waste time and energy shredding a block of cheese if I can just buy a bag of pre-shredded cheese at the grocery store?"
And while I will admit that I'm guilty of giving in to the convenience of pre-shredded bags every now and then, shredding your own cheese will yield much better results! Especially in a dish where cheese is the main star, like in this Four Cheese Lasagna.
Here are the reasons why:
Freshly grated cheese tastes better. Hands down! Since it doesn't have added preservatives, you get the true, fresh taste of the cheese you are using.
Pre-shredded cheese doesn't melt as well as cheese you've shredded yourself! The additives (like powdered cellulose) that prevent the cheese from clumping or sticking together while in the package have an effect of the way the cheese cooks, so you can wave goodbye to that ooey-gooey effect you're after.
It's cheaper!
Even if you're not a fan of the box grater – who hasn't grated their fingers at least once in their lives? – there are other ways to grate your cheese. Most food processors come with a shredding disk for shredding/grating cheese.
And if you don't want to go through the hassle of getting the bulky food processor out of the cabinet just for that, you can also use a gadget like this or this Kitchen Aid attachment.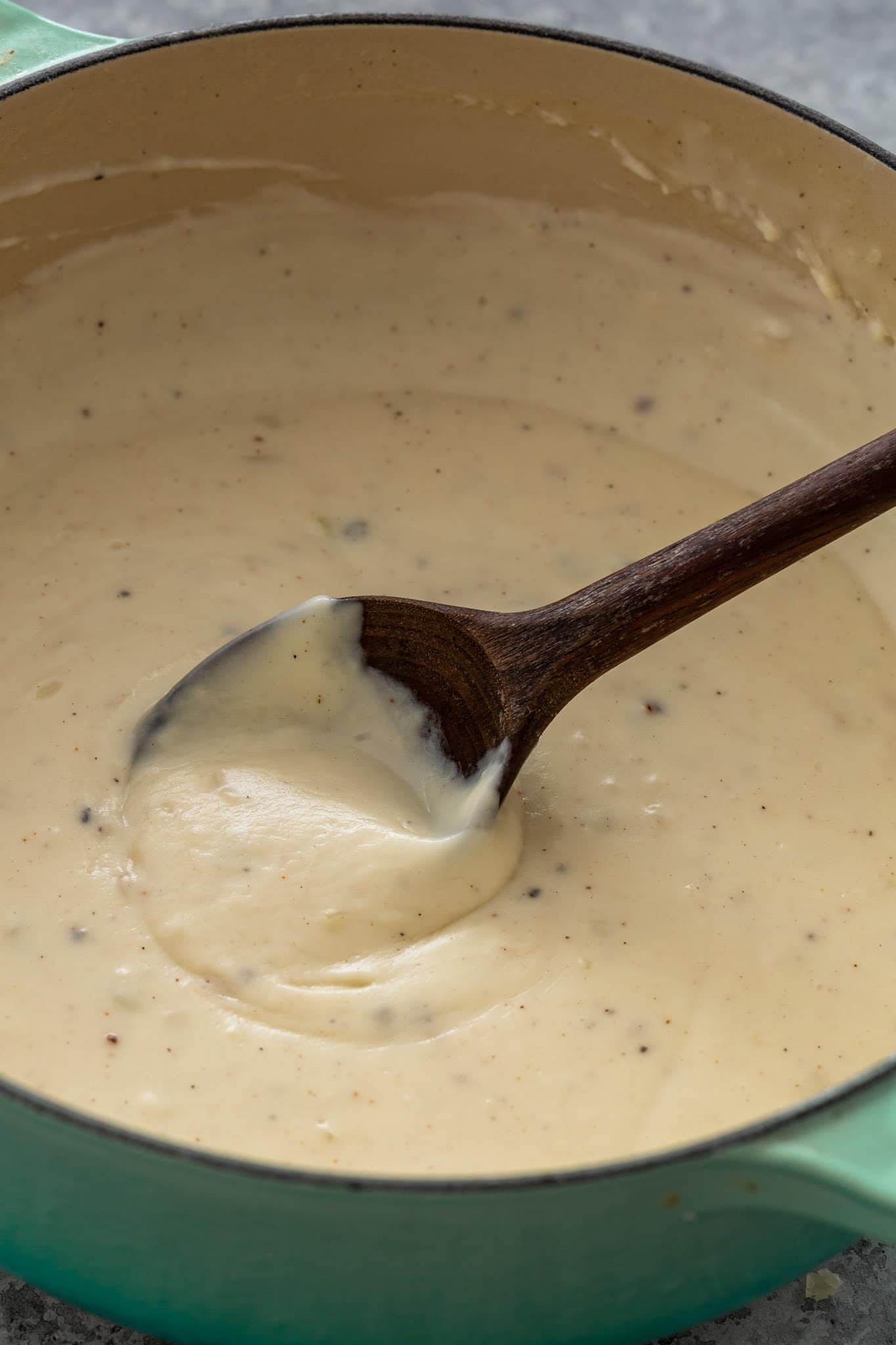 Making béchamel (aka "white sauce")
Despite the fancy French name, béchamel is quite easy to make. This sauce is one of the classic "mother sauces" and a great skill to have up your sleeve, especially if you love making lasagna or mac and cheese!
It starts with a roux (a mixture of equal parts butter and flour) that is cooked together into a clumpy paste. To that paste, we slowly add milk, constantly whisking to loosen up the clumps, until a thick and creamy sauce magically appears. Some aromatics (we use a chopped shallot and two garlic cloves here in this recipe) and seasonings can be added.
Easy peasy, right? The only thing I'd recommend is to warm your milk (a few seconds in the microwave will do) before adding to the hot roux. Your sauce will thicken much faster that way!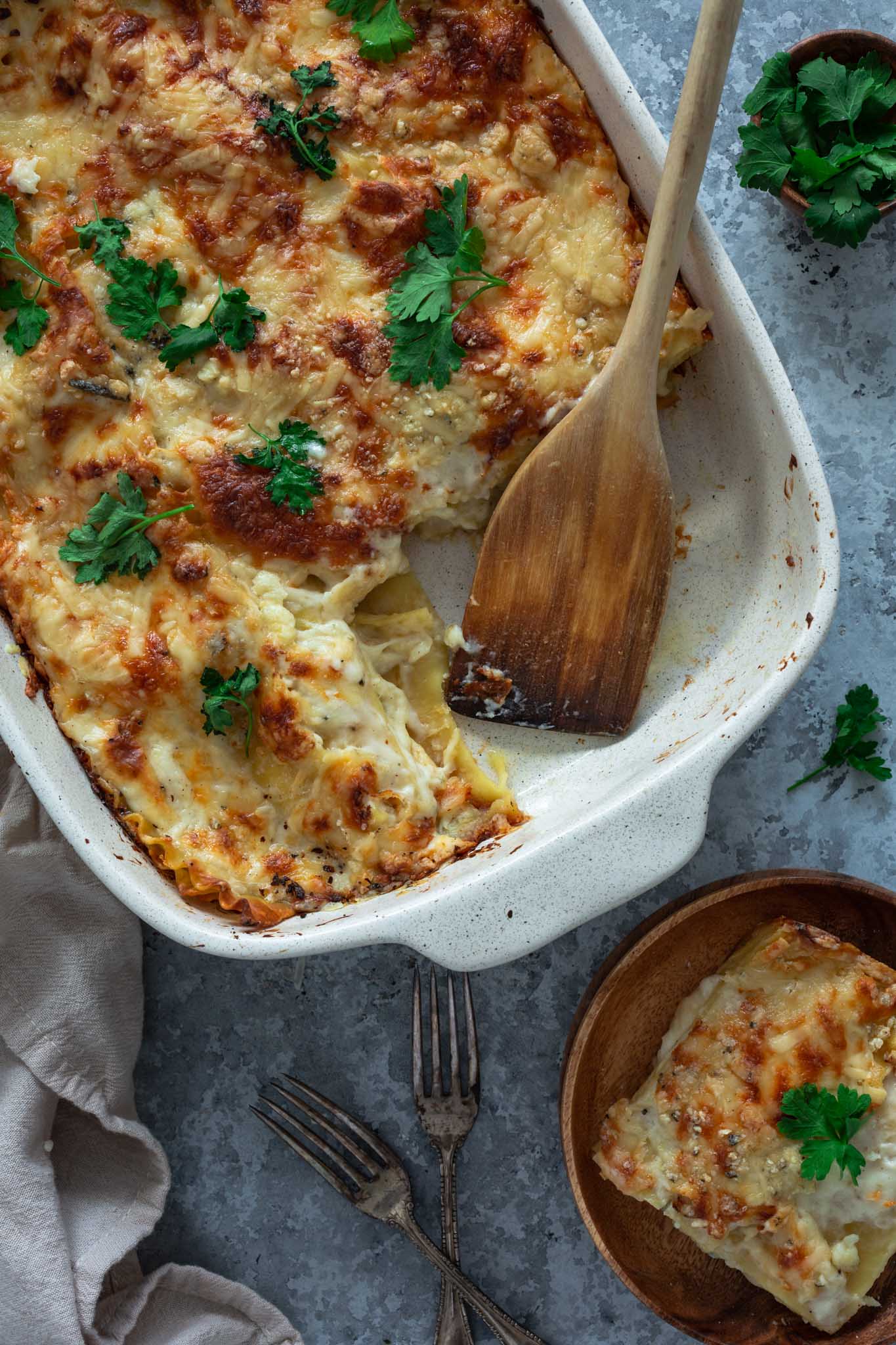 Can I freeze Four Cheese Lasagna?
Yes! In fact, this is a great recipe to freeze and give to new moms or friends/family that are going through tough times.
Just assemble the lasagna, cover tightly with plastic wrap and freeze for up to 3 months. The day before serving, remove lasagna from the freezer and thaw overnight in the refrigerator. Bake as directed. You can also bake from frozen, but plan to double the baking times.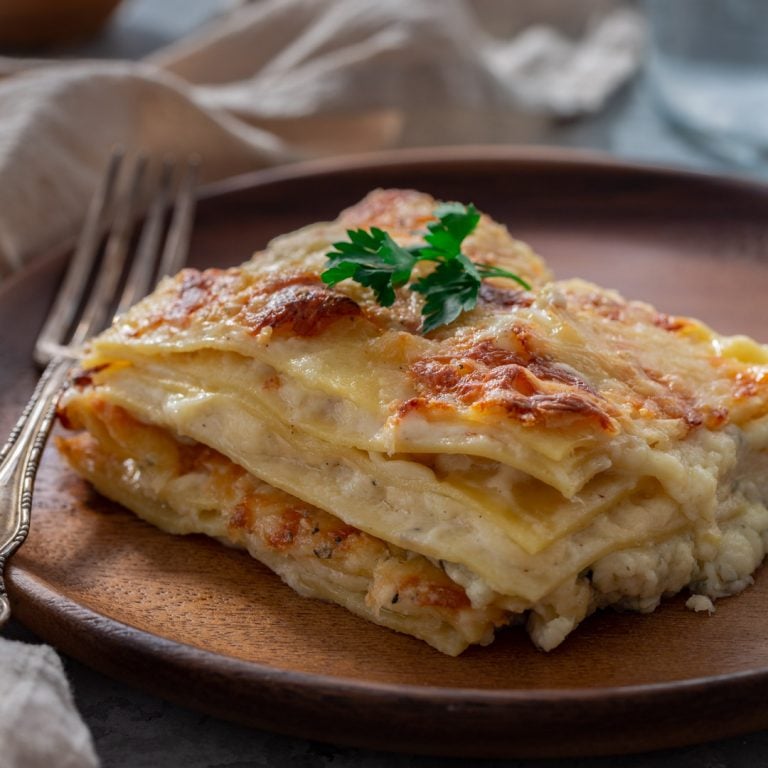 Four Cheese Lasagna
Yield: 8
Prep Time: 25 minutes
Cook Time: 15 minutes
Total Time: 40 minutes
Who can resist the sight of an ooey gooey cheese lasagna coming right out of the oven? Made with four different kinds of cheese and a creamy béchamel sauce, this is the ultimate comfort food!
Ingredients
One 16-ounce package lasagna noodles (fresh or regular)
6 tablespoons butter
1 shallot, finely chopped
2 cloves garlic, finely chopped
6 tablespoons flour
3 1/2 cups milk, warm
1 bay leaf
A pinch of freshly grated nutmeg
Salt and freshly ground pepper, to taste
8 ounces Gruyere cheese, grated
8 ounces mozzarella cheese, grated
4 ounces Parmesan cheese, grated
4 ounces Gorgonzola cheese, grated
Instructions
Preheat oven to 375 degrees F.
Bring a large pot of salted water to a boil and cook the noodles until almost al dente (about 2 minutes less than what the package suggests). Drain and lay noodles on an oiled baking sheet. Reserve.
To make the sauce: Heat the butter in a medium sauce pan, until melted. Add shallot and garlic, and sauté until fragrant and translucent, about 2 minutes. Add flour and stir or whisk quickly into the butter. Cook, stirring constantly, until golden brown - about 5 minutes. Slowly add the warm milk, loosening the roux while whisking constantly. Add bay leaf and nutmeg. Cook until starting to bubble and thicken. Remove bay leaf. Season with salt and pepper. Remove from heat and reserve.
To assemble the lasagna, spread a thin layer of béchamel sauce in a greased 13x9 inch baking dish. Layer 4 to 5 noodles lengthwise side by side, with edges overlapping. Top with a layer of béchamel and a layer of each cheese. Repeat for 2 more layers: pasta, sauce, cheese. Top the last layer of pasta with a generous amount of sauce and then a layer of cheese. Cover with foil.
Bake in the preheated oven for 15 minutes. Remove foil, increase temperature to 400 degrees F and continue baking for another 15 minutes or until bubbly and golden brown. You can also pop it under the broiler to speed up the browning. Remove from oven and let it rest for 10 minutes before cutting. Garnish if parsley or basil, if desired.
Serve! :)
Recommended Products
As an Amazon Associate and member of other affiliate programs, I earn from qualifying purchases.
Other Italian recipes you'll love: