Guava BBQ Pulled Chicken
The always crowd-pleasing BBQ Pulled Chicken gets a makeover, featuring my famous Guava BBQ Sauce! Just dump everything in the slow cooker and let it work its magic until the chicken is juicy, tender and ready to be devoured. Seriously, what could be easier than that?
(This post is sponsored by Crock-Pot®. All opinions are my own!)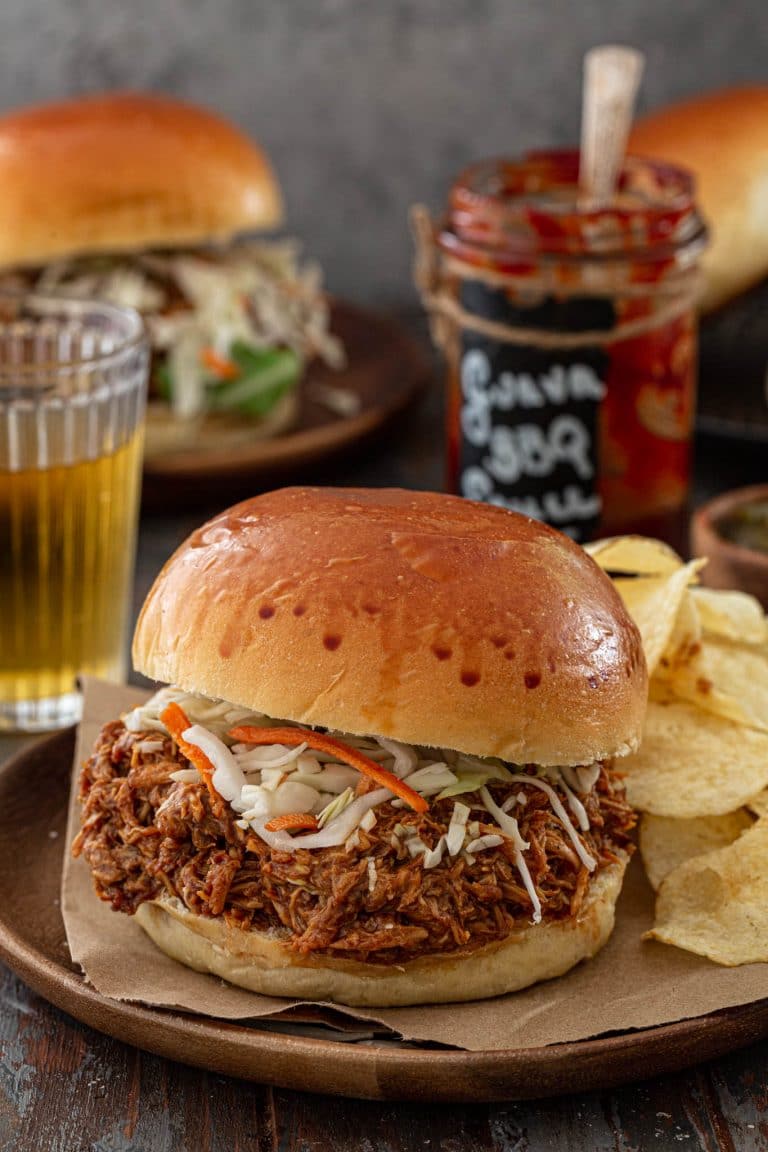 A fun twist on a classic tailgating food!
Football season is upon us, and with it comes all the irresistible game day eats that everybody loves!
I thought it was the perfect time to debut this Guava BBQ Pulled Chicken, so you can make it and show it off to your guests at your next game party or tailgating gathering. People will go nuts for it!
What I love the most about this recipe, other than it is super easy, is the fact that I can keep it warm in the slow cooker until ready to serve.
You can also easily double (or triple) it to adjust to your party size! Or, ya know, because you'll spend the rest of the week craving it and eating the leftovers. Sometimes straight out of the fridge, like someone I know (ahem, husband).
But, trust me, you have to make this. It is perfect for parties, potlucks, picnics or as a all-purpose ingredient for meals all week long! It's a delicious way to feed a crowd!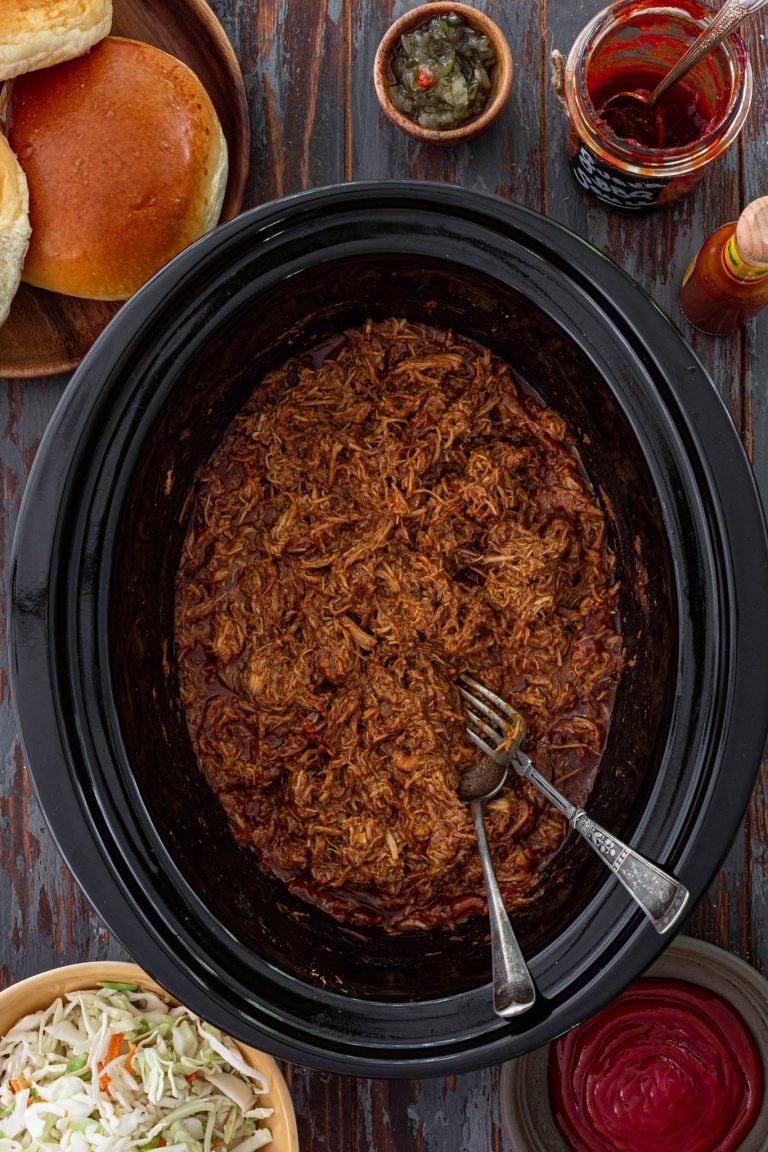 How to Serve BBQ Pulled Chicken
This is such a versatile chicken recipe, as there are probably a million dishes you could use it for!
Here are only some of them:
BBQ Pulled Chicken Sandwiches (as pictured in this post)
BBQ Chicken Nachos – my favorite!
BBQ Chicken Pizza
BBQ Chicken Quesadilla
Add to salads, baked potato, tacos.
Use as a filling for empanadas, taquitos, wraps, enchiladas, etc.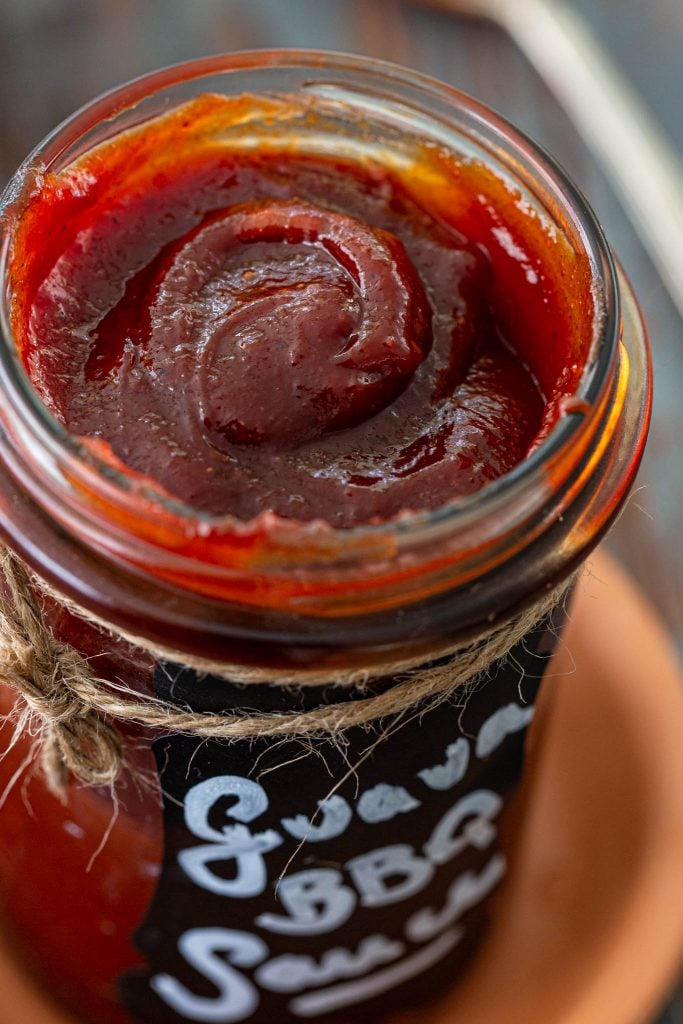 The best Guava BBQ Sauce!
If you missed my Guava BBQ Sauce post, head over there right now, cause you are gonna need that recipe to make this pulled chicken.
I'm actually really proud of that recipe. It took me a while to test it, but I've been serving at gatherings and it's always a hit, so I thought it was time to share it with the world.
It is sweet, smoky, a little spicy (if you want) and very easy to make!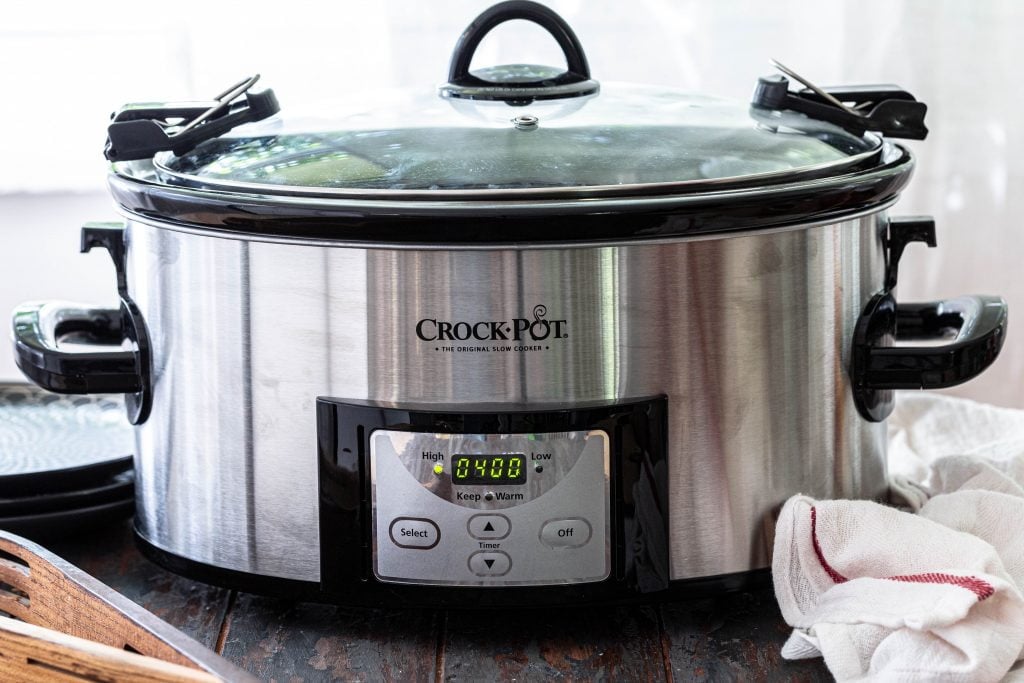 Crock-Pot Slow Cooker – your kitchen best friend!
Truth be told, I only learned about the wonders of slow cooking after I moved to the United States. Slow cookers are not that popular in Brazil, unfortunately!
It wasn't until the Christmas of 2012 that I unwrapped my first Crock-Pot slow cooker, gifted by my then boyfriend (husband now).
"What? You can leave this thing running all day, even when no one is home? What kind of sorcery is this?"
6 years later and I can confidently say that a slow cooker is your kitchen best friend, especially if you lead a busy lifestyle! I've used it a lot when I used to leave my apartment in the morning to work and come back to a delicious home cooked meal.
And I'm using it a lot now that I'm working for home and caring for two little ones! If it weren't for my slow cooker, homemade meals wouldn't be happening in this house.
My current favorite is the Crock-Pot® 6-Quart Programmable Cook & Carry™ Slow Cooker. It's large – perfect for big families – and portable. The locking lid makes it easy to travel, ensuring the food will stay secure until you reach your destination, while the large side handles make carrying easier than with other slow cookers.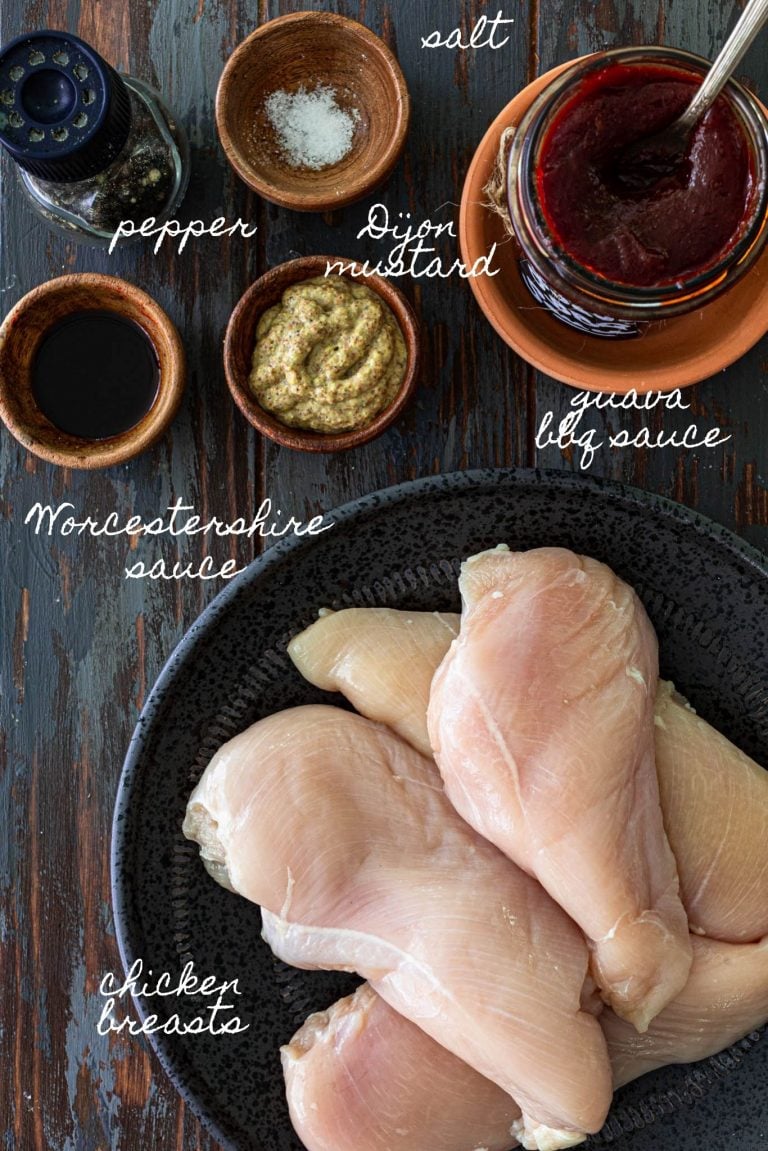 Ingredients for Slow Cooker Guava BBQ Chicken
Here's what you'll need to make this easy pulled chicken recipe:
Chicken breasts – I like the convenience of chicken breasts. But feel free to use dark meat or a combination, if you prefer.
Guava BBQ sauce – my favorite barbecue sauce!
Mustard – I like to use Dijon for a more pungent flavor, which helps balancing the sweetness and smokiness from the BBQ sauce.
Worcestershire sauce
Salt
Pepper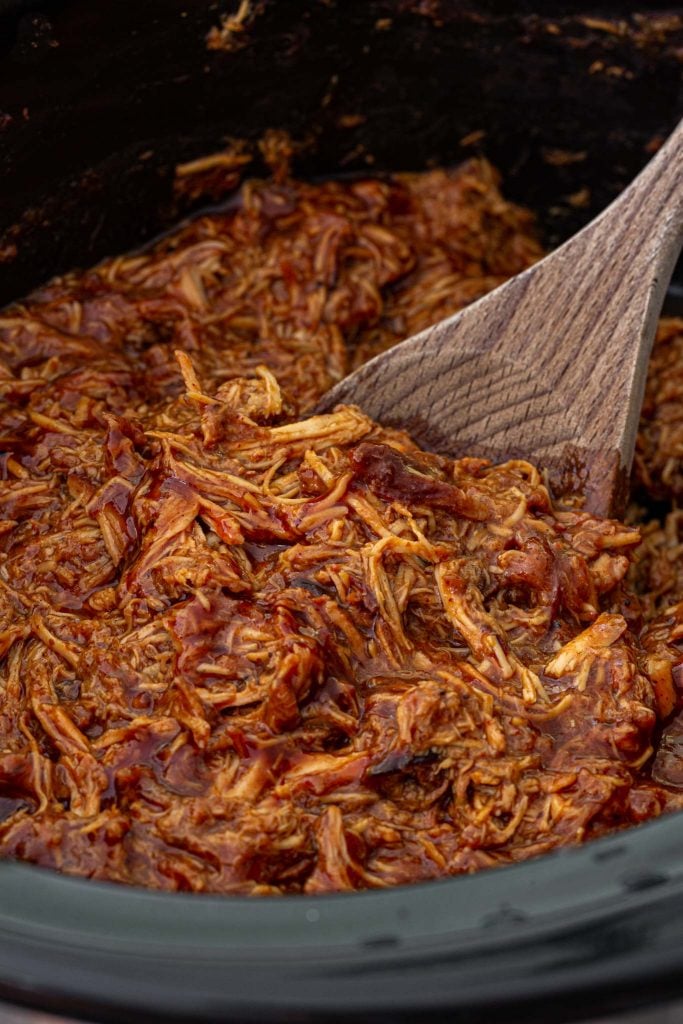 How to make Guava BBQ Pulled Chicken (in the slow cooker!)
This is one of those recipes that makes me feel a little apprehensive when I'm about to press publish. It's so simple and easy, that I wonder if people are gonna think there's something wrong with it!
But then I remember how delicious it is, and how everybody should have the opportunity to taste this mouth-watering masterpiece. And the best part? Literally anyone can make this! Just dump everything in, and walk away.
Combine all the ingredients in the Crock-Pot. Use tongs to ensure that every chicken breast is throughly coated in the guava bbq goodness!
Walk away. Go read a book, watch a movie or run some errands. Come back 4 hours later (or 8 hours if you prefer to cook on low), open the lid and admire your work of art.
Use two forks to shred the chicken. Stir so every chicken chunk is coated.
Serve and be prepared to be the tailgating hero of the year!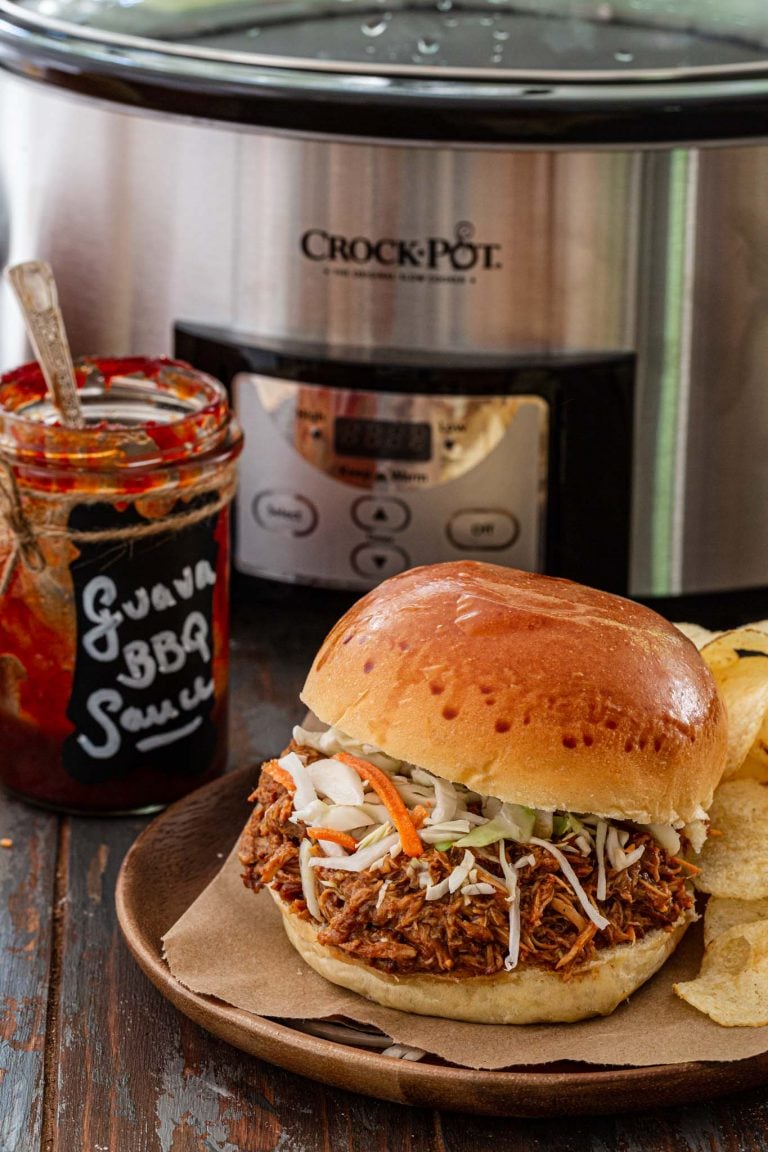 Guava BBQ Pulled Chicken FAQs
Can I make pulled chicken ahead of time? Absolutely. I sometimes make a big batch and use it for different meals during the week! The BBQ pulled chicken keeps well in the fridge for 3-4 days. If you don't plan on eating it within that time frame, you should freeze it.
Can I reheat food in the slow cooker? Do not reheat food in your slow cooker. It will take too long to reach a safe temperature, which can create a breeding ground for harmful bacteria.
However, check your slow cooker manual. Chances are the stoneware is microwave safe and over proof (up to 400°F), so you can reheat it and then use the slow cooker to keep food hot up to 2 hours.
Can I freeze pulled chicken? Yes, this recipe freezes well and will keep for up to 3 months.
Can you overcook pulled chicken? Yep, totally possible. If you cook the chicken too long, it might get dry. So, if you end up halving or doubling the recipe, be aware that the cooking time will chance and you'll have to keep a closer eye on it.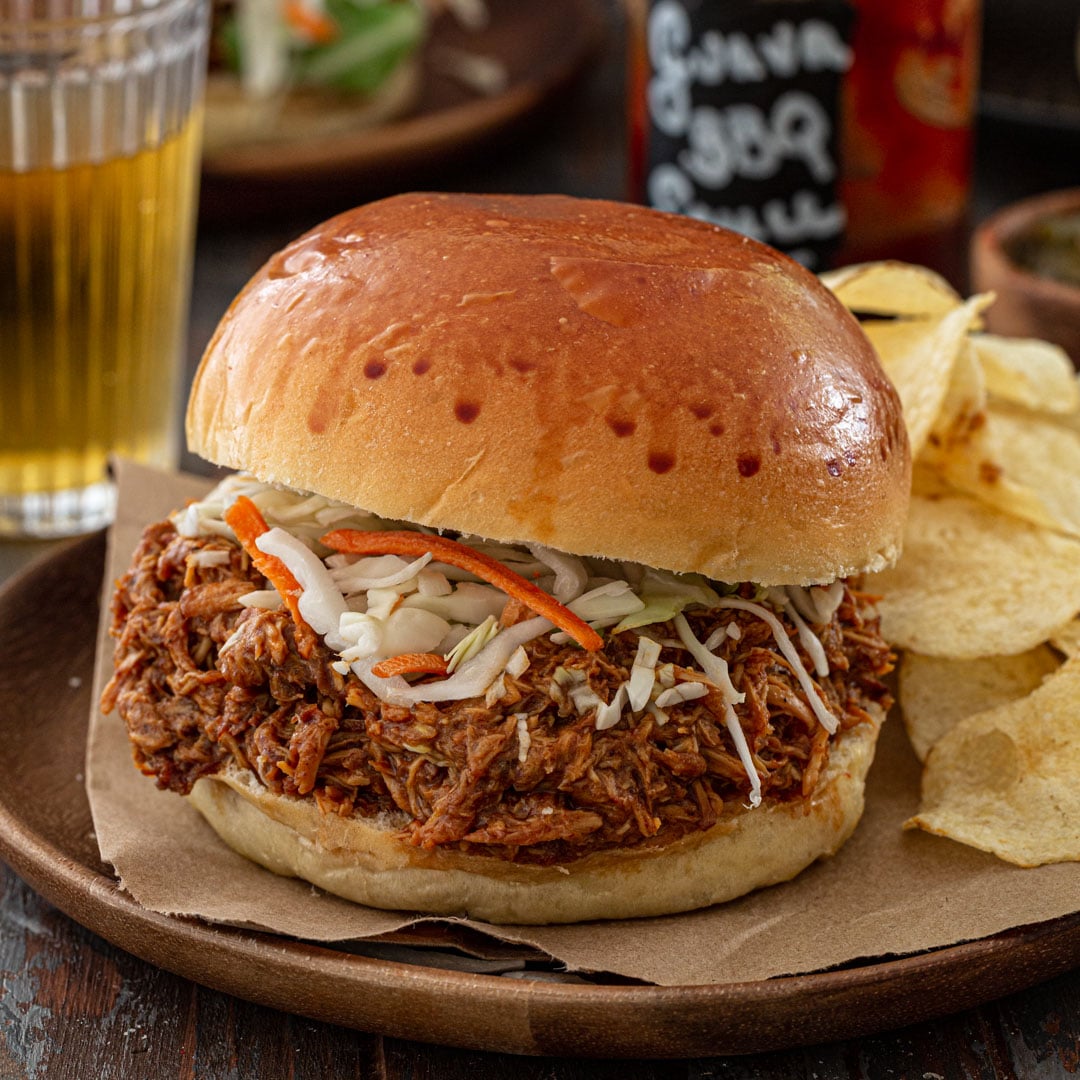 Guava BBQ Pulled Chicken
Yield: 4 to 6
Prep Time: 5 minutes
Cook Time: 4 hours
Total Time: 4 hours 5 minutes
The always crowd-pleasing BBQ Pulled Chicken gets a makeover, featuring my famous Guava BBQ Sauce! Just dump everything in the slow cooker and let it work its magic until the chicken is juicy, tender and ready to be devoured. Seriously, what could be easier than that?
Ingredients
1 cup Guava BBQ Sauce
2 tablespoons Dijon mustard
1 tablespoon Worcestershire sauce
Salt and pepper to taste
2 pounds chicken breasts
Instructions
Combine the Guava BBQ sauce, mustard and Worcestershire sauce in the insert of your slow cooker.
Add the chicken breasts and, using tongs, move them around so they are thoroughly coated with the sauce. Season with salt and pepper.
Cover and cook on high for 4 hours or low for 8 hours.
When chicken is fall-apart tender, use two forks to shred it.
Return chicken to the slow cooker and mix well with the sauce.
Serve immediately or use the keep warm function.
Notes
This recipe is easily doubled or tripled.
Leftovers keep well in the fridge for up to 4 days. If you don't plan on using them within that time frame, you can freeze for up to 3 months and thaw overnight in the fridge when ready to use!
For a spicy version, add a few dashes of hot sauce or a pinch of cayenne pepper.
Do not use your slow cooker to reheat food. Reheat in the stovetop or microwave and then use the keep warm feature for up to 2 hours, or until you're ready to serve it.
Nutrition Information:
Yield: 6
Serving Size: 1
Amount Per Serving:
Calories: 283
Total Fat: 6g
Saturated Fat: 2g
Trans Fat: 0g
Unsaturated Fat: 3g
Cholesterol: 129mg
Sodium: 383mg
Carbohydrates: 7g
Fiber: 2g
Sugar: 5g
Protein: 48g