These delicious Pork Chops and Apples make an impressive yet easy fall meal! Cooked (in one pan) to perfection and served in a hearty and creamy bacon bourbon sauce that is simply to die for, it will be love at first bite!
"This post has been sponsored by the National Pork Board. All thoughts and opinions are my own."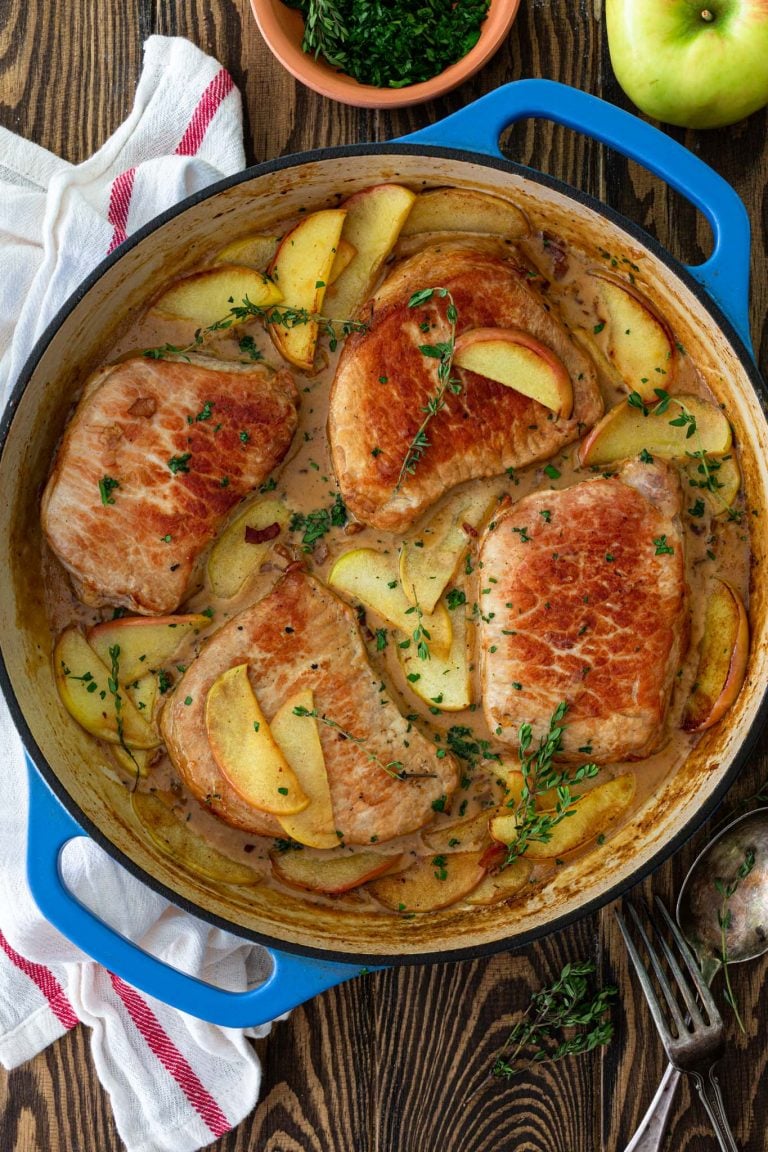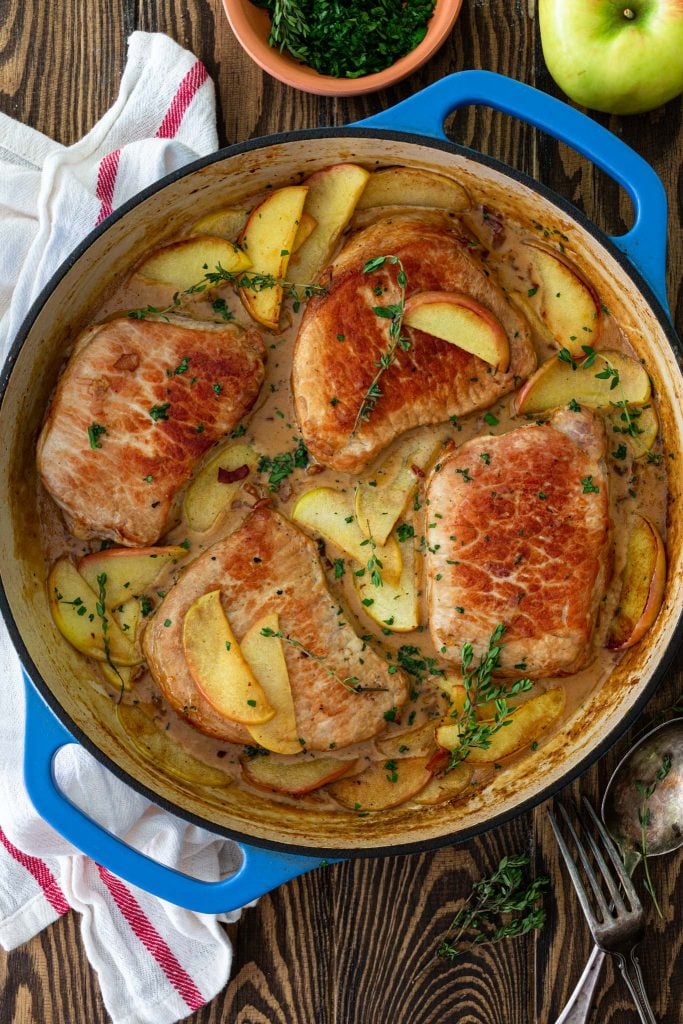 A classic pork recipe!
Which came first: the pork or the apples? To me, they are inseparable! A classic, timeless combination that is guaranteed to please fancy guests at a dinner party or your family on a busy weeknight.
I know what you're thinking. What's new? People have been pairing pork and apples for centuries.
But are they serving it in a luscious bacon bourbon sauce? AKA the creamiest, most flavorful sauce ever invented? No, they are not! And that, my friends, is what sets this pork chops and apples recipe apart from all the other recipes out there.
Don't believe me? Give it a try! You can thank me later.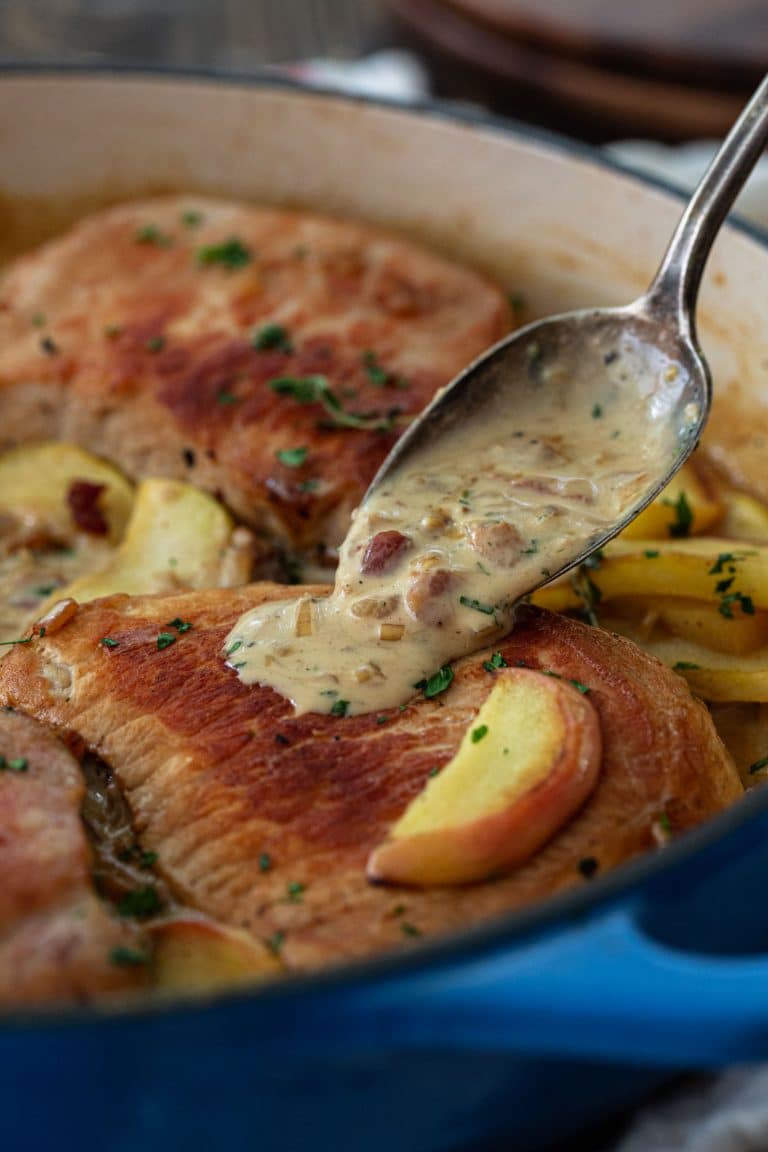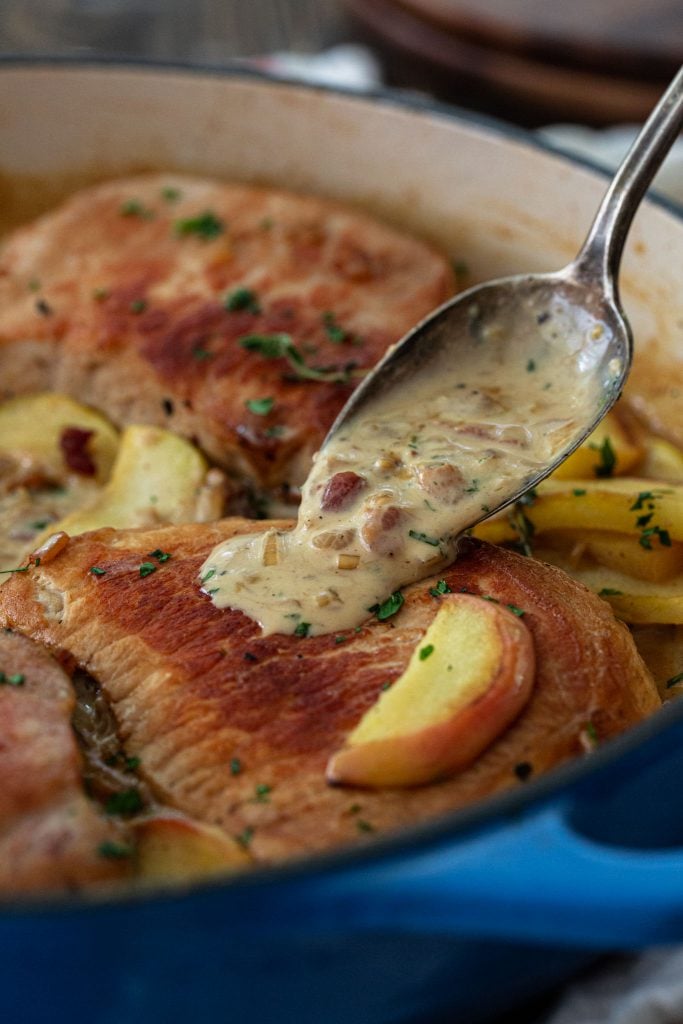 Bacon Bourbon Cream Sauce
Last week, while browsing through the ACME mobile app to see what was on sale, I saw that fresh pork was selling for an excellent price! I immediately thought of cooking pork chops with apples, as I was in the mood for a cozy autumn meal!
I headed to the store and, while I was shopping for the ingredients, decided that I was craving something a bit more indulgent. In my world, that usually means bacon. And cream.
With bacon and cream in my cart, I thought of the nice bottle of bourbon that we had at home. Bingo! The concept of this sauce was born. But would it be as delicious as it sounds in my head? Spoiler alert: it was even better!
Ingredients for Pork Chops with Apples
Here's what you'll need to make my pork chops and apples:
Pork Chops – Choose thick for the juiciest results!
Apples
Bacon
Shallots
Garlic
Bourbon – Most of the alcohol will cook off, but omit if needed.
Apple Cider
Heavy Cream
Butter and Olive Oil – Yes, you'll need both. The oil prevents the butter from burning.
Salt and Pepper
Thyme – You can use rosemary if you prefer!
Parsley – For garnishing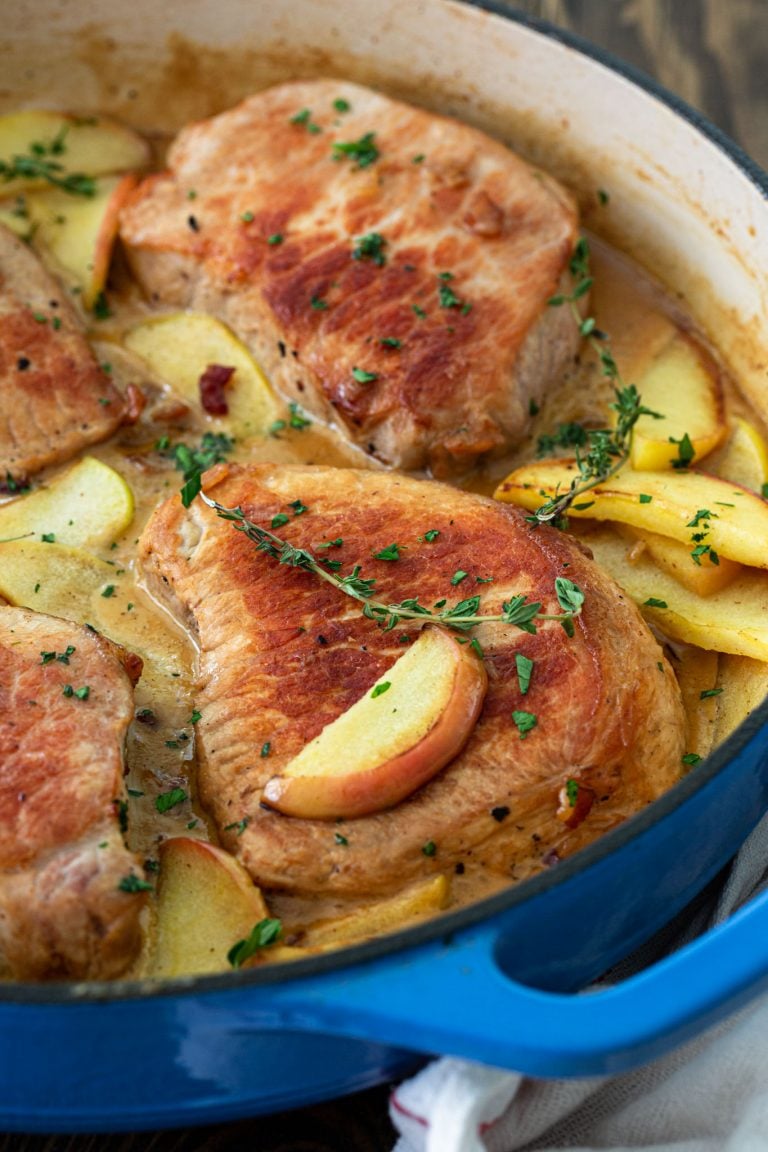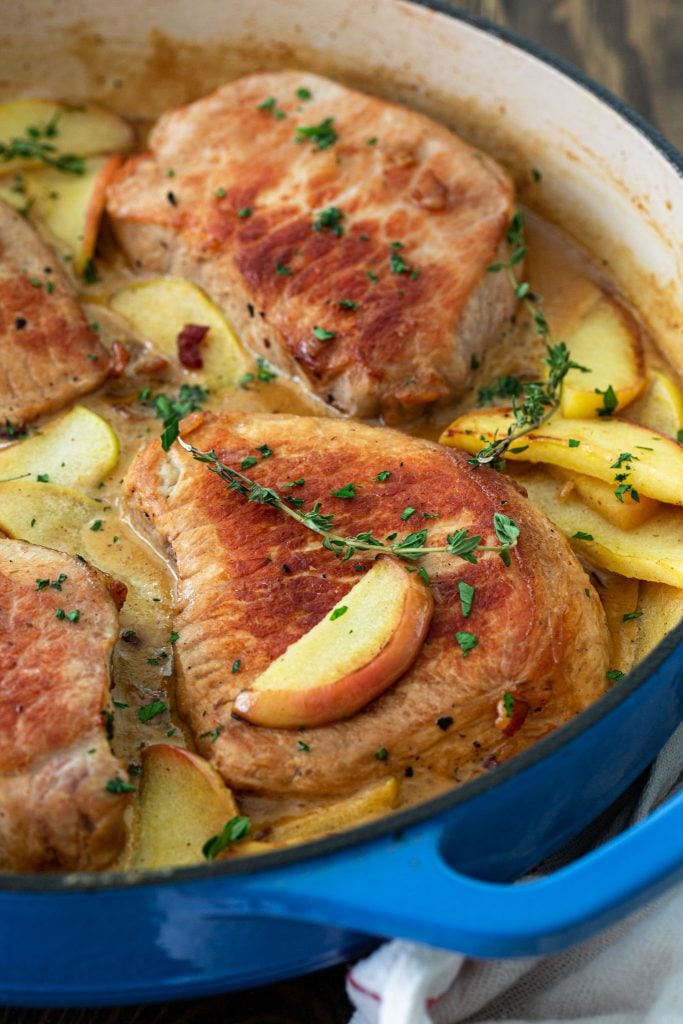 What kind of apples go with pork?
We will need a variety that is sweet to pair nicely with the savoriness from the pork. It also has to hold its shape while cooking.
These are some of my favorites:
Honeycrisp
Pink Lady
SweeTango
Braeburn
Cortland
Jonathan
Golden Delicious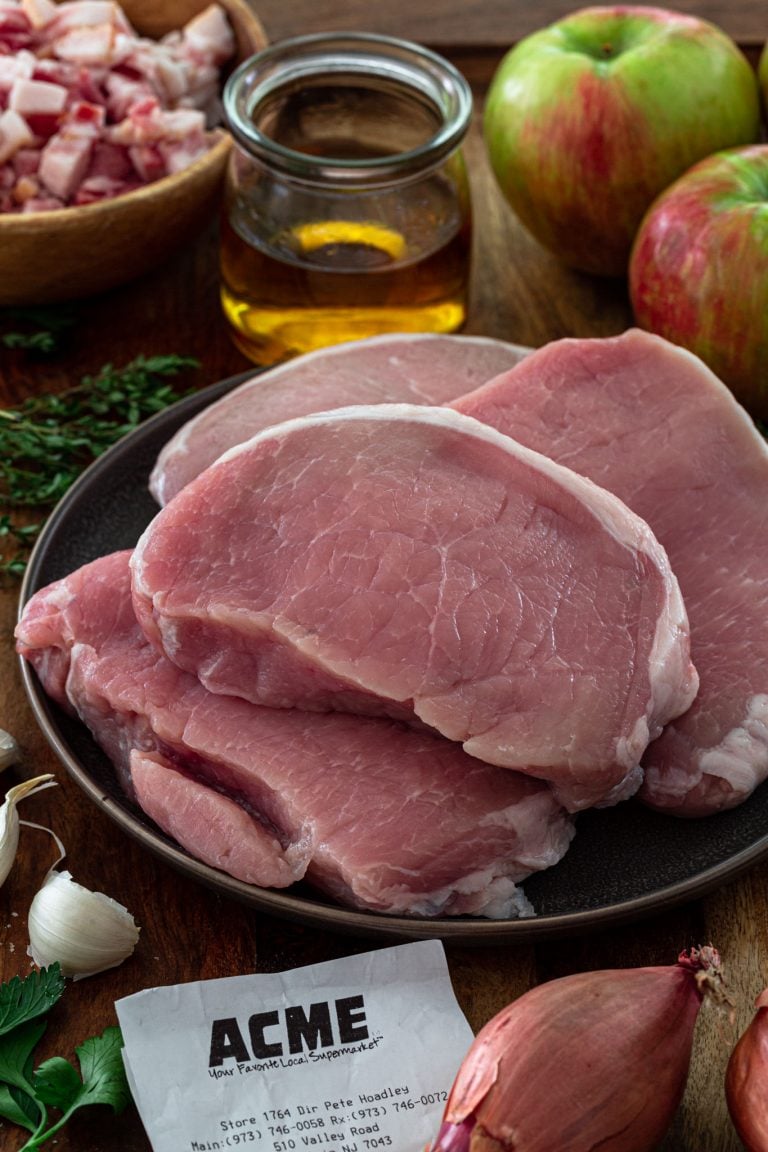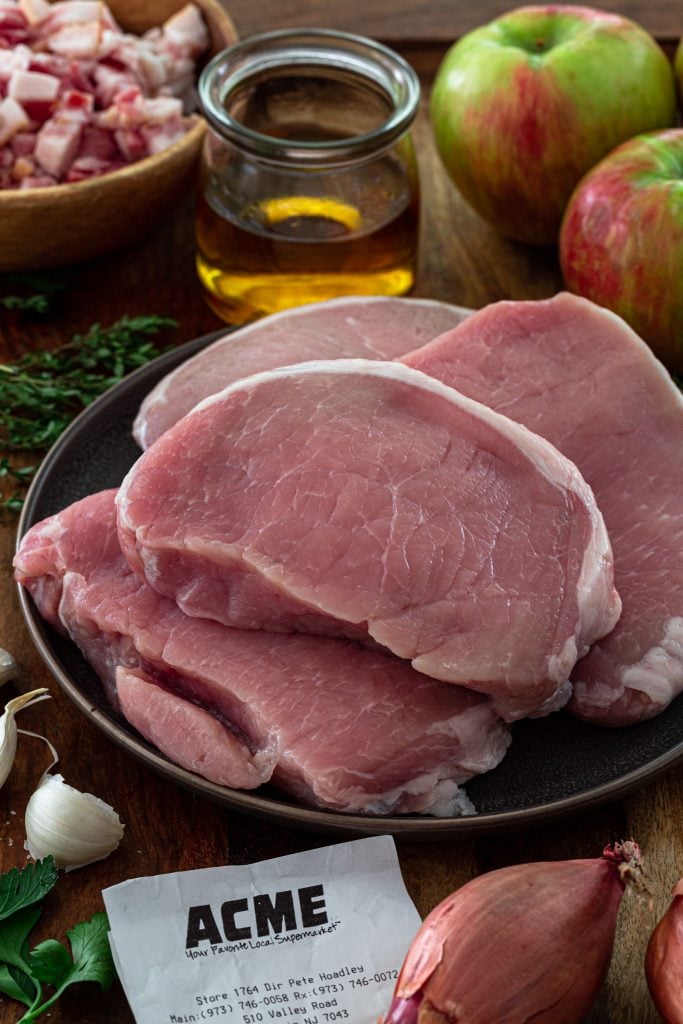 What temperature should I cook pork?
Your days of dry, overcooked pork are over! It is a misconception that pork has to be cooked until juices run clear and the meat is white. Modern pork is much leaner (less fatty) than it used to be decades ago, which means that it is more prone to drying out if you overcook it.
The USDA recommends cooking chops, loin roasts, and tenderloin to an internal temperature of 145° F, followed by a three-minute rest. The pork chops will be juicy, tender, and a light blush pink color!
Is pork good for you?
Fresh pork is an excellent source of lean protein! With 24g of protein per 3 ounces of pork, it is hard to beat its nutrient profile.
And while many people perceive pork to be high in fat due to associations with processed cuts like bacon, sausage, or pepperoni, fresh pork is actually just as lean as skinless chicken breast!
I love visiting the pork section of my local ACME store and stocking my fridge with all sorts of cuts to cook during the week. It is also a popular protein during the holidays since it makes the best hearty dishes and pairs great with rich sauces, like this creamy bacon bourbon sauce!
How to make Apple Pork Chops
This recipe is easy to make and is all cooked in one pot!
Here's how I make it:
We start by browning the pork chops on all sides until they look golden but not yet cooked through. They will finish cooking later once we add them back into the pan with the liquid.
Remove and reserve the pork chops. Using that same fat, sauté the apples until lightly browned and softened (but still firm). Reserve. They will come back for the grand finale!
Add the bacon and cook until golden. Reserve.
Get rid of most of the bacon fat, leaving just a couple tablespoons on the pan. Then, add another tablespoon of butter and sauté the shallots and garlic until fragrant and softened.
Add back the bacon and pour the bourbon! (You've been waiting for this moment, haven't you?)
Let the bourbon reduce, scraping all the yummy browned bits from the bottom of the pan until it is mostly evaporated.
Add back the pork chops, apple cider, and thyme. Lower the heat to medium low, cover, and cook until the pork chops are cooked through.
The pork chops are ready when a thermometer reads 145 degrees F. Remove the pork chops to rest for 3 minutes (yes, they need their beauty rest!) and prepare to make the best sauce evah!
Add the cream to the sauce. Turn the heat back up to medium and cook until thickened. Season with salt and pepper. Don't drink the sauce!
Return pork chops. Return apples. Garnish with chopped parsley. Resist eating it all by yourself and serve to guests.
You're welcome!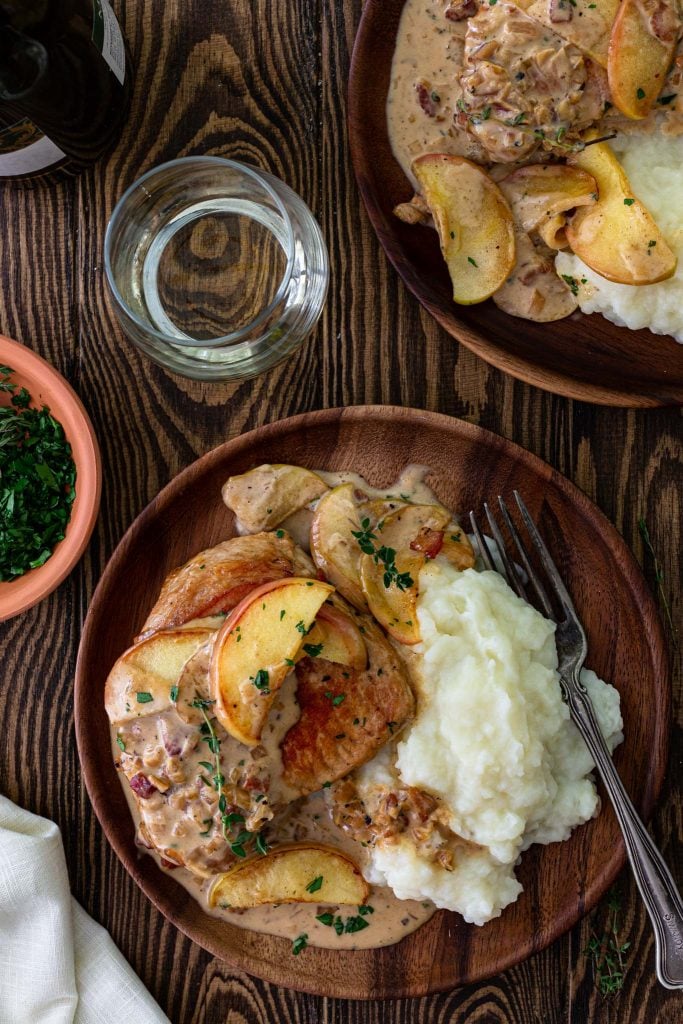 What to serve with Pork Chops and Apples?
Serve this comforting pork dinner with mashed potatoes, rice, and/or a nice crusty bread to soak up all the rich sauce! A fresh green salad on the side completes a balanced meal.
As for wine, red or white? Pork can go both ways! I find that a richer variety, like Chardonnay or Pinot Noir, goes great with this dish.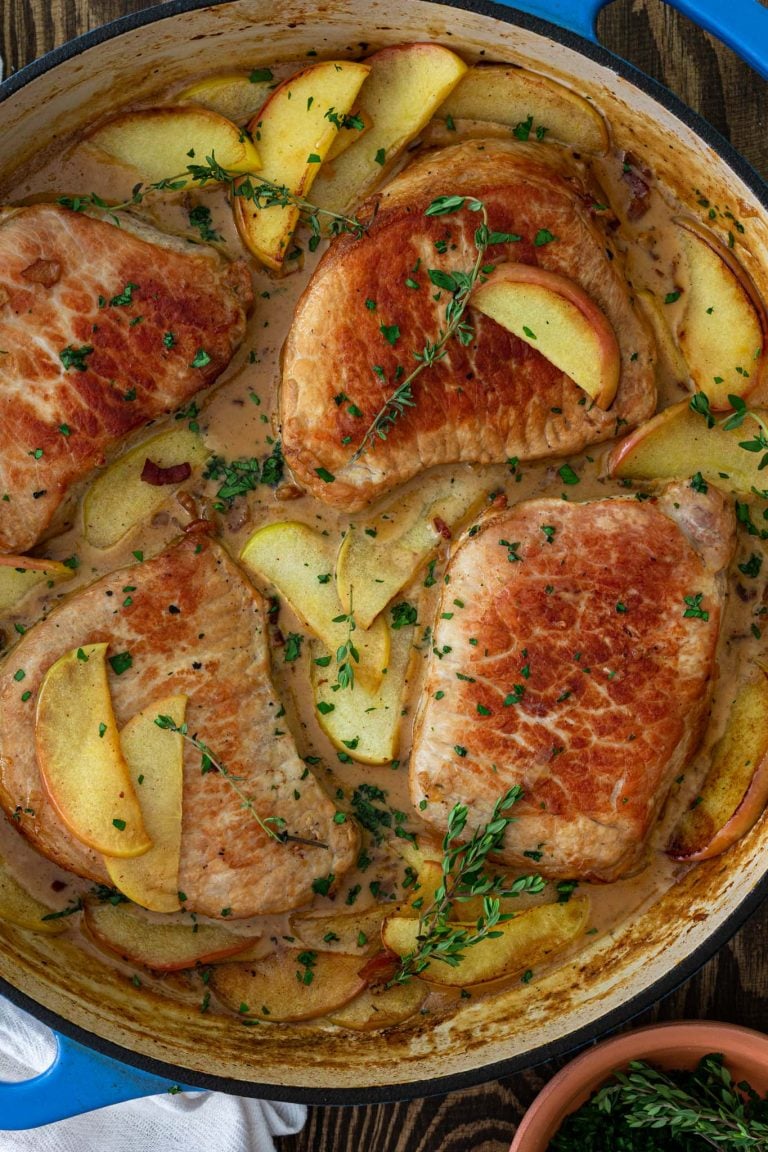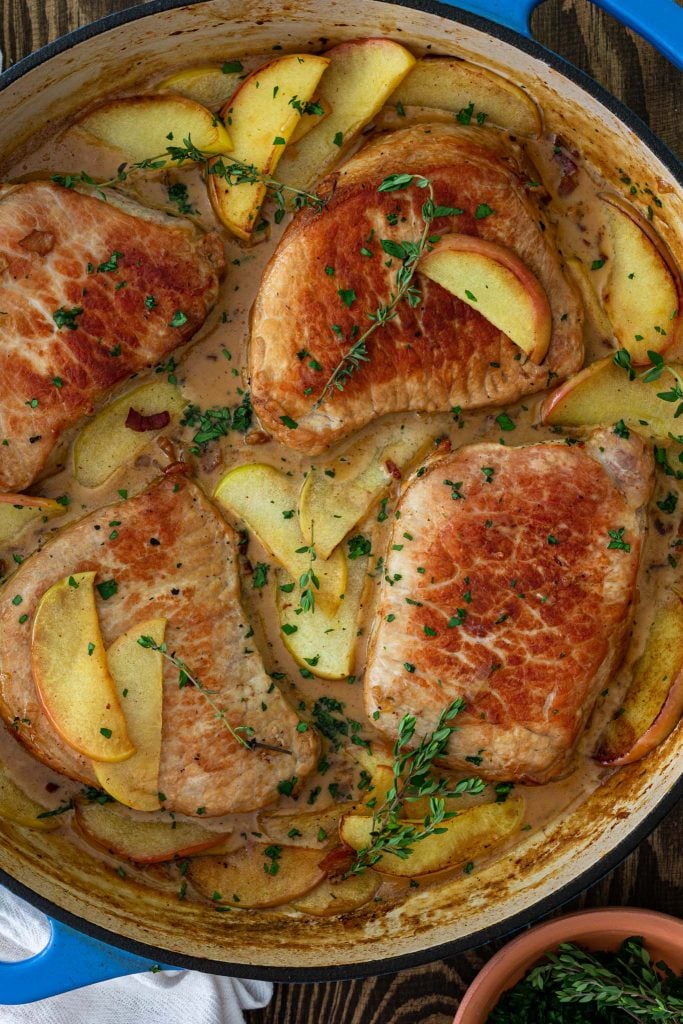 Tips and tricks for the best Pork Chops and Apples
Bone-in or boneless pork chops? While there are subtle flavor and textural differences, I like the convenience of boneless pork chops. However, there is no wrong choice here and it comes down to personal preference. If using bone-in, be aware that they will take a little longer to cook!
Generously season the pork chops before cooking. We want a lot of flavor here!
Invest in a meat thermometer! Seriously. If you are serious about cooking pork (or beef, or chicken, or turkey, or even bread), it is a must-have kitchen tool.
Just like steaks, pork chops need to rest before serving. The National Pork Board recommends resting for at least 3 minutes.
Choose apples that will hold their shape during cooking.
After sautéing the apples, remove them to a plate and add them back just before serving. We don't want them to get mushy!
Can I freeze this dish? While pork chops freeze well, the sauce contains dairy—so the texture will definitely change. If you really need to freeze this, prepare up until the point where you add the heavy cream and leave that step for after thawing.
Pork Chops and Apples with Creamy Bacon Bourbon Sauce
These delicious Pork Chops and Apples make an impressive yet easy fall meal! Cooked (in one pan) to perfection and served in a hearty and creamy bacon bourbon sauce that is simply to die for, it will be love at first bite!
Ingredients
4 1-inch thick pork chops (about 4 ounces each)
Salt and freshly ground pepper, to taste
1 tablespoon olive oil
2 tablespoons butter, divided
2 large apples, cored and thinly sliced
8 ounces bacon, diced
2 shallots, finely chopped
3 cloves garlic, minced
1/2 cup bourbon
1 cup apple cider
1 teaspoon fresh thyme, chopped
1 cup heavy cream
1/4 cup chopped parsley
Instructions
Season pork chops generously with salt and pepper.
In a large cast iron skillet, heat the olive oil and one tablespoon butter over medium heat. Once butter is melted, add pork chops and sear on all sides—about 3-4 minuter per side. Remove from pan onto a plate and reserve.
Add the apple slices and sauté until tender and lightly browned, about 5 minutes. Remove and reserve.
Add the bacon and cook until fat has rendered and bacon is golden brown, about 3-4 minutes. Remove and reserve.
Add shallots and garlic. Sauté until fragrant and translucent, about 2 minutes. Then, add back the bacon and pour the bourbon. Cook, scraping all the browned bits from the bottom of the pan until almost all evaporated,
Stir in the cider and return the pork chops to the pan, along with the thyme. Lower the heat to medium low, cover, and cook until a meat thermometer inserted in the thickest part of the pork chop reads 145 degrees F, about 5 minutes. Using tongs, remove the pork chops to rest for at least 3 minutes.
Raise the heat back to medium and stir in the heavy cream. Cook until thickened, about 3-4 minutes, and season with salt and pepper.
Add back the pork chops and apple slices.
Garnish with chopped parsley and serve!
Nutrition Information:
Yield:

4
Serving Size:

1
Amount Per Serving:
Calories:

1034
Total Fat:

68g
Saturated Fat:

30g
Trans Fat:

1g
Unsaturated Fat:

32g
Cholesterol:

271mg
Sodium:

1186mg
Carbohydrates:

30g
Fiber:

4g
Sugar:

21g
Protein:

62g
Looking for more apple recipes?