Chicken and Chorizo Enchiladas with Chipotle Crema Sauce
Thank you Cacique® for sponsoring this post. Visit your local grocery store to pick up your fave Cacique® product for a delicious dinner tonight!
If you like it hot, these Chicken and Chorizo Enchiladas are for you! Spicy, delicious, and smothered with the creamiest Chipotle Crema Sauce. They will knock your socks off!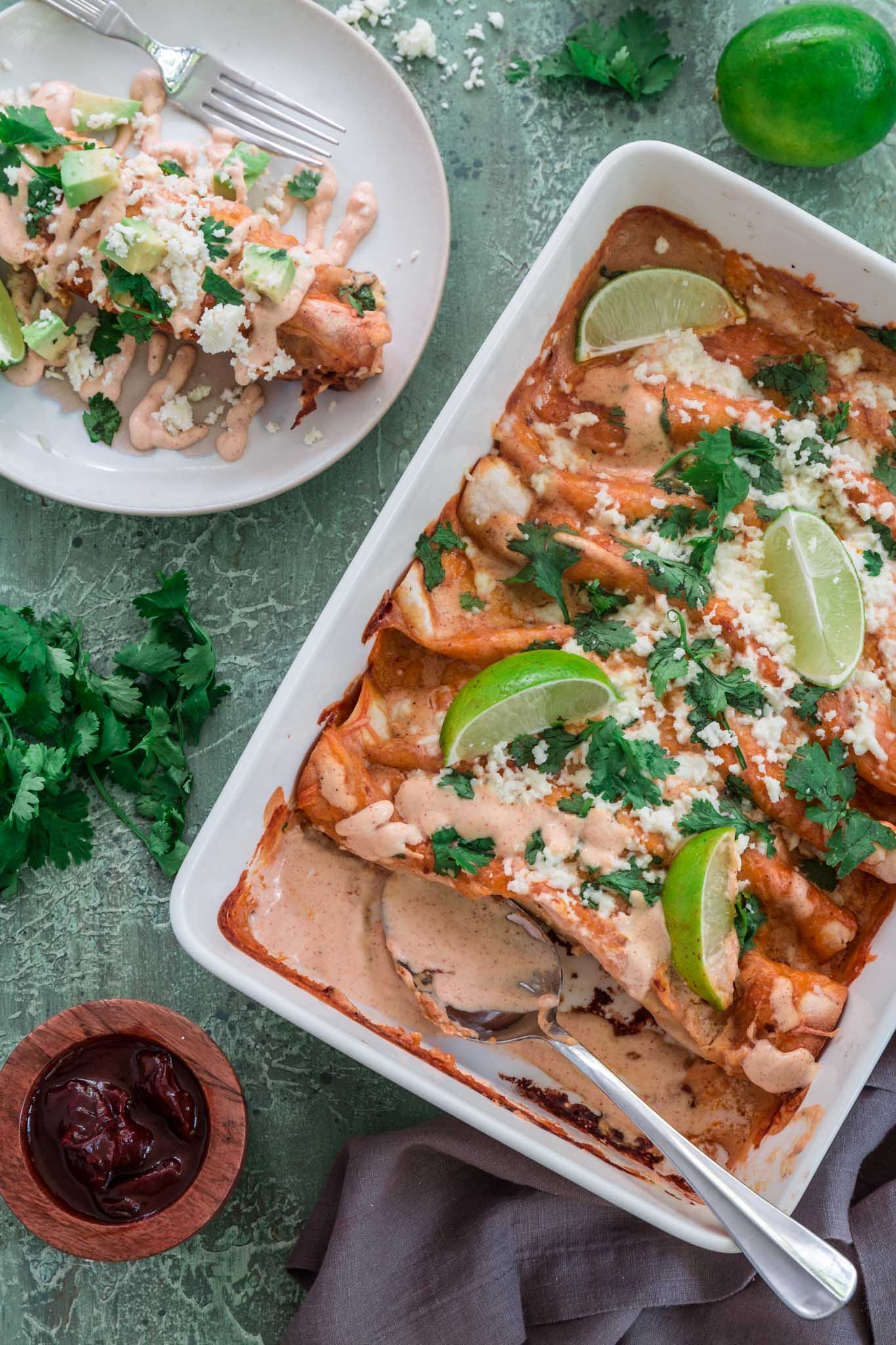 It's Hispanic Heritage Month!
Despite popular assumption, we Brazilians do not identify as Hispanic, as we were colonized by Portugal and not Spain. But that doesn't mean I'm not happy to celebrate this wonderful culture! I love all my Hispanic friends – Mexicans, Dominicans, Puerto Ricans, you name it. Such warm, lively people. Life is always a party when I'm around them!
And the food? Oh my god, the food is amazing! If you want to eat well, befriend a Latino and manage to get invited to eat at their home. I promise you, you won't regret it!
So to honor this month and my Hispanic friends, I'm sharing a chicken and chorizo enchilada recipe today. I'm not claiming authenticity, since I kinda went with flavors I like, but I'm definitely claiming deliciousness.
So easy to make and perfect for busy weeknights!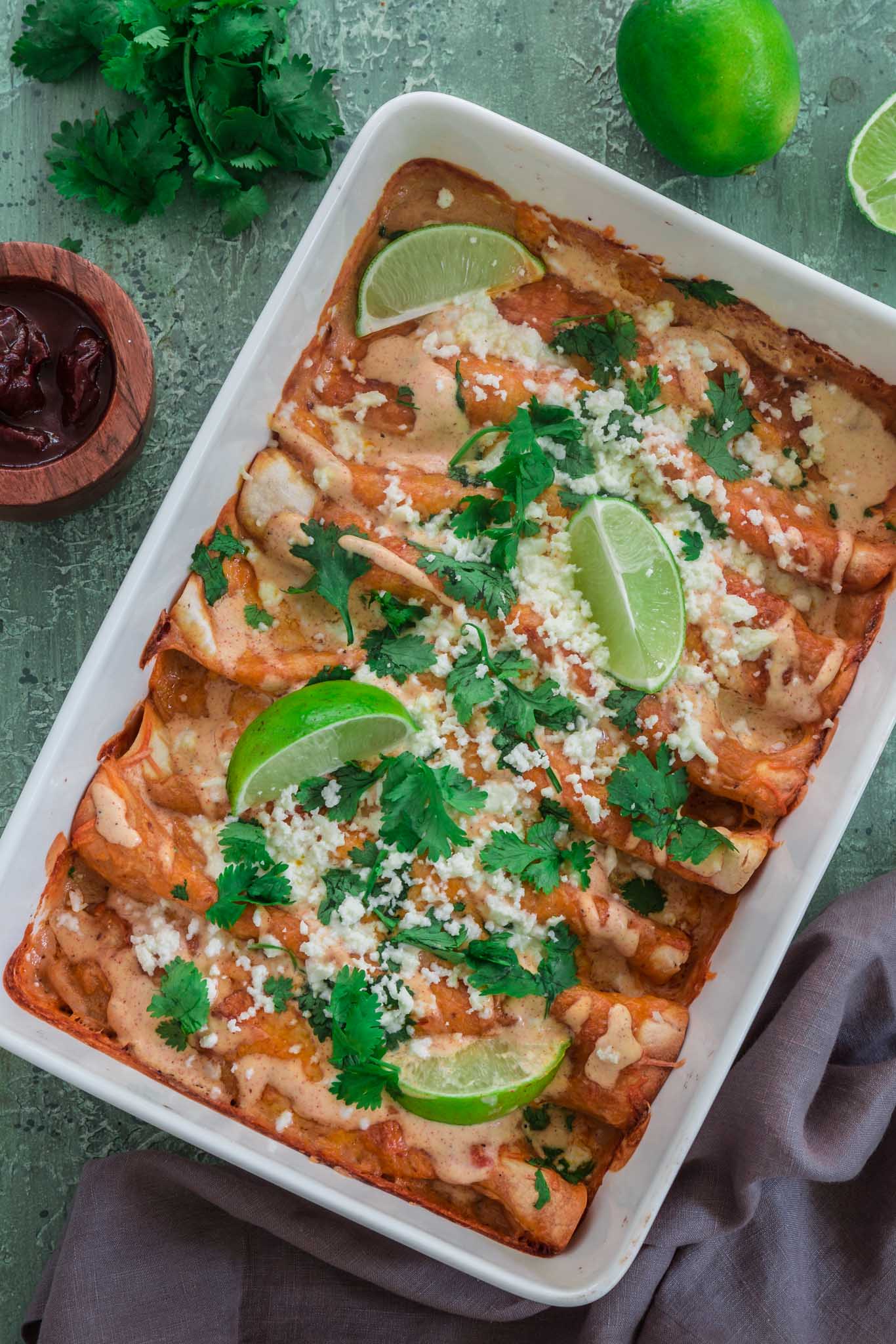 What are enchiladas?
Enchiladas are corn (or flour) tortillas rolled around a savory filling (beef, chicken, seafood, cheese, you name it!), then topped with sauce and baked until hot and bubbly.
The word "enchiladas" in Spanish is the past participle of the word "enchilar", which means "to season with chili."
They originated in Mexico, and the practice of rolling tortillas around other food goes as far back as Mayan times. In Mexico, they are a popular street food and quite different from the kind you get at Mexican restaurants in the United States. They are more of a snack food than a meal, usually filled with cheese.
Unlike the Tex-Mex version that involves rolling the flour tortillas around the filling, smothering in sauce, and baking, the Mexican enchilada is first dipped in a spicy chile sauce, and then fried.
My version is more like the Tex-Mex variant, only I'm skipping the traditional enchilada sauce and going with a creamy Chipotle sauce.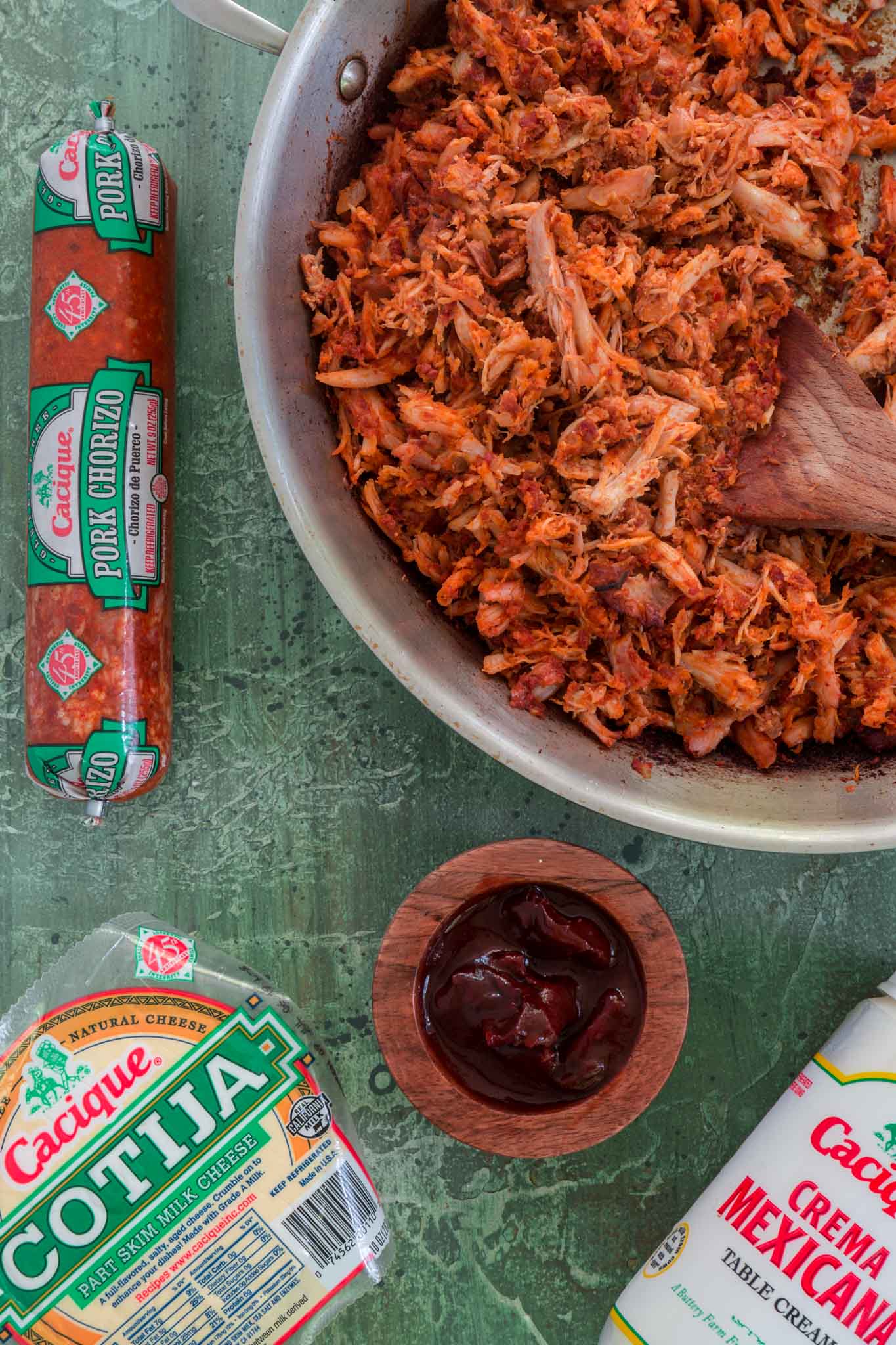 How to make chicken and chorizo enchiladas
Y'all, this recipe is super easy! Plus, you get to use leftover shredded chicken, or buy a rotisserie chicken from the supermarket, if you're not feeling like cooking chicken breasts.
All that is involved is sautéing the onion, garlic, and chorizo, until the chorizo is cooked. Then, we mix that with the shredded chicken and use all that goodness to fill the flour tortillas (but you can use corn, if you want!).
The Chipotle Crema Sauce is made by making a roux with butter and flour, and adding chicken broth. It is then cooked until thickened, taken out of the stove, and mixed with Mexican Crema blended with Chipotle peppers in Adobo sauce. Easy peasy!
We then arrange the enchiladas in a baking dish and pour the creamy sauce over them. Top with cheese and bake until bubbly and golden brown.
My favorite products to make this are Cacique®'s Pork Chorizo and Crema Mexicana. I also top my enchiladas with Cacique® Cotija cheese and their sour cream. Cacique® is my go-to brand for great quality Mexican products because they make it easy to savor the tastes and flavors of Mexican food without spending a long time in the kitchen.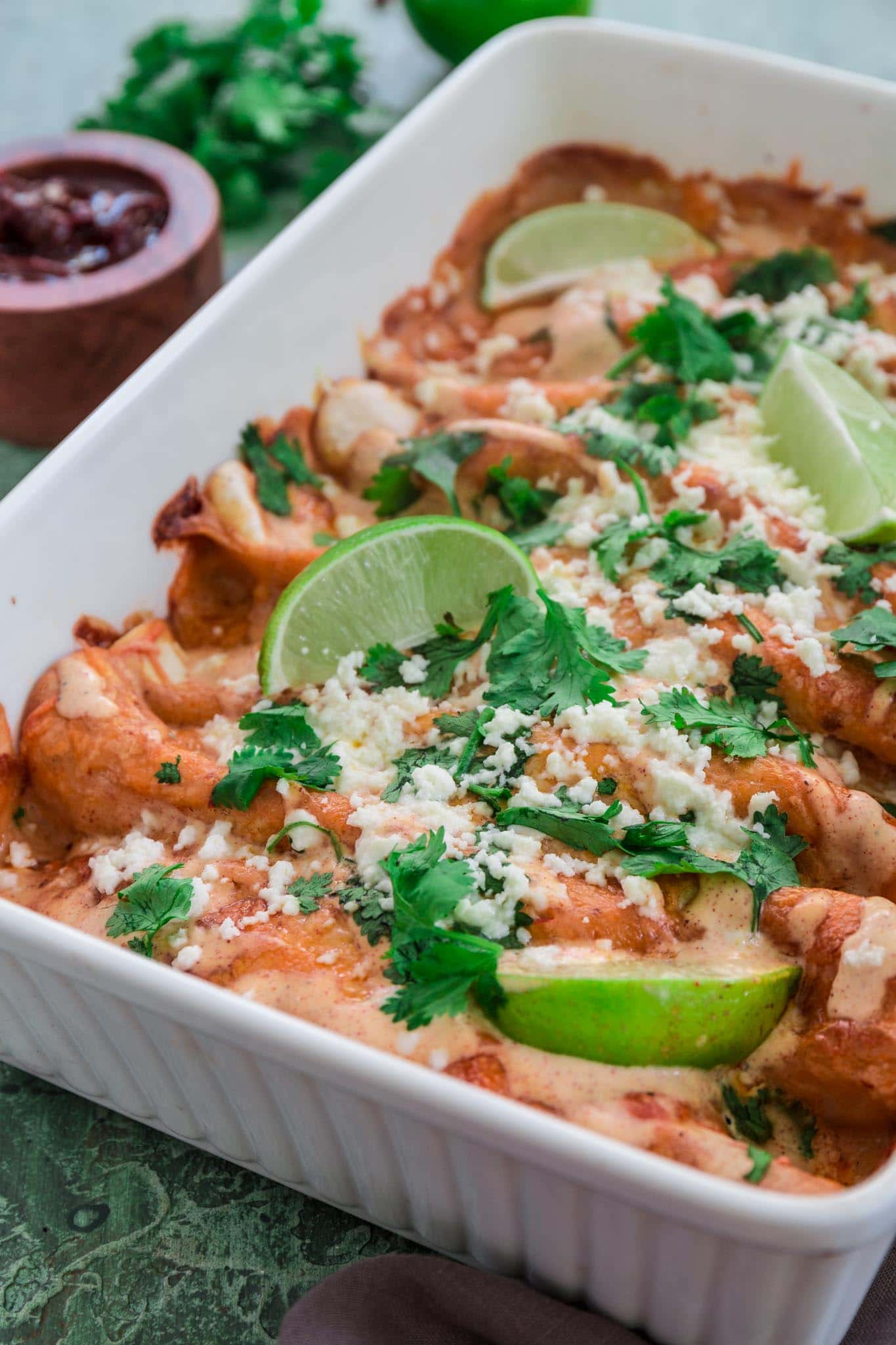 To cheese or not to cheese, that is the question!
The first time I made these chicken and chorizo enchiladas, I poured the sauce over the enchiladas and was on my way to get them into the oven when I stopped and decided to add cheese. It wasn't part of my original plan, but I really think that it elevates the dish and balances the spiciness of the sauce.
You can use whatever melty cheese you'd like, like Mexican Manchego, Cheddar, or even Mozzarella.
I also like to add crumbled Cotija before serving, for a little tang.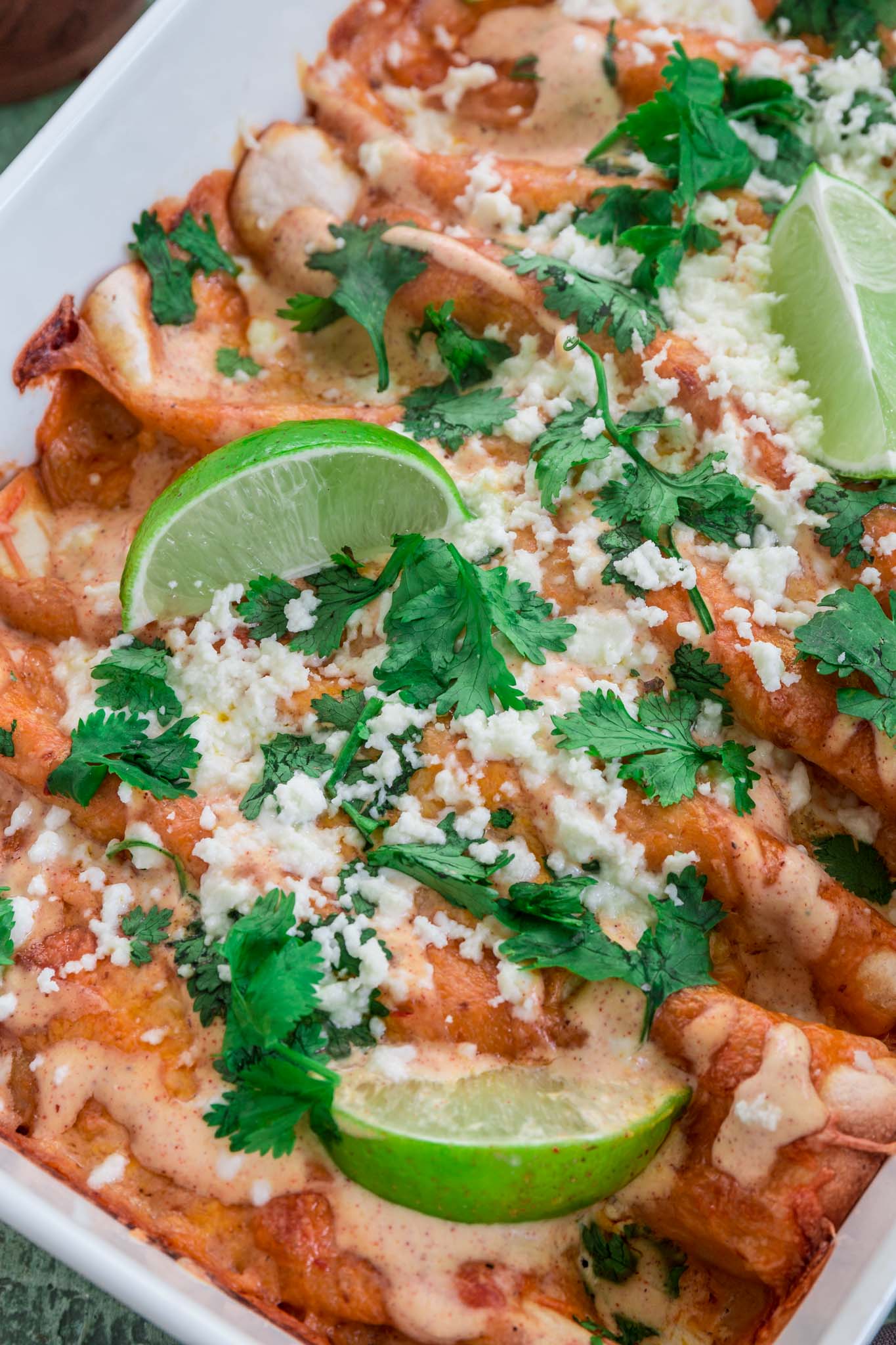 You will notice that I did not add salt or any extra seasonings, as I think that there is plenty of flavor from the chorizo and the Chipotle sauce. However, feel free to season as you'd like and/or to adapt the spiciness of this dish to your liking.
I'm a bit of a spicy wimp and this sauce is quite hot to me. However, my guests thought it was pretty mild, so you might want to start with 1 or 2 peppers and then add more if you can handle it!
I like to serve these chicken and chorizo enchiladas with rice and beans, but they are also great on their own or with a side salad.
Enjoy! :)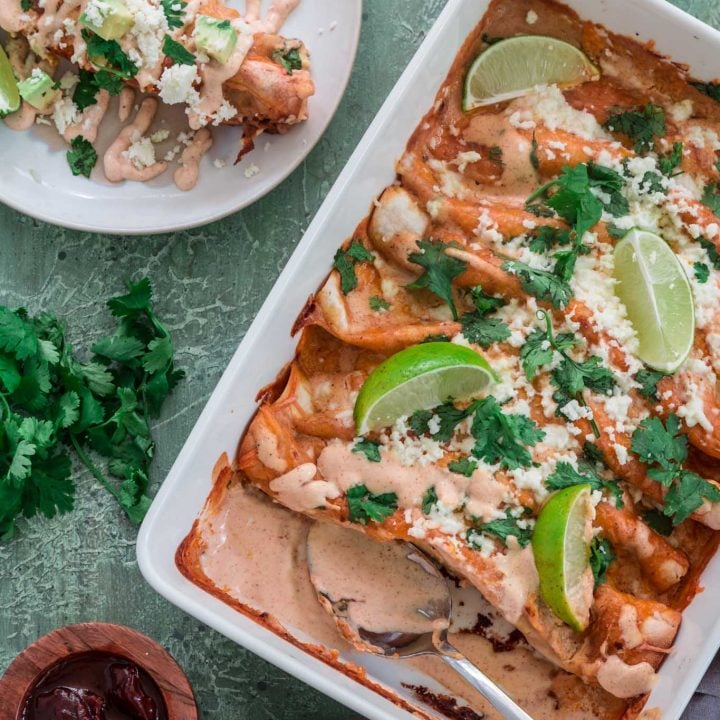 Chicken and Chorizo Enchiladas with Chipotle Crema Sauce
Yield: 6 to 8
Prep Time: 20 minutes
Cook Time: 25 minutes
Total Time: 45 minutes
Ingredients
Chicken and Chorizo Enchiladas
2 tablespoons olive oil
1 small onion, chopped
2 cloves of garlic, crushed
9 ounces Cacique® Mexican pork chorizo
1 pound chicken breasts, cooked and shredded (or substitute for a small rotisserie chicken)
8 large flour tortillas
1 cup shredded cheddar cheese
Chipotle Crema Sauce
1 cup Mexican crema
2-3 small canned chipotle peppers in adobo sauce
3 tablespoons butter
3 tablespoons flour
1 1/2 cups chicken broth
Toppings
1/2 cup Cotija cheese
Cilantro
Lime wedges
Sour Cream
Instructions
Preheat oven to 350F degrees.
In a large skillet, over medium high heat, heat the olive oil and saute the onion and garlic. Add the chorizo and cook for about 5 minutes, breaking it apart with a wooden spoon, until cooked through. Remove from heat and add the shredded chicken, mixing to combine.
Spread the filling into the tortillas and roll them up. Place the enchiladas in a greased 9x13" baking dish. Reserve.
To make the sauce, start by blending the Mexican crema with the chipotle peppers. Taste and add more peppers if you like more spicy.
In a small saucepan, over medium heat, melt the butter and add the flour, whisking to combine. Cook for about a minute to get rid of the raw flour taste. Then, whisk in the broth, cooking until the sauce has thickened. Remove from heat and let it cool slightly before stirring in the Chipotle Crema.
Pour sauce over enchiladas and add the cheddar cheese on top. Bake for 20-25 minutes or until hot, bubbly and golden brown. Top with Cotija and cilantro and serve with lime wedges and sour cream.
I was selected for this opportunity as a member of CLEVER and the content and opinions expressed here are all my own.