Panzanella Salad
Panzanella is the ultimate summer salad! Made with fresh tomatoes when they are at their best, combined with delicious cubes of stale bread that soak up all the flavors from the Italian vinaigrette. This is the salad even salad haters will love!
There's nothing like classic Italian dishes for lunch or dinner! I have quite a collection here on the blog, but highly recommend my Bolognese Sauce, Spaghetti alla Carbonara and Eggplant Caponata!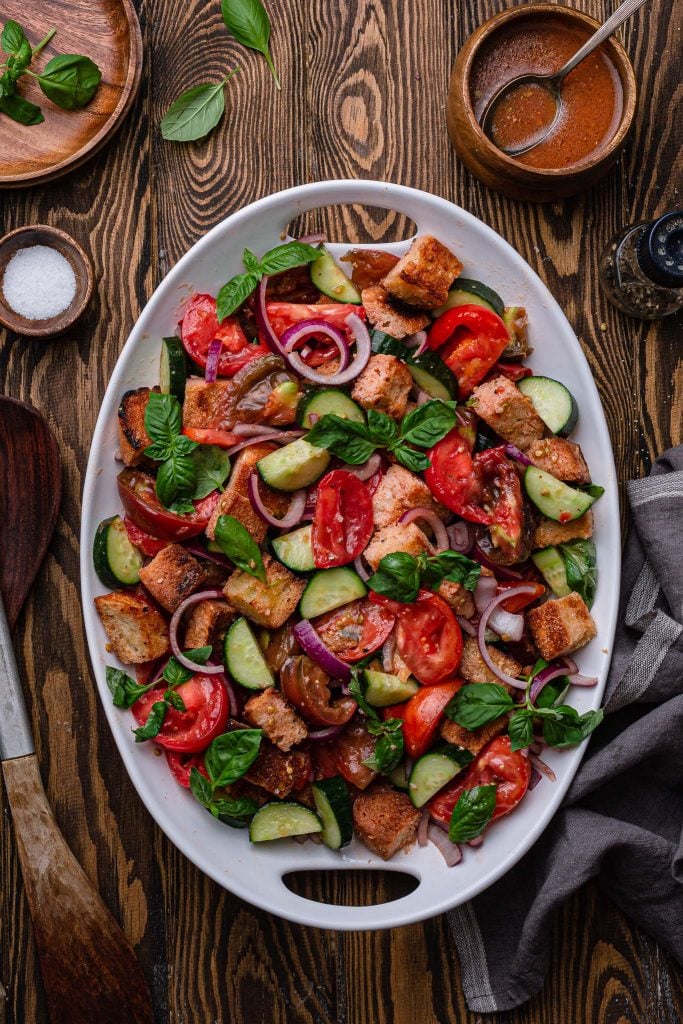 Panzanella: A Tuscan bread and tomato salad
Boring salad eaters, this recipe is not for you!
Now, if your heart flutters at the sound of bread and juicy, summer tomatoes, then hi! Welcome to the best panzanella salad you will ever make.
But there's a catch! You must make this salad NOW, while tomatoes are at their peak.
Will it work in the middle of winter, when the panzanella craving hits but tomatoes are not as amazing? Sure. But it won't be as life changing as it is during tomato season!
So run – don't walk – to your local store, farmer's market or garden, and grab all the tomatoes you can carry! You can thank me later.
In this post, you will learn:
Plus a printable recipe!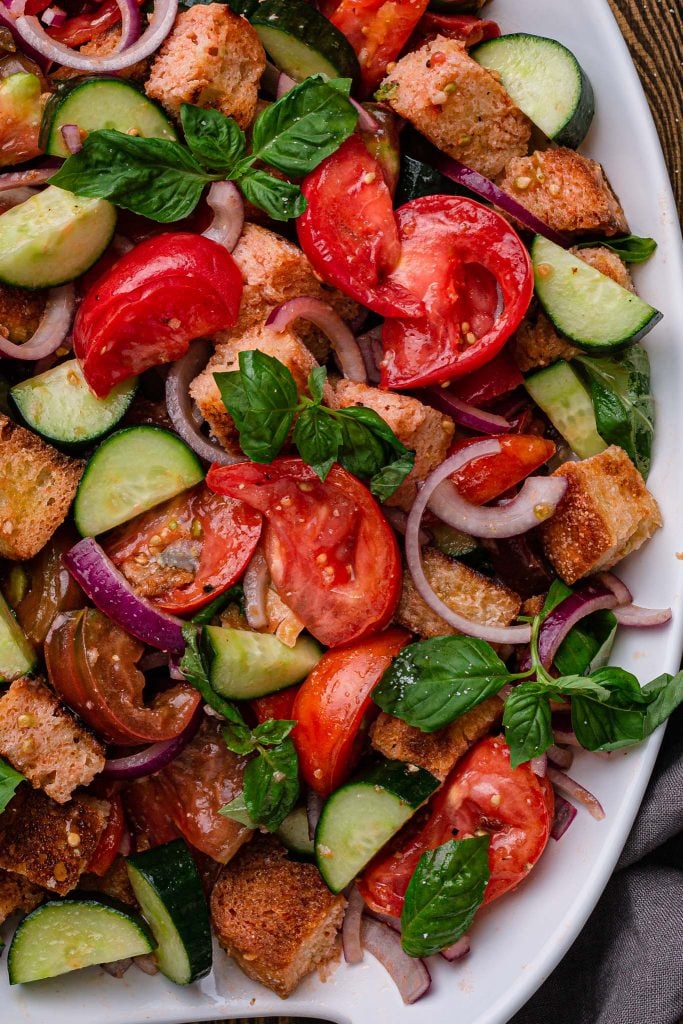 What is Panzanella?
Panzanella (pronounced pahn/dsah/NEHL/lah), also known as panmolle, is an Italian salad made of bread, onions and vegetables, usually tomatoes.
Originated in Tuscany, this salad was a peasant dish that was created as a way to use up stale bread. The stale bread would be soaked in water and squeezed dry before being used in the salad.
Originally, panzanella was based on onions, not tomatoes. It wasn't until the 20th century that tomatoes were introduced.
This salad's first mention dates back to the 16th century, when Renaissance painter and poet Agnolo di Cosimo – usually known as Bronzino – wrote an ode called "In lode delle cipolle" (An Ode to Onions) to this salad.
Here's what he wrote:
chi vuol trapassar sopra le stelle / en'tinga il pane e mangia a tirapelle / un'insalata di cipolla trita / colla porcellanetta e citriuoli / vince ogni altro piacer di questa vita / considerate un po' s'aggiungessi bassilico / e ruchetta
What does the word "panzanella" means?
The word panzanella is a combination of two Italian words: pane (bread) and zana or zanella (a rustic oval dish in which panzanella was traditionally served).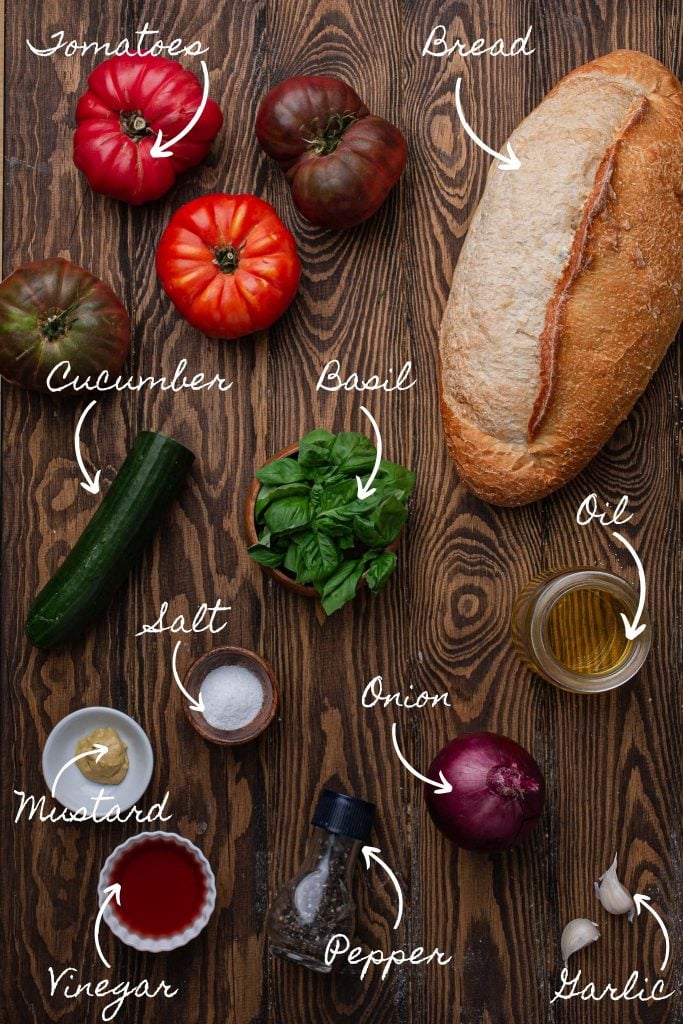 Ingredients
Here's what you'll need to make Panzanella salad:
TOMATOES – Any kind of fresh tomatoes will work! I love using heirloom tomatoes from my garden when they are in season. However, I've made this salad with cherry and vine tomatoes before and it was just as delicious!
BREAD – Panzanella is traditionally made with pan sciocco, or unsalted Tuscan bread. Since we can't find it outside of Italy, I recommend using a day-old crusty bread, like sourdough, Italian bread or a country loaf. However, if your bread is fresh, you can still make this salad! We'll get to that later.
CUCUMBER – I like using half an English cucumber, cause they are seedless (technically they do have seeds but they are very small) and are not as watery, making them perfect for salads!
RED ONION – A sliced red onion is standard in authentic Panzanella. That being said, I often use a sliced shallot instead, for a less pronounced onion flavor! Another trick, if you're not a fan of the pungent flavor of the onions, is to soak them in ice water for 20 to 30 minutes before assembling the salad.
GARLIC – A little minced garlic is a must for an authentic Italian vinaigrette!
VINEGAR – Red (or white vinegar) is standard, but you could also use Champagne or Sherry vinegar if that's what you have on hand!
DIJON MUSTARD – The mustard is not a traditional ingredient in Panzanella, but it acts as an emulsifying agent that encourages oil and vinegar to blend together. Dijon mustard is mellower and more balanced when compared to yellow mustard, and therefore preferred for salad dressings.
OLIVE OIL – The best extra virgin olive oil that you can afford!
SALT – We'll use salt to draw the juices out of the tomatoes (which we'll use for the vinaigrette) and also to season the dressing and salad. I like to use Kosher salt for the tomatoes and dressing, and flakey salt for finishing.
PEPPER – Freshly ground black pepper.
FRESH BASIL – Another characteristic flavor of this salad, the recipe calls for 12 leaves, but use as much as your heart desires!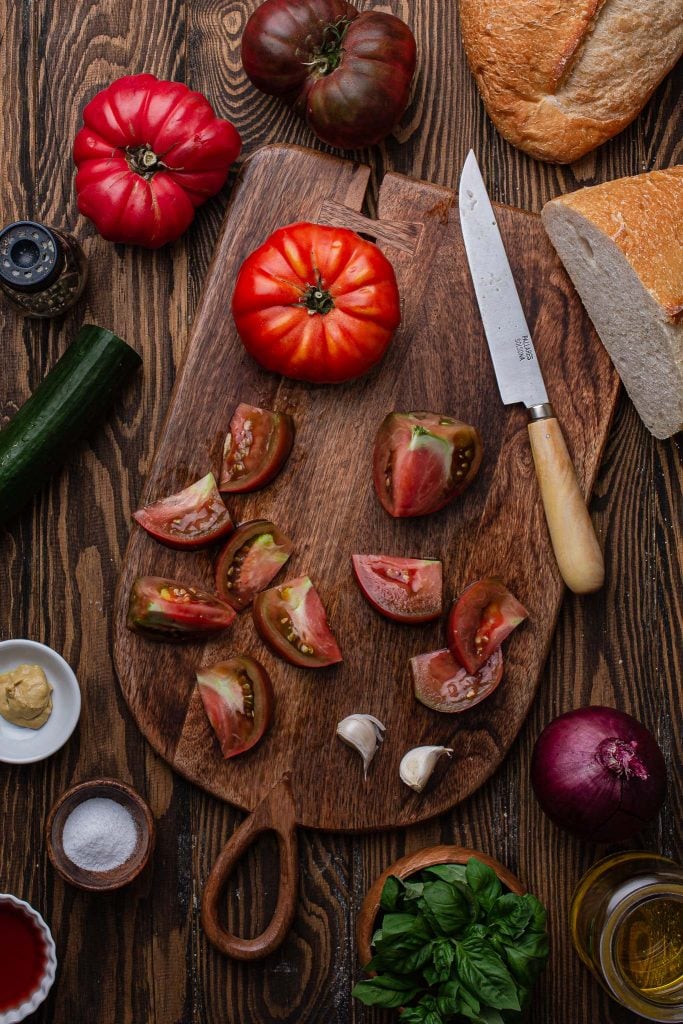 How to make Panzanella Salad
This classic Tuscan salad is straightforward and easy to make. That being said, there are a few tips that will transform it from just okay to "can't stop eating it".
There is a lot of different advice regarding the bread part of panzanella. In my opinion, it works best with one or two day old crusty bread!
If your bread is too stale, you might need to do it the traditional way and soak it in water for a few minutes before using it. If using fresh bread, you can toast it in the oven at 350 degrees for 15 minutes or so, until it hardens a bit.
Don't forget that this is a bread based salad. A lot of tomatoes and a few cubes of bread is not panzanella! This is not a low carb friendly recipe. 😂😂😂
As mentioned earlier, if you're not a fan of onions in salads, you can soak them in ice cold water for 30 minutes to soften the flavor. Or use sliced shallots instead!
Recommended tools and equipment: Chef's knife, cutting board, colander, large skillet, whisk, small bowl, large bowl.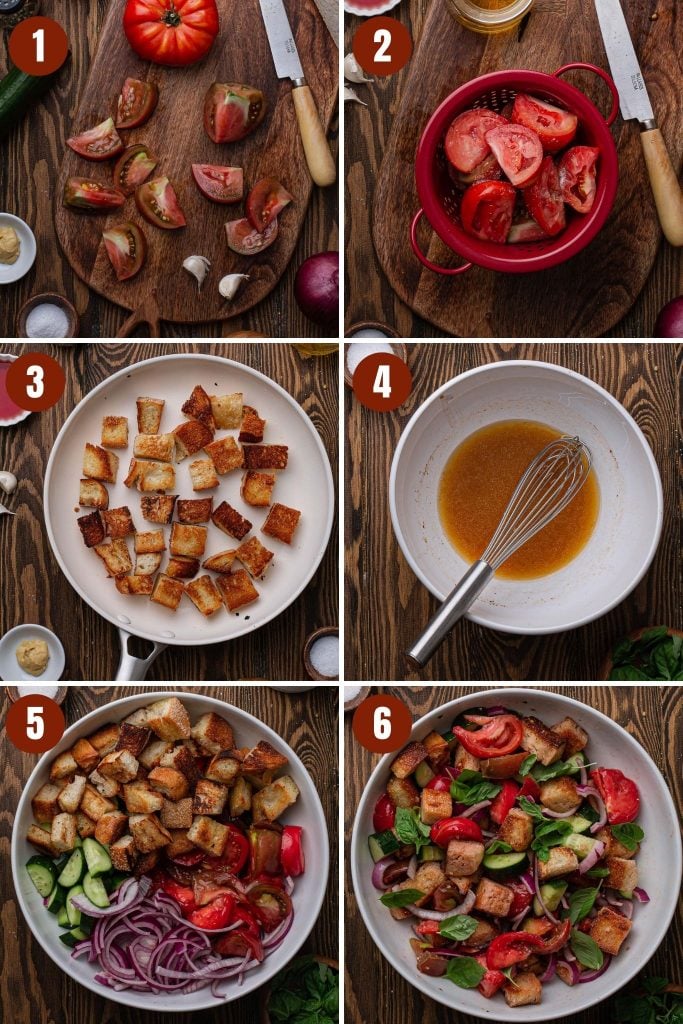 Here's how I make this Panzanella recipe. As always, you will find the printable (and more complete) version of the recipe at the end of this post!
Step 1: Salt the tomatoes and let them sit for 15 minutes.
Cut the tomatoes into bite-size chunks. (Photo 1) If using cherry tomatoes, you can just halve them.
Place the tomatoes in a colander and place the colander over a bowl. Season generously with salt and toss to combine. Let them sit for 15 minutes to draw out some of the liquid. (Photo 2)
Step 2: Fry the bread.
Fry the bread in olive oil until toasty and golden brown. (Photo 3)
Step 3: Make the dressing.
Whisk the tomatoes juices (that resulted from draining the tomatoes) with the vinegar, mustard, garlic, salt and pepper. Slowly add the olive oil, whisking until the vinaigrette is emulsified. (Photo 4)
Step 4: Assemble the salad.
Combine the salted tomatoes, cucumbers, red onion slices and toasted bread cubes in a large bowl. (Photo 5)
Add the vinaigrette and basil leaves. Toss to combine. (Photo 6)
Let it rest for 20 to 30 minutes before serving so the bread can soak up all those amazing flavors!
Olivia's Tip
Salting the tomatoes beforehand helps the them release some of their juices which results in tomatoes that are more intensely flavored and not as watery. Plus, the resulting tomato juices will add flavor to the vinaigrette!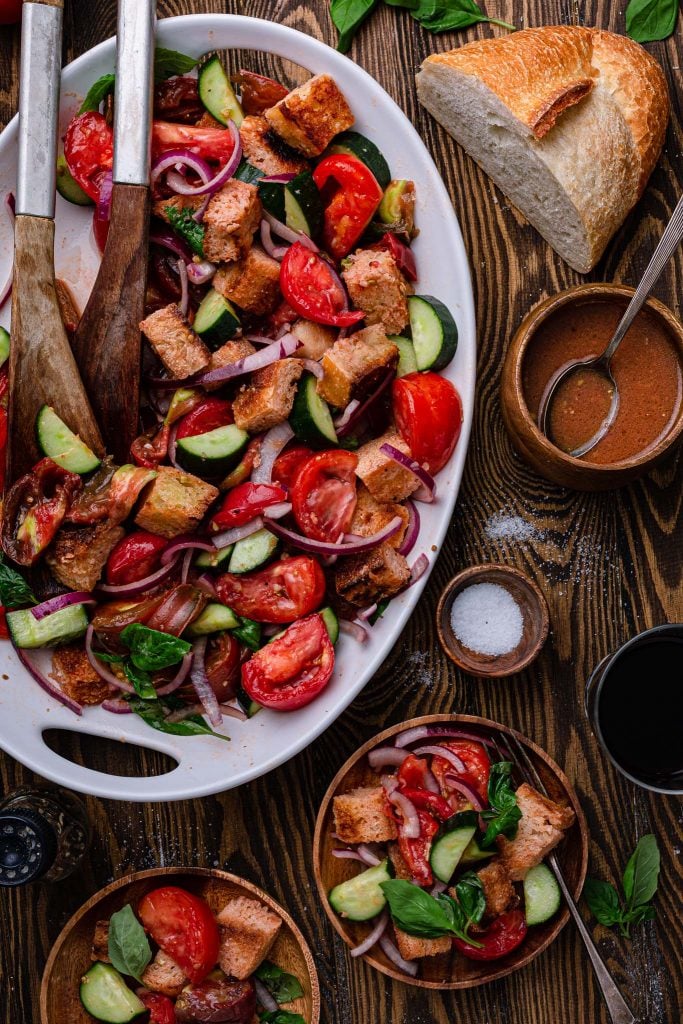 What to serve with Panzanella?
This Italian salad goes great with any grilled meat, like chicken, fish or steak.
It also works as a light lunch or as an appetizer salad!
As for wine pairings, Panzanella pairs great with chilled crisp dry whites or rosés. If you want to keep it Italian, go for a Verdicchio. If not, a good Chardonnay or Sauvignon Blanc will do.
Panzanella Variations
Panzanella salad can be made with any number of vegetables.
Most people think tomatoes are mandatory, but – as I mentioned earlier – panzanella is not a tomato salad, it is a bread salad! Tomatoes weren't added to this salad until at least the 16th century (some say 20th century), when they were brought from the Americas.
So, yeah, while Florentines would disapprove of me saying this, this is a great salad to use whatever you have on hand!
Here are a few suggestions:
Add or substitute some of the veggies. Bell peppers, corn, asparagus, zucchini, artichoke, beets, eggplants, broccoli, you name it!
Add a protein, like grilled steak, grilled (or shredded) chicken or even a fried (or poached) egg.
Make it with fruit instead of vegetables, like peaches or figs. And while we are at it, add some Prosciutto di Parma too! Yum.
Transform it into an antipasto salad, adding olives, capers, charcuterie (like salami), roasted red bell peppers, etc.
Add fresh mozzarella cubes or balls, burrata or ricotta!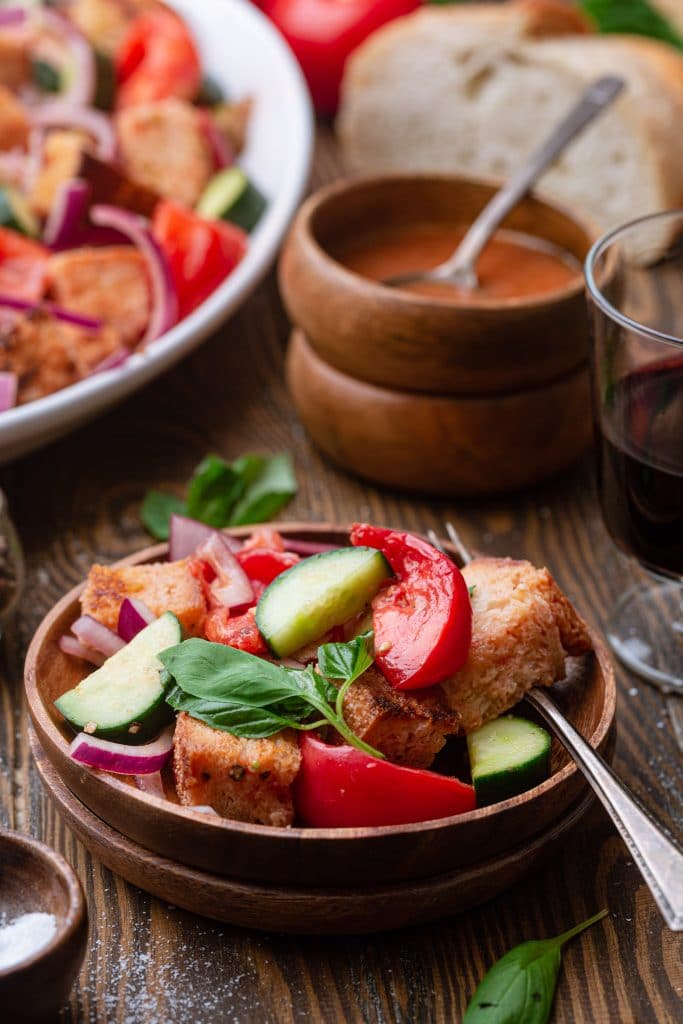 Frequently Asked Questions
Does Panzanella keep?
Panzanella doesn't really keep well, as the bread will get very soggy.

That being said, leftover Panzanella makes a great Gazpacho-style soup. Just blend the leftovers with a couple extra tomatoes and serve cold! Or heat it up, if you prefer.
Can I make this salad with croutons?
This recipe won't be the same with store bought croutons. You truly need a good crusty bread that will soak up all the delicious flavors!
How far ahead can I make panzanella?
At least 30 minutes, but up to a couple hours. Honestly, that will depend on how stale is your bread.

If using bread that is only a day or two old, I find that you should serve the salad within one hour, otherwise the bread can get too soggy!
Did you make this recipe? I love hearing from you! Please comment and leave a 5-star rating below. You can also take a photo and tag me on Instagram with #oliviascuisine.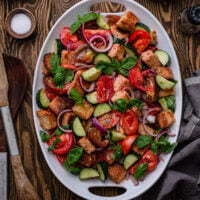 Panzanella Salad
Panzanella is the ultimate summer salad! Made with fresh tomatoes when they are at their best, combined with delicious cubes of stale bread that soak up all the flavors from the Italian vinaigrette. This is the salad even salad haters will love!
Ingredients
2 1/2 pounds ripe tomatoes, cut into bite-size chunks or wedges
2 teaspoons kosher salt
1 small day-old crusty bread, cut into 1-inch cubes (about 6 cups)
At least 3 tablespoons extra virgin olive oil
1/2 large English cucumber, cut into 1-inch pieces
1/2 small red onion, sliced
About 15 basil leaves, torn or sliced into ribbons
For the vinaigrette:
3 tablespoons red wine vinegar
2 cloves garlic, grated or minced
1 teaspoon Dijon mustard
Kosher salt and freshly ground black pepper
1/2 cup extra virgin olive oil
Instructions
Place the tomatoes in a colander over a bowl. Season with the salt and toss to combine. Let them sit for 10-15 minutes.

Heat 2 tablespoons olive oil in a large skillet, over medium-low heat. Working in batches if necessary, add the bread cubes and cook, turning as they brown, until golden brown, about 10 minutes. You can add more olive oil as needed. Reserve.

Remove the colander with the tomatoes from bowl and reserve. To that bowl with the tomato juices, add the vinegar, garlic, mustard and a pinch of salt and pepper. Whisking constantly, slowly add the 1/2 cup olive oil to emulsify. Reserve.

In a large bowl, combine the salted tomatoes, cucumber, sliced onion and fried bread. Drizzle the vinaigrette, season with salt and pepper, and add the basil, tossing to combine.

Let it sit for at least 30 minutes before serving.

When ready to serve, garnish with more fresh basil if desired!
Notes
Bread:
Any rustic crusty bread will work here. I like to use sourdough, but a country loaf or Italian bread will do!
Make ahead:
Panzanella is the perfect make-ahead salad as it should sit for at least 30 minutes. However, I would serve within an hour or two, so the bread doesn't get too soggy and risk disintegrating.
Leftovers:
Unfortunately, panzanella leftovers don't keep well. That being said, they make a great Gazpacho-style soup!
Nutrition
Calories: 206kcal, Carbohydrates: 9g, Protein: 2g, Fat: 19g, Saturated Fat: 3g, Polyunsaturated Fat: 16g, Sodium: 609mg, Fiber: 2g, Sugar: 4g
If you love this recipe, you will also like: