Prosciutto Wrapped Turkey Roulade with Pomegranate-Port Reduction Sauce
No time to roast a whole turkey? Knock the socks off your guests with this simple and quick to assemble turkey roulade. Moist, stuffed with pancetta, pistachio and cranberries, wrapped in Prosciutto di Parma and served with a lip-smacking pomegranate port reduction sauce. One bite and the holidays will never be the same again!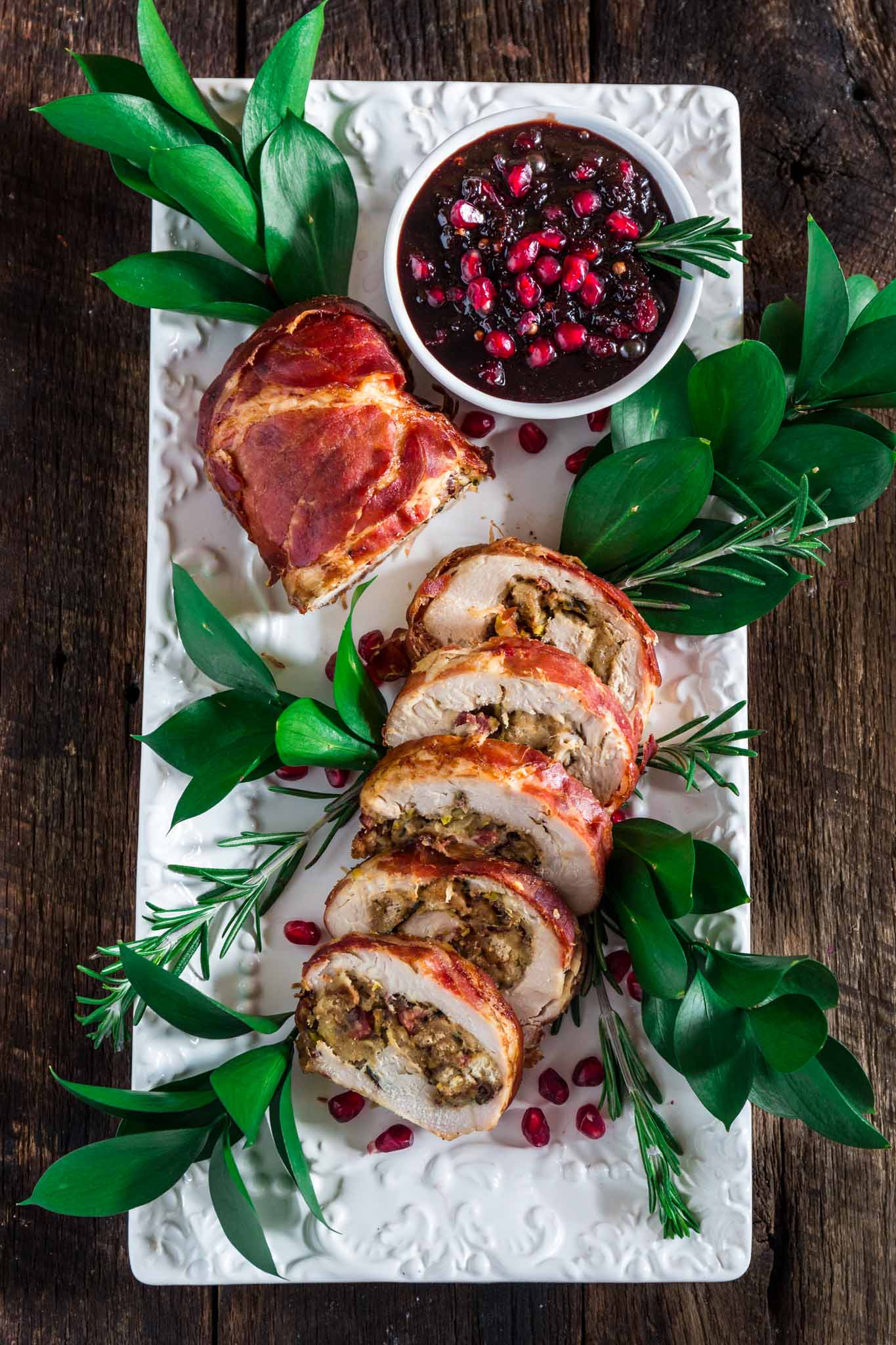 Thanksgiving is one week away!
There, I did it. I started the post with this small phrase that has the power to freak out even the most "got it all together" person in the world.
Do you hate me a little? It's okay, cause I'm definitely hating myself for popping my own bubble of ignorant bliss, where I lived the last month or so pretending it was totally okay to not have my life together, after all the holidays were so far away… *facepalm*
And while I feel like I should curl up into a ball, hide under the blankets and never come out, there simply isn't time for that. Because we are hosting Thanksgiving to a few friends! Oh, what was I thinking? ??? So excuse me while I go into my screaming chamber (aka shower) to get this anxiety out of the way…
There, I'm ready! Are you ready? No? It doesn't matter, cause we are moving forward anyway!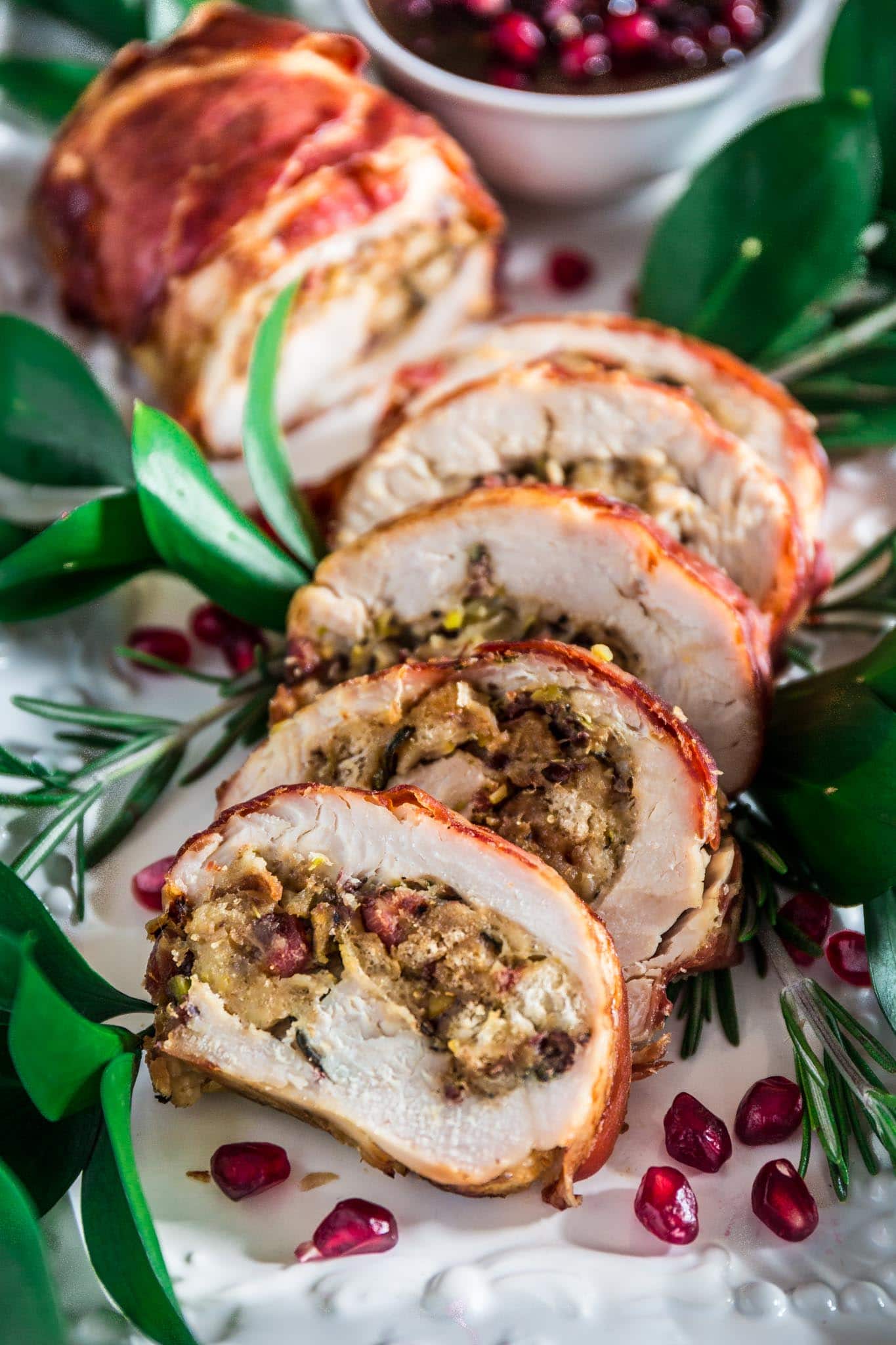 The good news is that you can still put together an awesome Thanksgiving dinner that is both impressive and stress-free.
There is no way around it, the biggest source of Thanksgiving stress is roasting the bird. For many people, myself included, the turkey is a deal breaker and the reason people come to your party anyways… But figuring out if you want to brine, stuff or glaze and calculating how long to cook it and how to carve it without destroying the whole thing, is a hell of an exasperating task!
But what if I told you there is an easier way? That you could have your turkey and eat it too?
My go-to turkey solution for when I'm hosting a smaller gathering (or a big one but with no energy to do the whole turkey thing), is to make a turkey roulade instead. I know it sounds daunting, but it is really easy to put together and requires no brining/basting/flipping/whatever it is that you do when you roast a big turkey.
And because I save money and time, I have extra resources to go all the way and make this a turkey roulade to remember. So I stuffed it with all the noms, made a fancy sauce and – the best part – wrapped it in my favorite prosciutto: Prosciutto di Parma!
And now, my friends, is the part where I get all nerdy about prosciutto.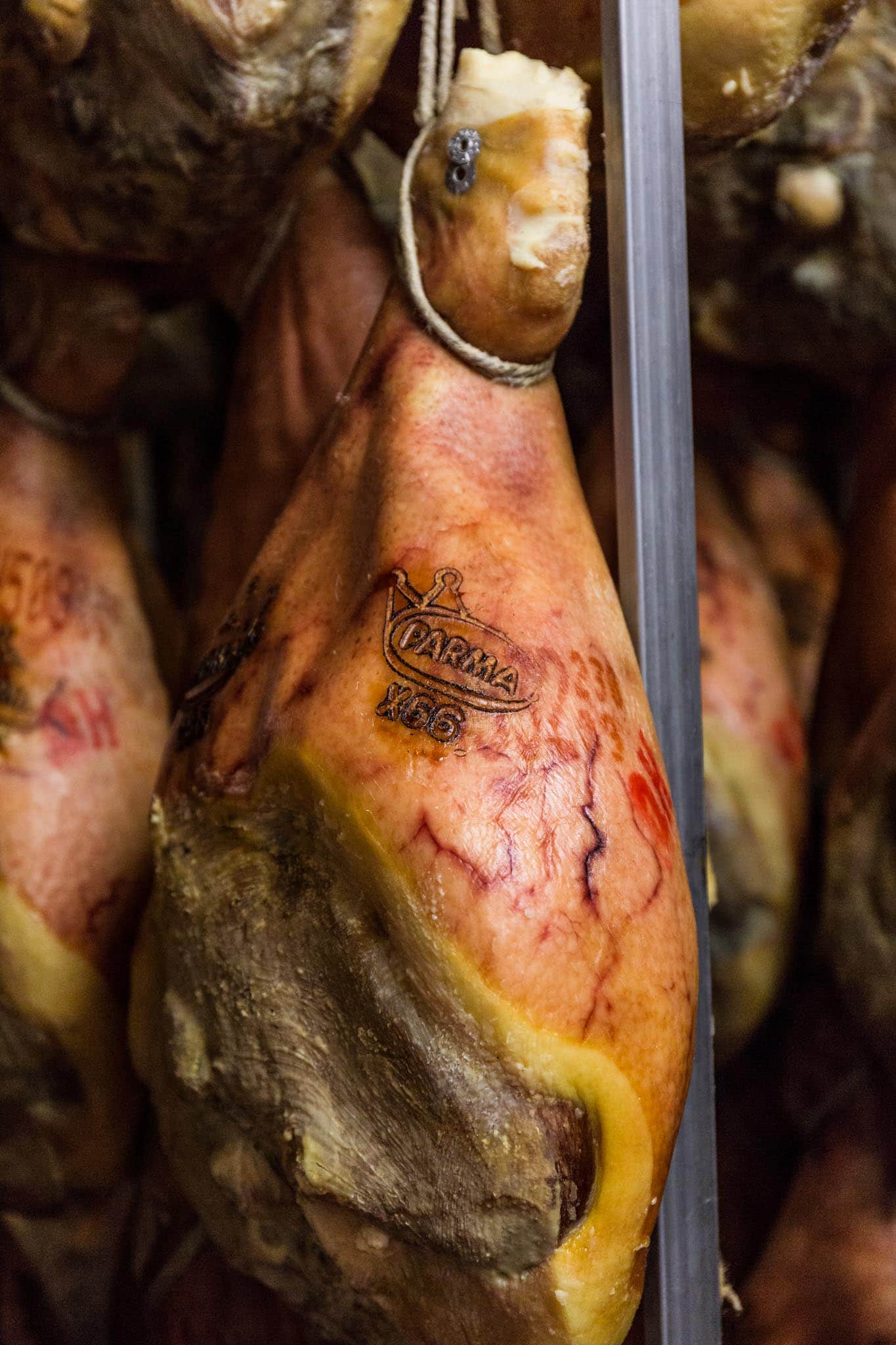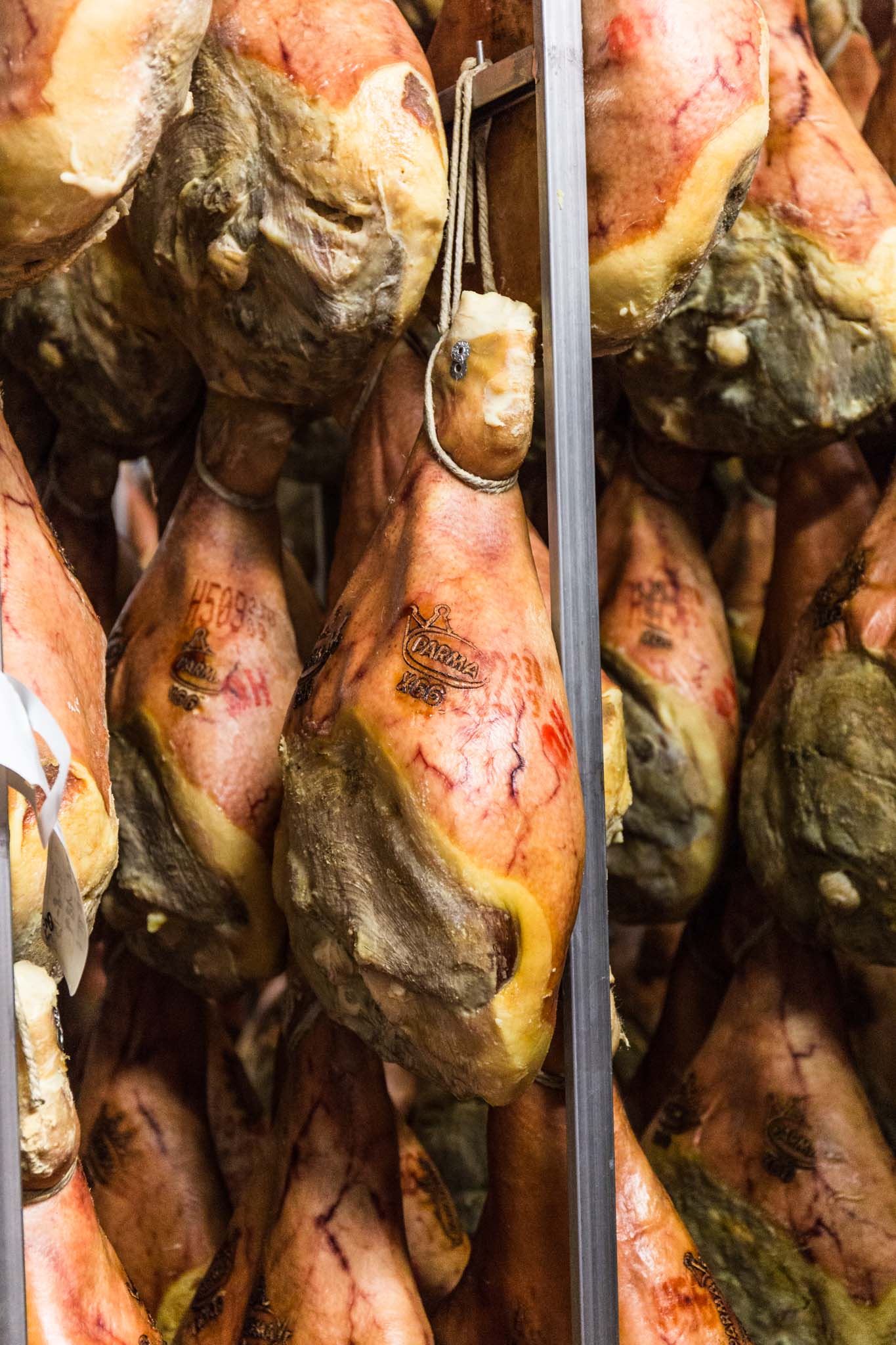 A Road Trip to Parma
Last month, while in Italy, I had the opportunity to connect with my friends from Prosciutto di Parma and they arranged for me and my family to visit a prosciuttificio.
So we went on a road trip to Felino, in Parma, where we met Margherita and Paolo from Greci & Folzani to learn all about making prosciutto.
Being part Italian and having grown up in a city (São Paulo) with a huge Italian immigrant population, it is no surprise that I've been eating Prosciutto di Parma since I was a little girl. My uncle would smuggle a leg of prosciutto through Brazilian immigration every time he visited his home country and we would gather, during special occasions, to watch him slice that baby as it was a big piece of butter.
But the truth is I never cared to find out how Prosciutto di Parma was made. I just assumed it was like any other cured meat and I couldn't be more wrong!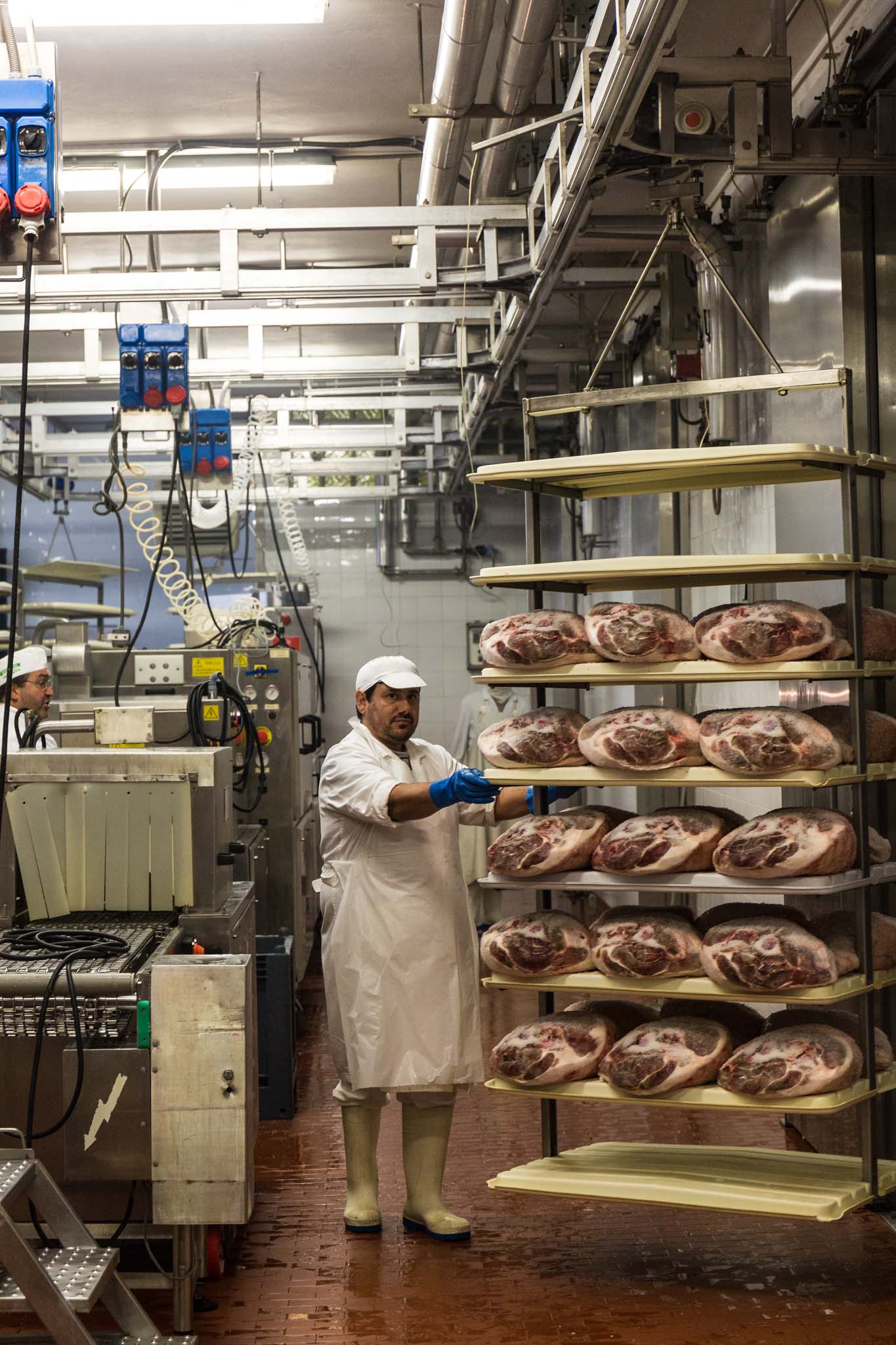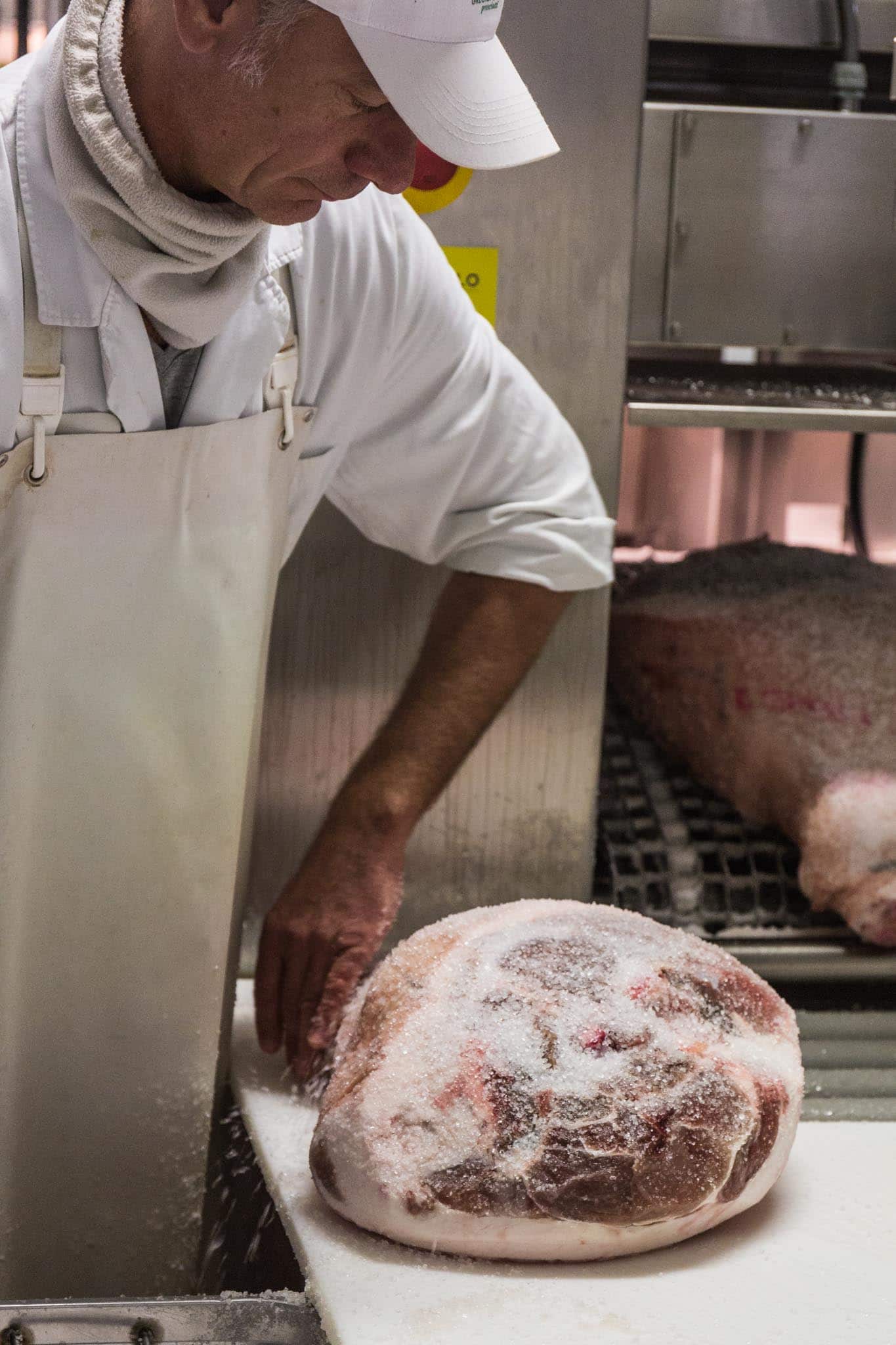 Sea Salt, Italian Air and a Lot of Time
When you read these words, it's easy to think that making prosciutto is simple. It is not! Natural? Yes. But it requires a lot of salting, and then resting, and washing, and then some more salting, and more resting, and… Well, I'm sure you get the picture!
But I was impressed to learn that no chemicals are added to Prosciutto di Parma. Nope, not a single additive or preservative! It is 100% natural. The Consorzio del Prosciutto di Parma ensures that the traditional and rigorous methods for curing this beloved ham always remain the same and, at the end, they brand each ham with the famous Parma Crown to ensure authenticity. Because why change a process that has been perfect for thousands of years, right?
And what does the Parma Crown means? It means not only that the traditional methods of curing are used but also that the prosciutto is coming from producers that are only located around Parma, within the Emilia Romagna region of Italy, where the mountain air is sweet, dry and aromatic.
Also, if you, like me, are a conscious carnivorous, you'd be happy to know that only specially bread, humanly raised pork is used!
The Curing Process
Once the legs reach the prosciuttificio, they are tagged with a button, indicating the date it began curing.
Next, salting is completed by hand in the traditional manner, by the maestro salatore, or salt master, who uses only the minimal amount of sea salt necessary. This makes Prosciutto di Parma taste less salty than other cured hams.
Then, they take the hams to a climate-controlled, refrigerated room where they are held for 70 days to ensure the meat properly absorbs the sea salt. The hams are then washed with warm water to remove excess salt and any impurities and then go on another "vacation", to a drying room, for a few days. After that, they are transferred to well-ventilated rooms with large windows (here's where the famous Parma air gets to work!) where they will dry for about three months. This is the most critical step, and the reason Prosciutto di Parma is so special!
The rolling hills around Parma create an ideal environment that includes the Apennine Mountains, which offer crisp breezes that flow from the Adriatic Sea and a distinct microclimate that gives Parma Ham its uniquely sweet flavor.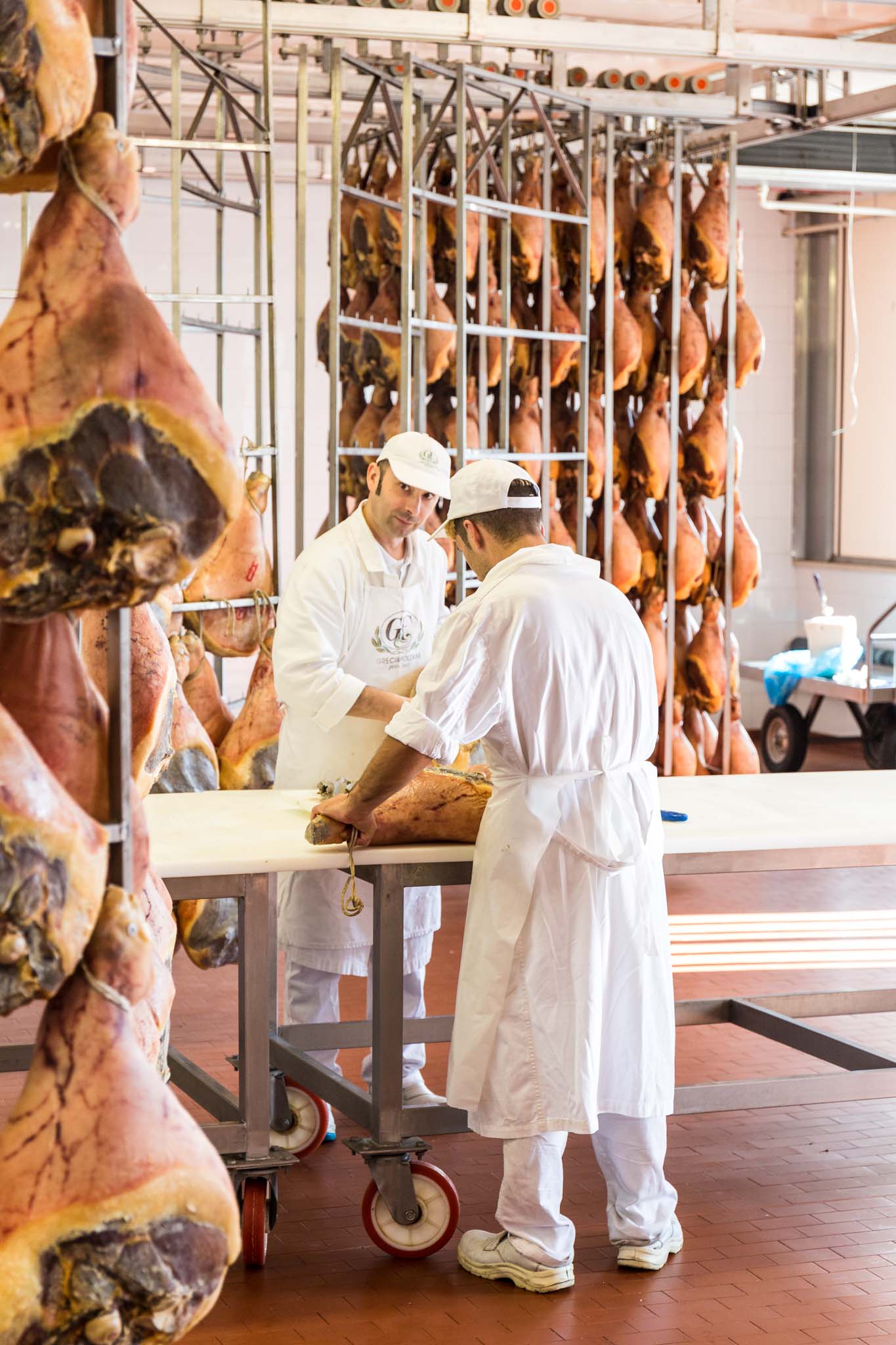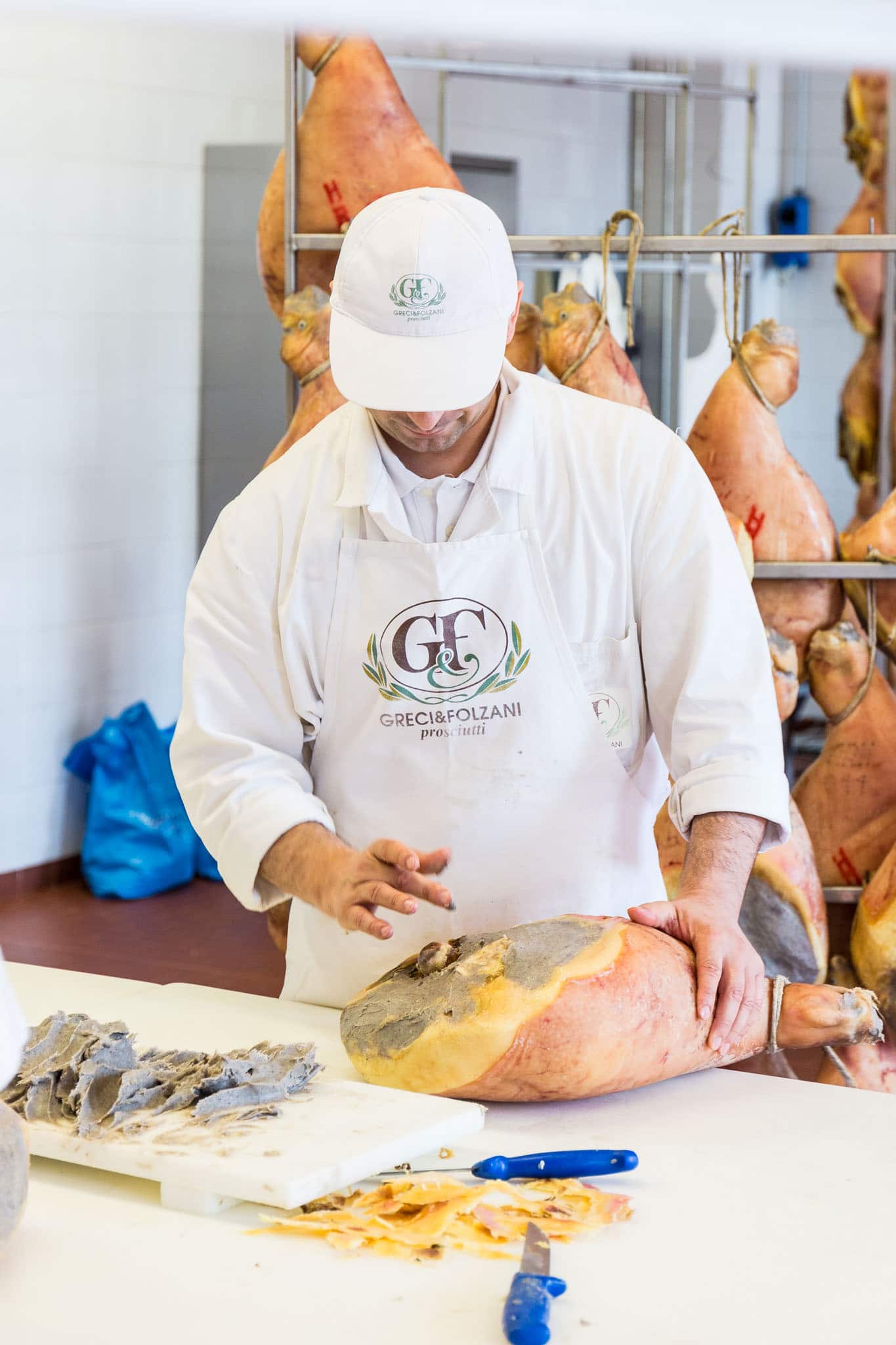 Once the hams are dry, they are softened with a mixture of lard, salt and pepper to prevent the external layers from drying too quickly.
And then they go again, to rest for a loooong time (some hams are aged up to 36 months!), until it is time to sniff that stick! ?
An independent inspector (our friend Paolo in the picture below) pierces the ham in several locations with a horse bone needle, sniffing it after each puncture to check for scents that may indicate any flaws or spoilage.
The horse bone is used because it absorbs and releases scent quickly, which helps Paolo tell if there's anything wrong with the ham, but lets him use it again for the next ham.
Only the hams that pass this rigorous test become Prosciutto di Parma and are fire-branded with the Parma Crown.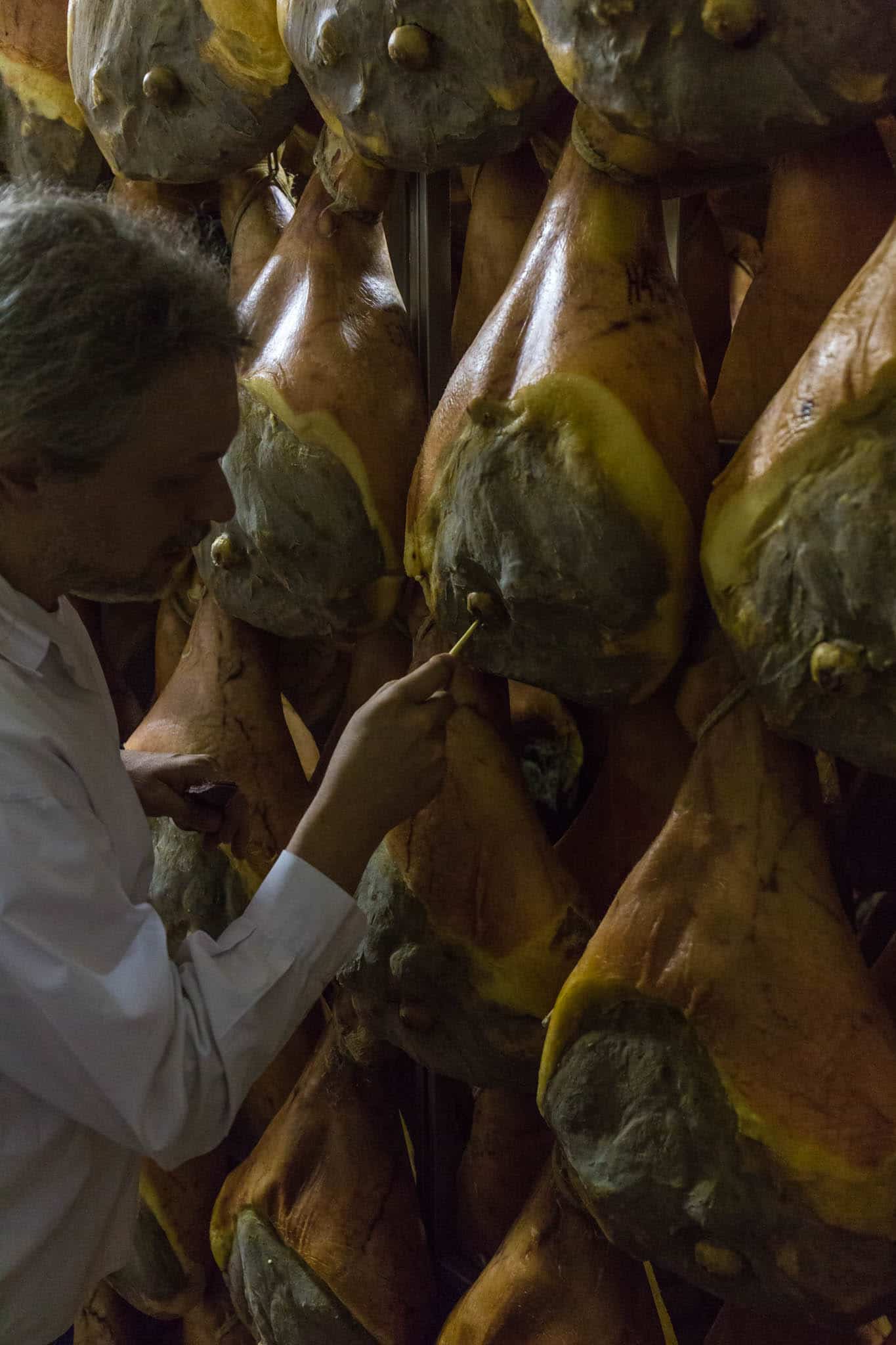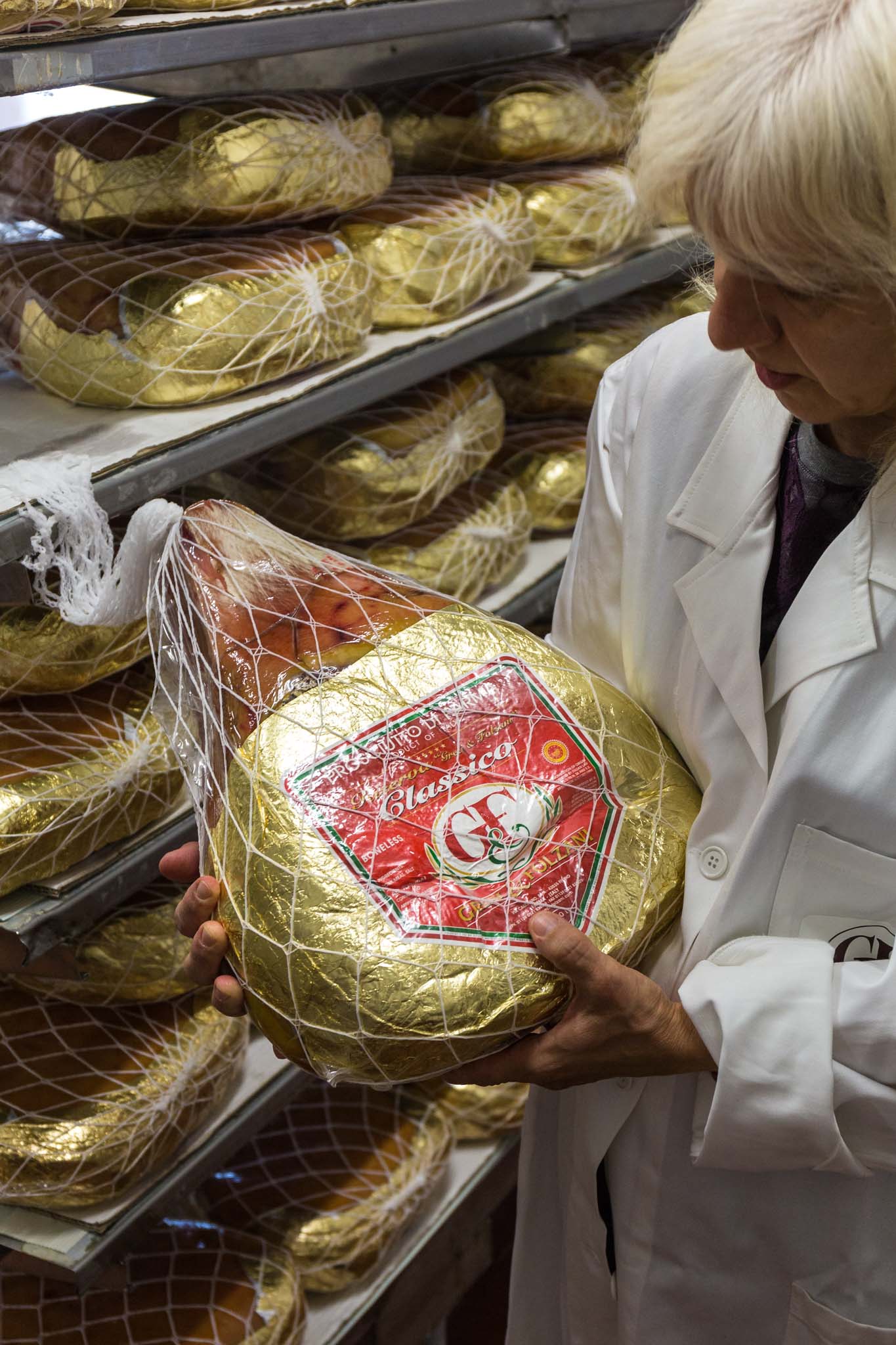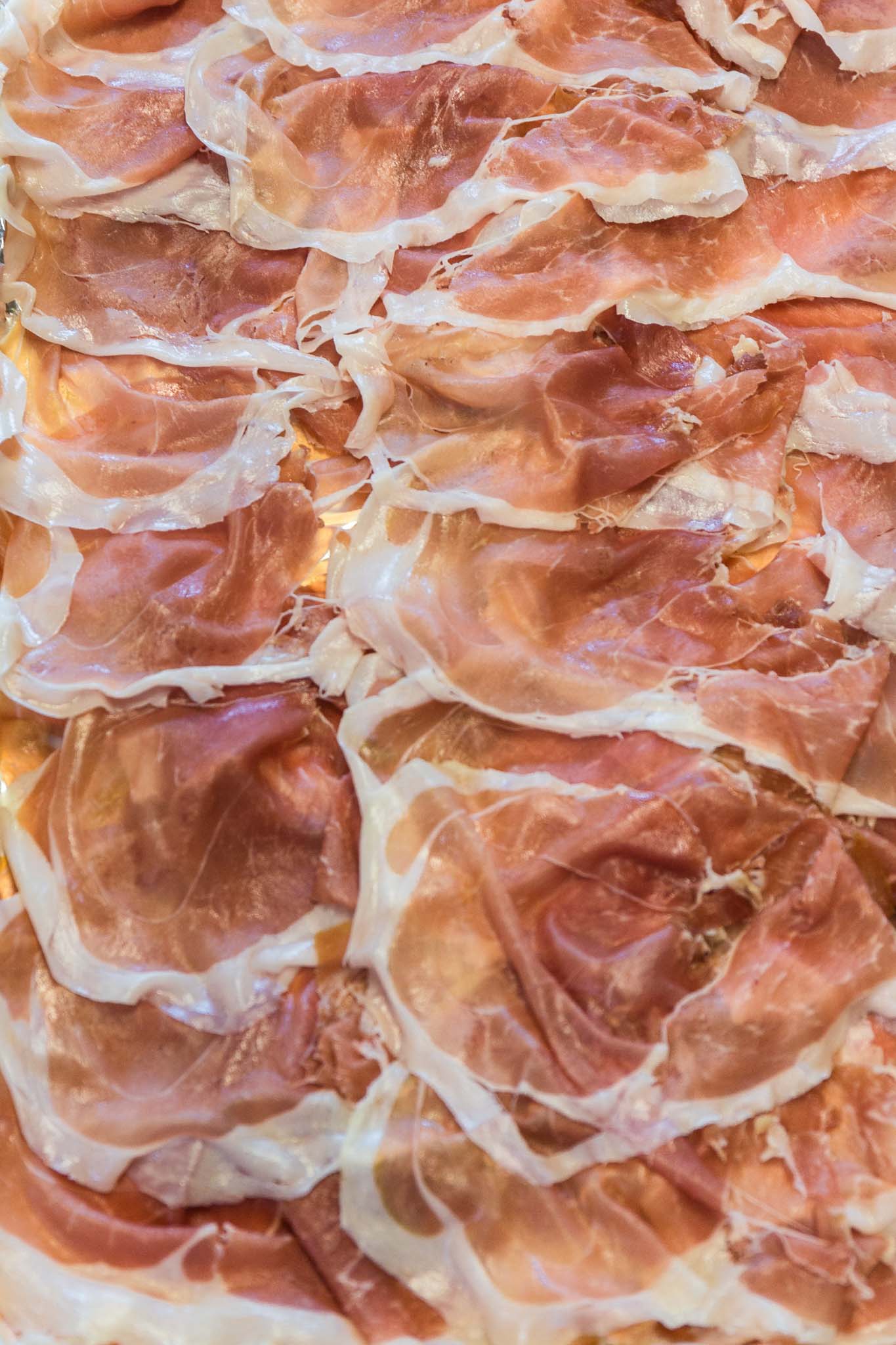 And there you have it, my friends. The reason why you should always look for the Parma Crown when buying prosciutto. That is, if you want to get the highest quality prosciutto available! ?
If you're ever in Parma, I highly recommend reaching out to the Consorzio to set up a visit to a prosciuttificio. And if you happen to be there in mid-September, you can participate in their famous Parma Festival where you'll have the opportunity to learn all about the city's history, interact with the producers, understand how prosciutto is made, and of course, eat plenty of delicious prosciutto! ???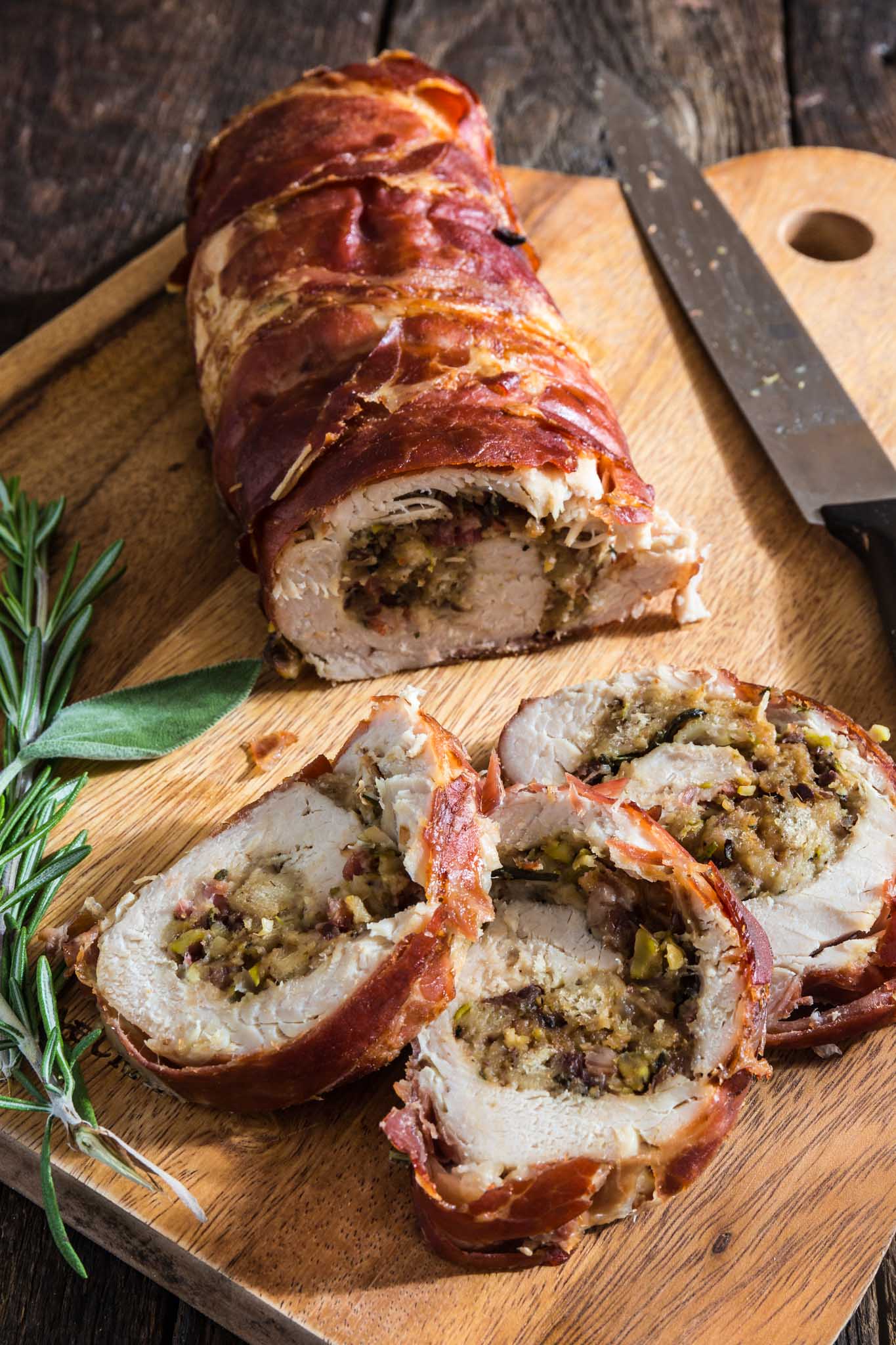 I hope this loooong post convinced you that Prosciutto di Parma belongs on your holiday table. It surely makes an appearance on mine every year!
Chances are you already love prosciutto, but if you're not yet familiar with it, it is time to give it a try. And what better way to start than my making this delicious holiday dish?
It doesn't matter if you're a prosciutto connoisseur or a beginner, you really should give this Prosciutto Wrapped Turkey Roulade a try this Thanksgiving or Christmas. The delicate sweet/salty flavor really elevates the turkey into a memorable dish that will get you all the oohs and aahs from your delighted guests.
You might never want to roast a whole turkey again!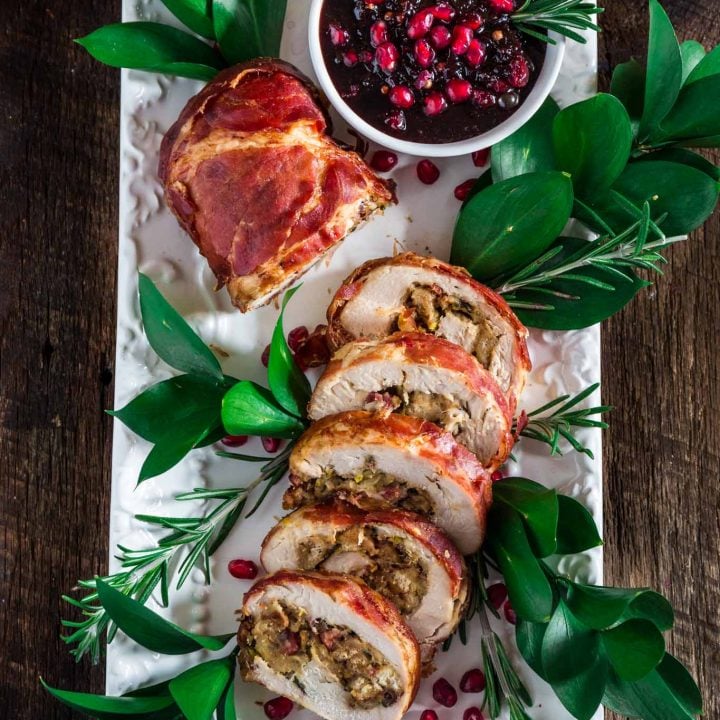 Prosciutto Wrapped Turkey Roulade with Pomegranate-Port Reduction Sauce
Yield: 6 to 8
Prep Time: 30 minutes
Cook Time: 1 hour
Total Time: 1 hour 30 minutes
Ingredients
Prosciutto Wrapped Turkey Roulade:
1 boneless, skinless turkey breast half (about 3 pounds)
10-12 slices Prosciutto di Parma
Pancetta, Pistachio and Cranberry Stuffing:
1/4 loaf crusty bread, crust removed, cut into 1/2-inch cubes
4 ounces pancetta
1 small onion, finely chopped
1 celery stalk, finely chopped
3 cloves garlic, minced
1 tablespoon chopped rosemary
1 tablespoon chopped thyme
1 tablespoon chopped sage
2 tablespoons unsalted butter
1/3 cup pistachios, chopped
1/4 cup dried cranberries, chopped
1/2 cup chicken or turkey broth
Salt and freshly ground pepper to taste
Pomegranate-Port Reduction Sauce:
3 tablespoons butter
1 large onion
2 cloves garlic
1 tablespoon white peppercorns
1 cup port wine
5 cups chicken broth
2 cups pomegranate juice
2 tablespoons pomegranate molasses
1 tablespoon brown sugar
Salt and freshly ground pepper to taste
1/2 cup pomegranate seeds
Instructions
Prepare the stuffing - Preheat oven to 400 degrees. Place the bread cubes on a baking sheet and bake until dry, about 10 minutes. Keep the oven on and transfer bread cubes to a bowl.
In a large skillet, over medium heat, add the pancetta and cook until it releases fat and turns golden brown, about 2 minutes. Add the onion, celery, garlic and herbs and cook until softened, about 2-3 minutes. Add the butter and let it melt and moisten the veggie mixture.
Transfer the pancetta veggie mixture to the bowl with the bread. Add the cranberries, pistachio and broth and stir until the bread is moistened. Season with salt and pepper to taste.
Butterfly and flatten the turkey - Place the turkey on a work surface and run a sharp knife parallel to the counter, starting on the thicker side, cutting the turkey almost completely in half without cutting all the way through, like a butterfly. Cover with plastic wrap and, using a meat mallet, pound the turkey breast to a 1/2-inch thickness. Remove plastic and season generously with salt and pepper.
Stuff the turkey roulade - Spread the stuffing on the prepared turkey, leaving a 1/2-inch border all around. Starting with a short side, roll breast in jelly-roll fashion into a log. Place seam side down on a baking sheet.
Wrap the turkey roulade with prosciutto - Drape prosciutto slices over turkey breast, overlapping slightly to cover completely. Use kitchen twine to tie in 2-inch intervals.
Roast the turkey roulade - Roast , uncovered, until a meat thermometer inserted in the thickest part registers 165F degrees, about 45 minutes to 1 hour. Remove from oven, cover and let it rest for 10 minutes before slicing.
Make the sauce - In a large saucepan, over medium heat, melt the butter and cook the onion and garlic until softened and fragrant, about 2-3 minutes. Add the peppercorns and continue cooking for another couple of minutes.
Add the port wine and cook until most of it has evaporated. Then, add the chicken broth, pomegranate juice, molasses and brown sugar. Turn the heat up to medium high and cook the sauce until reduced to a sauce consistency. Season with salt and pepper and transfer to a serving dish. Add the pomegranate seeds and serve with the turkey.
Notes
Make Ahead - Unlike a whole turkey, the turkey roulade can be made one day ahead and refrigerated - wrapped in plastic - until ready to roast.
A huge thanks to my friends at Consozio del Prosciutto di Parma for sponsoring this post.