Roasted Turkey with Herb Butter
This is the roasted turkey recipe that I make for Thanksgiving every year! Crispy skin, moist meat and so flavorful. If you need a good recipe for turkey day, look no further. This one is a winner!
I hope you're as excited as I am, because this Roasted Turkey with Herb Butter is the reason I love Thanksgiving so much.
Okay, okay, hold your horses. I do also love the whole idea of gathering family and friends to celebrate love and being thankful for all sorts of things. But I can't, won't, deny that the food is the reason it is my second favorite holiday (Christmas being the first, obviously)!
People think that the fact that I love Thanksgiving (and that I love country music) so much is hilarious. "How can you love Thanksgiving if you're not American?".
Well, it turns out you don't have to be born and raised American to enjoy a good holiday with the people we love. ❤️ And, of course, all that delicious wine and food! Because a good part of Thanksgiving IS eating until you rip your pants apart, isn't it?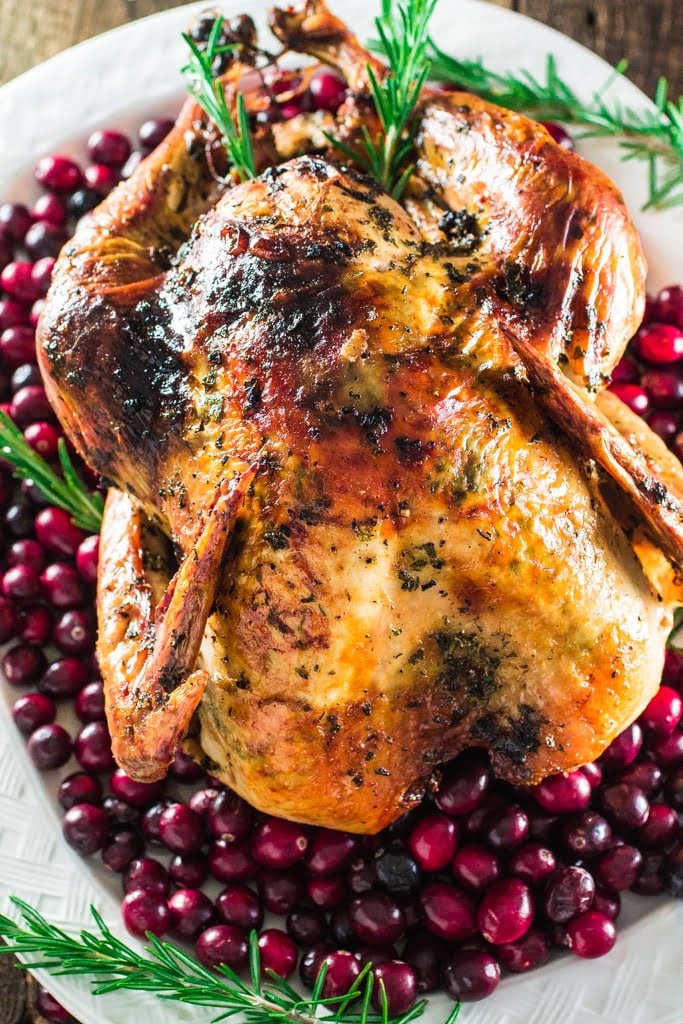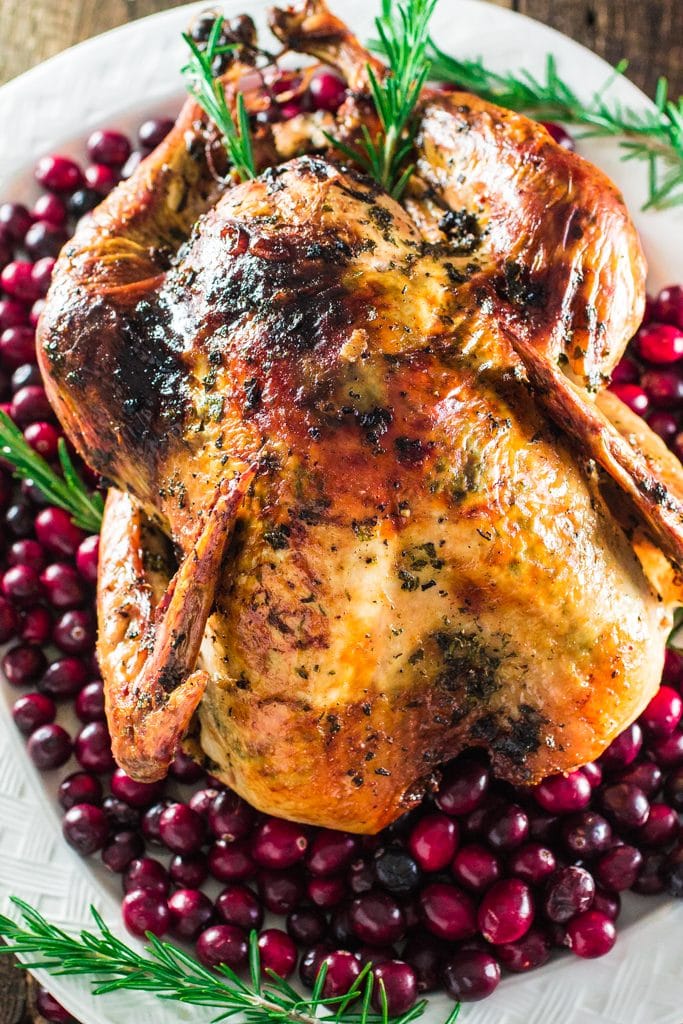 Until 3 years ago, I had never roasted a whole turkey before.
In Brazil, we do the whole turkey thing for Christmas, and my family usually goes to other relatives homes for the party. So preparing a bird was never necessary, until my American friends decided I would be the one hosting Thanksgiving in 2012!
I was already dating Tim (my husband) back then and he can testify to the chaos that my kitchen was that day.
I not only accepted the challenge of hosting Thanksgiving for my friends, but I also decided to make everything from scratch. EVERYTHING, including homemade bread and homemade vanilla ice cream!
What was I thinking, God? All I can say is that I am glad that he stayed with me (and thought I was marriage material) after that day. Yep, making a whole Thanksgiving meal from scratch in a tiny Manhattan kitchen can be quite challenging!
BUT, I did learn how to make a turkey (Thank you, Google and Youtube!). And my friends, who usually buy a turkey when they host Thanksgiving, were beyond impressed and called that day a "Gourmet Thanksgiving". I don't know about you, but I consider that the ultimate compliment for a home chef!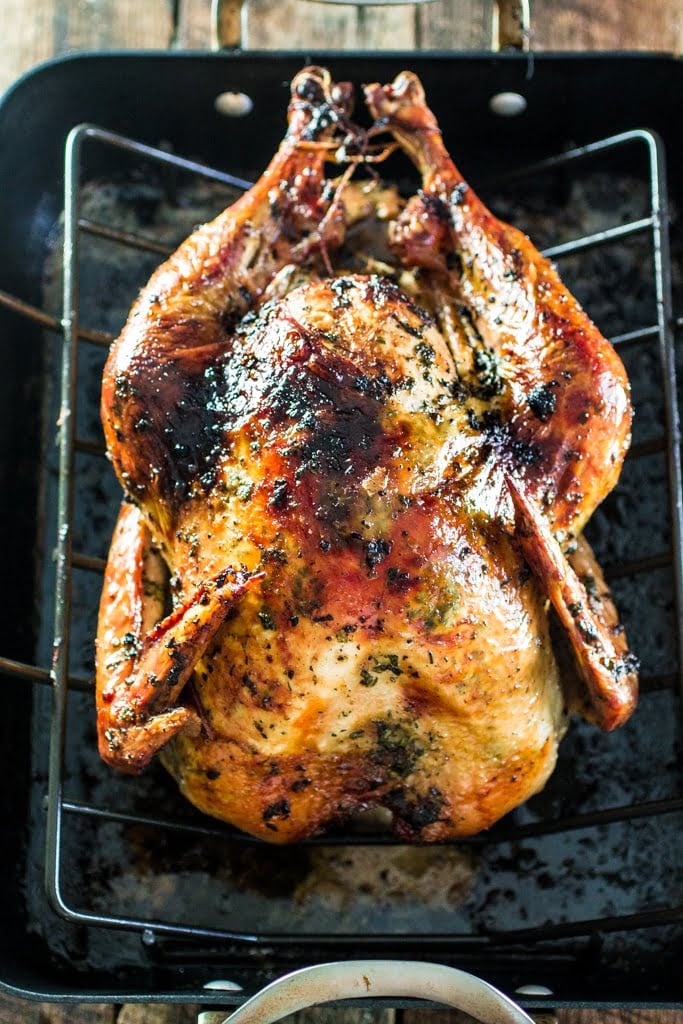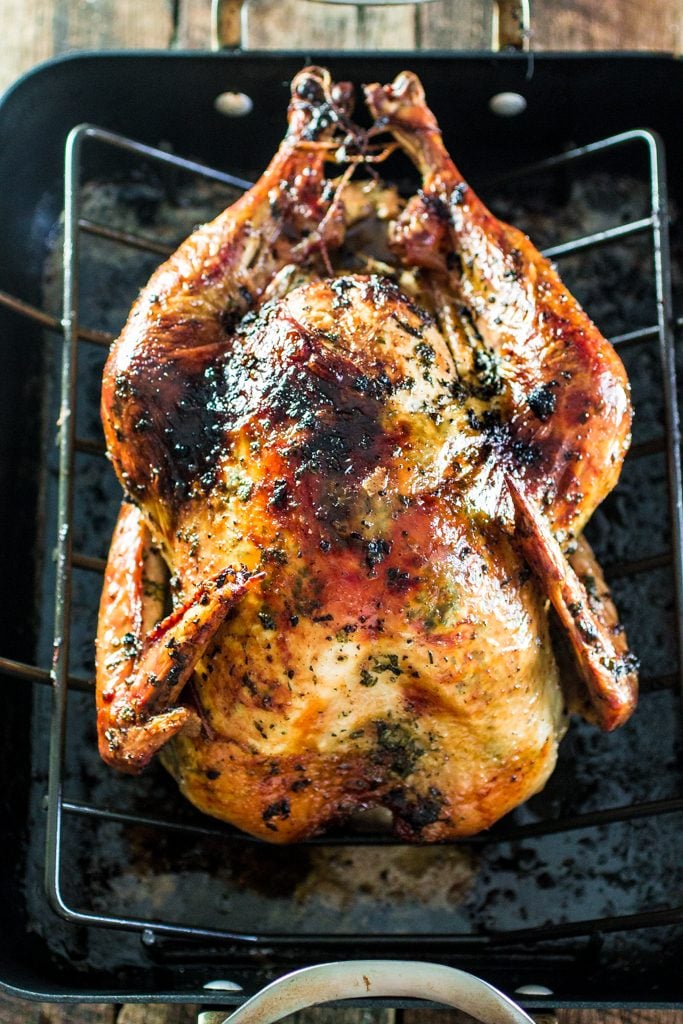 The roasted turkey was so popular, that I've been using that same recipe (slightly adapted from Gordon Ramsey's version) ever since.
Thankfully, this is a pretty easy and straight forward recipe. No brining required! But don't worry, this turkey is as flavorful and juicy as it could be and I guarantee you and your guests will go nuts over it!
When Tim had it for the first time, he was so impressed that he told me that until then he thought turkey was supposed to be dry and flavorless.
Even today, while he was carving (and snacking on) the turkey, he kept exclaiming that this was the best turkey he has ever had. Which reminds me that I have to give my husband credit for all the carving and giblets removing! Definitely two of the best perks of being married, since I strongly dislike both those tasks.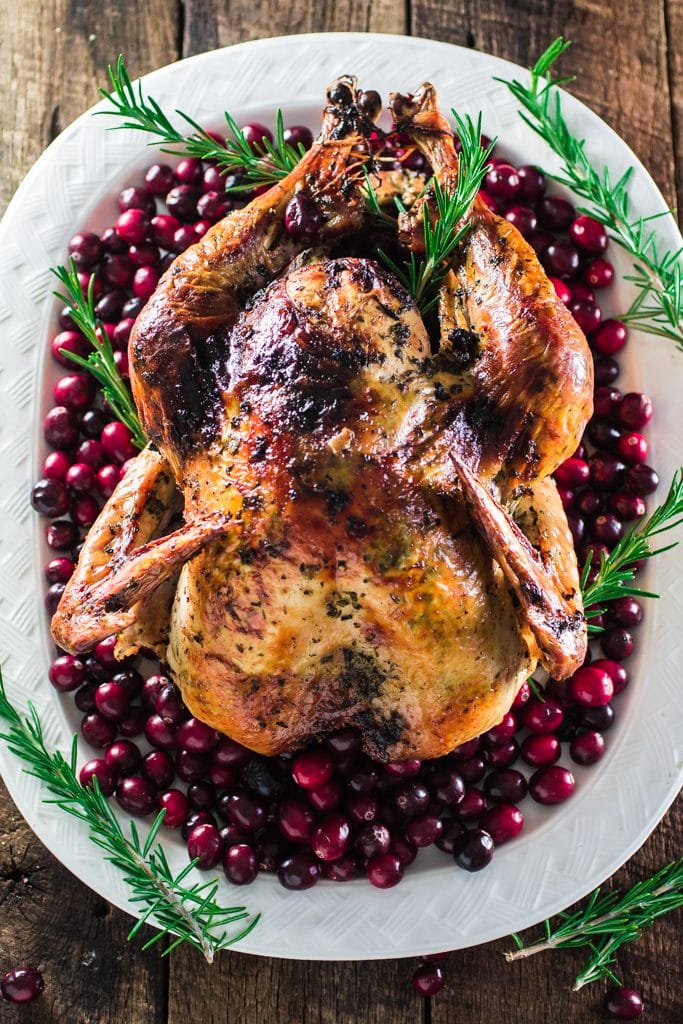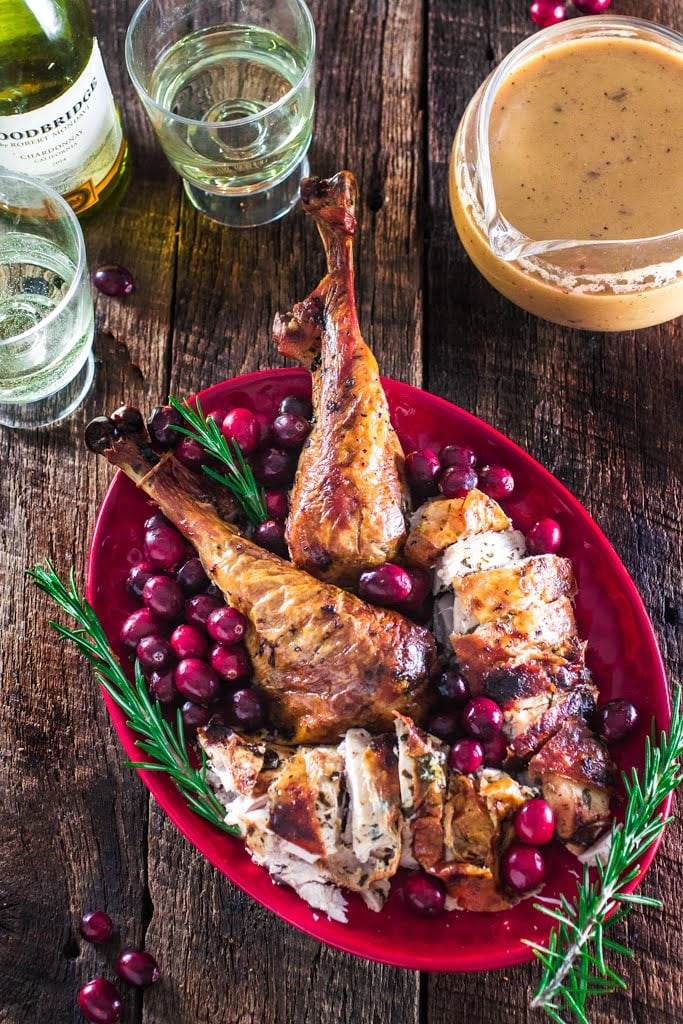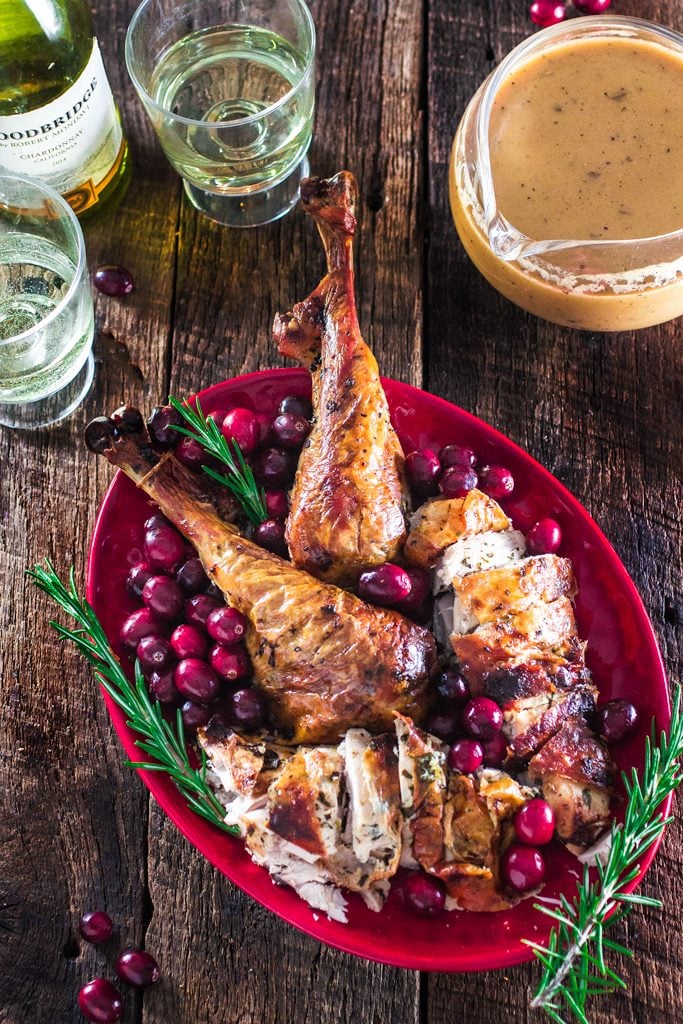 This year, Tim and I will be spending Thanksgiving by ourselves. Life has been a little overwhelming lately, so we decided that a day in watching movies would be the best thing for us at the moment. But that doesn't mean we won't be having fun and eating good food!
I'm still cooking a feast, though. Because the next best thing after Thanksgiving is THANKSGIVING LEFTOVERS! ❤️❤️❤️
Roasted Turkey with Herb Butter
Yield: 10
Prep Time: 15 minutes
Cook Time: 2 hours 15 minutes
Total Time: 2 hours 30 minutes
Ingredients
1 (12-14lbs) turkey, giblets removed
1 large onion, peeled and halved
1 garlic head, halved horizontally
1 lemon, halved
5 bay leaves
Salt and freshly ground black pepper to taste
Olive oil to drizzle
8 slices bacon
Herb butter:
3 sticks of unsalted butter (1 1/2 cups), softened
2 tablespoons olive oil
1 cup chopped parsley
Zest and juice of 2 lemons
3 garlic cloves, peeled and minced
Salt and pepper to taste
Turkey Pan Gravy:
1/2 cup pan juices
6 tablespoons flour
2/3 cups white wine
3 cups chicken (or turkey) broth
Instructions
Making the Herb Butter:
Prepare butter by combining all the herb butter ingredients in a small bowl, mixing well with a fork. Reserve.
Preparing the turkey:
Preheat oven to 450F degrees.
From one end of the breast, insert your fingers under the skin and gradually loosen it, working from both sides where able. Do the same for the legs. Be careful not to tear the skin.
Insert half of the butter mix into the open space under the skin. Spread it evenly by working from the outside of the turkey, gently massaging around the breast and legs.
Season the turkey cavity generously with salt and pepper. Insert the onion halves, garlic head halves, lemon halves and bay leaves in the cavity and then tie the legs with twine.
Transfer the turkey to a large roasting pan, breast side up.
Add the remaining butter to the outside of the skin, spreading all over. Finish by seasoning with salt and pepper and drizzling with olive oil.
Roast the turkey in the preheated oven for 15 minutes. Take the roasting pan out of the oven and baste the turkey with the pan juices. Then, lay the bacon slices all over the breast, overlapping them slightly.
Baste one more time and return to the oven, lowering the temperature to 350F degrees.
Roast for 2 hours (or calculate 30 minutes for every 2 pounds), basting every 30 minutes, until the turkey is cooked (a meat thermometer should read 160 degrees or the juices between the thigh and breast meat should run clear when you make an incision with a knife or skewer) .
(When you baste for the last time, remove the bacon slices so the breast skin can brown.)
Let the turkey rest in a warm place for at least 30 minutes while you prepare the gravy.
Turkey Pan Gravy:
In a saucepan, over medium heat, combine the 1/2 cup of pan juices and the flour. Whisk constantly for 2 minutes or until golden.
Increase the heat to medium high. Slowly add the wine and the broth, whisking until gravy has thickened to the desired consistency. Taste for seasoning and adjust salt and pepper if necessary.
Serve the turkey with the piping hot gravy!
Happy holidays! :)
Notes
Since oven temperatures vary, make sure you start checking your turkey about 30 minutes before the calculated roasting time. Then, roast for another 15 minutes and check again. Repeat until turkey is cooked!
P.S. Wanna keep in touch? Follow me on Facebook, Twitter, Instagram or Pinterest to stay up to date with my posts! If you end up making one of my recipes, I would love to see it! Just take a photo and post it on your preferred Social Media and tag me or use the hashtag #oliviascuisine!