Steak with Green Peppercorn Sauce
If you're looking for an impressive meal that is easy enough to put together on a weekday, this Steak with Green Peppercorn Sauce is the answer! The steak is cooked to perfection and served with a silky mustard-y peppercorn sauce, kale and roasted potatoes.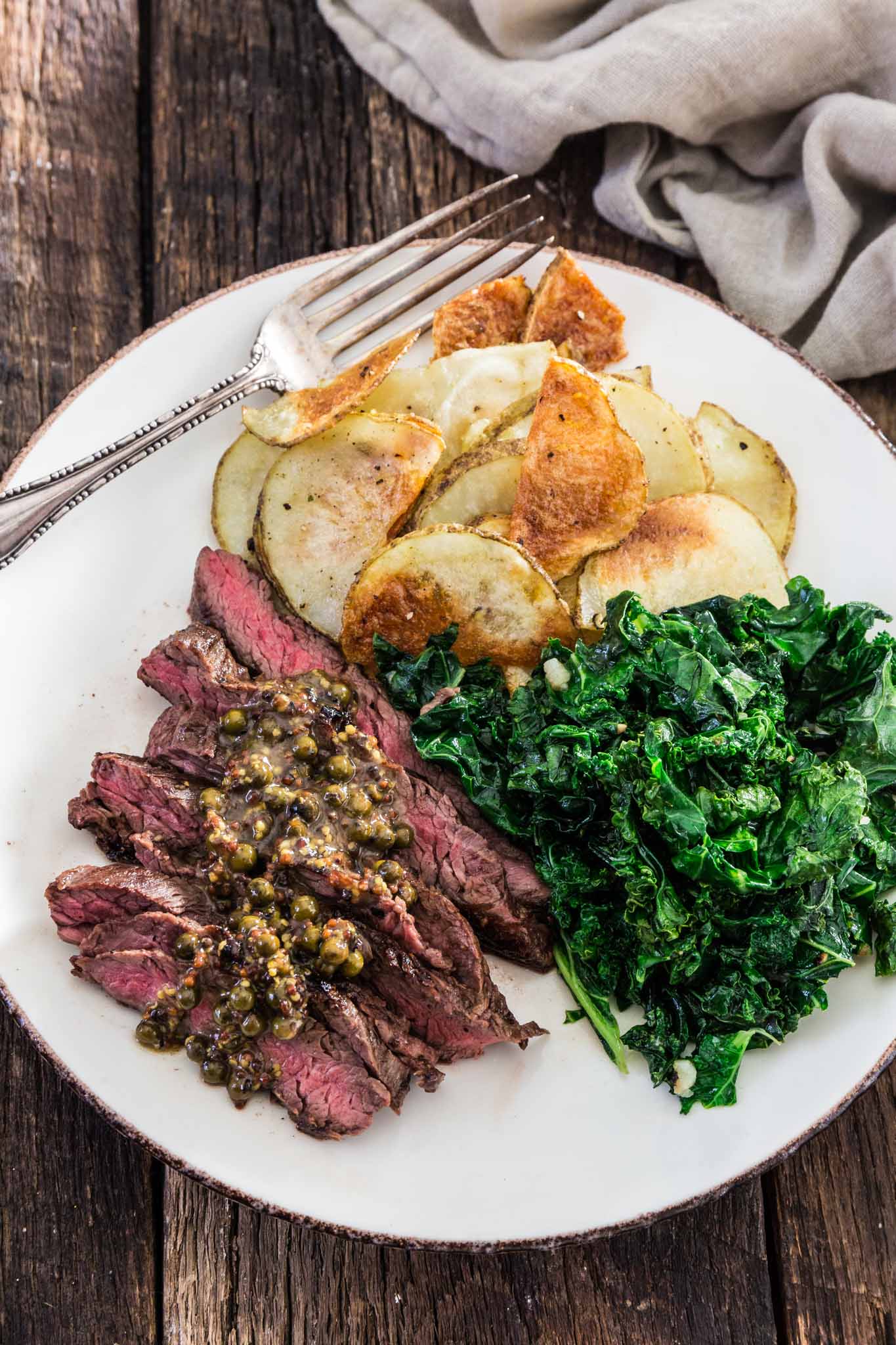 (This post is sponsored by Blue Apron.)
It's headcount time! Who survived the holidays?
As you've probably noticed, not me. I haven't posted anything since the middle of December and didn't get to share all the amazing holiday recipes I had in mind with you guys…
I somehow managed to get a stomach bug and couldn't look at food for a long time. To be honest, still can't, really! And nothing takes the joy of vivre out of a food blogger than not being able to cook or eat.
For the past few weeks, I've survived mostly on saltines, while my poor husband had to resort to take out and frozen meals. Until I had the most brilliant idea!
I signed up for Blue Apron and got 3 meals delivered to us. They deliver the fresh, already measured ingredients with the recipes and all you have to do is put them together and enjoy it!
Tim was beyond himself. Not only he wouldn't have to eat pizza for the second day in a row, but he also got to cook? Best day of his life! ???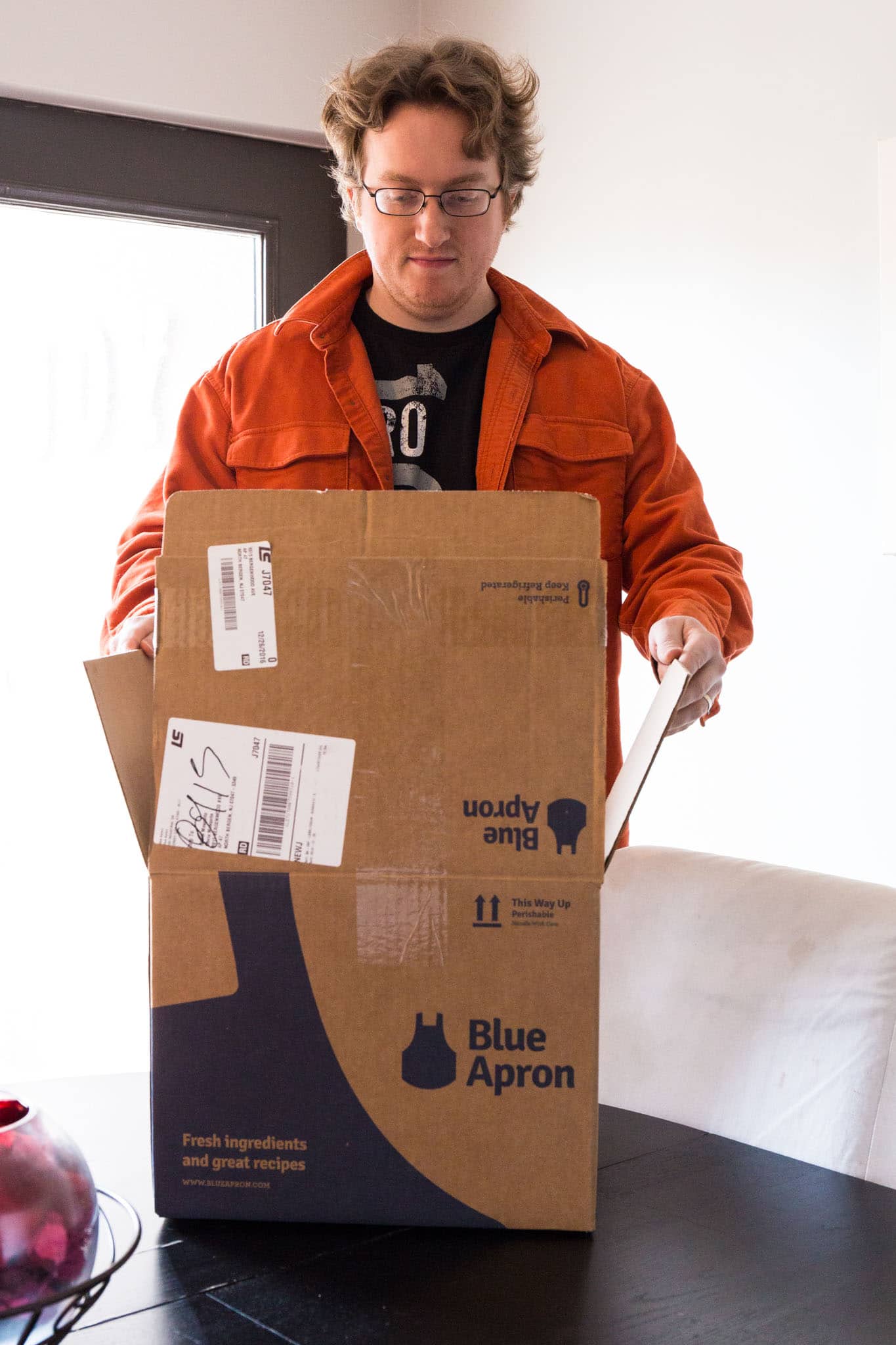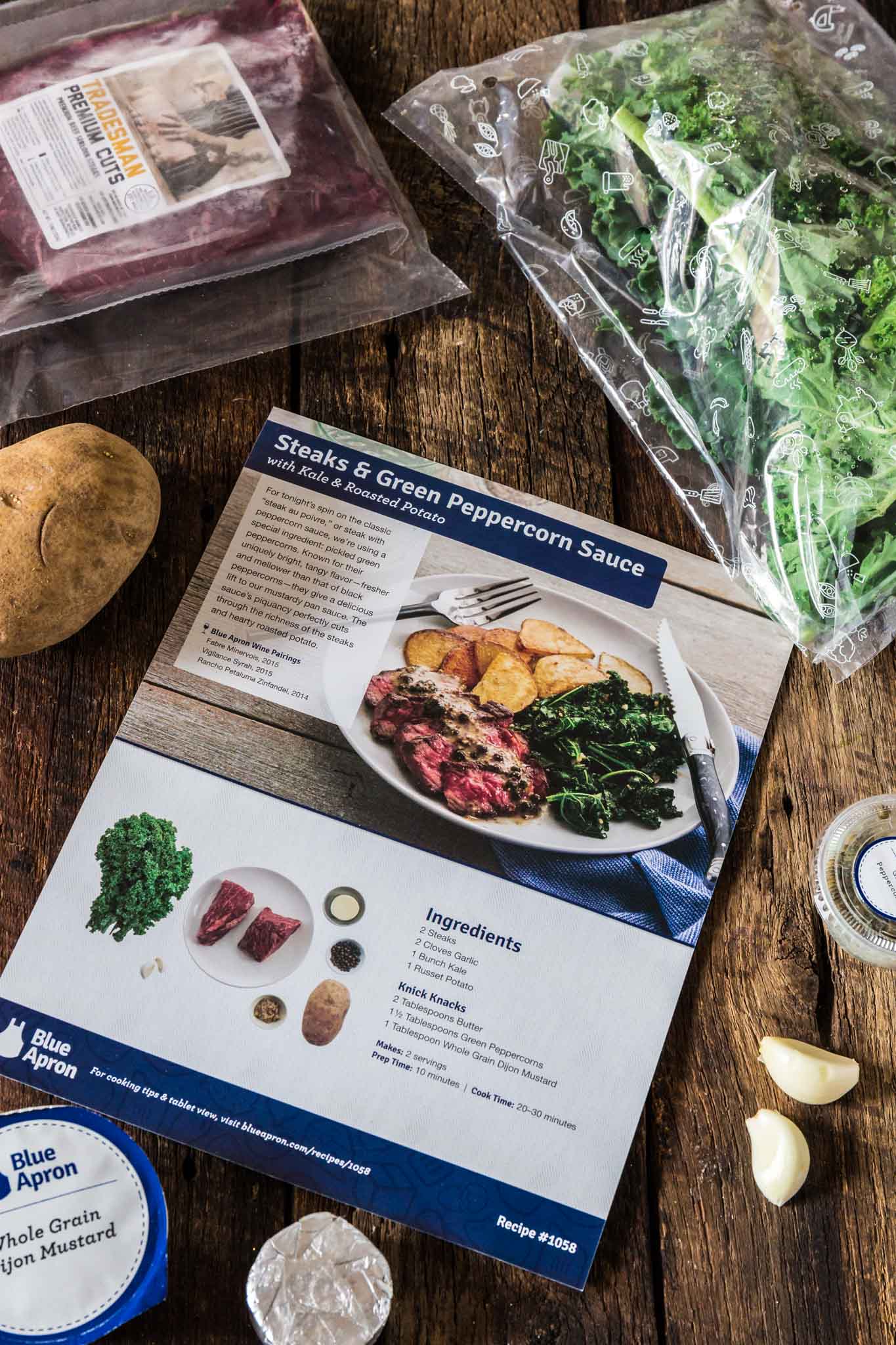 Of course, the meal he was most excited about was the one containing steak. (Sometimes I feel like I married a cave man…)
The instructions were easy and pretty straight forward, but he did request some guidance, as he's still a beginner in the kitchen. It ended up being the most fun we've had in a while and I got to teach him some basic cooking skills, like properly holding a chef's knife and how to sauté.
He (okay, we…as I was also in the kitchen) did get the potatoes to stick to the baking sheet and didn't wait for the steak to rest before cutting it, but other than that, I'm happy to report that it went very well! I dare say my husband has a lot of potential!
Maybe by the time we have kids, he'll have a few recipes and skills up his sleeve, so I can go away on a spa weekend without fearing my family will die of hunger! ?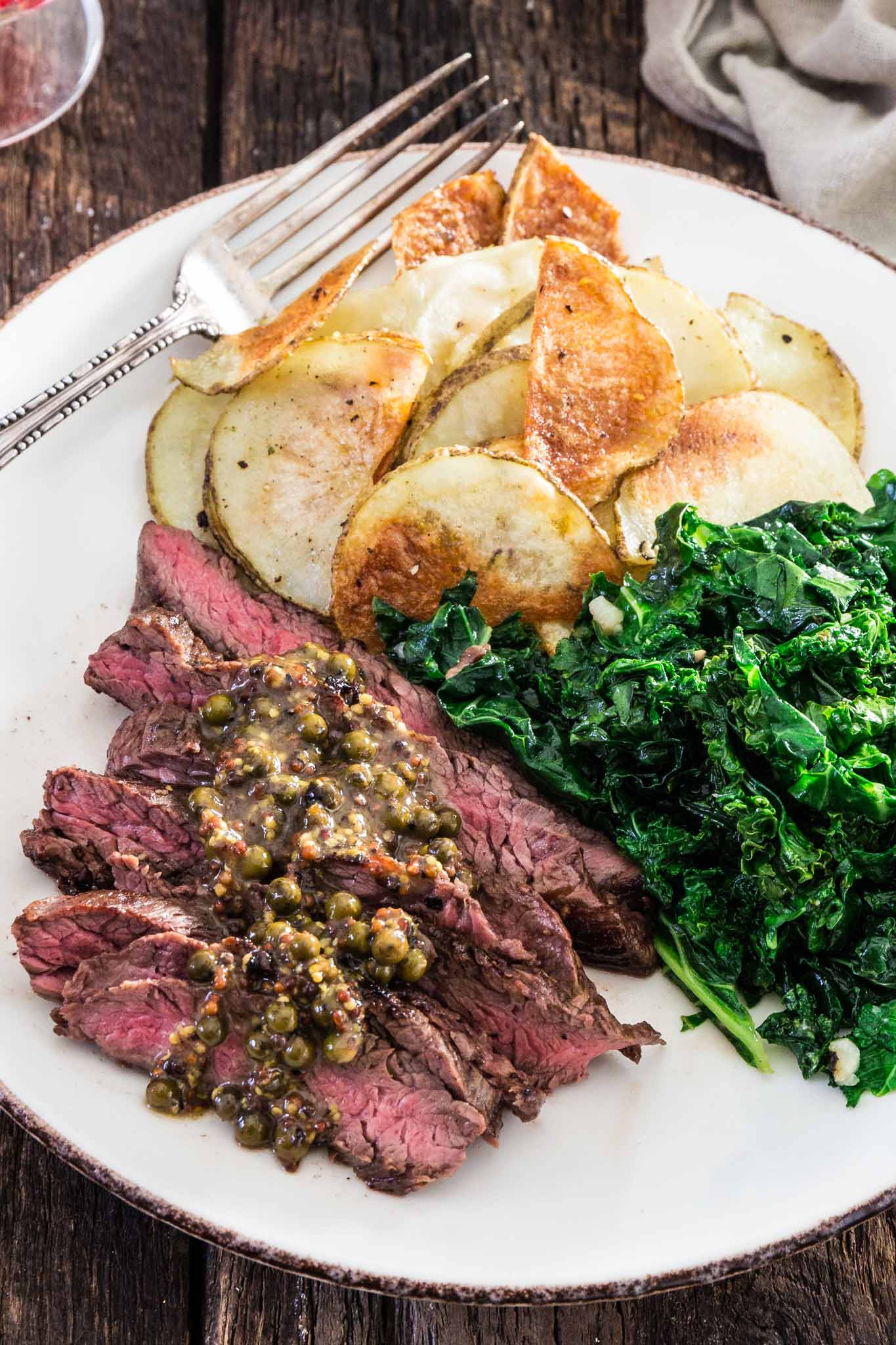 The results were fantastic and this Steak with Green Peppercorn Sauce tasted like a fancy restaurant dish. Who knew just a handful of ingredients could come together into something so special?
I wasn't planning on eating any, but when he plated it so beautifully (with Blue Apron's picture for guidance), I just couldn't resist it. It ended up being my first real meal in almost a month, and I'm so glad I got to enjoy it! (Tim, on the other hand, was probably hoping I would stick to the saltines, so he would get both portions to himself! lol)
If you, like me, are in need of a little cooking motivation, I highly recommend you give Blue Apron a shot. After all, who doesn't like seasonally-inspired recipes that are always delicious, fun and easy to prepare?
And, as an incentive for you to try it out, Blue Apron is giving my readers $30 off the first delivery OR 3 meals free on the first order. Seriously, take advantage of this! You won't regret it!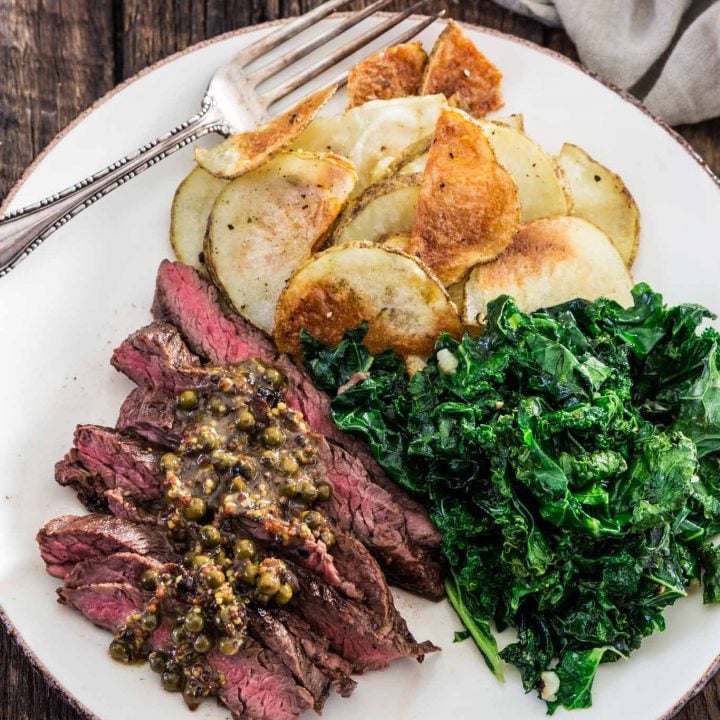 Steak with Green Peppercorn Sauce
Yield: 2
Prep Time: 10 minutes
Cook Time: 30 minutes
Total Time: 40 minutes
Ingredients
2 sirloin steaks (about 1/2 pound each)
2 cloves garlic, minced
1/2 bunch kale
1 russet potato
olive oil
Salt and freshly ground pepper to taste
1/4 cup + 1/3 cups water
1 tablespoon whole grain dijon mustard
1 1/2 tablespoons green peppercorns
2 tablespoons butter
Instructions
Preheat oven to 450F degrees. Prepare a baking sheet by spraying with non stick cooking spray. Reserve.
Wash and dry kale and potato.
Remove and discard kale stems and roughly chop the leaves. Reserve.
Halved the potato lengthwise and then cut into 1/4-inch thick pieces. Transfer the potato slices to the prepared sheet pan, drizzle with olive oil and season with salt and pepper, tossing to throughly coat. Arrange in a single even layer and roast for 16-18 minutes or until browned and tender when pierced with a fork. Remove from the oven and set aside in a warm place.
White the potato is roasting, heat 2 teaspoons of olive oil in a medium sauce pan, over medium-high heat, until hot. Add the garlic and sauce for about 1 minute or until fragrant. Add the kale and season with salt and pepper. Cook, stirring occasionally, for 1 to 2 minutes, or until slightly wilted. Add 1/4 cup water and continue cooking, stirring occasionally, 2 to 3 minutes, or until wilted and the water has cooked off. Transfer to a bowl and season with salt and pepper to taste, if necessary. Wipe out the pan.
Pat the steaks dry with a paper towel and season generously with salt and pepper on both sides. In the same pan, heat 2 teaspoons of olive oil on medium-high until hot. Add the seasoned steaks and cook 2-3 minutes per side, or until browned and cooked to our desired degree of doneness. Leaving any browned bits in the pan, transfer the steaks to a cutting board and set aside to rest for at least 5 minutes.
While the steaks rest, add the peppercorns, mustard and 1/3 cup of water to the pan. Cook on medium high heat, scrapping the browned bits from the bottom, for 1 to 2 minutes, or until the liquid is slightly reduced in volume. Turn off the heat and stir in the butter until throughly combined. Season with salt and pepper to taste. Set aside in a warm place.
Find the lines of muscle (grain) on the rested steaks and thinly slice crosswise against it. Divide the roasted potato slices, cooked kale and sliced steaks between 2 plates. Top the steaks with the sauce.
Serve immediately!
CHECK OUT ANOTHER BLUE APRON MEAL (VIDEO BY HONEST COOKING):