Summer Snack Platter
This post is sponsored by My/Mo.
Seasonal summer fruit, cookies, pretzels and mochi ice cream makes this the summer snack platter of your dreams! So easy to put together and perfect to be enjoyed outside by the pool or even inside – hanging by the AC – while enjoying your favorite summer show on TV.
Happy July 3rd, y'all!
What's so special about this date? Well… nothing, really. Except the fact that Tim had the day off from work, meaning we have 4 whole days together! ???
Our mini summer vacation has mostly been baby preparation – including dealing with our mess of an apartment – with some fun in between. We tried a new brunch place, we went shopping (for baby stuff, obviously! ?), we went to the pool and we paid a visit to the farmer's market to pick up some seasonal fruit/veggies.
When we got home, I got inspired to put together a beautiful snack platter that we could enjoy while we doing house chores.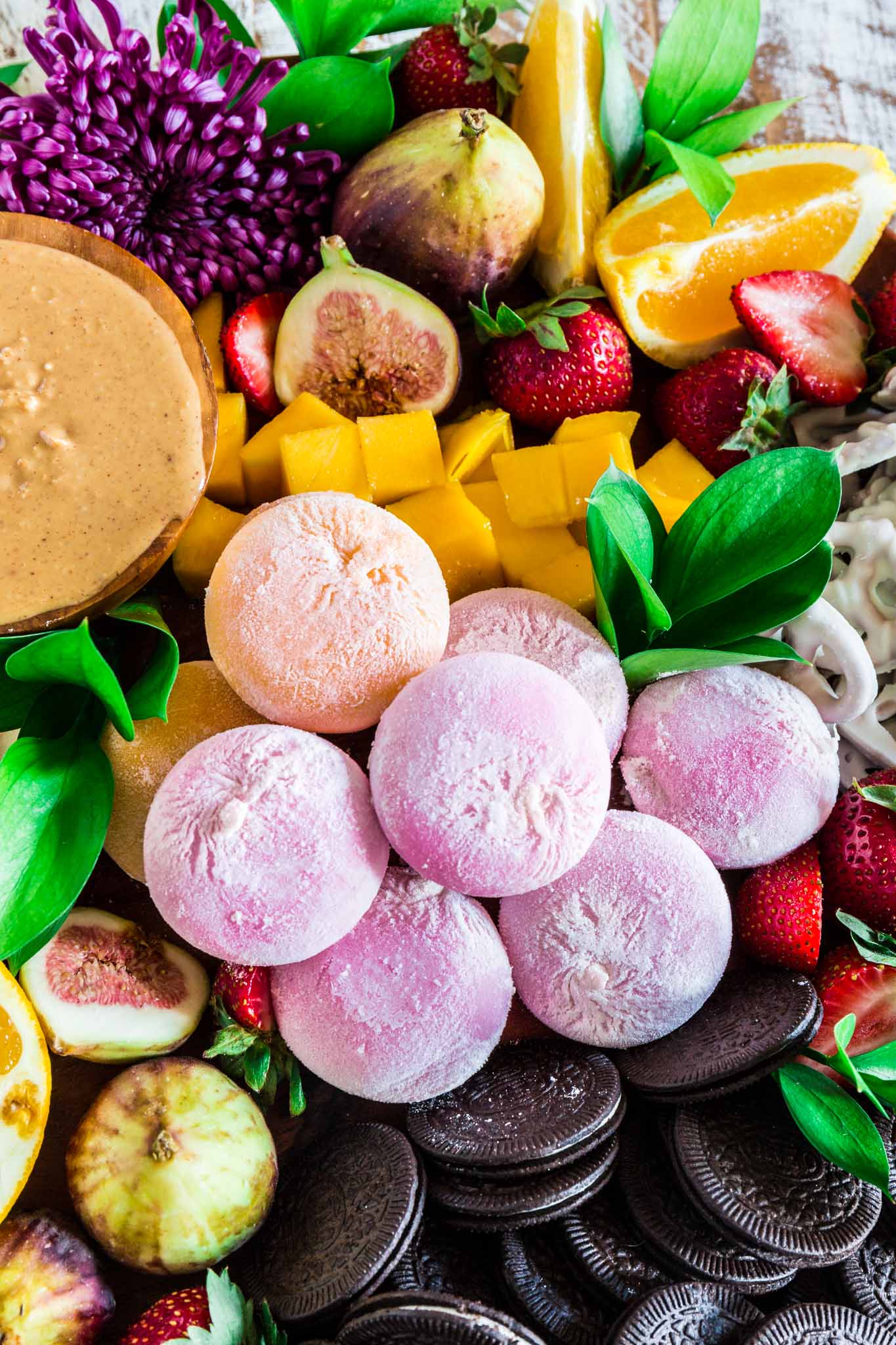 My summer snack platter consisted of some of the fresh seasonal fruit we picked at the farmer's market + an impromptu dip (aka peanut butter), some cookies, chocolate covered pretzels and some insanely delicious mochi ice cream.
Have you ever tried mochi?
Oh, you guys! It's SO GOOD!
We tried for the first time a few weekends ago at the Fancy Food Show in NYC, when we visited the My/Mo stand and we've been obsessed ever since. Well, I've been obsessed. Tim has been completely fanatical! He's determined to try every single flavor and, when he does, he comes into wherever room I'm at to say: "Have you tried the chocolate one yet? It's to die for!".
When you're culinary challenged husband starts using expressions like "to die for", you know something is real good. ???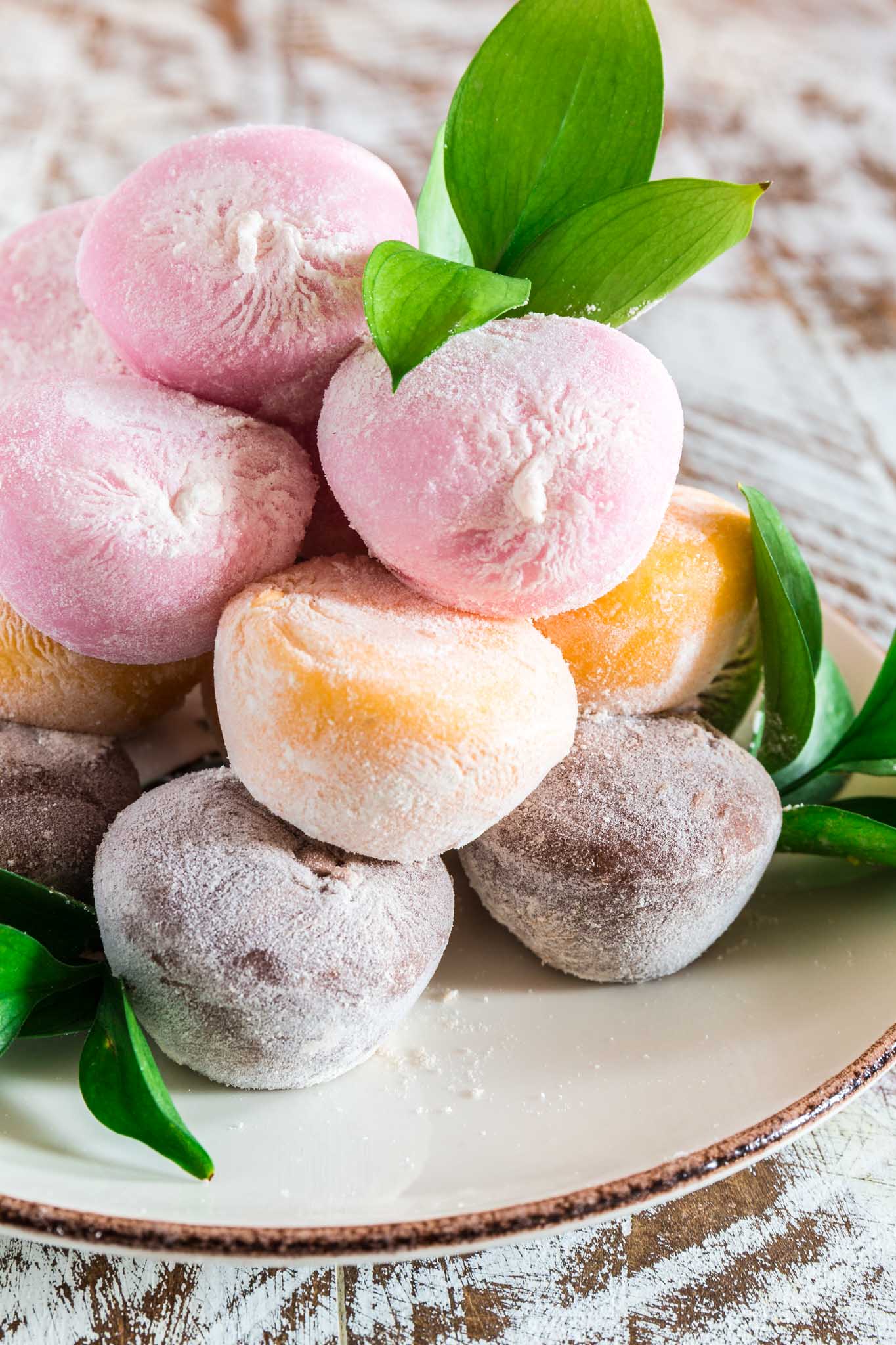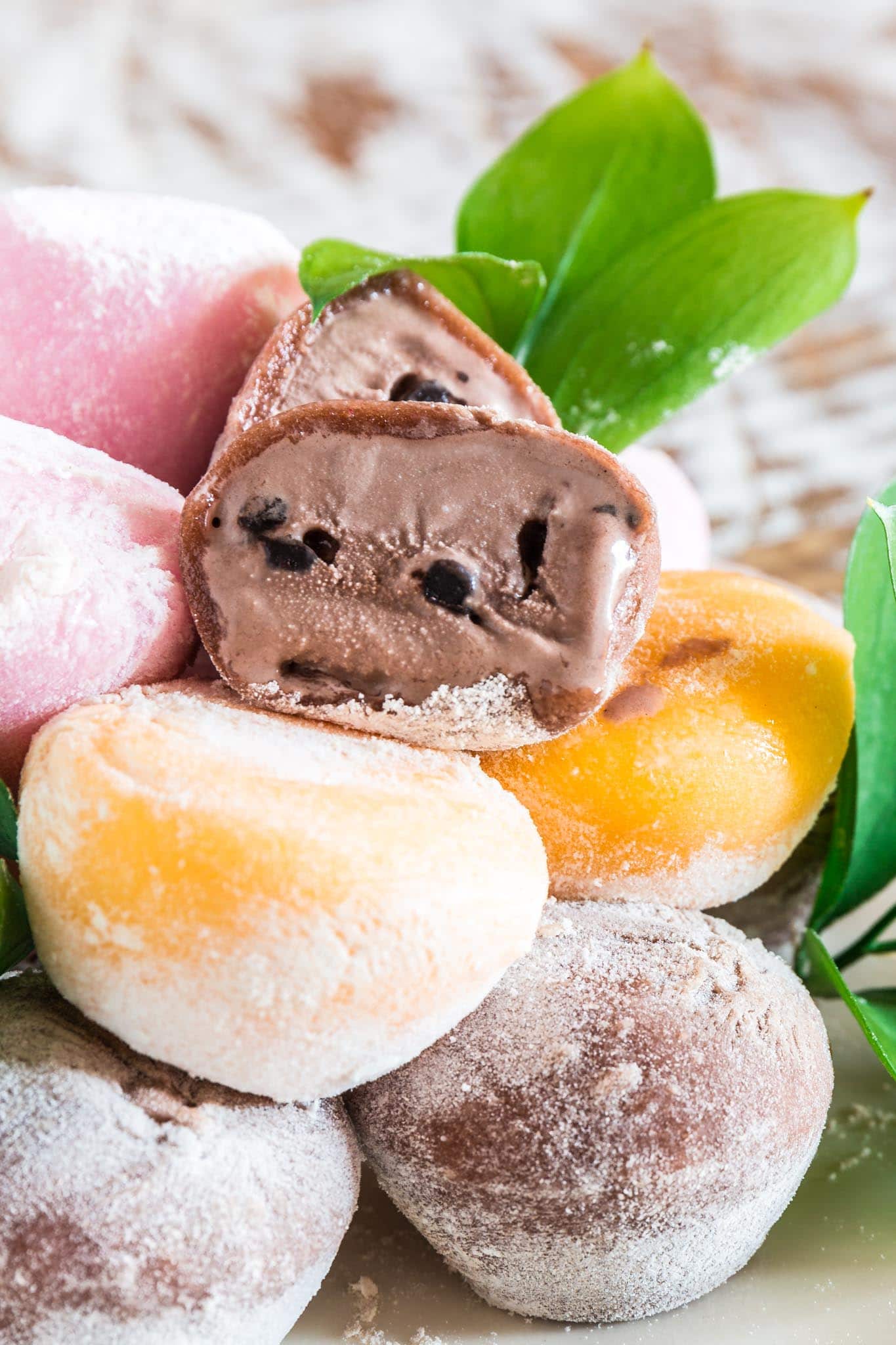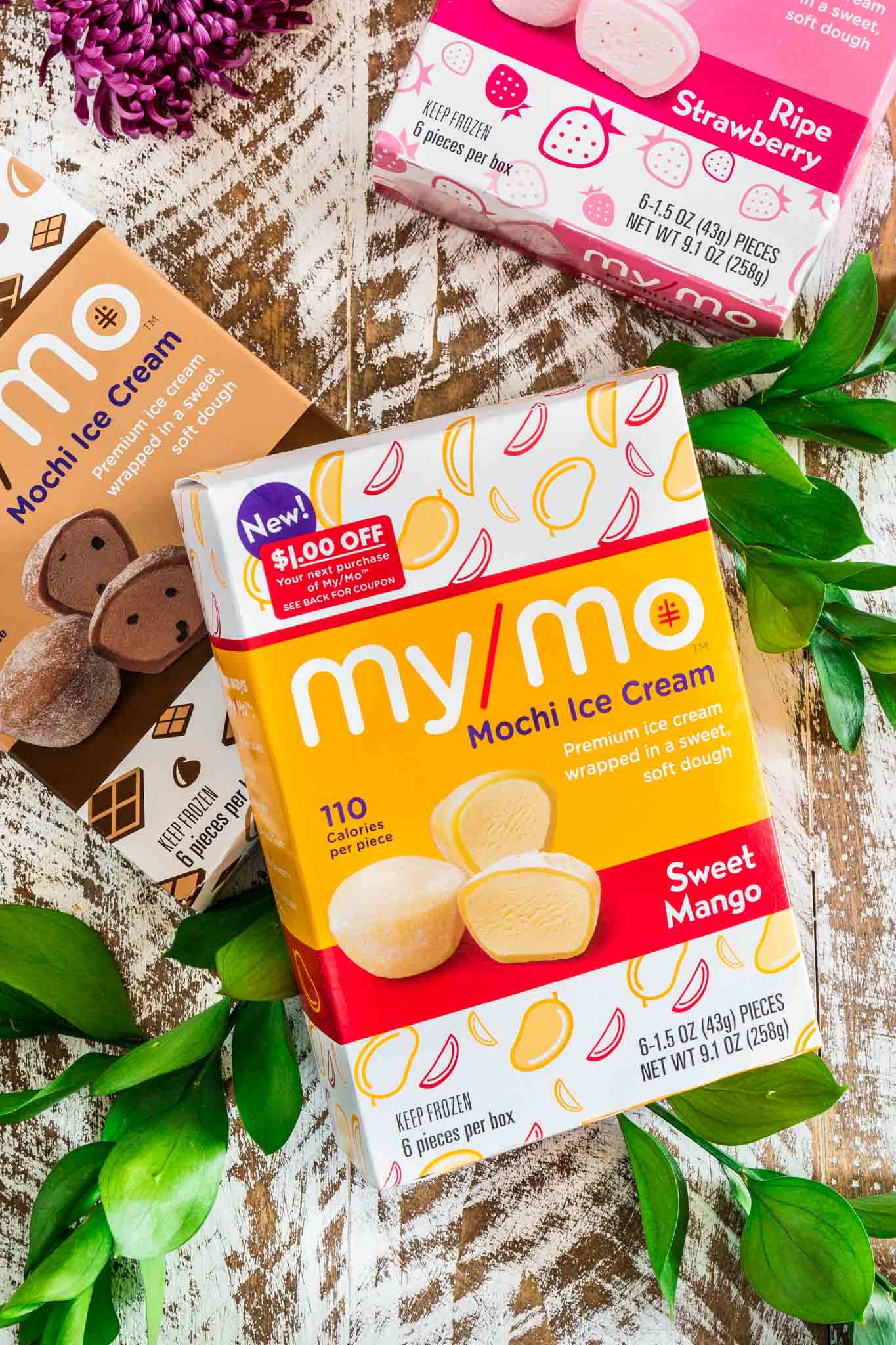 Mochi Ice Cream is a confection that consists of mochi (which is a chewy sweet rice dough) filled with an extra creamy ice cream. It was invented by Japanese-American businesswoman and activist Frances Hashimoto and it's quickly becoming a global sensation!
As they told us at the show, the first experience with mochi ice cream goes more or less like this:
*takes the first bite* "Hmm, this is a little weird!"
*takes second bite* "OMG, where have you've been all my life?" ❤️❤️❤️
And that's exactly how it happened!
My/Mo can be found at most of your local stores and they come in several delicious flavors, like: Double Chocolate, Green Tea, Cookies & Cream, Ripe Strawberry, Sweet Mango, Mint Chocolate Chip and Vanilla Bean.
At 110 calories per piece, they make the perfect summer snack!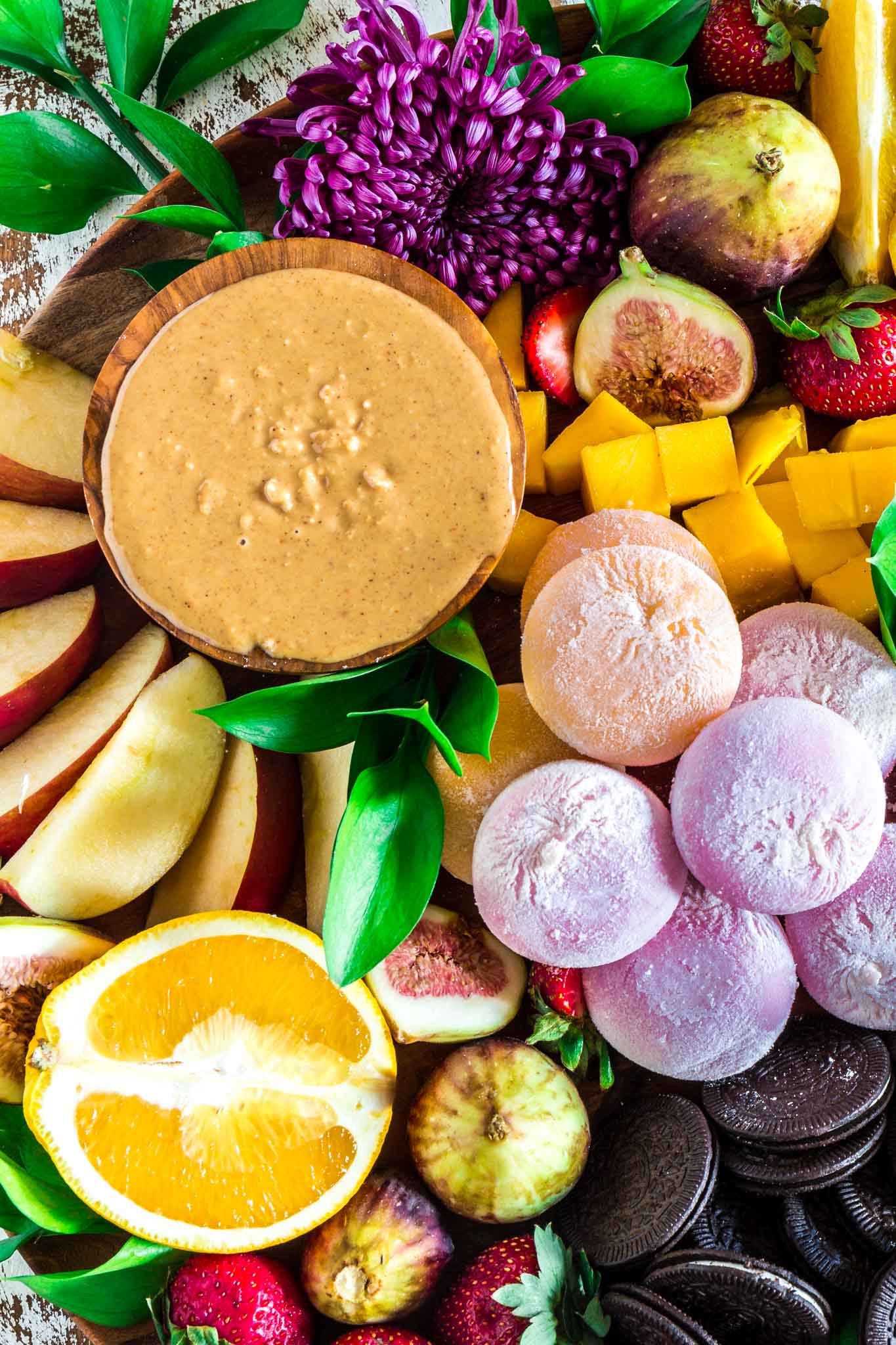 Before you enjoy your My/Mo mochi ice cream, be sure to follow the instructions on the side of the box! After you get it out of the freezer, you'll want to leave it out for a minute or two before taking your first bite so you can easily sink your teeth into the dough and amazing ice cream.
So if you're putting together a snack platter, I recommend having everything ready and plated before taking the mochi from the freezer.
As far as what fruit to use, feel free to use what you have on hand and/or your favorite summer fruits. You can complement with cookies, pretzels, nuts, cheese and whatever else you'd like to snack on! And as for the dip, I usually stick to peanut butter or greek yogurt to keep it healthy, but if Nutella is your thing, why not?!? Go to town!
You can easily adapt this to serve 1, 2 or your whole family. Just be creative and enjoy! ?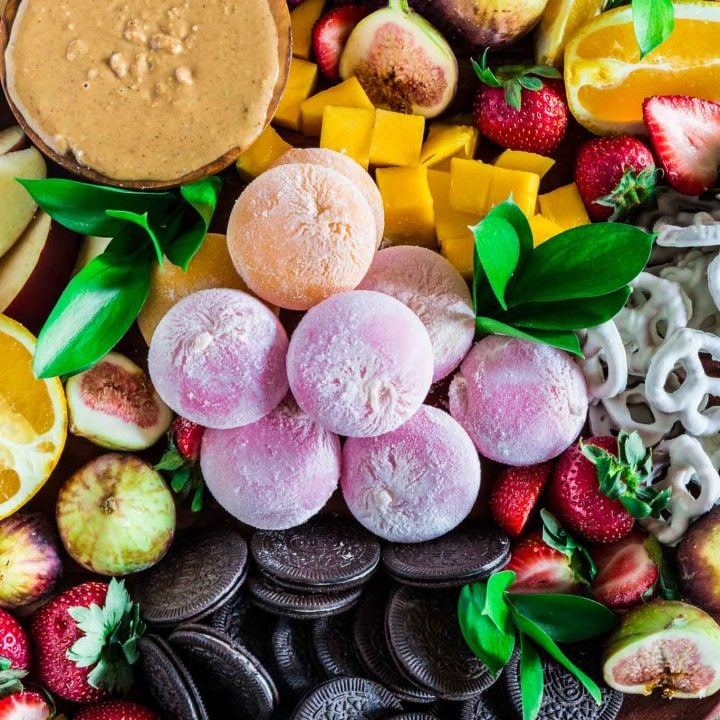 Summer Snack Platter
Ingredients
Summer fruits (like strawberries, figs, mangoes, oranges, apples, etc.)
Cookies (oreos, shortbread, sugar cookies, chocolate chip cookies, etc.)
Pretzels (Plain, chocolate, yogurt or fudge covered, peanut butter filled, etc.)
My/Mo Mochi (whatever flavor you fancy!)
Peanut Butter or Greek Yogurt to dip
Other suggestions: plain nuts, chocolate or spiced nuts, dried fruit, trail mix, cheese.
Instructions
Place a small dip bowl with the peanut butter or yogurt on a beautiful platter. Arrange the fruit, cookies and pretzels around the dip, leaving a space for the mochi ice cream.
Two minutes before serving, remove the mochi ice cream from the freezer and arrange on the platter.
Serve.