Canjica (Brazilian Hominy Pudding)
Canjica, also known as Mugunzá, is a versatile dessert: it can be enjoyed chilled in the summer and warm on a cold autumn or winter evening!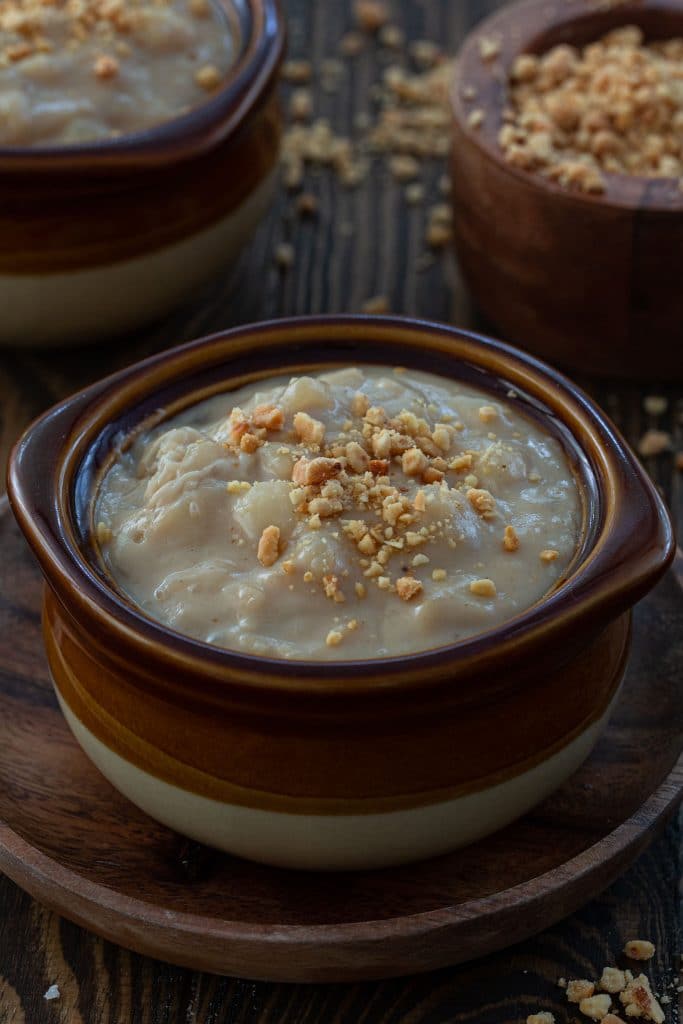 Day 4 of Festa Junina Week and this one is close to my heart! Creamy, sweet Canjica. It tastes like my childhood!
I've been a little under the weather, so I made a big pot of canjica and it definitely hit the spot! I was instantly transported to my grandma's kitchen, eating canjica, not a care in the world! Funny how food can do that to you.
The recipe is quite easy and doesn't require any special equipment or tools. You will have to buy hominy though, and that can be challenging, especially if you don't live in a big metropolis. But don't give up yet! It is worth the trouble. Besides, you can always order it online!
If you've never tried canjica, you absolutely must! I guarantee it will be love at first spoonful!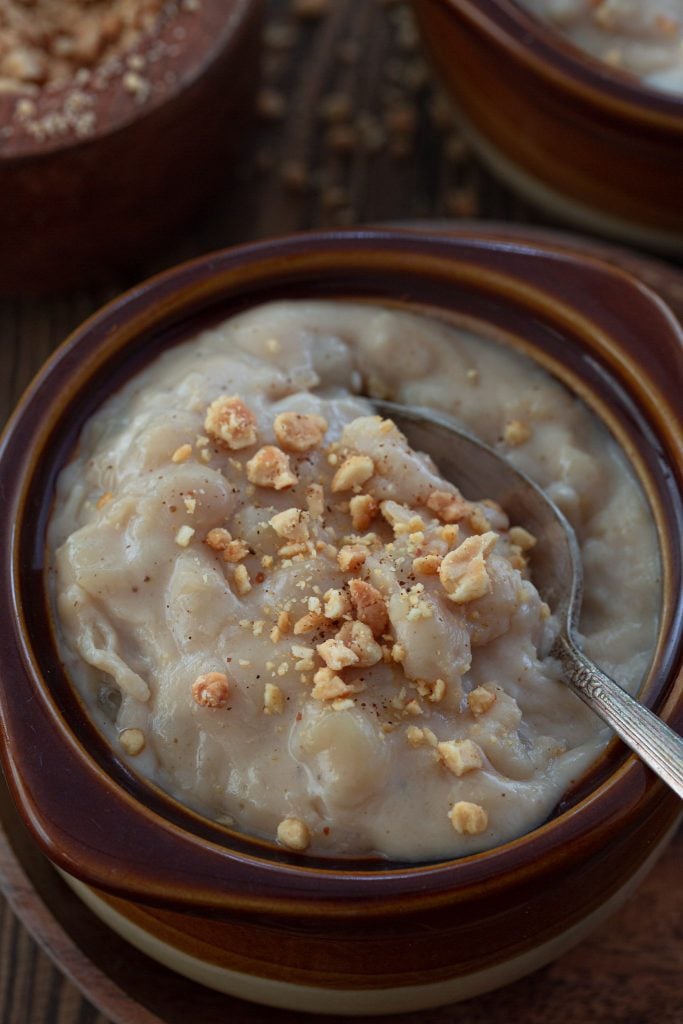 What is Canjica Doce?
Canjica (pronounced kan-jee-ka), or Mugunzá in the Northeast of the country, is a Brazilian dessert made of white corn, milk, sugar and spices. It is very popular in Festas Juninas, and you can read more about theses festivities here.
When served chilled, it is like a rice pudding, but made with hominy instead. When served warm, it is a comforting porridge.
The plump, chewy hominy absorb the other flavors, making this dessert absolutely irresistible. To me, canjica oozes warmth and coziness, especially when served during the cooler months!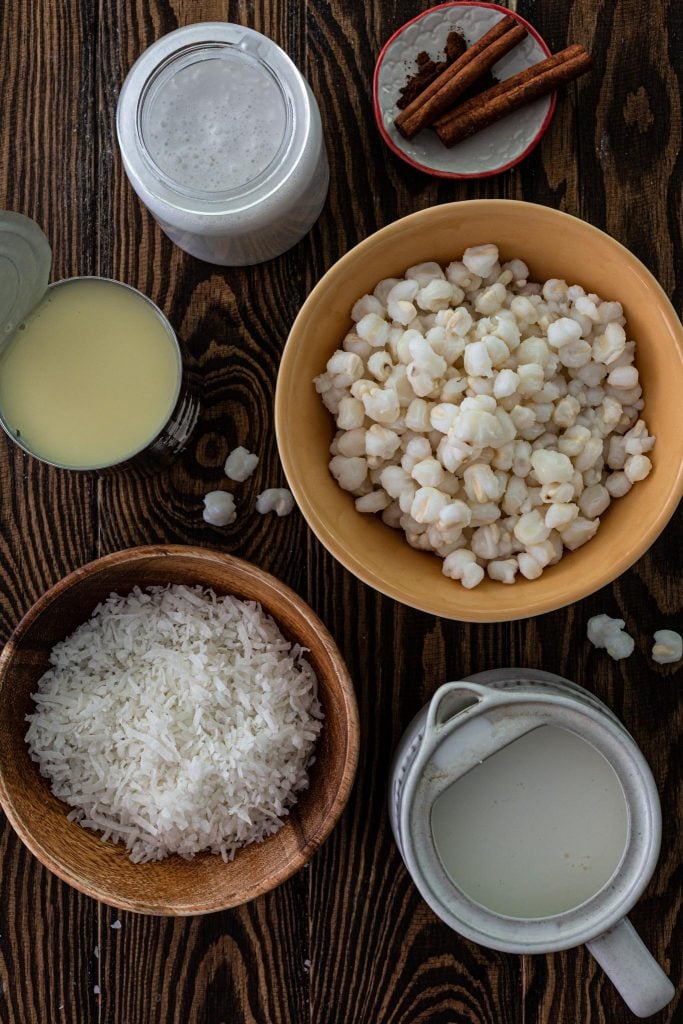 Ingredients to make Brazilian Hominy Pudding
Cooked hominy
Whole Milk
Coconut Milk – full fat, please!
Sweet Condensed Milk – a Brazilian's best friend!
Shredded Coconut – fresh or unsweetened, as the sweet condensed milk is already sweet enough!
Cinnamon sticks and ground clove – Canjica is traditionally made with whole cloves, but I hate biting into these little devils!
Some people like to add peanuts to canjica. I'm not a fan, so I just added a little bit of crushed peanuts as a garnish for some crunch.
Truth be told, I usually just add a sprinkle of cinnamon instead!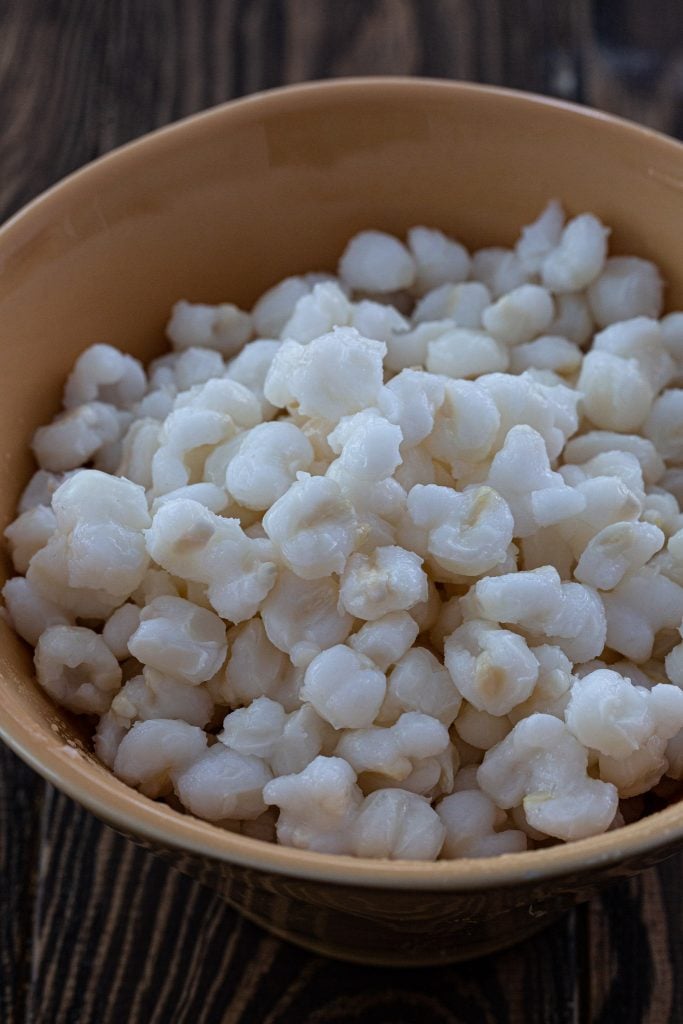 What is Hominy and where do I find it?
You might know hominy from pozole, but what is it, really?
Hominy is maize that has been dried and then gone through a process called nixtamalization, where the kernels are soaked in an alkaline solution to remove the hull and germ, causing the grains to swell to about twice their normal size.
From there, they are sold whole as hominy corn, or ground into masa for tortillas.
Hominy is available dried or cooked and canned. You will probably find it in the ethnic aisle in your supermarket, as it is popular in Mexican cuisine.
If preparing from dried, you will have to soak it overnight (at least 8 hours) and then simmer it until tender, an hour or two. You can also cook it in the Instant Pot, which lowers the cooking time considerably.
Canned hominy is already cooked and ready to use, but the texture is slightly different, a little gelatinous. If you must use canned, just make sure to rinse it well!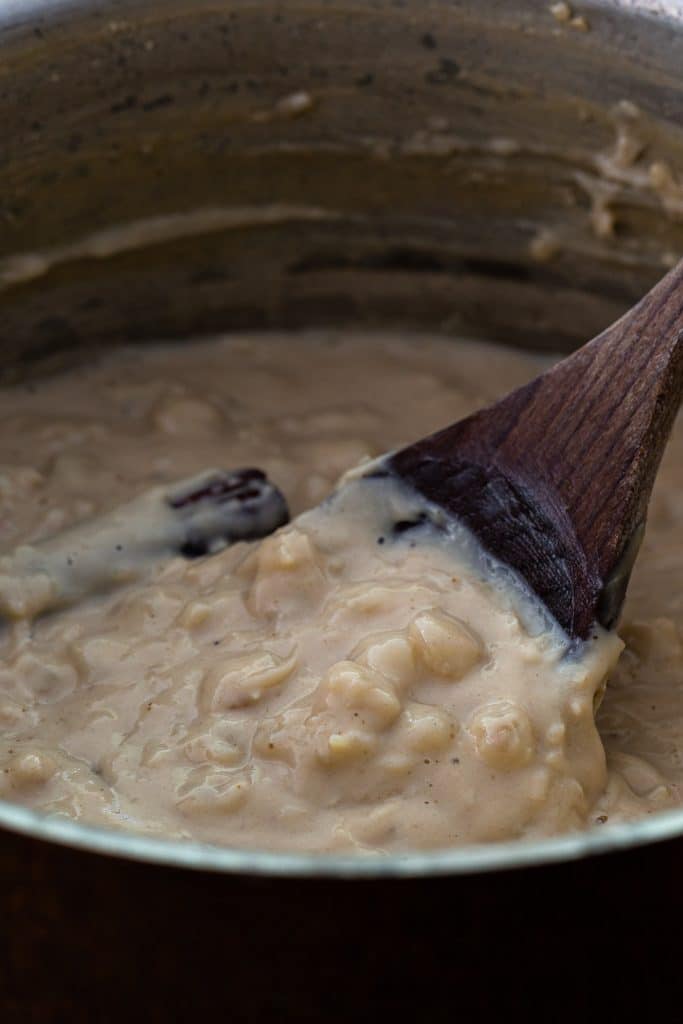 How to Make Canjica
Making Brazilian Hominy Pudding is super easy! Once you make it, you will want to make it over and over again.
If using dried hominy, cook according package instructions. Don't forget to rinse it and soak it overnight! If using canned, make sure to rinse well to get rid of the gelatinous residue.
Once the hominy is cooked and tender, drain it and transfer to a large pot. I like to use a Dutch oven as it conducts heat well and cooks evenly.
Add the remaining ingredients and cook, over medium-low heat, until the desired consistency. That will take anywhere from 20 to 30 minutes, depending how thick you like your canjica!
It's important to remember that the canjica will continue thickening as it cools, and will thicken even more when chilled.
Garnish with crushed peanuts or cinnamon and serve!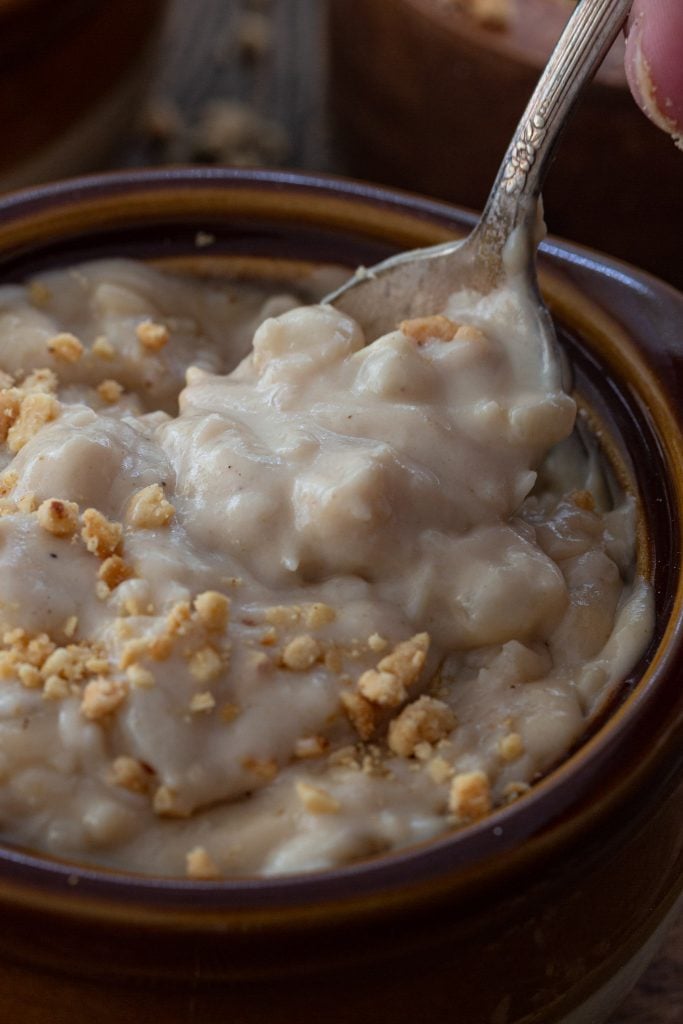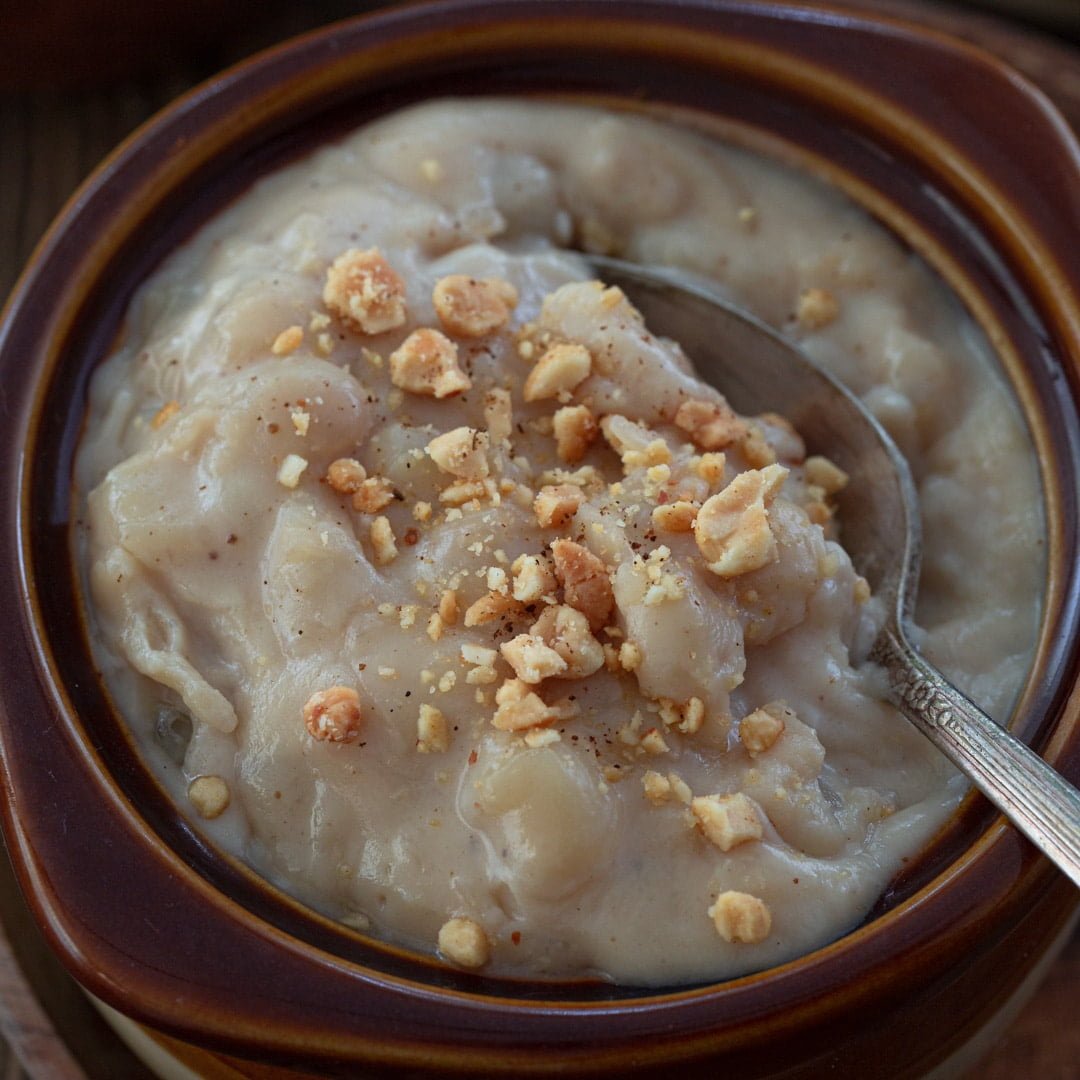 Canjica (Brazilian Hominy Pudding)
Yield: 6 to 8
Prep Time: 5 minutes
Cook Time: 30 minutes
Total Time: 35 minutes
Canjica, also known as Mugunzá, is a versatile dessert: it can be enjoyed chilled in the summer and warm on a cold autumn or winter evening!
Ingredients
2 1/2 cups cooked hominy
1 can sweet condensed milk
1 1/2 cups full fat coconut milk
4 cups whole milk
1 cup shredded coconut
2 cinnamon sticks
1 teaspoon ground cloves
Crushed peanuts or cinnamon to serve (optional)
Instructions
In a large pot, combine all the ingredients.
Cook, over medium high heat, until it starts to boil. Lower the heat and let it simmer for 20 to 30 minutes, stirring occasionally, until thickened to the desired consistency. Keep in mind that the pudding will continue thickening as it cools.
Divide the pudding into individual bowls and allow it to cool before serving.
If using, sprinkle the crushed peanuts or cinnamon on top.
Serve warm or chilled.
Notes
2 1/2 cups cooked hominy = one 29-ounces can
Recommended Products
As an Amazon Associate and member of other affiliate programs, I earn from qualifying purchases.
Nutrition Information:
Serving Size: 1/2 cup
Amount Per Serving:
Calories: 413
More Brazilian classic desserts: