Corned Beef Hash Recipe
This easy Corned Beef Hash recipe is hearty, delicious and a great way to use leftover corned beef. Top with fried eggs and you have the ultimate breakfast of champions!
Don't have leftover corned beef? Make some using my Corned Beef From Scratch tutorial or my Slow Cooker Corned Beef recipe.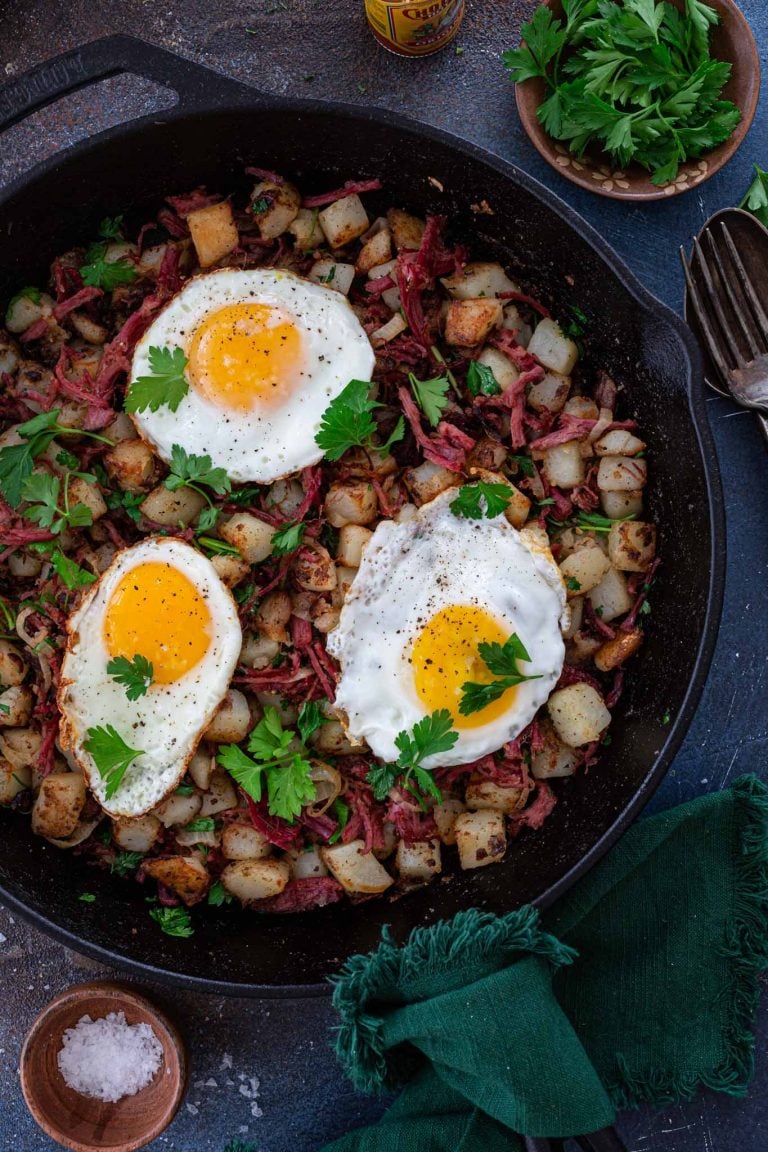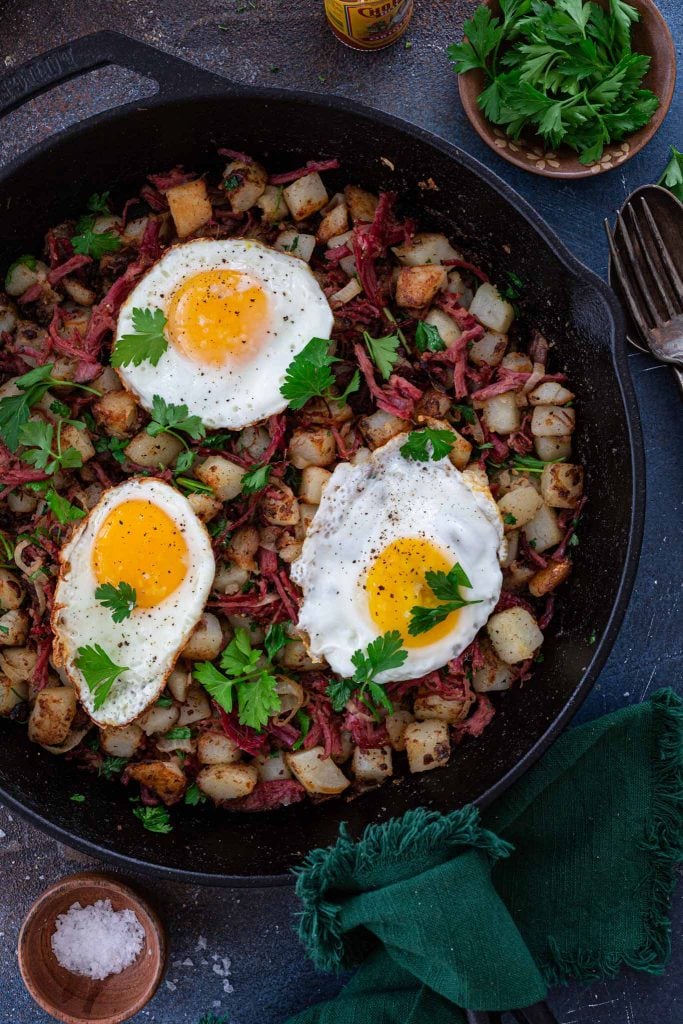 A simple and filling breakfast recipe!
I don't always eat breakfast, but when I do, it has to be epic.
This corned beef hash is just that: epic. Chunks of savory, slightly salty corned beef combined with crispy yet fluffy diced potatoes, onions, garlic and – the piece de resistance – fried eggs.
Don't skip the fried eggs! Once you see the runny yolks running into the hash you will see what I mean. Perfection! And what we call in the food blogging world: yolk porn.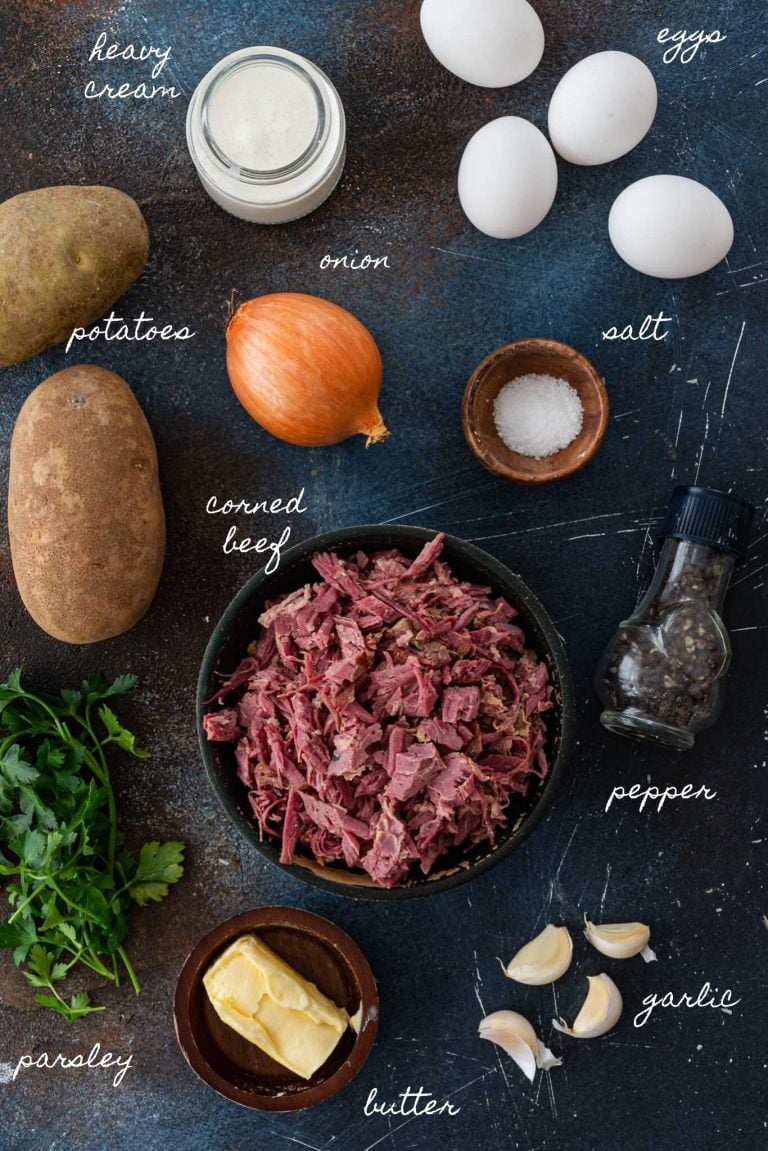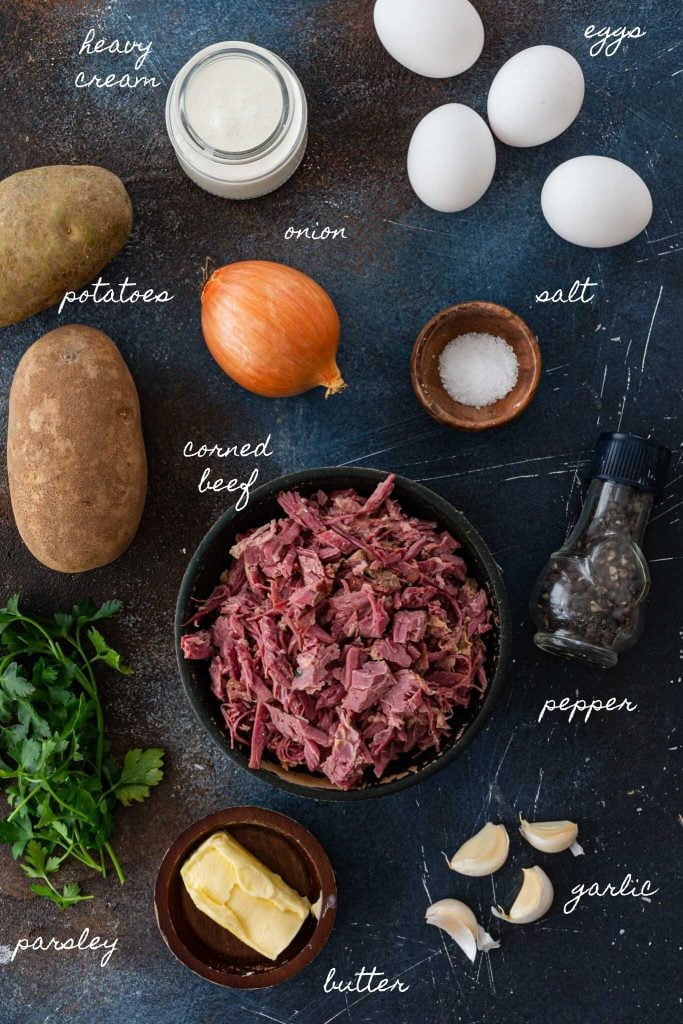 Grocery List
WHAT YOU'LL NEED TO BUY:
1 pound Russet potatoes
1 medium yellow onion
4 cloves garlic
1 bunch parsley
4 large eggs
1/2 Pint heavy cream
1 stick butter
2 cups shredded corned beef (you can use leftovers or cook one for this recipe.)
Optional: Chili oil, for drizzling before serving
PANTRY ESSENTIALS:
Ingredients I'm assuming you already have in your pantry. But, if not, make sure to buy them as well!
Salt
Pepper
Vegetable oil, for frying the eggs.
What kind of potatoes are best for hash browns?
If you're after a crispy, almost caramelized hash, go for starchy potatoes, like Russets. The starchier, the better.
Russets have a higher starch/lower water content, so they become dry on the outside and fluffy inside when cooked, which makes them the best choice for this corned beef hash recipe!
That being said, if all you have at home are Yukon Golds, those would work too, but your hash won't get as crispy.
Can I use pre-diced potatoes?
Yes. I have made this corned beef hash recipe using packaged diced potatoes – the kind you find refrigerated, by the eggs and bacon – and it turned out just fine, perhaps just a bit softer than how I like it.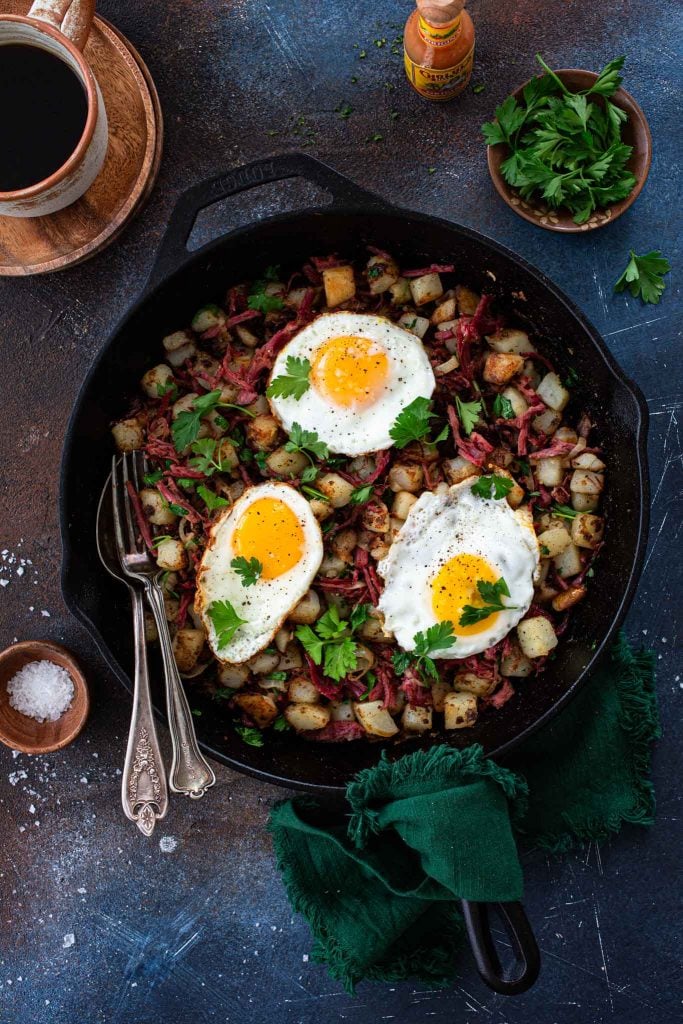 How to make corned beef hash
Almost all corned beef hash recipes you'll find online claim to be one pan or one skillet. Unfortunately, mine is not, because I like to fry my eggs separately.
I like my fried eggs to have golden, crispy edges and runny yellow yolks, and the only way to achieve that is cooking them in a separate skillet. To me, fried egg perfection is worth an extra pan to wash!
If you don't care about how your eggs come out, go ahead and make 4 shallow indentations in the hash at the end, crack your eggs in them and pop the skillet in the oven (at 400 degrees) until the eggs are done.
Recommended tools: cast iron skillet, nonstick pan.
Here's how I make this corned beef hash recipe. As always, you will find the printable (and more complete) version of the recipe at the end of this post!
Sauté onions and garlic in butter.
Add shredded corned beef and cook until slightly browned. Remove and reserve.
Fry the diced potatoes until golden and tender.
Add the reserved corned beef and onion back to the skillet. Season with salt and pepper. Cook, undisturbed, until crunchy and browned on the bottom.
Flip the hash in sections and pour the heavy cream. Continue cooking until browned on the other side.
Fry eggs separately. Top the hash with the fried eggs and chopped parsley.
| | |
| --- | --- |
| | Olivia's Tip: For an even crispier hash, use a spatula to press it gently into an even pancake-like layer and then let it cook undisturbed until crispy. |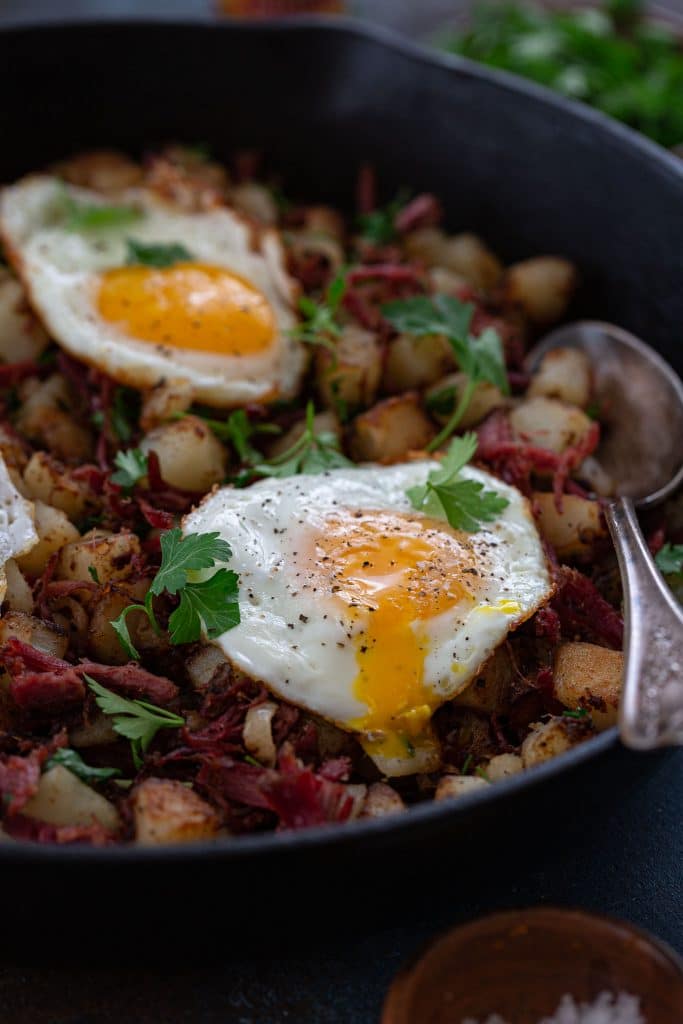 Can I use pastrami instead of corned beef?
Yes, you can use shredded pastrami.
You can also use braised short ribs, pork shoulder and/or brisket. If it's fatty and shreddable, it will make delicious hash!
How long will leftovers keep?
Corned beef hash is best enjoyed freshly made.
However, if you have leftovers, you can keep them in an airtight container in the fridge for a couple of days. When ready to eat, heat a little butter – or olive oil – in a skillet and add the hash, frying until crispy again.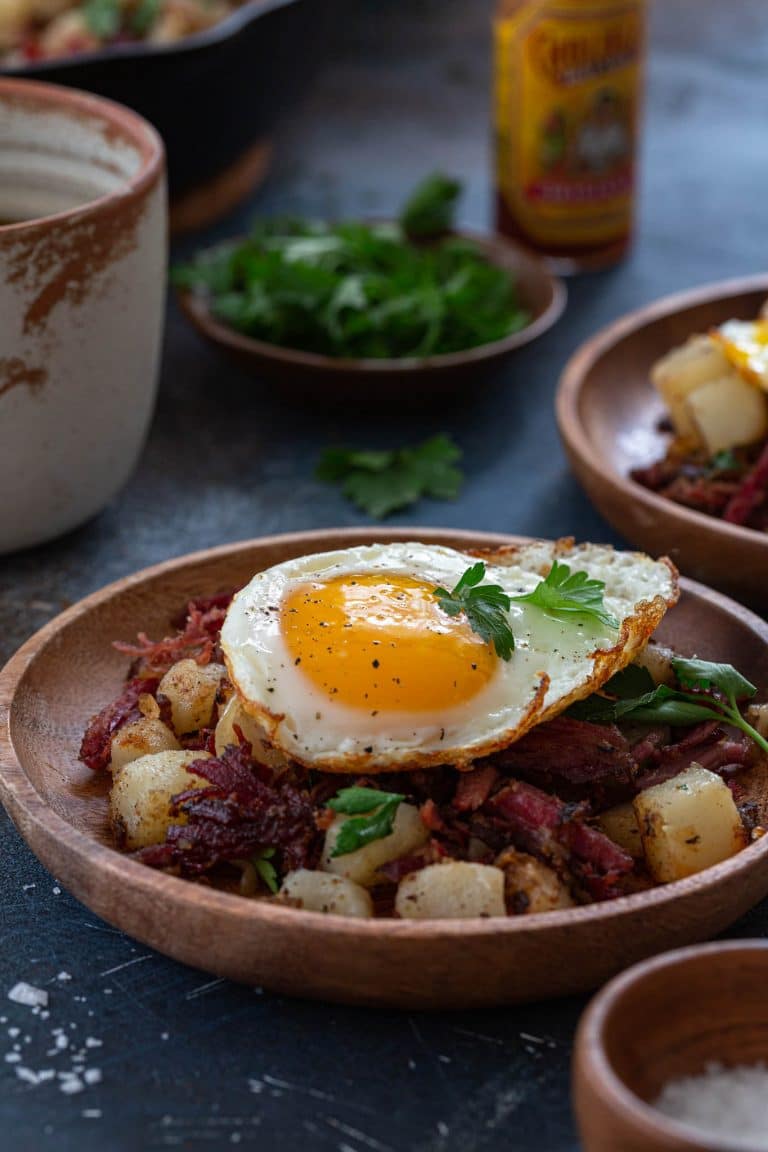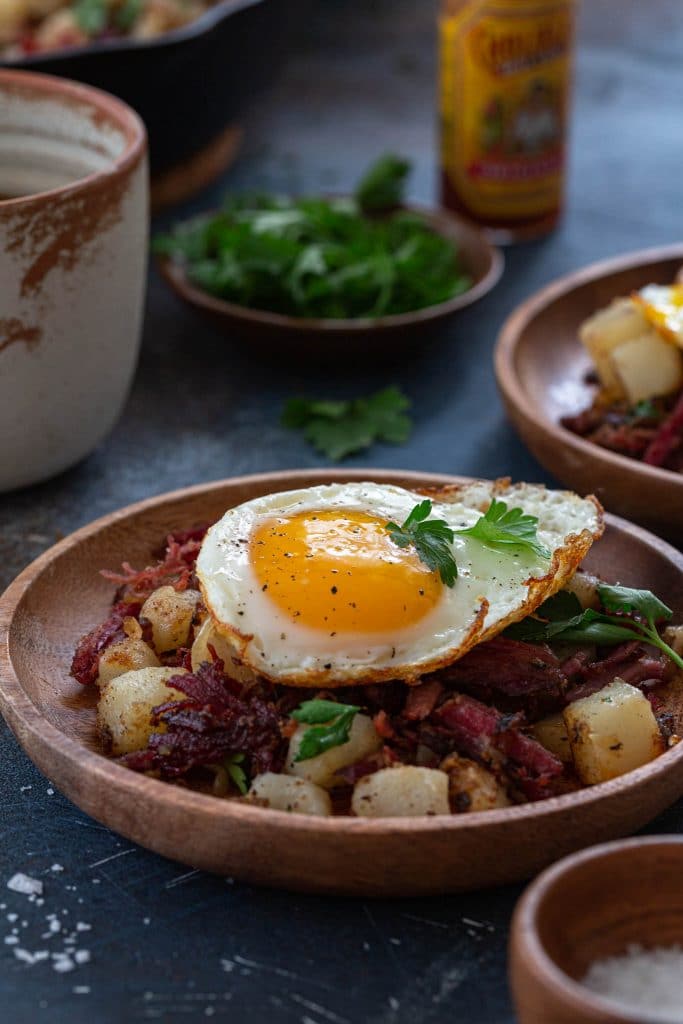 What goes well with this corned beef hash recipe?
This dish is already a meal in itself.
That being said, I like to drizzle chili oil (or some chipotle mayo) on my corned beef hash and to serve it with toast and hot sauce on the side.
Also, while this is technically a breakfast recipe, it is delicious no matter what time it's served. It is a great breafast-for-dinner meal!
Did you make this recipe? I love hearing from you! Please comment and leave a 5-star rating below. You can also take a photo and tag me on Instagram with #oliviascuisine.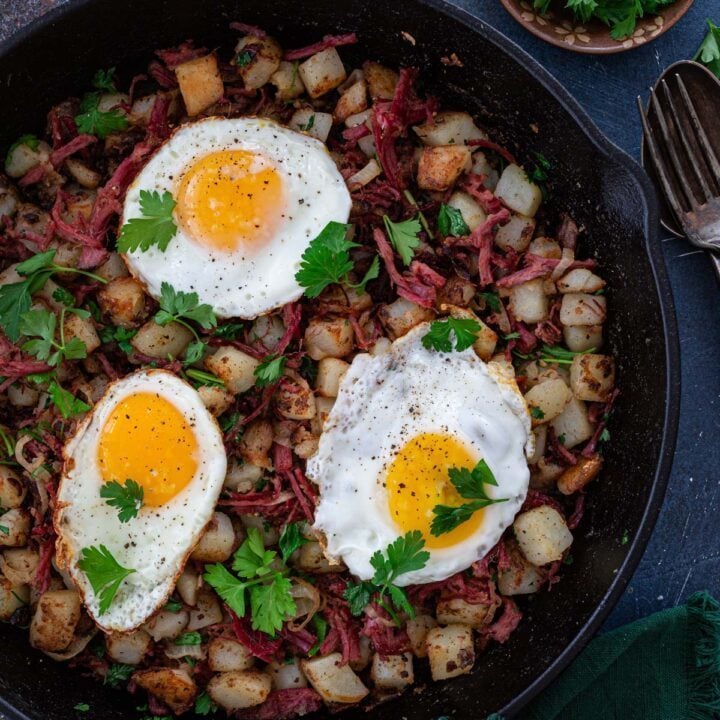 Corned Beef Hash Recipe
This easy Corned Beef Hash recipe is hearty, delicious and a great way to use leftover corned beef. Top with fried eggs and you have the ultimate breakfast of champions!
Ingredients
4 tablespoons unsalted butter, divided
1 medium yellow onion, sliced
4 cloves garlic
2 cups shredded cooked corned beef
1 pound Russet potatoes, peeled and diced small
Salt and freshly ground black pepper, to taste
1/4 cup heavy cream
1 tablespoon vegetable oil
4 large eggs
Chopped parsley for garnishing
Optional: chili oil for drizzling
Instructions
Heat 2 tablespoons of butter in a large cast iron skillet, over medium-high heat. Add the onion and cook until softened and starting to brown, about 3 minutes. Then, add the garlic and cook until fragrant, 1 minute.
Add the shredded corned beef and cook, stirring occasionally, until slightly browned, about 5 minutes. Remove with a slotted spoon and reserve.
Melt the remaining butter and add the diced potatoes, spreading them into a single even layer. Cook - stirring often - until tender and golden brown, 15-20 minutes.
Returned the corned beef and onion mixture to the skillet. Stir to combine and season with salt and pepper. Cook, undisturbed, until crispy and browned on the bottom. Flip the hash in sections until the bottom becomes the top.
Pour the heavy cream on the edges, letting it run down to the bottom of the skillet. Continue cooking until browned and crispy on the other side.
Taste and adjust seasoning as needed.
Heat the oil in a large non-stick skillet, over medium heat. Break the eggs, one by one, into a small bowl. Carefully add the eggs to the fully heated pan and let it cook until the whites are completely set and the yolks are done how you like them. (see notes)
Top the corned beef hash with the eggs, drizzle with chili oil and garnish with chopped parsley.
Serve immediately!
Notes
Cooking the eggs in the oven: If you prefer, you can cook the eggs straight in the corned beef hash. Once the hash is cooked to the desired crispiness, make four wells and crack an egg into each of them. Place the cast iron skillet in a preheated (400 degrees F) oven and cook until the whites are set and the eggs are cooked to your liking.
Don't have a cast iron skillet? This recipe can be made in a large nonstick skillet instead. If cooking the eggs in the oven, the skillet will have to be oven-proof.
Substitutions:
- Corned Beef - You can use pastrami, short ribs, pulled pork or shredded brisket instead.
- Potatoes - If you don't want to peel and dice potatoes, you can use packaged pre-diced potatoes.
- Parsley - Omit or use any herbs you like!
- Chili oil - Can be omitted or you can use chipotle mayo instead.
Recommended Products
As an Amazon Associate and member of other affiliate programs, I earn from qualifying purchases.
Nutrition Information:
Yield: 4
Serving Size: 1
Amount Per Serving:
Calories: 693
Total Fat: 50g
Saturated Fat: 20g
Trans Fat: 0g
Unsaturated Fat: 25g
Cholesterol: 344mg
Sodium: 1271mg
Carbohydrates: 29g
Fiber: 3g
Sugar: 3g
Protein: 31g
Nutritional values are approximate, please use your own calculations if you require a special diet.
If you liked this corned beef hash recipe, you will also like: