Dukkah (Egyptian Nut and Spice Mix)
Dukkah is a nut lover's dream come true! An Egyptian nut and spice blend that can be used to add flavor and texture to many recipes, or – my favorite – served on its own, with olive oil, for dunking bread!
I am a huge fan of Middle Eastern recipes. While this dukkah is a new addition here on the blog, my Baba Ghanoush and my Kibbeh are really popular!
This post is sponsored by iHerb. All opinions are my own.
If you haven't heard of dukkah, you are in from a treat!
Ever since I tried it for the first time, I decided I had to recreate it.
Yes, you can buy packaged dukkah at many stores, but it is so much better when it's homemade. You get to customize it and make it exactly how YOU like it! (In my case that means a lot less cumin than some of the dukkahs I have tasted in the past.)
Plus, making your own means you know your ingredients are fresh. I can't stress enough that fresh nuts and spices are a must!
Spices, when old, won't taste bad, but won't be as flavorful and fragrant either. Nuts, on the other hand, when old, can taste rancid, sour or bitter.
So do yourself a favor and buy fresh nuts to make dukkah! I recommend ordering from my friends at iHerb. ♥️
What is Dukkah?
Dukkah – also known as Duqqa, Du'ah, and Do'a – is a Middle Eastern seasoning consisting of a mix of nuts, spices and sometimes herbs.
It originated in ancient Egypt, due to its location which was situated at the crossroads of a prominent spice route, meaning Egyptians had access to then rare eastern spices, like cumin and coriander.
Everyone from the common folk to the Pharaoh used this seasoning – which varied from family to family/vendor to vendor – to season their bread.
Packaged versions of Dukkah are easily found in spice markets in Cairo, sold in paper cones.
Here in the United States, it is sold at Trader Joe's and gourmet spice shops. It gained popularity through cooking TV shows, like Chopped and Top Chef, so it's only a matter of time until it is widely available.
However, considering how easy it is to make it at home, I can't see why anyone would ever buy it! 😉
What does Dukkah mean?
The word "Dukkah" (pronounced doo-kah) is derived from the Arabic word that means "to pound" or "to crush".
While nowadays most people use a food processor, the mixture was traditionally pounded using a mortar and pestle.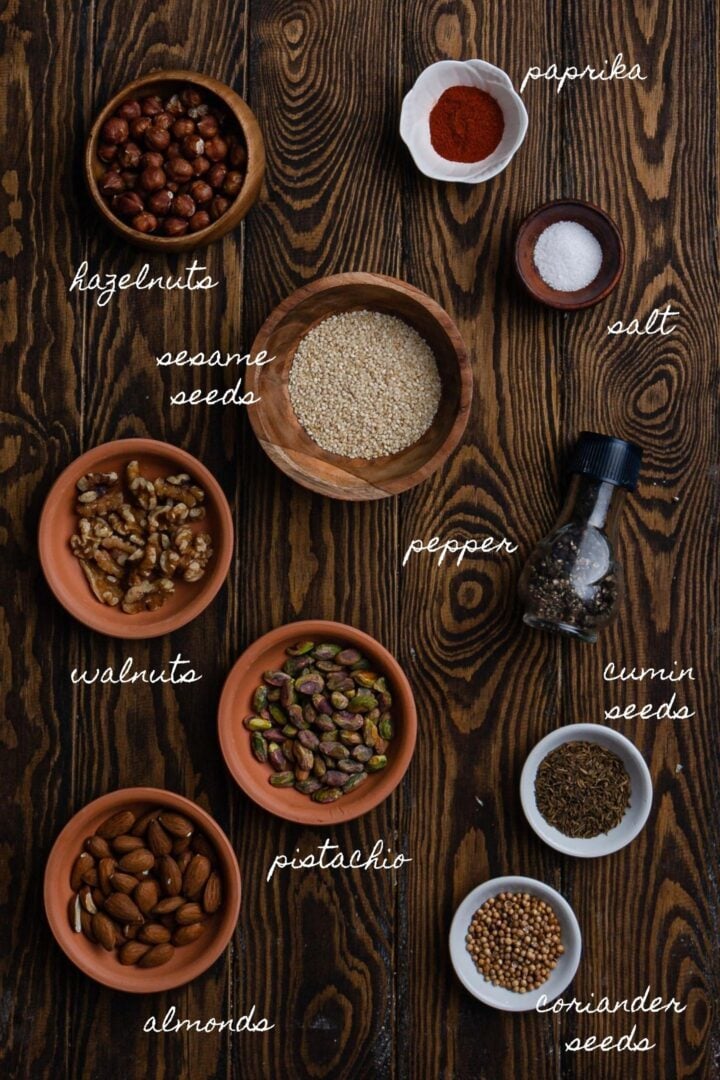 Ingredients
To make Dukkah, you will need:
NUTS – Most versions of Dukkah include hazelnuts, by itself or with another type of nuts. To me, this seasoning is a celebration of nuts, so my recipe calls for hazelnuts, almonds, walnuts and pistachios!
SESAME SEEDS – You can buy white sesame seeds and toast them with the nuts, or buy the ones that are already toasted.
SPICES – You'll need coriander seeds and cumin seeds, which are traditional. Paprika is optional, and you can use sweet, hot or even smoked.
SALT – Some recipes don't call for salt, but since I buy raw unsalted nuts, I like to add salt to enhance the flavors.
My iHerb Haul!
When iHerb invited me to try their service, I immediately knew I wanted to buy nuts to make Dukkah.
Buying nuts at my local grocery store can be a hit or miss, and I've had my share of freshly bought nuts that tasted past their prime.
So I placed my order, which was surprisingly easy to do, and waited a few days for my package.
iHerb has a great selection of gourmet items and they carry over 30,000 natural products! Among my nuts and spices, I also ordered a few other items, like a couple of specialty oils (Grapeseed and Avocado Oil from La Tourangelle) and some Harney & Sons tea (my favorite!).
Everything arrived perfectly! They ship their products from climate-controlled distribution centers to ensure best quality. So even though the package ended up sitting at my door for a few hours, the nuts and spices were super fresh (yay, iHerb!).
Want to try iHerb for yourself? Here's a discount to use on your order!
It is worth noting that they ship to over 180 countries, so you can order from them even if you're not in the U.S.
Any questions? Just reach out to them. They offer 24/7 customer service in 10 different languages!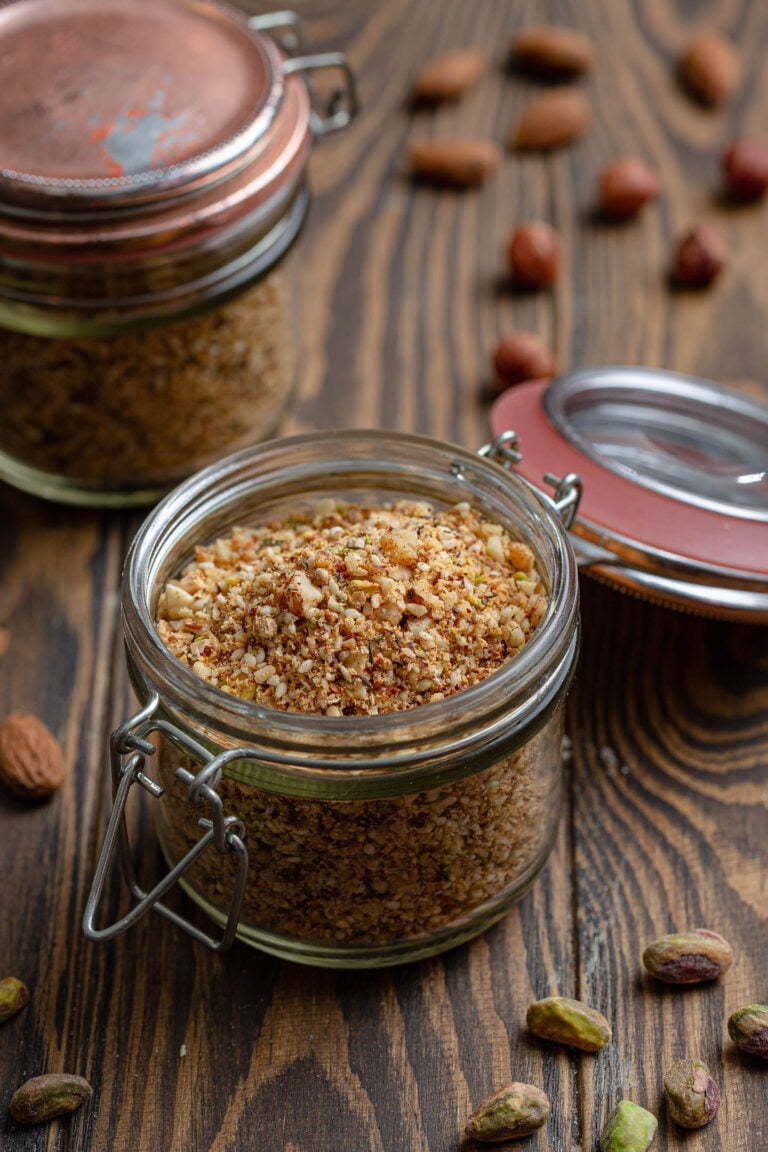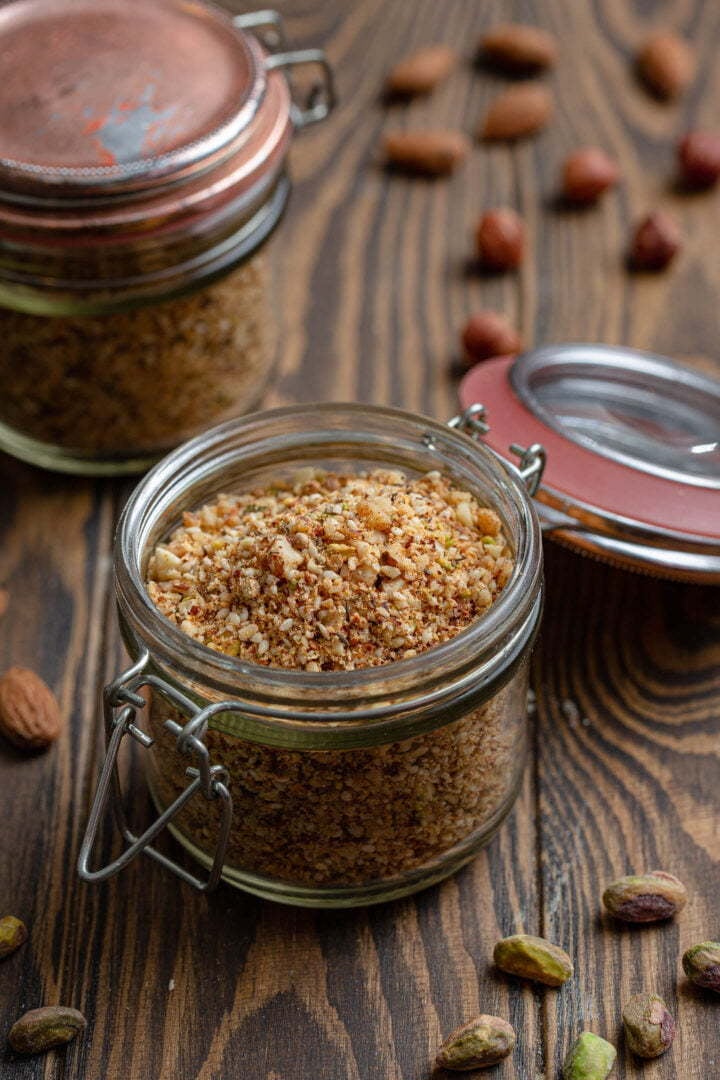 How to make Dukkah
Making dukkah is a breeze! All you have to do is toast the nuts and seeds, and process in the food processor until coarsely ground.
Want to do it the old fashioned way? Be my guest! Use a mortar and pestle and those muscles to crush everything.
You will probably notice that my recipe makes a lot more dukkah than some of the other recipes out there! That is because I'm certain you will love it so much that you will want to have extra to use it in recipes.
That being said, feel free to halve (or double, triple, quadruple) the recipe to suit your needs!
Recommended tools and equipment: baking sheet, food processor.
Here's how I make this Dukkah recipe. As always, you will find the printable (and more complete) version of the recipe at the end of this post!
Step 1: Toast the nuts and seeds.
Preheat oven to 350º. Spread the raw nuts and seeds on a baking sheet and toast in the oven. Let them cool completely.
Step 2: Make the Dukkah!
Place the toasted nuts and seeds, plus all remaining ingredients in the jar of a food processor.
Pulse until coarsely chopped. Do not overdo it or it can turn into a fine powder or even nut butter, and that's not what we want!
Olivia's Tips
Dukkah is highly customizable. You can use whatever nuts you have on hand!
To save time, you can buy already roasted nuts and sesame seeds. But be careful: those tend to be salted, so adjust the amount of salt or omit altogether.
If toasting your nuts and seeds, it is important to allow them to cool completely. If they are hot, they can easily turn into a paste.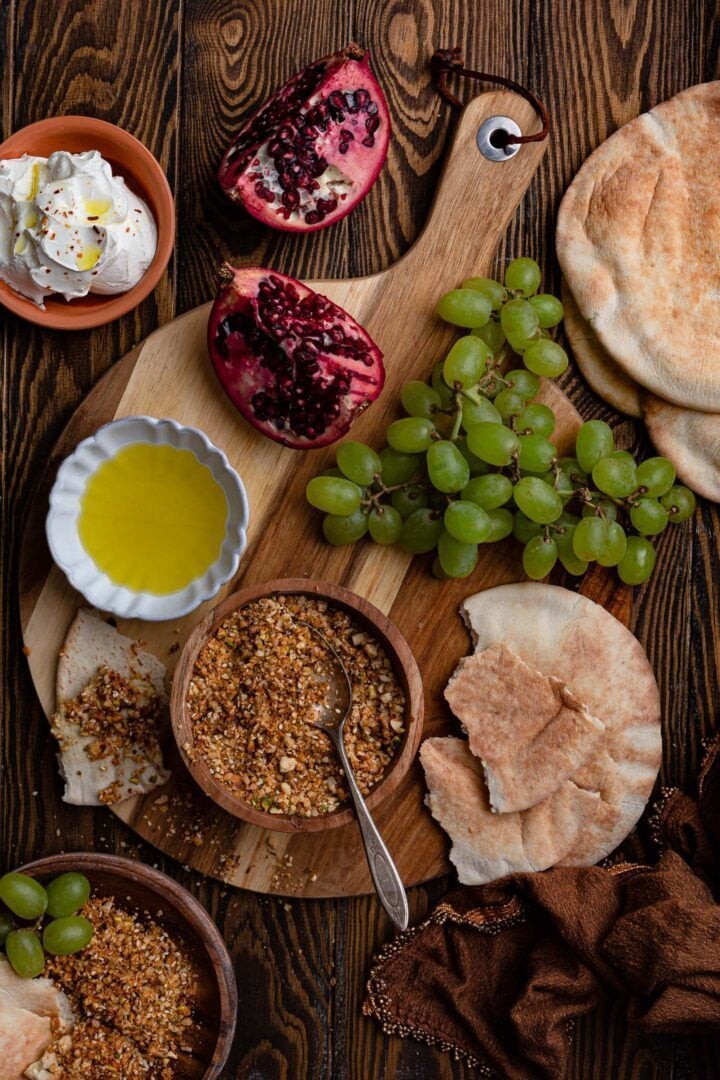 How to eat Dukkah
Dukkah is traditionally served with bread (often pita) and olive oil for dipping!
You dunk the bread in the olive oil and then in the dukkah, so it sticks to the bread. So so good!
I love serving it as part of a Middle Eastern inspired cheeseboard, with warm bread, fresh fruit (grapes and pomegranate), cheese, labneh and olives.
That being said, once you taste dukkah for the first time, you will want to use it on everything! Here are a few suggestions:
Sprinkle on hummus, labneh, soups, salads, avocado toast, fried or scrambled eggs, and even popcorn.
Use it to crust beef, chicken or fish.
Toss with roasted veggies.
Use as a topping for homemade bread.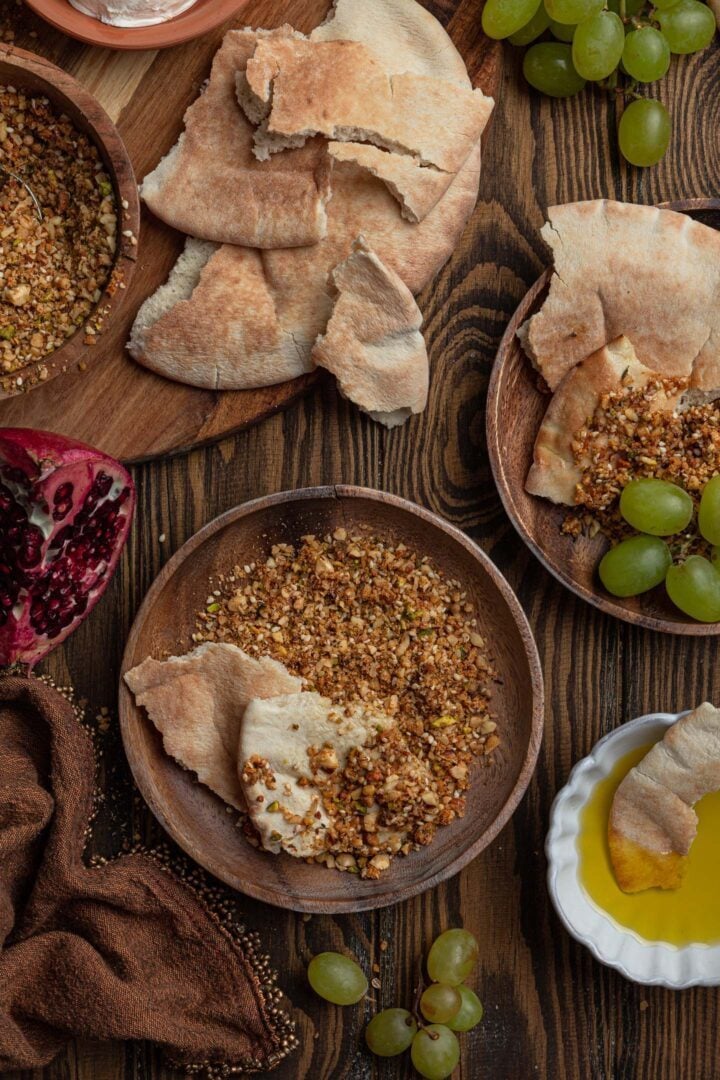 Frequently Asked Questions
Is Dukkah the same as Za'atar?
No, Dukkah is a blend of nut and spices, while Za'atar is a mix of crushed herbs and toasted sesame seeds.
How long will it keep?
If you store it in airtight containers, Dukkah will last a couple weeks at room temperature (in a dark spot).
Can I freeze Dukkah seasoning?
Yes, for longer storage you can freeze in sealable bags for up to 6 months!
Did you make this recipe? I love hearing from you! Please comment and leave a 5-star rating below. You can also take a photo and tag me on Instagram with #oliviascuisine.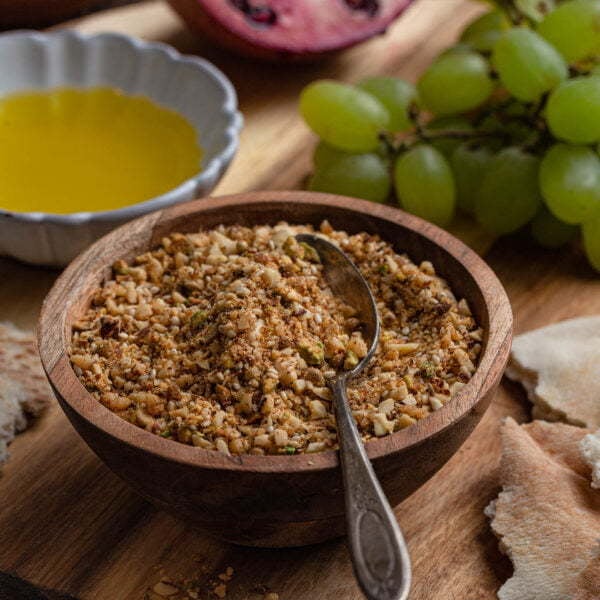 Dukkah
Dukkah is a nut lover's dream come true! An Egyptian nut and spice blend that can be used to add flavor and texture to many recipes, or – my favorite – served on its own, with olive oil, for dunking bread!
Instructions
Preheat oven to 350ºF

Spread all the raw nuts and seeds in an even layer on a baking sheet and roast for 5 minutes. Stir and return to the oven for another 3 minutes or until they smell nutty. Do not overdo it as they can burn and turn bitter!Remove from the oven and let them cool completely.

Place the toasted nuts and seeds in the jar of a food processor. Add the pistachios, coriander seeds, cumin seeds, paprika (if using), pepper and salt. Pulse a few times, until coarsely ground.

Taste for seasoning and adjust as needed.

Serve immediately or transfer the dukkah to an airtight jar to store at room temperature for up to 1 month.
Notes
Storage: Store it in an airtight container, at room temperature and in a dark spot, for 2-3 weeks. Freeze Instructions: For longer storage, Dukkah can be frozen for up to 6 months!
Nutrition
Serving: 2tbsp, Calories: 100kcal, Carbohydrates: 4g, Protein: 3g, Fat: 9g, Saturated Fat: 1g, Sodium: 98mg, Potassium: 116mg, Fiber: 2g, Sugar: 0.5g, Vitamin A: 56IU, Vitamin C: 0.5mg, Calcium: 54.5mg, Iron: 1.25mg