Ground Beef Burritos
Make these Ground Beef Burritos at home in no time! Perfectly seasoned ground beef, fluffy rice, beans, cheese, pico de gallo and sour cream come together in a delicious burrito that is satisfying and easy to make. It is the perfect meal to share with others and easily raise your cooking game!
(This post is sponsored by Success® Rice. All opinions are my own!)
Love Mexican and Tex-Mex flavors? Make sure to also check out my Mexican Beef and Rice Casserole, Carne Asada and Fully Loaded Nachos.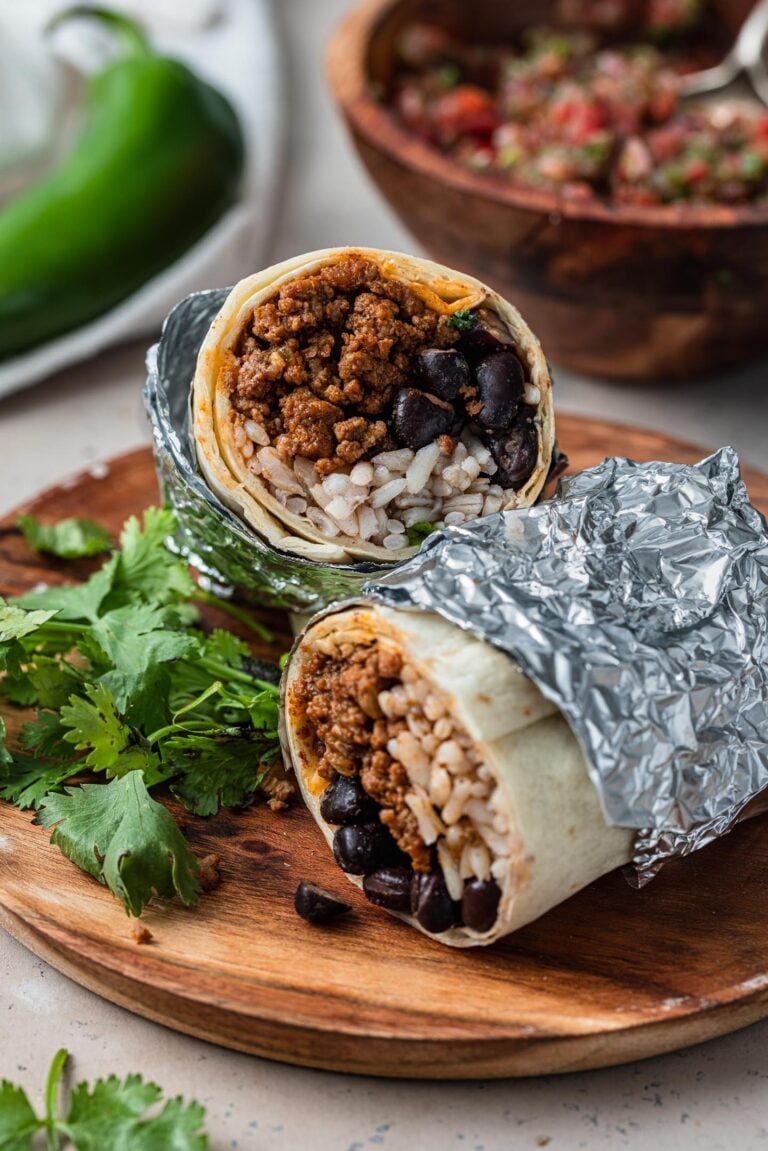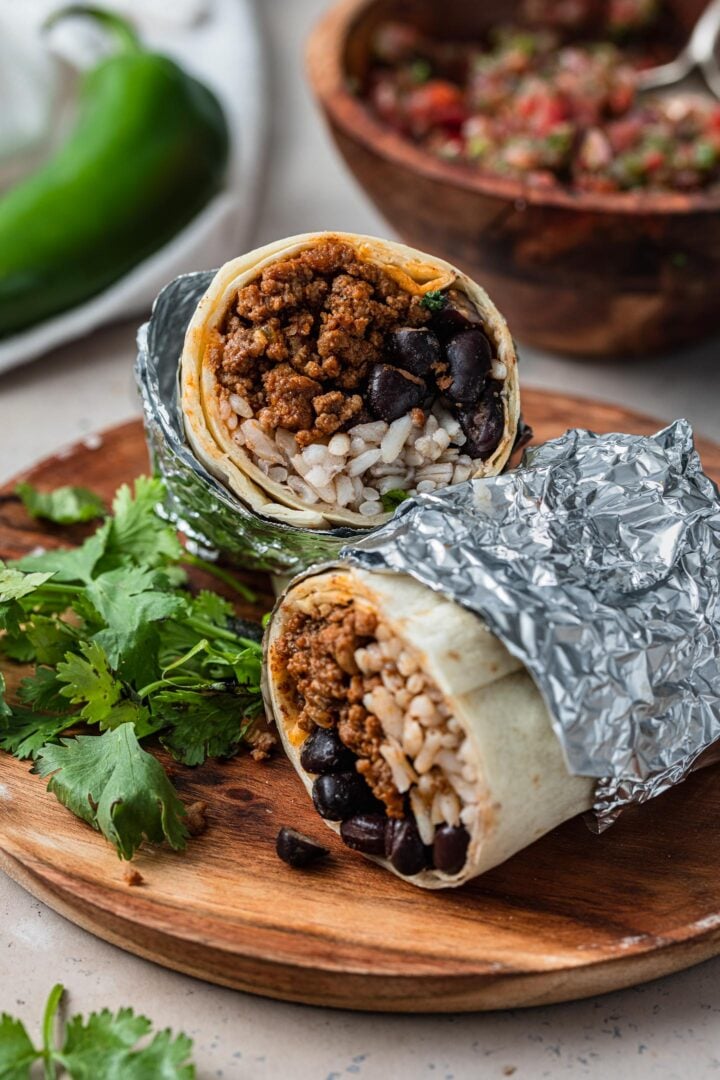 What makes a good burrito? The answer will vary depending on who is answering it.
To me, high quality ingredients are a must! I love to fill my burritos to the brim. That being said, there is a fine line between a full tortilla and a tortilla that rips, leaving you with a big mess that can only be eaten with a fork. (Ask me how I know?)
Moral of the story? Start small. Don't overfill your burritos! You will gain skill with time, and will be able to make them a little more full! Also, pro tip, go the extra mile to find 12-inch tortillas. They make bigger burritos! 😉
Big or small, I hope you guys enjoy this recipe as much as my family does! It is so fun to see what flavor combinations everyone creates with all the toppings. These burritos are also great for prepping ahead and they freeze well, so I highly recommend you make an extra batch to stock in your freezer.
Next time you are hungry for something delicious, or need a great meal to share with family and friends, you will be glad you have them ready to go! ❤️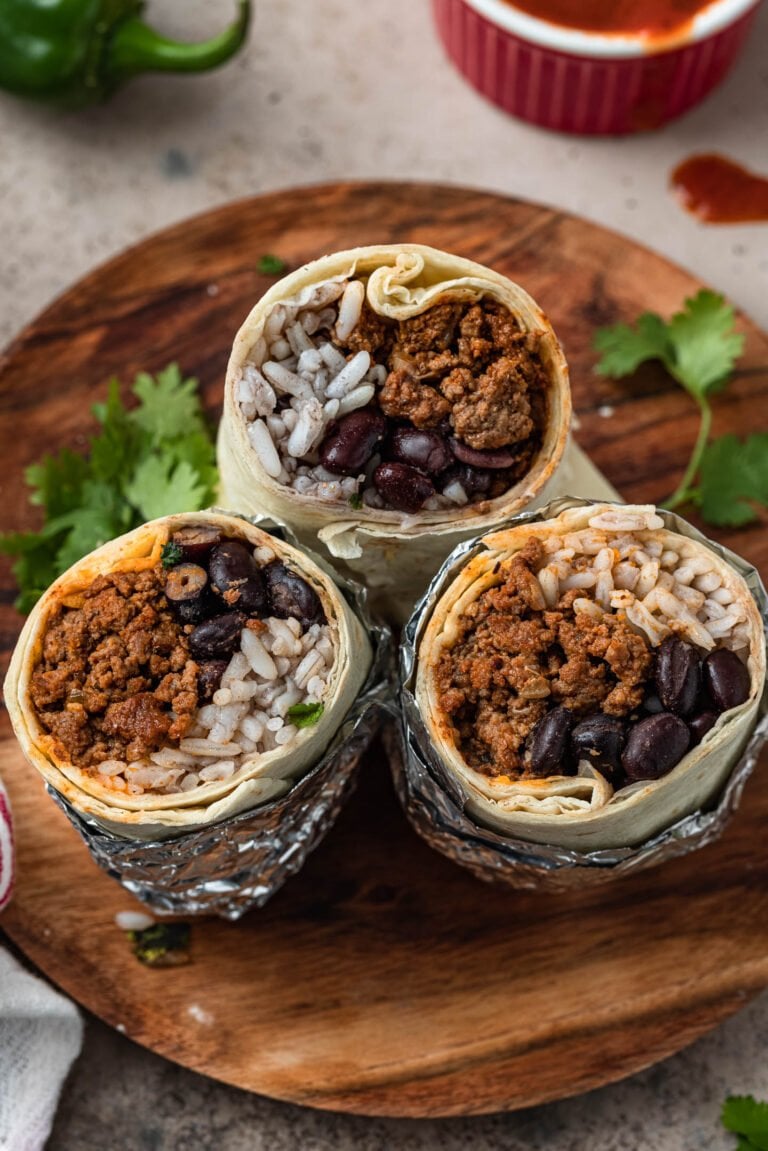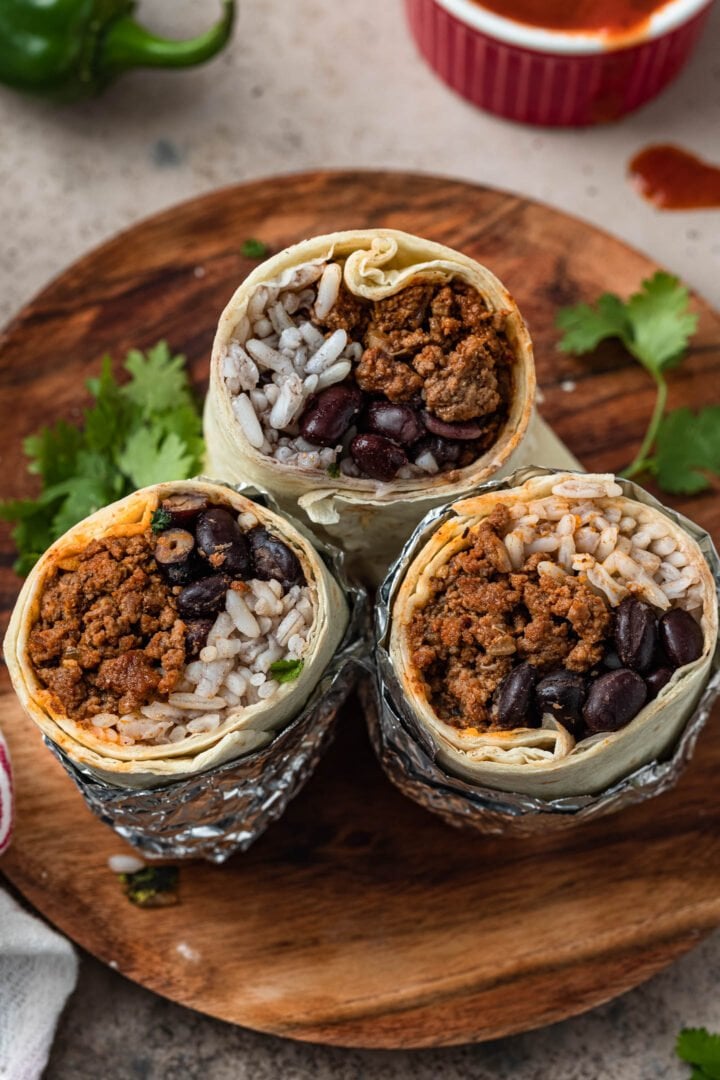 Are Burritos Mexican?
Burritos as we know here in the U.S. didn't exist until the 1930s in California, when they were served at El Cholo Spanish Café in Los Angeles.
That being said, there is some evidence that claims they originated in northern Mexico at the beginning of the Mexican Revolution.
One story I found tells that a man called Juan Mendez, from Chihuahua (Mexico), used to sell food on a donkey cart. To keep the food warm, he would wrap the ingredients (meat, rice, beans, etc) in a big homemade flour tortilla. The concoction then got its name because of the donkey cart.
It wasn't until the 1960s that burritos became really popular in the US, due to the Mission Burrito (huge burritos, wrapped in foil), which originated in San Francisco and eventually made their way to the rest of the nation via tex-mex restaurants such as Chipotle and Qdoba.
Fun Fact: "Burrito" means "little donkey" in Spanish! Since burritos are not popular in most parts of Mexico, don't go around asking for them or you might end up with a few donkeys to bring home. 😂 😂 😂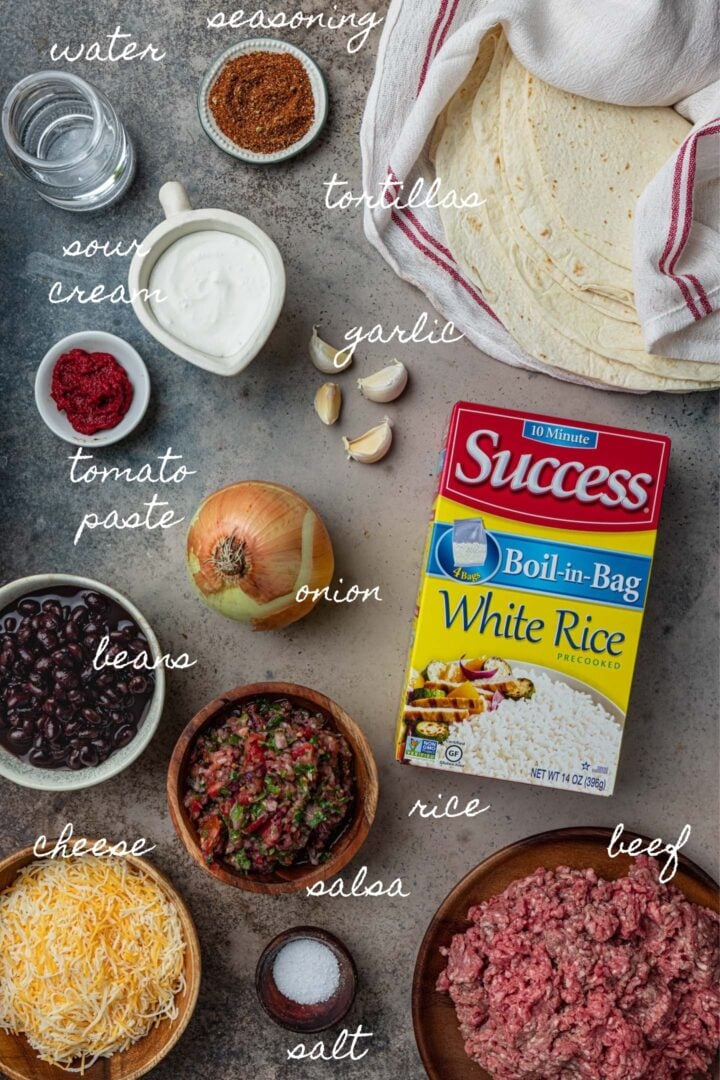 Ingredients
To make ground beef burritos, you will need:
Ground Beef – Go with lean ground beef, between 85 and 90%. That will get you a nice beef-y flavor but won't release a whole lot of grease!
Seasoning – Taco seasoning (homemade or store-bought) and salt.
Onion and Garlic
Tomato Paste – A little bit of tomato paste and water make the beef extra juicy and a little saucy. You can also use 1/3 cup of tomato sauce if you don't have tomato paste on hand!
Rice – I like the convenience of using Success® Rice boil-in-bag. That saves me the time and effort of cooking a pot of rice. Find these at your Local Walmart.
Beans – I like using black beans, but pinto beans would work too! You can also use refried beans, if you prefer.
Salsa – A nice fresh salsa, such as Pico de Gallo, or your favorite mild, medium or spicy store-bought salsa.
Cheese – You can buy pre-shredded Mexican-style cheese or shred a combination of cheddar and Monterey Jack.
Sour Cream – Or Mexican Crema, which is easier to drizzle, if you can find!
Tortillas – Use 10-inch flour tortillas for smaller burritos or 12-inch for larger ones. Corn tortillas don't work for burritos as they are too fragile to hold all the fillings. Save them for enchiladas!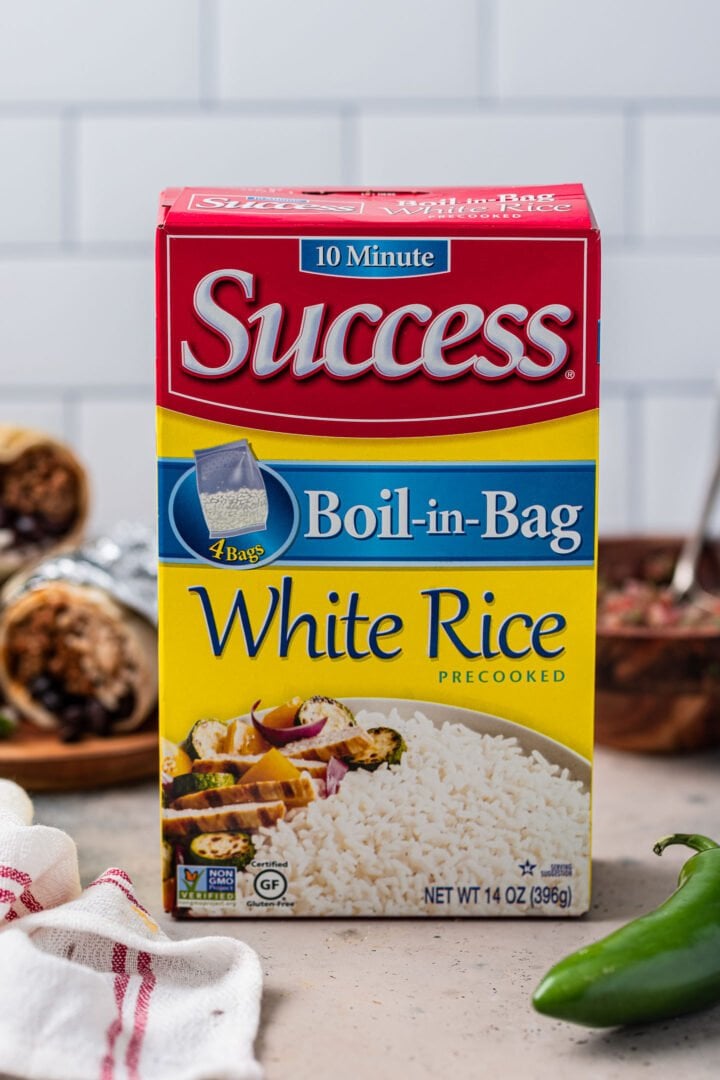 Boil-in-Bag Rice Saves You Time!
These burritos are easy to make, but are made of several elements: rice, beans, beef, salsa, etc.
You can certainly choose to make everything from scratch, but – oh boy – that can add quite a lot of time to the recipe!
The solution? Canned beans and Success® Rice boil-in-bag rice.
I chose to use Success® white rice, but you can use their brown rice or even their jasmine rice in this burrito recipe. They're all gluten free, non-GMO project verified, BPA-free, and made without any preservatives! And the best part? They cook perfectly in just 10 minutes!
By now y'all must know I'm a rice snob! (All Brazilians are!) So I was quite skeptical of boil-in-bag rice at first. In my mind, there was no way it could be just as good as my white rice (which takes over 30 min to prepare).
Well, color me surprised! This is the rice you will be proud to serve next time you are sharing a meal with guests. It is perfect and fluffy every time! No measure, no mess and you can choose to do it in the microwave or on the stovetop.
Want to give it a try? Shop Now at Walmart so you can have rice on hand whenever you are craving a burrito!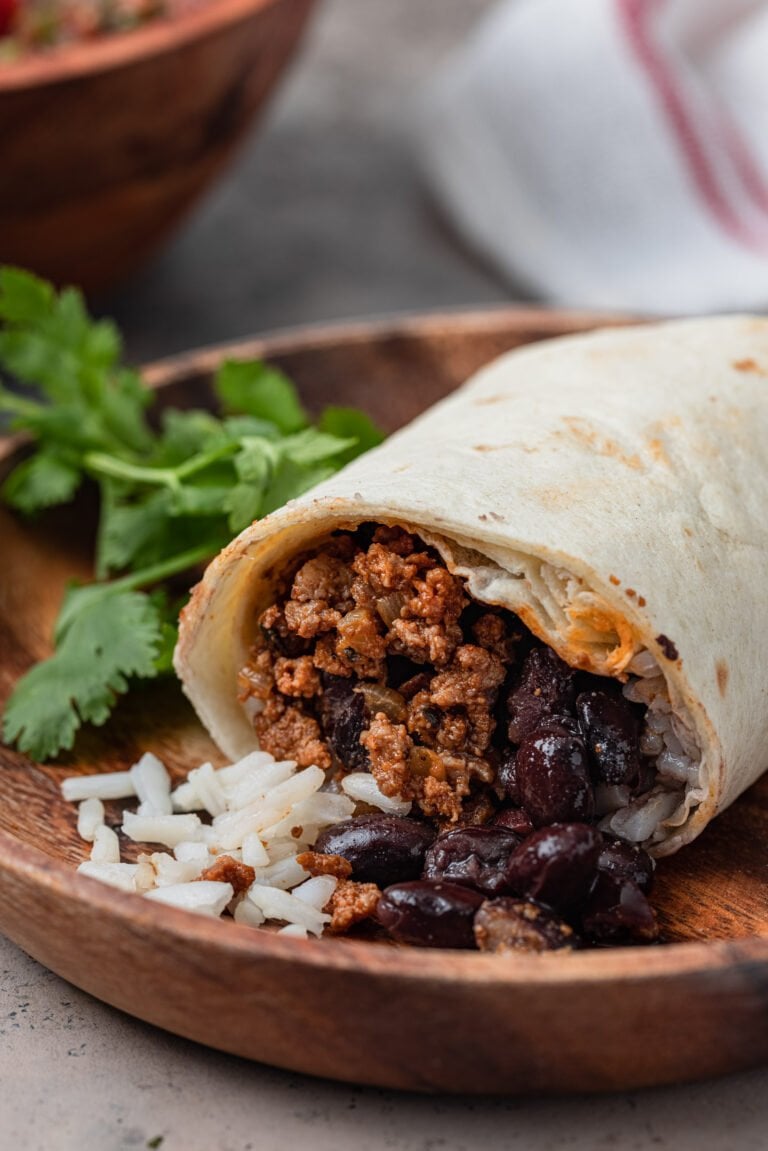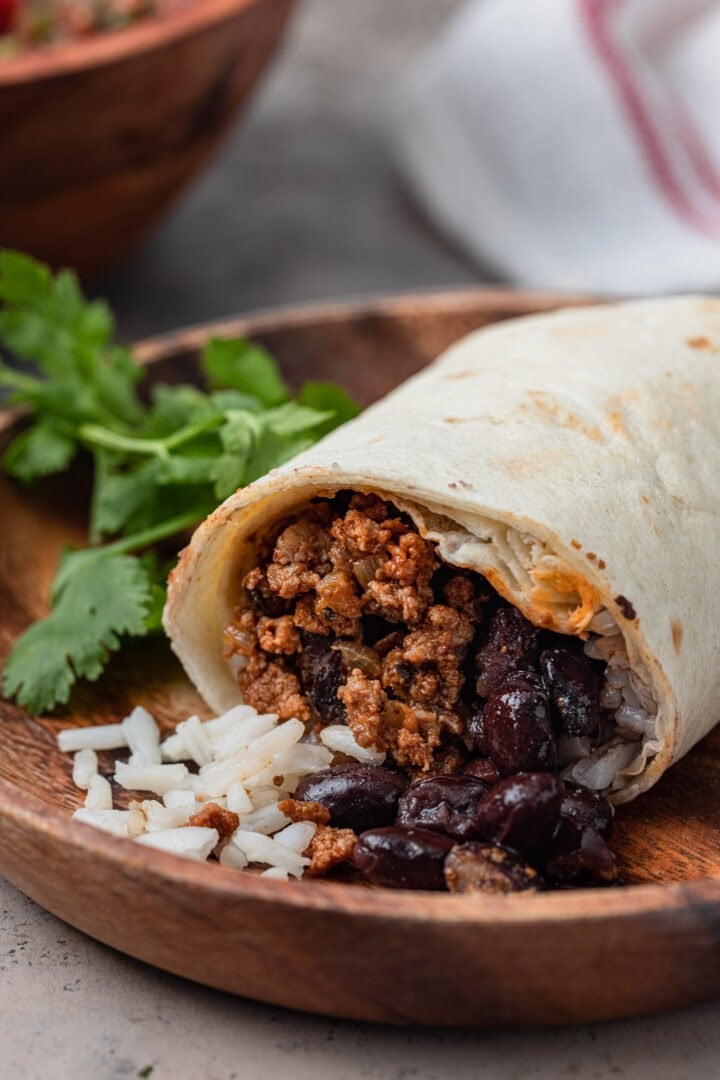 How to Make Beef Burritos
Making beef burritos is quick and easy! The only tricky part is folding them.
You will get better the more you do it, so don't feel frustrated if the first ones are not perfect! Even the most skilled tex-mex restaurant cook has ripped a burrito or two. (Seriously, I've seen it!)
That being said, keep reading along cause I will share you some of my tips to minimize the risks of that happening.
Recommended tools and equipment: large non-stick skillet, stainless steel skillet or microwave (for warming tortillas), aluminum foil.
Here's how I make this ground beef burrito recipe. As always, you will find the printable (and more complete) version of the recipe at the end of this post!
Step 1: Cook the ground beef.
Heat some olive oil and cook the onion and garlic.
Add the ground beef and cook until browned. Drain the extra grease if necessary! (I like to soak up the extra grease with paper towels. That way I don't risk burning myself by trying to pour the grease out by tilting the pan.)
Stir in the salt, taco seasoning, tomato paste and water.
Simmer for 5 minutes so the beef can absorb the liquid.
Step 2: Layer the fillings on the tortillas.
Place about 1/3 cup of rice on the top center part of a warmed tortilla.
Layer about 1/3 cup of beans on top of the rice, followed by the same amount of the seasoned beef.
Spoon some Pico de Gallo on top of the beef, then sprinkle some cheese.
Add a few dollops of sour cream or drizzle some Mexican crema. Skip the sour cream if making the burritos to freeze!
Step 3: Roll the burritos!
To roll a burrito, fold the top down and over the filling, gently pulling the filling back towards the top of the tortilla.
Fold the sides inward, then start to tightly roll the tortilla, making a cylindrical shape. Be gentle! You don't want to rip the tortilla!
If desired, wrap the burritos in foil to keep them warm. It also helps keep them together while you eat them!
Optional: If you want, you can heat your burritos in the oven (wrapped in foil), at 350ºF, for 20-30 minutes or until warm.
Olivia's Tips
Avoid the temptation to overfill your burritos, as that will make them harder to roll and you might end up tearing the tortilla!
Always start with a warm tortilla. A cold tortilla is harder to roll and can tear easily.
To warm the tortillas on the stove top, working with one at a time, place a tortilla in a dry stainless steel skillet on the stove top and warm for 30 seconds per side. To warm them in the microwave, wrap stacks of 5 or 6 with damp paper towels and microwave for 30 seconds at a time, until they are warmed through.
Never stop practicing! You will get better at rolling burritos the more you do it.
Feeding a crowd? Make a burrito bar and let your guests fill and roll their own burritos and get creative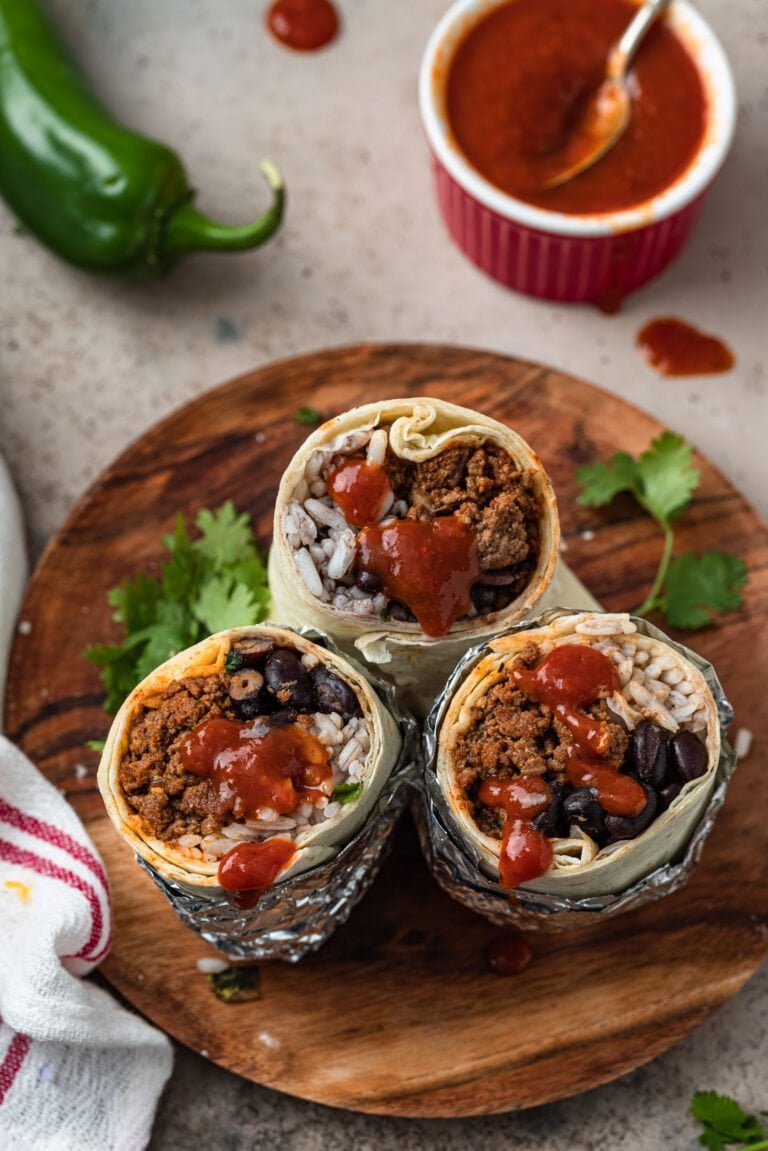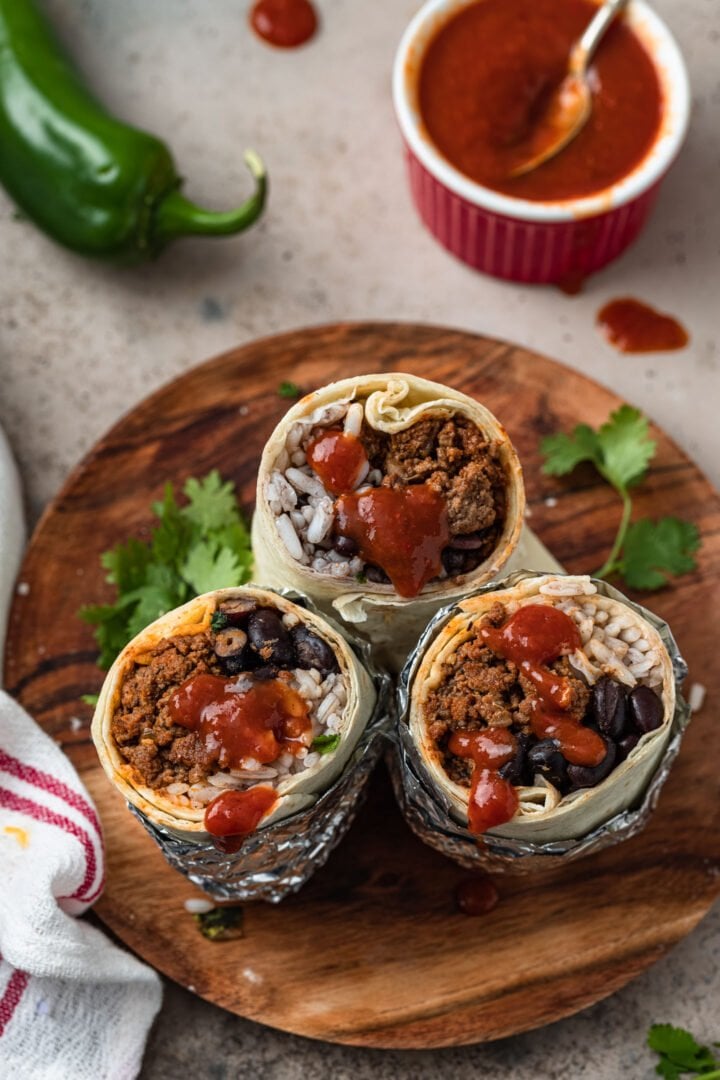 What to Serve with Beef Burritos?
These ground beef burritos are already a meal on its own, since they contain beef, rice and beans.
That being said, a side of extra salsa, taco sauce, hot sauce, more sour cream or guacamole is always a great call! Because who doesn't love their burrito slathered with a spicy sauce or dipped into something creamy? 😋
Variations
Burritos are naturally a vessel for everything you have in your fridge! You can make it a million different ways.
Here are some suggestions:
Use ground chicken, pork or turkey instead of the beef.
Substitute the beans for refried beans, or mix some refried beans with whole beans if you want the best of both worlds!
Use brown rice instead of white.
Season the rice with lime juice, lime and lemon zest and chopped cilantro to make Cilantro Lime Rice.
Make a corn salsa to use instead of the pico de Gallo. Or go for a spicy restaurant-style cooked salsa instead!
Add shredded lettuce or steamed/roasted veggies.
Mix some chipotle or sriracha with the sour cream for a kick!
Frequently Asked Questions
Can I freeze these beef burritos?
Yes, they freeze great! However, skip adding the fresh salsa (go for corn salsa or a cooked salsa instead) and the sour cream, as those ingredients don't freeze well. Freeze the burritos wrapped in foil and stored in a sealed freezer bag, for up to 3 months!
How do I thaw and reheat them?
Thaw the burritos overnight in the fridge and reheat them in the oven, at 350ºF, for about 30 minutes, or until heated all the way through.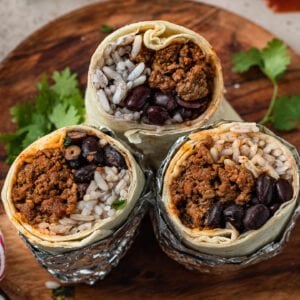 Ground Beef Burritos
Make these Ground Beef Burritos at home in no time! Perfectly seasoned ground beef, fluffy rice, beans, cheese, pico de gallo and sour cream come together in a delicious burrito that is satisfying and easy to make.
Ingredients
1 tablespoon olive oil
1 small onion, chopped
4 cloves garlic, minced
1 pound ground beef
2 teaspoons taco seasoning
½ teaspoon Kosher salt, or to taste
2 tablespoons tomato paste
⅓ cup water
2 cups cooked rice
2 cups canned or cooked black beans
1 cup Pico de Gallo salsa
1 ½ cups Mexican-style shredded cheese
½ cup sour cream (or Mexican crema)
6 large (10 or 12-inch) flour tortillas
Instructions
Heat the olive oil in a large, nonstick skillet, over medium-high heat. Add the onion and garlic and sauté until translucent, about 3-4 minutes.

Add the ground beef and cook, breaking it into smaller pieces with a wooden spoon, until browned. Drain excess grease if necessary.

Stir in the taco seasoning, salt, tomato paste and water, mixing to combine. Lower the heat to medium-low and simmer for 5 to 8 minutes, or until the beef has absorbed most of the liquid. Reserve for a few minutes so it can cool down slightly.

Before assembling the burritos, warm the tortillas on the microwave or stovetop. Also, if using boil-in-bag rice and canned beans, season with salt.

To assemble the burritos, layer 1/4 cup of rice on the top center part of each tortilla, followed by 1/4 cup beans and 1/4 cup of the seasoned beef. (If using a 12-inch tortilla, you can increase amounts to 1/3 cup each). Spoon some of the salsa, sprinkle some cheese and finish with a few small dollops of sour cream.

To roll, fold the top part down and over the filling, gently pulling the filling back towards the top of the tortilla. Then, gently fold both sides inwards and start to tightly roll down the tortilla, tucking the sides in, making a cylindrical shape. Be gentle and careful not to tear the tortilla.

Wrap each burrito in foil and serve immediately or warm in the oven, at 350ºF, for 25-30 minutes or until warmed through! You can also freeze them for up to 3 months (see notes).
Notes
Freezing Beef Burritos
If making these burritos to freeze, skip adding the pico de gallo and the sour cream. You can use a corn salsa or a cooked restaurant-style salsa instead!
Thawing and Reheating
Thaw burritos overnight in the fridge and reheat in the oven, at 350ºF, for 30 to 40 minutes or until warmed through. Alternatively, you can reheat from frozen, but they will take longer to warm!
If you like a crispy exterior, unwrap the burrito, and put back in the oven for 10 more minutes.
Nutrition
Serving: 1burrito, Calories: 590kcal, Carbohydrates: 49g, Protein: 28g, Fat: 32g, Saturated Fat: 14g, Polyunsaturated Fat: 2g, Monounsaturated Fat: 13g, Trans Fat: 1g, Cholesterol: 90mg, Sodium: 1193mg, Potassium: 575mg, Fiber: 5g, Sugar: 7g, Vitamin A: 568IU, Vitamin C: 7mg, Calcium: 285mg, Iron: 4mg