Marinated Steak Kabobs
These Marinated Steak Kabobs are going to be the highlight of this grilling season! Juicy, flavorful and easy to make, they are marinated with Colman's Mustard, soy and Worcestershire sauce, olive oil and garlic. Simply to die for! #ad
BBQ season is not the same without food on skewers, is it? Beef, chicken, pork and even cheese. They are all more fun to eat when they come on a stick!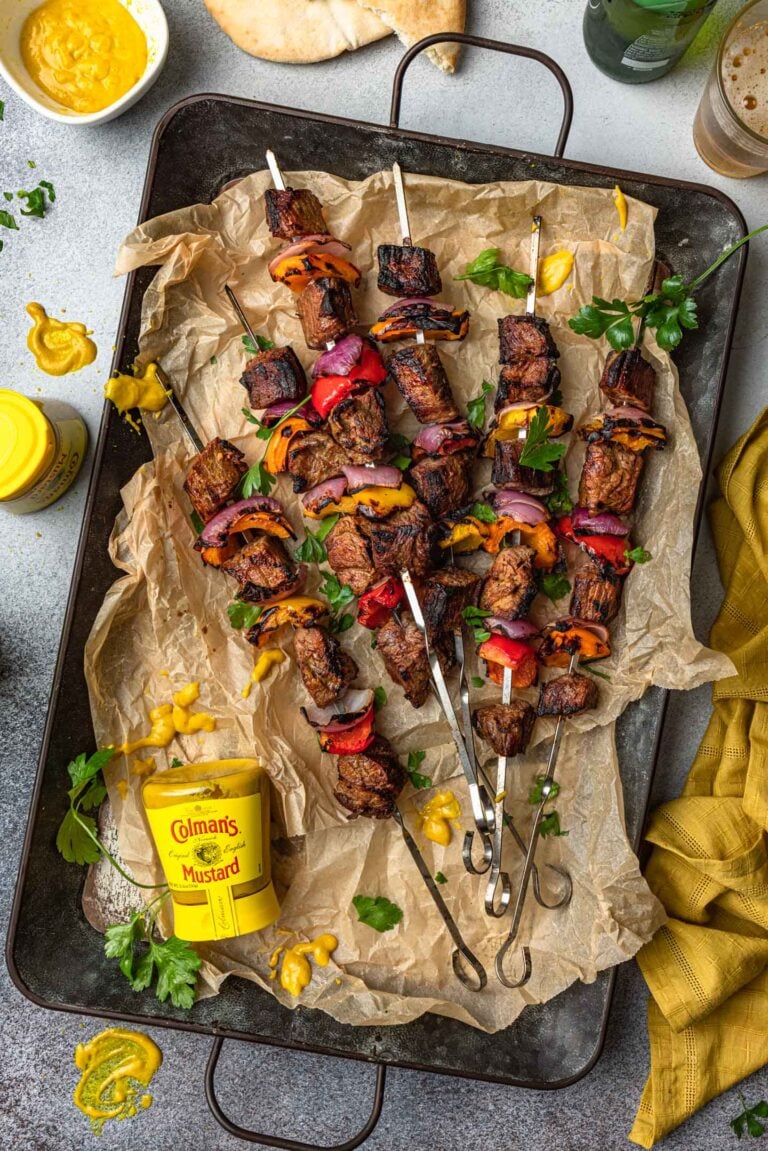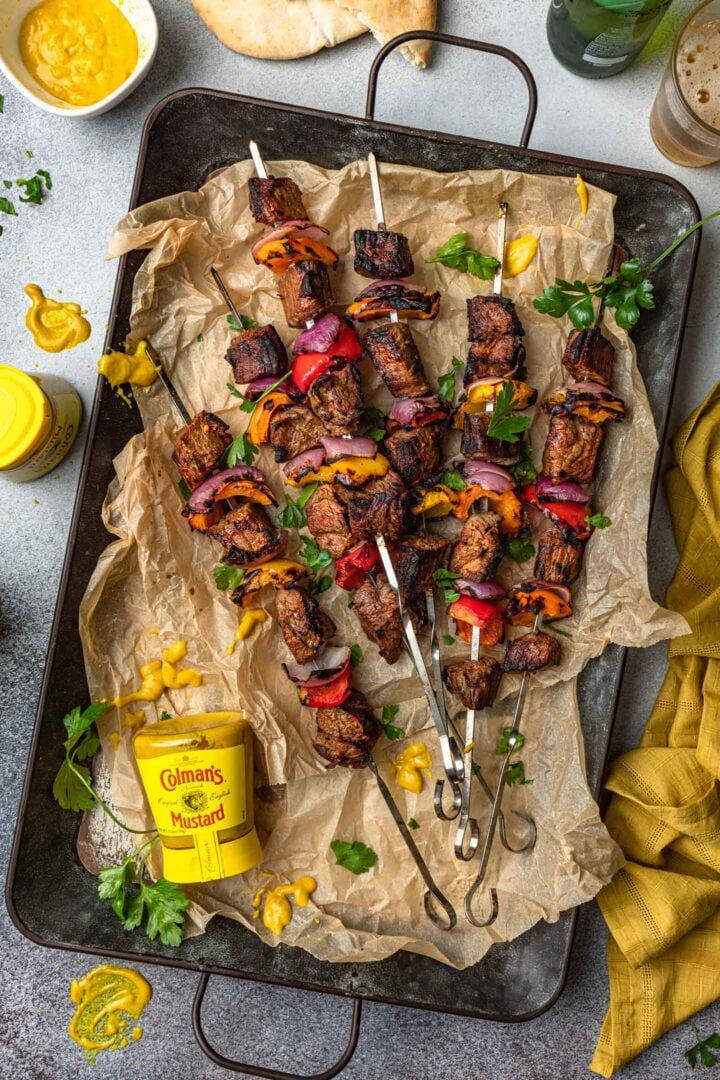 This post is sponsored by Colman's. All opinions are my own.
Grilling season is here (well, it's been here for a while now, but just go with the flow, will ya? 😂 ) and we recently got a fancy new gas grill! So, you can expect lots of BBQ recipes coming live in the near future.
Burgers, corn on the cob, steaks, sausage, hot dogs and – my favorite – kabobs! Can you even have a cookout without kabobs? I think it's illegal! 😉
And before you have flashbacks involving some dry and rubbery steak kabobs you've had in the past, let me stop you right there. These are the most amazing, juicy, and tender, packed-with-flavor steak kabobs you will ever eat! Just thinking about them makes me drool!
So, let's go, it's time to get on this kabob wagon before summer is over. Destination? Cookout nirvana! 😋 😋 😋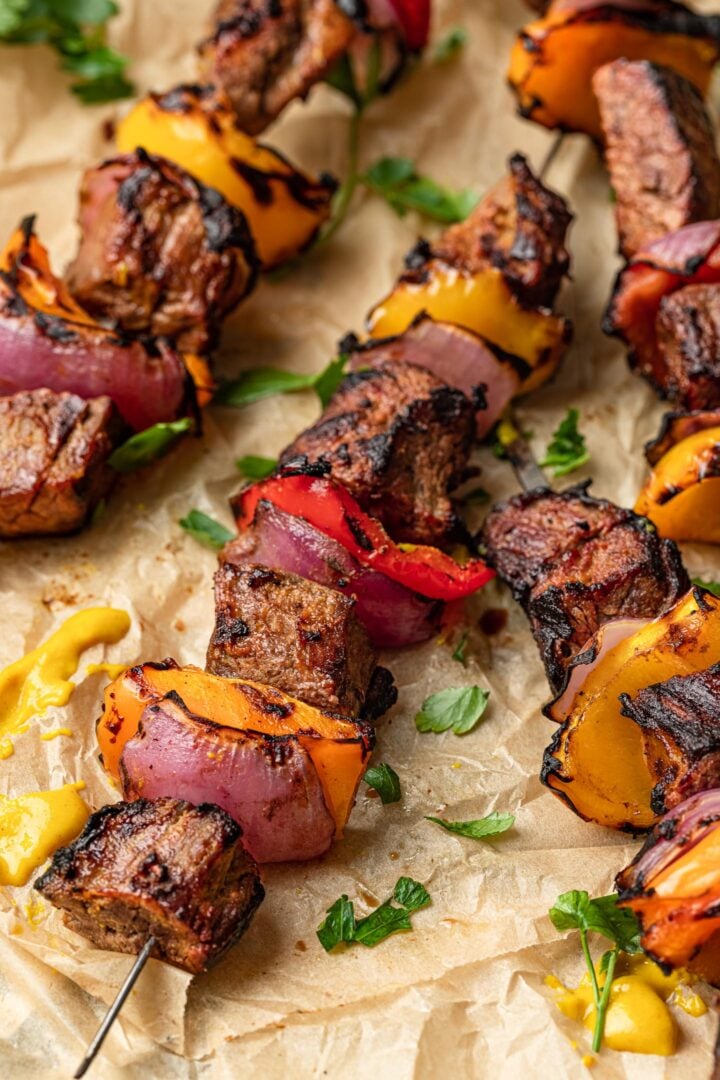 Kebabs? Kabobs? Tomato, Tomahto?
You might be asking yourself what is the difference between kebabs and kabobs, since you will find both spellings all over the internet.
They are the same thing: pieces of meat (like beef, chicken, pork) threaded on a skewer and grilled. The difference is that the British spell it "kebabs" while the North Americans spell it "kabobs".
The words kebab/kabob most likely derived from Arabic, with the earliest known publication being the Turkish şiş kebap in 1914.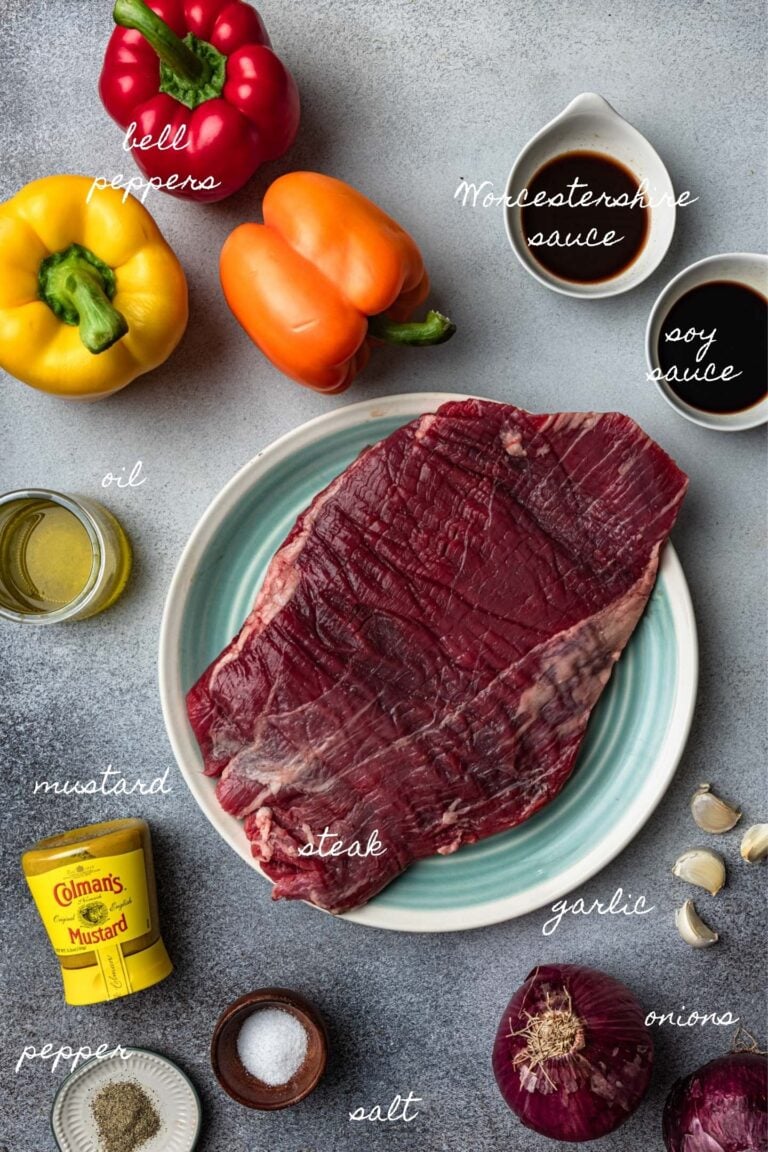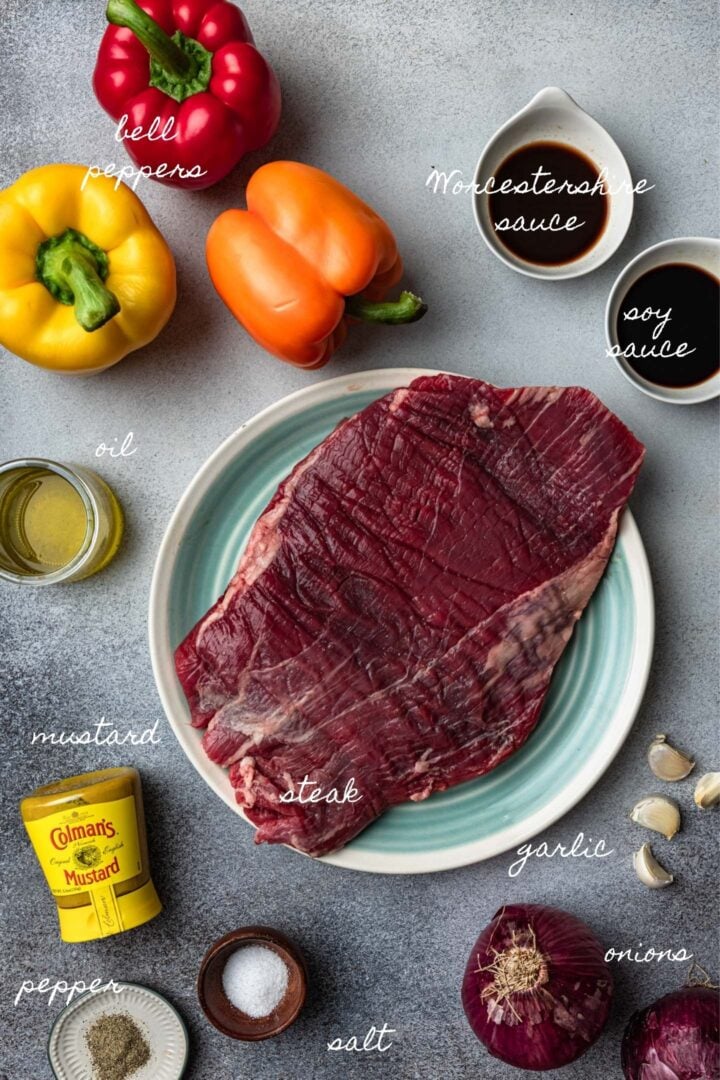 Ingredients
To make Marinated Steak Kabobs, you will need:
For Steak Kabobs Marinade:
Mustard – I am using Colman's Squeezy Mustard here, but you could use their Dry Mustard instead. If using the dry, just a little bit goes a long way, a couple teaspoons are more than enough!
Olive Oil
Soy Sauce – Adds a deep, savory flavor. I am not adding a lot, since I want the Colman's Mustard spiciness to shine!
Worcestershire Sauce – Also adds "umami-ness". Personally I think that Worcestershire sauce and steak are a match made in heaven!
Garlic
Salt and Pepper – Don't go too crazy with the salt, as we are also using soy sauce (which is already salty)!
For the kabobs:
Steak – I'm using flank steak, but you can substitute for any other tender, lean cuts. More on that down below!
Red Onions – You can also use sweet onions. Avoid white onions as they can be quite strong, and some people are not fans.
Bell Peppers – Choose your favorite variety or a combination. I like red, yellow, and orange bell peppers!
What is the best steak to use for Kabobs?
Usually, when making kabobs that won't be marinated, I like using sirloin, strip steak, ribeye, or even tenderloin. Those are tender cuts who don't require a marinade to break down muscle fibers for tenderness!
That being said, I have a soft spot in my heart for a marinated flank steak!
Yes, flank steak is a tougher cut than the ones mentioned above, but when marinated it completely transforms into an incredibly flavorful and juicy piece of steak. Bonus point: it is more affordable than all those fancy tender cuts!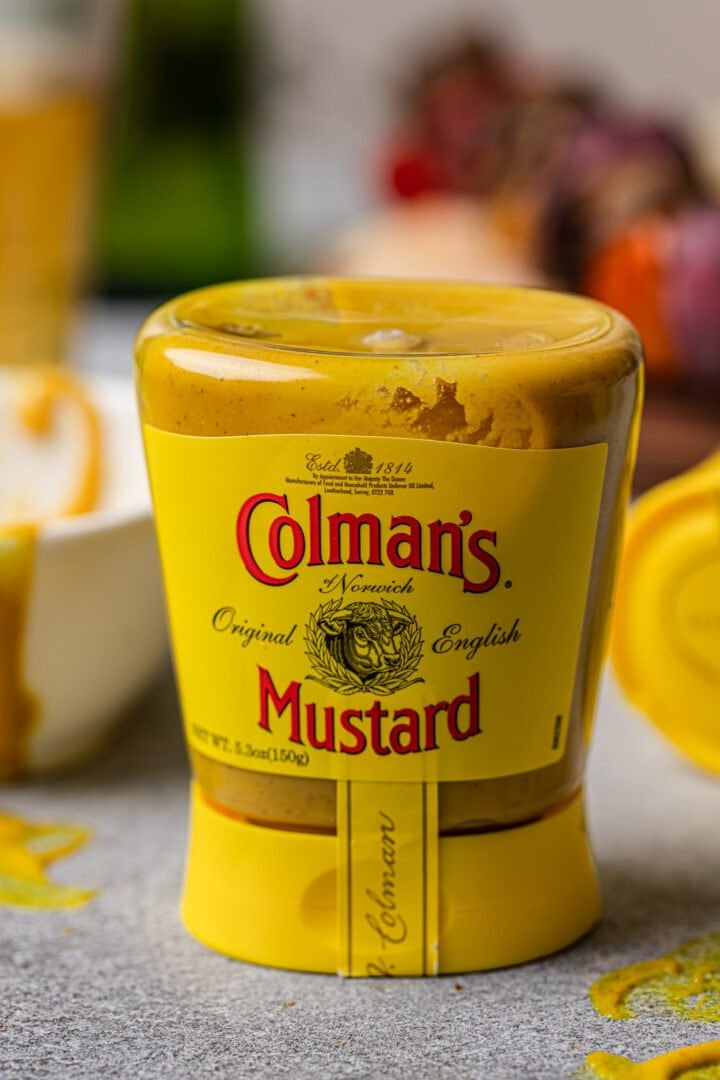 What's the difference between Colman's and American mustard?
Whenever I want the mustard flavor to shine, I grab a bottle of Colman's!
It is much spicier and thicker than American yellow mustard, which tends to be milder and sweeter.
Unlike any other mustard, because of the rare blend of white and brown mustard seeds from Norwich (England), Colman's will give you that eye-watering effect you expect from a good mustard and the proper level of heat to your recipes.
It's a must-have on the table for your cookout and in the kitchen for your creations!
How to Make Marinated Steak Kabobs
You really can't go wrong with these kabobs! They are a hit every time.
They are also pretty foolproof, as long as you don't marinade them for too long or overcook them. Marinating for too long might change the texture of the beef and make the flavor too overpowering. And overcooking, well… nobody likes to chew rubbery meat!
To prevent overcooking, I highly recommend a meat thermometer. I use it every time I cook beef or chicken, and it has been a game changer!
Aim to take your steak kabobs off the grill when the thermometer reads 125ºF to 130ºF. The temperature will increase while they rest! Flank steak gets tough past medium-rare, so if you like your steak medium or medium-well, choose a different cut of beef!
Recommended tools and equipment: Gas or charcoal grill (or grill pan/cast iron skillet if cooking on the stove), metal or bamboo skewers, resealable bags.
Here's how I make marinated steak kebabs. As always, you will find the printable (and more complete) version of the recipe at the end of this post!
Step 1: Marinate the steak.
Whisk together the mustard, oil, soy and Worcestershire sauces, garlic, salt and pepper.
Cut the steak into chunks. Place them in a large zip-tight bag and pour the marinade over them, closing the bag and massaging so every piece of beef is coated.
Marinate in the fridge for at least 2 hours, but no longer than 24 hours. If using a leaner cut, such as sirloin, do not marinade for longer than 4 hours.
Step 2: Assemble the kabobs.
Cut your veggies roughly the same size as the steak chunks, so everything cooks evenly.
If using wooden skewers, make sure to soak them in water for 30 minutes so they don't burn on the hot grill!
To assemble the steak kabobs, thread pieces of beef alternating with the peppers and onions. Aim for 4-5 pieces of steak per kabob.
Brush the veggie pieces with some of the remaining marinade.
Step 3: Grill them 'til perfection!
Preheat your gas or charcoal grill and oil the grates so the kabobs don't stick.
Cook on medium-high, flipping every 3-4 minutes, until the steaks are medium-rare (125ºF – 130ºF) and the veggies are charred around the edges.
Let the kabobs rest for 5 to 10 minutes before serving for utmost juiciness!
Olivia's Tips
Choose your skewers wisely. Metal skewers are convenient, but they get quite hot. Wooden skewers can burn, so they must be soaked for 10 to 30 minutes before going on the grill!
Avoid packing the kabob with as much as you can. You should aim for a little bit of space between each piece so the heat can circulate and cook everything evenly.
Do not overcook your steak kabobs. Flank steak is best enjoyed medium rare (warm red center), otherwise it gets quite chewy.
Make sure you preheat your grill so it's very hot and ready to go! You don't want to cook the kabobs for too long or they will overcook and get tough!
No grill? You can cook your kabobs on a grill pan or cast-iron skillet, on the stove, or broil them in the oven.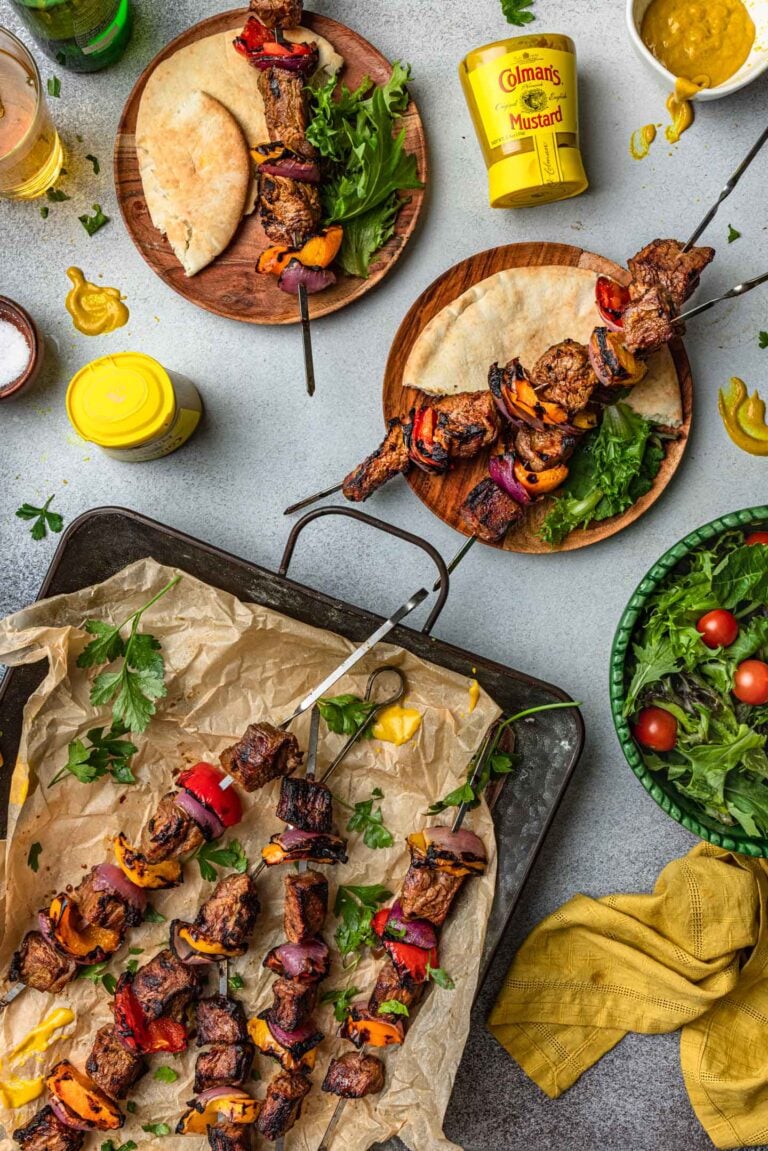 Variations
Kabobs are very versatile, so you can customize them however you'd like!
Here are a few suggestions:
Substitute the beef for chicken or pork. You can also do a vegetarian version with tofu or mushrooms.
Add more veggies. Zucchini, squash, cherry tomatoes and/or mushrooms, eggplant.
Customize the marinade. For example, you could do soy sauce, gochujang, mirin and sesame oil for a Korean flair; or marinade in chimichurri sauce if you're looking for some South American flavors!
What to Serve with Marinated Steak Kabobs?
Steak kabobs are versatile and pair with a range of side dishes! From rice to corn on the cob or even a nice green salad. Oh, and don't forget the pita bread in case your guests want to make kabob gyros!
Need more inspiration? These side dishes will round out your meal nicely: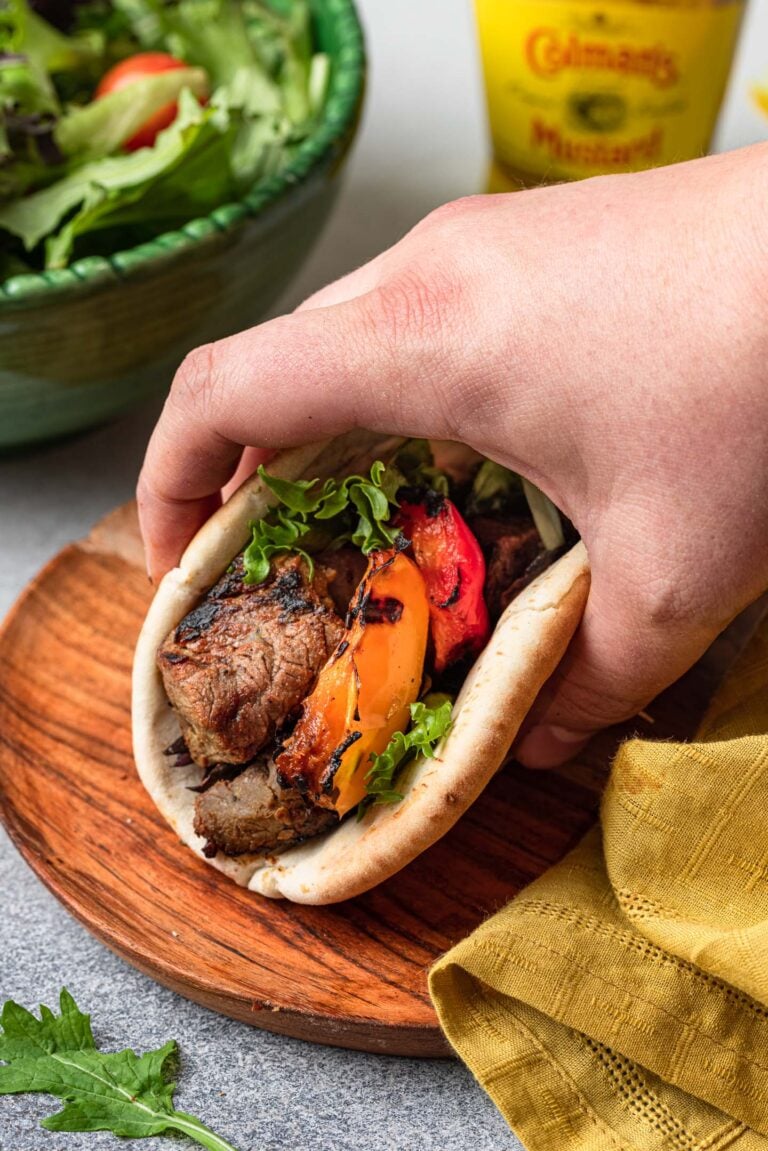 Frequently Asked Questions
Can you freeze kabobs?
I don't recommend freezing meats in their marinade, as the prolonged marinating will alter the steak's texture. I also don't recommend freezing the cooked kabobs, as – as I've mentioned earlier – overcooked flank steak is quite chewy and tough!
How do I reheat them?
Reheated steak (especially flank steak) will never be as juicy as when it first came off the grill. But, if you got leftovers, my favorite way of reheating them is pan frying on the stove – over medium heat – with a little olive oil and butter.
More Delicious Steak Recipes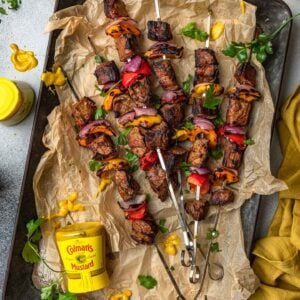 Marinated Steak Kabobs
These Marinated Steak Kabobs are going to be the highlight of this grilling season! Juicy, flavorful and easy to make, they are marinated with Colman's Mustard, soy and Worcestershire sauce, olive oil and garlic. Simply to die for!
Ingredients
For the marinade:
⅓ cup Colman's mustard
2 tablespoons soy sauce
2 tablespoons Worcestershire sauce
¼ cup olive oil
1 teaspoon black pepper, or to taste
½ teaspoon Kosher salt, or to taste
4 cloves garlic, minced
For the steak kabobs:
1 ½ to 2 pounds flank steak, trimmed and cut into 1-inch chunks
3 bell peppers (red, yellow, orange and/or green), cut into 1-inch pieces
2 large red onions, cut into 1-inch pieces
8 to 10 wood or metal skewers
Vegetable oil, for grill grates
Equipment
Gas or charcoal grill, grill pan or cast-iron skillet
Instructions
Place all the marinade ingredients in a small bowl, whisking until well combined.

Combine the marinade and the steak chunks in a large resealable bag. Press out the excess air and close the bag, massaging the steak pieces so they get thoroughly coated in the marinade. Refrigerate for at least 2 hours or up to 24 hours.

Preheat your gas or charcoal grill on high. When hot, clean the grates and brush lightly with oil.

While the grill is preheating, thread the steak chunks on the skewers, alternating with pieces of bell peppers and onions, keeping a tiny bit of space between the pieces. Aim for 4 to 5 pieces of steak per kabob. Brush the veggies with some of the remaining marinade.

Lay the kabobs on the grill, perpendicular to the grates, and cook on medium-high for 3-4 minutes per side, until the steaks are medium-rare (125ºF) and the veggies are charred on the edges.

Remove from the grill and let the kabobs rest for 5 minutes before serving.
Notes
Wooden VS Metal Skewers If using wooden skewers, make sure to soak them in water for 30 minutes before grilling, so they don't burn. If using metal skewers, be careful, as they can get quite hot on the grill! No grill? If you don't own a gas or charcoal grill, you can still make these marinated steak kabobs. Cook them on a grill pan or cast iron skillet on the stove, or broil them in the oven!
Nutrition
Serving: 2kabobs, Calories: 434kcal, Carbohydrates: 15g, Protein: 40g, Fat: 23g, Saturated Fat: 6g, Polyunsaturated Fat: 2g, Monounsaturated Fat: 14g, Trans Fat: 1g, Cholesterol: 102mg, Sodium: 1209mg, Potassium: 983mg, Fiber: 4g, Sugar: 7g, Vitamin A: 2820IU, Vitamin C: 120mg, Calcium: 86mg, Iron: 4mg