Massaman Curry Chicken
I'm back, friends!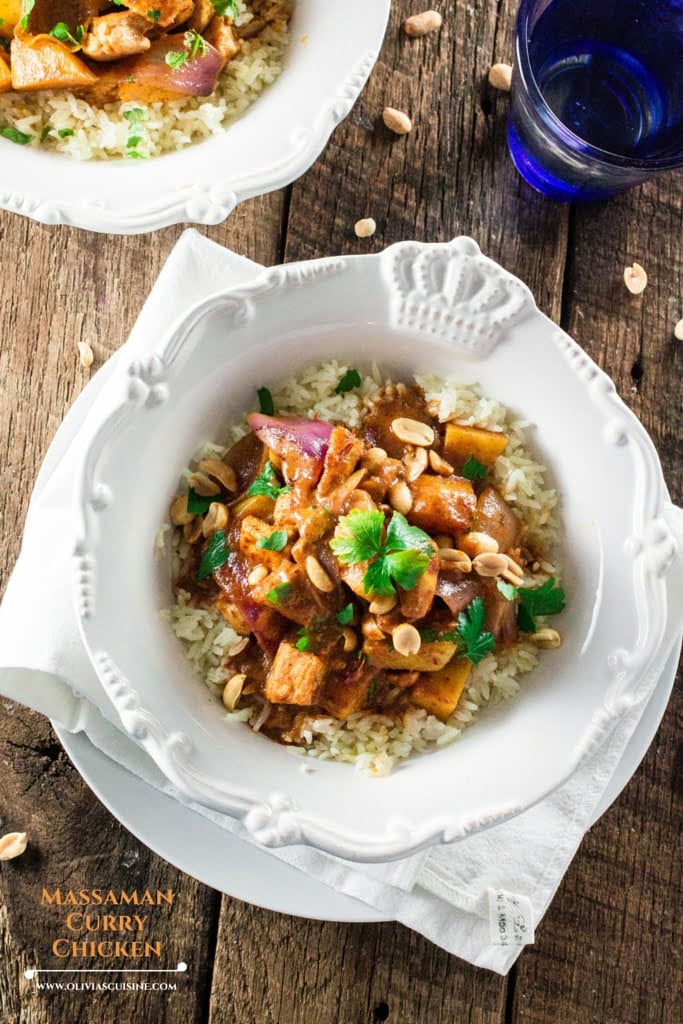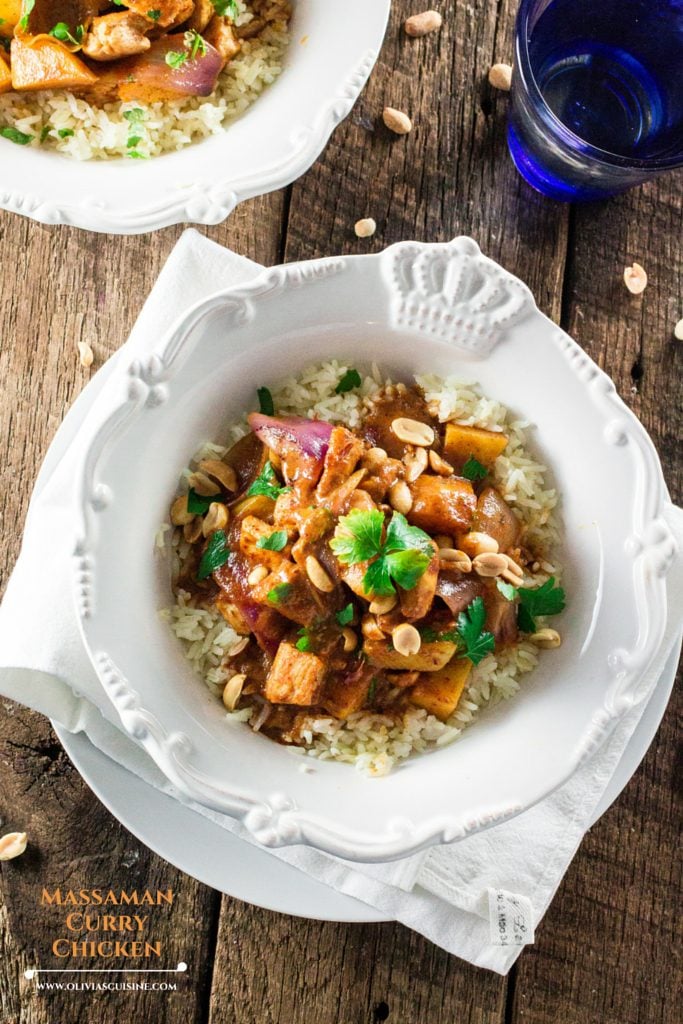 Did you miss me? Of course you did! :) Good thing I'm here again to share this easy and delicious Massaman Curry Chicken to make it up for my absence.
Moving was hell. We started moving our furniture on the 31st and finished bringing all the boxes this on August 4th. And then there was unpacking (which is still not done), cleaning, IKEAing, assembling furniture, and all the moving-to-a-new-place shenanigans that I'm sure you're familiar with.
I seriously can't wait til my new apartment looks like home. Right now it feels so far away…
Next time someone suggests we do the move ourselves, this will be my reaction:
Lesson learned: saving a couple hundred dollars isn't always the way to go. Save yourself some pain (physically and emotionally) and hire the pros to do the job!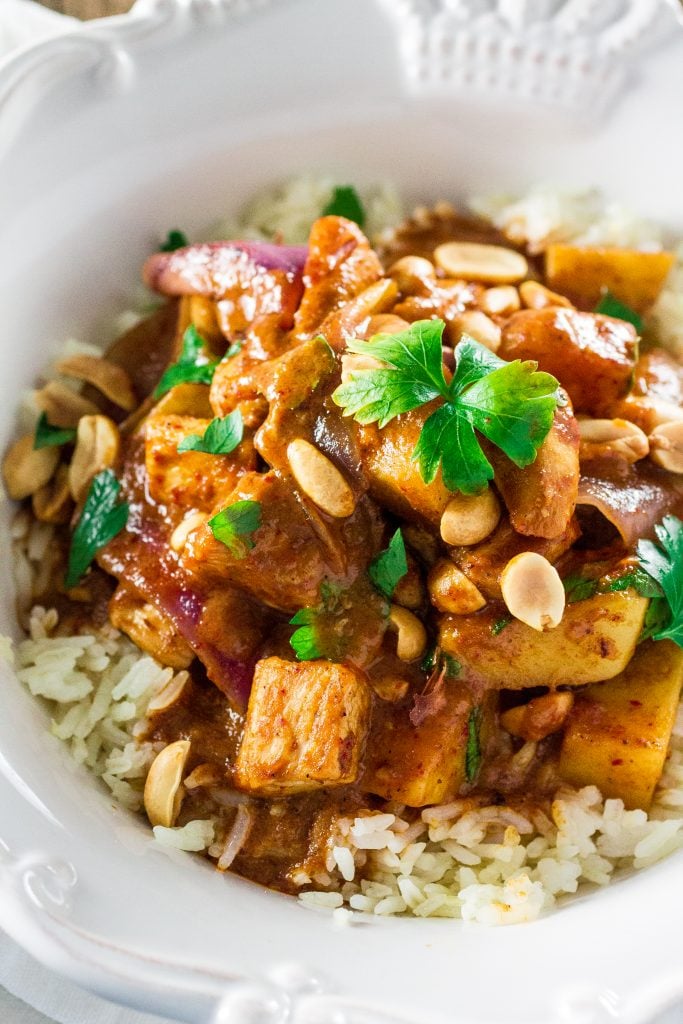 But the good news is: I finally have internet. I also finished assembling the dining table, so I celebrated by making a nice dinner for my husband and my mom, who is here to help with the madness.
It was hard to go to the kitchen after being so stressed out the last few weeks. I don't know about you, but my cooking creativity vanishes when I'm stressed. But then I remember I had these
Massaman Curry paste cans I ordered from Amazon
and decided it was time for some Thai food.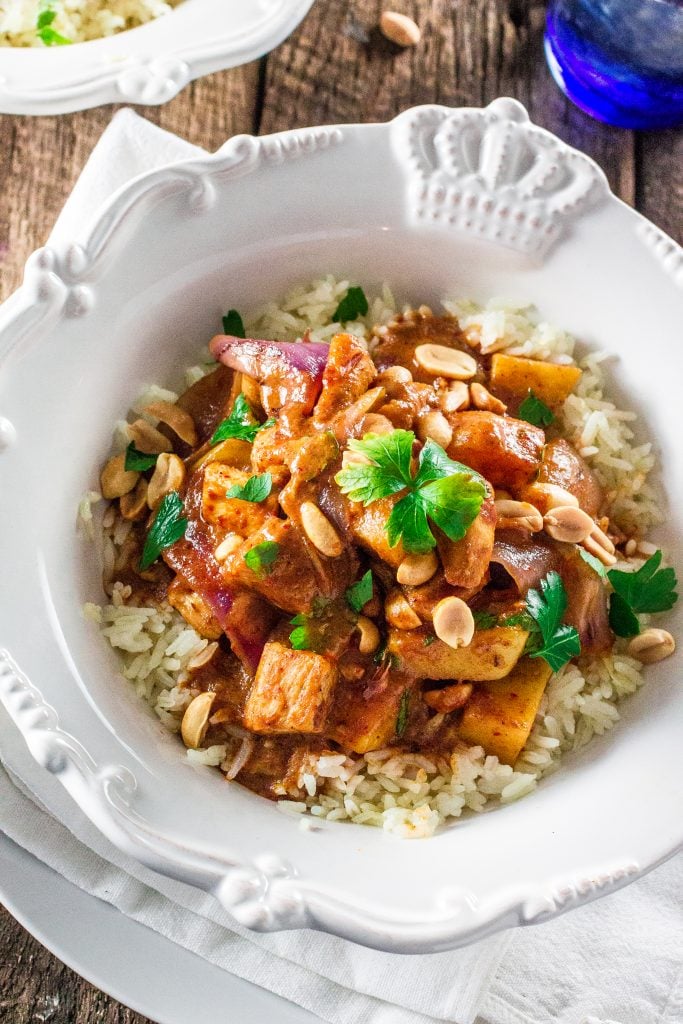 Nothing like an exotic meal to celebrate a new home! Even better when it takes less than one hour to be ready. Ain't nobody got time to be in the kitchen all day when there are still a lot of boxes to be opened!
The highlights of this recipe? The sweetness/spiciness of the curry sauce being absorbed by the rice. And the peanuts! Don't skip the peanuts cause they add this amazing crunchy texture to this mostly soft dish. (Unless you're allergic. Then, please, skip the peanuts!)
I tried making Thai curry chicken before, but couldn't find the Massaman type (the mildest type and my favorite) anywhere in NYC. So I gave up and ordered a few cans from Amazon. Now I get to make Massaman Curry Chicken anytime I want!
You could make your Massaman curry from scratch, but I honestly don't have the time (or patience) for that right now. Especially when I can find the good stuff already made for me and all I have to do is add all the ingredients to one pot!
Maybe one day, when I don't have boxes all around me, I'll try making everything from scratch just for the fun of it. In the meantime, I am really really glad I have three more cans of this stuff, as I'm already craving some more of this delicious Thai dish!
I hope you guys enjoy this recipe! It was a hit with my mom and husband.
I'm hoping to be back here full time soon, but it might take me a while to get used to my new headquarters! :)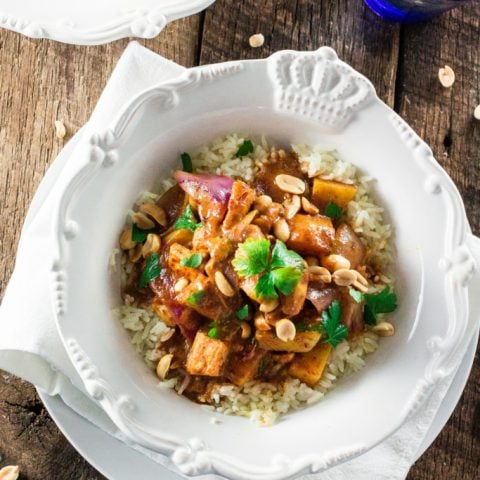 Massaman Curry Chicken
Yield: 4
Prep Time: 5 minutes
Cook Time: 35 minutes
Total Time: 40 minutes
Using prepared massaman curry paste speeds up the cooking time of this dish, which means dinner is on the table in 40 minutes!
Ingredients
1 pound chicken breast, cut into small (1/2 inch) cubes
1/2 pound yukon gold potatoes, peeled and cubed (small 1/2 inch cubes)
1 medium red onion, sliced
1 tablespoon vegetable oil
1 (4oz) can Massaman curry paste
1 (13.5 fl oz) can full-fat coconut milk
1/2 cup chicken stock
1 cup roasted peanuts (optional)
Chopped cilantro (or parsley) to taste
Salt and pepper to taste
Instructions
Heat oil in a large heavy pot, over medium high heat.
Season the chicken with salt and pepper and cook until golden brown, about 2 minutes per side. Remove chicken from pot and reserve.
Add the potatoes to the same pot and cook until brown, about 5 minutes, stirring occasionally. Remove from pot and reserve.
Add more oil if necessary and add the red onions. Cook the onions for a few minutes, until they begin to brown, and reserve. I do not like to cook the onions too long, or they will lose its beautiful purple color.
Lower the heat to medium and stir fry the Massaman curry paste with the coconut milk for about 5 minutes, whisking to combine.
Add the broth, the chicken, the potatoes and the onions and bring it to a boil. Reduce heat, cover and cook until the chicken is tender and the potatoes are cooked, about 15-20 minutes.
Taste for seasoning and adjust salt and pepper to taste.
Stir in the peanuts and sprinkle the chopped cilantro.
Serve over rice!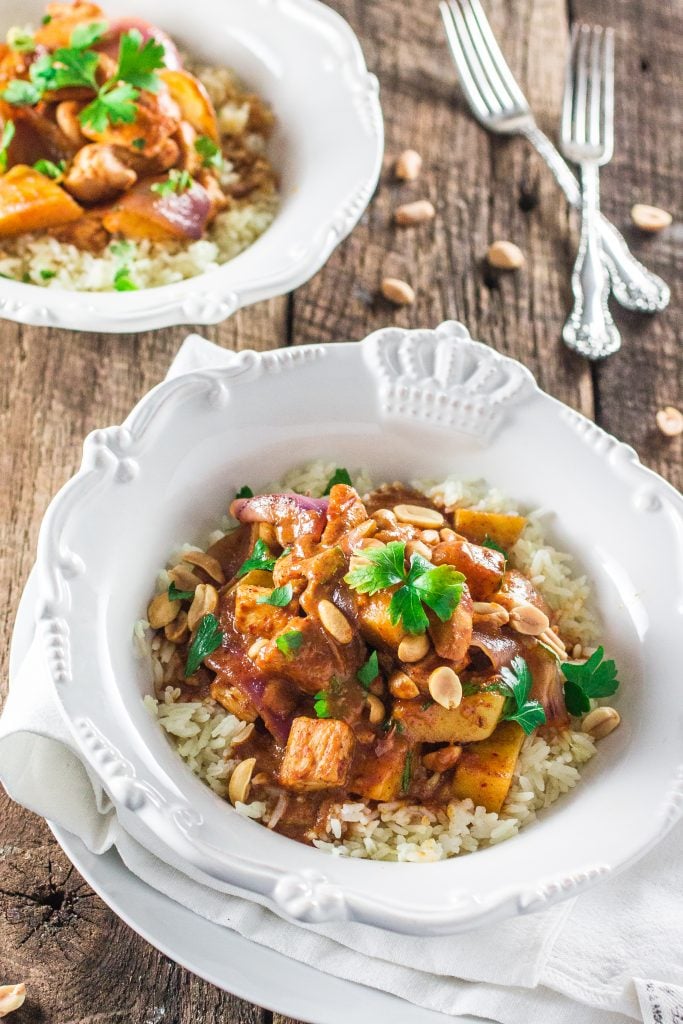 Disclosure: This post contains affiliate links. I will receive a small compensation if you purchase anything through my links. I only promote items that my family or I have used personally and have enjoyed.