Pé de Moleque (Brazilian Peanut Brittle)
Pé de Moleque, a classic Brazilian treat, is crispy, chewy, buttery and loaded with peanuts! Follow my tips to make it at home in under 30 minutes.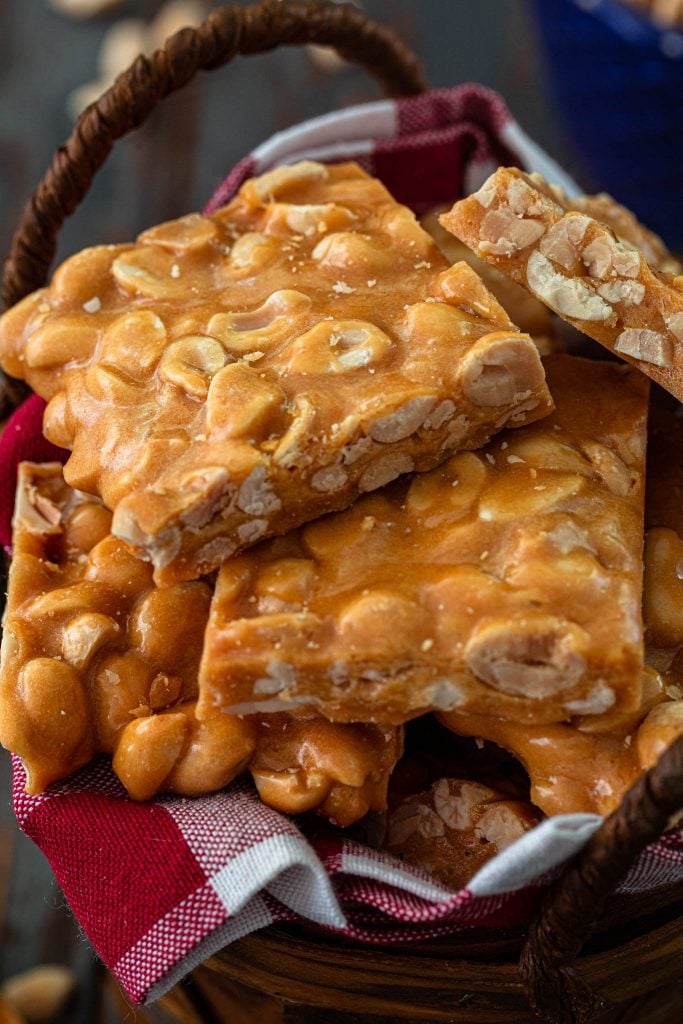 Last post of #FestaJuninaWeek! I hope you guys enjoyed it as much as I enjoyed making – and eating – all these amazing treats.
To finish in grand style, a classic: pé de moleque! There simply can't be Festa Junina without these peanut candies.
It was my first time making it and it took me a lot of testing to finally get to something shareable. But I am confident that if you follow my recipe, you will be rewarded with the best peanut brittle you've ever tasted!
Here we don't skimp on peanuts, on the contrary. A whole pound of peanuts goes in this recipe! After all, you gotta taste peanut in peanut brittle, amirite?
The caramel binds everything together and is sweet and buttery. And the best part? It won't break your teeth!
Trust me, if you love peanuts, you gotta make this. In fact, I recommend you make several batches, as this treat makes the perfect gift for friends and family!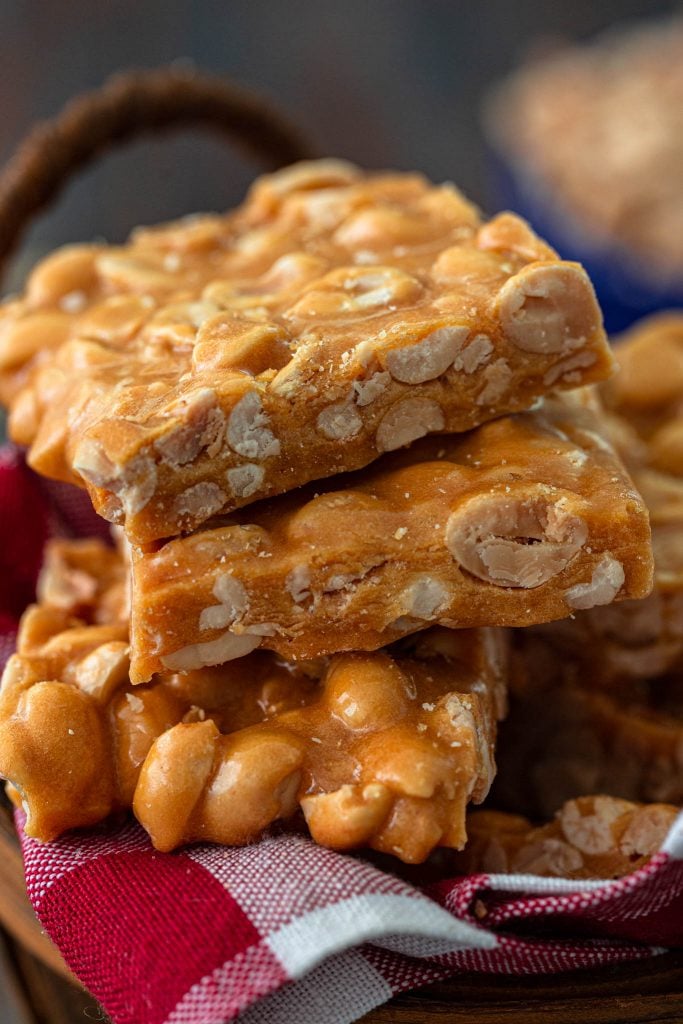 What is Pé de Moleque?
Pé de Moleque, pronounced peh de mo-leh-key, is a traditional Brazilian candy made of peanuts. Similar to American peanut brittle, but thicker, nuttier and buttery.
The name translates to "brat's foot". Legend has it that the women who sold this candy, back in colonial Brazil, used to be victims of mischievous little boys (hereby known as brats), who would wait until they were distracted to grab a piece and run away.
As they were running away, the women would yell: "Pede, moleque", which translates to "Ask, kid!", meaning the boy should ask instead of stealing.
With time, thanks to word of mouth, the name changed from "pede" to "pé", and is how it is known today!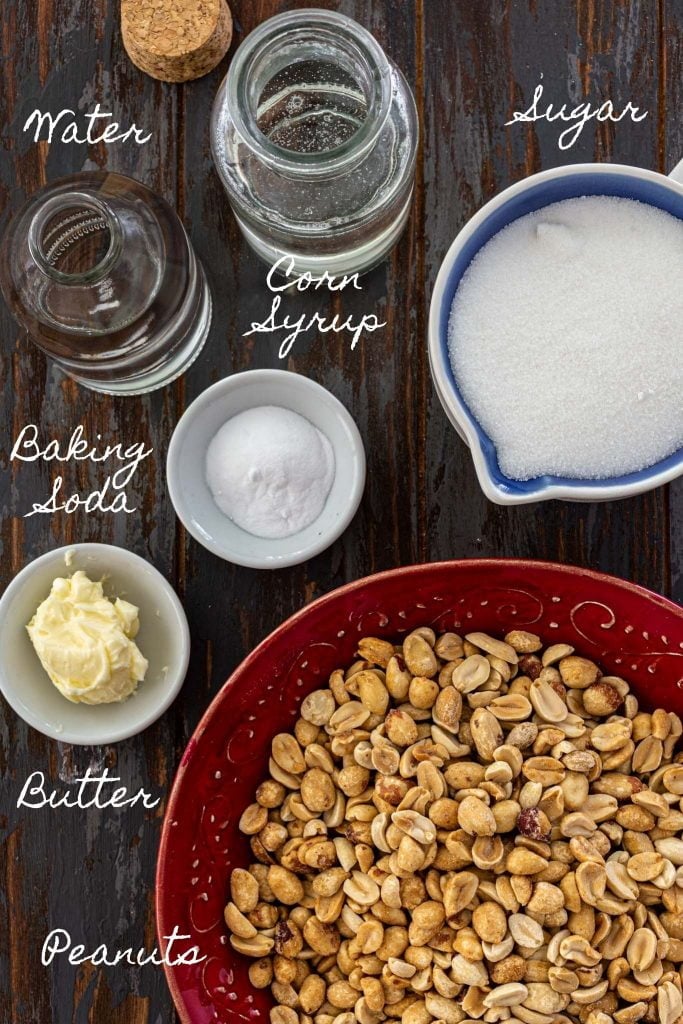 Ingredients for Brazilian Peanut Brittle
Roasted peanuts
Sugar
Light Corn Syrup
Water
Butter
Baking Soda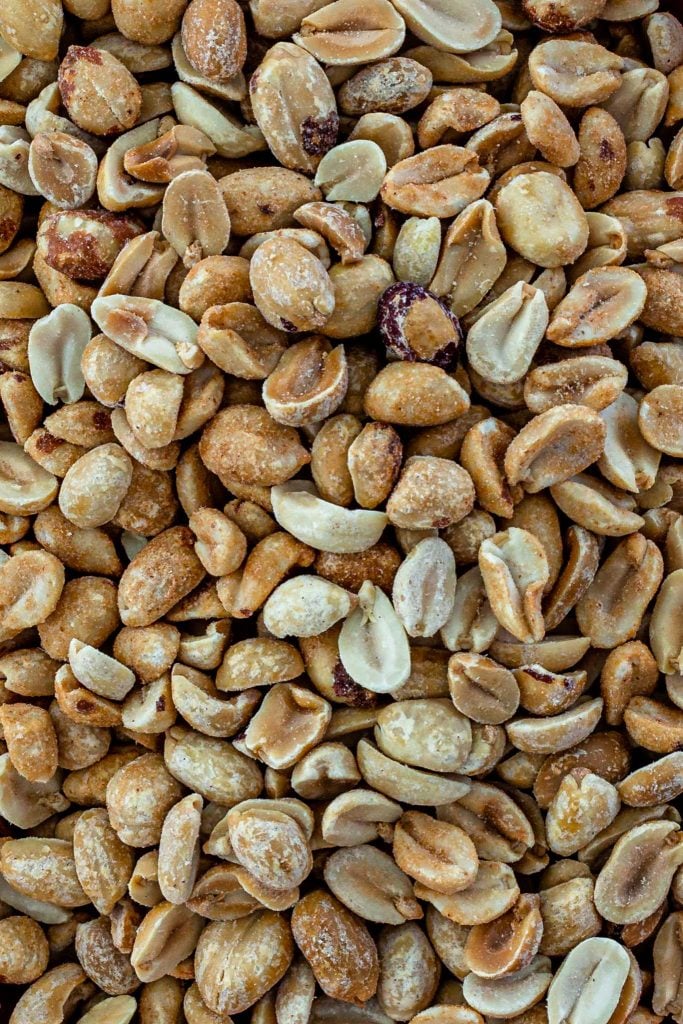 How to Roast Peanuts in the Oven
I confess I like the convenience of buying already roasted peanuts. But if you prefer roasting your own, you absolutely can! It is super easy and quick, and will probably save you some bucks.
Start by preheating your oven to 350 degrees F.
Place the raw shelled peanuts in a single layer on a large baking sheet.
Roast for 20 to 25 minutes, stirring every now and then, until they reach the desired doneness. Remove from oven and let them cool.
If using unbalanced peanuts (with the skin still on), you can remove the skins by rubbing the peanuts in a thick towel while they are still warm.
Why is Corn Syrup used to make Pé de Moleque?
Corn syrup is commonly used when making hard candy, because it is an invert sugar. Invert sugars prevent sugar crystal from forming and provide a smooth texture to hard candy, caramel, and other sweets.
It is important to point out that corn syrup is not the same thing as high-fructose corn syrup. While both products are made from corn starch, regular corn syrup is 100 percent glucose, while high-fructose corn syrup (HFCS) goes through an additional process to make it sweeter.
Unfortunately, that doesn't mean that the corn syrup you buy in the store is HFCS free. That being said, it will be listed as an ingredient, so check the labels if you are concerned. The brand I buy, Karo, does not add HFCS to their corn syrup!
Corn syrup is widely available in the U.S., usually in the baking aisle of your grocery store, and it comes in Light and Dark varieties. For pé de moleque, stick to light corn syrup, as the dark variety contains molasses and a much more robust flavor.
What about the baking soda? What does it do?
Baking soda adds air bubbles to pé de moleque, making it more porous and giving it a more delicate texture. That way, the candy breaks easily when you bite it and you don't risk cracking your teeth.
How to Make Brazilian Peanut Candy
I confess it took me a long time to finally make homemade pé de moleque. Candymaking seemed intimidating, until I made it for the first time!
The recipe is easy, but you gotta move fast, as once the candy is out of the heat, it hardens quickly (hence why I couldn't get many process shots for you).
We start by making a sugar syrup that is cooked to what is called the hard-crack stage. That means that the syrup solidifies when cooled, breaks easily when snapped, and no longer feels sticky. One way of knowing is to use a candy thermometer, as the syrup will register between 305 and 310 degrees F.
However, since we are using light corn syrup, we know the sugar syrup is ready when it turns a beautiful amber color. That is your cue to add the butter and baking soda, which will aid in making the candy tender and easier to chew!
If you've never made peanut brittle, you might be caught by surprise when the baking soda reacts with the sugar mixture. Once that reaction begins, the peanut brittle will begin to foam, often reaching two to three times its original volume. So make sure to use a large pot and to protect your hands to avoid potential burns.
While the mixture is foaming, add your peanuts and then quickly pour the brittle into a foil-lined and greased baking sheet. Use a spatula to spread it as thin as you'd like, while the candy is still hot and pliable.
Then, grease a large serrated knife with butter and use it to cut the brittle into squares. Alternatively, you can wait for the candy to harden and break it into pieces using your hands.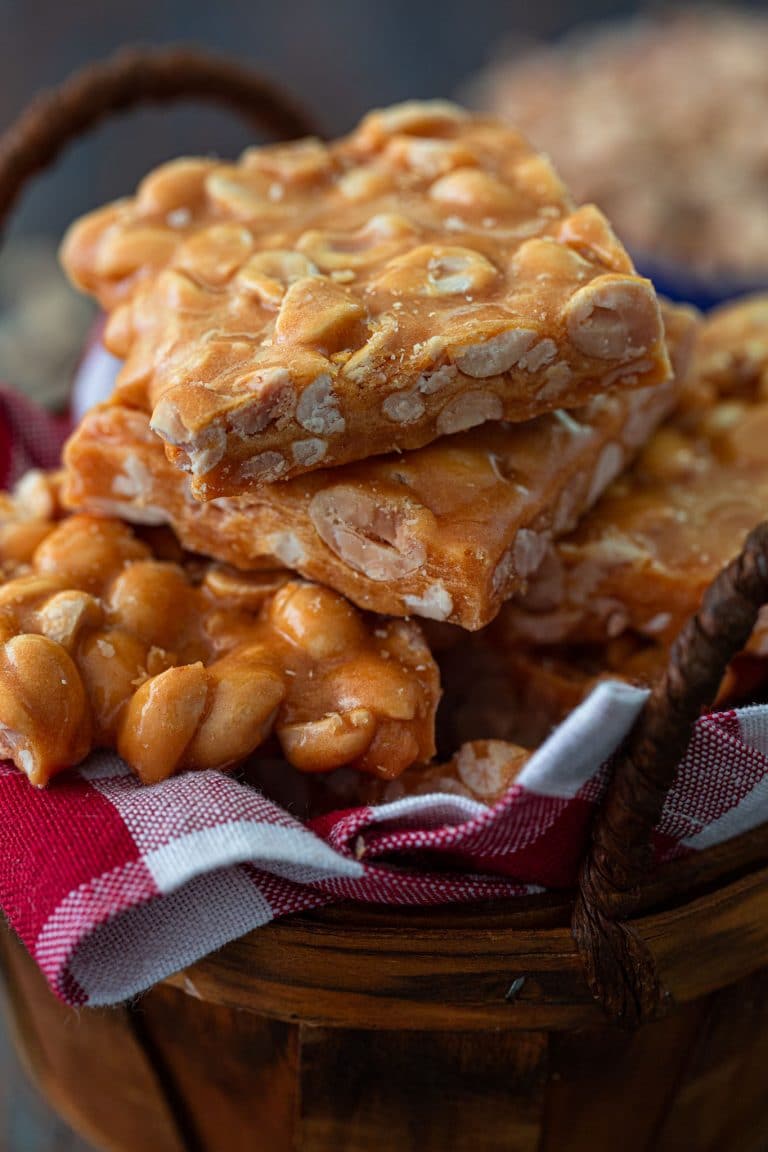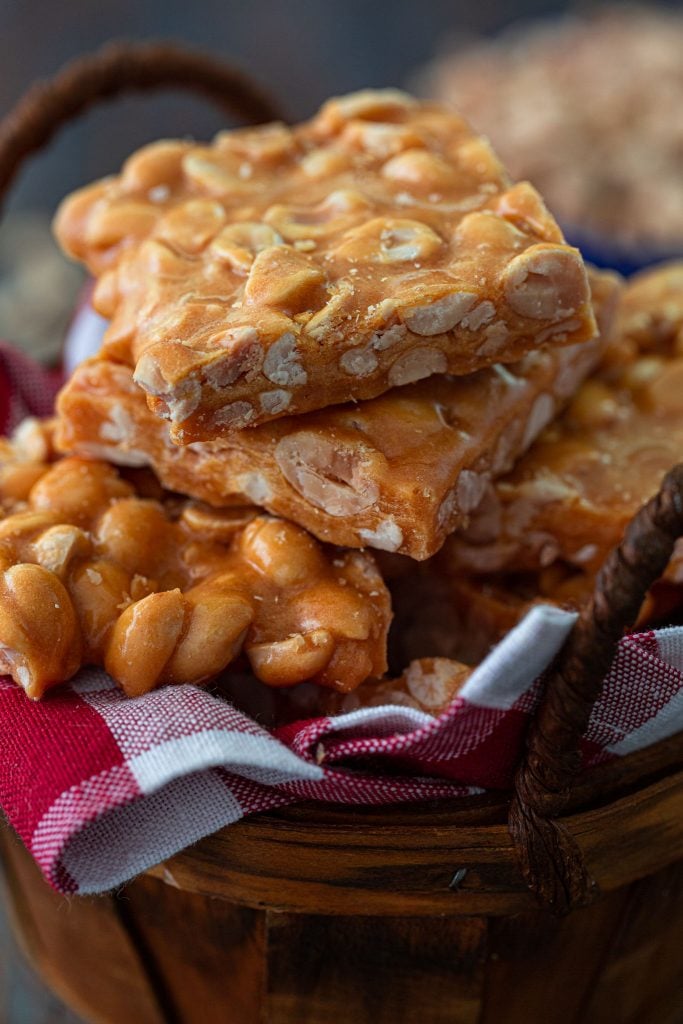 How to store peanut brittle
Store pé de moleque in an airtight container, at room temperature. If you must stack them, use parchment paper to separate the layers.
It will keep well for up to two weeks!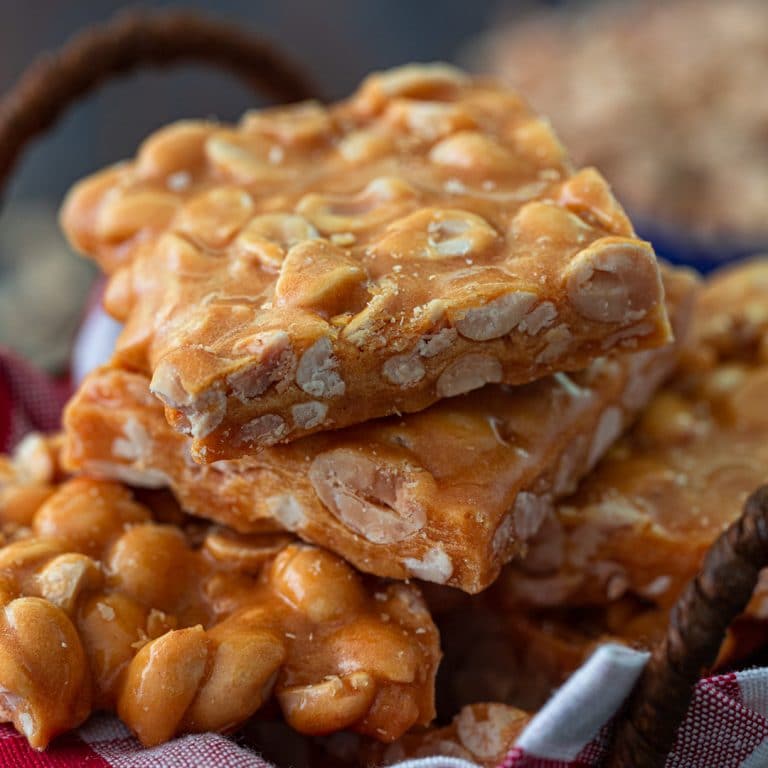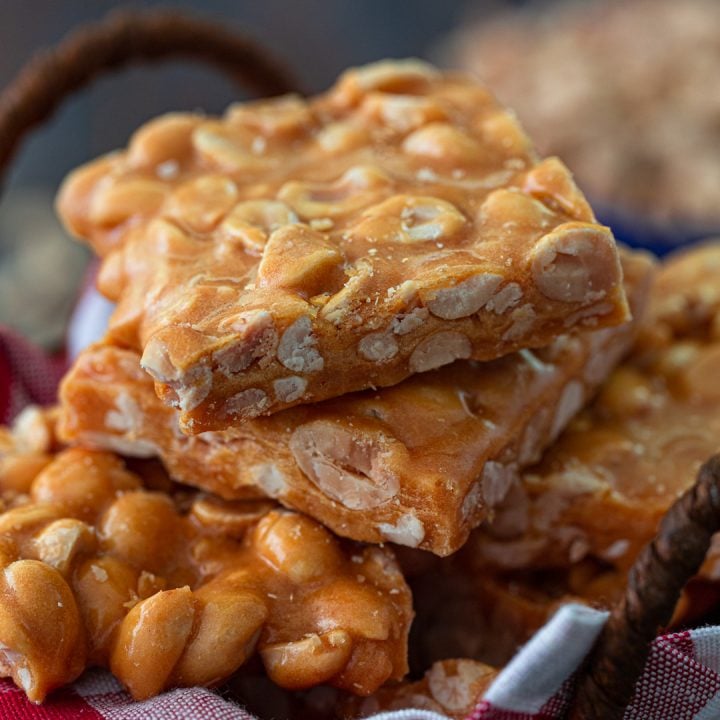 Pé de Moleque (Brazilian Peanut Brittle)
Yield: 20 pés de moleque
Prep Time: 10 minutes
Cook Time: 15 minutes
Additional Time: 1 hour
Total Time: 1 hour 25 minutes
Pé de Moleque, a classic Brazilian treat, is crispy, chewy, buttery and loaded with peanuts! Follow my tips to make it at home in under 30 minutes.
Ingredients
2 cups sugar
1 cup light corn syrup
1/2 cup water
1 tablespoon butter
1/2 tablespoon baking soda
1 pound roasted peanuts (about 3 cups)
Instructions
Cover a rimmed baking sheet with foil and brush the foil with butter. Reserve.
Measure your ingredients and have everything ready to go before you start!
In a large pot, combine the sugar, corn syrup and water. Cook, without stirring, over medium-high heat, for 12 to 15 minutes or until the mixture reaches an amber color. You can also use a candy thermometer and the temperature should register between 305 and 310 degrees F.
Once the caramel has reached the right color, stir in the butter. Then, remove from heat and carefully add the baking soda. The baking soda will react and the caramel will foam and steam.
While the mixture is foaming, stir in the peanuts and immediately pour the mixture onto the prepared baking sheet. Use a heatproof spatula to spread the hot brittle across the pan.
Let it sit for a few minutes, until it cools slightly so you can touch it. Then, turn it into a cutting board and remove the foil.
To cut, grease a large serrated knife with butter and use it to cut the brittle into squares, while it's still warm. If you don't care about the shape, you can wait for it to cool (and harden) for about one hour and then break it into pieces using your hands.
Let it cool for one hour before eating!
Recommended Products
As an Amazon Associate and member of other affiliate programs, I earn from qualifying purchases.
Nutrition Information:
Serving Size: 1 brittle
Amount Per Serving:
Calories: 252
More Festa Junina treats: