Pumpkin Brigadeiros (Truffles)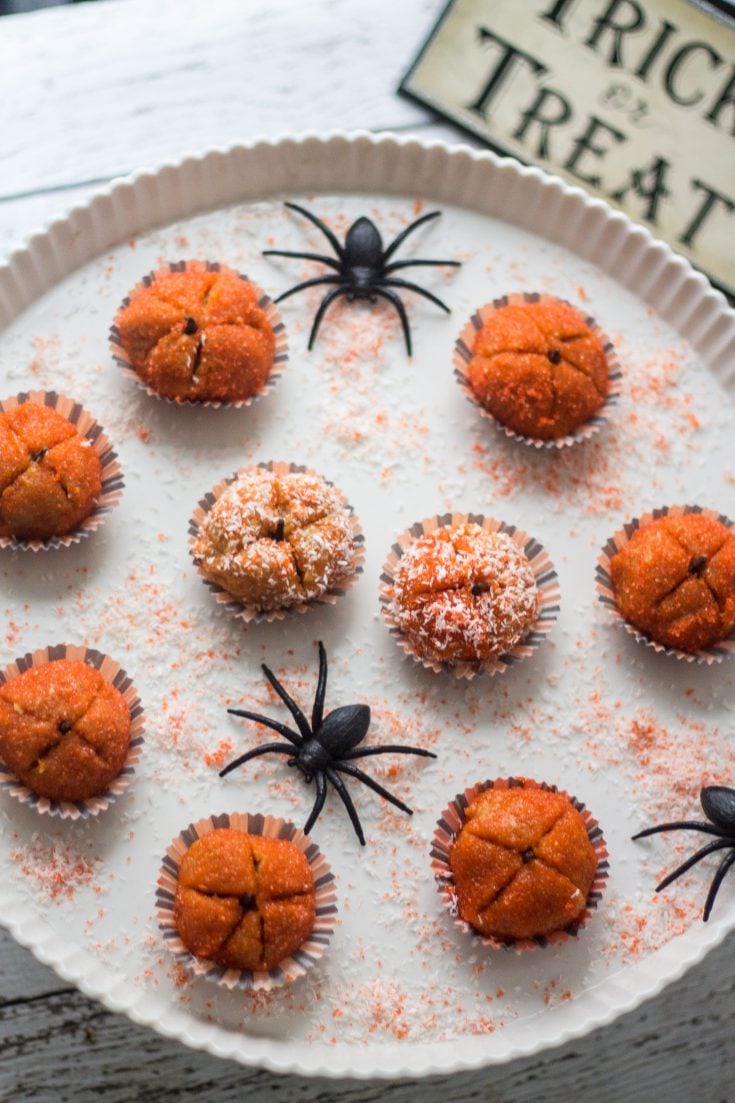 Happy Halloween Week, everyone!
What are you going to be for Halloween this year? I will be working on Friday, but since I'm bartending at Wicked this week, I think I'll wear a witch hat or something! Lola also has a cute costume to wear this year. I mean, if she manages to not destroy it in 10 minutes.
But let's talk about food, shall we? Today I'm here to share with you a recipe for Pumpkin (and Coconut) Brigadeiros. You don't know what these are? Don't worry, I'll explain! Remember this? And remember this? They had a baby and the baby is this: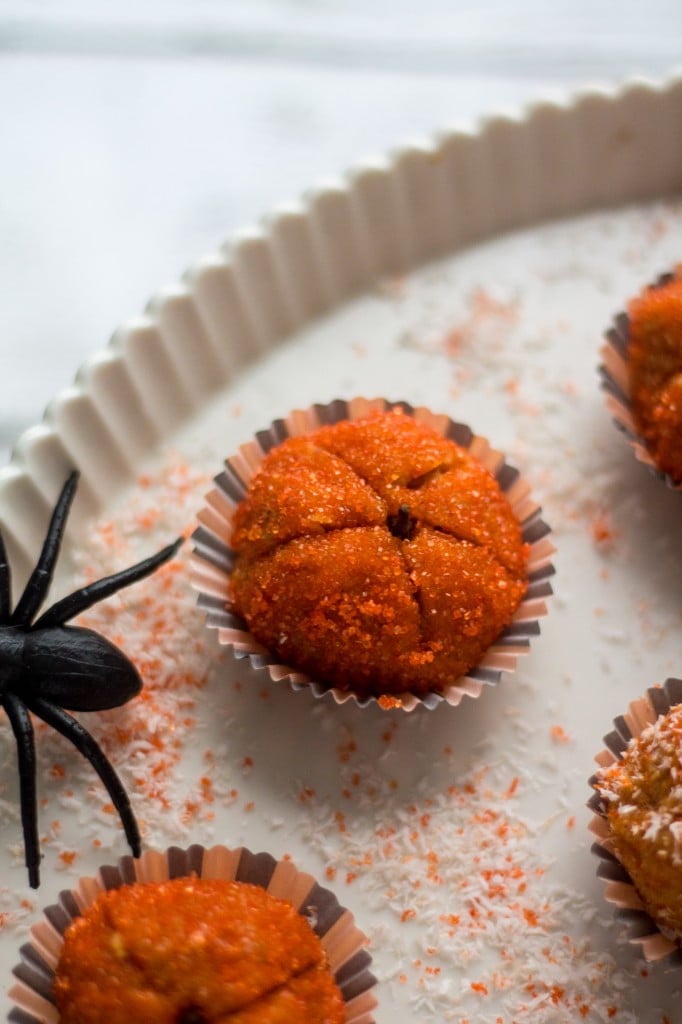 I've been working on this project for over 3 weeks now and I think I finally got it! The secret for it to work? Less pumpkin, unfortunately. I started trying to make this with a lot of pumpkin and, because pumpkin has a lot of moisture, the brigadeiro would never get thick enough to be rolled into balls. Mind you, this is naturally softer than the chocolate brigadeiros so it doesn't have that "pushy" texture. But don't fret! It is still delicious. And, if you shape them into little pumpkins, they are the perfect Halloween treat!
I mean, you are probably thinking "Does she think those are looking like pumpkins?" and my (polite) answer is: Yes! They look like pumpkins to the best of my abilities! I'm really not a crafty person, so bear with me!!! I've also been a little frustrated with my photography lately as I would like everything to look more crisp. Any tips would be greatly appreciated! (Funny thing, I say that every day at work! lol)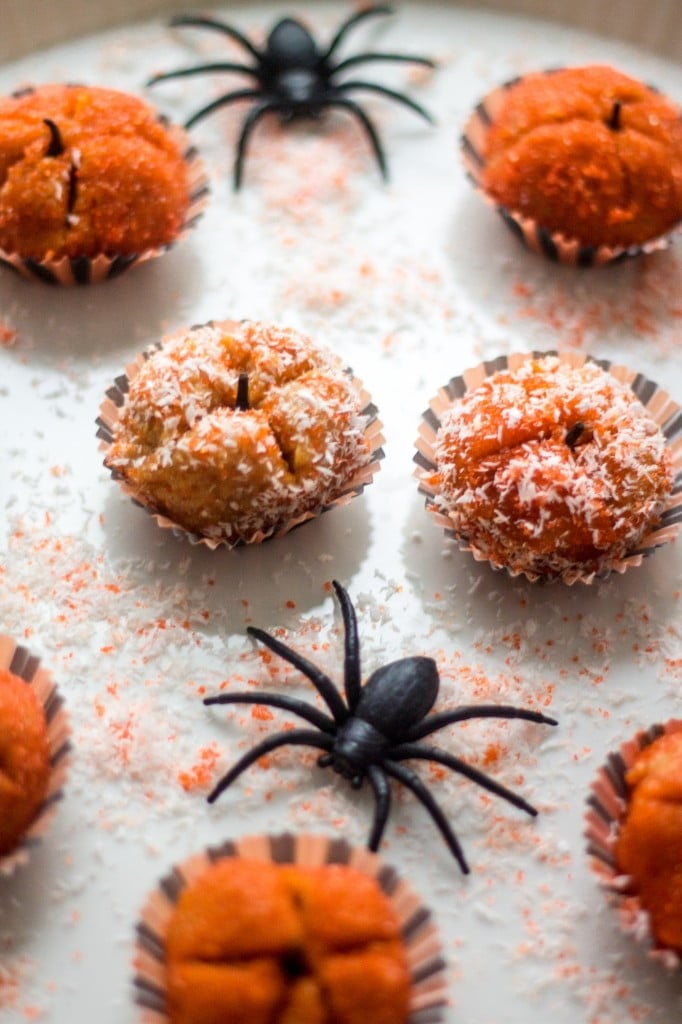 These are great to be served at a Halloween party. Brigadeiros are the number 1 treat for Birthday parties in Brazil and, nowadays, you can find all types of different flavors. So I thought: why not make Pumpkin Brigadeiros for Halloween?
This recipe makes about 20 little brigadeiros (in bon bon cups), but I rolled them bigger to fit my Halloween themed mini-cupcake cups that I had just bought, so it yields only 10! However, you can totally double (or triple) the recipe to make more. After all, there are no limits to how many brigadeiros one could eat…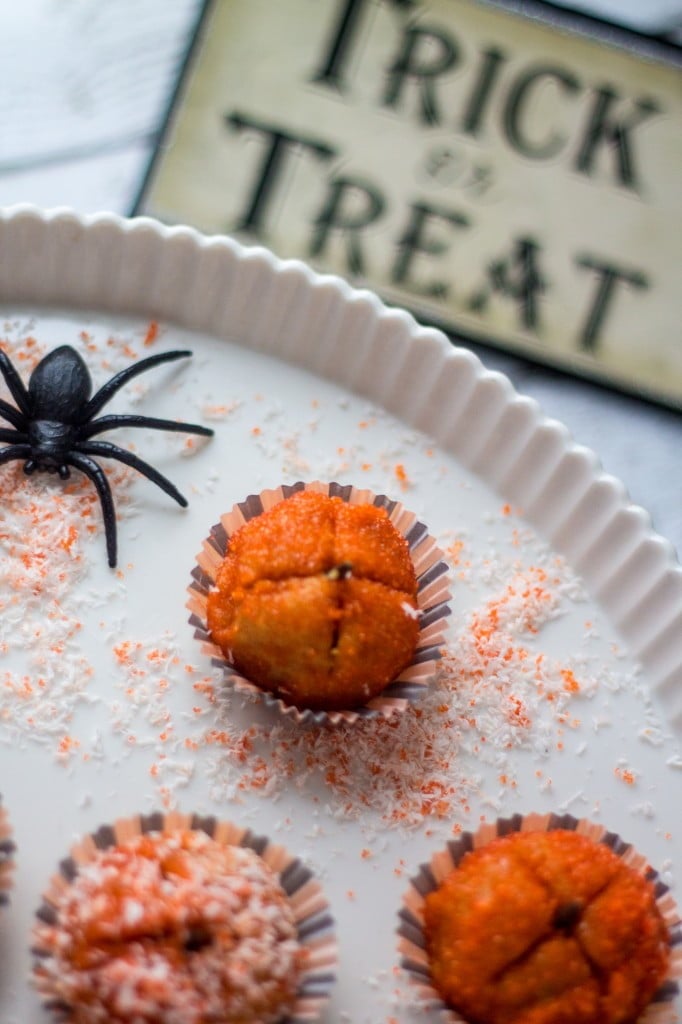 If shaping them into pumpkins is not a priority (or if you don't have the amazing craft ability I have! Ha!), you could serve them soft-serve-style into mini dessert cups or even in shot glasses. But if you do have the patience, make the little pumpkins!!! They look so festive and really fun at your treats table. Oh, how I dream of the day I will have a big house (and enough friends) to throw a big Halloween party. As I told you before, I am really into "themes", hence my Themed Series like The World Cup Gourmet Series and The Disney Gourmet Series. By the way – spoiler alert! – I have a Disney themed recipe coming for this Halloween week! I'm so excited! (Also, it's coming with my first GIVEAWAY! Yeah yeahhhhh!)
Anyway, kiddos, I hope you have a wonderful Halloween week! Have fun, dress up, dress up your kids and your animals! Life is short so we have to enjoy every opportunity to have fun. And Halloween is, after all, using "humor and ridicule to confront the power of death". Who's up to that? Me me me!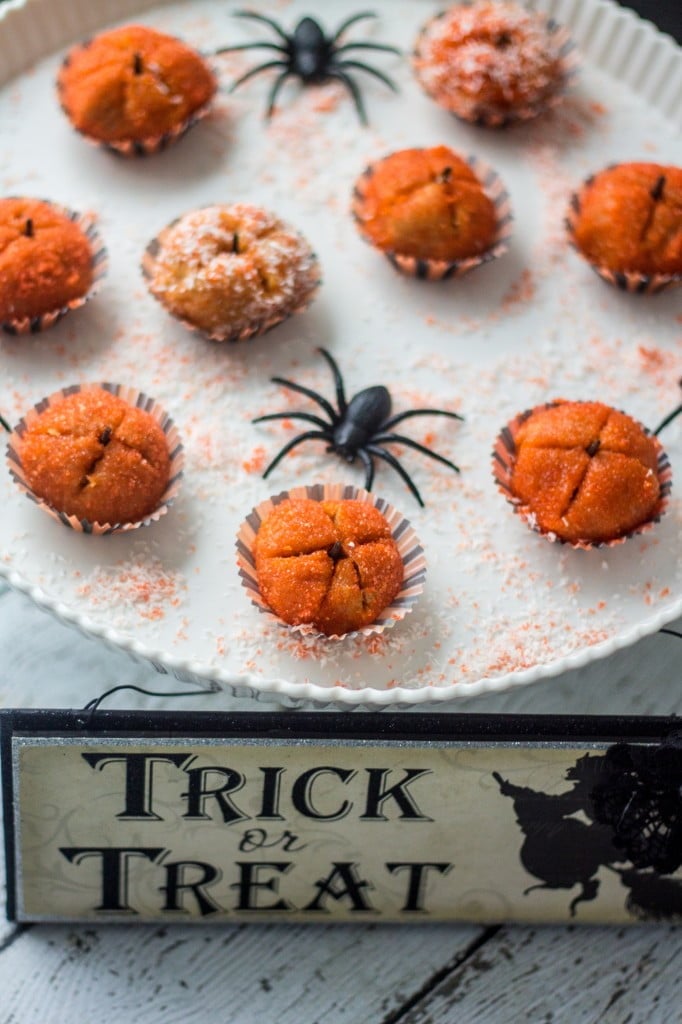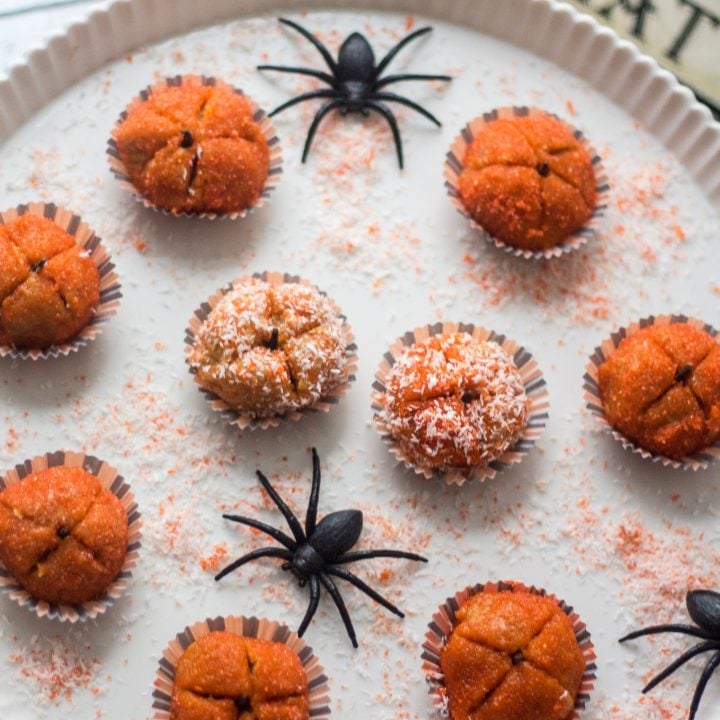 Pumpkin Brigadeiros (Truffles)
Yield: 20
Cook Time: 12 minutes
Total Time: 12 minutes
Ingredients
1 (14oz) can sweet condensed milk
1/3 cup pumpkin puree
1 Tbsp butter (room temperature)
1 tsp pumpkin pie spice
1/4 cup shredded coconut (unsweetened)
Orange sprinkles to decorate
Shredded coconut to decorate
Cloves to decorate
Instructions
In a medium saucepan, over medium heat, cook the butter, the sweet condensed milk and the pumpkin, stirring constantly (this is important!) until thickened. When the mixture starts releasing from the bottom, it is ready. A good way to know is to run a wood spoon in the middle. If the mixture takes a while to gather back at the center, it is ready!
Grease a plate with butter and pour your brigadeiro mixture in it, spreading it in a single layer to cool faster.
Wait for your brigadeiro to cool to roll into balls. In the meantime, pour your sprinkles into a plate or bowl.
When the brigadeiro is cool, wet your hands with cold water and roll them into little balls (using a Tablespoon as measure).
Roll the brigadeiro balls in the sprinkles and shape them like pumpkins (if desired). To make the pumpkin shape, press the top and the bottom slightly and, using a tooth pick or knife, make vertical marks on the sides. Top with a clove and place them in bonbon cups.
Refrigerate for at least 30 minutes before serving so they can better hold their shape!