Earl Grey Tea Cakes
"Would you tell me, please, which way I ought to go from here?"
"That depends a good deal on where you want to get to."
"I don't much care where –"
"Then it doesn't matter which way you go."
(Lewis Carroll, Alice in Wonderland)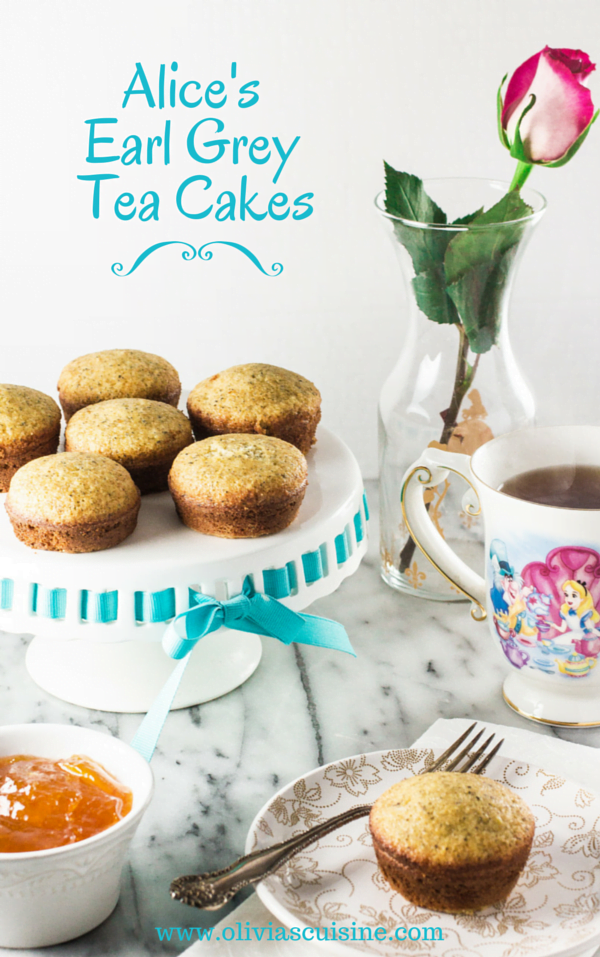 Hello friends!
Can you believe Easter is this Sunday? I feel like it was yesterday that I was roasting a turkey for Thanksgiving… and I feel like it was the day before that when I was a 5 year old little girl in Brazil, waking up on Easter morning, very excited to go find the Easter Bunny's trail of little chocolate eggs that led to my Easter basket full of chocolate treats! Bless my parents for waking up mad early to do the whole mise-en-scene!
So today, to celebrate Easter, I've decided to bring the Disney Gourmet Series back from a hibernating period and share a recipe for Earl Grey Tea Cakes inspired by the movie Alice in Wonderland!
I know, it's not chocolate, but I figured the internet is so full of chocolate recipes right now that I ought to be different and make something else for you to serve on your Easter brunch (or at a Tea Party). Because who doesn't love cute little moist tea cakes to go with their tea?
Alice in Wonderland is one of my favorite Disney movies. It is a classic, beautiful story about he loss of childhood innocence and how life is an eternal puzzle. Both of these themes are universal, which makes this story as valuable today as it was when I watched it as a child.
The movie (and, of course, the book) is so full of meaning and symbols that every time you watch it, you learn something new. I could probably create various different types of recipes inspired just by this one movie, but today the scene that inspired me is the 'Mad Tea Party' scene.
I like to think that Alice and the Mad Hatter's crew would appreciate these little Earl Grey Tea Cakes. I mean, how couldn't they? They are British and we all know the British love their tea. So nothing more appropriate than tea cakes, right? Unless the Mad Hatter hates it and throws it at my face or something. As we could see in the video above, manners are not his strength!
I'd never had a tea cake until recently, when I tried one at a brunch while in Florida. It was seriously love at first bite. Cliche, I know, but nevertheless true!
I mean, how can a cake TASTE fragrant? I have no clue, but they do. They are also incredibly moist and not too sweet, my favorite kind!
And, as a bonus, this cake will fill your home with the most amazing aroma while it's baking in the oven. The day I made this I was actually in a pretty bad mood. The bad mood was immediately gone as this contagious uplifting perfume took over my apartment and made me feel happy again.
As you can see, I decided not to make any icing to go with my tea cakes. I wanted the cakes to be the kind of baked goods that you can enjoy while sipping some tea, or coffee. So they couldn't be overly sweet.
You can, however, serve them with some butter and different kinds of jam and marmalade on the side, so your guests can customize their cakes according to their tastes.
I hope you guys enjoy these tea cakes like I did. And "a very very unbirthday to you!". Unless today is your actual birthday. In that case, Happy Birthday! ;-)
P.S. Wanna keep in touch? Follow me on Facebook, Twitter, Instagram or Pinterest to stay up to date with my posts! If you end up making one of my recipes, I would love to see it! Just take a photo and post it on your preferred Social Media and tag me or use the hashtag #oliviascuisine! :)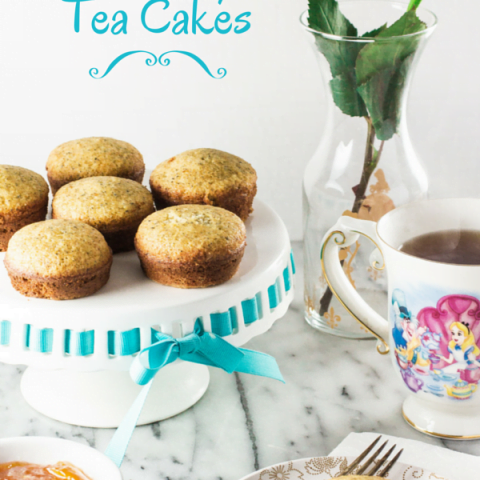 Alice's Earl Grey Tea Cakes
Yield: 12
Prep Time: 5 minutes
Cook Time: 15 minutes
Total Time: 20 minutes
Ingredients
2 Earl Grey tea bags
1/4 cup boiling water
1/3 cup milk
3/4 cup sugar
1 stick (4oz) unsalted butter (8 Tbsp) plus more to grease muffin tin
2 eggs
1 1/4 cups self raising flour
1/4 cup honey
1/2 tsp vanilla
1/8 tsp Kosher salt
Zest of 1 lemon
Instructions
Preheat oven to 350F degrees.
Grease (with melted butter) and flour a muffin tin.
Empty the tea leaves from the tea bag into a cup and add the hot water. Stir to combine and let it cool.
Once the tea is cool, add the milk and stir. Reserve.
In a bowl of a stand mixer, add the sugar and the butter and beat until you have a pale cream.
Add the eggs and beat to combine.
Then add the tea, the flour, the honey, the vanilla, the salt and the lemon zest and beat on medium low speed, just until well combined. Don't over mix!
Spoon the batter evenly into the muffin tin.
Bake in the preheated oven for 15 to 18 minutes, or until golden and a toothpick inserted in the cakes come out clean.
Remove from the oven and let it cool for 2 to 3 minutes. Run a knife along the sides of the cakes and turn them into a wire rack to cool.
Serve with your favorite type of tea or coffee!