Chicken Marsala
This is a sponsored post written by me on behalf of ACME Markets. All opinions are 100% mine.
This Chicken Marsala recipe will have you licking your plate clean! Made in one pot and in less than 45 minutes, this classic Italian-American dish is perfect for busy weeknights but also impressive enough to serve at a dinner party.
Who doesn't love a good chicken dinner? This chicken Marsala is better than the one you would get at a restaurant! And if you're looking for more chicken breast recipes to add to your repertoire, make sure to also check out my Blackened Chicken Breasts, Chorizo Stuffed Chicken Breast and Sheet Pan Chicken with Batata Harra.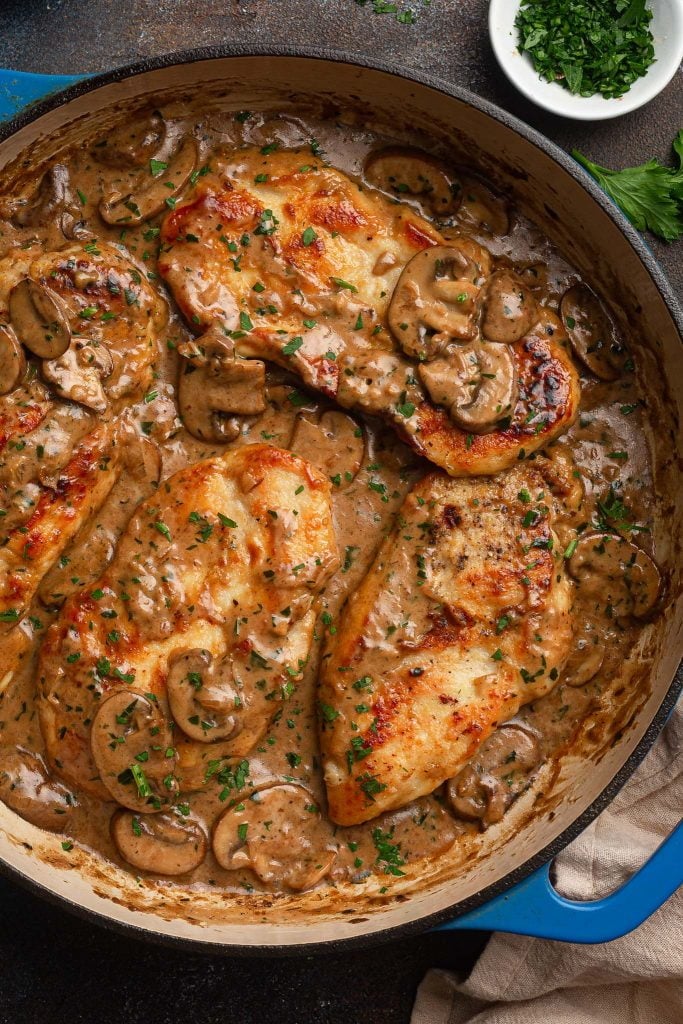 The Best Chicken Marsala Recipe!
You know that chicken Marsala dish that you love ordering at the restaurant? Well, this is better!
That is a pretty bold statement, I know, but I stand 100% behind it.
Thin chicken cutlets are cooked to perfection and bathed in a rich, luscious marsala wine sauce, studded with buttery mushrooms!
And the best part? The whole thing can be whipped up in no time (less than 45 minutes) and cooks in one pan, meaning clean up is a breeze!
Why would anyone choose to pay a hefty restaurant price when you can so easily make this at home?
IN THIS POST YOU WILL LEARN:
Plus, a printable recipe!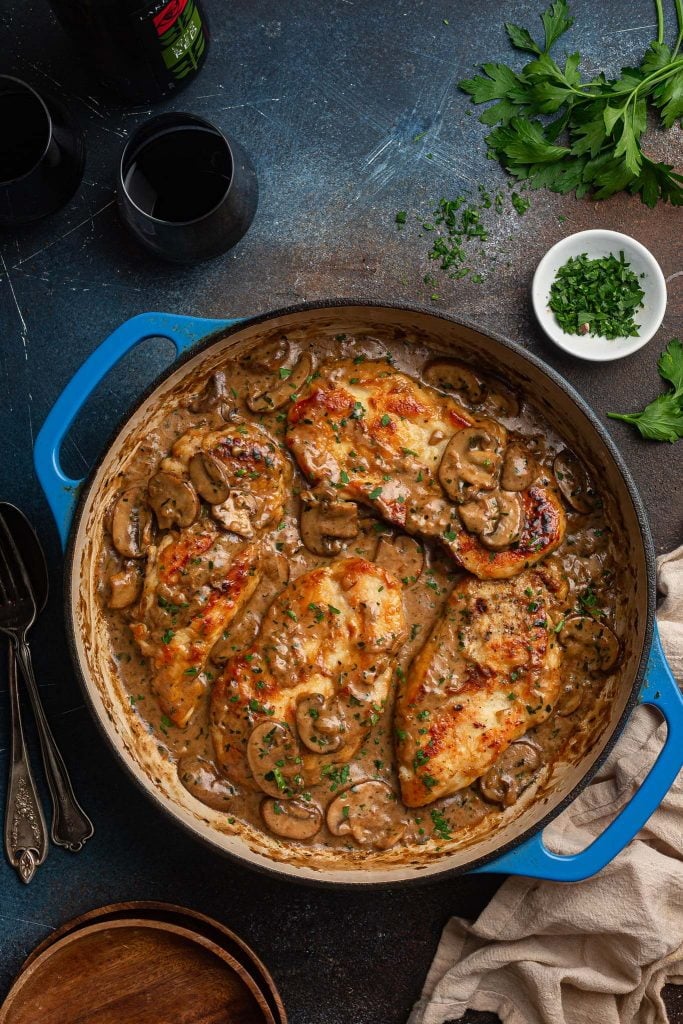 What is Chicken Marsala?
Chicken Marsala is a popular Italian-American dish that consists of chicken and mushrooms in a Marsala wine sauce.
It became very popular because of Olive Garden.
Is Chicken Marsala Italian?
Nobody is quite sure where chicken Marsala comes from.
I hadn't heard of it until I moved to the United States, and chances are you won't find it at restaurants in Italy.
While researching, I read that some food historians trace the dish to English immigrants living in Sicily in the 19th century. Apparently, they were likely trying to season the bland chicken with the wine.
Well, Italian food is anything but boring, so I find that hard to believe! Most likely, chicken Marsala is an Italian-American variation of classic Italian scaloppine dishes, where chicken, pork, beef or veal are dredged in flour and fried in a pan before simmering in a sauce.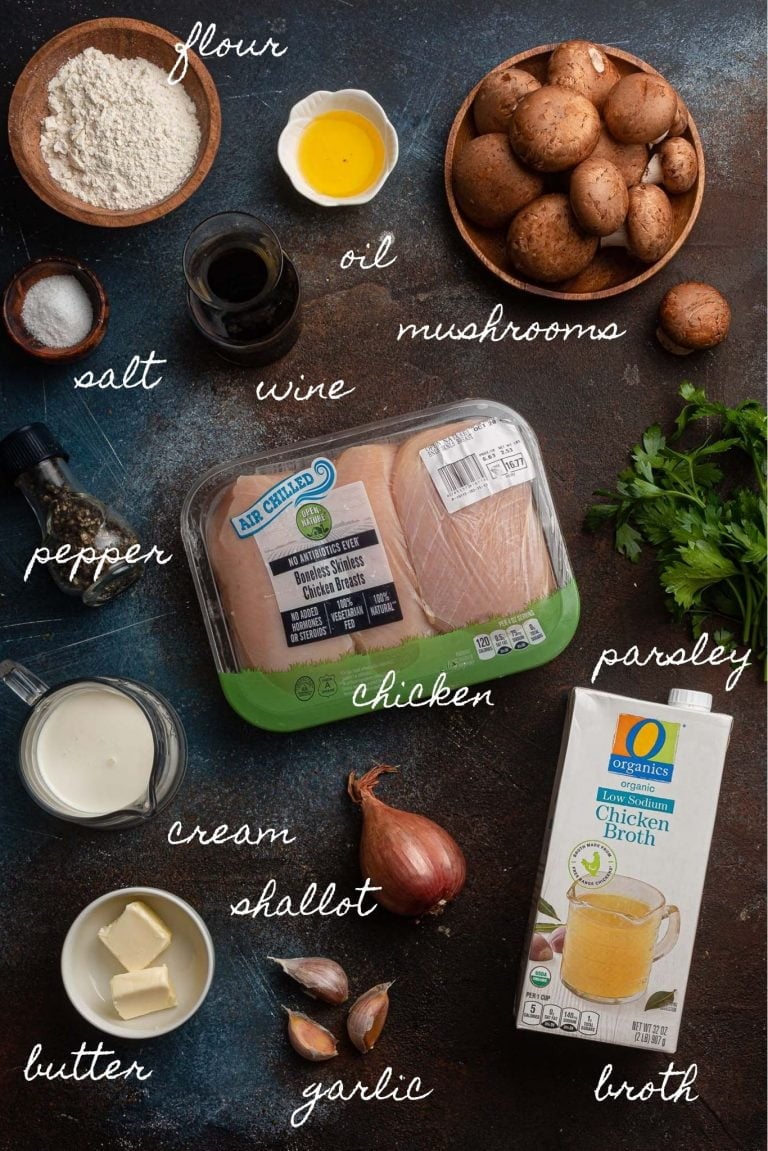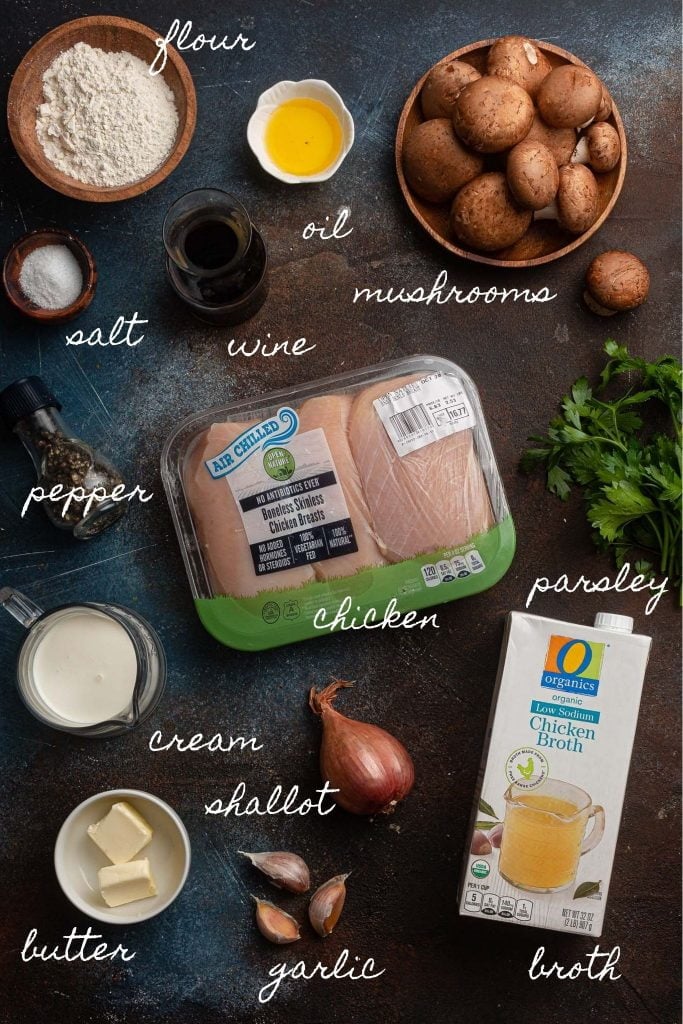 Ingredients
To make Chicken Marsala, you will need:
CHICKEN – I am using Open Nature® Air Chilled Boneless Skinless Chicken Breasts. This dish would also work with boneless, skinless chicken thighs.
MUSHROOMS – Sliced cremini or baby bella mushrooms. You can buy them pre-sliced or slice them yourself!
SHALLOT – I like the delicate, sweet flavor of shallots in this dish. However, you can use onions if that's what you have on hand!
GARLIC – There's nothing that garlic can't make better. 😉
MARSALA WINE – Marsala wine is a fortified wine made is Sicily. It can be found in both sweet and dry varieties. I recommend the dry variety for making chicken Marsala.
CHICKEN BROTH – Homemade or good quality store-bought broth, like O Organics® Chicken Broth.
CREAM – Most chicken Marsala recipes don't call for cream, but I think that it adds a creaminess and richness that you can't beat! Make sure to use heavy cream, as Marsala wine is quite acidic and can make half and half or light cream curdle.
FLOUR – For dredging the chicken cutlets. To make this dish gluten free, you can substitute the regular all-purpose flour for gluten free all purpose flour.
BUTTER – I like to add a couple tablespoons of butter when cooking the mushrooms, so they can absorb it and be extra tasty! I also like to add one tablespoon at the end to enhance the flavor and give the sauce a glossy finish.
OIL – We'll use a couple tablespoons of olive oil for cooking the chicken and sautéing the shallot and garlic.
SALT AND PEPPER – It's important to season as you go – versus seasoning only at the end – so every bite is seasoned to perfection!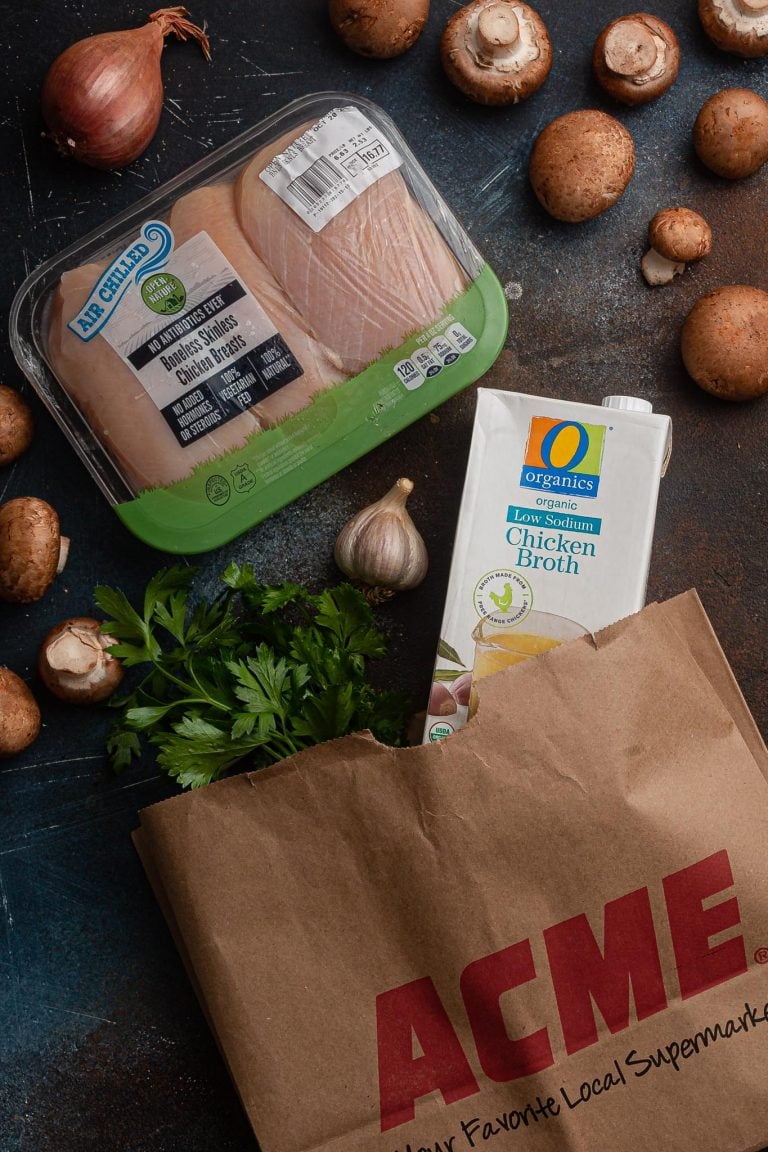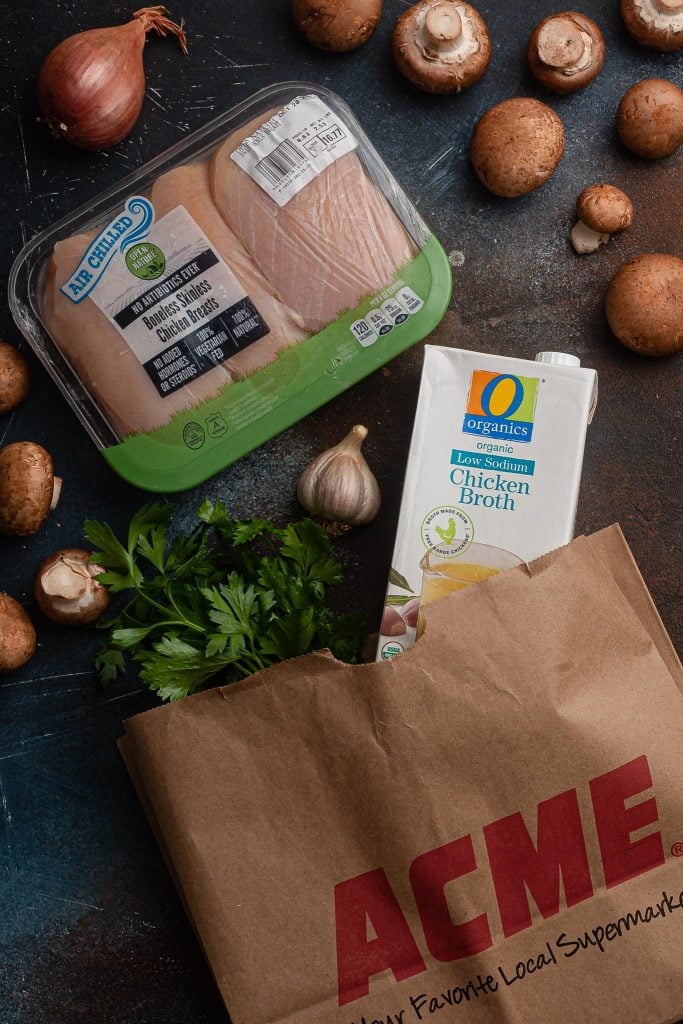 What cut of chicken is used for Chicken Marsala?
Chicken Marsala is made with thin chicken cutlets.
Most stores sell cutlets, but if you can't find them, you can make your own by halving and pounding chicken breasts. In fact, I usually prefer to cut my own, so they are all uniform in size (meaning they will be done cooking at the same time!).
As I mentioned earlier, I am using Open Nature Air Chilled Chicken Breasts, but they also carry chicken cutlets.
Their chicken is individually processed in a series of cold chambers with purified air. Because there's no retained water, the results are great flavor and juicier meat!
Open Nature® offers minimally processed, high quality products, with plenty high protein, plant-based and gluten-free options. Their chicken is 100% vegetarian fed and raised without any antibiotics, hormones or steroids!
I get my air chilled chicken at ACME Markets, but you can also find Open Nature® at the Albertsons Companies family of stores, including Albertsons, Safeway, Jewel-Osco, Randalls, Shaw's Supermarket, Star Market, Tom Thumb and Vons.
ACME also offers Grocery Delivery and Pick Up for convenient ways to shop!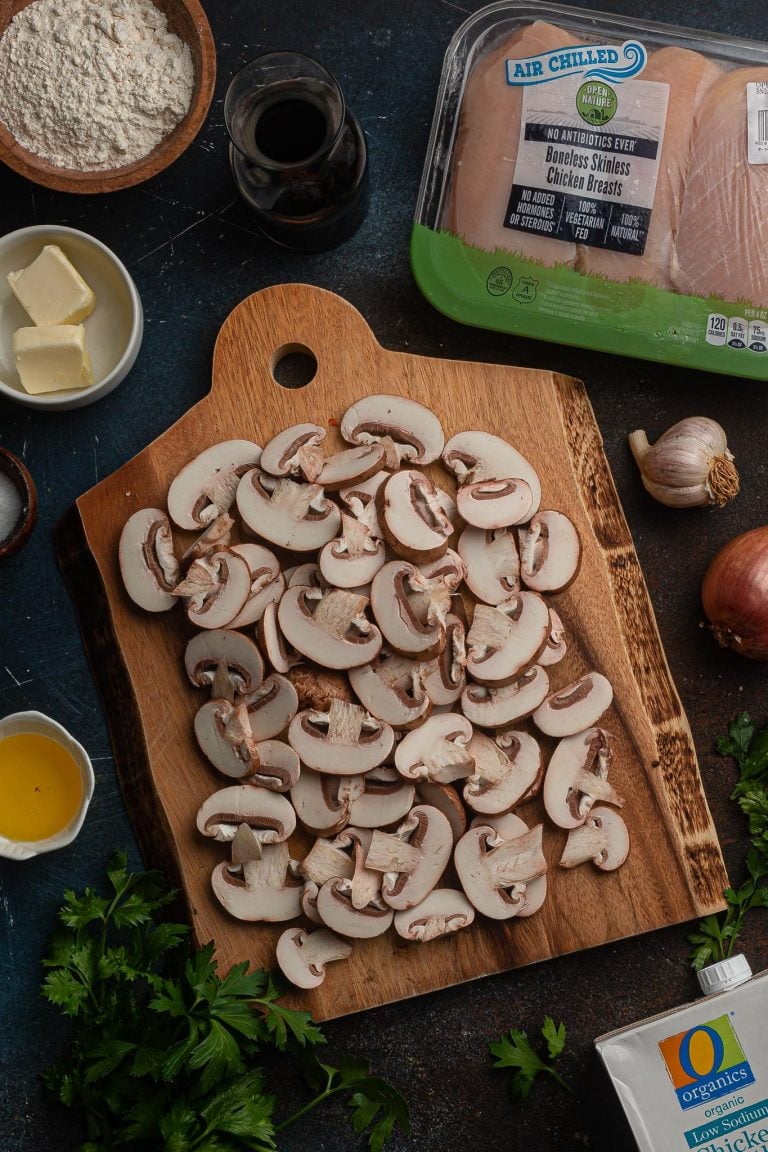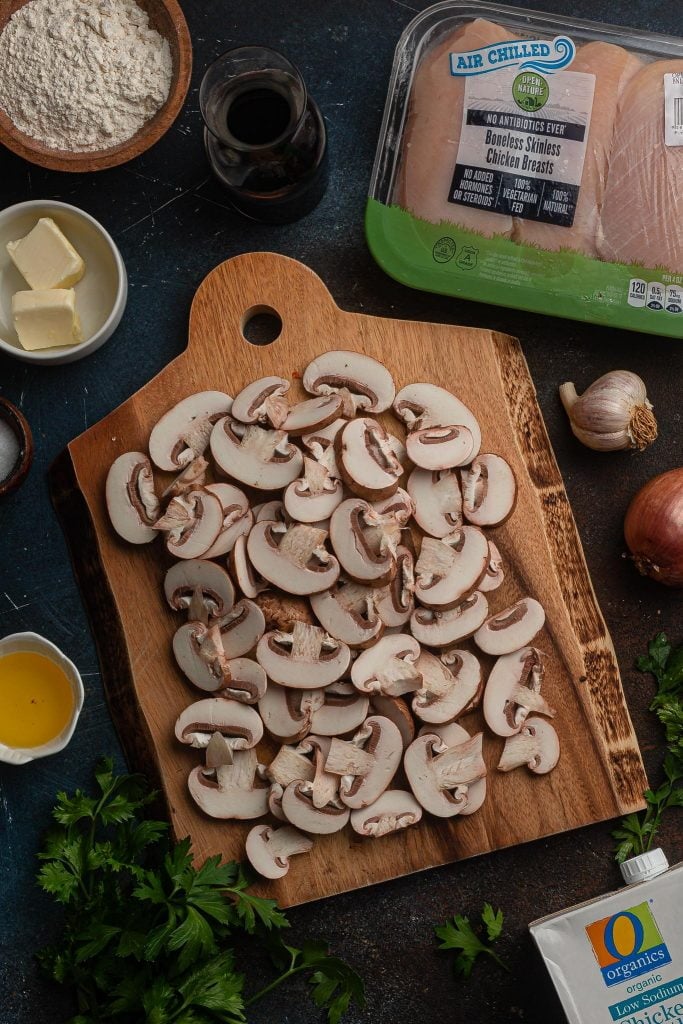 Which type of mushrooms should I use?
You will want to use a variety that can hold their shape well in liquid.
My favorite are cremini mushrooms, which are also sold as "baby bella". They are slightly more mature than white button mushrooms, which means that they have a browner color, firmer texture and better flavor!
That being said, there are no rules saying you have to use cremini to make chicken marsala. Other choices are chopped portobellos, oyster mushrooms, shiitake or white mushrooms.
Can I make Chicken Marsala without wine?
The Marsala wine gives the characteristic flavor of this dish. Keep in mind that most of the alcohol will cook off!
However, if you don't mind compromising the flavor and prefer to omit the alcohol, just add the same amount of chicken broth instead.
Technically, it wouldn't be called Chicken Marsala anymore, but nobody will arrest you for that! 😉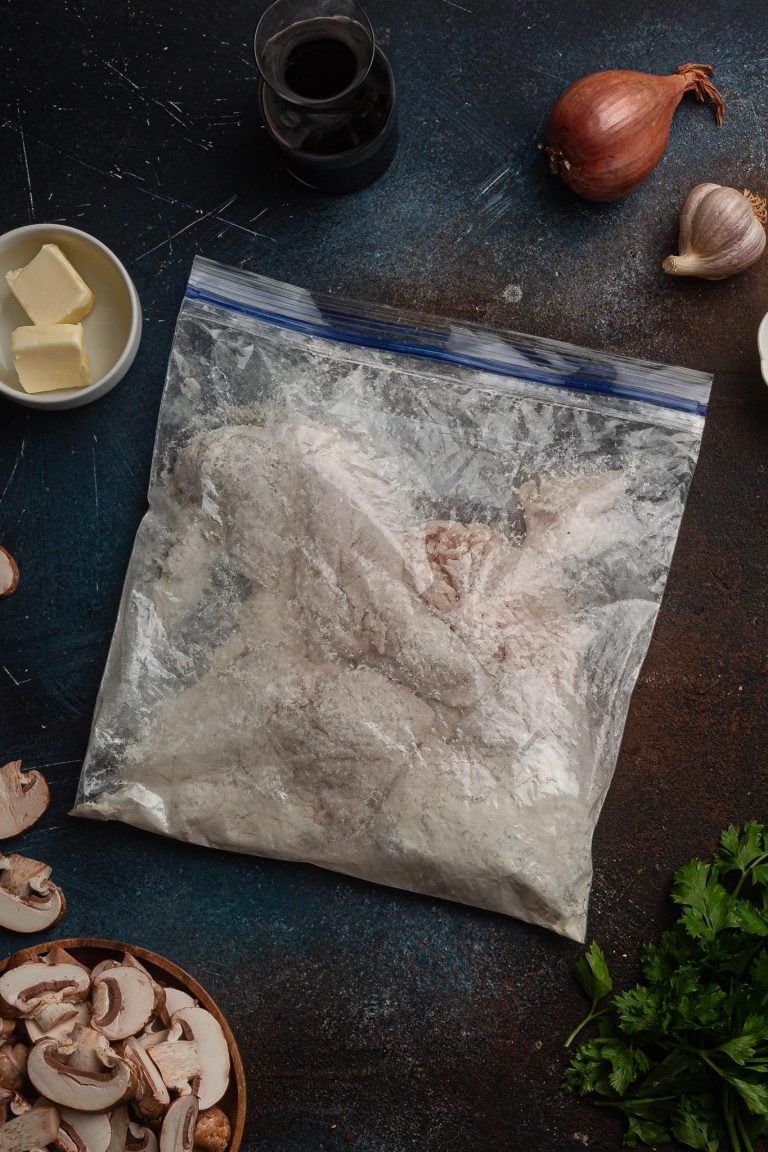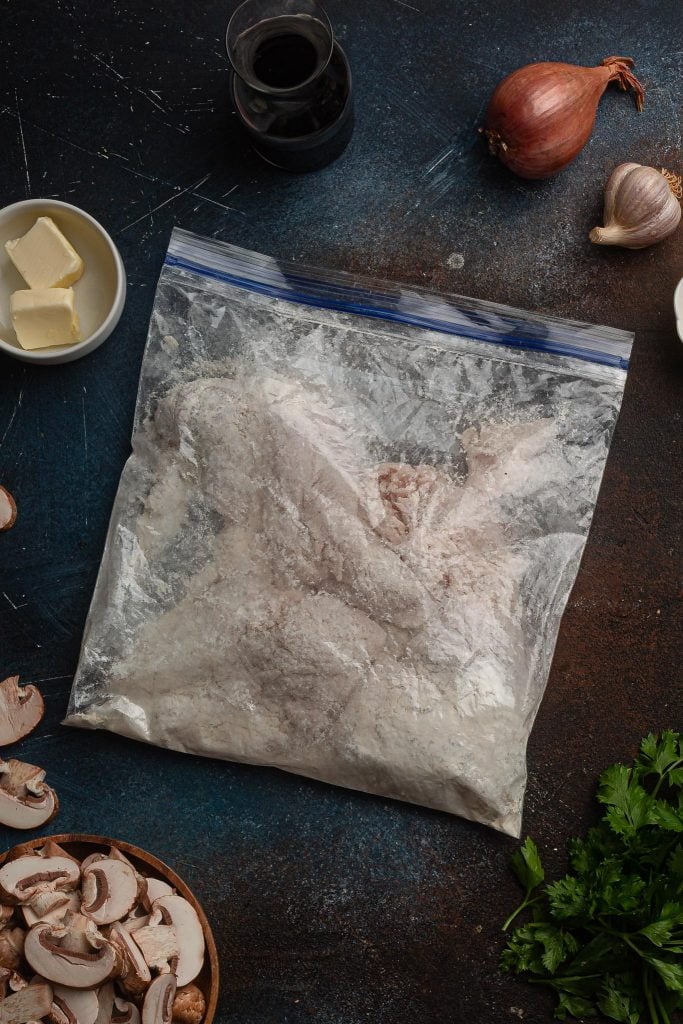 How to make Chicken Marsala
You won't believe how easily this dish comes together!
Here are a few tips for the best chicken Marsala you will ever eat:
Some recipes will ask you to add seasoning (salt and pepper) to the flour but nothing directly on the chicken cutlets. Season the chicken first AND THEN add the flour. That way the seasoning can penetrate the meat and bring more flavor to your dish!
Use a large skillet, preferably at least 12 or 14-inches, so you can cook the chicken in one batch. If you only have a smaller skillet, it's okay, but you will have to cook in several batches and that might add some time to the recipe!
Cook the chicken over medium-high heat. The chicken cutlets are thin and will cook quick, so if you cook them over medium heat, by the time they get golden brown, they will be overcooked and rubbery.
Chicken should be cooked to an internal temperature of 165ºF.
Most chicken marsala recipes call for less mushrooms. Well, this is a mushrooms lovers' dish, so go ahead and use 10 whole ounces! You won't be sorry!
This recipe is easily doubled or tripled to serve a crowd!
Recommended tools and equipment: Ziploc bags, Chef's knife, meat tenderizer, cutting board, large skillet or braiser, wooden spoon.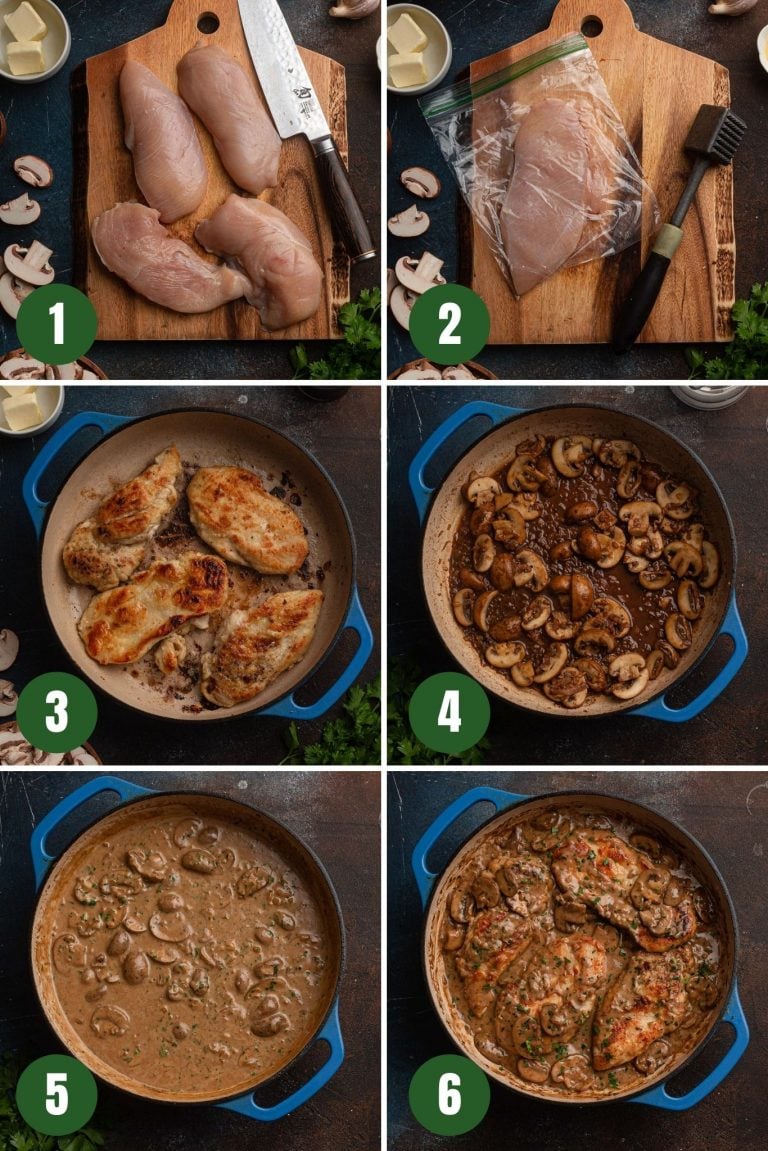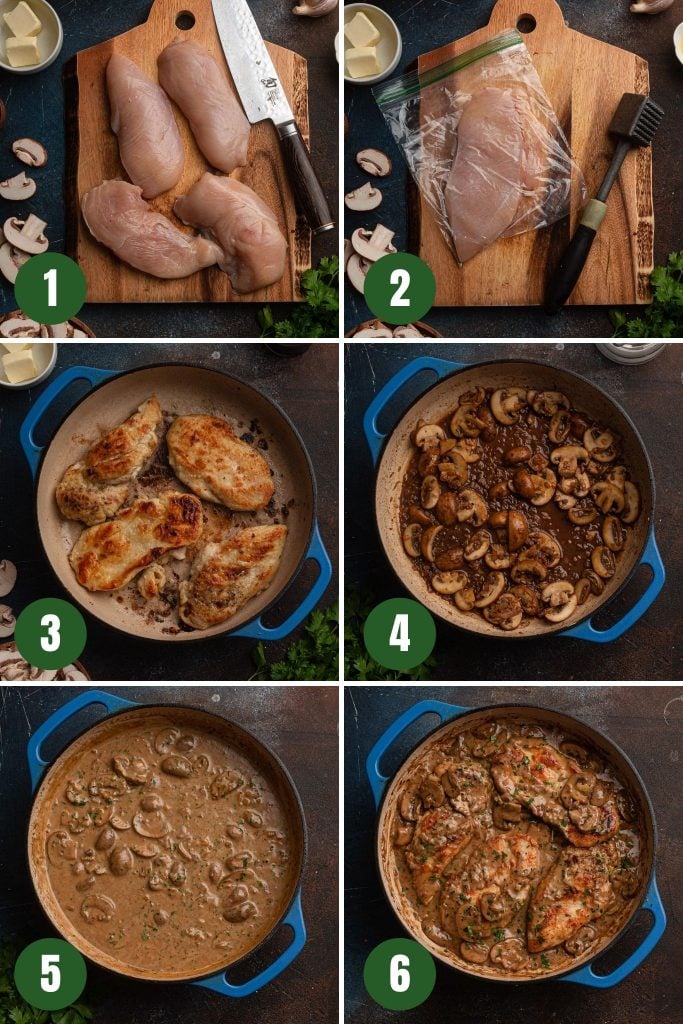 Here's how I make this chicken Marsala recipe. As always, you will find the printable (and more complete) version of the recipe at the end of this post.
Step 1: Prepare the chicken.
Cut each chicken breast in half. (Photo 1)
Place one half in a ziploc bag, seal and pound thin with a meat hammer or rolling pin. (Photo 2) Repeat with all the cutlets.
Place all the chicken cutlets in a large ziploc bag. Add salt and pepper, seal and massage to season. Then, add the flour, seal and massage again, so every piece is thoroughly coated.
Step 2: Cook the chicken.
Heat the olive oil and cook the chicken, turning once, until golden brown. (Photo 3) Remove the chicken and transfer to a plate.
Step 3: Make the sauce.
Sauté the shallots and garlic.
Add butter and mushrooms, cooking until they have softened. Season with salt and pepper.
Pour in the Marsala wine and scrape all the browned bits from the bottom of the pan. (Photo 4) That's where all the flavor is!
Add the chicken broth and cook until the sauce has thickened. If the sauce is not thickening, you can mix some flour (about a tablespoon) with chicken broth and add to the pan. Keep cooking until it thickens!
Stir in the cream, remaining butter and chopped parsley. (Photo 5)
Add the chicken back to the pan and cook just for a couple minutes, swirling to bathe them in the sauce and warm them through. (Photo 6)
Olivia's Tips:
Pounding the chicken into thin, even pieces means that it will cook up faster and more evenly.
Dredging the chicken pieces in flour not only helps thicken the sauce, but ensures you won't overcook the thin fillets while also giving them a silkier exterior.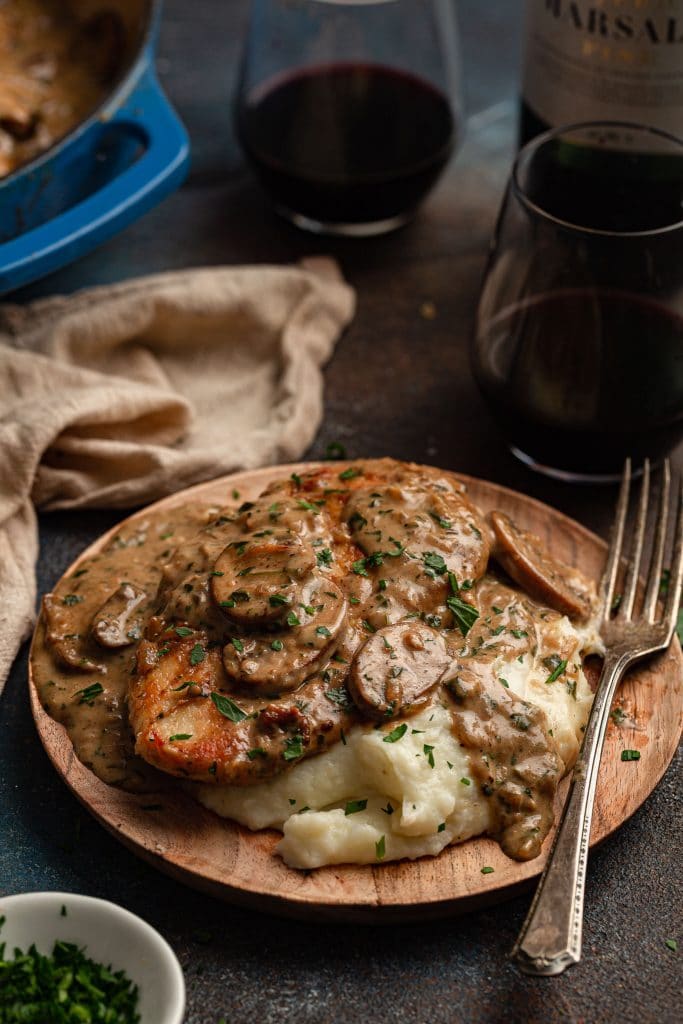 What to serve with chicken marsala?
I like to serve chicken Marsala with something starchy – like rice, mashed potatoes or buttered capellini (angel hair pasta) – to soak up all the rich sauce.
Oh, and don't forget the crusty bread!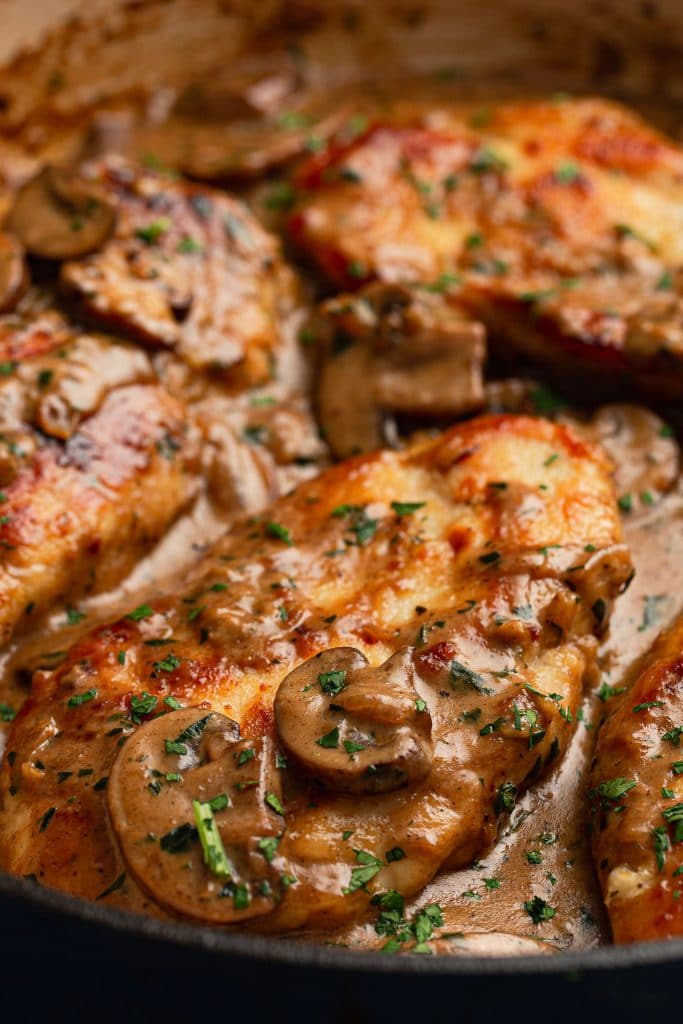 Frequently Asked Questions
Can I make chicken Marsala ahead of time?
Because the fillets are so thin, I find that this dish tastes better when freshly made, as the chicken can get rubbery if overcooked.

That being said, if you don't mind compromising a little bit of quality, you can make it up to 2 days ahead, but skip adding the cream until ready to serve to prevent any curdling.
How long will leftovers keep?
Leftovers, if stored in an airtight container, will keep well in the fridge for up to 3-4 days.
How do I reheat it?
Reheat the chicken Marsala in a skillet, over medium-low heat, until warmed through. If needed, you can add a few splashes of broth or cream to loosen up the sauce again!
Can I freeze chicken Marsala?
This dish, with the cream, does not freeze well as the cream will likely curdle when thawed and reheated. If you must freeze, skip adding the cream.

When ready to eat, thaw overnight in the fridge, reheat on the stove and add the cream before serving.
Did you make this recipe? I love hearing from you! Please comment and leave a 5-star rating below. You can also take a photo and tag me on Instagram with #oliviascuisine.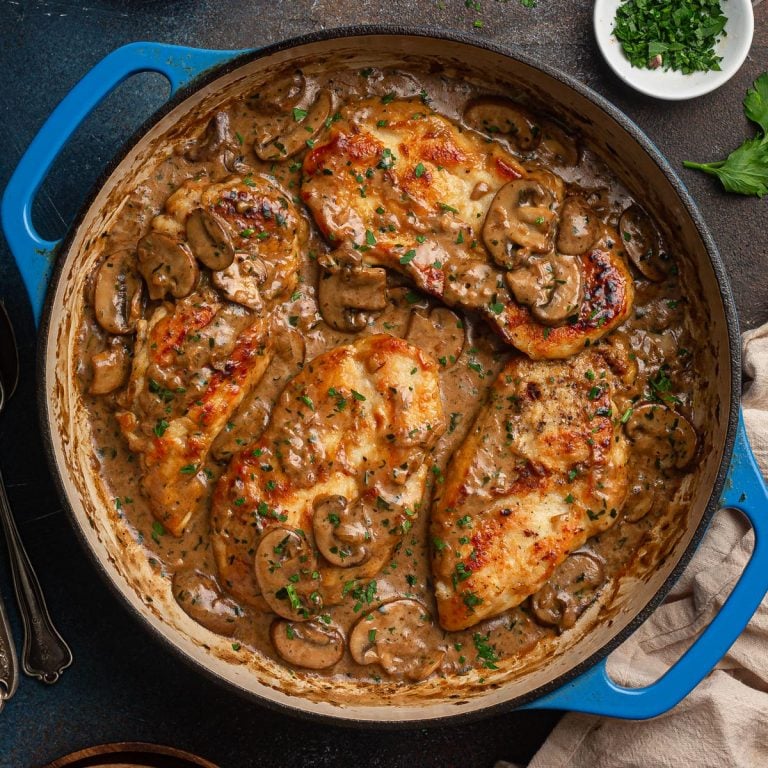 Chicken Marsala
This Chicken Marsala recipe will have you licking your plate clean! Made in one pot and in less than 45 minutes, this classic Italian-American dish is perfect for busy weeknights but also impressive enough to serve at a dinner party.
Ingredients
2 large Open Nature® Air Chilled Skinless Boneless Chicken Breasts, about 1.5 pounds
Salt and freshly ground pepper, to taste
1/2 cup all-purpose flour
2 tablespoons olive oil, plus more if needed
3 tablespoons butter, divided
10 ounces Cremini mushrooms, sliced
1 large Shallot, finely chopped
3 cloves garlic, minced
1 cup dry Marsala wine
1 cup O Organics® Chicken Broth
1/2 cup heavy cream
1/3 cup chopped parsley
Instructions
Place the chicken breasts on a cutting board and use a sharp chef's knife to slice them horizontally into two even pieces (cutlets). Transfer the cutlets, one at a time, to a ziploc bag. Using a meat hammer or a heavy rolling pin, gently pound each cutlet to a 1/4-inch thickness.

Transfer all the pounded cutlets to a bigger ziploc bag. Add salt and pepper to taste, seal and massage to season. Then, add the flour and massage again so every piece is thoroughly coated.

Heat olive oil in a large skillet over medium-high heat until shimmering. Tap off the excess flour of each cutlet and place them in the skillet, cooking – turning once – until golden brown and cooked through, about 3 minutes per side. Remove and reserve in a plate.

Add more olive oil if needed. Then, sauté the shallot and garlic until softened and fragrant, about 2-3 minutes.

Stir in the butter and, once melted, add the mushrooms. Cook, stirring frequently, until the mushrooms release their juices and gain some color. Season with salt and pepper.

Pour in the Marsala wine, scraping all the browned bits from the bottom of the skillet with a wooden spoon. Cook until reduced by half, about 2-3 minutes.

Stir in the chicken broth and bring to a boil, cooking until the sauce thickens.

Pour in the heavy cream and stir in the chopped parsley and butter. Taste and adjust seasoning as needed.

Add the chicken cutlets back to the skillet, swirling them so they get coated in the sauce. Cook just to warm them through.

Serve immediately, with rice, mashed potatoes or buttered pasta!
Notes
Chicken Cutlets
If you prefer, you can buy the chicken already cut into cutlets at the store. I still recommend pounding them thin to ensure they are all the same thickness.
What if my sauce is not thickening?
If your sauce is not thickening, mix 1 tablespoon of flour with 1/3 cup of broth and add that to the skillet. Let it boil vigorously until the sauce thickens.
Leftovers
Store leftovers in an airtight container, completely cooled, for up to 3-4 days.
Reheat in a skillet, over medium-low heat, until warmed through, adding a few splashes of broth or cream to loosen the sauce.
Freezing
Chicken Marsala tastes best when freshly made. That being said, if you must freeze it, skip adding the cream and add it once thawed and reheated, right before serving.
Nutrition
Serving: 1g, Calories: 405kcal, Carbohydrates: 23g, Protein: 15g, Fat: 28g, Saturated Fat: 14g, Polyunsaturated Fat: 12g, Trans Fat: 1g, Cholesterol: 83mg, Sodium: 777mg, Fiber: 1g, Sugar: 4g
If you like this Chicken Marsala, you will also love: