Classic Cheesecake with Raspberry Sauce
Only a few things in life are as good as this silky Classic Cheesecake. Smooth, creamy and topped with a tangy raspberry sauce! A showstopper that is guaranteed to become your new favorite cheesecake recipe.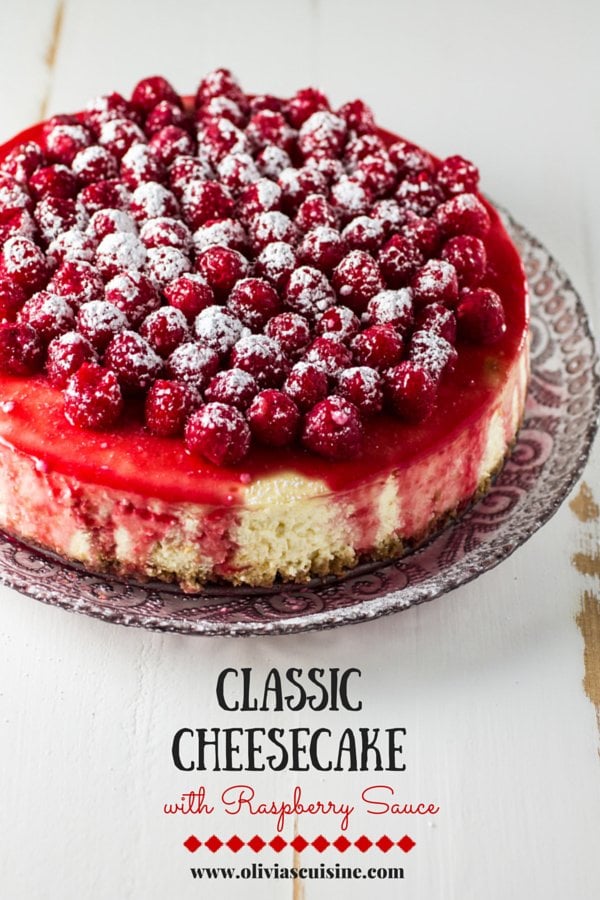 The only cheesecake recipe you will ever need!
Right on time for Mother's Day!
I unfortunately won't be celebrating Mother's Day this year. My mom is back in Brazil and neither of us could afford to fly to be together this time. *Major sad face*
So I decided to make a homage to her – my best friend and favorite woman in the whole world – by making her favorite dessert: classic cheesecake!
Every time she visits me in New York City, she has to get a slice of NY cheesecake. We usually go to Junior's or The Cheesecake Factory so she can indulge in her slice of plain classic cheesecake.
That's an obsession I never understood.
You see, I'm usually not a cheesecake person. Whenever someone offers me a slice, I expect it to be dense, overly sweet and rich. I'll eat a few forks full just to be polite but will eventually set it somewhere and go explore some other desserts.
This classic cheesecake is the opposite of that. It is creamy like you wouldn't believe it, light and not too sweet. In fact, the balance between sweetness and tanginess is what I love about this cake. Add the sourness of the raspberry sauce and my tastebuds are in heaven!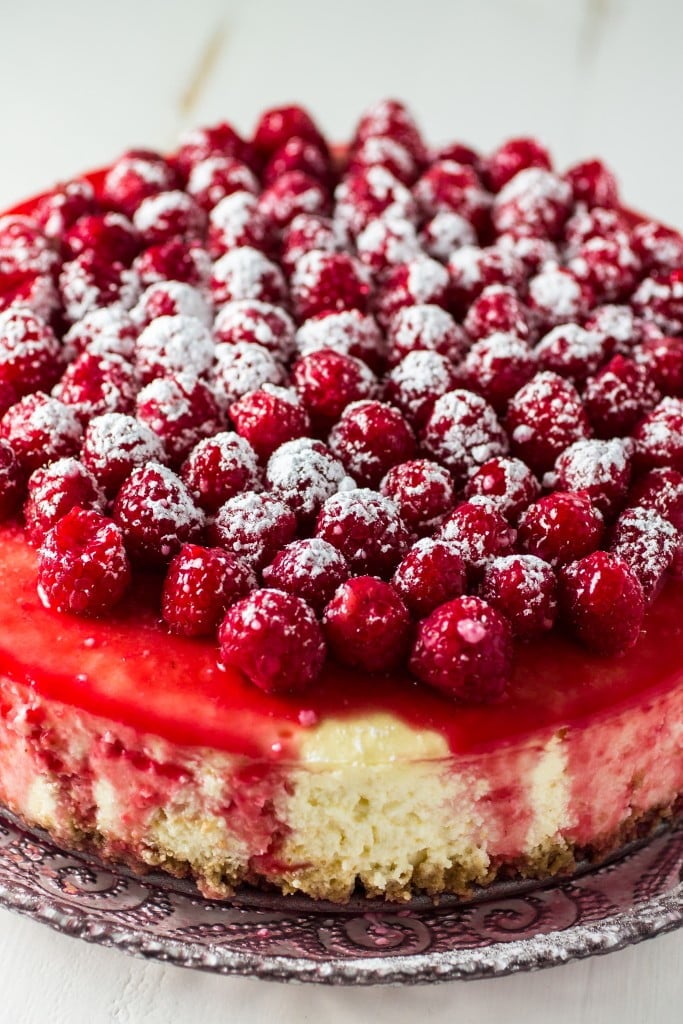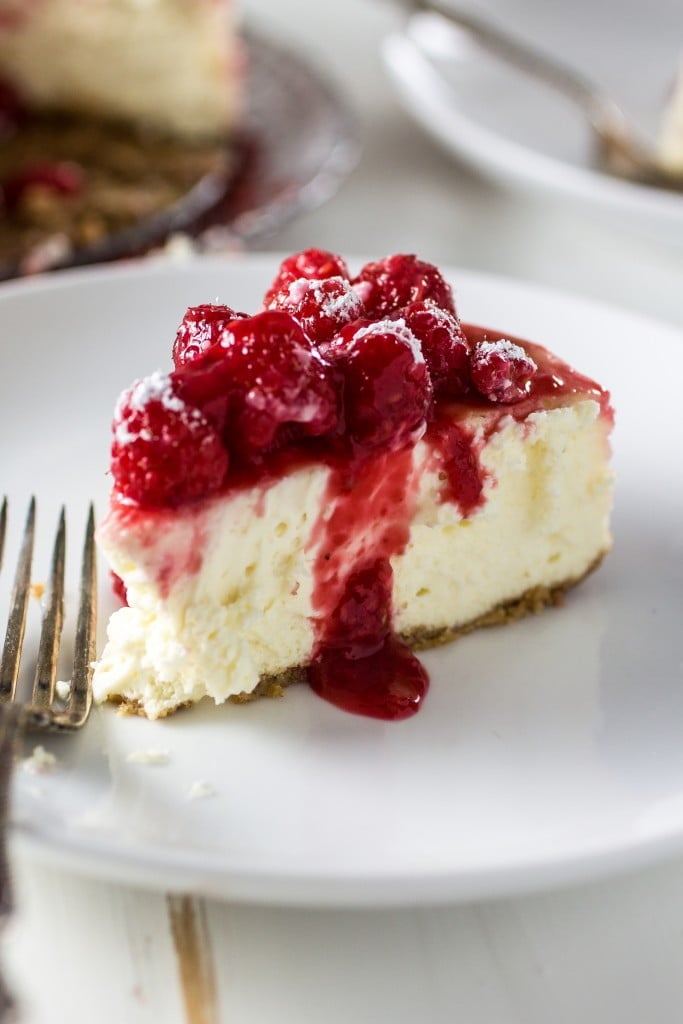 How to make perfect classic cheesecake
It took me a few attempts at making cheesecake to come up with THE one and to be comfortable sharing a few of "my secrets". A huge thanks for my taste testers, aka coworkers, or I wouldn't be able to eat all that food by myself.
1) The first secret is to add 1 cup of sour cream to the batter, which makes the classic cheesecake creamy and give it an extra tanginess that the cream cheese alone can't achieve.
2) Adding a few tablespoons of starch (flour or corn starch both work!) will help prevent cracks. Also make sure you don't overbake your cheesecake and cool it gradually (I let it sit in the oven, for about 1 hour, with the door slightly open!) as those are the main reasons for cracks.
3) Before I add the eggs, I mix the batter on medium-high speed for a long time, at least a couple of minutes more than what the recipe asks for. There's nothing worse than a lump-y cheesecake, so it doesn't hurt to go the extra mile. Give it an extra hand with a spatula, every now and then, to make sure that everything is being incorporated nicely.
4) Always bake your cheesecake in bain-marie (water bath). This technique creates a steamy environment where the cake will bake gently and evenly which prevents it from drying and ensures a smooth cheesecake.
To make a water bath, just set the springform pan (with the batter already in it!), wrapped in foil so water doesn't get it, in a large baking pan. Then, fill it with boiling water – just enough to cover 2 inches of the springform pan – and bring it to the oven.
5) While you absolutely must chill the cheesecake overnight (so it can set), you should serve it at room temperature. I find that it is much creamier and velvety if you let it stand at room temperature for at least 30 minutes before serving.
6) I learned this recently, but from now on I'll always store my cheesecake uncovered. This prevents the top of the cheesecake from getting mushy as condensation won't build inside the container.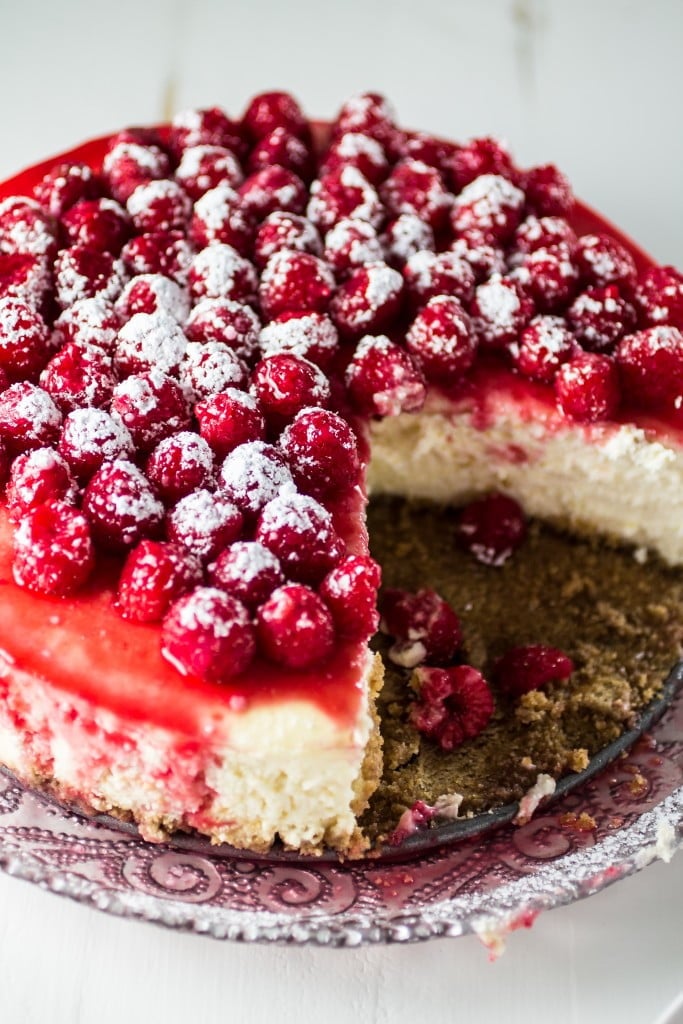 If you've followed all the steps above and your cheesecake still cracks, please don't go tossing it on the trash. Just covered it with sauce, fruit or even whipped cream. No one will notice and it will still taste divine! :)
Oh, and please cover the whole cheesecake with fruit, if you're doing it. I did buy – or asked my husband to buy – 3 pints of raspberries. But on his way home he decided to show off the good samaritan that he is and tried to catch a ball that was going to end up on the street and ended up dropping my raspberries, which caused some of them to be smashed. So excuse my lack of enough raspberries!
If your husband is clumsy like mine and you got a few mushy raspberries, powdered sugar will do the trick! ;-)
P.S. Wanna keep in touch? Follow me on
Facebook
,
Twitter
,
Instagram
or
Pinterest
to stay up to date with my posts! If you end up making one of my recipes, I would love to see it! Just take a photo and post it on your preferred Social Media and tag me or use the hashtag #oliviascuisine!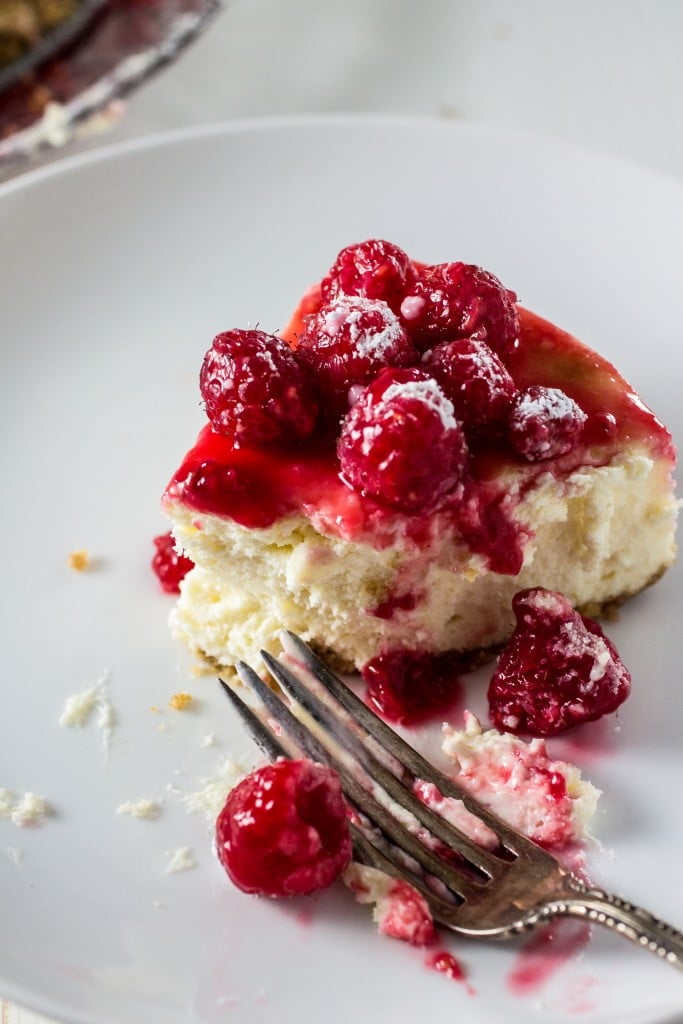 <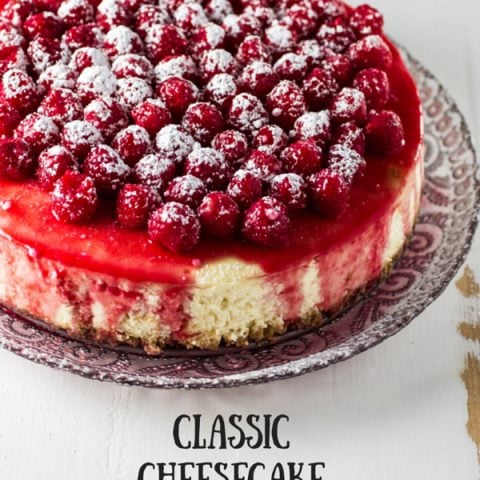 Classic Cheesecake with Raspberry Sauce
Yield: 10
Prep Time: 20 minutes
Cook Time: 55 minutes
Total Time: 1 hour 15 minutes
Ingredients
For the crust:
12 Honey Graham Cracker rectangles
1/3 cup butter, melted
For the cheesecake:
4 (8oz) packages cream cheese, softened
1 cup sour cream
1 cup sugar
4 large eggs
1 tablespoon cornstarch
1/8 teaspoon salt
2 teaspoons lemon juice
1 teaspoon vanilla extract
For the Raspberry Sauce:
2 pints raspberry
1/4 cup sugar
1 tablespoon lemon juice
Instructions
Making the crust:
Preheat the oven to 350 degrees F with a rack in the middle-lower part of your oven.
Grease a 9-inch springform pan with butter.
Wrap the pan in foil, making sure the bottom is completely covered. Reserve.
Crush the graham crackers in a food processor until finely crumbed.
Mix the crumbs and the melted butter until it resembles wet sand. Transfer that mixture to the springform pan and press evenly onto the bottom.
Bake the crust for 8 to 10 minutes or until it starts to brown slightly. Take it off from oven and let it cool.
Making the cheesecake:
Beat the cream cheese, the sour cream, the sugar, the cornstarch, the salt, the lemon juice and the vanilla extract until creamy and without any lumps, about 5 minutes on medium speed. Make sure you give it some extra love with a spatula, so everything gets incorporated!
Mix the eggs, one at a time, over low speed, just until blended. The mixture should be creamy and silky.
Pour the batter over the cooled crust.
Set the springform pan - still wrapped in foil - in a baking dish. Fill it with enough boiling water to cover 2 inches of the bottom of the pan. Bring the whole set to the oven and bake at 350 degrees for 55 minutes or until the outside looks slightly puffed but the center is still jiggly.
Once cheesecake is done, turn off the oven but keep the cheesecake in there, cooling for at least one hour with the oven door slightly open.
After one hour, transfer cheesecake to a wire rack and let it cool completely before transferring it to the fridge.
Chill the cheesecake overnight, uncovered.
Before serving, let the cheesecake stand at room temperature for at least 30 minutes.
Unmold the cake, transfer to a serving dish and top it with the sauce.
Making the Raspberry Sauce:
Combine all ingredients in a saucepan and cook for about 10 minutes or until the raspberries are broken down. If desired, pass the sauce through a strainer to remove seeds.
Let it cool and serve over your cheesecake. If desired, decorate the top of the cheesecake with some fresh raspberries.
Craving more desserts? Check these out: