Sous Vide Turkey Breast
A Sous Vide Turkey Breast is a great option if you don't want to roast a whole bird. Sous Vide cooking ensures the turkey is tender, succulent and unbelievably flavorful. Don't believe me? Try it! You will be so amazed that this might become your new family tradition.
"This post is sponsored by FoodSaver®; however, all thoughts and opinions are my own."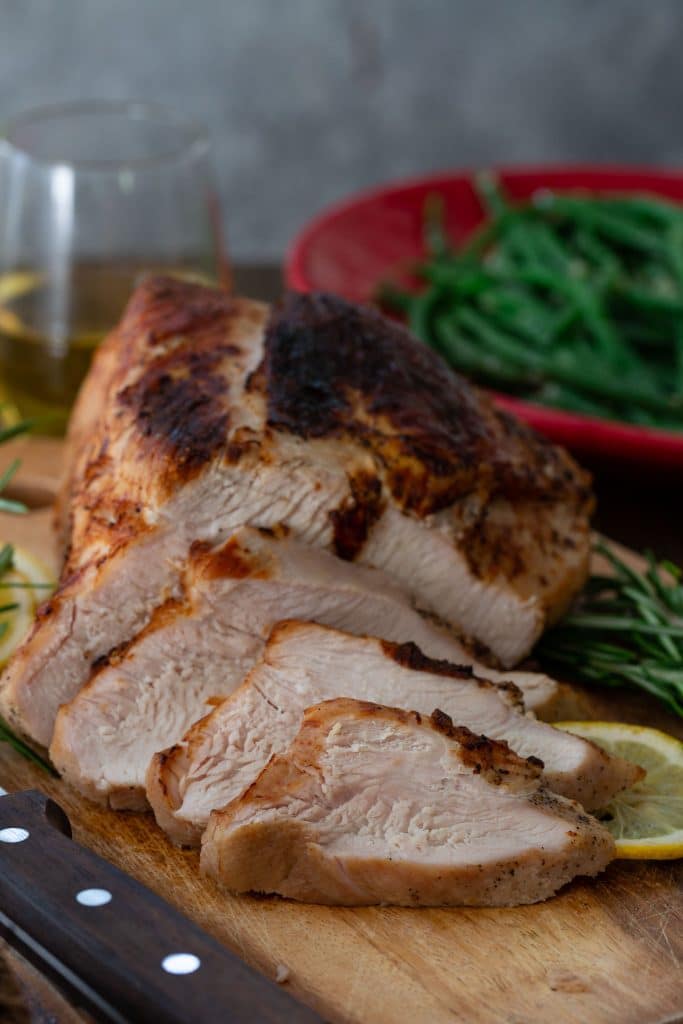 Perfectly cooked, juicy turkey breast
Tim and I are really proud of our Thanksgiving turkey. Every year we go together to the store, choose the plumpest bird and proceed to work on it all day – rubbing, roasting, basting – until our guests come to ooh and ahh us and provide the validation we so desperately crave.
Sounds so romantic, right? A foodie couple and their signature turkey. Except… there are tears. And sweat. And there was also the year when our new oven wouldn't work. There was cursing, lots of cursing, and a trip to the next appliance store to buy an electric roaster.
But then I thought… what about my sous vide wand? Could I sous vide a turkey?
Sous viding a whole bird sounded a little too intimidating, so I decided to buy a turkey breast to try.
You guys!
YOU. GUYS.
Why haven't I been sous viding turkey this whole time? The meat was juicy and tender, but I was mostly impressed with the flavor. It's like the seasonings (and the butter) infused every part of the turkey. Every single bite was delicious, perfectly cooked and everything you would want out of a Thanksgiving meal.
And the best part? Your oven will be free to make all the sides. No more stress! No more rushing to get everything cooked at the same time. No more yelling at your husband that no, his sweet potato casserole doesn't have priority over my roasted Brussels sprouts!
Thanksgiving will be a happy holiday again.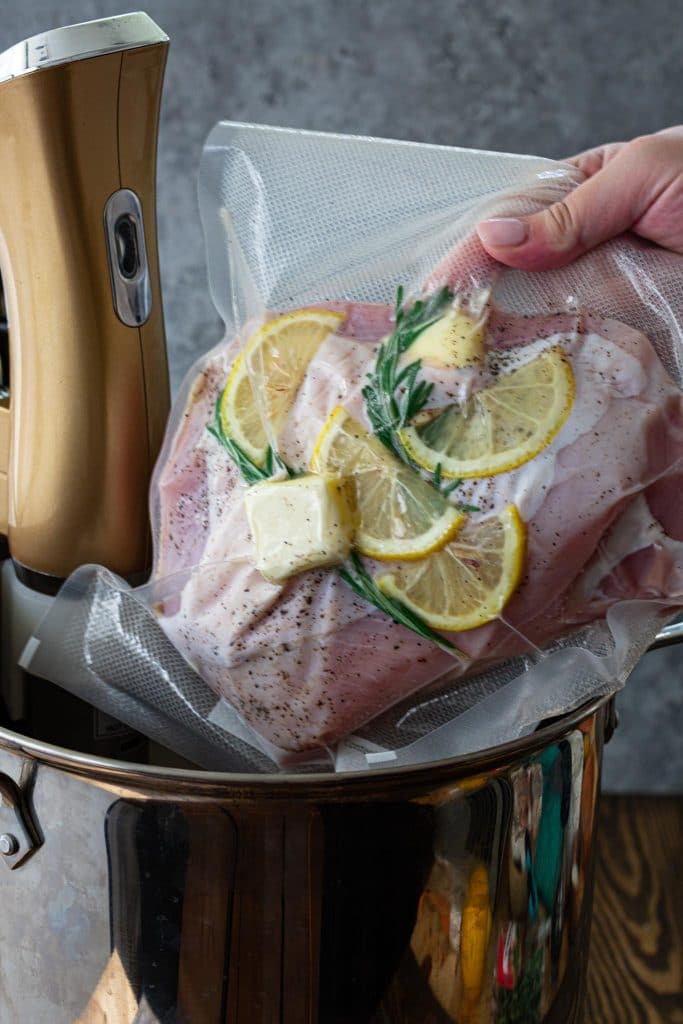 What is Sous Vide?
Sous Vide (pronounced sue-veed) is a cooking technique where food is cooked in temperature-controlled water.
In French, the term translates to "under vacuum", which makes sense since the food has to be vacuum sealed before going into the water bath. The temperature of the water is set and kept by a sous vide machine, which uses a heated metal coil to ensure that the temperature never fluctuates to high or low extremes.
The results? Restaurant-quality food that is impossible to achieve through other cooking methods.
I like to use this method to cook protein, like chicken, steak and pork. Since the water never goes past the temperature of doneness, it is impossible to overcook meat, meaning juicy and delicious results every single time.
That being said, sous vide has it's disadvantages. Yes, it's easy and low-key, but some food will take significantly longer to cook. However, if patience is one of your virtues, I highly recommend giving this method a try!
Too long, didn't read? Vacuum seal your food. Use a sous vide gadget to heat a pot of water to a set temperature. Drop the food in the water and then wait to enjoy your juicy turkey, buttery chicken or mouthwatering steak!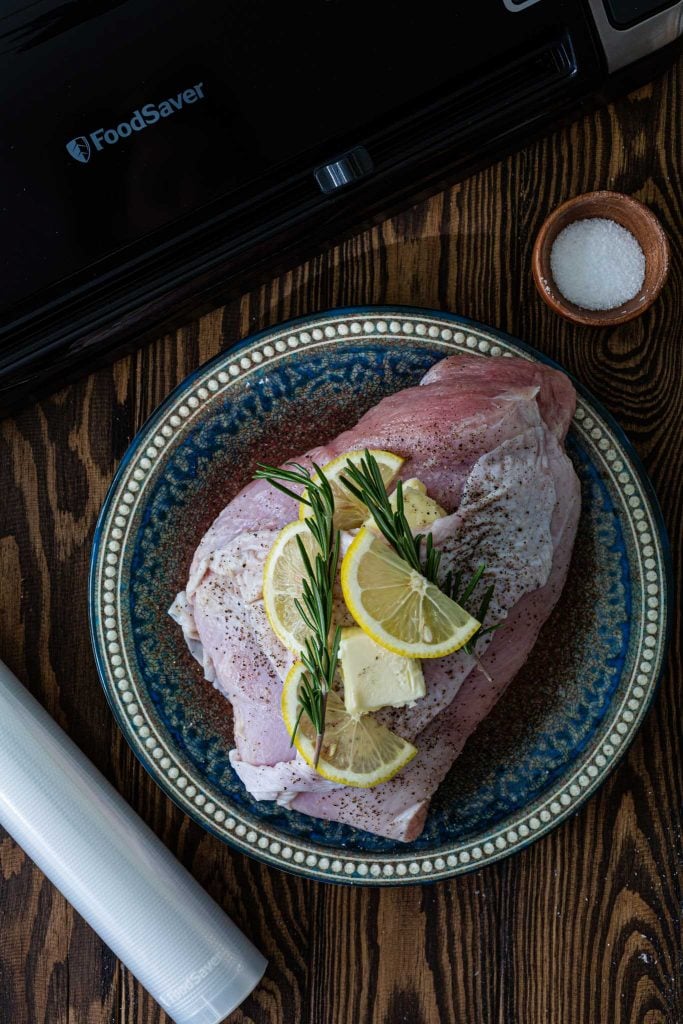 Essential equipment for Sous Vide Cooking
Despite the fancy name, sous vide is an easy and simple process. You'll only need two essential pieces of equipment:
A sous vide machine.
A vacuum sealer.
I am a proud owner of a FoodSaver® Preservation System and FoodSaver® Bags. Not only they're must-haves for Sous Vide cooking, but they help me save time, money, stress and waste!
Vacuum sealing deprives your food of oxygen. Mold and bacteria can't grow without oxygen, so your food will last much longer – 3 to 5 times longer than food stored in containers or other bags – in the fridge or freezer.
FoodSaver Bags are BPA-free and designed to withstand Sous Vide cooking temperatures while locking the food's natural flavors and helping deliver better heat transmission and consistent cooking results.
Both the preservation system and the Bags are available on Target and on the iBotta app. Click here to redeem a special offer!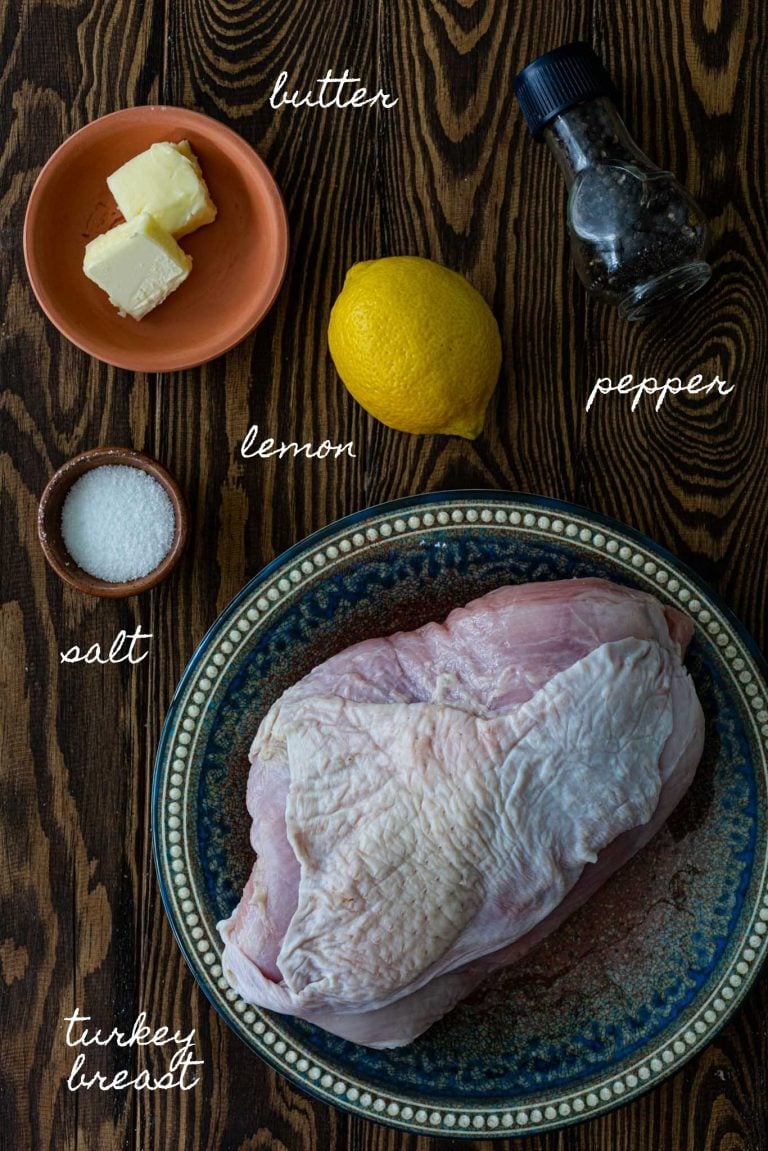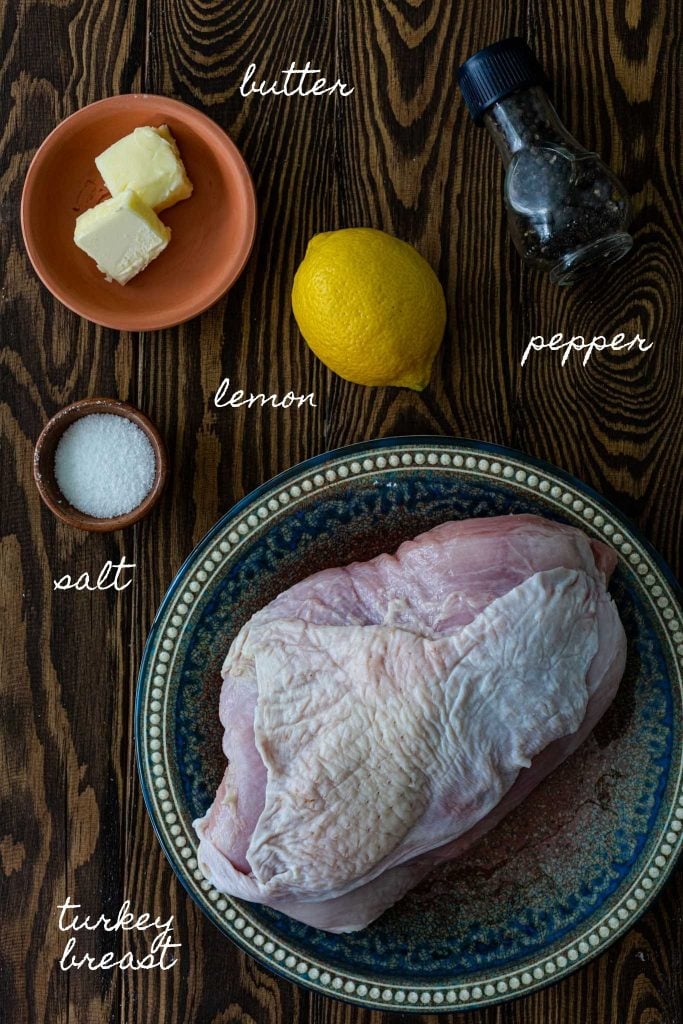 Ingredients for Sous Vide Turkey Breast
Here's what you'll need to make my Sous Vide Turkey Breast:
1 large boneless, skin-on turkey breast
Salt
Pepper
Lemon
Butter
Optional: Herbs – I like using rosemary.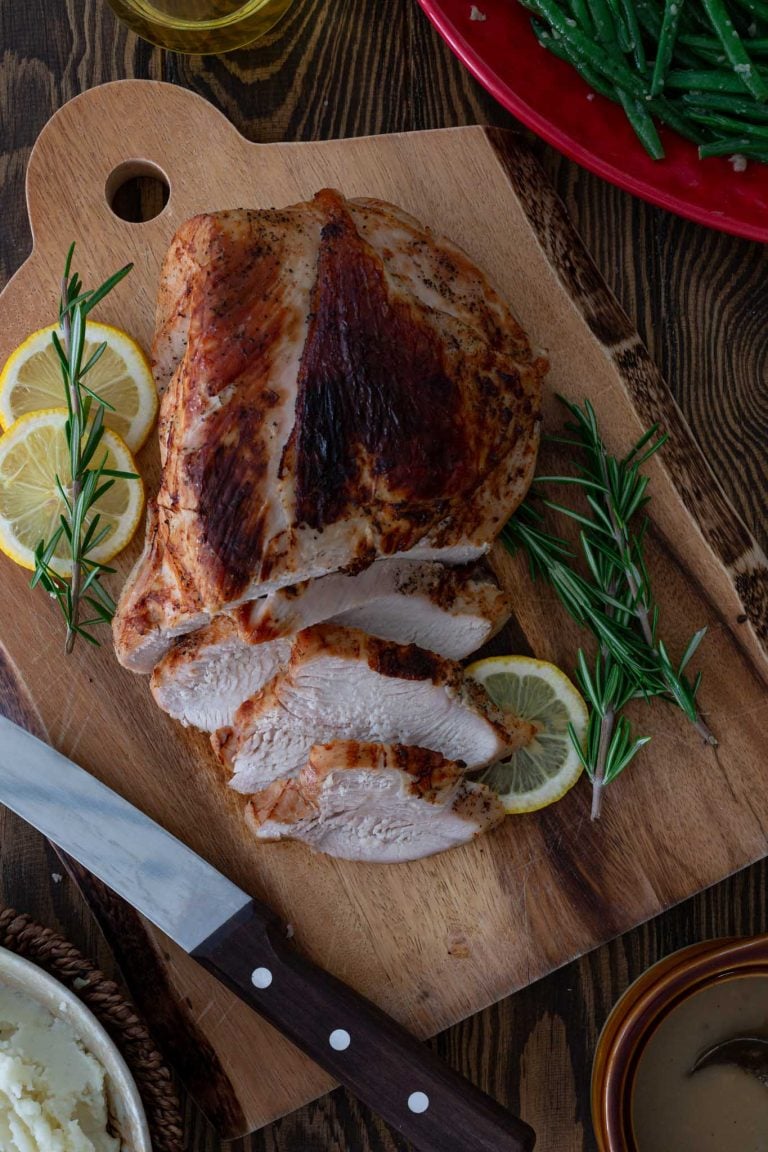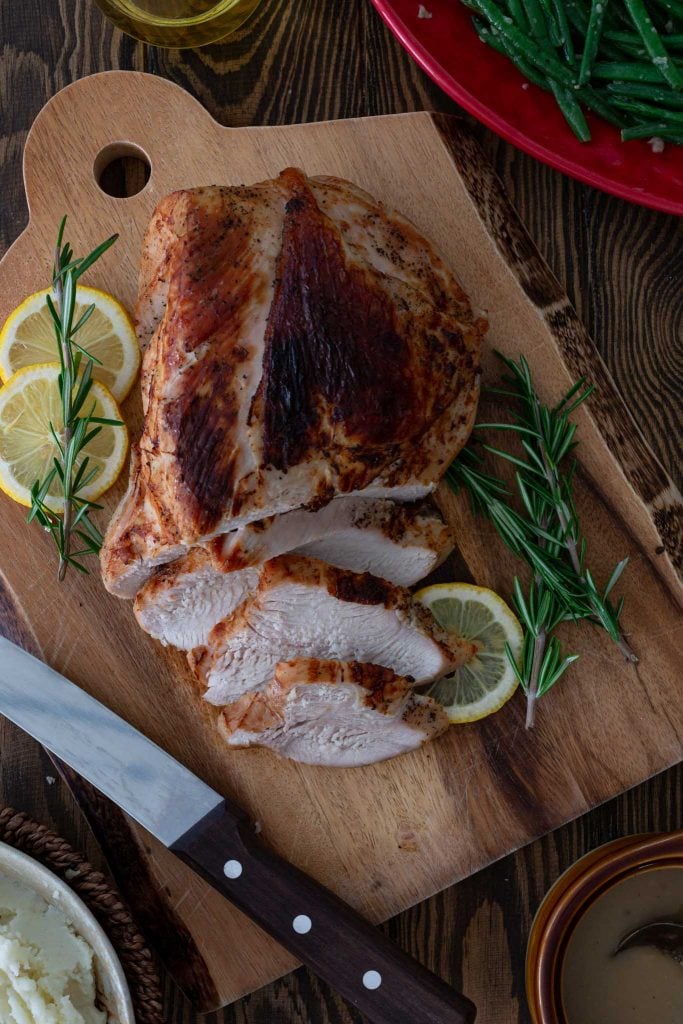 How to Sous Vide Turkey Breast
As I promised, this method is easy. Most of the time is inactive, so you can focus on preparing the sides, or – ya know – catching up with your favorite shows on Netflix!
Let's start: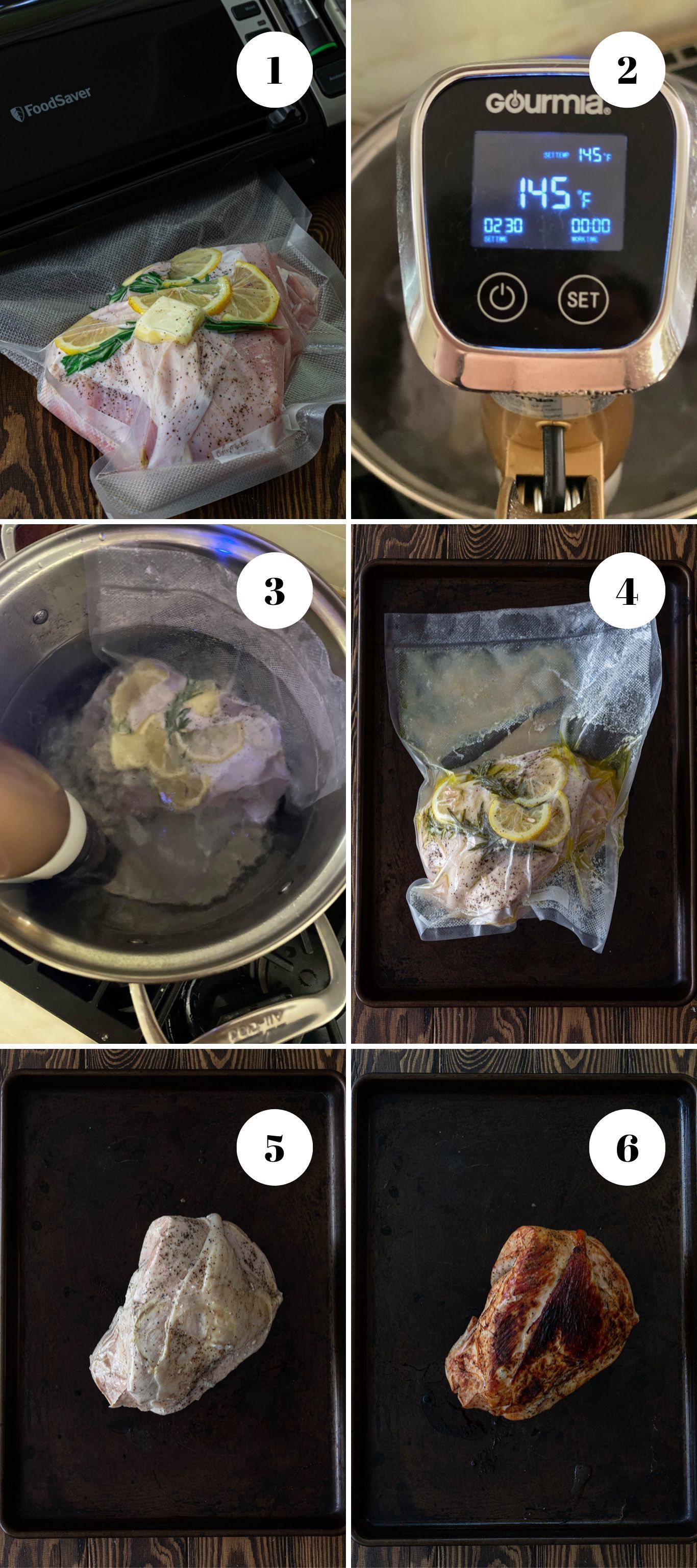 Season turkey breast generously on all sides. Place the turkey breast, lemon slices, butter and herbs in a large FoodSaver® Bag. Use the FoodSaver® vacuum sealer to vacuum seal the Bag.


Clip your sous vide cooker to a large pot or container full of water. Make sure the water is above the minimum and below the maximum fill line on the machine. Preheat the water to 145 degrees F (or to desired temperature), following the manufacturer's instructions.


Once the water reaches 145 degrees F, add the sealed Bag, making sure it is fully submerged. Cook for at least 2 1/2 hours (or up to 6 hours).


When done, remove turkey breast from the Bag.


Place turkey breast on a baking sheet.


Broil on high until perfectly golden brown. If you have a kitchen torch, you can also use that to achieve the color and crispiness.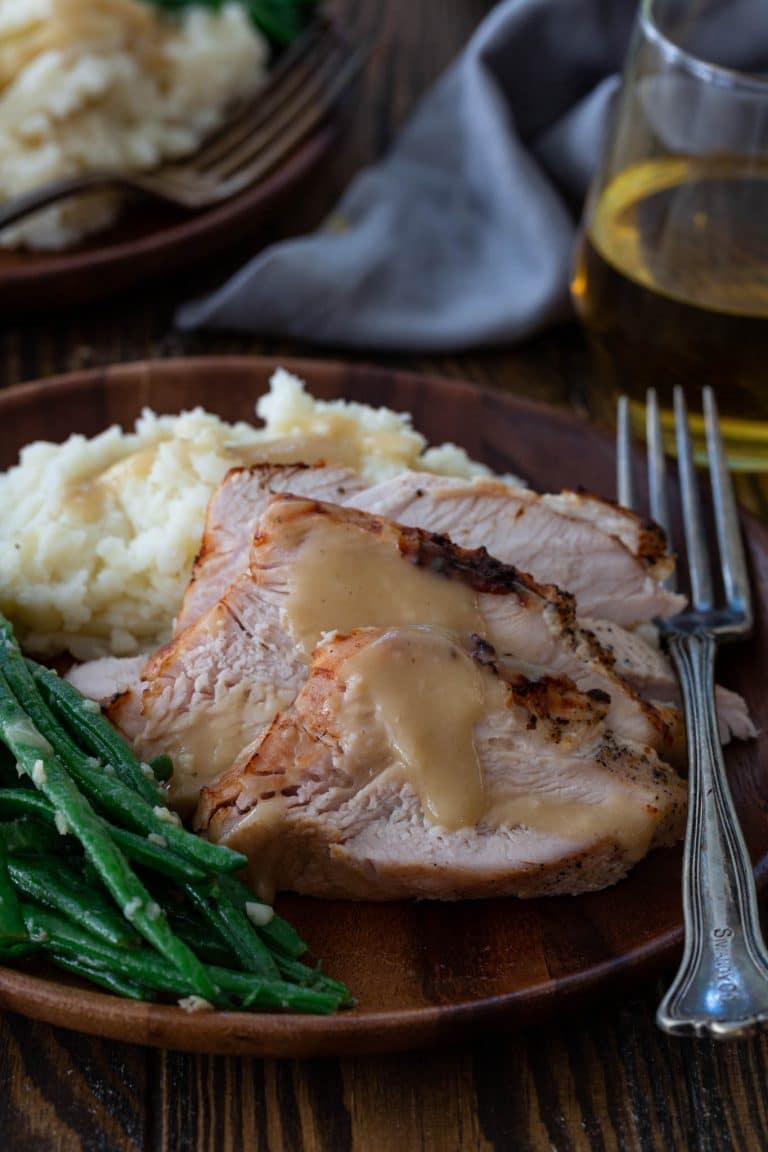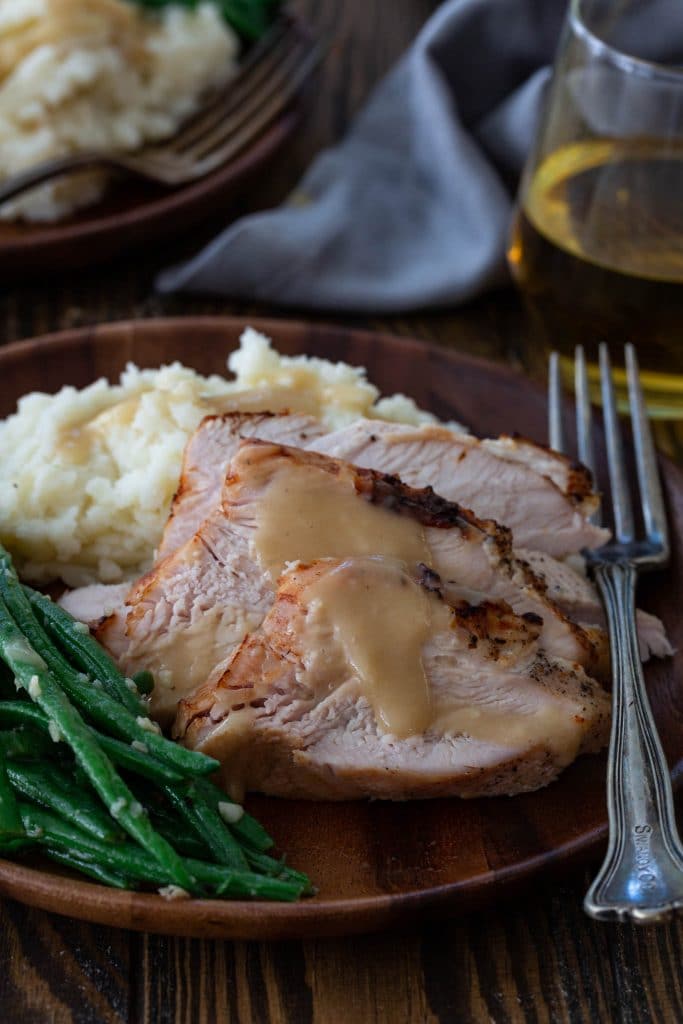 What should I serve with turkey?
Even if you're not making this for Thanksgiving, in my world, a good turkey dinner always includes mashed potatoes and garlicky green beans!
If you're making it for the holidays, a killer stuffing, cranberry sauce, sweet potatoes, roasted Brussels sprouts and some bread or biscuits complete the feast.
Oh, and don't forget the gravy! Can't have turkey without gravy!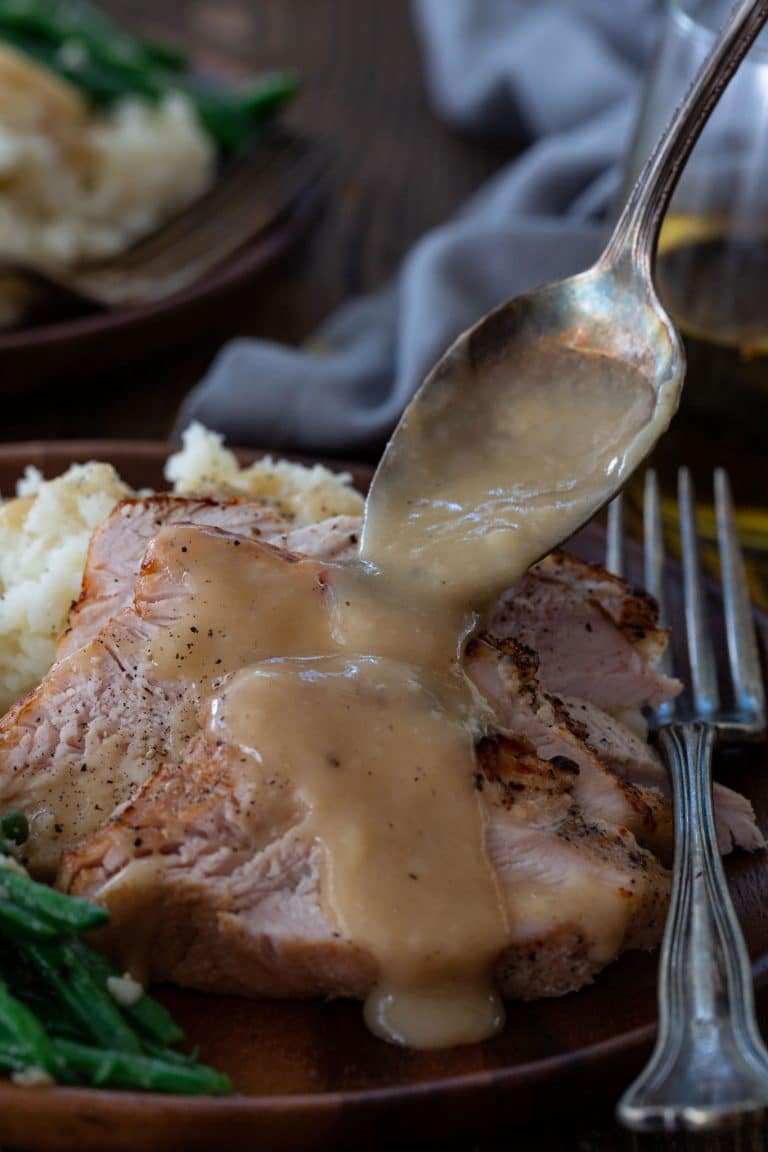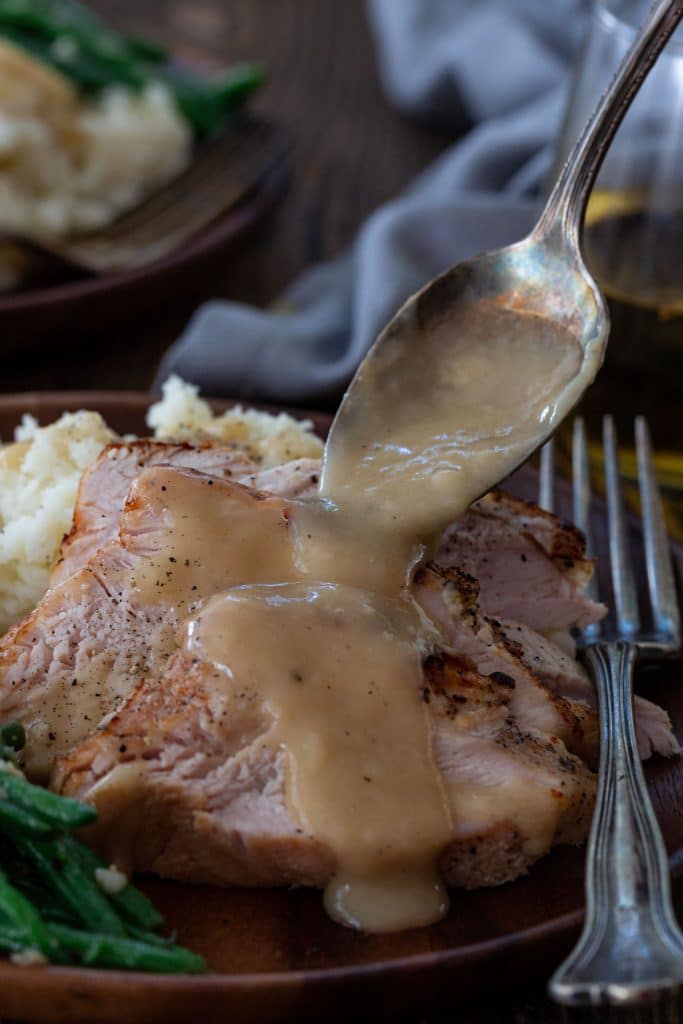 Sous Vide Turkey Tips and Tricks
Can I cook the turkey ahead of time and reheat to serve it? Yes. You can cook the turkey up to 3 days ahead and finish it in the oven/broiler right before serving. However, it's important to quick chill it before refrigerating (or freezing). When the turkey has finished cooking, quick chill the Bag in an ice bath (half ice/half water) for at least 30 minutes.


How long can I sous vide turkey breast? You can leave it in the water bath for up to 6 hours.


Do I need to baste the turkey? Nope! That's the beauty of it. Just dump the bag into the water, wait 2.5 hours and come bag to perfectly cooked turkey meat!


But I like crispy golden skin. Me too. And that's one of disadvantages of Sous Vide cooking. The solution? Once the turkey is cooked, you can sear it in a pan, roast or broil in the oven, or use a kitchen torch to achieve the skin of your dreams.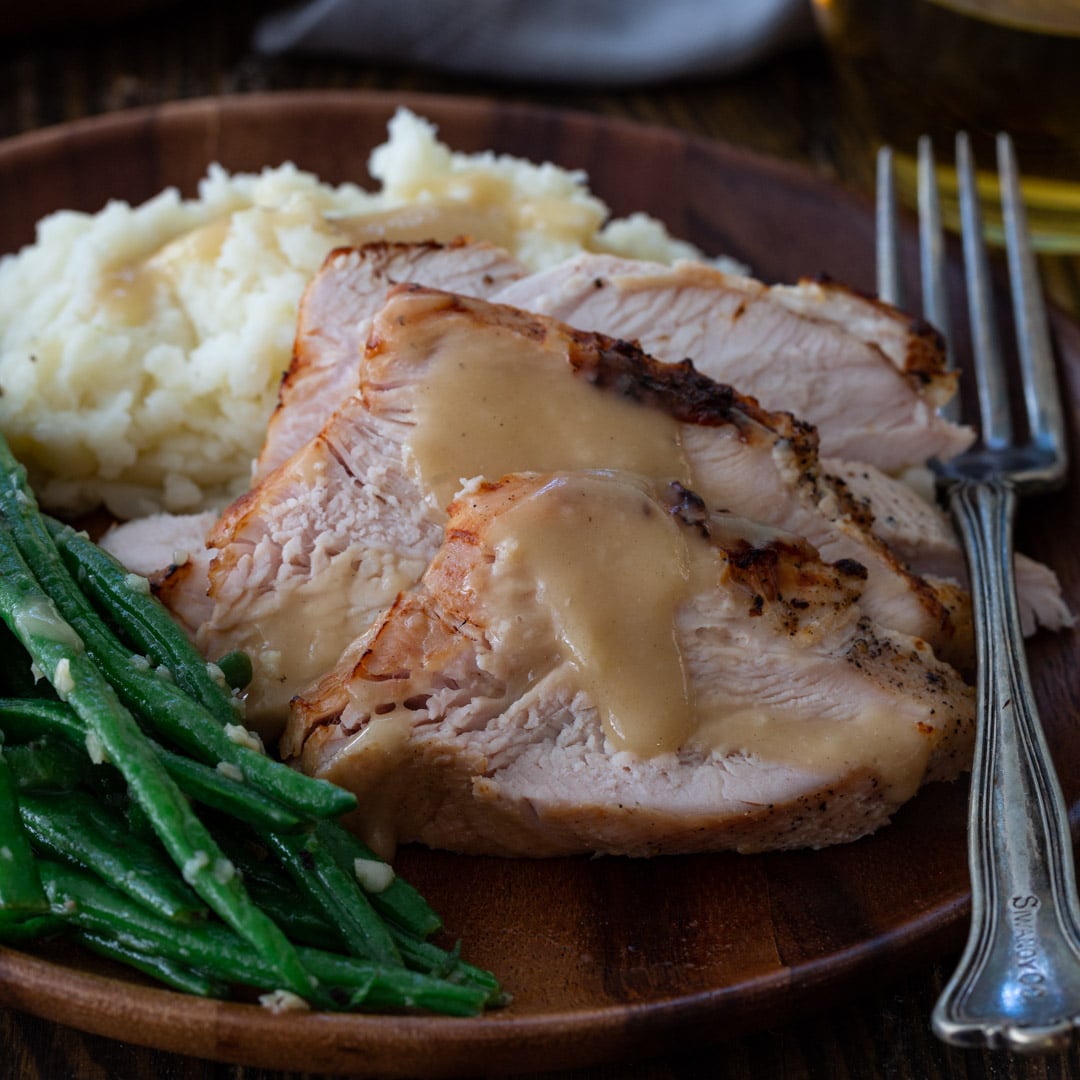 Sous Vide Turkey Breast
Yield: 6 to 8
Prep Time: 5 minutes
Cook Time: 2 hours 30 minutes
Additional Time: 5 minutes
Total Time: 2 hours 40 minutes
A Sous Vide Turkey Breast is a great option if you don't want to roast a whole bird. Sous Vide cooking ensures the turkey is tender, succulent and unbelievably flavorful. Don't believe me? Try it! You will be so amazed that this might become your new family tradition.
Ingredients
1 large boneless, skin-on turkey breast
Salt and freshly ground pepper, to taste
A few lemon slices
2 tablespoons butter, cold
A few rosemary sprigs (optional)
Instructions
Season the turkey breast generously with salt and pepper, on all sides.
Heat a sous vide water bath to 145 degrees F, or to desired temperature.
While the water is heating, place the seasoned turkey along with the lemon slices, butter and herbs, in a bag. Use the FoodSaver Preservation System to vacuum seal the bag, making sure it pulls all air out and forms a seal around the food.
Place the bag in the sous vide bath, making sure it is fully submerged. Cook for 2 1/2 hours or up to 6 hours.
Arrange the top rack of your oven so it's 8 to 12 inches below the heating element, and preheat your broiler.
Once turkey is cooked, remove from the water bath and arrange, skin side up, on a baking sheet.
Roast the turkey under the broiler until the skin is crispy and golden brown.
Carve and serve with gravy!
Notes
Make sure the vacuum seal is tight so there are no air gaps between the meat and the plastic bag, as that can result in uneven cooking.
Don't leave the sous vide pot on an unprotected counter top. You can use an insulated pad, trivet or set it on your stove.
Don't cook the turkey breast for longer than 6 hours. After that, the connective tissue begins to break down and the meat can become mushy.
No broiler? No problem. You can sear the turkey breast on a pan on the stove or use a kitchen torch to crisp up the skin.
Nutrition Information:
Yield: 8
Serving Size: 1
Amount Per Serving:
Calories: 42
Total Fat: 3g
Saturated Fat: 2g
Trans Fat: 0g
Unsaturated Fat: 1g
Cholesterol: 16mg
Sodium: 70mg
Carbohydrates: 0g
Fiber: 0g
Sugar: 0g
Protein: 3g
Nutritional values are approximate, please use your own calculations if you require a special diet.
Got leftovers? Here's what to make with them: