Christmas Wreath Cheeseboard
A simple but festive Christmas Wreath Cheeseboard is all you need to get the party started! It is easy to recreate and will have your guests oohing and aahing at first sight.
Looking for more party platters? You should also visit our tutorial for How to Assemble a Beautiful Cheeseboard, our Fall Harvest Cheese Board and the How to Make a Charcuterie Board guide.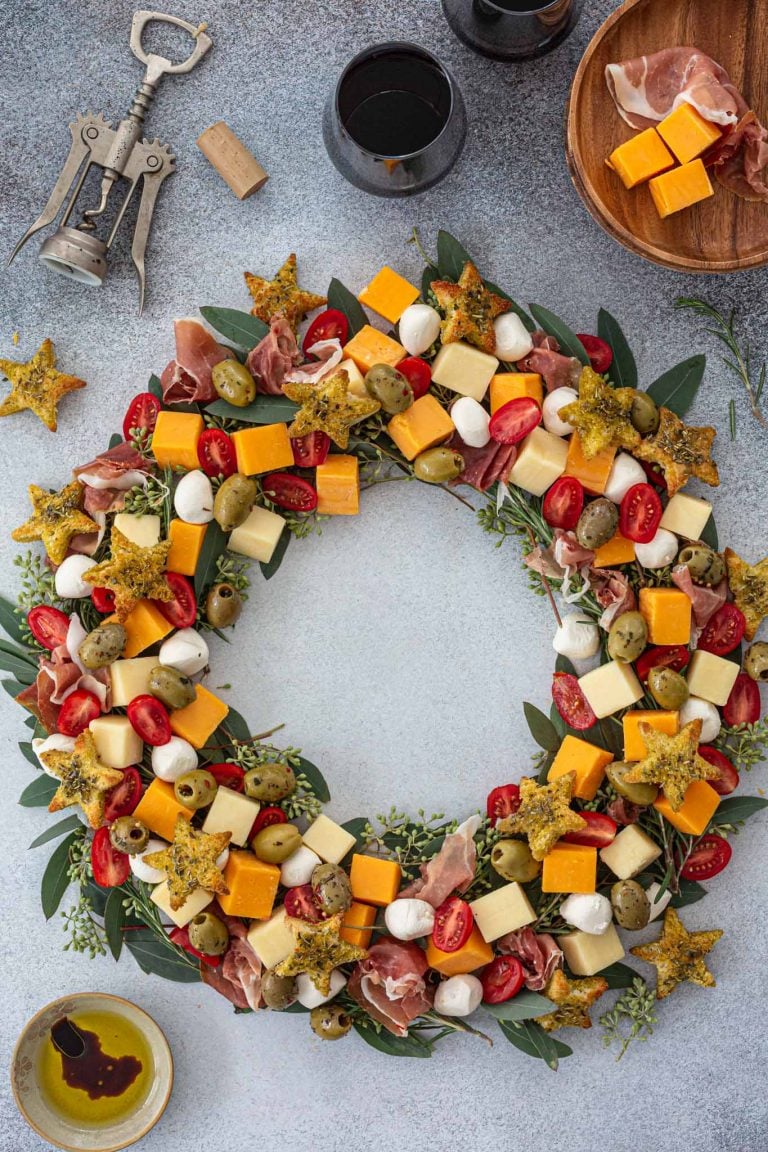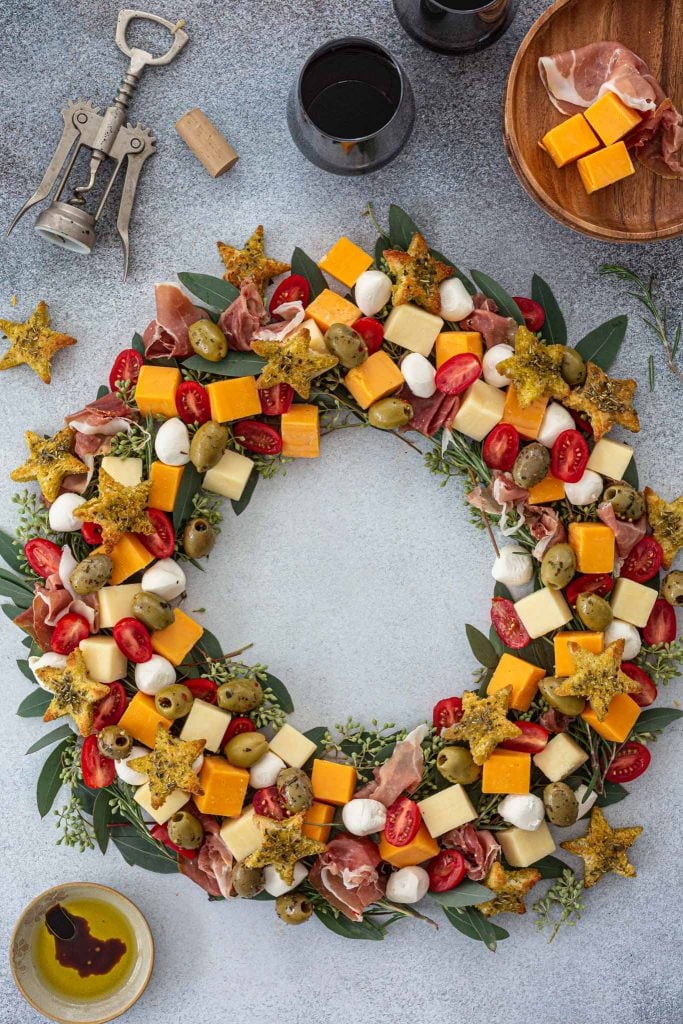 A Christmas appetizer everybody will love!
It's that time of the year again! Time for a delicious and beautiful cheese board.
You really can't go wrong with a cheese spread for a party. Or any gathering, really! A big holiday celebration, a movie night with family, the neighborhood association meeting and/or for book club meet-up.
Gee, I sometimes make a small cheese plate just for myself!
Working on the computer? Why not snack on some cheese and charcuterie?
Cooking dinner for the family? A small serving of cheese won't kill my appetite, right?
My point is: make a cheeseboard. As big or a small as you want, but make one! And make a Christmas wreath shaped one if you're feeling joyful.
'Tis the season, after all!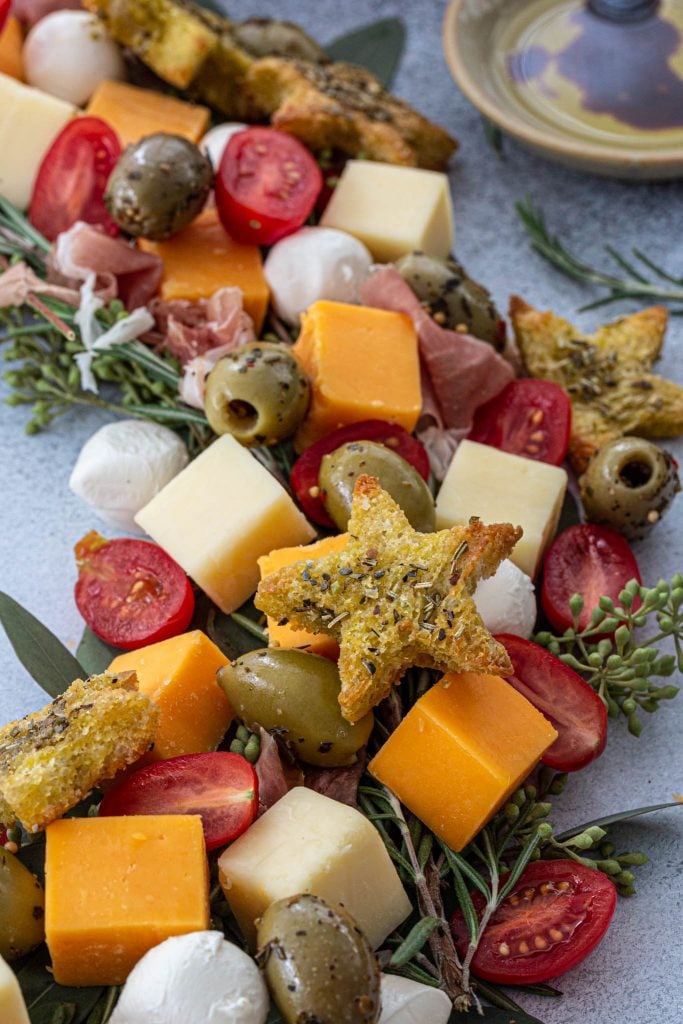 What goes on a Christmas cheeseboard?
The beauty of a cheeseboard is that it can include whatever your heart desires!
It can be a cheese only cheese plate, a charcuterie board, a chocolate and cheese platter and so many others. It can be seasonal, it can be classic, it can include fruits, veggies, olives, nuts, spreads, bread and crackers!
This Christmas version is simple, cheap and makes it easy for guests to eat with their hands. No cheese knives or utensils necessary! Just grab and go mingle!
What are the best cheeses for a cheeseboard?
The perfect cheeseboard features a variety of texture and flavors. Ideally, one cheese of each of the four basic categories: aged, soft, firm and blue!
I can get quite snobby with my cheese platters. Classics, obscure cheeses (I like to add at least one cheese I think people won't know) and at least one type of cheese that will please picky-eaters.
But here, for this Christmas themed board, I opted to keep it uncomplicated, with cheeses that could be cubed and that would help me achieve the wreath look.
So I chose two different kind of good quality cheddar cheeses – sharp white cheddar cheese and yellow/orange cheddar – and fresh mozzarella pearls.
That being said, you can use whatever cheese you like, as long as it can be cubed or chunked.
Here are some ideas:
Swiss
Monterey Jack
Pepper Jack
Havarti
Parmesan
Crumbly cheeses, like the blue varieties, won't work here, as you want to make it easy for guests to easily pick the cheeses from the wreath without the aid of utensils.
As for serving size, a good rule of thumb is to calculate about 1 to 1 1/2 ounces of each cheese per person. So if you are following my recipe, that would be 3 to 4.5 ounces cheese total per person!
Ingredients for Christmas Wreath Cheese Platter
To make my version of a holiday cheese plate, you will need:
Greenery from the flower section – for the base!
Rosemary
White cheddar
Yellow cheddar
Fresh mozzarella pearls
Prosciutto di Parma
Cherry or grape tomatoes
Olives – Skip the jarred stuff and go straight to the olive bar!
The first time I made this cheeseboard, I used only rosemary for the base. And while people tore it apart in seconds, I found that it didn't quite have the festive look I was looking for!
So the next year, while shopping for the ingredients, I stopped by the flower section of my supermarket and grabbed a few bushes to lay down as the base of the wreath.
Oh, so much better!
I mean, this cheese plate is already so simple. Please don't skimp on looks! It is all about its festiveness.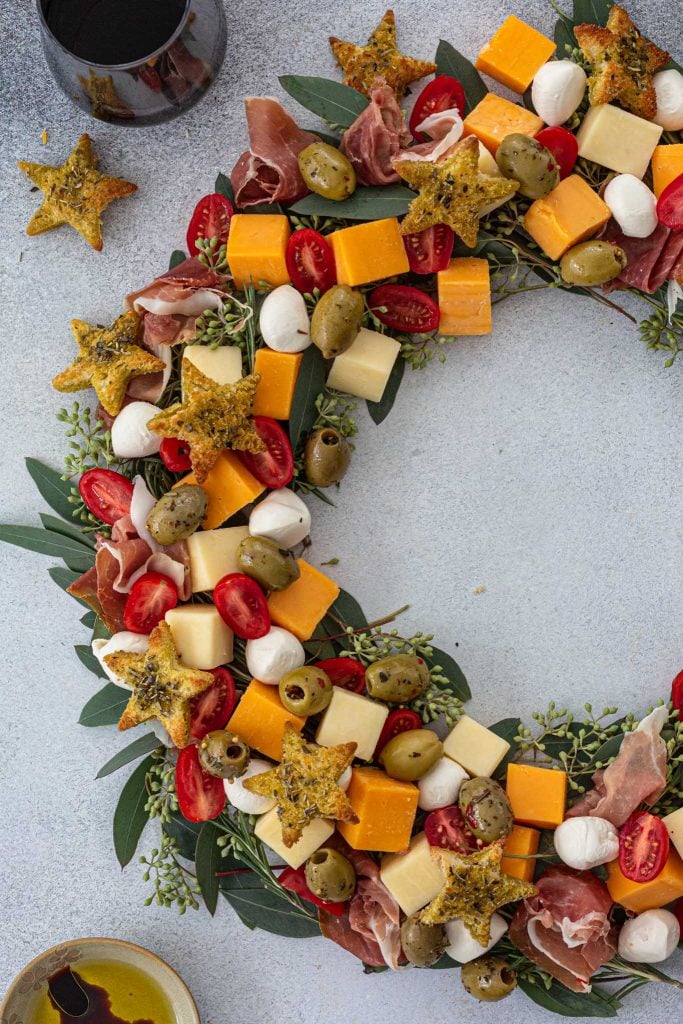 How to Make Christmas Wreath Cheeseboard
Assembling the cheese wreath is very easy. Don't overthink it, there's no need for a ruler or any measurements!
Just start by making a circle with the greens and fill it with everything else.
You can easily customize the size of the wreath depending on how many people you are serving. A large 14ish-inch wreath can feed 8-10 people!
You can also keep extra ingredients on hand to refill the board as needed.
Recommended equipment: large round board or platter.
This is how I assemble a Christmas Wreath Cheeseboard:
Start by using the fresh greenery to form a large circle on a large round wood board or platter.


Add the rosemary sprigs, filling any gaps that weren't covered by the leaves.


Arrange the cubed cheddar cheese, alternating colors for an aesthetically pleasing effect.


Add the prosciutto. Rather than rolling it, I like to just tear chunks and lay it onto the wreath.


Add the mozzarella pearls.


Fill the empty spaces with halved cherry tomatoes.


Add the olives.


Finish by adding the star crackers. If you're serving large crackers or bread, skip this step and serve on the side!
How far in advance can I make a cheese platter?
If you assemble the cheeseboard on a wood board or platter, you can put it together up to a day ahead and keep refrigerated, tightly wrapped, until ready to serve.
Take it out 1 hour before serving, so the meat and cheese can come to room temperature.
For best flavor and texture, cheese should always be served at room temperature, ideally between 67 and 70 degrees.
Variations
This Christmas wreath cheeseboard is very customizable. Just add or switch some of the ingredients to cater to your party theme or needs!
These are some fun suggestions:
Fruit: Just switch the tomatoes and olives for bite-sized fresh fruits, like grapes, cherries and berries.
Nuts: You can add some Marcona almonds, pecans or walnuts. You want to use large nuts as the smaller ones – like peanuts – would be hard to grab.
Chocolate: Chunks of bittersweet or dark chocolate would go great in a fruit and cheese board!
Veggies: If you're a veggie lover, you can add some extra veggies here, like cucumbers, baby carrots and broccoli florets. Pickles and cornichons can also be added!
Charcuterie: You can transform this cheeseboard in a charcuterie board by adding more meat varieties, such as salami, sopressata and pepperoni.
Whatever you do, don't go overboard. You want your guests to be able to see what's on the board! If you add too many things, it will be a mosaic of indistinguishable food items.
Did you make this recipe? I love hearing from you! Please comment and leave a 5-star rating below. You can also take a photo and tag me on Instagram with #oliviascuisine.
Christmas Wreath Cheeseboard
A simple but festive Christmas Wreath Cheeseboard is all you need to get the party started! It is easy to recreate and will have your guests oohing and aahing at first sight.
Ingredients
Fresh greenery, for the base
Fresh rosemary sprigs, for the base
8 ounces white sharp cheddar cheese, cubed
8 ounces yellow cheddar cheese, cubed
4-6 ounces Prosciutto di Parma, torn into chunks
8 ounces fresh mozzarella pearls
1 cup cherry or grape tomatoes, halved
1 cup cured olives, pitted
Instructions
Start with the fresh greenery, forming a large circle on a round wood board or platter. Add the rosemary sprigs, filling any gaps that weren't covered by the leaves.

You can then start arranging the remaining ingredients on top of the green base. I like to start with the cheese and prosciutto and then fill the empty spaces with the tomatoes and olives.

Finish by adding the star crackers, if using. If you're serving large crackers or bread, skip this step and serve on the side! I also like to serve a little bowl of olive oil drizzled with balsamic vinegar, so my guests can dip the mozzarella pearls.
Notes
Make ahead:
You can assemble the board up to one day ahead and keep it refrigerated.
Serving temperature:
Cheese and charcuterie are best enjoyed at room temperature (67 to 70 degrees F). So make sure to take them out of the fridge at least 1 hour (and up to 2 hours) before serving.
If you live in a warmer climate, 15-30 minutes will do. You don't want to leave the cheese out too long or it will get oily.
Serving size:
You should calculate 1 to 1 1/2 ounces of each cheese per person. Just use that formula to increase or decrease the size of this board, based on your needs!
Nutrition
Calories: 430kcal, Carbohydrates: 3g, Protein: 23g, Fat: 36g, Saturated Fat: 19g, Polyunsaturated Fat: 2g, Monounsaturated Fat: 13g, Trans Fat: 1g, Cholesterol: 96mg, Sodium: 935mg, Potassium: 167mg, Fiber: 1g, Sugar: 1g, Vitamin A: 925IU, Vitamin C: 4mg, Calcium: 564mg, Iron: 1mg
Looking for more easy party appetizers?