Homemade Mexican Horchata
Mexican horchata is sweet, creamy and oh-so-addicting! Traditionally made of rice blended with water and cinnamon, my version takes it up a notch by adding dairy for richness and extra creaminess.
(This post is sponsored by my friends at Carolina® Rice. All opinions are my own.)
Looking for more refreshing summer drinks? I recommend you also check out my Mango Lassi, Pineapple Mint Juice, Dulce de Leche Frappuccino and Brazilian Lemonade.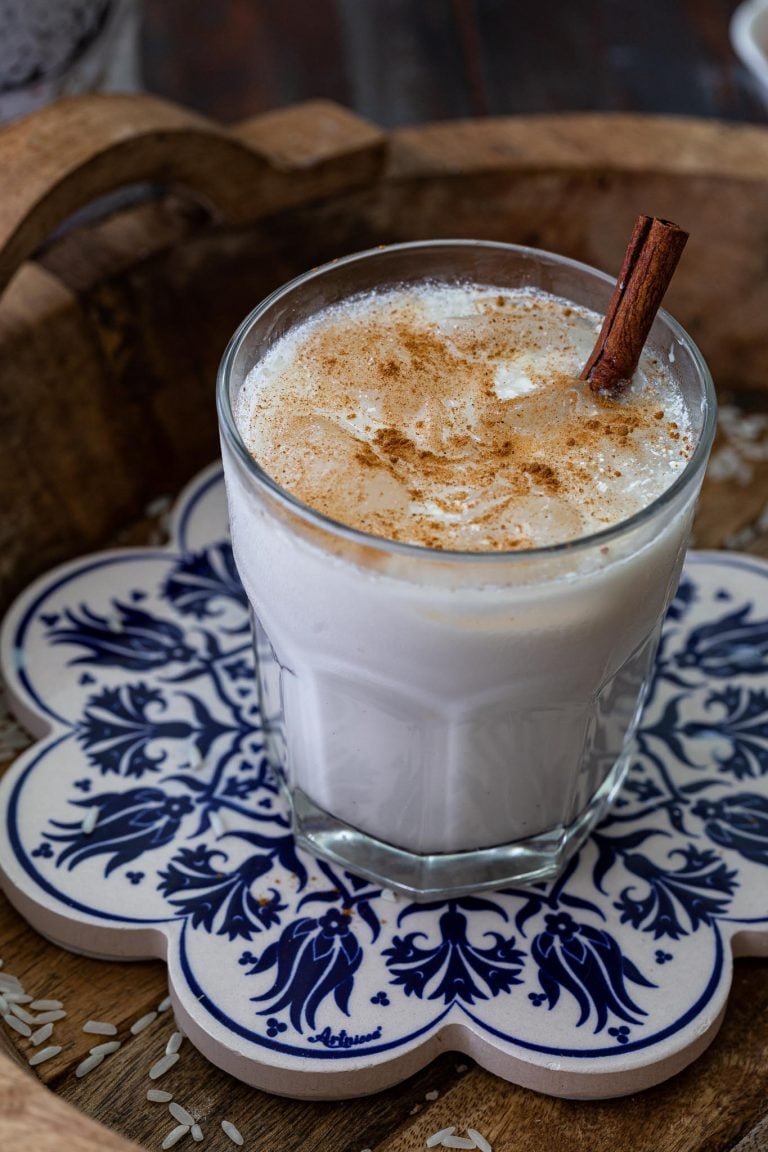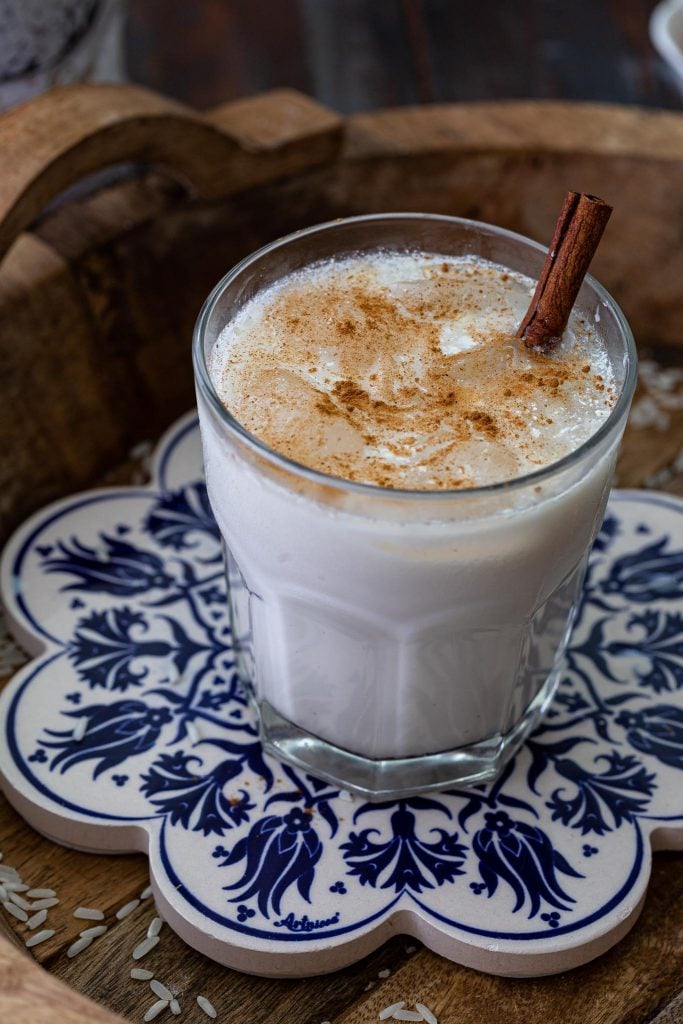 Oh, Horchata, where have you been all my life?
It was only after moving to the U.S. that I tried it for the first time, as it is not popular in Brazil. In NYC though, it has been one of the trendiest drinks for the past 3 years!
So it was only a matter of time before I came across it. And being the Arroz con Leche lover that I am, it was love at first sip! When made with dairy, like my recipe is, it truly is like drinking rice pudding.
If you're a purist and think adding milk is blasphemy, this recipe is not for you. (Just kidding. Keep reading and I'll give you a couple of options!)
However, if you – like me – loves your horchata a bit indulgent, hello! Welcome to the creamiest, richest (but still refreshing) horchata recipe you will ever make.
Thanks for coming to my horchata TED talk!
In this post you will learn:
Plus a printable recipe.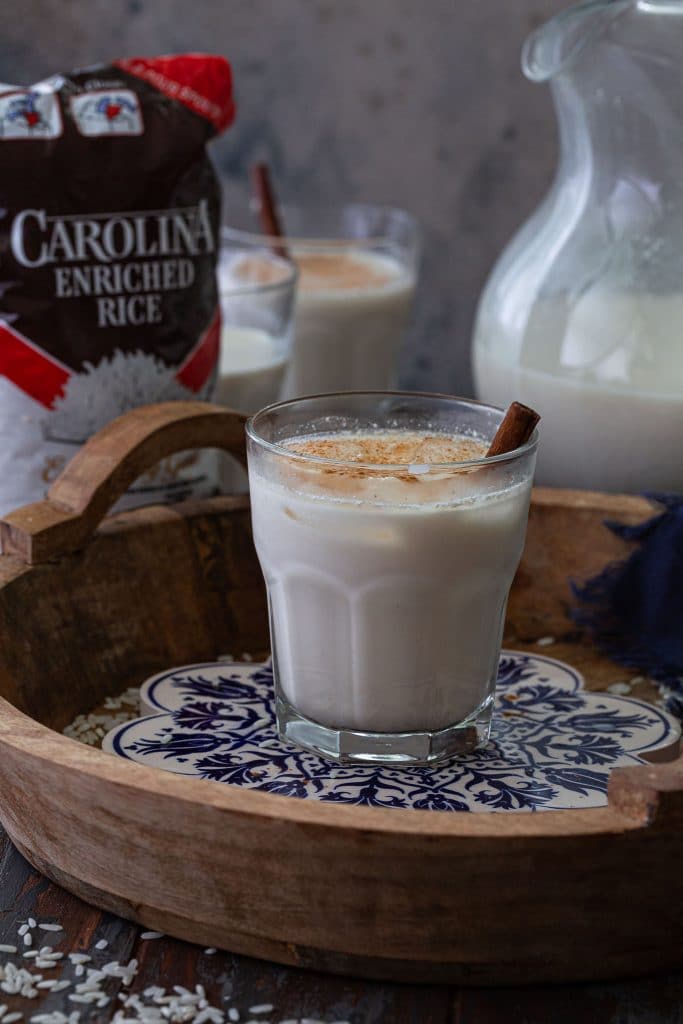 What is horchata?
Horchata, also known as orxata, is a sweet drink with different versions across Latin America.
While most Americans associate horchata with the Mexican variety, the drink was originally made from soaked tiger nuts (chufa nuts) and originated in North Africa as far back as 2400 B.C with the name kuunu aya.
The refreshing drink was famous for its cooling properties and people would drink it on hot days and to lower fevers.
In the 13th-century, the Moors brought it to Spain and there it got its name, horchata de chufa. It eventually travelled across the ocean to the Americans and evolved to include other ingredients, like rice, almonds, and sometimes even dairy.
Nowadays, the Mexican Horchata can be found for sale at grocery stores throughout Mexico and the U.S. in both ready-to-drink and powdered forms. But, in my opinion, nothing beats homemade!
What is the difference between Spanish and Mexican Horchata?
Horchata de Chufa, the Spanish version, is made of dried and ground tiger nuts while the Mexican Horchata de Arroz is made of rice.
Other Latin American countries also have their own unique horchatas, using different ingredients like sesame seeds (Puerto Rico), morro seeds (El Salvador) and even herbs/flowers (Ecuador).
Is horchata dairy free?
Traditional Mexican horchata is indeed dairy free, but my version contains dairy as I like it very creamy!
However, you can absolutely omit the milk products or you can check out this dairy-free version on Carolina Rice's website.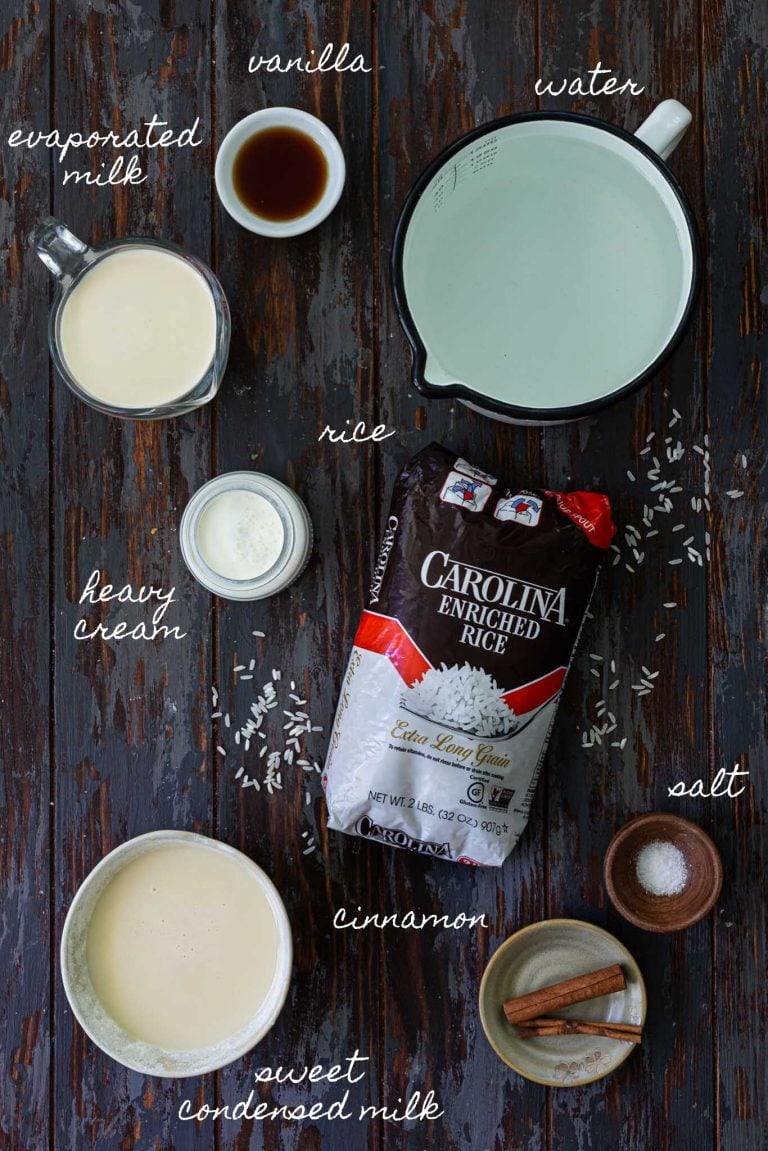 Ingredients
Horchata ingredients vary according to region or preference. Here's what I use on mine:
RICE – Can't make Horchata de Arroz without arroz! I'm using White Rice from Carolina® Rice.
CINNAMON STICKS – Another mandatory ingredient for the authentic Horchata flavor. I like to use the sticks for a stronger flavor, but you can use ground cinnamon if that's all you have.
EVAPORATED MILK – I like to use evaporated milk instead of regular milk because it's not only creamier and richer, but has a slightly toasted flavor that makes this rice drink even more delicious. If you don't have it on hand, you can use an equal amount of whole milk instead.
SWEET CONDENSED MILK – Adds both sweetness and creaminess without watering down the drink even more. You can substitute it with 1 cup of sugar, or to taste.
SALT – A small pinch of salt brings out the flavors and balances the sweetness.
VANILLA EXTRACT – Optional, but gives the horchata richness and depth of flavor.
HEAVY CREAM – Also optional, but I like my horchata very indulgent!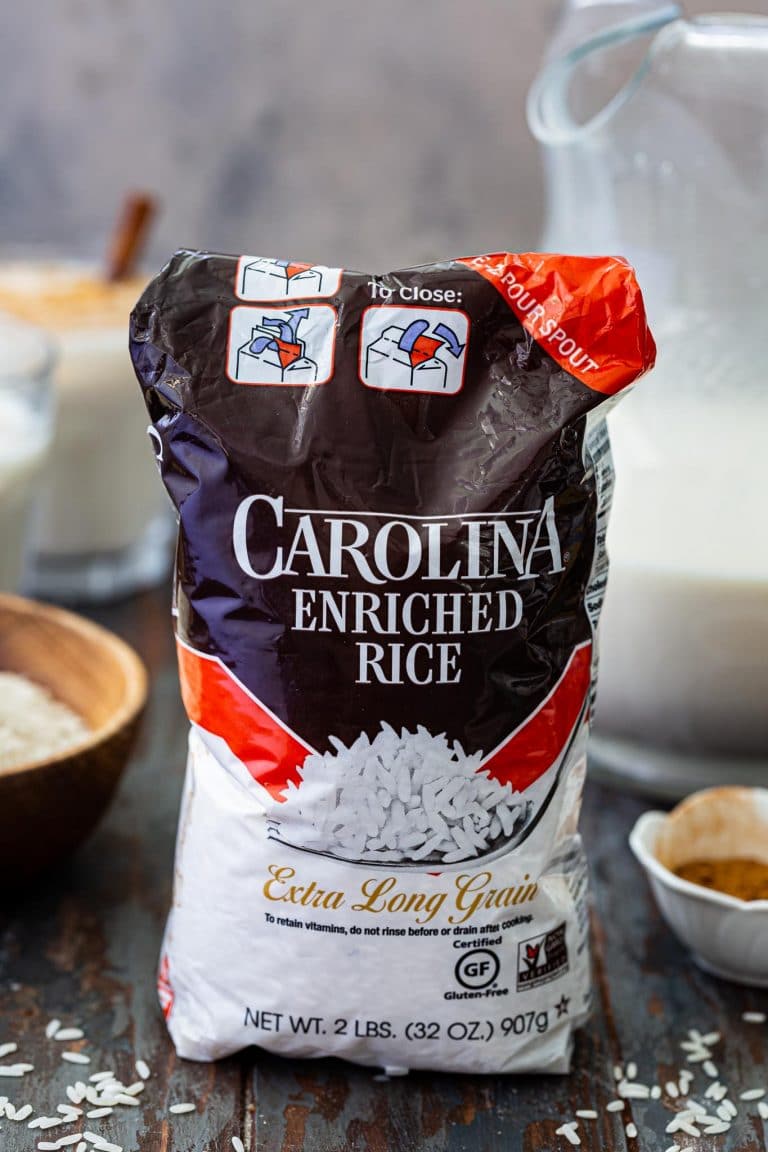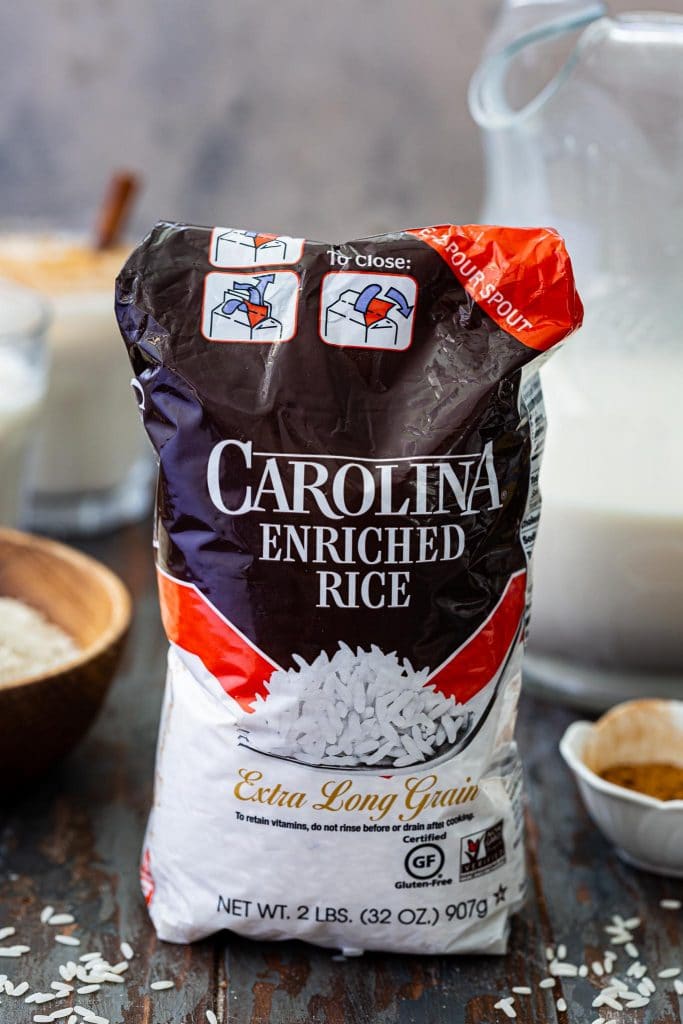 Which rice is best?
Mexican horchata is usually made with long-grain white rice, but you can find versions using brown, basmati and jasmine rice.
I stick with the classic: Enriched Long Grain Rice from Carolina® Rice. It gives me the most authentic horchata flavor, letting the cinnamon shine through!
Being Brazilian, rice is a huge part of my diet. After trying several brands, Carolina® Rice is the one I love and use to make not only horchata but my Brazilian-Style Rice and other rice dishes.
You can use their store locator to find it at a store near you!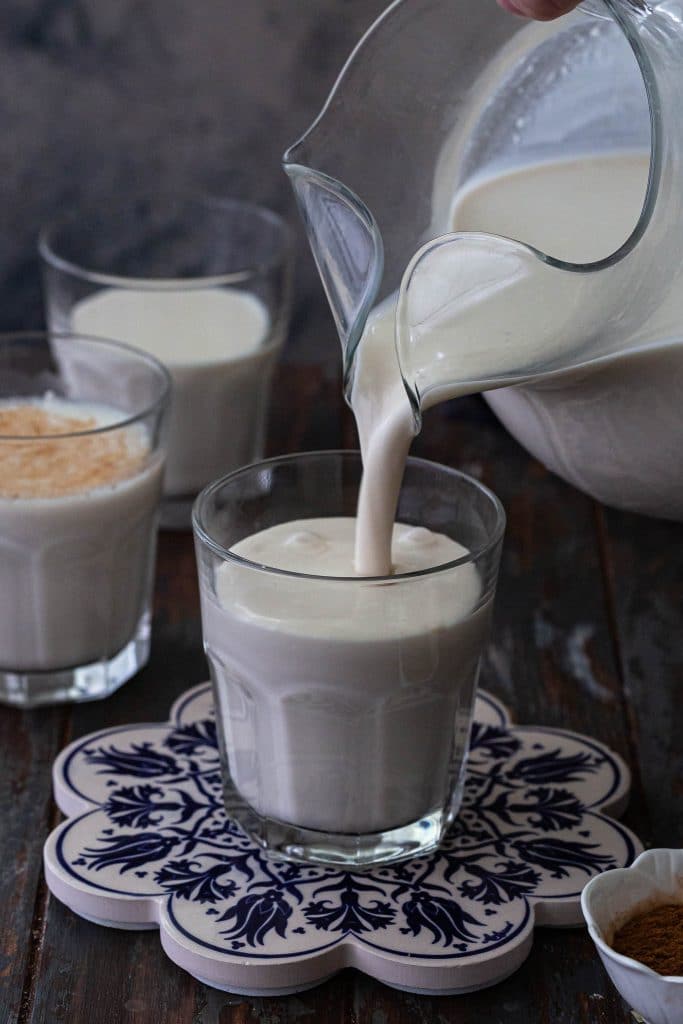 How to make Mexican horchata
Making horchata is very easy and doesn't require any special skills or equipment.
That being said, you will have to plan ahead, as the rice needs to be soaked for at least 4 hours, or – ideally – overnight.
Some people like to strain the rice water after soaking and discard the rice grains, using only the water to make the drink. That is an option if you don't like the chalky taste of traditional horchata, but I find that you lose that special "Arroz con Leche" taste that I love in this drink!
If you choose to keep the rice grains, I recommend you use a strong high-speed blender, so the grains can be completely pulverized.
Recommended equipment: high-speed blender, cheesecloth or fine-mesh sieve, pitcher.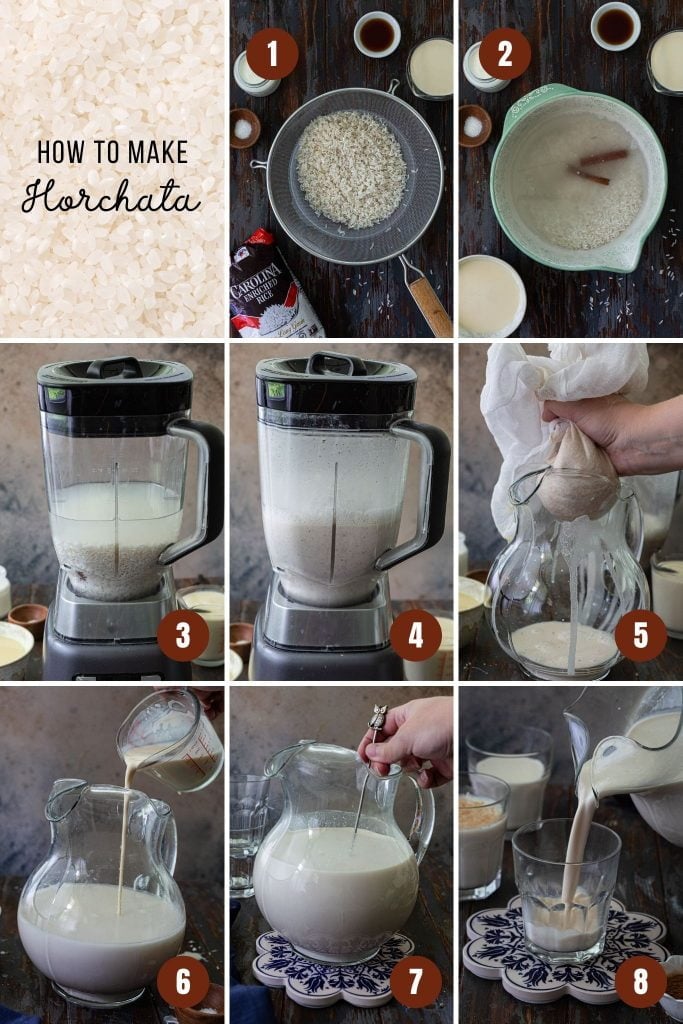 Here's how I make homemade horchata. As always, you will find the printable (and more complete) version of the recipe at the end of this post!
STEP 1: SOAK THE RICE AND CINNAMON OVERNIGHT
Start by rinsing the rice until the water runs clear.
In a bowl (or in the jar of your blender), combine the soaked rice, cinnamon sticks, and 1 quart of cold water. Cover and refrigerate overnight, or for at least 4 hours.
STEP 2: BLEND
Blend the rice, cinnamon and water until as smooth as possible.
Step 3: STRAIN AND MIX
Place cheesecloth into a pitcher and pour the horchata to strain the solid bits. If you don't own a cheesecloth, you can use a fine-mesh sieve, but you might have to strain a few times so your horchata doesn't end up gritty.
Stir in the evaporated milk, sweet condensed milk, salt, vanilla extract and heavy cream (if using).
STEP 4: Serve chilled with ice
Refrigerate until ready to serve. You can serve over ice and garnish with ground cinnamon.
How long can you soak rice?
Planned on making horchata but had something come up? Been there, done that.
Rice can be soaked in pure water for up to 48 hours, if kept in the fridge. More than that and the rice begins to ferment and we don't want that.
It's very important to refrigerate it as wet rice is more vulnerable to bacteria and can go bad within a few hours.
Olivia's Tip
Some recipes will ask you to blend the rice and cinnamon, and then soak overnight. I prefer soaking before blending, as that will soften the rice, making it easier on your blender.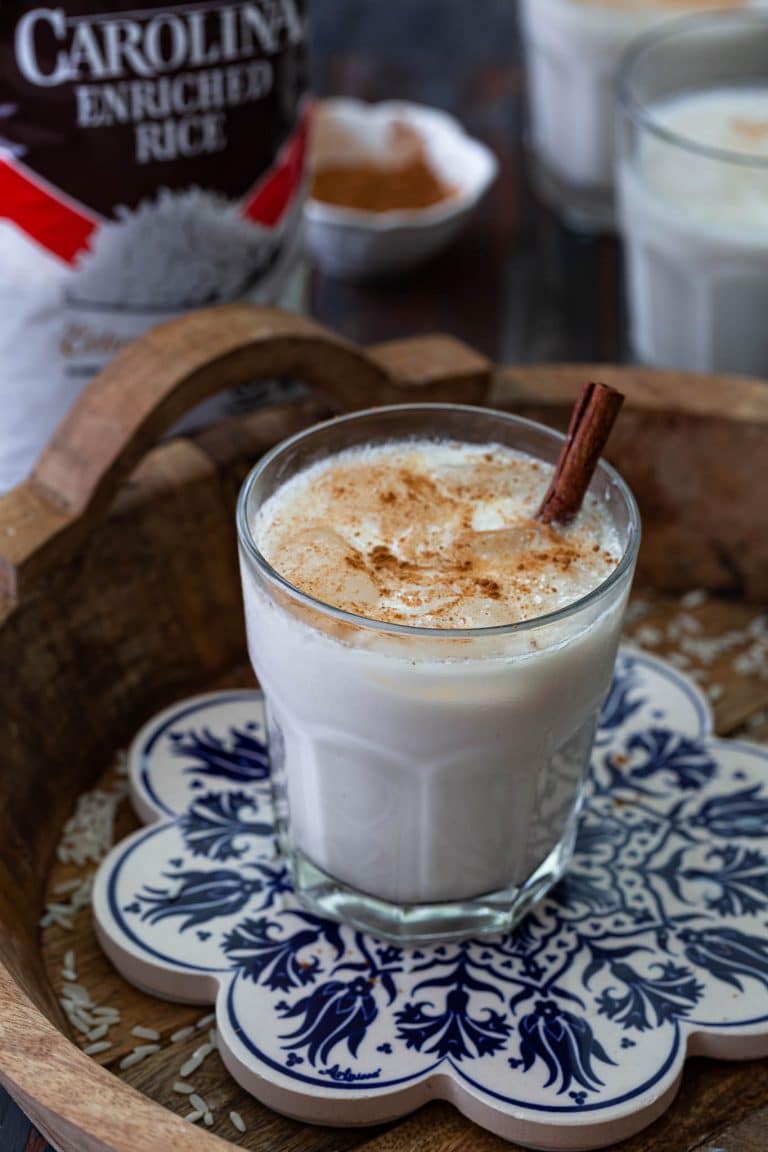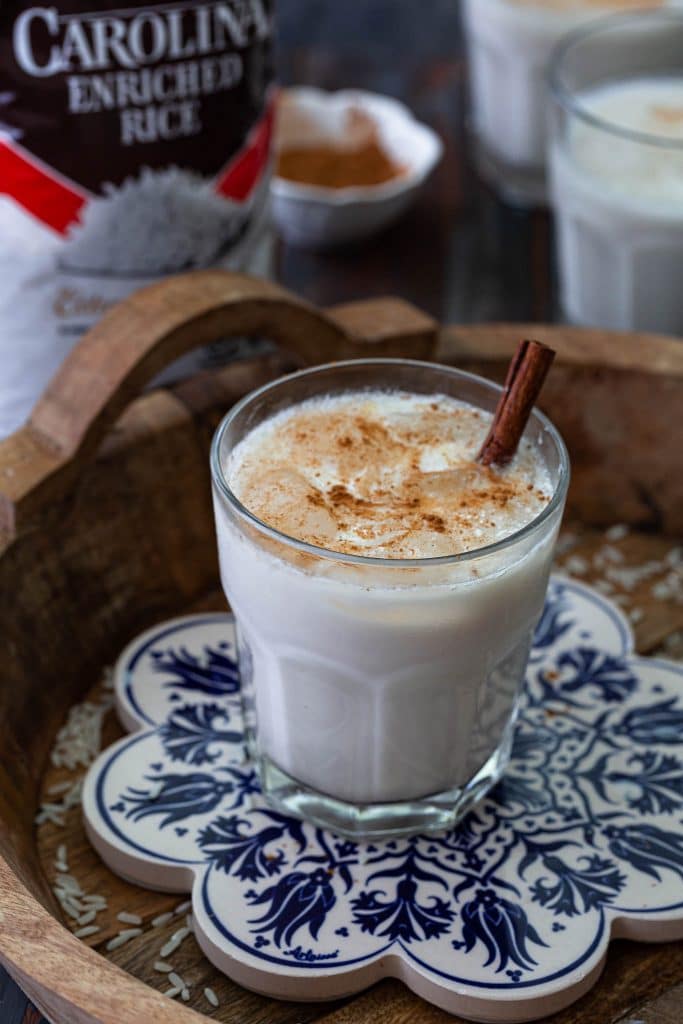 How long will it keep in the fridge?
Since this horchata recipe contains dairy, it will only last for up to 3-4 days in the fridge.
What to serve with horchata?
This is the perfect drink to go with your Mexican food, especially if it's spicy!
Here are a few suggestions:
Variations
Mexican horchata is so popular that several variations have been invented. These are some of my favorites:
Strawberry Horchata – blend some strawberries with the dairy ingredients before adding them to the pitcher with the blended rice mixture.
Coconut Horchata – substitute the evaporated milk and sweet condensed milk for coconut milk and cream of coconut.
Boozy Horchata – A shot of rum makes it a delicious cocktail!
Winter Horchata – Instead of serving it cold, warm it up in a pan and sip as you would eggnog! Yum!
Horchata Milkshake – Pour the horchata in the blender and add vanilla ice cream. You're welcome!
Did you make this recipe? I love hearing from you! Please comment and leave a 5-star rating below. You can also take a photo and tag me on Instagram with #oliviascuisine.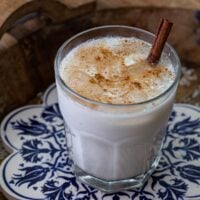 Homemade Mexican Horchata
Mexican horchata is sweet, creamy, and oh-so-addicting! Traditionally made of rice blended with water and cinnamon, my version takes it up a notch by adding dairy for richness and extra creaminess.
Ingredients
1 ½ cup uncooked Carolina Enriched Long Grain Rice
2 cinnamon sticks
1 can (14 ounces) evaporated milk
1 can (14 ounces) sweetened condensed milk
¼ teaspoon kosher salt
1 tablespoon vanilla extract, optional
½ cup heavy cream, optional
Ice, for serving
Ground cinnamon, for garnishing (optional)
Instructions
Place the rice on a fine-mesh sieve and rinse until the water runs clear. Transfer the rice to a large bowl and add the cinnamon with 1 quart (4 cups) of cold water. Cover and refrigerate overnight, or for at least 4 hours.

Transfer the soaked rice with the cinnamon sticks and water into the jar of a high-speed blender. Blend until as smooth as possible.

Place a cheesecloth (or a fine-mesh sieve) over a pitcher and strain the liquid so all the solid bits stay behind.

Stir in the evaporated milk, sweet condensed milk, salt, vanilla extract and heavy cream (if using)

You can serve immediately, over ice, or chill for a couple of hours until ready to serve. If desired, garnish with ground cinnamon or cinnamon sticks.
Notes
Cheesecloth VS Fine-Mesh Sieve
I recommend using a cheesecloth for a smoother drink. If all you have is a fine-mesh sieve, I would strain the horchata at least twice to make sure you get all the ground pieces of rice and cinnamon.
Serving
While you can pour your freshly made horchata over ice and enjoy it right away, I like to chill mine for 1 or 2 hours so it's even more refreshing. Just make sure to give it a good stir as some of the starch will sink to the bottom as it sits in the fridge.
Making Ahead or Storing Leftovers
This homemade horchata will keep for up to 3-4 days in the fridge. However, I find that it's best enjoyed the day it is made!
Why is my horchata chalky?
Since horchata is made of rice, it is naturally a little chalky. If that bothers you, remove the rice grains before blending, using only the water that resulted from soaking the rice overnight.
Nutrition
Calories: 548kcal, Carbohydrates: 81g, Protein: 13g, Fat: 18g, Saturated Fat: 11g, Polyunsaturated Fat: 1g, Monounsaturated Fat: 5g, Cholesterol: 69mg, Sodium: 261mg, Potassium: 522mg, Fiber: 1g, Sugar: 43g, Vitamin A: 630IU, Vitamin C: 3mg, Calcium: 398mg, Iron: 1mg
If you love this Mexican Horchata, you will also like these: