Leftover Pernil Sandwich
Use leftover pernil to make a sandwich just like they do at the famous Bar do Estadão, in São Paulo. It has everything you would want in a great sandwich: loads of roasted pork, melted cheese and – what makes it special – a mouthwatering relish made with bell peppers and tomatoes.
We love sandwiches! Among our favorites are this roast pork sandwich, our version of the Classic Reuben, the iconic Croque Monsieur and our indulgent Trainwreck Grilled Cheese. I hope you get to try them all!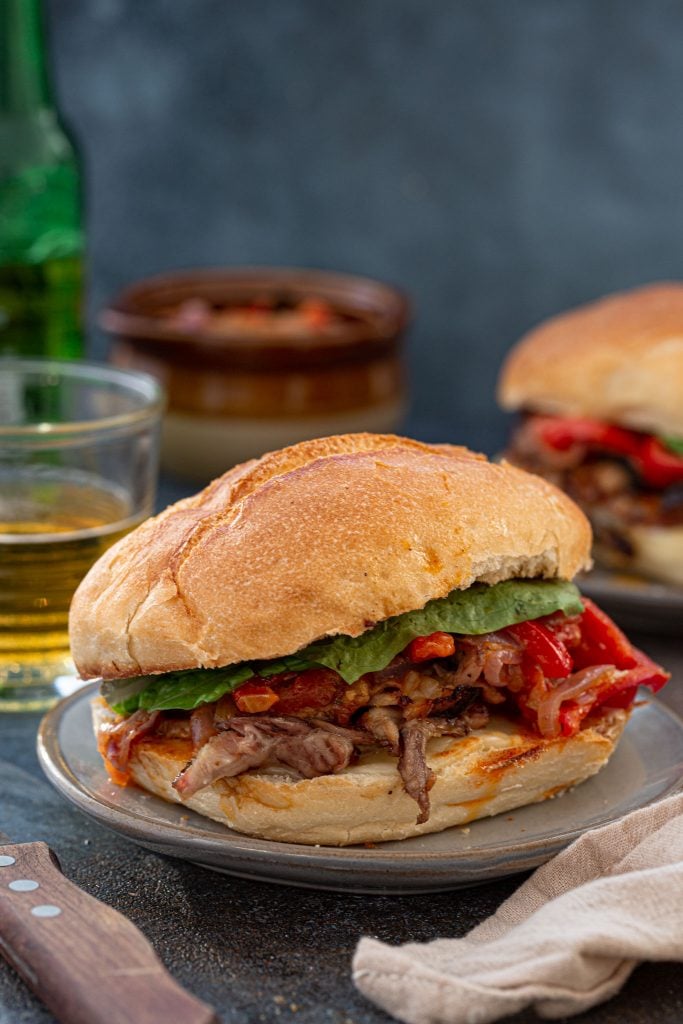 Pernil sandwiches are a Brazilian classic!
Remember that beautiful Christmas pernil that I shared last week? Well, it became delicious sandwiches!
I always ask myself why I make such a big roast when there's always so many leftovers. And then I make these sandwiches and I understand why!
Eating roast pork for Christmas or Christmas Eve is blissful, but the fun is just starting. There simply can't be pernil if there won't be some left for pernil sandwiches!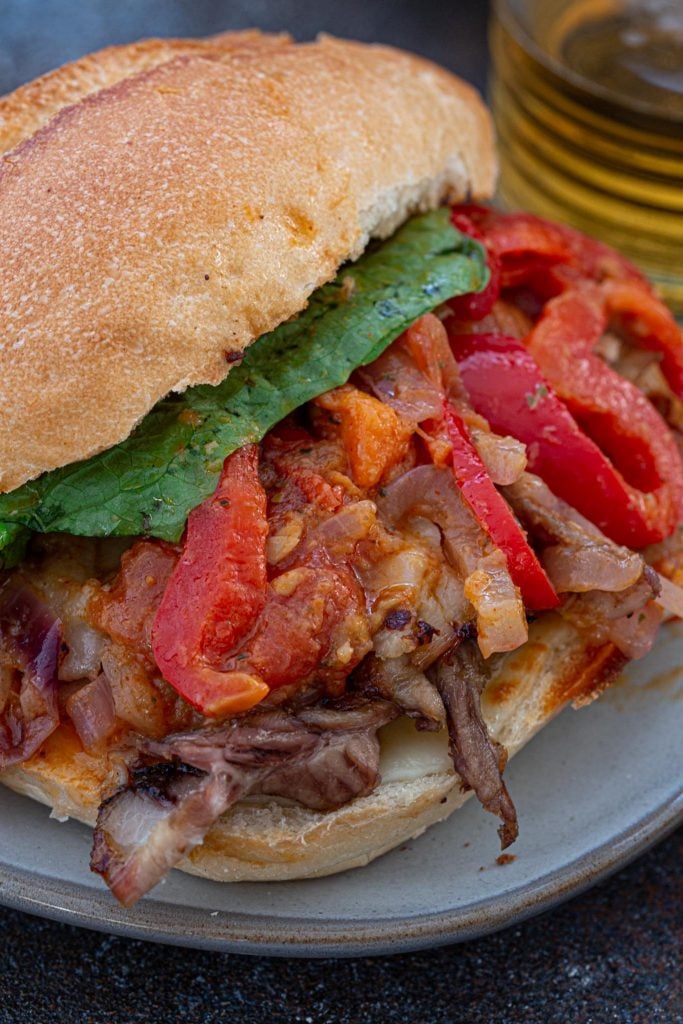 Bar do Estadão
The Estadão Bar in São Paulo is an iconic diner, very popular among locals and tourists.
In fact, if you grab any Brazilian travel guide that focuses on São Paulo, you will see it there. It is a must visit and the pernil sandwich is considered São Paulo's most famous sandwich.
The bar has this name because it is located next to the old headquarters for the O Estado de S. Paulo newspaper, which is often referred to as "Estadão".
It is open 24/7 and is especially visited for a late night bite. Gotta satisfy those drunk munchies, amirite?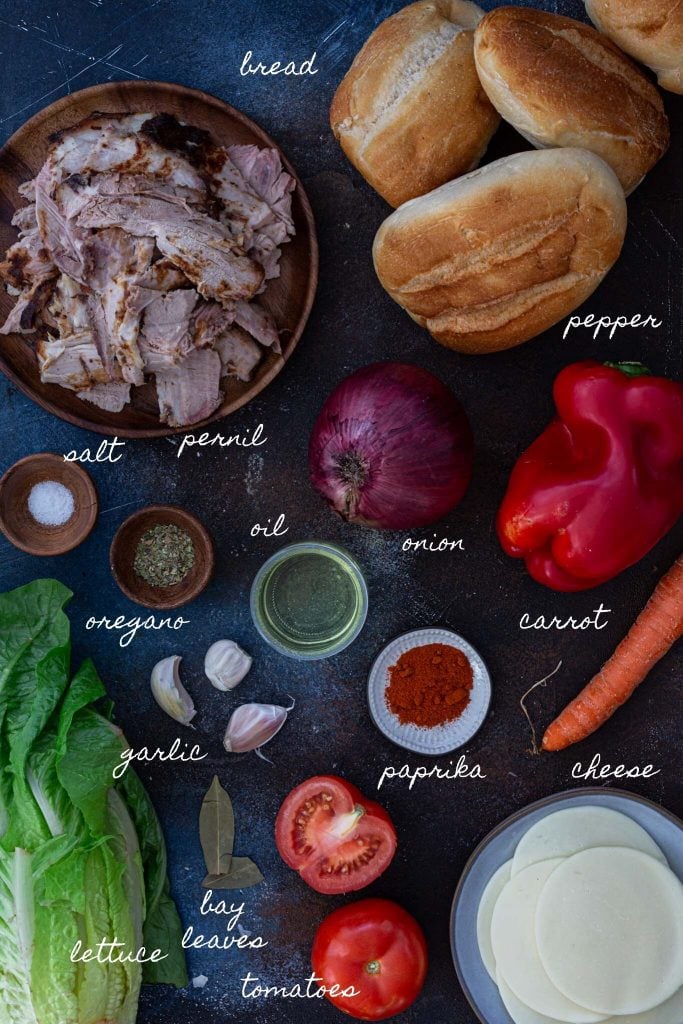 What do I need to make Pernil Sandwich?
Leftover pernil – thinly sliced or shredded
Provolone cheese
Red onion
Garlic
Red bell pepper
Carrot
Tomatoes
Paprika
Oil
Oregano
Salt
Bay leaves
Romaine lettuce
Bread
What kind of bread is used for Brazilian Pernil Sandwich?
In Brazil, they use pão francês – our version of a French sandwich roll – to make these sandwiches.
Chances are you won't be able to find these in the U.S., as I have yet to see them here. But the good news is that this sandwich works with a variety of different breads.
You can use Cuban bread, French sandwich rolls, baguettes, ciabatta or, the kind I used, Portuguese rolls. Pretty much anything that is crispy on the outside and soft on the inside.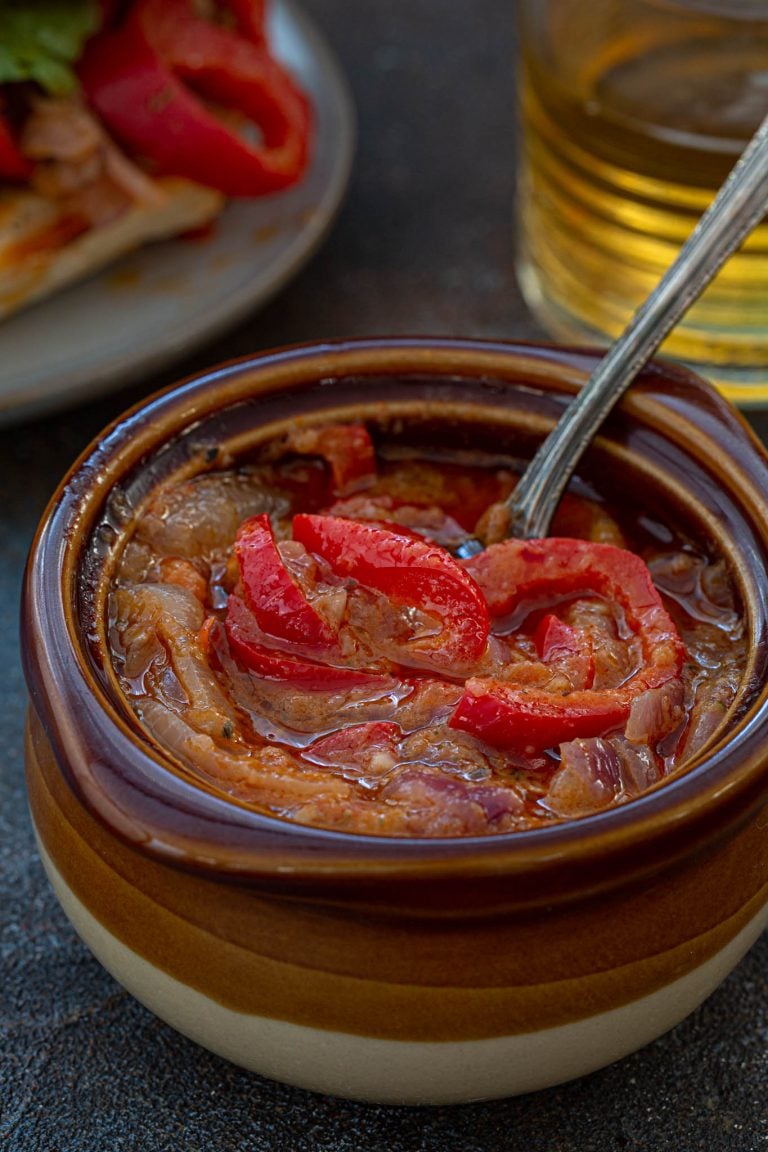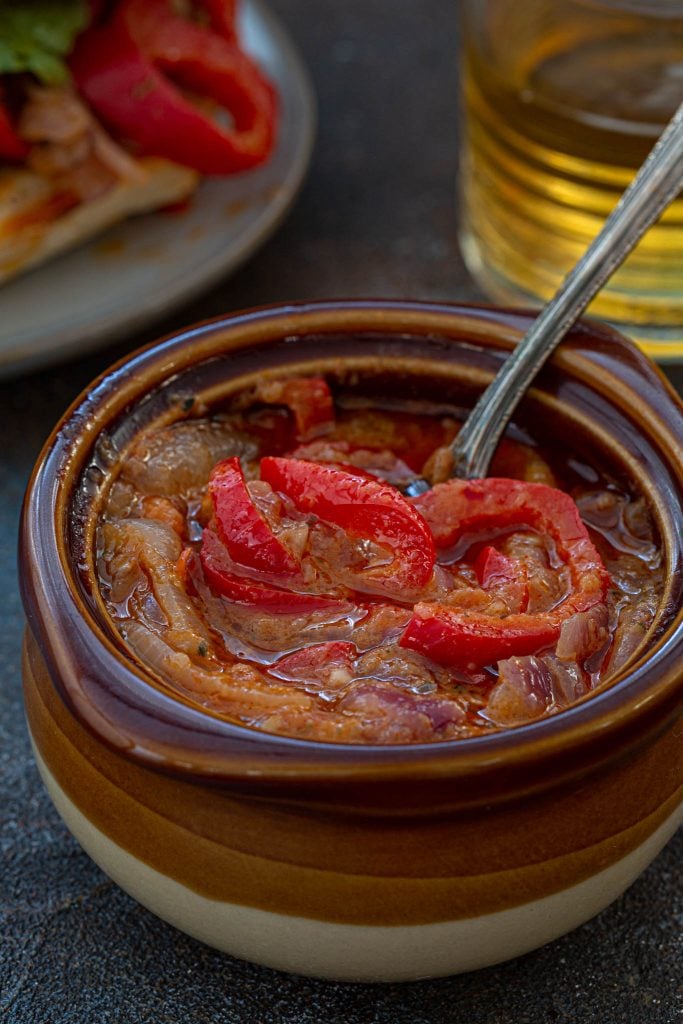 How to make Pernil Sandwich
Level of difficulty? I'd give it a 3 out of 5. Not because it requires any special skill, but because you will need to use the blender, a saucepan and a baking sheet.
So this is not your average put-together-last-minute leftovers sandwich.
BUT if you make the relish ahead, you cut the prep time considerably. Then all you gotta do is assemble the sandwiches, put them in the oven to melt the cheese and top with the sauce.
Recommended tools: blender, saucepan, baking sheet.
Here's how I make pernil sandwiches. As always, you will find the printable (and more complete) version at the end of this post!
Make the sauce for the relish: Combine the carrot, oil, 1/4 onion, 3 garlic cloves, oregano and salt in the jar of a blender.
Blend until smooth.
Make the relish: Heat a little bit of oil in a saucepan and sauté the sliced veggies (onion, bell pepper and tomatoes) until softened, about 5 minutes.
Add the sauce, paprika and bay leaves. Cover and cook, stirring occasionally, until very soft, about 10 minutes.
Bake the sandwiches: Cut the rolls in half and top the bottoms with cheese and pernil.
Bake until the cheese is melted and the bread is toasty. Top with the relish and lettuce before serving!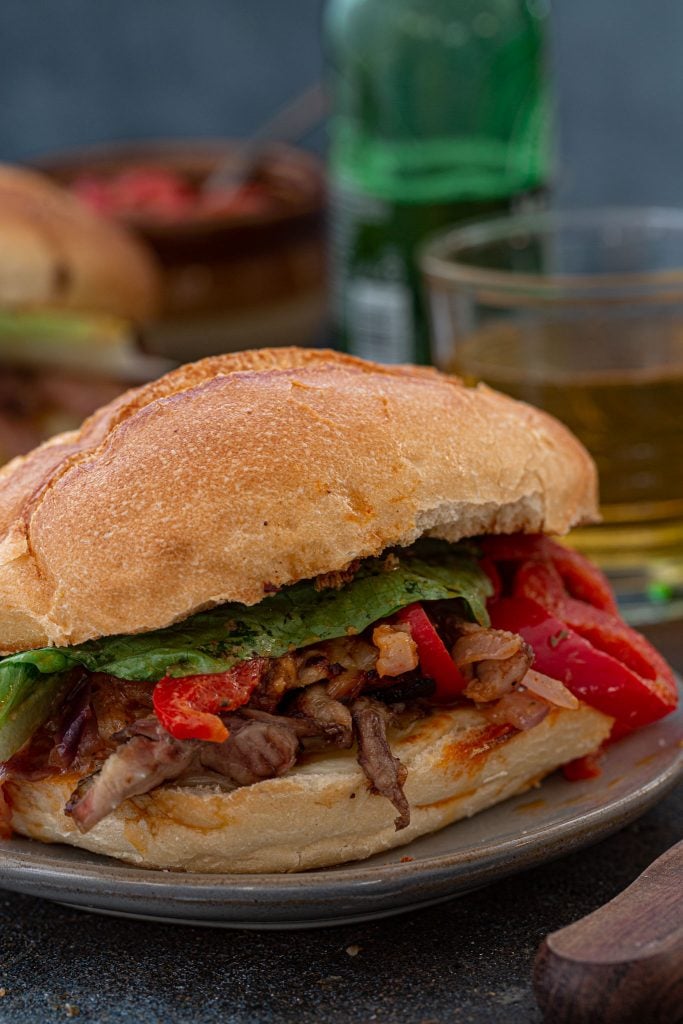 What goes with Roast Pork Sandwiches?
These sandwiches are already a meal on their own, but fries or chips are always a great call with any sandwich!
As for drinking, at the Estadão Bar, you will often see people ordering beer with them, but I like to enjoy my sandwich with a nice cold Diet Coke!
Did you make this recipe? I love hearing from you! Please comment and leave a 5-star rating below. You can also take a photo and tag me on Instagram with #oliviascuisine.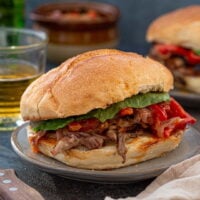 Pernil Sandwich
Slices of moist leftover pork, melted provolone cheese and a relish made of roasted vegetables compose this amazing Pernil Sandwich.
Ingredients
½ cup + 1 tablespoon vegetable oil
1 large onion, sliced
3 cloves garlic
1 teaspoon dried oregano
1 tablespoon Kosher salt
Freshly ground black pepper, to taste
½ small carrot, peeled and cut into chunks
1 ½ large tomatoes, sliced
½ red bell pepper, cut into strips
1 teaspoon paprika
2 bay leaves
4 bread rolls, (such as Portuguese rolls)
8 thin slices provolone cheese
1 ½ pounds leftover pernil or roast pork
Romaine lettuce, to taste (optional)
Instructions
Make the relish:
Combine ½ cup oil, ¼ of the sliced onion, garlic, oregano, salt, pepper and carrot in the jar of a blender. Blend until smooth. Reserve.

Heat a tablespoon of oil in a large saucepan and sauté the remaining onion, bell pepper and tomatoes until softened, about 5 minutes. Add the reserved sauce, the paprika and the bay leaves. Cover and cook for 10 minutes, or until very soft and thickened. Taste for seasoning and adjust salt and pepper if necessary. Reserve.
Prepare the sandwiches:
To prepare the pernil sandwiches, split rolls in half and layer the sandwich with provolone cheese and pork.

Place the sandwiches on a baking sheet. Don't close them, they will be toasted like an open-faced tartine, with the top half on the side.

Toast the sandwiches until the cheese melts and the bread develops some color, 5-10 minutes depending on how toasty you like them! Keep a close eye on them so they don't burn.

Top with the sauce and lettuce (if using), close with the top half and serve immediately!
Notes
No leftover pernil? No worries! You can use sliced roast pork from the deli.
If you don't want to toast the sandwiches in the oven, you can use a panini press or skillet instead. In that case, you would close the sandwiches and then grill until hot and the cheese has melted.
Bread substitutions: This recipe works great with any crusty on the outside, soft on the inside bread rolls. Cuban sandwich bread, French or Italian bread, and – of course – Brazilian Pão Francês.
Nutrition
Serving: 1sandwich, Calories: 721kcal, Carbohydrates: 61g, Protein: 27g, Fat: 42g, Saturated Fat: 9g, Polyunsaturated Fat: 16g, Monounsaturated Fat: 7g, Trans Fat: 1g, Cholesterol: 75mg, Sodium: 3033mg, Potassium: 338mg, Fiber: 4g, Sugar: 29g, Vitamin A: 2402IU, Vitamin C: 37mg, Calcium: 171mg, Iron: 3mg
We also think you'll like: