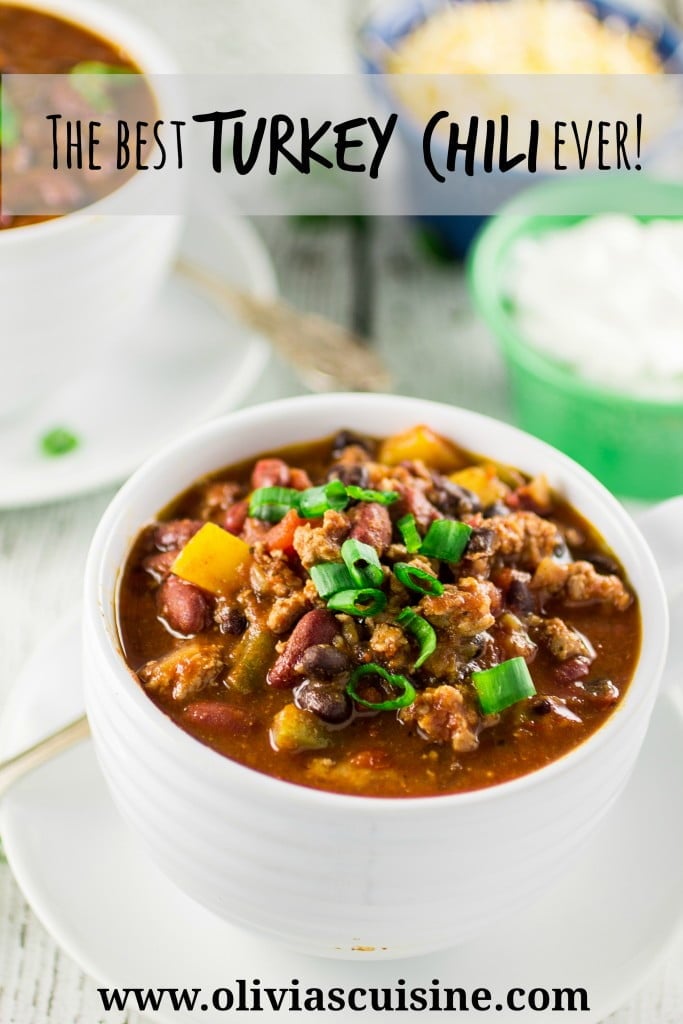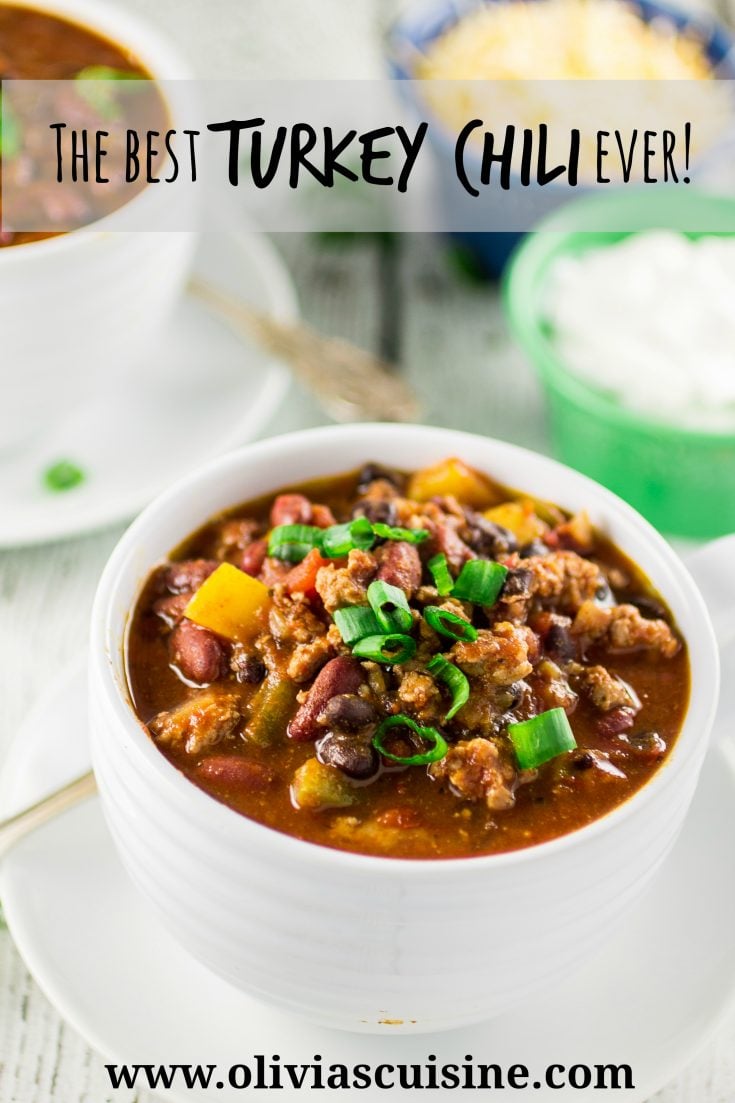 While my Brazilian friends and family are at the beach, celebrating Carnaval and enjoying the Summer time, I'm curled up under the blankets trying to not freeze to death when it's 15 degrees outside. Well, they can post Facebook pictures of the sun, parties and barbecues all day long and they won't make me jealous. Why? Because I have The Best Turkey Chili Ever to comfort me.
This chili is so amazing, hearty and comforting that I had it for dinner yesterday, then for lunch and dinner again today. I could seriously eat this all week long! In fact, I'm eating another bowl as we speak… (No, I'm not ashamed!) The last time I made this – a few weeks ago – I brought some to work in my Lunch Crockpot and someone asked: "Are you eating chili again?". So yes, I'm obsessed with this chili and I make it a LOT during the winter. Good thing it is super healthy, full of fibers, protein and veggies! Like, if this doesn't protect me from the Cold-pocalypse, I don't know what will…
Last year we had my little brother living with us for a few months. Little because he is younger than me, not because he's actually little. Because he's like 6'3. So he's the opposite of little… Anyway… I'm digressing! While my brother was living here, I made this chili once and when he got home and saw the chili on the stove, he asked: 'What is this?', I was really weary about telling him it was a healthy turkey chili because he is extremely spoiled to eat and wasn't used to eating chili, let alone ground turkey meat. But he ate it. Twice. And he loved it so much that the next day he texts me from the grocery store asking for a list of the ingredients for the chili. It was his lovely way of saying he'd liked it and wanted me to make more. From that day, the occasional chili was a break from all the Nissin noodles that was basically his diet.
It gives me a certain peace of mind when I'm able to feed my family something that is good for them. Of course I also love when they eat and love my not so healthy dishes, but I have to make sure they are eating well so they can stay strong and healthy. It's also a win win situation when the dish is not only healthy but perfectly rich, flavorful, colorful and hearty like this chili.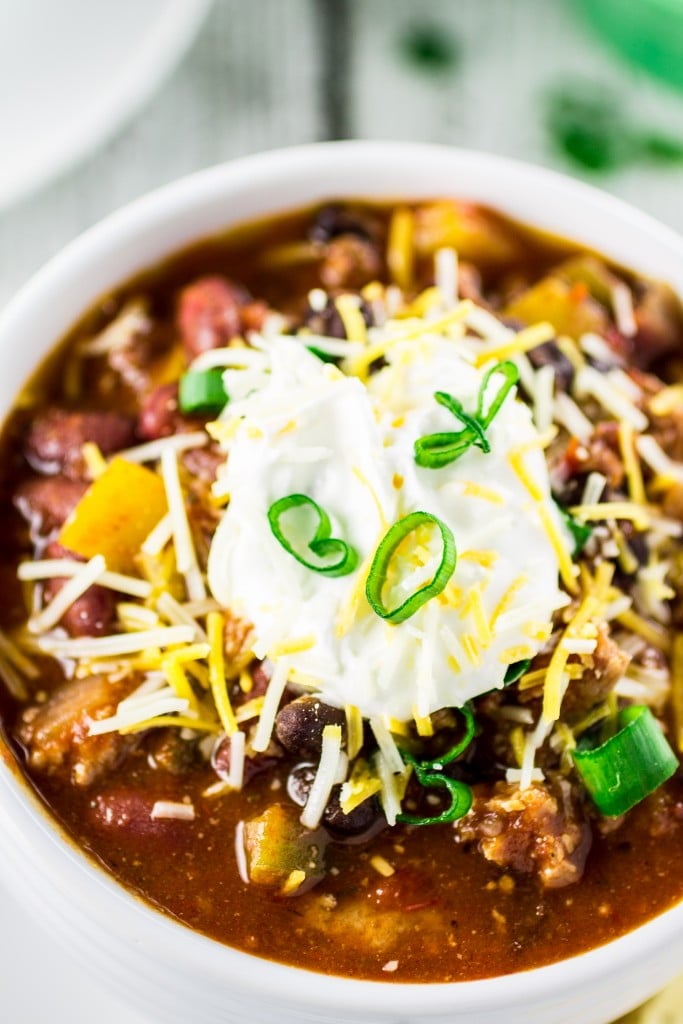 This recipe is a breeze to make and it's ready in less than an hour. You can also make it in the slow cooker and cook it on low for 8 hours. Just remember to brown the meat on the stove before adding it to your crockpot. However, I find that the chili is thicker, as I like it, when I make it on the stove. Also, the good news is that it tastes even better the next day! So don't be afraid to make a big pot even if it's just you or you and someone else, as you can eat the delicious leftovers all week long!
If you're into spicy chili, I suggest you add some cayenne pepper (1/2 tsp or more). I usually leave it out because I'm not always in a spicy mode.
I like to serve my chili with tortilla chips and sometimes over white rice. Oh, and don't forget the shredded cheddar and the sour cream! They make all the difference and the flavors complement each other perfectly!
The Best Turkey Chili Ever!
Ingredients
2lbs lean ground turkey
1 (28oz) can black beans, drained
1 (15oz) can kidney or pinto beans
1 (28oz) can crushed tomatoes
1 (15oz) can petite diced tomatoes
1 yellow bell pepper, chopped into small pieces
1 green bell pepper, chopped into small pieces
2 cups chicken or vegetable broth
1 sweet onion, finely chopped
3 cloves of garlic, minced
2 Tbsp olive oil
2 Tbsp chili powder
1 Tbsp brown sugar
2 tsp hot sauce (I use Tabasco)
1 tsp dried oregano
1 tsp dried basil
1 tsp garlic powder
1 1/2 tsp sea salt
1/2 tsp cayenne pepper (optional)
Sour cream, shredded cheddar cheese and green onions to serve
Tortilla chips to accompany
Instructions
In a large heavy bottomed pot, heat the olive oil over medium high heat.
Add the onions and the garlic and sauté until translucent. Make sure you stir constantly so you don't burn the garlic!
Add the bell peppers and cook for a couple of minutes, until tender.
Add the turkey and cook until browned, breaking it up with a wooden spoon (or even a potato masher).
Add the black beans, the kidney (or pinto) beans, the crushed tomatoes, the diced tomatoes, the chicken (or vegetable) stock, the chili powder, brown sugar, hot sauce, oregano, basil, garlic powder, sea salt and cayenne pepper (if using) and stir until everything is combined.
Once the chili boils, lower the heat to low and let it simmer uncovered for 30 to 45 minutes or until it thickens.
Top it off with the green onions, a handful of shredded cheese and a dollop of sour cream and serve!
This post contains affiliate links, which means we may receive a (very) small commission if you click a link and purchase something. While we wish these commissions were enough to send us on monthly shopping trips to Paris, they're really how we pay the fees to keep this site up and running. Thanks so much for your support!
MORE COMFORT FOOD RECIPES AT OLIVIA'S CUISINE: