The Best Turkey Chili Ever!
This is seriously the best turkey chili recipe you will ever make! Hearty but lean, a bowl of this chili will warm you up without piling on the calories. Make a big batch and freeze some so you can have chili whenever you need a soul-soothing meal!
Are you a chili lover? Make sure to also check out my Double Chocolate Chili, my Pumpkin Chili and my Sweet Potato Chili.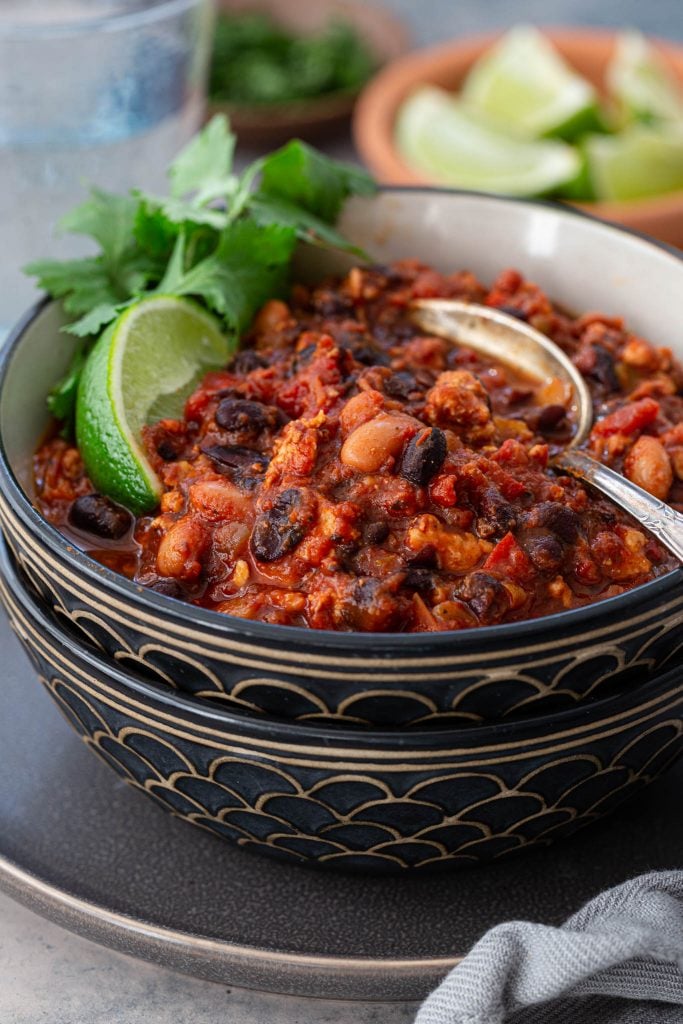 Healthy chili recipe
Truth be told, this turkey chili was not purposely designed to be healthy. I tend to prefer my food indulgent and to associate healthy food with boring food. You can definitely notice my preferences by looking at my hips! Oops.
I was just making my favorite chili when I realized it was pretty light and low fat. I mean… I do prefer white turkey meat, so that right there is one of the main reasons!
Am I shamelessly taking advantage of the healthiness of this dish to attract more readers? Yes, ma'am. Is this post very off brand for this blog? Perhaps a bit. I do go low carb sometimes, but very rarely low fat.
But the most important question is: do I believe you should immediately go to the kitchen and make this turkey chili? 100% yes. Healthy or not, it tastes like pure comfort and it's always a crowd-pleaser!
I hope your family loves it as much as mine does!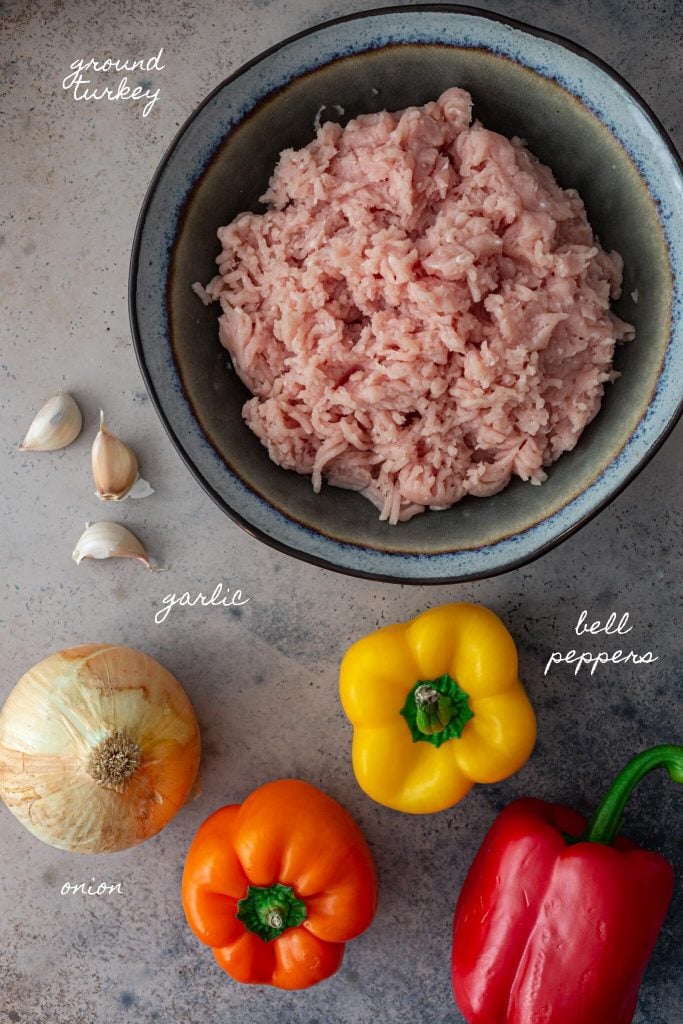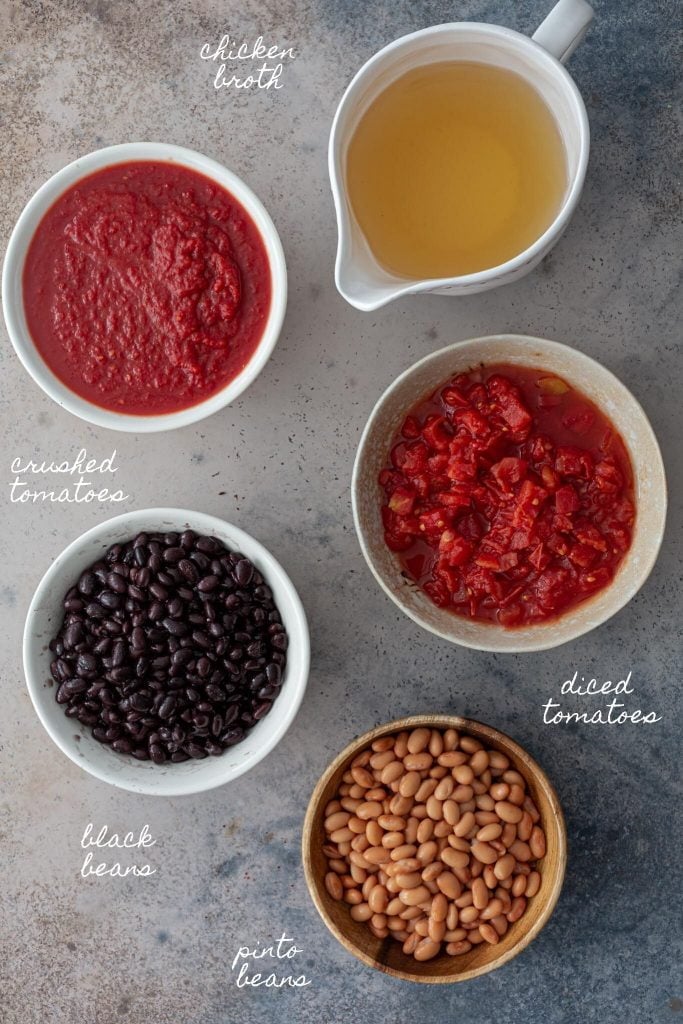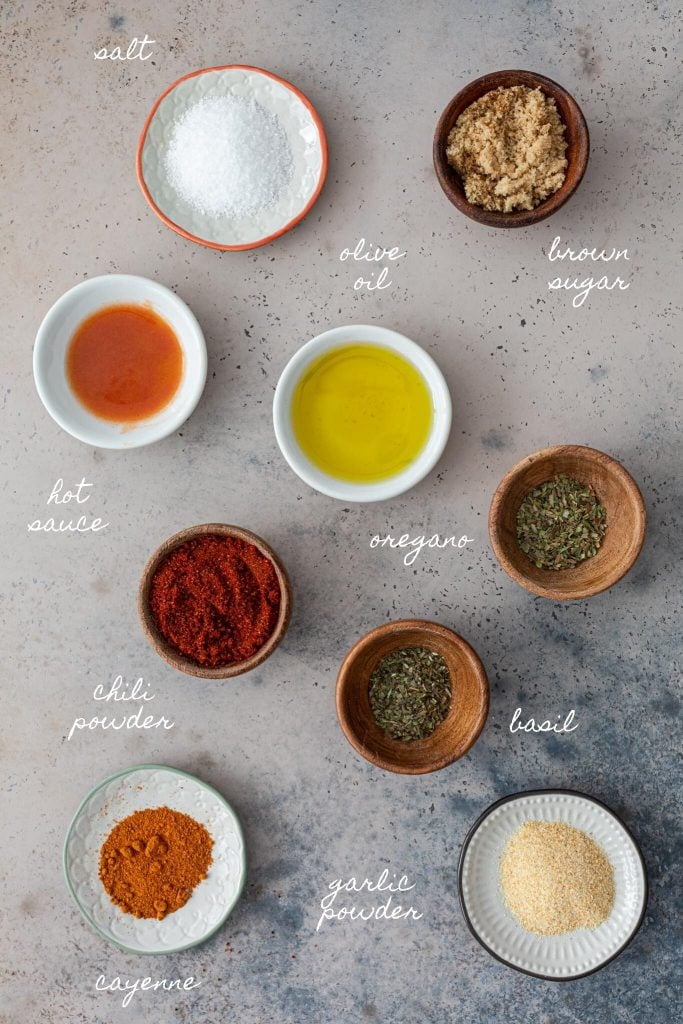 Ingredients for Turkey Chili Recipe
Here's what you'll need to make this recipe.
Fresh ingredients:
Ground Turkey – you can use white or dark meat.
Bell Peppers
Sweet Onion
Garlic
Canned ingredients:
Black Beans
Pinto Beans
Crushed Tomatoes
Petite Diced Tomatoes
Chicken Broth
Pantry staples:
Chili Powder
Garlic Powder
Brown Sugar – to balance the heat.
Dried Basil
Dried Oregano
Extra Virgin Olive Oil
Salt
Hot Sauce
Cayenne (optional)
How to make the best turkey chili!
While this is not a difficult recipe, it does require some planning, as it will simmer low and slow for at least 45 minutes. I like to simmer mine for an hour, so it gets thick and rich, just how my family likes it!
Since the chili will be cooked uncovered, keep an eye on it, stirring every now and then, to prevent it from burning. You can also add more broth as needed and cover it if the liquid is evaporating too fast.
I like cooking my chili in my Dutch oven. Dutch ovens are great for slow-cooking, as their thick walls are designed for braising recipes, like chili.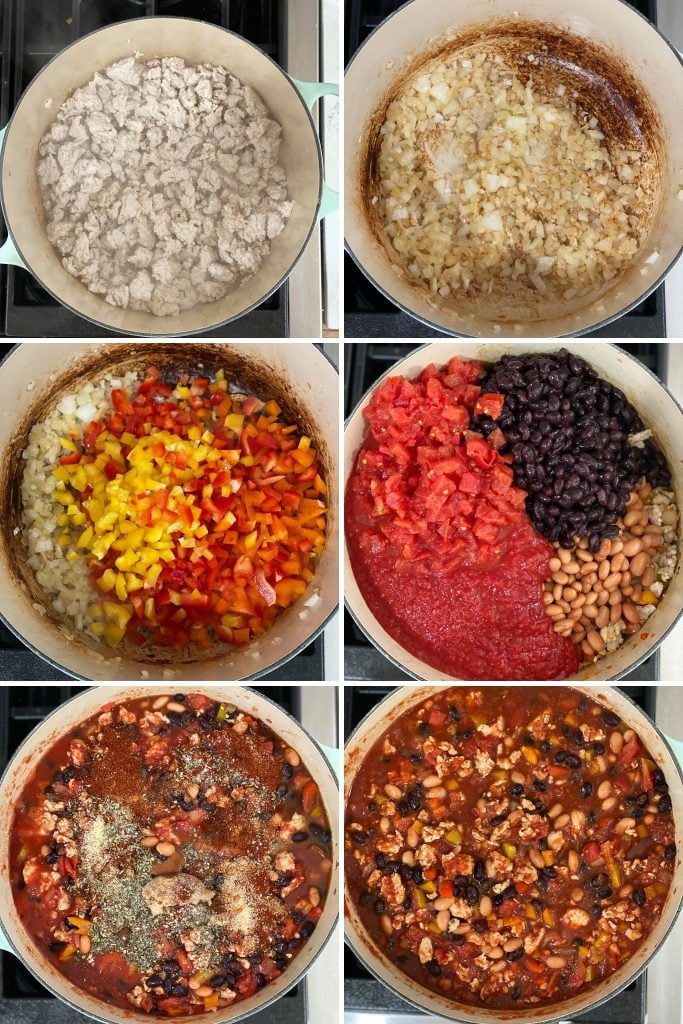 This is how I make turkey chili:
Heat the olive oil in a Dutch oven or large pot and brown the ground turkey, just until is not pink anymore. Avoid overcooking the turkey or it can get dry after simmering for such a long time. Remove with a slotted spoon and reserve.
Sauté the onion and garlic, adding more olive oil if needed.
Add the bell peppers and sauté until softened.
Add the turkey back to the pot and all the remaining ingredients: black beans, pinto beans, crushed tomatoes, diced tomatoes, broth plus spices and condiments.
Bring to a boil, then lower to a simmer. Cook, uncovered, for at least 45 minutes, or until nice and thick! If it's too thick for your liking, you can add a little more broth to get the desired consistency.
Can I make turkey chili in the slow cooker?
Absolutely! Here are the steps to make it in the slow cooker:
Do steps 1 to 3 on the stove. Browning and sautéing the turkey and veggies are essential for the best flavor!
Transfer the browned meat, onion, garlic and peppers to your slow cooker. Add all the remaining ingredients and stir to combine.
Cook for 4 hours on high or 8 hours on low. Taste and adjust seasoning, if needed!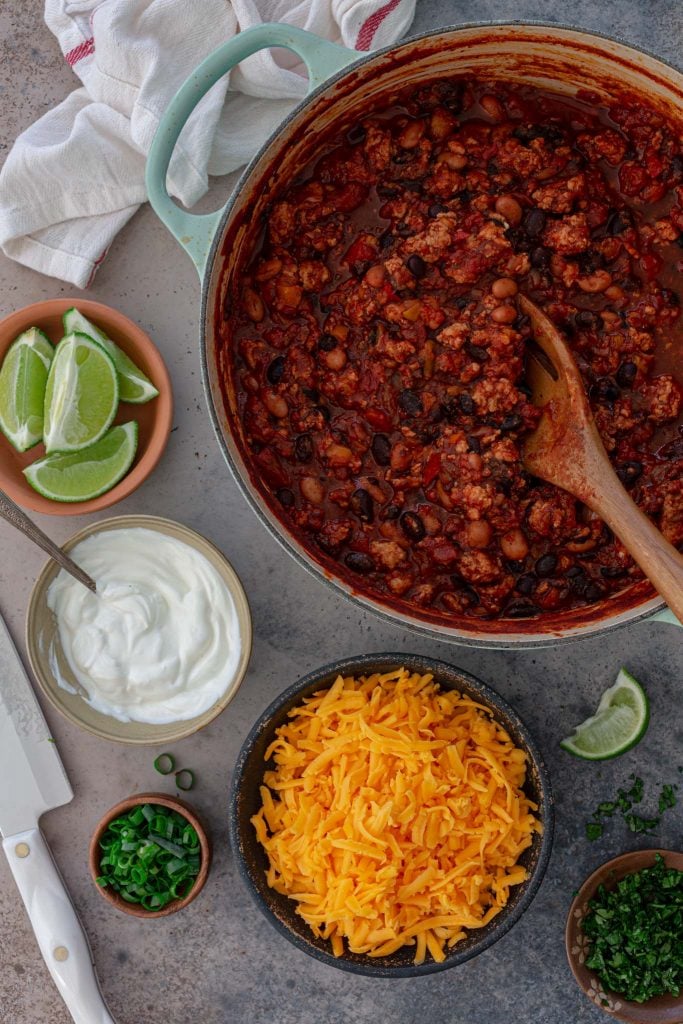 How to serve Turkey Chili
To me, there can be no chili without some delicious toppings!
Shredded cheese, sour cream, scallions, chopped cilantro (or parsley) and lime are just a few of the many options to boost the flavor of your bowl of turkey chili.
As for serving suggestions, over rice or with corn tortilla chips are our favorite ways to eat it. But I've seen people eat chili over noodles (Cincinnati style), in a bread bowl, on a sloppy Joe or hot dog, on a biscuit and even in a bag of Fritos!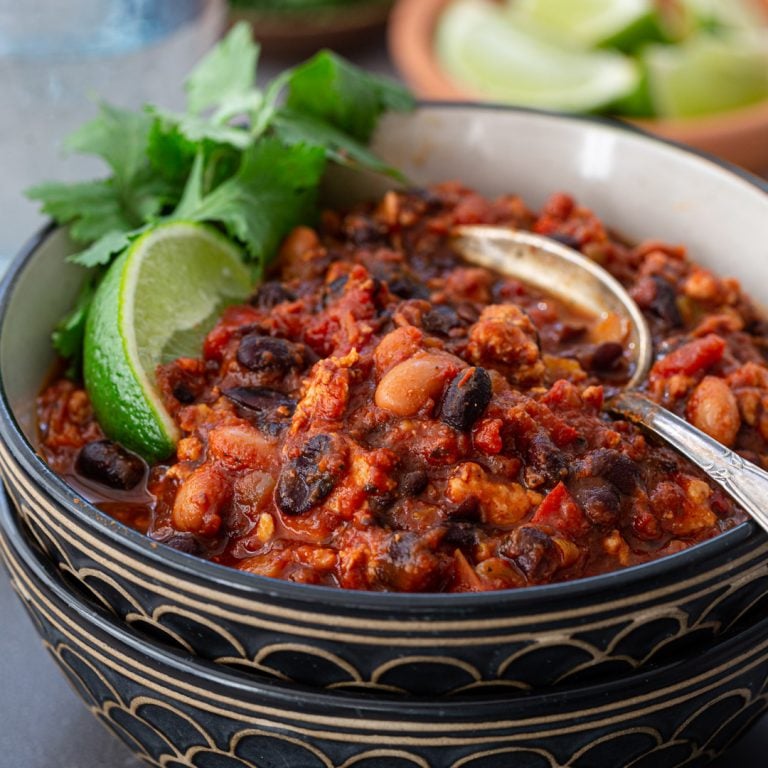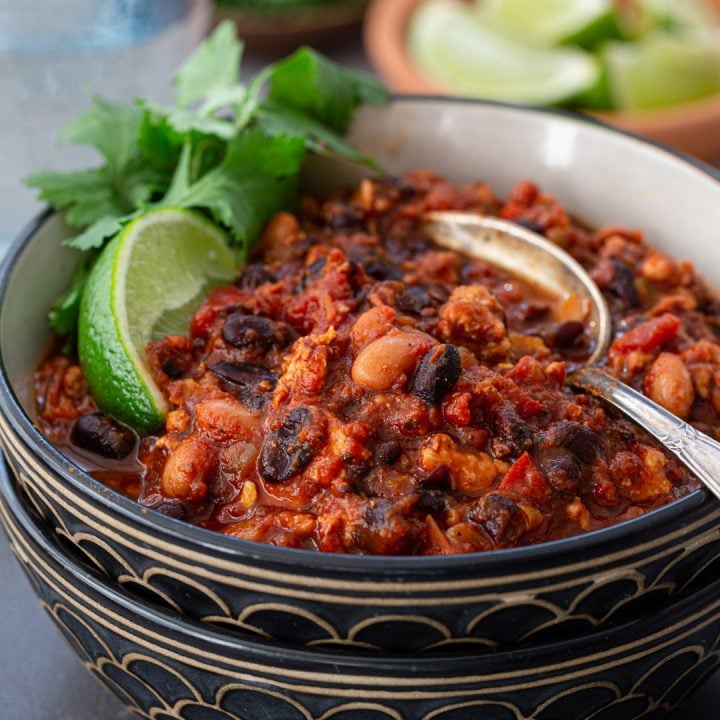 The Best Turkey Chili Ever!
Yield: 8
Prep Time: 15 minutes
Cook Time: 1 hour
Total Time: 1 hour 15 minutes
This is seriously the best turkey chili recipe you will ever make! Hearty but lean, a bowl of this chili will warm you up without piling on the calories. Make a big batch and freeze some so you can have chili whenever you need a soul-soothing meal!
Ingredients
2 tablespoons olive oil
2 pounds lean ground turkey
1 sweet onion, finely chopped
3 cloves of garlic, minced
1 (28oz) can black beans, drained
1 (15oz) can kidney or pinto beans
1 (28oz) can crushed tomatoes
1 (15oz) can petite diced tomatoes
1 yellow bell pepper, chopped
1 red bell pepper, chopped
1 yellow pepper, chopped
2 cups chicken or vegetable broth
2 tablespoons chili powder
1 tablespoon brown sugar
2 teaspoon hot sauce
1 teaspoon dried oregano
1 teaspoon dried basil
1 teaspoon garlic powder
1 1/2 teaspoon sea salt
1/2 teaspoon cayenne pepper (optional)
Toppings: Sour cream, shredded cheddar cheese, green onions, limes
Instructions
In a large Dutch oven or heavy bottomed pot, heat the olive oil, over medium high heat, until shimmering. Add the ground turkey and cook, breaking it apart with a wooden spoon, until browned, about 8 minutes. Remove with a slottled spoon and reserve.
Add more olive oil if needed and add the onions and garlic. Saute until softened and fragrant, about 2 minutes. Add the peppers and cook until softened, 2 more minutes.
Return the browned turkey to the pot and add the remaining ingredients. Stir until combined and bring to a boil.
Once the chili is boiling, lower the heat to a simmer and cook, uncovered, for 45 to 60 minutes or until it thickens. Taste and adjust seasonings, as needed.
Serve immediately, garnished with your desired toppings!
Recommended Products
As an Amazon Associate and member of other affiliate programs, I earn from qualifying purchases.
Nutrition Information:
Yield: 8
Serving Size: 1
Amount Per Serving:
Calories: 481
Total Fat: 23g
Saturated Fat: 6g
Trans Fat: 0g
Unsaturated Fat: 15g
Cholesterol: 154mg
Sodium: 782mg
Carbohydrates: 25g
Fiber: 7g
Sugar: 6g
Protein: 45g
Nutritional values are approximate, please use your own calculations if you require a special diet.
More Comfort Food recipes that will keep you warm:
At Olivia's Cuisine, we are always aiming to improve. This post was updated from a previous version. The recipe is the same, but the photos are not! Here are some of the older photos: