Air Fryer Chicken Wings
These Air Fryer Chicken Wings are super crispy thanks to one secret ingredient that you already have in your pantry! They cook in 30 minutes, without any oil and no deep frying mess. Toss with your favorite wing sauce for a irresistible game day appetizer! 🏈
Everyone loves football food, but sometimes there just isn't enough time to whip up a feast. Cue to easy or make-ahead recipes, like these Slow Cooker Ranch Chicken Ranch, Slow-Cooked Pulled Brisket, Ham and Cheese Pinwheels and Slow Cooker Buffalo Chicken Dip.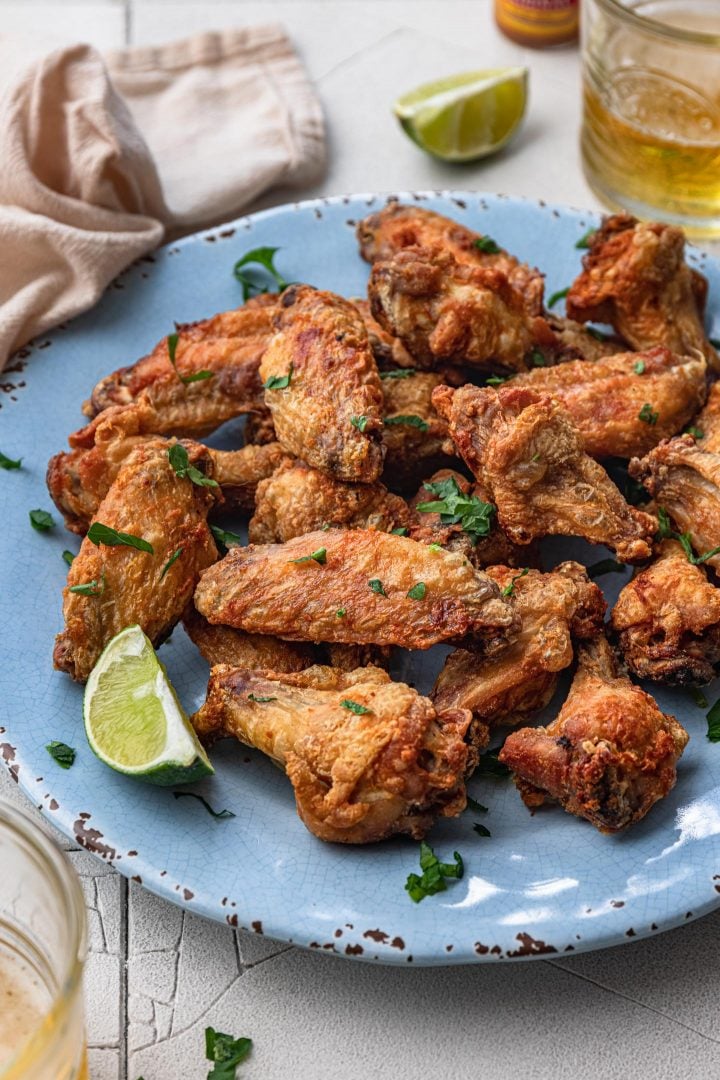 It took me a long time to surrender to the air fryer frenzy. Being Brazilian, I am not afraid of deep frying food! 😂
But a few years ago, Prime Day came and I just couldn't pass on a good deal on a very nice air fryer. And I'm so glad I finally joined the air frying team. That thing is magical!
I still have to explore more with it, but I've used it to make the classics: french fries, chicken nuggets, tater tots and, obviously, chicken wings. It is also the best method I've found to reheat leftover pizza!
If you are craving crispy chicken wings but don't feel like dealing with the mess of a deep-fryer or a pot full of oil, look no further. These air fryer chicken wings will knock your socks off!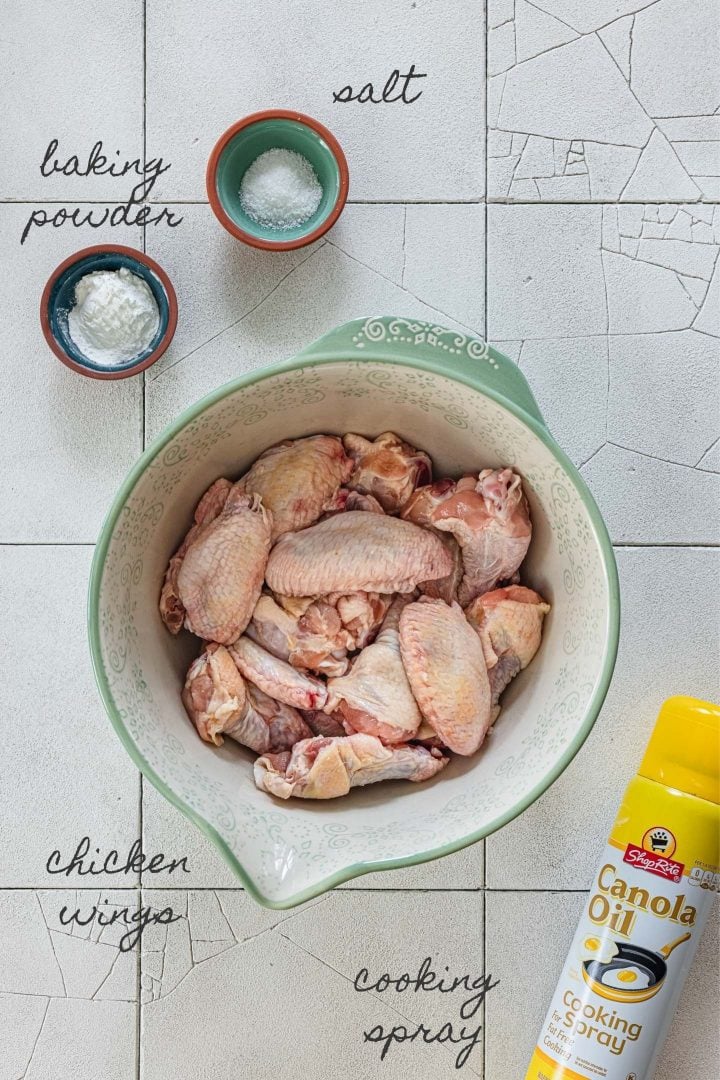 Ingredients
To make air fryer chicken wings, you will need:
Chicken Wings – You will need 2 pounds of chicken wings, drumettes and flats separated. If your chicken wings are frozen, I recommend you thaw before cooking them so they can be extra crispy. You can cook from frozen, but they will take longer to cook and I find that they don't get as crispy.
Baking Powder – This is the secret ingredient, responsible for the wings being extra crispy! Make sure your baking powder is aluminum free, so you don't taste it on the wings. Do not use baking soda!
Salt – Even if you are tossing the wings with sauce, I recommend seasoning them before cooking, so they are throughly seasoned.
Cooking Spray – We'll use the cooking spray to coat the basket, so the chicken wings don't stick, but also to coat the wings so the baking powder sticks to them, which will create a nice crispy crust.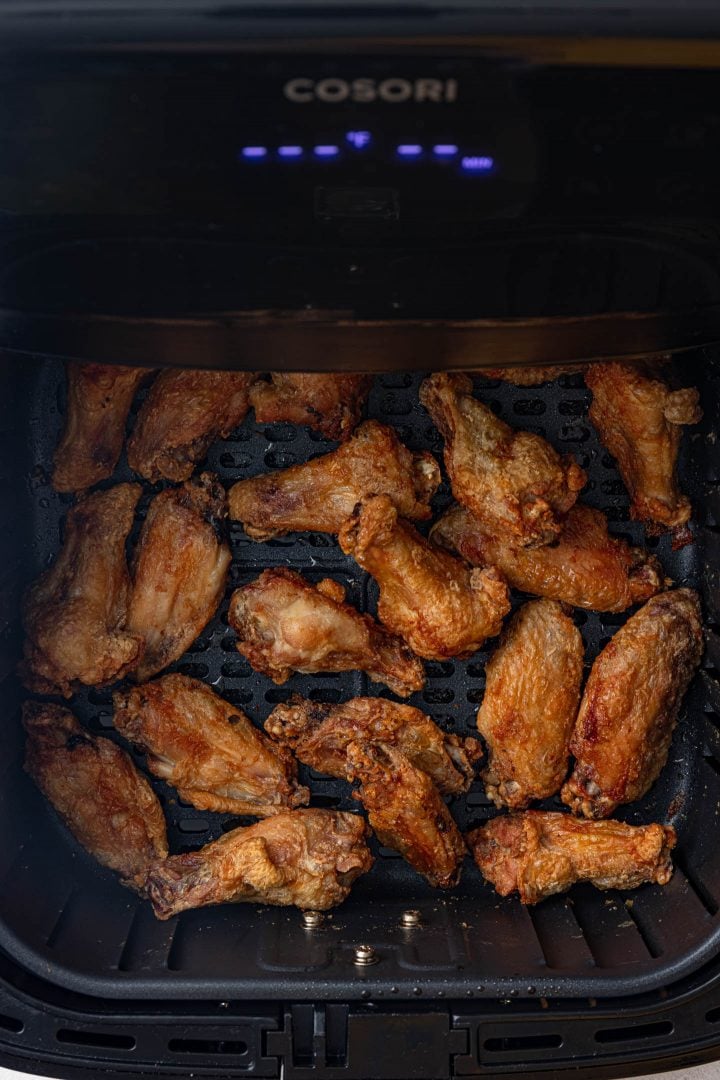 How to Make Chicken Wings in Air Fryer
Air frying is one of the healthiest methods for "frying" food!
The air fryer is like a convection oven that mimics the results of deep-frying with hot air and no need for oil. The hot air circulates around the food, cooking and browning whatever food is in the basket.

It does actually fry food, but it produces very similar results, only healthier and less messy!
Now, the downside is that it's not really efficient if you are cooking chicken wings for a crowd, as even the largest capacity air fryer (8 quarts) will only fit about 2 pounds of chicken wings per batch. So you'd have to cook several batches to feed lots of people, which you would achieve quicker by deep frying or using your oven.
Recommended tools and equipment: air fryer, mixing bowl.
Here's how I make this air fryer chicken wings recipe. As always, you will find the printable (and more complete) version of the recipe at the end of this post!
Step 1: Prep the Chicken
For the crispiest wings, pat them dry with a paper towel before cooking. Extra moisture prevents the skins from crisping nicely.
Coat the chicken wings with nonstick spray. You can use vegetable or olive oil instead, if you prefer.
Toss with salt and baking powder until the wings are thoroughly coated.
Step 2: Air Fry the Chicken Wings
Preheat your air fryer to 380ºF.
Coat the basket with a little bit of vegetable oil.
Arrange the wings in a single layer. If you stand the drumettes on their sides, you will have more space. Ideally, the wings wouldn't touch, but it's okay if they do as we will flip them twice.
Cook for 25 minutes, flipping them halfway through.
Flip them again.
Raise the air fryer to 400ºF (or as high as your air fryer will go) and cook the wings for an extra 5 minutes so they get extra crispy!
Olivia's Tips
Coating the chicken wings with cooking spray will help the baking powder and salt to stick to them. It is totally safe to do so, but – if you prefer – you can use 1 tablespoon vegetable or olive oil instead.
You should avoid spraying your air fryer with cooking spray. Many nonstick sprays contain additives that can damage the nonstick coatings of air fryer baskets. You can just fill a spray bottle with vegetable oil and use that instead!
Do not overcrowd your air fryer basket. The air should be able to circulate and any unexposed skin won't crisp up!
The baking powder is the secret ingredient here. It raises the PH level of the chicken wings, helping create a crispy crackly skin. You can omit if you'd like, and the wings will still be delicious, just not as crispy.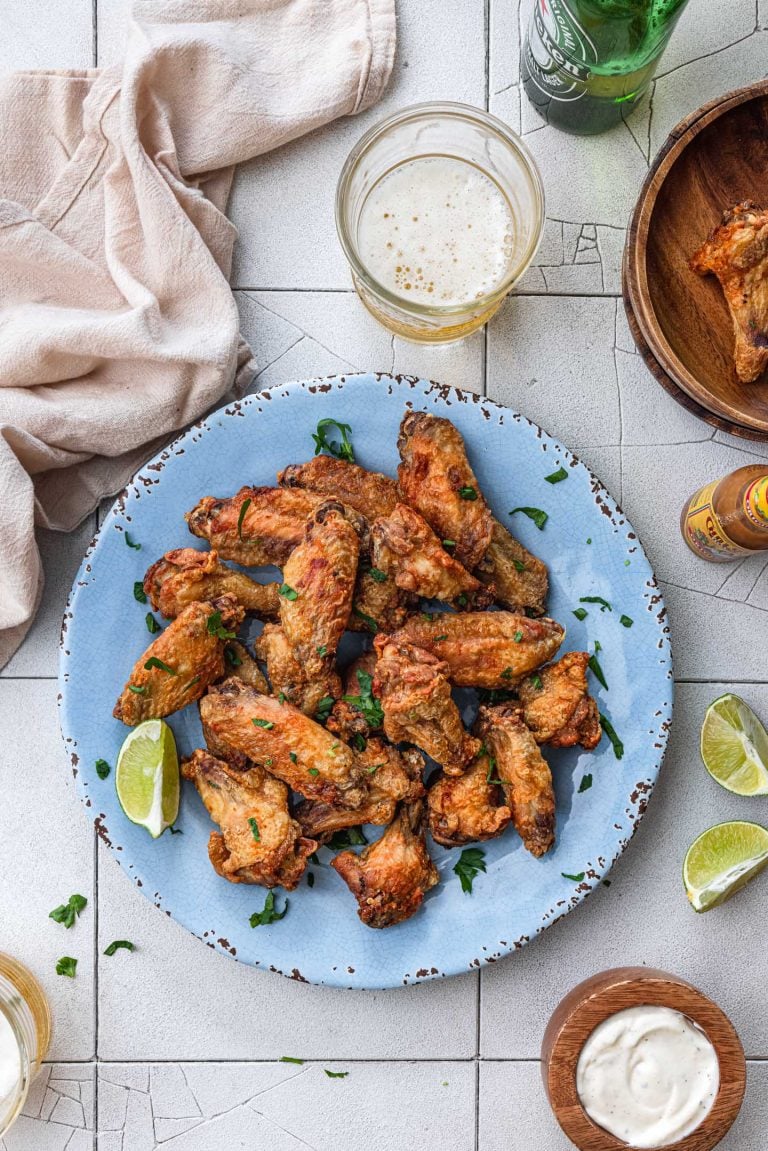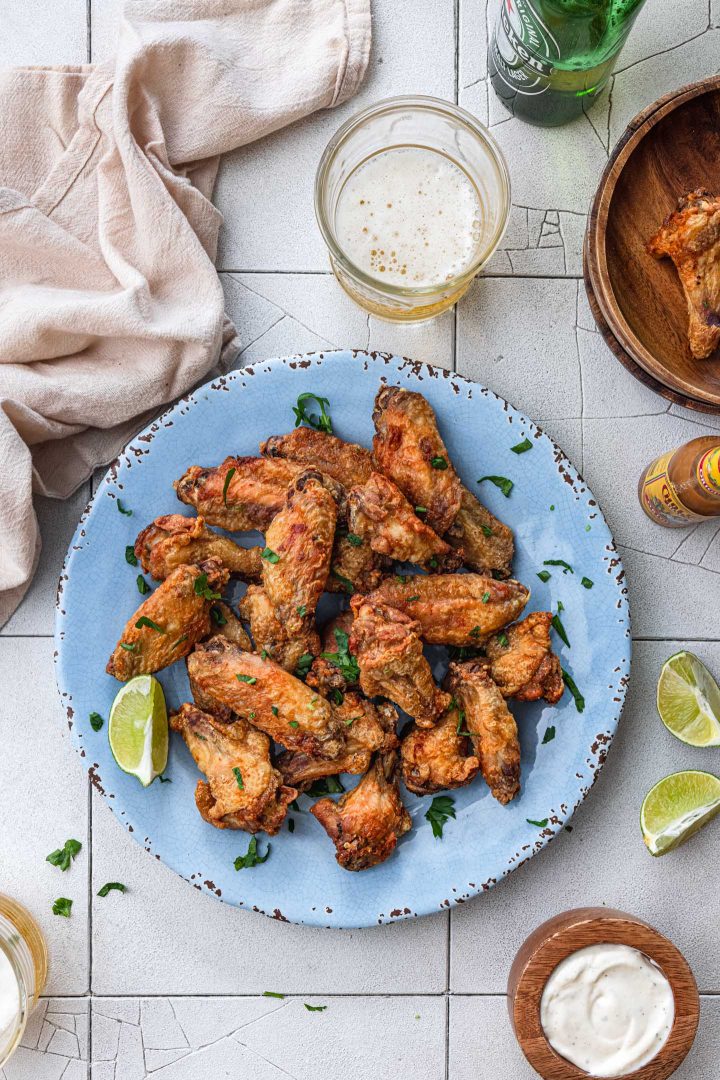 Serving Suggestions
These air fried chicken wings are delicious as is, with a squeeze of lime juice! However, you can bring them to the next level by tossing with your favorite wing sauce.
Here are a few suggestions:
Buffalo Sauce
BBQ Sauce or Guava BBQ Sauce
Garlic Parmesan
Lemon Pepper
Spicy Korean Sauce
Thai Sauce
Sriracha
Honey Mustard
Serve your wings (naked or tossed with sauce) in a platter with veggies – such as carrots and celery – and a dipping sauce. Dipping sauce will depend on what sauce you are tossing with your wings, but ranch and blue cheese are classic choices!
How Many Air Fryer Chicken Wings Per Person?
That will depend on what you are serving with the chicken wings. If they are part of a largest spread, you should calculate 8-10 wings per person. If the wings are the main event, then I'd say at least 15 per person.
One pound of chicken wings is about 10 chicken wing pieces (drums and flats), so you'd need one pound (or one and a half if the wings are the only food you're serving) of uncooked wings per person.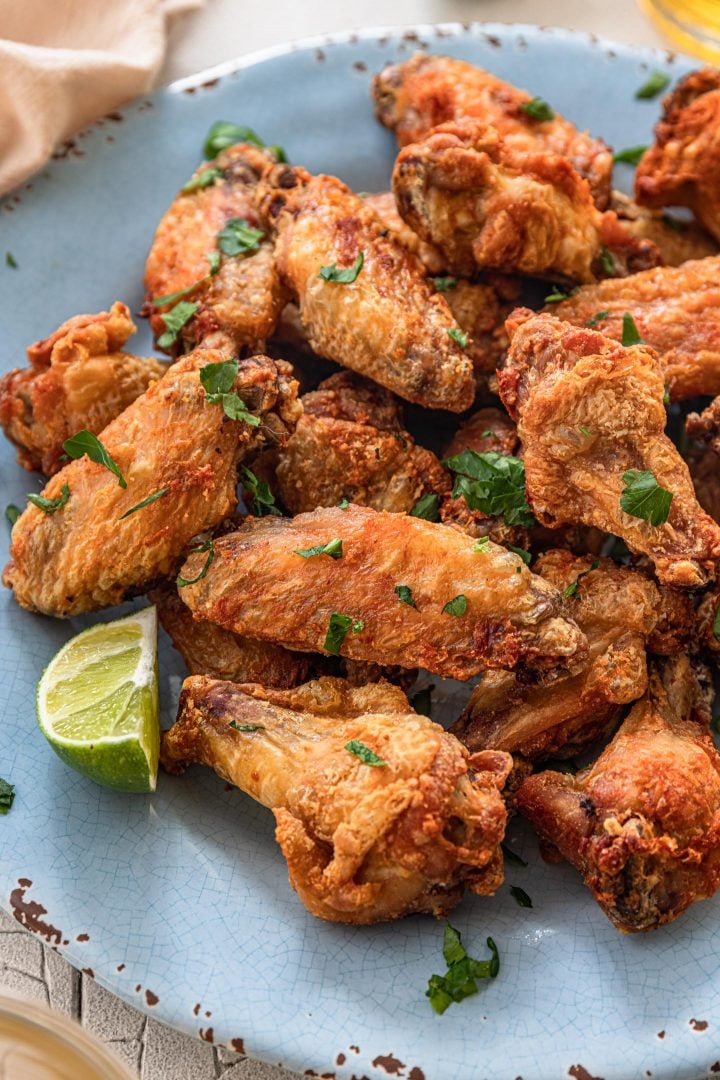 Frequently Asked Questions
Can I air fry frozen chicken wings?
You can, but they won't be as crispy, especially because it's going to be hard to get the baking powder to stick to them. They will also take longer to cook, about 5 minutes more per batch.
Can I use a dry rub on the wings?
Yes! Just toss the wings with the dry rub before cooking them in the air fryer.
How long will leftovers keep?
According to the FDA, cooked chicken wings can stay in the fridge for 3 to 4 days. You should store them in an airtight container.
Can I reheat chicken wings in the air fryer?
Yes! Reheat your cooked chicken wings in the air fryer, in a single layer, at 360ºF for 5 minutes. The internal temperature has to reach at least 165ºF. If you don't want to use the air fryer, you can reheat the wings in the oven, at 350ºF for about 15-20 minutes.
More Chicken Recipes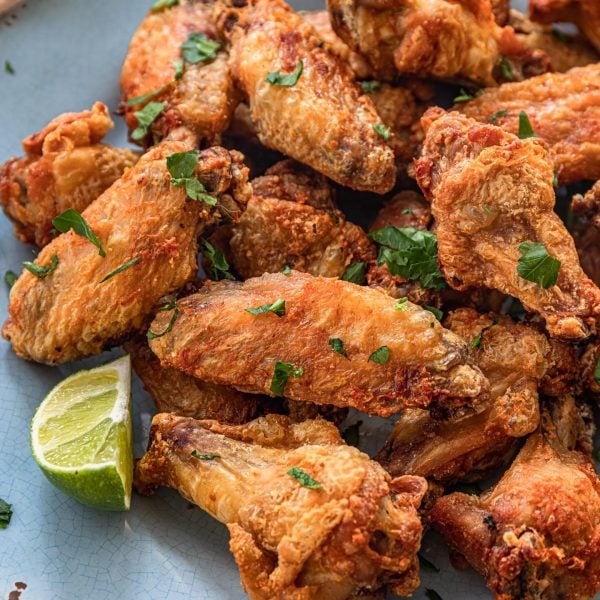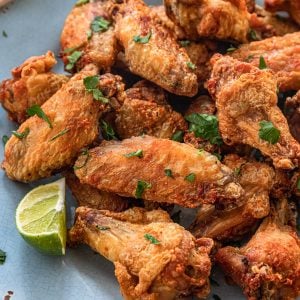 Air Fryer Chicken Wings
These Air Fryer Chicken Wings are super crispy thanks to one secret ingredient that you already have in your pantry! They cook in 30 minutes, without any oil and no deep frying mess. Toss with your favorite wing sauce for a irresistible game day appetizer! 
Ingredients
2 pounds chicken wings, drums and flats separated
Nonstick cooking spray
1 teaspoon Kosher salt
1 tablespoon aluminum-free baking powder
Instructions
Preheat air fryer to 380ºF for 3 minutes.

Pat the chicken wings dry with a paper towel.

Place chicken wings in a bowl and spray with the nonstick spray (see notes), tossing to combine. Then, add the salt and baking powder, tossing so the wings are coated.

Spray or brush the air fryer basket with a little bit of vegetable oil.

Add the wings to the basket, arranging them in a single layer, preferably not touching. Tip: The drums can stand along the sides of the basket and that will give you more space.

Cook the wings at 380ºF for 25 minutes, flipping them halfway through.

Flip the wings again, then increase heat to 400ºF and cook for another 5 minutes.

Remove chicken wings from air fryer and toss with your favorite wing sauce, if desired.

Serve immediately!
Notes
Thaw chicken wings prior to cooking, if frozen. You can air fry frozen chicken wings, but they will take longer and won't get as crispy.
Patting the chicken dry with a paper towel will get rid of any excess moisture. Moisture is the enemy of crispy chicken wings!
Don't overcrowd your air fryer basket or the chicken wings will steam instead of crisping up nicely. Depending on the capacity of your air fryer, you might want to work in batches.
If you don't want to spray the chicken wings with cooking spray, you can toss with 1 tablespoon vegetable (or olive) oil instead.
Leftovers: Cooked wings will keep in the fridge for up to 4 days.
Reheating: Reheat the wings in the air fryer, at 360ºF, for 5 minutes, or in the oven, at 350ºF, for 15-20 minutes. An instant read thermometer should read 165ºF degrees when inserted in a meaty wing.
Nutrition
Serving: 1pound, Calories: 547kcal, Carbohydrates: 2g, Protein: 45g, Fat: 39g, Saturated Fat: 11g, Polyunsaturated Fat: 8g, Monounsaturated Fat: 16g, Trans Fat: 1g, Cholesterol: 189mg, Sodium: 1978mg, Potassium: 384mg, Fiber: 1g, Vitamin A: 360IU, Vitamin C: 2mg, Calcium: 383mg, Iron: 3mg